Gamble USA strives to improve your online gambling experience. We aim to help you play safely, make informed decisions when gambling, and increase your betting knowledge through our guides.
We adhere to strict editorial integrity; our content may contain links to products from our licensed & legal US partners.
So, you have come to the decision that you want to close your DraftKings account. Be it a sportsbook account, or DFS account, shutting down a playing account is easy to do.
It may be that you have experienced too many issues with the daily fantasy sports operator, had problems with the DraftKings sportsbook, or you don't like the recent updates to the website or mobile app. Whatever the reason, you may be wondering, 'how do I close my DraftKings account'?.
With some online sportsbooks, the process of making a request to delete your DraftKings game account can be tiresome and complicated. To overcome any possible obstacles, we have outlined below the steps needed to be taken to close your DraftKings sportsbook account without any hassle.
Deleting Your DraftKings Account By Email
You can email the customer support team at DraftKings to delete or close your account. Just follow the below steps.
Draft an email.
Enter support@draftkings.com in the "to" address line.
In the subject line, write 'request to delete my DraftKings Account' so it will go to the correct team.
You can provide a reason if you wish, but there is no requirement to do so.
Enter your username as part of the message.
State clearly that you are closing your sports betting account.
Request withdrawal if there is any money still in your account.
Send the email.
Please note that even if you delete your Draftkings sports betting account, you cannot permanently delete all your personal information. Although the account will be closed, your personal data will be kept on file by the operator. They do this because if you want to open an account at a later date and try and use a new customer bonus or promotion, they can reference the old account and stop you from claiming the bonus offer. Additionally, there might be an instance where you may need to restore a restricted or locked DraftKings sportsbook account. In this scenario, it is helpful that your information is still on the record and you are not starting on a completely blank canvas.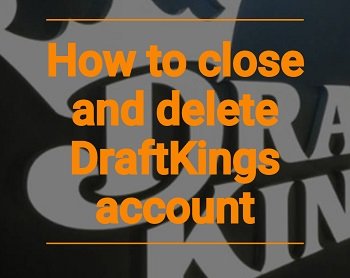 If you would like to delete DraftKings because you are worried that you have a gambling addiction, we highly recommend that you unsubscribe to Draftkings emails. You can use the spam button on your email account to do this. It would help if you waited until the account is closed before you do this. Also, make sure that you have received your final payout and have received confirmation from DraftKings.
If you feel you do have a problem with gambling, please seek help. Visit the ncpgambling.org site, or call them on 1-800-522-4700
Calling To Close Your Account
If you would prefer to speak to someone to shut down your DraftKings betting or DFS account, another option is to call them directly via their customer support center. Some people prefer actually speaking to someone; however, we feel writing is the best option. This is because it is always a good option to have a date and time stamp of your request. Then if anything happens, you have written proof of your request.
How to Delete Your DraftKings Account Via the Website
If you don't buy the idea of deleting your new DraftKings account using the email option, you can do so via the website. The steps below will help you achieve this with ease:
Head to the https://www.draftkings.com/help/contact-us page and click on the option tagged 'Want to Send Us a Message'
Next, click on the My Account tag and input your username
You will then be required to input the Email Address that is linked to the DraftKings account you want to delete
In the space for slot, input "Request to Delete My DraftKings Account"  and type why you want to delete your account in section provided
Once you are through with this, hit the "Submit" button to begin the process of deleting your account. If you have funds in your account, you may want to withdraw it first. Click on withdraw and wait for the money to enter your account. This usually requires 2-7 business days before it is processed so you may want to note this.
Reasons you may want to delete DraftKings Account
We have discussed how to delete DraftKings account but not the reasons for doing so. There could be any number of factors why you no longer want to get involved on the sport side of DraftKings, including:
You want to stop betting
We understand that gambling can quickly become an addictive habit. Although any legal and licensed online sportsbook must put safety measures in place to protect players, it can still be hard for any bettor to stop. You may have joined the DraftKings app just to wager on the Super Bowl and now find yourself looking at college football and other markets the betting site offers. You can quite easily go from placing one real money wager to several in a matter of minutes.
When you have deleted your account, it is far easier to stop thinking about deposit bonus options, cash out or any other Draft Kings perks as you would need to create a whole new account to access these features.
You don't want spam
Nobody likes spam emails. Operators such as DraftKings have targeted advertising possibly talking about a braded prepaid card they want you to purchase or their latest movements in New Jersey. If you choose the delete account option, you will automatically be unsubscribed from these emails.
How Difficult is it to close DraftKings Account?
The biggest obstacle to deleting your DraftKings account is the amount of time it takes. Contacting customer support should be the first port of call if you are facing issues, however, the DraftKings support team have to go though all of their protocols if your want to delete an account. After all, it is in their interests to keep people coming back and betting and they don't want to lose what they may deem as a valuable customer.
Also, whether you want to close the account via the website or through email, you will need to take the time to draft a message. If you are inaccurate or forget your details, such as the email you used to set up your account initially, the operator will have problems verifying that you own the account and thus you may not be able to delete it.
Using a different IP address will not help you here, you must know all of your account details to be able to successfully get the account closed.
What to do if you can't delete account on your own
If you are really struggling to close your DraftKings account by yourself, there are other options. You can use DoNotPay and avoid any hassle. This is an automated solution that you can follow to delete your betting account.
DraftKings Sportsbook Alternatives
If you have any issues trying to deposit funds or betting on a sports contest at DraftKings, some fantastic alternatives to DraftKings sportsbook are available. We have listed some excellent online sportsbooks below:
If you feel like you are missing out on some bonuses, or that DK isn't always best priced for the bets you place, you can access sportsbook promo codes for the above platforms and access some new player promos.
Frequently Asked Questions About Deleting your DraftKings Account
Is it possible to permanently delete DraftKings account?
Yes, it is possible to delete unwanted online accounts when you want regardless of your reason. Simply send your request via mail to their support team.
What is the account deletion process on DraftKings?
The process of deleting your account is quite straightfoward. The moment you send your request via your preferred option, you will receive a confirmation from the team. Send a dear DraftKings team email for a quick and efficient way to delete your account permanently.
Can I change the email linked to my DraftKings account?
Yes, it is possible to change the email address linked to your DraftKings account. You can also alter your personal information by sending a request mail to the support team or by editing it in your account settings page.
Why is there a restriction on my DraftKings account?
There are many reasons your account may have been restricted. One of the most common reasons is if someone tries to break into your account. DraftKings might do it to ensure your account don't fall into fraudulent hands.
Is DraftKings secure?
Yes, the DraftKings platform is completely safe and reputable site. You can play on the platform so long as you authorized to bet on sports in the state you are located.
Can you be banned from wagering on DraftKings?
Yes, but this hardly happens. However, one of the likely reasons you get banned from betting on DraftKings is opening multiple betting accounts. This is highly frowned upon on most sportsbooks and DraftKings is not excluded.