Gamble USA strives to improve your online gambling experience. We aim to help you play safely, make informed decisions when gambling, and increase your betting knowledge through our guides.
We adhere to strict editorial integrity; our content may contain links to products from our licensed & legal US partners.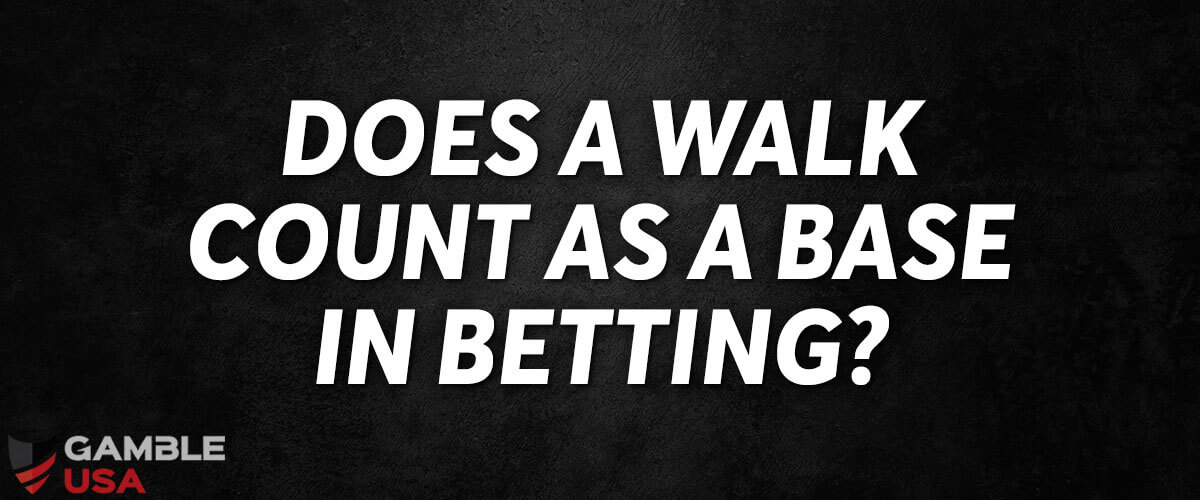 A walk does not count as a base in sports betting. In order for a batter to be credited with a base toward their total base count, they must hit the ball. This is a commonly-asked question among baseball bettors, as the total bases prop bet is one of the most popular ones placed on the MLB.
A total bases prop bet is one in which bettors attempt to pick how many total bases a player or team will earn over a certain baseball game, including any extra innings. The vast majority of US online sportsbooks offer total bases prop wagers. The odds for these bets can come in a variety of formats, yet are often listed in an over/under style.
MLB props are very popular and can be extremely profitable for knowledgeable bettors. Discover more about total bases bets and how these are made below.
Total Bases in Baseball Betting Meaning
The total bases Major League Baseball prop wager requires bettors to guess how many bases a player, or sometimes an entire team, will earn during a single game. To earn a "base" in this wager, a player must hit the ball and physically step on one or more of the four bases. Walks or stolen bases will not count toward a player's total base count. In fact, any other errors advancing players to bases will not count toward their total bases.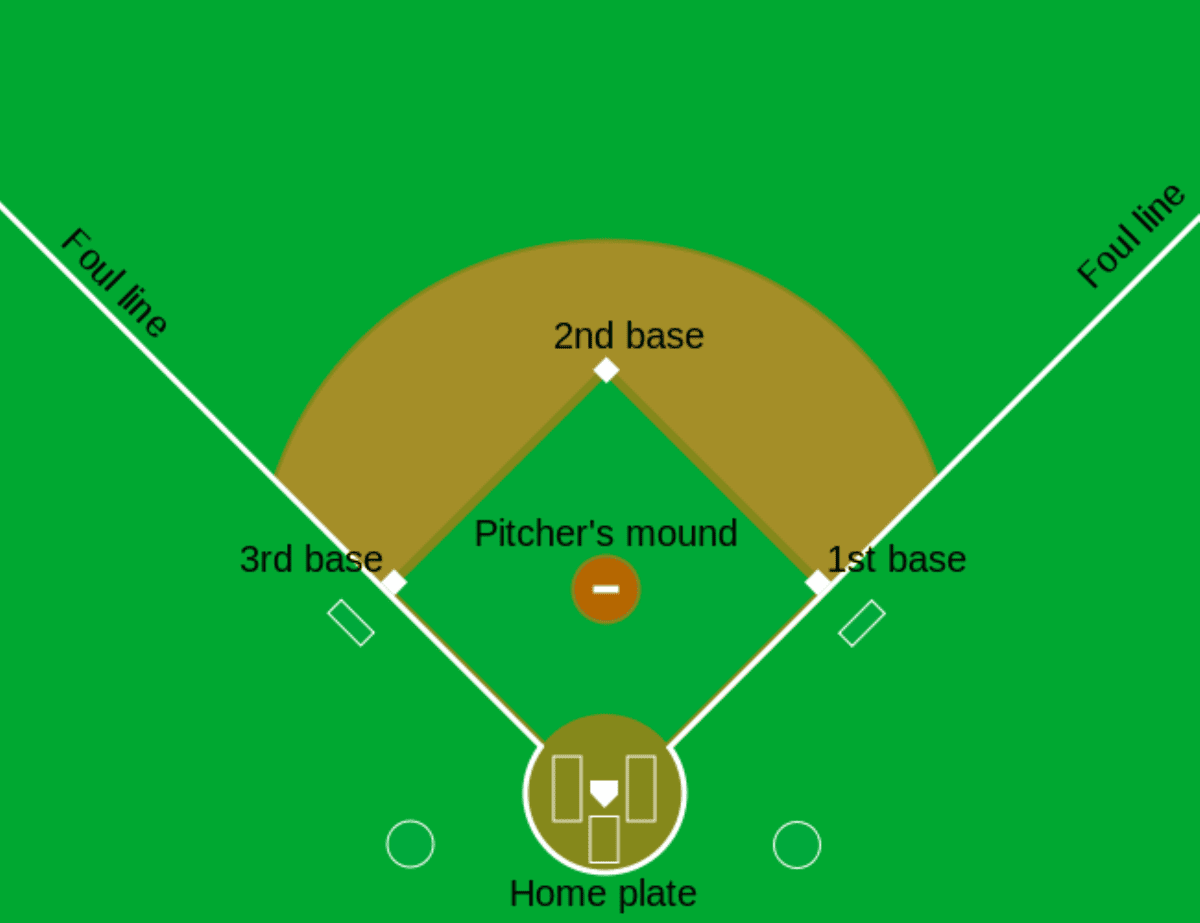 For those unaware, baseball players earn points for their teams by running around all four bases. In betting, the total base stat is often abbreviated by TB.
What counts as a base in betting?
In sports betting, a player only earns a base by physically hitting the ball. This can include a bunt. As long as the batter makes physical contact with the ball and advances to a base, it will be recorded in their total base count for bettors.
A base on balls, also known as a walk, does not count. This occurs when the pitcher throws the balls four times outside of the strike zone without a swing by the batter, automatically allowing the batter to advance to first base. A hit by pitch, when the batter is hit by a ball that the pitcher throws and advances to first base will not count as a base in betting, either. Even a catcher's interference is not enough for a batter to earn a base in sports betting.
Once a player hits the ball and reaches the farthest base possible, they cannot accumulate more total bases until the next time they are at bat. Runs scored have no impact on this wager. That is an important factor to consider when placing this type of prop wager.
Dead heat rules never apply to this type of sports betting. In the most simplistic rules, a dead heat is a tie. When dead heat rules apply for other types of bets, a sportsbook will pay players by calculating the total bet amount (the original stake plus the win) divided by the number of players tied, minus the stake.
Does a walk count as a base in Baseball betting?
A walk does not count as a base in baseball betting. A batter will only be credited with a base in sports betting when he hits the ball. Bases earned by stolen bases and being hit by pitches will not count as a base in sports betting.
How sportsbooks calculate total bases
Sportsbooks calculate total bases using a weighted stat that increases each time a batter lands on a new base. The official formula for this type of Major League Baseball prop bet can be seen below.
B = (1 x 1B) + (2 x 2B) + (3 x 3B) + (4 x HR)
In more simplistic terms, a batter earns one base for each of the bases he steps on after hitting the ball. Any other means of earning bases will not count toward a player's total base count. A clear example of how that works can be seen below.
⚾Calculating Total Bases
Single
1 base
Double
2 bases
Triple
3 bases
Home run
4 bases
Online sportsbooks take multiple factors into account when setting total bases odds. That includes things like a player's batting average, a pitcher's ERA, head-to-head records, etc. Many sportsbooks set the odds for total bases in an over/under format. One example of how those types of odds look can be seen below.
Nico Hoerner – 2.5 bases: Over (-160) Under (+125)
Some online sportsbooks, including FanDuel Sportsbook, offer singular odds on the number of bases a player can earn. These are not set in an over/under format, instead only allowing players to wager on whether a player will earn at least a certain number of bases. One example can be seen below.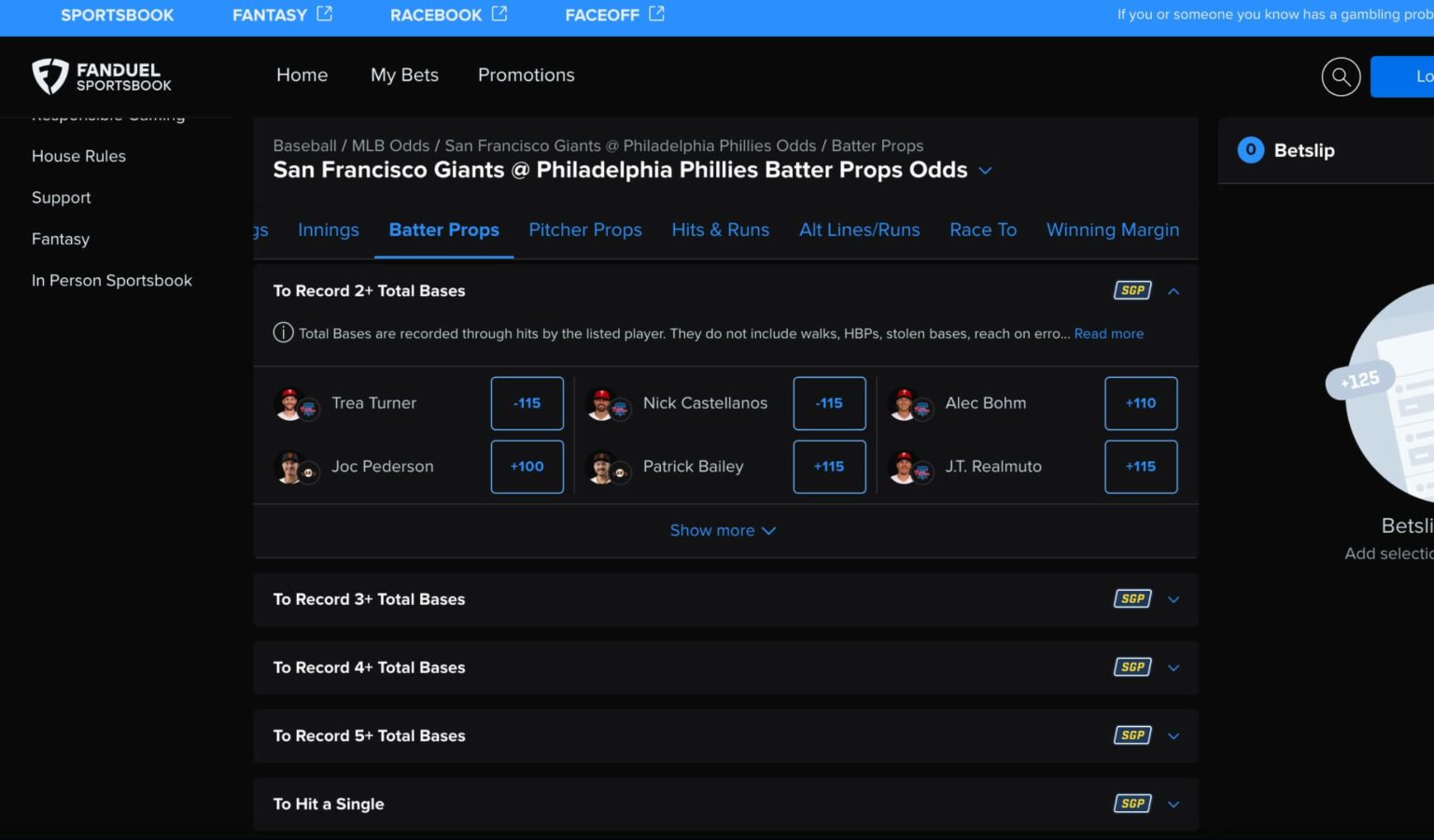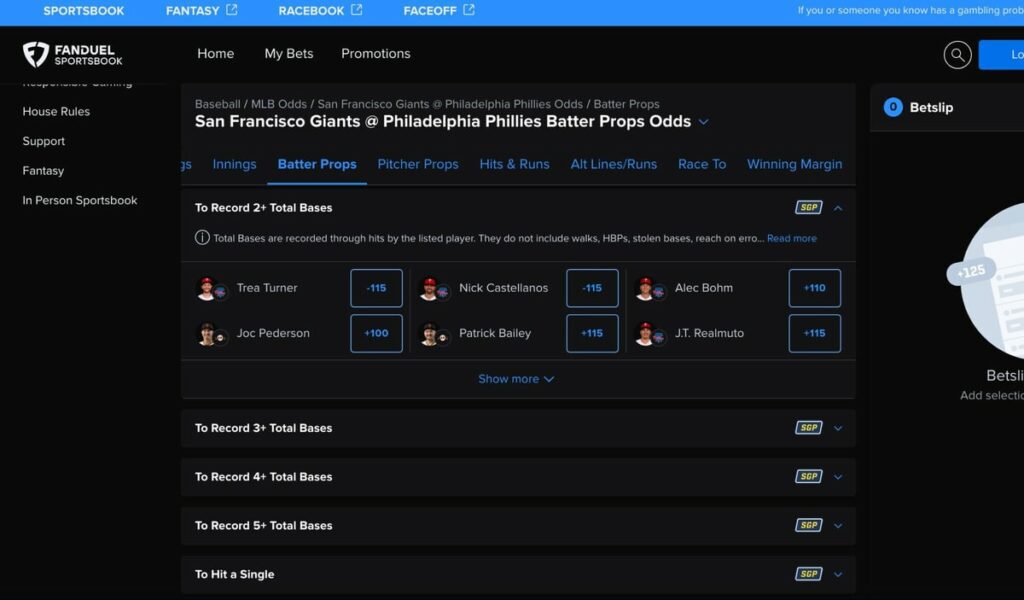 Dansby Swanson – 2+ bases: +110
Odds will change depending on the players involved in each game. The most successful total bases bettors take multiple factors into account before making any wagers.
Many of the top online sportsbooks now allow for same game parlays to be made. This allows bettors to make and combine multiple wagers on the same sporting event. Some choose to include total bases bets into their SGPs and can earn some major winnings in doing so.
Other stats related to total bases
Baseball is a game of statistics and careful studying of the stats can provide bettors with some major advantages. Some of the most important statistics to consider when placing total bases bets were mentioned earlier and include batting averages, ERAs, team head-to-head records, home team advantages, and team regular season wins. It should be easy for most fans to study the statistics for scheduled games well before they take place.
There are several other statistics that experienced bettors will focus on when placing these types of baseball bets. One of those is a player's on-base percentage. This will reveal how often a player earns a base. It can be tricky, however, as this stat includes bases earned by walks and hit-by-pitches, as well.
Some choose to focus on a player's runs-batted-in percentage, too. An RBI is a measure of how often a player hits the ball and allows another team member to score. It can be a helpful tool to measure how often a player not only makes contact with the ball but does so in a good enough way for another player to reach home base.
Tips & best players to bet on for total bases
Prop wagers such as total bases bets are always tricky to pick. Anything can happen when a player is at bat and many factors can have an impact on how one batter is able to perform. Relying on research and statistics remains the most effective way to find success with this type of wager. MLB.com provides a huge variety of statistics that can help bettors make the most informed wagers possible.
The best players to choose for total bases bets are the ones that consistently earn bases by hitting the ball. It is not necessarily important to focus on the massive hitters with a high home run percentage. Instead, most bettors look at a player's overall batting average to assess his likelihood of earning bases. When placing total bases bets for an entire team, consider an entire team's combined batting average. Many also look at the batting averages for opposing teams before they play a game, too.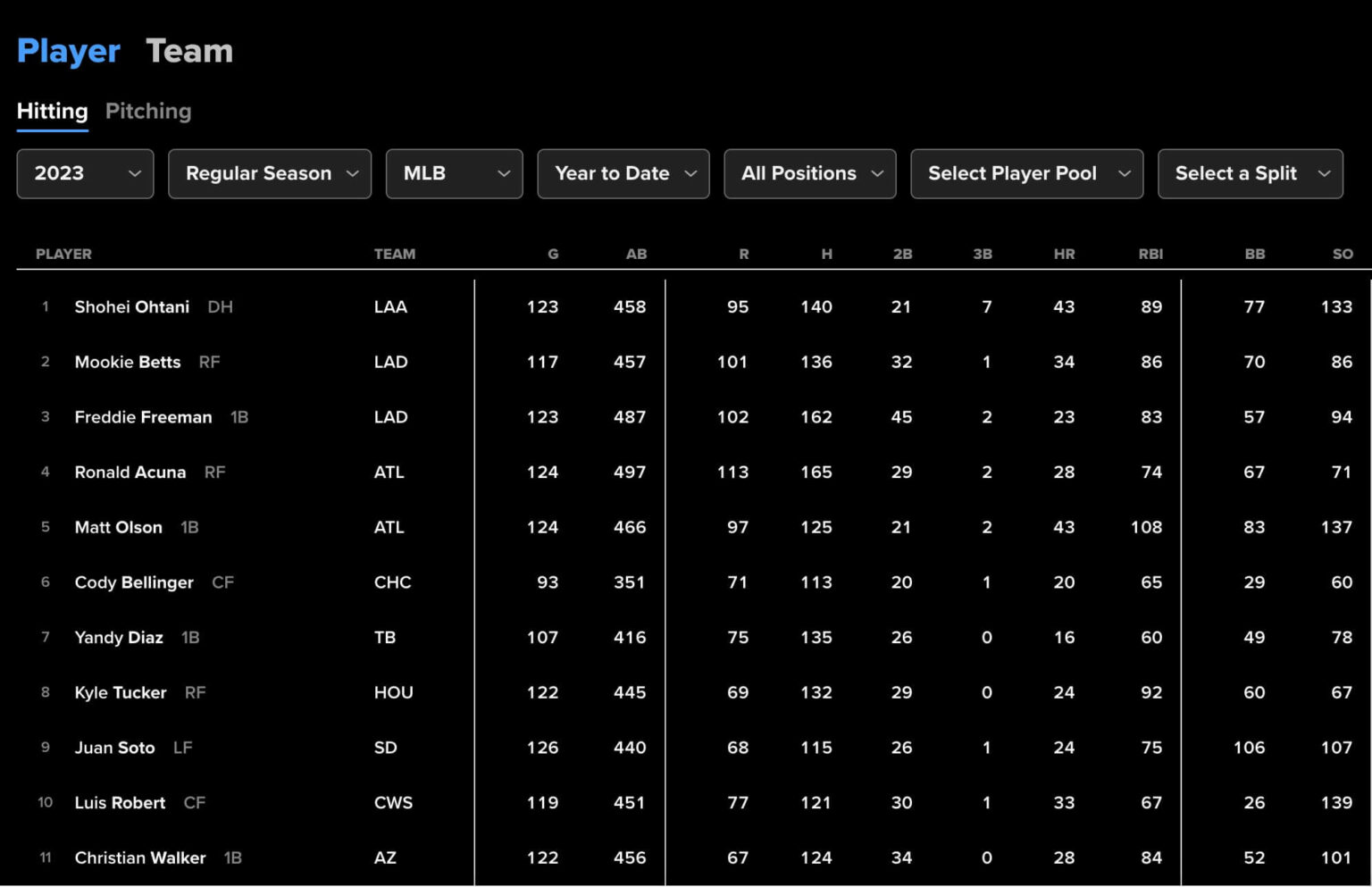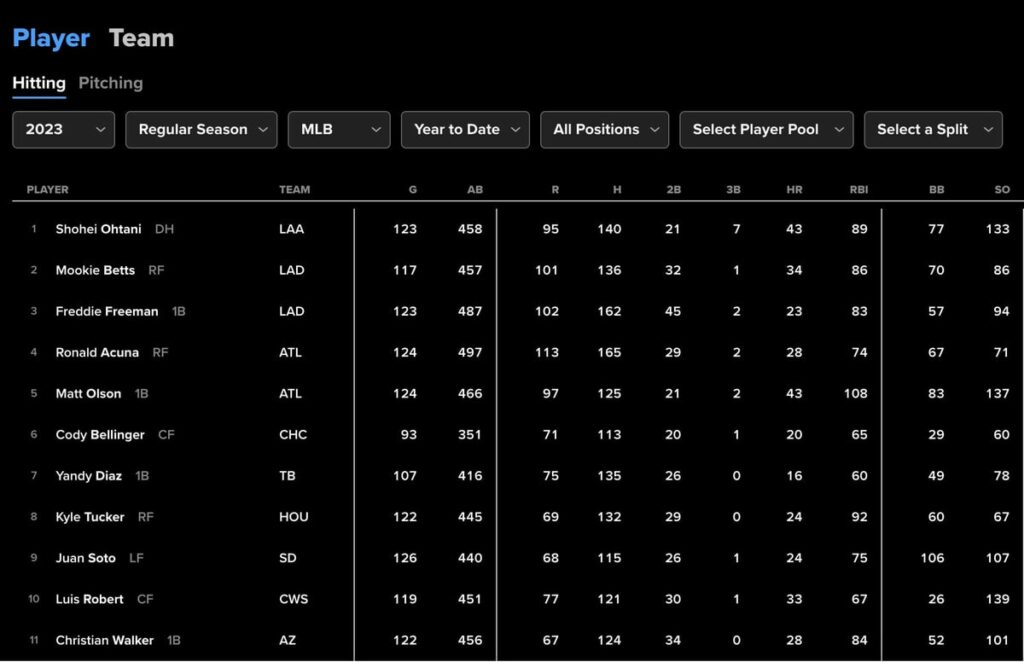 It's also important to be careful when studying a player's on-base percentage. Certain players have a knack for earning bases via walks. This can skew perception and make it appear as if a player is a good hitter, despite not being so.
Knowing how well a particular batter tends to perform against a particular pitcher can be a key to success here. Some batters struggle against starting pitchers, yet perform better once the game drags on. Looking at past performances between batters and pitchers can paint a very good picture as to how many bases a batter could earn in their next matchup.
FAQs
Does a steal count as a base in betting?
No. A steal does not count as a base in sports betting. Players will only add to their total bases count by physically hitting the ball.
Does a walk count as a total base on PrizePicks?
No. Like most other sports wagering platforms, PrizePicks only counts total bases as bases earned by hits. A walk, stolen base, or hit-by-pitcher will not count as a base earned for this type of wager.