Gamble USA strives to improve your online gambling experience. We aim to help you play safely, make informed decisions when gambling, and increase your betting knowledge through our guides.
We adhere to strict editorial integrity; our content may contain links to products from our licensed & legal US partners.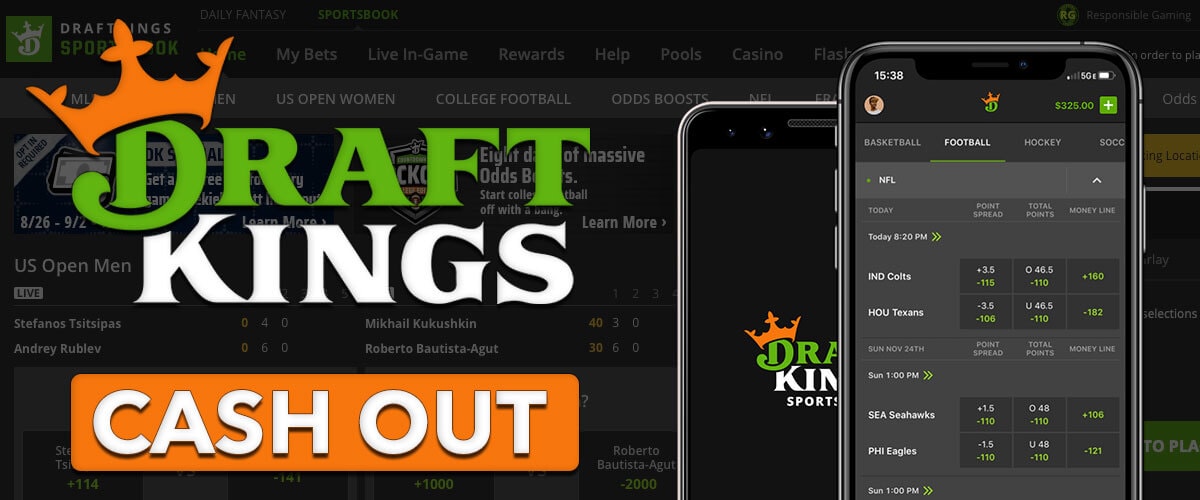 If your bet isn't going to land, wouldn't it be great if you could cancel it and get some money back? Well, that is exactly what you can do with the DraftKings cash out feature.
With the growth of legal online sports betting, online sportsbooks have been forced to look at ways to improve the user experience. Sports bettors now have the ability to bet from anywhere, claim generous bonuses and promotions, and access new ways to wager with the emergence of live betting. However, one feature that doesn't receive a lot of attention but is an excellent option for users is the sportsbook cash out feature.
Previously, there had never been a way to settle an original wager early. That is now possible with online betting cash out as sportsbooks offer this option with the touch of a button. Whether you want to cut your losses or at least secure some winnings, so it becomes a winning bet, cash out betting is possible.
Although some operators out there would be included on a best cash out betting apps list, this article focuses on the DraftKings cash out option. DraftKings sports is arguably the most well-known online sportsbook in the US. The brand is perhaps best known for its daily fantasy sports competitions, but has established itself as an excellent platform for a range of sport bets. With an excellent same game parlay feature, the DraftKings Casino, the DraftKings DFS option and the slick DraftKings app, it is little wonder the casual sports bettor is flocking to sign up.
We will cover how to cash out a bet on DraftKings, work out your cash out amount, early cash out options, and more. This feature is available on all platforms from the sportsbook, meaning you can cash out online and also on the awesome DraftKings sportsbook app.
Up To $1,000 Deposit Bonus
21+. T&C Apply
21+. T&C Apply
The best sportsbook
Amazing odds & offers
Awesome betting app
Up To $1,000 Deposit Bonus
21+. T&C Apply
21+. T&C Apply
You can sign up today and claim your DraftKings bonus. There is no DraftKings sportsbook promo code required, and you can instantly benefit from features such as odds boost and flash bet.
What does a sportsbook cash out mean?
Whether you are using the DraftKings Illinois or the new DraftKings Ontario sportsbook, you will have the opportunity to cash out. First, we thought it would be helpful to explain what a cash out, otherwise referred to as a Buy Out, means for customers. It allows you to settle a bet and accept a payout less than the total potential winnings before the match finishes. If you choose to take this, the benefit is locking up some profit that you can keep regardless of how the score/how the event unfolds.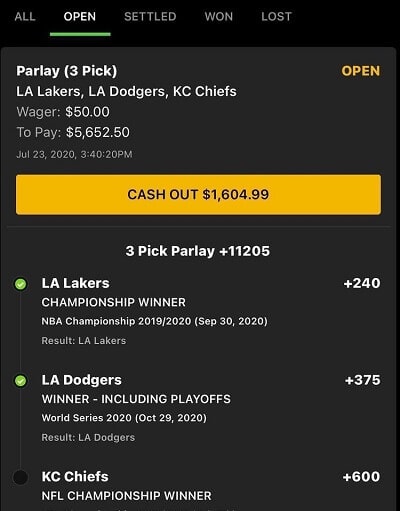 A sportsbook offers cash out usually while an event is running and before it ends. Consequently, Cash Outs can be viewed as a live in-play betting feature. However, cashouts may be offered mid-season as well. For example, if you like to bet early, you could use the futures bets option. These wagers could be a DraftKings NBA futures bet on the eventual NBA champion or the NFL rookie of the year.
Look for a DraftKings promo that will enable you to use cash out. These may give you a profit boost while also hopefully locking in some bonus funds if the wager is not going your way.
How to use cash out DraftKings sportsbook
Cash outs are a popular feature of online and mobile betting. Once you have created your DraftKings account and entered your promo code, you may want to find out how to settle your bet early. On DraftKings, you can use cash out on selected sports for pre-game, live, future, and parlay bets. It can be for more or less than your original bet amount, depending on how events unfold after you have submitted your bet. You will be able to see if your wager is eligible for cash out when you add it to the bet slip.
Once you have placed a bet with DraftKings, you can Cash Out early by heading to 'My Bets' and selecting the yellow cash Out button. You can do this on the app, or log in online at sportsbook.draftkings.com. You will receive your payout once you confirm the cash out, and the money will be deposited in your playing account immediately. Please note that you will need to physically be in one of the DraftKings legal states before you can successfully cash out your wager,
Parlays are a popular choice for cash outs on DraftKings, as, for example, if you place a five-leg parlay and four-win, you can lock in those winnings before the final leg is over. If you are new to parlay betting, you need to check out our guide on how to parlay with DraftKings.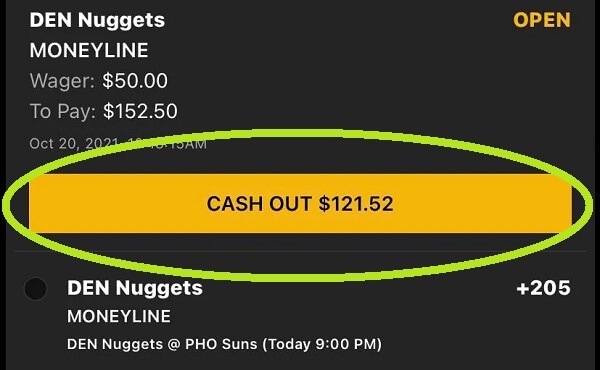 Why should you take cash out on DraftKings?
If you decide to cash out early, you allow for two things to happen that will benefit you. The first is that you can secure your winnings without running the risk associated with letting a bet unfold until the end of the sporting event. The second is that you can cut your losses if the wager looks like it is struggling and things are going bad. It is like a forfeit of a wager. It is not that you are choosing to cancel bets on DraftKings, but rather choosing to take at least something over the full payout. If your bet was canceled without you knowing why, check out our dedicated troubleshooting guide.
Cash outs are a give-and-take deal between the players and the sportsbooks. When you cash out a winning wager to take a profit, as we have mentioned, that profit will be less than the entire amount. This is what the player is giving to the betting site. The take is the player receives less risk and can lock in a profit.
Cashing out of a bet can work well for losses, too. When you cash out, you will lose less than the maximum amount, which allows you to cut your losses. If a bet has gone really badly and you don't think there is much chance of winning, choosing to cash out of the bet can cut the loss to a lesser amount.
How is a cash out calculated?
Cash Outs are calculated in the same way a sportsbook would offer odds on any type of wager. The sportsbook will set a price based on a variety of factors and offer this price to the bettor. When it comes to a cash out, the price is what a betting site determines as the current value of the wager.
Live betting is rapidly growing in the US sports betting market, and with it, online sportsbooks are getting more efficient with the in-play betting odds they offer. Similarly, betting sites are getting more efficient at the prices they set for Cash Outs.
With point spread and moneyline bets, determining a bet's value is straightforward. However, things can get a little more complicated for more advanced wagers, such as parlays and futures. Regarding futures bets, there is typically an extended period of time remaining, and lots can happen during that time. Parlays must have several legs of the parlay left to go, which makes it tricky for a user to decide if they should take the Cash Out offer.
Sites like DraftKings will determine cash out odds through a combination of real-time odds and removal of risk based on the original wager amount.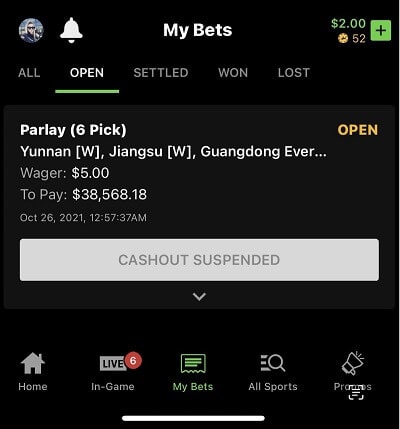 What happens if Cash out is suspended?
Whether you are using DraftKings NY, DraftKings New Jersey or DraftKings PA, the DK sportsbook has lots of ground to cover. There are always games going in a sporting season with a regular NFL week, college football, NBA games and lots of other sports. DraftKings typically offers a wide range of live odds, props, and parlay bet options. Consequently, you will occasionally switch off the cash-out option to be safe.
Like any business, DraftKings wants to make money, and this is done to reduce your risk, especially while playing a match. For example, if there was a pending umpire review on a game-winning home run, your wager is on the New York Yankee's moneyline.
To stop someone from cashing out when they may overturn an on-field decision, the operator may choose to suspending cash out. If you notice a cash out suspended DraftKings message, contact customer support.
Making a Withdrawal on DraftKings Sportsbook
When you have decided to cash out on an active bet and you want to withdraw your winnings, the process is straightforward on DraftKings sportsbook. There are numerous speedy and efficient payment methods available for bettors to receive their cash. The banking options for withdrawal include online banking, PayPal, a check by mail or cash at the cage if it is available at a physical location. You should be aware that depending on the payment method you choose, there could be difference fees and processing times attached to each option.
Choosing your preferred banking option is an important consideration. Sometimes it is more straightforward to use the same deposit and withdrawal option and some sportsbooks will require you to do this anyway. We would recommend using the same option for deposits and withdrawals as it is the safest and most efficient choice.
We have covered how to cash out on DraftKings and the DraftKings cash out rules above so let's take a look at the withdrawal process.
PayPal Withdrawals
When you want to cash out on DraftKings, PayPal is a popular withdrawal method as it allows for quick and easy transfers to your e-wallet account. There is also no minimum withdrawal amount for PayPal and you will typically receive your funds within 48 hours.
Debit/Credit Card Withdrawals
Using a payment card such as a debit or credit card is common on US sportsbooks. However, you can't withdraw any cash to a credit card on DraftKings. If you choose to deposit using a debit card, you can also withdraw using this option. DraftKings accepts Mastercard and Visa. If you have any queries you can verify with your bank or contact DraftKings customer support.
Venmo Withdrawals
If you want to use Venmo to withdraw your funds, you must have used it to make your first deposit. The Venmo payment system is not permitted in all locations and your name must appear on the account. This must also be a personal account and not a business one.
Online Banking Withdrawals
You can both deposit and withdraw using online banking. Contact your bank to ensure this is all set up if you want the transactions to occur quickly.
FAQ's
What does cash out mean in DraftKings betting?
Cash-out means the same on DraftKings as on other sites such as the FanDuel sportsbook. Users can settle a bet early, ensuring they lock in some profit or cut their losses before the event is finished.
What does it mean when the DraftKings cash out is greyed out?
If you see the grey "cash out" option greyed out, the cash out feature is no longer available on this bet. You will need to look for another betting option for cash out in this instance.
When can you cash out on DraftKings?
When you have placed your wager, you can cash out early by heading to the 'My Bets' section and pushing the yellow cash out button.
Can you cash out a parlay early on DraftKings?
On selected sports, cash out is available for parlay bets in addition to live and futures bets. They can also be used on a same game parlay for huge events like the Super Bowl.
Why does cash out become unavailable on DraftKings?
Cash-out may be unavailable for a couple of reasons. First, if your cash-out value is less than the stake you have used from your free bet. It will become available again if the value goes up. Second, the market may become suspended temporarily due to match conditions.
What does cash out suspended mean on DraftKings?
This occurs when a match incident, such as a free-kick, goal, or a corner in a soccer match. This will cause a suspension of a cash-out feature, meaning it will be difficult to cash out a wager which contains numerous selections. Therefore you will not be able to make a DraftKings cash-out withdrawal during this period.
Can you cash out Draftkings in another state?
You can only play and cash out on DraftKings if you are physically located in the state you are playing in. For example, DraftKings sportsbook New York will block you from cashing out if you are located in Indiana. You can't bet in a state with no legal online sports betting market either.