Gamble USA strives to improve your online gambling experience. We aim to help you play safely, make informed decisions when gambling, and increase your betting knowledge through our guides.
We adhere to strict editorial integrity; our content may contain links to products from our licensed & legal US partners.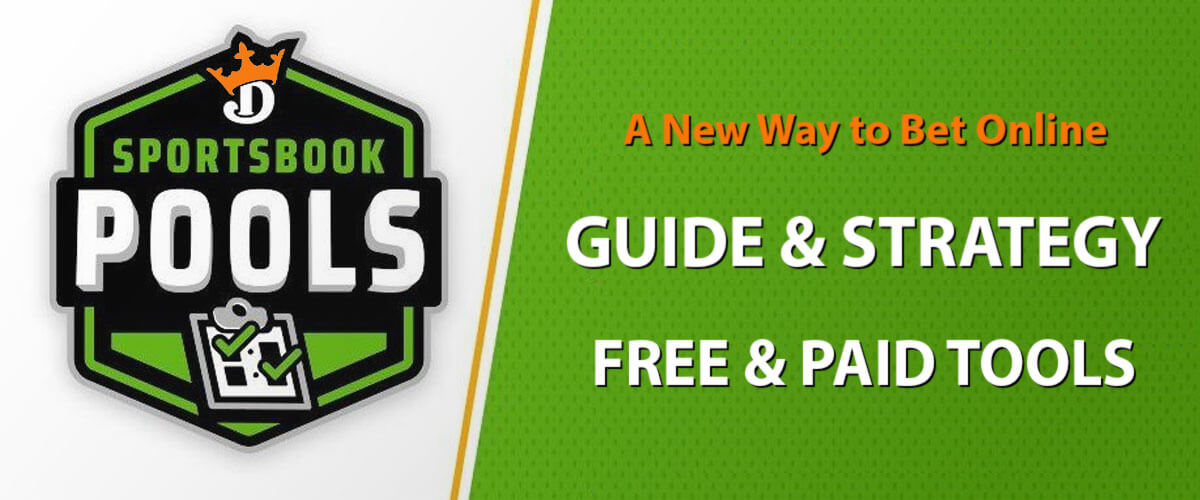 DraftKings Inc. isn't just a daily fantasy sports and US online sports betting behemoth; the company also offers free and paid pick'em pools where participants can earn money making picks on sports including college football, professional soccer, the MLB, NASCAR, NBA, NFL, NHL, PGA, UFC, and WWE.
DraftKings betting pools are easy to enter and fun to play. For every pick you get correct, you'll climb the leaderboard and increase your chances at splitting a share of tens of thousands of dollars in weekly prizes.
Up To $1,000 Deposit Bonus
21+. T&C Apply
21+. T&C Apply
The best sportsbook
Amazing odds & offers
Awesome betting app
Residents in all 50 states can play in the free pools. To participate in paid pools, players must be physically located in one of the 18 states where DraftKings operates an online sportsbook. All participants must create a DraftKings account which includes providing standard verifiable personal information.
Click here to get started or continue reading to learn more about how DraftKings pools work, what type of betting pools are available, how to enter, and ways to increase your chances of coming away with some cash from DraftKings.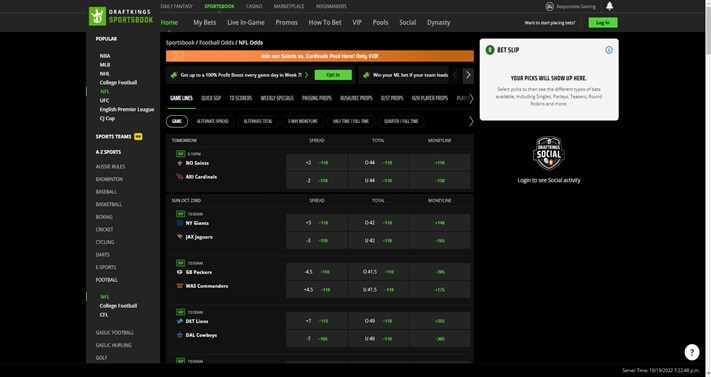 How do DraftKings Pools Work?
After finding a pool to your liking (directions further down in the article), selections are made by clicking on the option. Your picks will be highlighted in white. DraftKings provides information including win/loss records and percentage of chance to win.
A point is earned for each correct pick. In the result of a tie, when the draw is not offered as a selection, the outcome of all selections for that event will be settled as a correct pick unless otherwise stated. The participant(s) with the most number of correct picks on the leaderboard wins the most significant share of the guaranteed prize pool. Usually 20-30 percent of the prize pool.
If there are multiple winners, the allotment will be split. The leaderboard can be found by going to your live pools and selecting the view standings link for each pool. The prize structure is similar to a poker tournament, with first place getting the largest chunk and each place to follow getting a smaller percentage until the cutoff.
There are various DraftKings betting pool types, the most common being picking winning teams, point spreads, and under/over props. Users can filter contests by start time, prize pool high/low, the number of entries high/low, sport, and game type. For more experienced players, a daily multi-sport paid progressive pool combines questions across multiple sports for the day.
The start of the season is the best time to get into a survivor pool, but DraftKings does offer in-season survivor pools for a small entry fee. Other pool types appearing around certain occasions include squares around Super Bowl time, brackets during March Madness, and end-of-season sports awards. DraftKings pools also offer novelty and niche events like the WWE, video games, trivia, politics, weather, brand preferences, and popularity questionnaires.
Pool Winners
Picking winners is the most common type of pool offered. Players select the winning team or contestant straight up in each event. The projected winning percentage is provided just below the team or competitor along with their record.
Point spread pools
Point spread participants are asked to pick against the spread for each game during a particular stretch of the schedule (usually the day or week). Users are selecting if the scoring differential will be under or over the number provided. If it feels tough to decide, point spreads are designed to be 50-50 propositions.
Prop pools
Props questions are arguably the most fun to pick but also the most difficult to get correct. Users will be prompted to make under/over game and DraftKings player prop picks on everything from event stats, specific outcomes, popularity plays, and more.
Survivor pools
If navigated properly, survivor pools are a multi-week endeavor. Users select one team to win each round to advance to the following week. Participants can't pick the same team twice. Midseason survivor pools may be available for an entry fee, or you can create your own pool.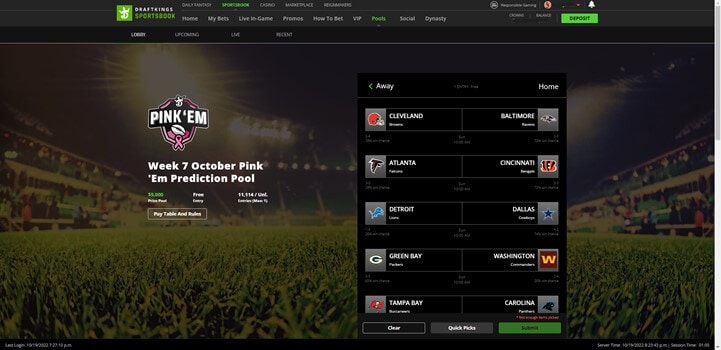 Free vs. Paid DraftKings Pools
All participants are eligible to win cash prizes without having to wager their own money. Free pools with cash prizes are open to all DraftKings account holders but are limited to one submission per user in a given pool. Prize pools for free entries are capped at $5,000, with pay tables ranging from 1st-5th to 1st-2225th. Total entries often approach the 100k mark.
Paid pools range from $10 to $100 to enter and usually have more extensive and generous pay tables reaching upwards of $100,000, partly because of the higher max entries limit set at 32. Prize pools for cards like the daily multi-sport vary depending on the number of entries. Participants can view prize pool pay tables and rules by clicking on the link provided in the pool box on the pool homepage. If there is a cap on individual or total entries, it will be listed in the same section.
Prize pool winners receive the payout in DK dollars, the cash equivalent of site credits, shortly after the contest ends. Credits are added to your account balance and require a one-time playthrough before money can be withdrawn. Any available DK dollars will be automatically used on your next paid transaction before taking funds from your cash balance and can be used for Marketplace purchases. Although not directly withdrawable, based on what we can find on DraftKings Sportsbook, you can generate withdrawable winnings betting with pool winnings.
Paying players need to exercise caution when confirming their picks. Due to the pari-mutuel nature of the prize pool participation agreement, users cannot cancel entries once submitted. That means no refunds.
Users can view the questions before entering. Players are allowed to pick both sides when submitting multiple entries for the same event. DraftKings sportsbook and daily fantasy sites are subject to regulatory licensing gaming enforcement to provide a tested product that is fair and operated correctly.
DraftKings Private Pools
Users can create their own password-protected private pools and invite friends, family, followers, etc., to participate. Private pool creators can choose from game winners, spreads, props, or survivor and a list of sports that includes college football, professional soccer, the MLB, NBA, NFL, or NHL. Users can copy some of the existing miscellaneous event options at the time.
The private pool section is located just above the full list of contests on the lobby homepage. Click the link to get to the create or join screen. Pools for money can only be created in states with DraftKings sportsbooks. All participants must meet the account registration requirements. Click here to create your own.
How to Enter DraftKings Pools
DraftKings makes it easy to get to the betting pools section. Users can get there by clicking on the pools link listed across the top of the sportsbook or daily fantasy homepages. Players will notice four tabs at the top of the DraftKings pools homepage labeled lobby, upcoming, live, and recent. Open pools are located in the lobby, while the upcoming section is where you'll find any confirmed entries and the ability to edit submissions. Countdown timers are only available on the homepage.
Up To $1,000 Deposit Bonus
21+. T&C Apply
21+. T&C Apply
The best sportsbook
Amazing odds & offers
Awesome betting app
Step 1: Create a DraftKings account
The sign-up process only takes a few minutes to complete. It will require verifiable personal information. A geolocation check will be performed each time you visit the DraftKings.
Name
Email address
Date of birth
Street address
Phone number
Last four digits of your social security number
Step 2: Select a pool
To select a pool, you can scroll through the options or tweak the filters to find options that match your preferences. Select the pool box to get to the pick screen. Unfortunately, the DraftKings lobby doesn't mark or remove pools you've already entered.
Step 3: Make your picks
To make your picks click on one of the two options. You can take as much time as needed to complete your selections and change them later if you choose. A quick pick option is located at the bottom next to submit, which can be adjusted by favorites, underdogs, home or away teams, or at random. You'll be asked to choose after selecting the option.
Step 4: Confirm submission
You'll need to confirm your picks by clicking the green submit button at the bottom of the selection screen and again when prompted in the pop-up box that follows. Paying participants need to be sure before sending off their entry. Due to the pari-mutuel agreement that allows DraftKings sportsbook to offer pools, there is no option to cancel submissions after you've entered a pool.
Step 5: Edit your picks
Participants can get to the edit section by selecting the upcoming tab at the top of the pools' homepage. This will take you to your submissions and an edit button. You can edit your picks unlimited times up until the start. This screen will also let you know if you've maxed your entries for a particular pool.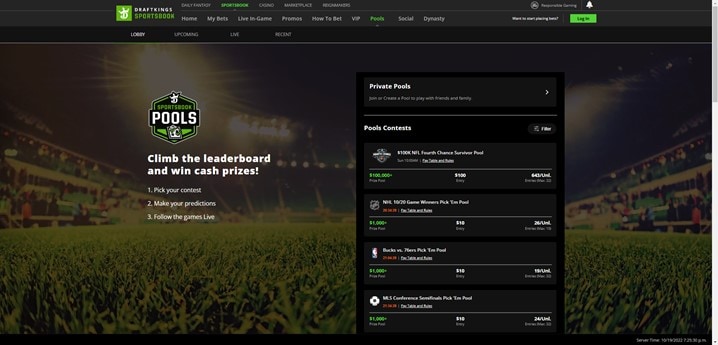 How to Win DraftKings Betting Pools
DraftKings free pools participants can try to keep pace by playing the percentages. The downside is it's a popular strategy with other bettors. With the one entry per account limit, there could be a logjam on the leaderboard. Depending on the pay scale, you may have to adjust your variance. Considering it doesn't cost anything, you may opt to use free entries to swing for the fences. Fortune favors the bold.
Up To $1,000 Deposit Bonus
21+. T&C Apply
21+. T&C Apply
The best sportsbook
Amazing odds & offers
Awesome betting app
With the possibility of tens of thousands of other players, cross-referencing stats is the first step in being competitive. Deviating enough from the public is step two. Also, don't be afraid to change your picks when new information is presented. This is an easy one to gain a last-minute edge.
With paid pools allowing for multiple entries, more strategy is involved with winning paid games. Being selective when wagering is usually recommended, but it does put you at a disadvantage when others are covering multiple outcomes with additional entries. Still, participants should be selective about their entries.
If you have the bankroll, you can try to spend money to make money, but that won't guarantee profit. It will increase your odds, though. When paying to play, stick with sports you know, do your research, play multiple entries, find an outlier you're feeling confident in, and monitor the news until the contest begins.
Key Takeaways
DraftKings betting pools are free and paid and offer participants a chance to split a share of thousands in cash prize pools dished out in DK dollars. The number of winners can range from a few to thousands. The more places paid out, the less each winning spot is paid out.
Users can participate in public pools with other bettors or create custom private pools and send invites. New pools are posted regularly and feature popular sports, leagues, events, and brands.
Free pools are open to residents in all 50 states. Paid pool players (including private) must be located in a state where DraftKings online sportsbooks are legal. A geolocation check will be performed upon every sign-in.
DraftKings Betting Pools FAQs
What are DraftKings betting pools?
DraftKings betting pools are competitions organized by the company where players can participate in free or paid pick'em pools for sports, including professional soccer, the MLB, NASCAR, NBA, NCAA, NFL, NHL, PGA, and UFC, to earn a piece of thousands in cash paid out weekly in DK dollars.

Climb the leaderboard with every pick you get correct. The more correct picks, the better your chances of splitting a share of the prize pool. Pool types include picking winners, against the point spread, prop bets, and survivor-style. Paid entries range from $10 to $100 and come with much larger prize pools to split and the ability to submit multiple entries.
Are DraftKings pools free to play?
Cash prize-paying DraftKings pools are free to play in all 50 states. There are multiple weekly opportunities for free players to test their knowledge and possibly earn some money. The entire process, from signing up for DraftKings sportsbook to submitting picks, takes less than five minutes to complete. The entry limit for free pools is capped at a single submission.
Can I win real money from DraftKings pools?
Free and paid DraftKings pools provide real money prizes with a pay structure similar to a golf tournament, where the winner earns the most significant percentage and a little less is shelled out to each position afterward until reaching the predetermined cutoff, which can range from a handful to thousands. Paid pools do allow for multiple entries. Winners are paid out shortly after the event ends.
Who can enter DraftKings pools?
DraftKings free pools are open to everyone in the US, while paid pools are reserved for residents in legal sports betting states that support DraftKings sportsbook. Participants must be 21 years of age and physically located in one of the states listed below. New DraftKings sportsbook customers can use the link here to claim a welcome bonus 20 percent initial deposit match up to $1,000. Terms and conditions apply.



Arizona


Colorado


Connecticut


Illinois


Indiana


Iowa


Kansas


Louisiana


Michigan


New Hampshire


New Jersey


New York


Oregon


Pennsylvania


Tennessee


Virginia


West Virginia


Wyoming


Are betting pools available only on DraftKings?
Currently, betting pools are only attached to daily fantasy sports providers like DraftKings and FanDuel, but with their rising popularity and ability to keep users engaged and entertained, it won't be long before other sports betting companies figure out a way to offer a similar pool-style product.