Gamble USA strives to improve your online gambling experience. We aim to help you play safely, make informed decisions when gambling, and increase your betting knowledge through our guides.
We adhere to strict editorial integrity; our content may contain links to products from our licensed & legal US partners.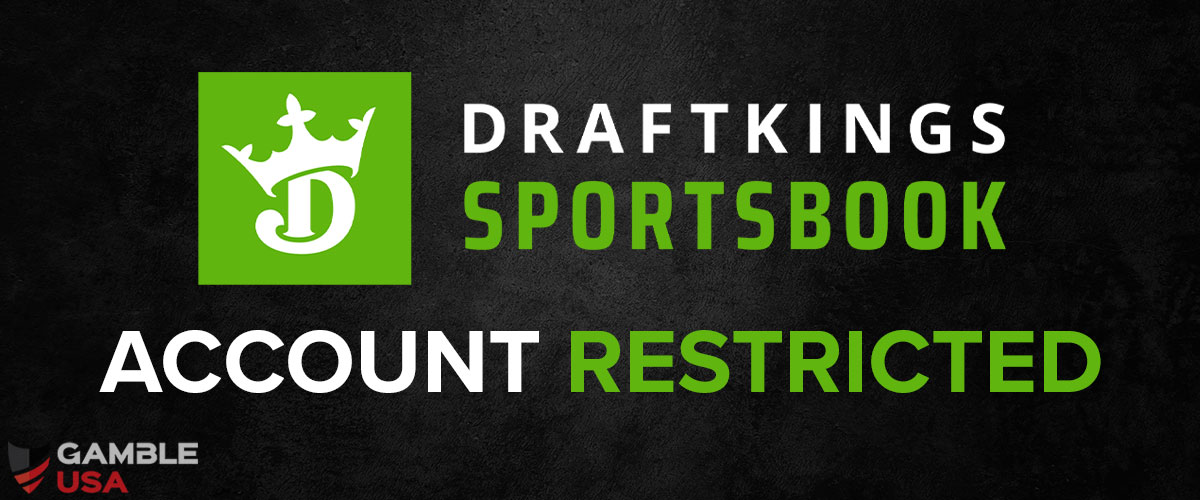 So you have created your DraftKings account and are excited to start wagering on your favorite sports or participate in daily fantasy sports (DFS) contests. Then you see a message stating – draftkings sportsbook account restricted – what do you do next?
It may have come as a shock to you as you log in and want to play but are greeted with a 'DK account suspended' message or 'account 'restricted.' Additionally, you could have been Locked out of your DraftKings sportsbook account completely, or even worse, have your account suspended. This means you cannot access your funds, deposit options, or play on the app.
The worst-case scenario is that your account has been suspended, in which case you have been penalized for doing something wrong. To make sure you avoid ever getting into DraftKing Sportsbook's bad books, we will look at the most common causes for account closure and how to avoid it.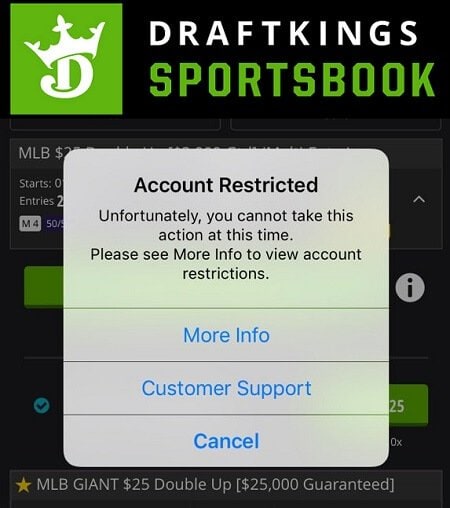 ---
DraftKings Sportsbook Account Restriction
If you are a sports fan, it is an exciting experience playing at legal US sportsbooks. It adds a layer of entertainment betting on a game and then watching it to see if that hunch you had comes off. Sports betting is expanding across the US, and there have never been more online options available for players to place a bet. Players can create multiple accounts across different online sportsbooks and take advantage of bonus bet offers and other attractive promotions.
However, not everything with online sportsbooks is plain sailing, and sometimes problems can occur. This happens to the best and biggest brands out there, including DraftKings. If you are reading this article, you are likely looking for solutions as to why your DK account has been restricted, and what steps you can take to get back to playing. Step forward our how-to unlock your DraftKings account guide.
If your account has been locked, no matter what you do you may not be able to bet again with DK. If this is the case, you can always create an account with FanDuel, or BetMGM, both are excellent sportsbooks and both offer new customers a bonus bet.
With the huge increase in online sportsbook and online casino sites in the United States, it means naturally more issues are arising as the number of bettors increases. As users get to grips with how to enter a promo code or how to use mobile sports, the customer service departments of sports gambling sites are busier than ever. If you are using the DraftKings app but are having problems with your sportsbook account, read on to find out why that might be happening.
You could be experiencing DraftKings login problems for numerous reasons, including:
Suspicious Logins
Multiple Accounts
Creating An Account With False Information
Excluded States
Chargebacks
As we mentioned above, these issues are common across other significant sites, such as FanDuel. But what do they mean, and how do you get past them so your gambling experience can get back on track?
---
#1 – Suspicious Logins
Let's take a look at some reasons why you may see a DraftKings account restricted or DraftKings account locked message. One of the reasons you could be locked out of the account is that someone could be attempting to commit fraud. This is a surefire way to get your Draftkings account suspended. If a random person is trying to sign in to your account from a different IP address, then as a precaution, DraftKings may temporarily restrict your account. They do this to protect the customer and prevent hackers from taking money and ruining your bankroll.
This is why the DraftKings account verification process is so vital when you initially register. It confirms you are who you say you are before you can progress and start betting on games. You could also raise suspicion if you try logging into your DraftKings account using multiple computers. You can try to log in from your normal IP at sportsbook.draftkings.com.
Wrong Username/Password
We understand it feels like you have hundreds of passwords and remembering them all can be frustrating. This also applies betting on sport online, as you will need to log in before you can place that same game parlay wager. It you try to log into Draft Kings numerous times with the wrong username or password, the operator may initially restrict your account before blocking it.
Ensure you are accurate at all times, whether you want to play some Daily Fantasy Sport contests or just bet on Major League Baseball. This is a highly important point to note, as you are not necessarily doing anything wrong, but you still may be suspended for merely entering the wrong username or password.
#2 – Multiple Accounts
The operator states in their terms and conditions that users may only have one account per person to take advantage of their website's service. If you are found to be using multiple accounts, DraftKings reserves the right to lock all sportsbook accounts associated with that person. Consequently, all of the prizes collected by that bettor will be withheld.
DraftKings offers numerous promotions such as odds boosts, bonus bets, and in-game offers. They also have the popular millionaire-maker tickets if you refer a friend, but typically users take advantage of this by creating numerous accounts. Additionally, you may think using a VPN is a way around this, and you won't get found out. Ultimately, you are only allowed one account, as the terms state. With this said, do not open multiple DraftKings accounts.
#3 – Creating An Account With False Information
If you provide false information when signing up for your DK account (DFS or Sportsbook), the operator will probably terminate it. When you join and create a DraftKings account, you should always provide true and accurate information. Name, DOB, address, cell number, email, and last 4 digits from your SSN if required. In certain cases, you may need to provide extra information and documents to activate your account.
#4 – Excluded States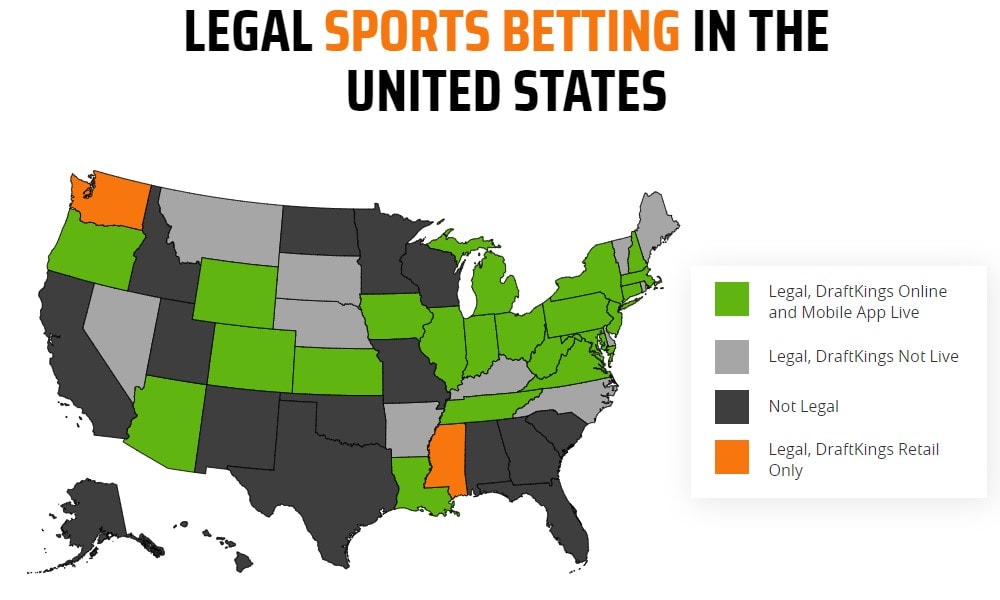 Every resident in each of the 50 US states is eligible to open a DraftKings account. However, some may be prohibited from playing games or betting for real money due to gambling laws in certain states. DraftKings DFS is not allowed to operate in the following states:
Arizona
Hawaii
Idaho
Louisiana
Montana
Nevada
Washington
If DraftKings discovers you are playing in any of the above states, your account will be restricted. The company uses geolocation technology when using the mobile app to pinpoint your location, so you won't be able to gamble remotely in any of the above locations. If you have moved and are still experiencing geolocation issues, check out our troubleshooting guide. The DraftKings location tech is top quality, so you won't be able to fool it.
The DK Sportsbook is available in over 18 states, including Colorado, Illinois, Indiana, Iowa, New Hampshire, New Jersey, Michigan, Pennsylvania, Tennessee, Virginia, and West Virginia. If you are found trying to bet outside of one of these states using a VPN or a proxy, your account will be locked.
The gaming enforcement in each state is responsible for all gambling problem issues, and DraftKings adheres to the rules as a licensed operator.
#5 – DraftKings Chargebacks
If a customer decides to chargeback a deposit they made into their online account, the prizes they have earned with that money will become invalidated. Additionally, DraftKings may decide to terminate the account indefinitely, as is their right.
Here, we are going to look at what happens when you contest a charge from your DraftKings account. We recognize that many bettors open multiple accounts with online sportsbooks; for this article, we are going to concentrate on DraftKings.
What is a DraftKings chargeback?
Let's start by explaining what a chargeback is and how to make chargeback requests on your chosen site. When you create a customer account at any betting site, your money and personal information are protected by the chosen authority of the state you are playing in. For example, if you sign up for DraftKings in New Jersey, DK must adhere to the rules and regulations of the New Jersey Division of Gaming. That means any disputes around fair play and fraud will be taken up with them.
However, if you notice a charge taken from your DraftKings account that you don't accept responsibility for, this is where you can contact DraftKings and dispute the charge.
Let's look at an example. Say you have been a long-time DraftKings user and have made over $10,000 in deposits. You are the authorized account holder and have never had any problems previously. However, you start having connection issues, and your internet access provider is having some problems, or the DK servers are down. When you next log in to your DK account, you notice you have been entered into contests or tournaments that you didn't know about and charged for each entry.
Additionally, you can't change your lineup or change your lines, and all you can do is check your score. DK won't refund your money, so you then dispute the charge. Naturally, you would presume the DraftKings reserves are deep, so you will get your money back. However, this isn't always the case, and they could refuse to give you a refund or even ban your account altogether.
What happens if you get a chargeback at DraftKings?
If the case is black and white, and DraftKings recognizes that there was an issue on their side, you will get all of your money back that is in dispute. However, before you dispute anything you have lost from DraftKings contests or other forms of wagering, there are some crucial factors to note.
If you chargeback a deposit, your earnings generated from that deposit will become invalidated, as well as being grounds for a permanent ban on the account. DraftKings reserves the right to close your account without notice at any time.
---
Reactivating A DraftKings Account
Naturally, you will be keen to know how to get your account functioning properly again and want solutions to fixing the DraftKings sportsbook app. The good news is, the process to get you up and running again is straightforward.
Naturally, the most obvious thing to do is contact DraftKings themselves. Users can email the operator at support@draftkings.com. Customers can send their gaming queries or issues directly and expect a response within 48 hours. You may need to access your account so you can get your DraftKings tax form. If you are unable to log in, we suggest you reach out to support.
Another common solution to any account issues is to reset your password. This may seem like a simple solution, but you will be surprised how often it works. If a user resets their password, they will often discover the  "account restricted" message disappears. To perform a password reset on DraftKings, Go to My Account -> Passwords and select 'change my password.
If you are having problems not listed above, but troubles with the actual DK sports betting app, you can see our separate guide to fixing DraftKings sportsbook app issues.
---
Can I make a New DraftKings account?
If you consistently receive a DraftKings sportsbook account restricted message or the same for DraftKings Casino, you may consider creating a new account. However, like with any legal sports betting site in the United States, once your account is suspended, that's it. You will no longer be able to place a sports bet on DraftKings or participate in DraftKings fantasy sports. The good news is there are other betting options available to you.
Why not create a FanDuel account or join BetMGM or Caesars? These sportsbooks offer all of the same perks as DK including cash out, live betting, and promos for the big events such as the Super Bowl and March Madness. Join today and claim your welcome bonus and put those account restriction frustrations behind you.
Promo Code: GAMBLEUSA
Up To $1,500 In Bonus Bets
21+. T&C Apply
21+. T&C Apply
Promo Code: GAMBLEUSA
Super fast payouts
Live streaming
Promo Code: GAMBLEUSA
Up To $1,500 In Bonus Bets
21+. T&C Apply
21+. T&C Apply
---
DraftKings Deposit Restrictions
There could be several reasons why DraftKings has placed some deposit restrictions on your account. First, one of the obvious reasons is that your account could be locked. You may face a scenario where you can login, but when you go to add some funds, an error message might appear stating you can't add money at this time. If you have no idea why this may have happened, the first thing to do should be to contact the DraftKings customer support team for further information. It could be the case that they have locked your account by mistake and then they will re-activate it instantly. However, if they feel you have breached certain rules or regulations, you must go through the necessary steps and hope you can use your account again.
Another reason why your deposits may be limited is that you are using a payment method that isn't listed in your name. As stated in the DraftKings terms and conditions, you must use a payment option that belongs to you, and that matches the name linked to your DraftKings betting account. It is vital that you make sure every payment option you have available on your account is in your name, all credit/debit cards are accurate and any e-wallets you are using such as PayPal is also your personal wallet. Ultimately, DraftKings have measures in place to protect you from potential fraud which is why the rules around banking are so stringent.
If can be very frustrating when you come to deposit if there are limits or restrictions when, to your knowledge, you haven't done anything wrong. This is why the best course of action is to contact DraftKings directly, ideally via their live chat system, to get any issues quickly resolved.
---
DraftKings Sportsbook Alternatives
If you have exhausted every avenue and still cannot regain your account, there are other sites like DraftKings sportsbook that offer a wide range of betting options and promos. These legal sportsbooks match DraftKings for top-quality sports markets and types of bets.
We would recommend the following online sportsbooks:
All of the above offer excellent welcome packages, so sign up today and claim yours.
FAQs
Can you delete your DraftKings account?
Yes, users can delete a DraftKings account by emailing support@draftkings.com. If you want to delete your account for responsible gambling reasons, the account will be closed permanently, and you will not be allowed to reopen it.
Can you transfer money from DraftKings to Sports?
Customers can link their DK sportsbook and DFS accounts. They can deposit into their daily fantasy sports account, then transfer money to the sportsbook once they have played through it once. For example, if you deposit $100, you have to pay $100 worth of contests in order to move it to the sportsbook. Contacting DraftKings customer support is the best bet if you are still unsure.
Can you have 2 DraftKings accounts?
No, DraftKings will only allow players to have one account per person. Opening multiple accounts is a no go and the DraftKings legal team may be in touch if you try.
Can I get my DraftKings account back?
Yes, if the staff at DraftKings Sportsbook decide to reverse their decision. You must reach out to customer support as soon as you find out that your account has been locked, and then they will review the situation. Should they decide to reinstate your account, you should have it back and running in no time.
Can I dispute my DraftKings account restriction?
You can only make a dispute if you have not broken any rules in the terms and conditions at DraftKings. By arbitrage betting, underage gambling or creating two accounts, you risk account suspension and there is no way back from that. Also, if you deactivate your account because of responsible gambling reasons, then your account will be permanently closed.