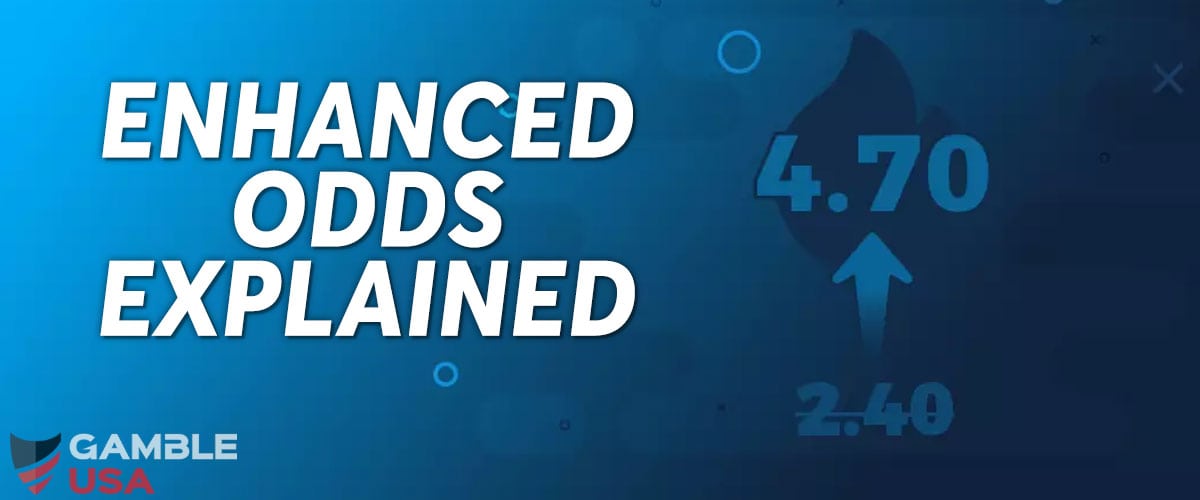 If you have an account at an online sportsbook or are considering opening one, you might have seen offers for enhanced odds, boosted odds, or price boosts. This article will explain what these terms mean and how these offers work. We will also present some tips and strategies to help you find the best enhanced odds betting opportunities for specific events.
If you are new to the sports betting world, you might also be wondering if these offers are legitimate and if there is some catch to them. After all, no matter how good an offer looks on paper, it is worthless if you cannot win money with it. This article will address this issue and answer any questions you may have about enhanced odds offers.
What Do Enhanced Odds Mean?
Enhanced odds, odds boosts, and price boosts are different names for special promotions that many sportsbooks and bookies offer to deliberately increase the odds in certain betting markets. They are usually short-term offers that are valid only for sporting events taking place on the same day. So customers have to act fast because they only have a small window of time to take advantage of them.
Large sportsbooks like DraftKings and FanDuel offer enhanced odds on any given day in a variety of betting markets. Therefore, you can expect to find daily price boosts and profit boosts for the NFL or college football, the NBA or college basketball, MLB, NHL, soccer, and other sports. However, each offer is sports-specific and, unless stated otherwise, event-specific, too.
Enhanced odds get bettors' attention because they are getting a higher payout if the bet wins than they would ordinarily. When making these offers, a sportsbook gives up part of the usual vig or house edge and occasionally all of it. But many sportsbooks are willing to do this because it not only gets existing customers to make additional bets they might not make otherwise but also entices many new bettors to sign up. Sportsbook operators can also protect themselves from big losses, not only by setting a low maximum stake, but also by often limiting the offers to very specific bets that are hard to win.
Typical Enhanced Odds Boosts
Enhanced odds are generally not ludicrous or unbelievable odds but small adjustments from the standard odds. A typical odds boost is 20% (i.e., from + 125 to +150), but sometimes you will find bigger boosts like 30% and even 50%. In other words, with enhanced odds, bookmakers usually still have an edge, but it is smaller than it would be normally.
However, sometimes enhanced odds wind up being losing propositions for the sportsbook. Although such offers can significantly increase your potential winnings, they make them anyway in the hope of bringing enough new customers in the door who have a good first experience and want to continue betting.
As a general rule, the shorter the odds, the smaller the boost as a percentage of the original odds The longer the odds, the more likely, the boost is to go over the 20% mark.
Types and Examples of Enhanced Odds Betting
Enhanced odds betting can be offered in a variety of ways, including odds boosts (sometimes called price boosts), profit boosts, and welcome offers. What the three types of offers all have in common is that they are special promotions that enable customers who win certain bets to win more money than they would ordinarily.
However, when trying to decide which of the multiple enhanced odds betting opportunities available to accept, it is important to understand the following differences.
Odds Boost or price boost offers
An odds boost typically applies to a specific bet on a given day. It is often in the form of a player prop or parlay rather than a straight moneyline or point spread bet on a single team. So, while you are getting better odds, these bets tend to be harder to win. Also, unless the sportsbook states the usual betting odds, it is difficult to tell if these odds boost promotions are a good deal.
A profit boost offers much more flexibility in the bets you can make since it can be applied to any bet under certain conditions. For example, you might see an offer for a 20% profit boost on any bet in the NHL on a certain day.
Unless otherwise specified, odds boosts and profit boosts are open to any registered bettor at a sportsbook, including existing customers along with new users. However, welcome offers are specifically for new customers.
For example,  Caesars Sportsbook offers new customers who lose their first bet, the full amount back up to $1,000 in the form of bonus bets. However, those who win their first bet do not receive any bonus bets. At DraftKings and FanDuel Sportsbooks, all first-time depositors who bet $5, win or lose, receive $200 in bonus bets.
Enhanced Odds in Football
Football events get the most betting action, so as you would expect, it is not hard to find enhanced odds for NFL and NCAAF bets, especially if you look on the same day that games in these sports are being scheduled.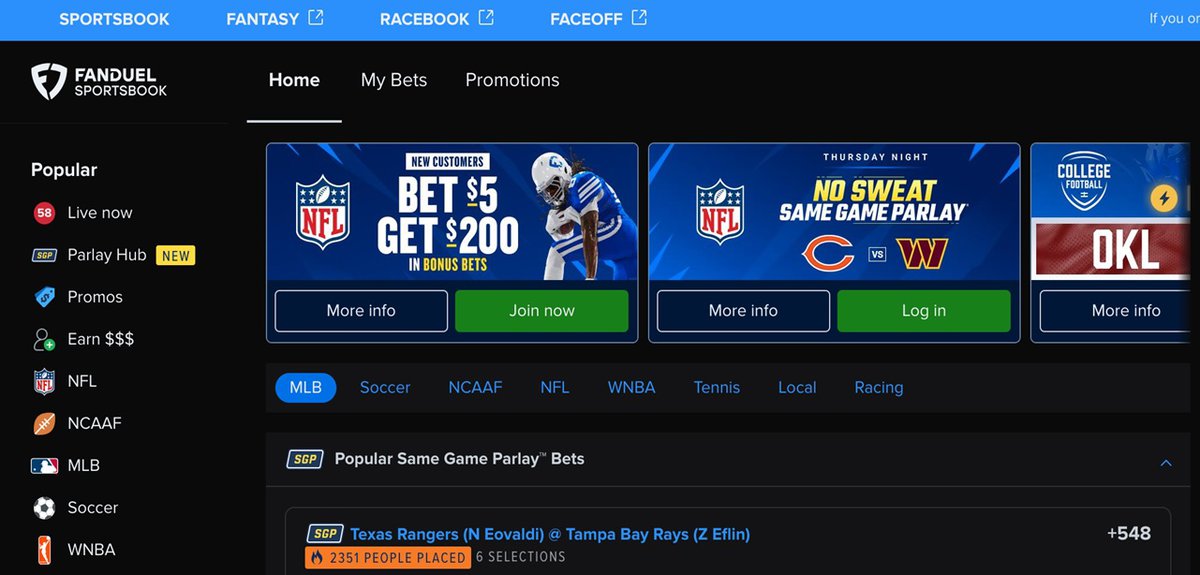 For example, on one Saturday, during the college football season, Caesars Sportsbook offered boosted odds of +575 on the following:
Penn State, Air Force, Alabama, and Iowa all win.
Here is another odds boost offer from BetRivers Sportsbook for a Thursday night NFL game between the Jaguars and the Saints. BetRivers offered boosted odds of +625 on the following same game parlay (SGP):
Travis Etienne to score a TD
Derek Carr to have 2+ passing TDs
The total for the first quarter to go over 6.5
The total for the game to go over 39.5
All four legs of the parlay had to win. So, you might have preferred this simpler offer from FanDuel Sportsbook in the form of a 50% profit boost token to use on any straight bet or SGP on the same game.
Enhanced Odds in Baseball
As in college and pro football, both odds boosts and profit boosts are readily available in major league baseball.
Here is an odds boost that Caesars Sportsbook offered on a ALCS game between the Houston Astros and the Texas Rangers.
Yordan Alvarez and Adolis Garcia will both hit a home run: +850.
Here is a profit boost that DraftKings Sportsbook offered on the same day.
A 25% profit boost on any MLB bet
Enhanced Odds in Basketball
Basketball is another sport where you should be able to find enhanced odds. Here is an example of an odds boost that BetRivers offered on a player prop involving Nicola Jokic of the Denver Nuggets in one of its preseason games.
Nicola Jokic to score 20+ points +120
How Does an Enhanced Odds Bet Work?
Enhanced odds bets work the same way as any other bets you make online or through the sportsbook app except that your potential winnings are greater. Simply add the boosted odds bet to your bet slip along with your other wagers.
Tips to Find Enhanced Odds Bets
The best places to find boosted odds are the websites or mobile apps of major sportsbooks that you know are reputable. Make sure that the betting sites are legal in your area.
Then click on the Promotions tab to check what offers are available on the day you want to bet. In addition, since these offers are sports-specific, another good place to look is under the particular sport that interests you and then on the game you want to bet on, since such offers are usually game-specific, too.
Some odds boost promotions are also listed on social media such as Facebook. You can also Google "enhanced odds" to find websites like us that list the best enhanced offers of the day at different sportsbooks. Any interested person can readily find this information; you do not necessarily have to be a registered customer.
However, as with any other type of legal online sports betting, to be able to take advantage of such offers, you must first have or open an account with the betting site where you want to play. You must also have sufficient money in your account to cover the bet.
If you are already an active registered customer at a particular sportsbook, you probably receive special announcements in your email. alerting you to certain enhanced odds offers on a specific event. So, be sure to check your emails daily.
Strategies for Using Enhanced Odds Bets
The following are some recommended strategies for using enhanced bets.
Unfortunately, sportsbooks do not give you much advance notice regarding enhanced odds offers. Usually, they are not posted until the day of the game or, in some cases, the day before. So, we recommend checking your available enhanced prices every day.
Some sportsbooks offer live enhanced odds betting on certain games that have already started. But it is best not to count on it and get your bet in earlier that day. Even when live betting is offered, the odds will be adjusted based on the action that has already taken place. So, you will probably be offered less favorable odds, thereby diminishing the value of the enhanced odds offer.
Before placing a particular bet, always compare the enhanced odds offered with the odds being offered at other sportsbooks. This will give you a better idea of whether or not you are getting great value. For example, if the odds are only slightly increased (i.e., from +100 to + 105) and there are other restrictions, the offer might not be worth it. We recommend having an account at more than one online sportsbook. This will help you access and take advantage of the best enhanced odds offers available in the specific markets that interest you.
Read the terms and conditions of every enhanced odds offer carefully. Make sure you are eligible and if so, know the time frame for placing the bet and other requirements and limitations, including the minimum bet and maximum bet. The maximum stake might be lower than what you are accustomed to betting. For example, the maximum wager using odds boosts or price boosts at Caesars Sportsbook is $100.
Do not be enticed by the enhanced odds alone. Many of these offers are highly specific and for betting markets with which you have little or no familiarity. This statement especially applies to odds boosts involving multileg parlays or specific player props. These bets are hard to win, particularly if you are new to sports betting and have little experience with these bets. Therefore, your best strategy is to stick to familiar sports and the types of wagers you usually make.
Are There Any Limitations to Enhanced Odds Bets?
Yes, to help compensate for the higher payouts and improve their bottom line, sportsbooks impose certain limitations along with their enhanced odds offers. That is why it is so important to review all of the terms and conditions beforehand. The types of restrictions they impose might include any or all of the following:
Limiting eligibility to first-time users
Low maximum wager
Little advance notice and a small window of time for use
Not usable with bonus money
Highly specific bets such as 3+ leg same game parlays or props on not well-known players that are hard to win.
Don't Get Pulled into a Bet You Weren't Going to Place
Some enhanced odds offers look better on paper than they really are. If it is on a bet that you were planning to make or considering making anyway, it is probably a good deal. However, if the offer does not result in a winning bet, it is the bookmaker rather than the bettor who benefits. Therefore, resist the urge to accept these offers just because of the tempting odds, particularly if it is a type of bet that is way outside of your comfort zone. Review the examples of odds boosts given in this article to show you the types of bets you might want to stay clear of for this reason.
Profit boosts often give bettors a better chance of winning than odds boosts since they tend to be less restrictive and give you a say in the type of bet. Therefore, look for these enhanced odds opportunities and try to take advantage of them whenever possible.