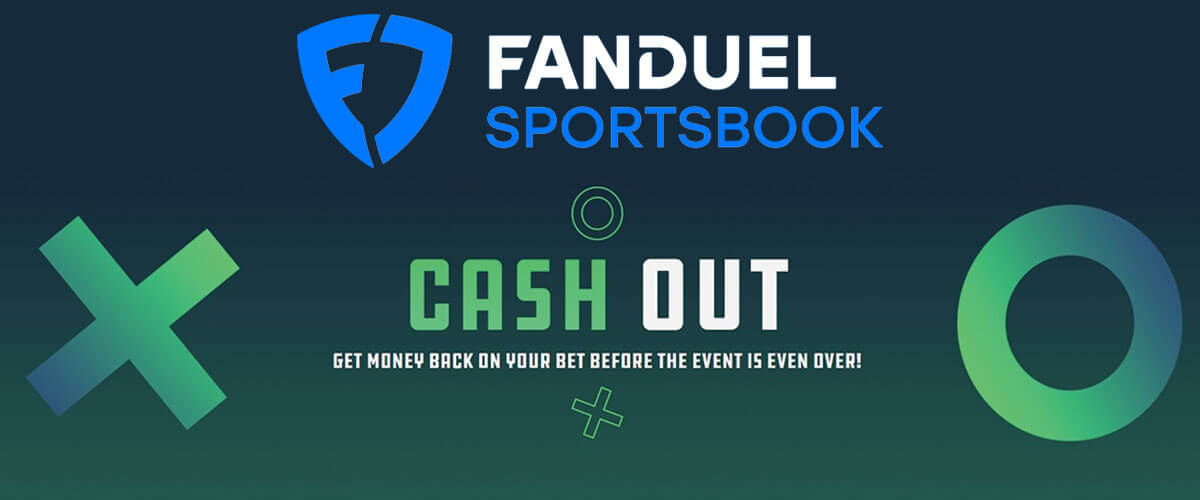 One of the market-leading sports betting providers in the US, FanDuel, has a feature that sets it apart from other US sportsbooks. The FanDuel Cash Out option lets you end your wager early for a better chance to win.
Online sportsbooks noticed early cash out options were popular and FanDuel jumped on it. When it launched its mobile betting app in 2018, the DFS operator turned sportsbook added the FanDuel sportsbook cash out feature which gives sports bettors the opportunity to cut-their-losses and increase their winnings.
Bet $5, Get $150 In Bonus Bets
21+. T&C Apply
21+. T&C Apply
Convenient banking
Massive choice of sports
Bet $5, Get $150 In Bonus Bets
21+. T&C Apply
21+. T&C Apply
---
What is Cash Out in Sports Betting?
For anyone looking to make money betting online, having a cash out button readily available for active bets is a fantastic option. With that said, let's take a look at the FanDuel cash out rules, how to use this feature, and more. No matter what are the preferred FanDuel sportsbook bets you make to win, it is likely that cash out will come in handy.
If you haven't yet signed up to FanDuel, you can create a sportsbook account at sportsbook.fanduel.com and claim a $1,000 new player cash boost. There is no FanDuel promo code required to claim this offer. It's easy to get started with the operator, if you are new to betting, you may want to check out our guide on how to bet on FanDuel. Although it started life as a Daily Fantasy Sports operator, FanDuel is an excellent choice for any sports bettor.
---
How Does FanDuel Cash Out Work?
The fundamental premise behind 'Cash Out' is that it allows users to get money back on their bet before the event you have wagered on is over. The amount of money you get back will be sorted at the time of cashing out. Additionally and unsurprisingly, the amount will be determined on the current likelihood of that bet winning or losing. If you decide to use the FanDuel cash out early option, the money you get back could be greater or less than the initial stake.
For example, you could have a FanDuel NY account and place a bet on the Super Bowl. The match doesn't look like it is going your way, so you can use the cash out feature on the online sportsbook to cut your losses so you at least get something out of the wager.
The SBK cash out feature is offered as part of live betting or in-play betting. These are wagers that are placed on an event that is currently taking place. Players see these wagers as an exciting way of making money on FanDuel. For example, you could bet on an NFL game that has already kicked off after you have assessed the beginning. This may influence how you feel the game will go, and using cash out gives you an option of getting out of a bet if the match doesn't start how you thought it would.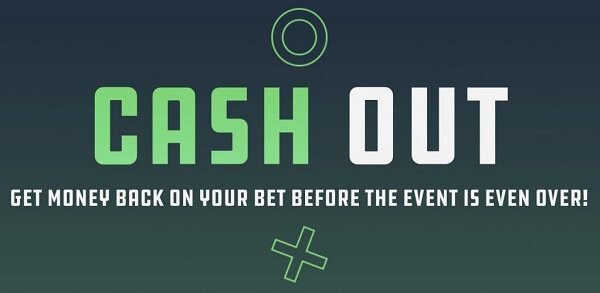 Cash out allows you to settle a bet before the end of a sporting event if you feel your best is not going to win. Because the status of the wagers is updated in real-time, sports bettors can wait for the next significant action to take place, such as a basket made or field goal attempted to determine the most opportune moment to cash out and cut your losses.
Like with any form of gambling, you won't always be correct. However, by choosing the 'cash me out' option, you will win more bets than you would if cash out on the app wasn't an option. Please be aware that FanDuel's 'Cash Out' option is not available for every bet. However, if you are only interested in using this option, you can choose to make just 'Cash Out' wagers if you wish.
The FanDuel sportsbook website and the app have an active bets tab alongside a cash out button at the bottom of the homepage.
---
US Sportsbook Apps With Cash Out Options
There are now several US sportsbooks with cash out features enabled. We have a whole separate guide on these sportsbooks but the top 3 Sportsbook apps for cash out are
The above sportsbooks also include generous bonus offers, including a matched betting offer worth up t0 $1,000 with no promo code required.
---
Cash Out Rules
Bettors may think there is a link between the FanDuel Cash Out and withdrawing funds; however, this isn't the case. Using a FanDuel prepaid card to withdraw your winnings and access your FanDuel bonus cash has nothing to do with cash out.
Ultimately, the cash out option is a way of backing out your live in-play wager should you feel it may lose or it looks like turning into a losing one. It is helpful to think of cash out as a form of bet insurance. You have the fallback option of getting out of a wager before it turns ugly and limiting the potential damage of a loss.
---
What Wagers Are Eligible For Cash Out?
It is critical to be aware that not all wagers will be available for cash out. However, FanDuel cash out eligibility will apply for most live in-play wagers. This simply allows you to lock in your profit early or cut your losses in real-time.
You will know your bet will be eligible for a Cash Out if you are offered a 'Cash Out Value.' This will be displayed on your bet slip in the FanDuel Sportsbook 'Active Bets' tab.
You can browse through each sport on the FanDuel sportsbook app and keep your eyes peeled for which ones offer cash out. There are a wide range of FanDuel sports available, so it is likely you will find one that suits you.
---
How Do I Activate Cash Out Option?
When you are perusing the active bets section, you will notice a green cash out button with the attached cash out value if it is available. When you click this green button, you will be asked to confirm that you are looking to cash out your wager. Once you are happy to proceed, the sportsbook will either accept or reject your cash out request.
When FanDuel has accepted your cash out request, the value of the money you will receive will be what was initially shown as your 'Cash Out Value' in the beginning of the process. This money will then be transferred instantly into your FanDuel account.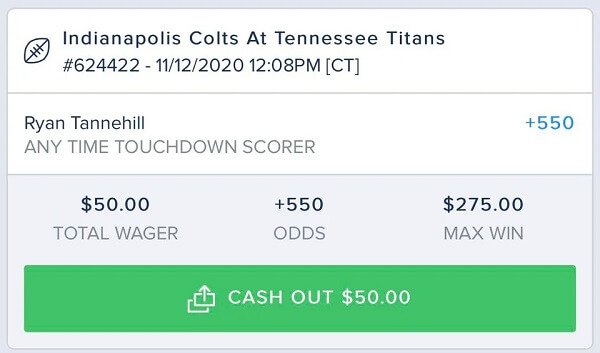 ---
Cash Out Is An Interactive Experience
The Cash Out feature on FanDuel offers far more than simply being able to cut your losses. One of the principles of cash out is to make sports betting a far more interactive experience than it has been in the past. The interactivity when you cash out your bet gives customers a complete sense of control of their destiny, and it is a huge selling point for FanDuel.
Bettors love it when they are offered a cash out opportunity. It adds a layer of entertainment and gives customers the chance to  'close' their bet, so they can bet on another game. This is a win-win scenario for the player as they can then bet again, and FanDuel can buy back the bet at better than market value.
---
When Can You Cash Out on FanDuel?
Whether you are using the FanDuel New York sportsbook or the FanDuel DFS site, you cash choose to cash out your wager throughout the game you have bet on. Once you have submitted your wager, if you think it isn't going well, click on 'My Bets' to open all your ongoing wagers. You can then click on the event you want and choose to cut your losses.
Cash out is typically offered on the FanDuel sportsbook at any time once the event has started. The odds will constantly change to reflect what is happening during the match. Your preferred payment option you have chosen from the available FanDuel payment methods will be automatically selected to transfer any funds to your FanDuel account.
One thing to note though, is that the FanDuel Cash Out feature only works in states where the sportsbook legally operates in. If you are based in NJ, MI, NY, PA, TN, or any of the other state in which FanDuel Sportsbook operates, then you will have no problems placing your bets and then cashing them out. However, if you place your bet while you are in one of those states, and then you leave and go to a state that the FanDuel Sportsbook does not work in, you cannot cash out or change your bet. Until you are back within a state where you can legally access the sportsbook, you cannot touch your bet.
---
Why Does FanDuel Let You Cash Out Early?
Whether you are using FanDuel New Jersey, FanDuel Maryland, FanDuel Ohio, or the FanDuel NY sportsbook, the operator offers the cash out feature. But why does FanDuel, in addition to other well-known operators, provide this service?
Firstly, this is an option that is becoming increasingly important to bettors. There is a lot of copying in the sports betting industry. For example, if the FanDuel app released an innovative update with new features, competitors would quickly notice and would likely lead them to adjust as a result. Some examples of this include same game parlay and live betting, which was once only available at a handful of sites but is now available everywhere.
In addition to including the features that bettors want, FanDuel also benefits from the cash out feature in all scenarios. By providing users with the option of locking in some profit before the final outcome, the operator is limiting its own loss on that outcome. When you opt-out of a wager early, the sportsbook is also locking in some returns early.
Apart from guaranteeing some profits and minimizing losses, offering cash out also builds up some goodwill and strengthens the reputation of a sportsbook. Regular bettors might be swayed to join a sports betting site that allows them to cash out early. Although this feature isn't quite mainstream yet, it will be no surprise when it does become the norm.
---
How Does FanDuel Calculate Cash Out?
Whether you are using the FanDuel sportsbook NY, wagering on college football or another betting option, cash out is available to all users. But bettors may be wondering how the amount of money you receive when you choose to cash out is calculated. In the same way FanDuel sets lines and odds, operators will determine cash out decisions based on numerous factors. It boils down to what they deem the fair and accurate value of the bet. Is it the same process for any potential profits or for mitigating losses.
FanDuel will consider aspects such as the current odds for the outcome, the action happening on the field during the event, and the likelihood of the final outcome based on similar situations that have occurred in the past. The amount that is shown next to the cash out option is the final offer at that precise time, but things can change quickly in sport and so the amount will also change.
You can see how much you have won by looking on the settled bets tab when you choose to cash out. Online sports bettors on FanDuel can also see their associated cash and early cash settlements on various tabs. If you see a FanDuel cash out unavailable message, contact customer support.
---
Pros & Cons of Using FanDuel Cash Out
As with any decisions you make with the FanDuel sports betting site or the FanDuel Casino, there are cases for and against why you should do something, and using cash out is no different. First, let's take a look at the positives of using FanDuel cash out:
Pros of FanDuel Cash Out
You will guarantee yourself some profits instead of waiting for the final outcome
Using cash out gives you more control over your bankroll and betting funds. You will know exactly how much money you are locking in if you opt to come out of the wager early.
You can cut your losses if the bet isn't going how you thought it would. Sport, by it's very nature, is unpredictable. That makes trying to consistently win bets challenging. If you have have a fall back option, which is what cash out provides, it is worthwhile.
There are certainly some strong arguments for using the FanDuel cash out option. However, there are a few drawbacks as well.
Cons of FanDuel Cash Out
The sports betting site may not offer you a good payout deal. In this instance, it could be worth taking a chance and waiting for the match to end.
If you cash out because the bet is going wrong, it could then turn the other way after you have already cashed out. This will leave you with a sense of regret.
You might start second guessing your choices instead of going with your gut instinct.
Ultimately, the final decision rests with you and what works best in terms of financial choices. There could be circumstances where it is perfect to use cash out, but there will also be scenarios where just waiting and hoping for a positive final outcome will also be the best bet.
---
FanDuel Cash Out FAQs
Can you cash out on FanDuel out of state?
Unfortunately not. You can only cash out in the same state where you originally placed the bet, or in one of the states where FanDuel sportsbook is legal.
How long does it take for FanDuel to payout?
FanDuel states that customers should allow four to six business days for funds to appear in their accounts. However, typically money will be transferred within 48 hours. Please be aware that players can only withdraw to a PrePaid card or PayPal if they used those methods to deposit.
How is cashout calculated?
Cash out is calculated by using the potential winnings from a wager alongside the current odds you get if the wager was placed now. For example, if you bet on the 49ers to win before the match and they are leading at halftime, the odds will be shortened to reflect the current score.
Does FanDuel charge monthly?
No, the sportsbook will not charge you monthly. However, if you haven't made any bets or deposits for two years, the sportsbook will charge you $3 per month.
Why does FanDuel offer cash out?
FanDuel offers cash out because any online sportsbooks that want to be considered the best must have early cash out options. Nowadays, online sports bettors can expect to see options to cut their losses before anything appears in the settled bets tab. Even if the wager isn't going well, they can get out early and claim something back, with this associated cash being a small victory rather than a total loss.
Does cash out include your stake on FanDuel?
Any cash out returns on the FanDuel sport site that have come from free bets do not include the free bet stake. Some markets may also not include your stake back if you cash out. Please ensure you check the terms and conditions of all cash out offers on the FanDuel online sportsbook before choosing this option.
Can you cash out a parlay early on FanDuel?
From the moment you submit a traditional parlay or same game parlay bet, you could receive the option to cash out at any time. Often this is offered even before the event, or events in the case of a parlay, starts.