There aren't many online casinos that can match FanDuel Casino for games choice and offers, but as great as the games library is, the FanDuel Casino keeps throwing up problems for players.
There's little more frustrating for mobile casino enthusiasts than not being able to play when you want. Many of us set a little time aside, such as an hour in the evening or on the commute home from work, to entertain ourselves in the casino. Understandably, if you're ready to start spinning the reels only to find out that the FanDuel Casino app isn't working, it's highly annoying.
Does this mean FanDuel Casino is down, or is there another reason? Unfortunately, it could be any number of things, and as a user, all you can do is quickly go through each option until a resolution is found. That's where our FanDuel Casino app troubleshooting guide is here to help. We've produced a comprehensive checklist for you to work through and hopefully find a fix so that you can get hit the tables or slot machines as quickly as possible.

Sometimes it will seem no matter what you try, the casino just won't load or the games won't work properly as the casino is down. If you experience this a lot, you may want to consider playing elsewhere. Both BetMGM Casino and DraftKings Casino have awesome casino apps, and both will offer new players a no deposit bonus when you join up, so you can try the casino for free!
Get A 100% New Player Bonus
21+. T&C Apply
21+. T&C Apply
Fast withdrawals
Huge game choice
Get A 100% New Player Bonus
21+. T&C Apply
21+. T&C Apply
---
Troubleshooting FanDuel Casino Online Site & App
FanDuel is currently one of the most popular gambling apps in the US. While still best known for its daily fantasy sports games and FanDuel sportsbook app, it has now expanded into the world of online casino gambling in regulated states. However, this doesn't mean it's immune from technical issues and other problems. So, what do you do when your FanDuel Casino app isn't working? Take a look through these tips and fixes to see if they provide the answer.
1. Are you in a legal state?
The most common reason for the FanDuel Casino not working is that the player is not in a regulated state – or potentially – the app cannot determine accurately if a player is or isn't. Let's break this down so that it's easier to understand.
As we are sure you know, the legality of real-money online casino gambling in the US is governed at state level. Multiple states have legalized iGaming, but there are lots of states that haven't. Customers can only place real-money bets if they are physically located in an eligible state. Furthermore, each state is independent, which means your FanDuel New Jersey account is not valid in Pennsylvania, even though both states are licensed and regulated.
FanDuel Casino is only available online and mobile in the following states: Connecticut, Michigan, New Jersey, Pennsylvania, and West Virginia.
So, the first thing to check when FanDuel Casino isn't working is to check where you are, and, if are you accessing the casino in the correct state? Even if you are in an eligible state, it's not uncommon to receive a 'Restricted Location' message. When this happens, try the following things:
Restart your device
Clear your device's cache
Refresh the location settings
Switch the wifi connection off and on again
Try another device
FanDuel Casino uses geolocation to pinpoint where you are and confirm you are in a legal state. You can't bypass this or try and trick your location to play at the Casino. If you are in a licensed state and having problems confirming your location, have a read of our casino geolocation fix guide to get a workaround for the problem.
2. Inactive account
Many online casino players may not know this, but FanDuel Casino will classify an account as 'dormant' if it has been inactive for a 12-month period. Of course, as a user, you will know when you last logged in, if it was over a year ago, then this is most likely the reason why the FanDuel Casino or the app isn't working for you now. Furthermore, as a heads up, FanDuel states in its terms of service that "unclaimed balances in dormant accounts will be forfeited", so even if you contact support and get them to reactivate your account, it most likely will not have any funds in it.
If you have been trying to play at the casino illegally, either by using a VPN or using false information, then you may have your FanDuel account suspended. If this happens, you can't play at the casino and will need to look for an alternate online casino. It is illegal for the casino to allow players from out of state to play for real money, and if caught, they would have their license revoked, fined, and possibly worse.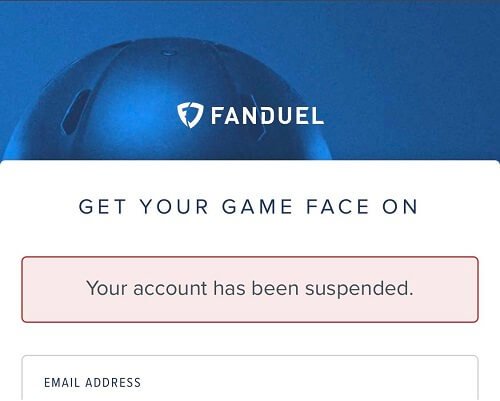 3. How's your signal strength?
You'll be amazed how often we think the Casino from FanDuel isn't working, and the issue is something as simple as not having a good signal. You can quickly check your signal strength by looking to see how many bars you have. Also, it's worth paying attention to the upload/download arrows (located next to your signal bars). These will tell you if the signal is continuously dropping out and then coming back again. If you have a poor signal, no data can be sent or received, which will ultimately mean you can't play.
A quick fix you can try is to switch off the mobile data on your device and then turn it on again. Alternatively, if you're using a wifi connection, try the same trick. Sometimes, particularly with older devices, the connection appears to freeze, and the off-on fix can act as a mini reboot.
4. Does the app need updating?
Nothing much stands still for long in the digital world, and that includes mobile apps. In the race to provide the best user experience on the market, US casino apps are continually updated to offer new features. On rare occasions, old apps are no longer supported, which means they won't work, no matter what you do. A quick check in the Apple iTunes App Store will let iOS users know if an update is available. For Androids, you'll need to delete the current app and re-install the new file that's available on FanDuel's casino website at fanduel.com/casino.
Once you have updated the app to the latest version, you naturally expect it to work perfectly, right? Well, like when updating any app (think Instagram, Twitter, etc), an update doesn't always make the app better. If it ain't broke, don't fix it………….but updates generally are good for software and apps. FanDuel Casino regularly updates the app to include new games, design improvements, security updates, and more.

But what if you have updated your FanDuel casino mobile app and get a white screen? This is a pretty common problem, unfortunately. If you have done the update and the app screen just displays white, try and uninstall the app and re-download it again. This can also happen with the sports betting app and can stop the FanDuel sportsbook from working too.
5. Is FanDuel Casino down today?
Typically, we look at our device or our situation as being the root of the problem for the FanDuel Casino not working. But, there are times when the issue is at the other end. FanDuel may be one of the biggest names in online gambling in the United States, but it still suffers from outages every now and then.
So, if the casino or the app won't load, or it stops working, quickly flip over and check the web-based version. If you cannot access this site either, the chances are the issue is with them and not you. Social media, FanDuel Casino on Twitter or Facebook is the best place to check for updates when this does happen. Usually, it's not worth contacting support as the operators are bombarded with requests, so you could be hanging around for some time.
All tech providers regularly update servers and data centers. FanDuel may be down on purpose if they are carrying out maintenance or updating software.
6. FanDuel casino seamless login error
A common issue coming from FanDuel casino is the seamless login error warning. This prevents players from being able to log in to their accounts, making play impossible. It's a technical issue that the operator is aware of, but as of yet, hasn't been able to fix. As far as we can tell, the server has a problem authenticating a player's login and blocks the sign-in. Resetting the password and trying again can occasionally work.
If you continually see the seamless login message, delete the app and re-download it. If no matter what you do, you can't get past this stage, call it a day and use a more reliable app listed below.
---
More FanDuel Troubleshooting Tips
Having run through the main culprits of the FanDuel Casino not working, here are a few things to be aware of.
Check there are funds in your account: Different US states have different rules regarding deposits and casino betting. It could be that a deposit made in one state doesn't show up on your account balance when you are using the casino in a different state. Always check your balance before you start playing, and if you notice something isn't right, contact FanDuel support without delay.
Games not loading: Unfortunately, this is one of our biggest issues when it comes to the casino and playing slot games. We can log in, fund our account, head to the lobby to pick a game, head to the table, and the games just won't load. Back to the lobby, select another game. Same issue. Yes, we get it, technology screws up, glitches happen but come on, you're a casino, we want to play a game! Logging out, then back in usually sorts the not loading issue, but sometimes we have had to give in and play elsewhere.
Don't use VPN: Of course, with the laws regarding online casinos in the US as they are, it's tempting to try and bluff the system by using a VPN. This makes it appear as though you are in a different location from where you physically are. However, if FanDuel suspects you to be using a VPN, it can suspend your account and cancel any winnings you may have.
FanDuel Casino app running slow: When FanDuel Casino is particularly busy, like Saturday evenings, for example, it can slow the app down a bit. This is most noticeable if playing live dealer games, but even FanDuels best slot games can appear laggy. As a customer, there is little you can do when this happens other than try another app.
FanDuel Casino Bonus Code Not Working
If you have found or been given one of the latest FanDuel Casino bonus codes and can't get it to work, you may wonder what you are doing wrong. It's like when you give a coupon to a cashier, and they can't scan it. Coupons and bonus codes expire, become invalid, get used too many times, or just simply refuse to work.
If you have problems with the Fanduel casino bonus code, don't worry, there are lots of other casino bonus codes you can use with other operators. But, let's try and get this one working for now. It's always best to clear your browser cookies or use a new incognito or private window. Then go to casino.fanduel.com and create an account. The best thing about the bonus is that you don't need a code, so you can just go ahead and head to your account and make a deposit to claim the offer.
Please be aware that you can only use one code per account. If you have created an account with FanDuel previously, you can't claim the welcome bonus.
Alternative mobile casino sites & apps
If you're continuously having issues with the FanDuel Casino app and website, then it could be worth considering another operator. These are some of our recommended Fanduel Casino alternatives:
All of the casinos mentioned above are currently offering welcome bonuses for new customers, which can help to boost your bankroll before you play.
We hope this guide has helped you if you have been experiencing problems with FanDuel casino. If it's driving you mad, just remember you aren't alone. Casino and sportsbook apps play up all the time, which is why it's always a good idea to use a few operators just in case. Happy playing.
---
FanDuel Casino App Troubleshoot FAQs
Can I use a VPN on the FanDuel Casino app?
No, as FanDuel has geolocation tools that can detect a VPN and will lock you out of your account. Even if you can access the casino app with a VPN, it may cause performance issues during gameplay, and if FanDuel detects your VPN, it may suspend your account. You can play at FanDuel Casino from any of the states it operates in:
Connecticut, Michigan, New Jersey, Pennsylvania, and West Virginia
Why is FanDuel Casino app declining my payment?
Double check your information, as the most common error is when you have entered a wrong number of misspelled your name. Make sure all the information is correct, and write your name exactly as it is given in your bank account or e-wallet. If FanDuel continues to decline your deposit, then check to see whether you have the funds in your account to make a transfer, and to pay any charge if your payment service provider has a fee for electronic payments. Should the payment service keep failing to work, contact customer support or you can use an alternative payment service.
What to do when FanDuel casino crashes during a game?
You should immediately contact customer support. Then you can close the app and reopen it. Customer support should be able to find out what went wrong, and may be able to reimburse you on any bet or round that was underway when the crash occurred, if it happened during gameplay.
Why is the FanDuel Casino app not loading?
This could be due to several reasons. The most common issues players have is their internet connection is not stable, their cell phones do not have enough storage or they do not have the latest version of the app. Close the app and check to see whether it requires any software updates. Then, you can reopen the app and hopefully it should work normally.