Gamble USA strives to improve your online gambling experience. We aim to help you play safely, make informed decisions when gambling, and increase your betting knowledge through our guides.
We adhere to strict editorial integrity; our content may contain links to products from our licensed & legal US partners.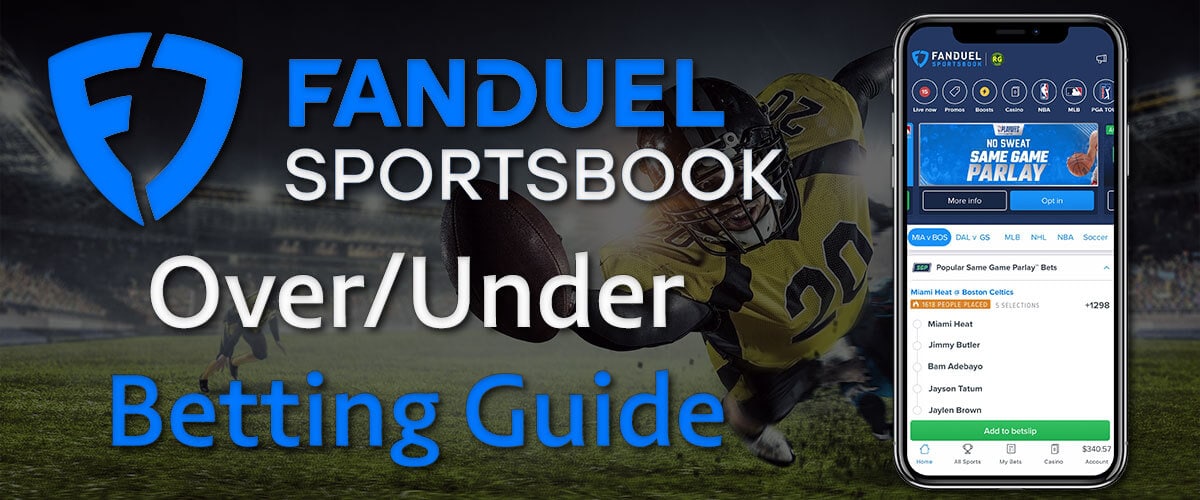 Placing an Over or Under bet on FanDuel is one of the easiest bets a user can place and if you get your strategy right can be very rewarding if you manage to win. In this guide, we'll show you how they work, the rules for over/under sports betting, and an example of three strategies you can use to calculate the potential totals on a game.
Over/under betting is sometimes referred to as totals betting and is a type of wager where you need to predict if the points total scored in a game will be over or under a specified number set by the sportsbook. The player can place a wager on the "over" number if they think the total scored will be higher than the number set by the sportsbook or on the "under" number if they think the total scored will be less than the specified number.
The bet is calculated by taking the combined total of points scored, regardless of which given team wins. It is a head-to-head between you and the sportsbooks.
New To FanDuel? Sign up below to get some bonus bets to place on an under/over bet today.
No Sweat First Bet Up To $1,000
21+. T&C Apply
21+. T&C Apply
Convenient banking
Massive choice of sports
---
Does FanDuel Have Over/Under?
Yes, FanDuel has a wide range of bets that are covered in the Over/Under sports betting markets.
FanDuel also has some great boosted odds on these types of bets which is why they are popular with sports fans.
Over/Under totals betting is one of the most popular types of bet for football and basketball fans on FanDuel, but they also have some other great markets on NFL and NBA games, including the ability to wager on:
NFL Betting Markets
Same Game Parlays
Touchdown Scorer Props
Drive Results
Passing Props
Receiving Props
Rushing Props
Defensive Props
NBA Betting Markets
Same Game Parlays
Player Points
Player Rebounds
Player Assists
Player Threes
Player Combos
FanDuel Team Props
---
How the FanDuel Over/Under Works
Let's look at the mechanics of over/under-betting and how it all works for sports bettors.
To make it easy to understand, we'll use a series of screenshots from the FanDuel sportsbook to show you how these wagers work in practice.

To place an Over/Under bet on FanDuel is very straightforward.
Go to the FanDuel sportsbook and select NFL from the left-hand menu.
Select the "Games" link in the sub-menu.
Then you will see the odds split into three columns, including

point spread

,

moneylines

, and totals. Totals are the one bettors want to focus on.
Reading Over/Under Odds
We'll make this as simple as possible. An Over/Under bet is not complicated but requires a strategy to make it profitable.
The first step is to read Over/Under odds correctly.

So we have opened up the odds on the FanDuel website on a game between the Jacksonville Jaguars and the Kansas City Chiefs, as you can see above.
You have three columns with the odds; the one we are interested in is the TOTAL column.
So you have two wagers you can bet on. Bet O 51.5 or U 51.5.
If you select to bet O 51.5, you are betting there will be at least 52 points scored in the game.
If you choose to bet U 51.5, you are betting there will be a maximum of 51 points in the game.
If the game were to finish with a combined total of 51.5, this would be a "push."
It means your bet is not a win or a loss, and so the sportsbook would refund your stake.
---
How to Bet Over/Under on FanDuel Sportsbook
No Sweat First Bet Up To $1,000
21+. T&C Apply
21+. T&C Apply
Convenient banking
Massive choice of sports
Over/Under wagers are one of the most popular bets on the FanDuel sportsbook, and you can place these as single bets or combine several events to build an Over/Under parlay bet at bigger odds.
Let's look at both of these.
Over/Under Single Wager
The single wager is a quick and easy bet to place on your favorite team. You would go to the FanDuel sportsbook and choose NFL from the left-hand menu to open up all the games for that day.
Step 1. Select the NFL games you wish to place wagers on FanDuel.

Step 2. Add in the stake for your bet, select the odds, and then place your wager. That is all there is to it.
Over/Under Parlay Wager
Parlay wagers are a very popular bet with football fans on FanDuel. Picking three or four team parlay wagers can turn a small potential profit into a much bigger win as the odds are more attractive.
Let's check how to place FanDuel parlay wagers on the Over/Under markets.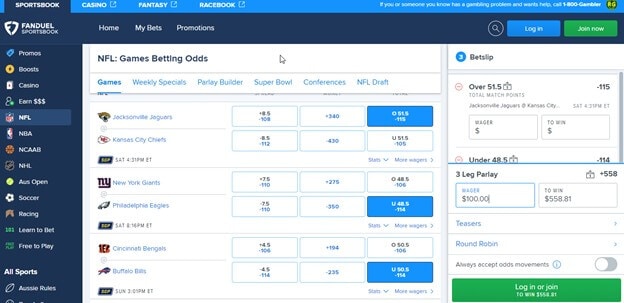 So above, we have picked out a three-game Over/Under parlay with odds of +558.
The selections highlighted in blue are our three picks, so we have:
O 51.5 in the game between the Jacksonville Jaguars vs. The Kansas City Chiefs
U 48.5 in the game between the New York Giants vs. The Philadelphia Eagles
U 50.5 in the game between The Bengals vs.The Bills
Check the latest FanDuel promotions for odds boost offers on various parlay bets.
---
FanDuel Over/Under Rules
The rules on Over/Under betting on FanDuel are quite simple, and the five main rules are below.
Over/Under betting is available pre-game and in play.
The maximum amount you can win on a Total (Over/Under) bet is $1,000,000
Overtime counts for all Over/Under bets unless stated otherwise
For quarter-and-half betting, the entire period must be completed for bets to stand
Two leg parlays are refunded if one leg becomes a push in an Over/Under (Totals) bet
NFL Over/Under Rules on FanDuel
The rules for Over/Under betting in NFL games vary depending on the sportsbook, but generally, the sportsbook will set the total number. The bettor then places their wager and decides if the combined score will be over or under the number assigned by the sportsbook. The main rule to be aware of is that if the combined score is the same points total as the sportsbook sets, the wager is considered a push, and the bettor's stake is returned.
---
FanDuel Free Over/Under NBA Contest
No Sweat First Bet Up To $1,000
21+. T&C Apply
21+. T&C Apply
Convenient banking
Massive choice of sports
FanDuel is one of the sportsbooks that come up with innovative ideas, and a couple of seasons ago they opened up an Over/Under contest for the NBA playoffs where sports bettors had to use their skill and judgment about NBA basketball.
The contest covered all NBA playoff games featured on TNT, and with pools of $5,000 to play for, they certainly sparked plenty of interest.
Of course, FanDuel sportsbook provides its fantasy sports and sports betting products, but this was something different and looks sure to become a regular contest come playoff time.
Watch out on FanDuel around the NBA playoffs every year as they may be running this or a similar contest giving you a free chance to win money using FanDuels Over/Under feature.
---
Strategies and Tips for Over/Under Betting
As a common bet on NFL football, it is always worth looking at some betting strategies for playing the Over/Under markets on your FanDuel sportsbook account.
Using data and statistics is a great way to determine whether the oddsmakers at FanDuel have got the totals right or wrong. Sometimes you can find an edge, and we have listed below three simple ways to do this.
Example Strategy 1
If we look at the game between The Jaguars vs. The Chiefs, the first strategy is to use the totals of both teams and take the averages from the current season.
Jacksonville Jaguars 404 points / 17 games = 23.76 points per game.
Kansas City Chiefs 496 points / 17 games = 29.17 points per game.
Therefore, if both teams are playing offensively at the top of their game, we could expect a total of 52 – 53 points.
Example Strategy 2
We'll use a second playoff NFL game between the New York G's and The Philadelphia Eagles for the second strategy.
So the second strategy is to flip the idea and use defense stats to see how many points, on average, the teams that got beat lost in each game, and then add to that the average per game scored by the favorite's top points scorer.
New York Giants 371 points / 17 games = 21.82 per game
Philadelphia Eagles 344 points / 17 games = 20.23 per game
Jalen Hurts (Eagles) 82 points / 13 games = 6.30 per game
Using this strategy, we expect to see 48.35 total points as a minimum.
Example Strategy 3
Finally, we can look at the head to heads between the teams over past seasons to see how the totals have performed. We need to look at the most recent meetings to get an idea of where the points total could fall.
Let's look at the last three games between The Giants and The Eagles.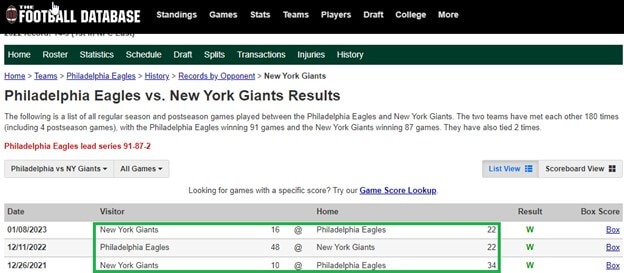 So we have three games to look at, and the total points across the three games were 152.
Although this strategy has a lot to do with the current form and is not the most scientific, we expect the upcoming playoff game to have a points total of 50-51 points.
Combing the about three Over/Under Strategies
Therefore, considering our three strategies, if we combine the total of all points, we would have 53.00 + 48.35 + 50.66 = 152.01.
It gives us a great benchmark of 50.67 expected total game points.
To check out the scores of matchups between NFL teams, you can find this useful tool we found called "The Football Database."
---
FAQ's
What is the FanDuel Over/Under bar?
The Over/Under bar is a sports bar and restaurant located in Chicago and is the brainchild of Ed Berry. The bar allows sports fans to watch all their favorite sports while betting on all their favorite mobile betting apps, including the FanDuel mobile app.
How do you play Over-Under on FanDuel?
Over/Under betting is available on various sports, with football and basketball being the most popular. To play Over/Under (Totals) on your FanDuel sportsbook account, pick your game, and look for the "totals" odds. Here you just choose either over or under the sportsbook's own idea of the total points.