Gamble USA strives to improve your online gambling experience. We aim to help you play safely, make informed decisions when gambling, and increase your betting knowledge through our guides.
We adhere to strict editorial integrity; our content may contain links to products from our licensed & legal US partners.
FanDuel sportsbook is one of the biggest and most popular legal sportsbooks in the US, but are there better places to have a bet? We look at the best FanDuel alternatives for sports bettors.
Following the decision to legalize online wagering, many gambling brands launched online platforms offering bettors numerous options. There are now several legal sportsbooks available across the country, and it can be tricky finding the best NJ sportsbook or best sports betting app for you. FanDuel made the successful transition from DFS provider to sportsbook operator in 2018 and has gained a lot of customers.
FanDuel has built on that fantasy football success and now has a sportsbook app among the best in the US. With sport betting now so popular in America, with mobile sports betting in particular proving to be a hit, Fan Duel has more competition everyday. Finding a sports app is now easier than ever, with brands recognizing the desires of people wanting to bet on the go. There are even dedicated football betting apps if you are all in on the NFL and college football with special odds on the Super Bowl.
With that said, let's take a look at some of the other online sports betting apps apart from FanDuel. Each online sportsbook app found below is fully legal and licensed to operate and can be downloaded from the Google Play Store (Android) and the App Store (iOS).
Best Alternatives to FanDuel Sportsbook
If you are looking for an alternative to fanDuel sportsbook, the below list of betting sites is a fantastic starting point. Some of the better alternatives to FanDuel sportsbook include:
We take customer feedback on board and review all online sportsbooks impartially. We judge each mobile app or betting site on criteria such as odds, sportsbook offers, playing options, payment methods, and more.
Unfortunately, we have heard a lot of people having problems with FanDuel and are looking at better alternatives to place their bets with. Your FanDuel account may have been suspended or closed, and you need to bet with another operator. Whatever the reason, there is plenty of options available.
As the competition with online sportsbooks is fierce, many will offer incentives for new players, such as offering up free bets or other promotions. However, it is also essential to look at other key features such as customer service, quality of the mobile app, and range of sports markets. Sites like FanDuel promise fantastic betting experiences providing several betting options and attractive bonuses for their customers. However, even though FanDuel sportsbook is one of the largest platforms available, players' feedback isn't good.
In this article, you will discover the best FanDuel alternatives. We will look at FanDuel competitors and how apps like FanDuel stand up against the rest.

Here at Gamble-USA, we have spent numerous hours using these legal gambling platforms to recommend the best sports betting sites to give you the best chance of making a profit. Although not every online sports betting platform is available in every state, we favor sportsbooks that are available in multiple states and not just New Jersey.
While the majority of legal sports betting sites will allow players to bet on sporting events and place money on the spread, props, moneyline, and more, some platforms excel and offer better bonuses and more reliability.
Wherever you are betting, it is vital you have a pleasant experience, and the platform is easy to use. It should be straightforward to access odds boosts, a risk-free bet, and all of the betting options available. All of the sports betting sites listed above are better alternatives to FanDuel offering better odds, markets, customer experience, and betting app. If you take a look at FanDuel on reddit, you can see there is a growing number of complaints about the sportsbook.
FanDuel competitors in the US sports betting industry are:
DraftKings Sportsbook
BetMGM
William Hill
Barstool Sportsbook
Bally Bet
BetRivers Sportsbook
These sites like FanDuel all offer legal sports betting in several regulated US states.
Recommended FanDuel alternatives
So, let's take a look in more detail at some other sites and apps you can use instead of FanDuel:
DraftKings Sportsbook
DraftKings Sportsbook is arguably the biggest name in US sports betting. Along with FanDuel, they have exploited the legal us betting market and have sites available in numerous states. DraftKings sportsbook vs. FanDuel sportsbook is a common theme among bettors as they try and find the most suitable sports betting site for them.
We like DraftKings as it always improves its product with new and innovative features. DraftKings is well-known for its Daily Fantasy Sports (DFS) competitions, which have attracted customers for years. Additionally, the DraftKings minimum bet and DraftKings sportsbook cash-out option are both excellent features. The operator also has its own DraftKings Sportsbook gift card, meaning you can gift someone a set amount so they can place a few bets too.
In terms of FanDuel vs. DraftKings, there is only one winner for us, and we don't need to consult Reddit for the answer.
DraftKings are offering all new customers a $1,000 sign up free bet bonus when they join at sportsbook.draftkings.com
BetMGM Sportsbook
Formerly playMGM, the operator went through a re-brand and now has a fantastic online sportsbook. MGM is one of the leading brands in the casino world and is currently looking to have similar success in the sports betting industry. The BetMGM mobile app is available for both iOS and Android devices, and players can access numerous betting options, including live betting.
New customers joining BetMGM can get a $1,000 free bet at betmgm.com today. There is no bonus code required to claim this offer.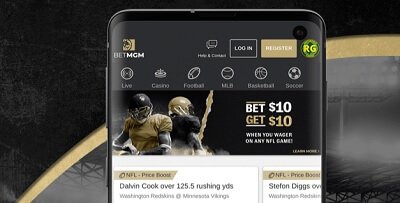 PointsBet
Although PointsBet is currently only available to offer full-scale online betting in several states, they are one of the best US sportsbooks. PointsBet is one of the newer additions to the US sports betting industry, but it is looking to expand quickly. It has already set up strategic partnerships in critical states and takes a modern and unique marketing approach.
PointsBet offers numerous in-game betting options as well as the Pointsbetting feature, which allows players to win a multiple of their bet. This is a high-risk, high-reward alternative to more traditional betting methods. Finally, PointsBet has a fantastic level of customer service, offering "Karma Committee" bet refunds.
PointsBet is offering all new players a massive $2000 in free bets at pointsbet.com
Caesars Sportsbook
William Hill is another brand that has gone through a significant refresh, having been completely rebranded to the Caesars Sportsbook, following a buyout of the brand, with the results proving to be a massive success. It still looks the same, but the overall experience is superior. Additionally, Caesars offers prop bets and in-game betting making it one of the best sports betting apps available. The Caesars online sports betting app also has that top-quality shine you come to expect from Caesars Entertainment.
If you are a new customer to Caesars sports, you can get your first bet on Caesars up to $1,250 at caesars.com/sportsbook-and-casino
Issues with FanDuel sportsbook
Whilst in the main we are sure FanDuel provide an excellent service to most of its players, there are those who have been less than impressed with the book.
Problems with FanDuel Geolocation seem to be one of the biggest problems that players face. You can be in a legal state, sat at home watching the game wanting to place a bet, and facing player location issues. Other sportsbooks use different technology to locate players which seems to be far more accurate and have fewer problems.
Getting paid your winnings should be done in a timely manner and without issue. But we have heard of players being denied a withdrawal, even after verifying their account.
There have also been complaints of the site and app going down, even as recently as the last day of the NFL regular season. Cash Out and ending your bet early is one of the best tools a sports bettor can use. It's normally pretty seamless but when we have used FanDuel Cash Out we have not always been able to cash out our bet as easily as we can with other sportsbooks. The cash out button hasn't worked and even the option to actually cash out our wager has completely disappeared.
For all the reasons (and I am sure there are more), players are actively looking for better alternatives to FanDuel. If you want to know where to bet? Our money is with DraftKings sportsbook.
You may also want to read: DraftKings Playbook
FanDuel Sportbooks competitors
Don't get me wrong, FanDuel are huge. They are one of the most popular sports betting sites in the US and have a huge customer base thanks to their amazing DFS platform. But they now face a lot of competition from other legal US operators, including:
DraftKings sportsbook
PointsBet sportsbook
BetMGM
Caesars Sportsbook
FOX Bet
BetRivers
Each of the mobile sports betting apps listed above are all legal sportsbook apps. Can any of these names match the operator in terms of popularity and customers? Well, DraftKings definitely can stand up there with the best, and the others, especially BetMGM are closing in.
How to choose best FanDuel Alternatives
Although FanDuel is an extremely popular option, it may not be the best option for everyone. Some of the key factors to keep in mind when choosing the best FanDuel alternatives include:
Welcome bonuses: Selecting a site offering a generous sign-up bonus is a no-brainer. Make sure the promo offers reasonable wagering requirements, otherwise it won't be worth it.
Odds: You should always carry out some research and compare the odds across a range of different sports betting sites you are considering.
State availability: Not all online sportsbooks are available in every state, so it is always a good idea to make sure the betting app you want to use is available in your state.
User experience: Consider how easy it is to navigate around the betting app, access the range of different sporting events and the overall user experience.
Customer service: If you ever require any assistance, it's important the operator has good customer support options such as a live chat feature, quick email responses and a detailed sports betting apps FAQ page.
States where you can access sites like FanDuel
Before choosing which betting option you want to go with, it is helpful to know which states offer online sports betting where you can legally access some of the FanDuel alternatives we have listed on this page. Online sports wagering and online gaming is expanding across the country, with more betting lines, odds, markets and bet types available than ever before. You can be a huge Dallas Cowboys fan living in Michigan and place a wager on the Boys to win the Super Bowl before the season even begins.
With that said, you can access online sports betting options in the following states:
Arizona
Arkansas
Colorado
Connecticut
Illinois
Indiana
Iowa
Kansas
Louisiana
Maryland
Massachusetts
Michigan
Montana
Nevada
New Hampshire
New Jersey
New York
Ohio
Oregon
Pennsylvania
Rhode Island
Tennessee
Virginia
Washington, D.C
West Virginia
Wyoming
FanDuel, and their main rival, DraftKings, have the biggest market share in the US. However, the other sites we have mentioned on this page are also live in numerous states and offer the same excellent betting options as FanDuel. The only thing you won't be able to do is enter a DFS contest, but most sports fans enjoy wagering on a variety of different sports, from football to cycling and everything in between, and the alternatives on this page provide that opportunity.
FAQs
What is FanDuel sportsbook?
FanDuel is an online US sportsbook that is used for sports betting and Daily Fantasy Sports competitions. It has popular sports betting markets, including football, basketball, baseball, ice hockey, and soccer betting. The FanDuel mobile sports betting app is one of the best in the US.
Is FanDuel only available in the US?
FanDuel is available in more countries than the United States, however,  it restricts its services to some locations.
What are the best apps like FanDuel?
As have listed above, DraftKings, PointsBet, BetMGM, Caesars, Fox Bet and BetRivers all provide fantastic alternatives to betting on the FanDuel app.
Can you use a VPN to bet on FanDuel?
No, the operator utilizes technology to catch and block VPN attempts. You will not have any success trying to enter DFS contests or wager on your favorite sport by using a VPN.