The game is about to come on, you have got a beer in your hand and you're just about to place a wager. Then you see that the Fanduel sportsbook app is not working.
It's happened to a lot of us. So what could be wrong and more importantly, how can you fix it so you can get back to the game and get that winning bet on? It could be that FanDuel is down. It may just be an issue with your betting app.
FanDuel Sportsbook is one of the most popular US sports betting apps and online betting sites but it is becoming increasingly problematic for a lot of bettors. This can be very frustrating and really annoying, especially if you are trying to get your bet on in a hurry.
If you are having problems using your FanDuel app we want to help you get back on track so you can get back to placing that wager down.
Don't get me wrong, it's not that we don't like using the FanDuel sports betting app. We do. We just get a lot of feedback from people saying they are having problems with the app. The easiest way around it is to use a better alternative sportsbook. We can highly recommend either of these 2 sportsbooks instead:
It only takes a few minutes to sign up at either book and download the app. You can even bag yourself a free new player bet as well.

What to do when the FanDuel sportsbook app is not working
There could be a number of reasons why your FanDuel betting app isn't working. Here we have listed some of the best fixes to get you back on track.
#1 – Make sure you are in a legal state
Whilst FanDuel is now available in most legal sports betting states, it is not available in all. Some states do not allow online or mobile betting and only let you bet at a retail sportsbook. If you are in a legal state, you may have geolocation or player location check problems. If this is the case, see our geolocation sportsbook guide.
Make sure you have allowed the app to access your location so you don't see the FanDuel geocomply token error.
The states you can legally bet with FanDuel in are: New Jersey, Pennsylvania, West Virginia, Colorado, Indiana, Illinois, Iowa, Tennessee, Virginia, and Michigan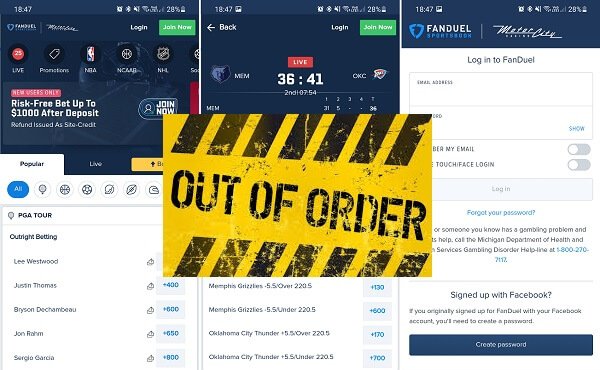 #2 – Make sure your account is still active
One of the main reasons you may have problems with the FanDuel app not working is account issues. It may be that your account is inactive, has been closed, or suspended or you may have asked for it to be closed in the past. You may need to contact support, give them your username and details and get them to check your account is still active. If you still can't log into the FanDuel sportsbook, you also need to make sure you are using the right username and password. If you can't remember your credentials, try a password reset at sportsbook.fanduel.com/sports.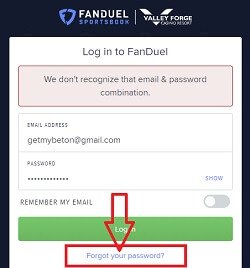 #3 – Make sure you have funds in your account
Now, this may sound like a no-brainer, but make sure you actually have funds in your account. If you can log in, you can check your balance. Do you have funds in the account to make your wager? If not, top up your account in the deposit option from the cashier's tab.
If you have only just made a deposit, it can sometimes take a few hours to show depending on your method. If after a couple of hours it is still not there, get in touch with the customer support team.
#4 – Have you got good coverage on your device?
If your mobile is not connected to the internet, then you won't be able to place a bet. You may see a connectivity issue which means the FanDuel app won't work as it can't connect to the network. Try and search in your browser. Can you access and load other pages? If you can, then the problem is with the app. If you can't, you can try and connect to WiFi or check your 4G/5G signal.
#5 – Are you using the latest version of the app?
Developers are always updating and tweaking apps and improving them. Sometimes if you are running an older version of the app, it may no longer be supported. Check you are using the latest version of the app. If you are using the FanDuel iPhone app, or iPad app, go to the iTunes app store and check for an update. FanDuel sportsbook for Android is soon to be available in Google Play, until then, you can check the latest version on the Android mobile site at www.sportsbook.fanduel.com.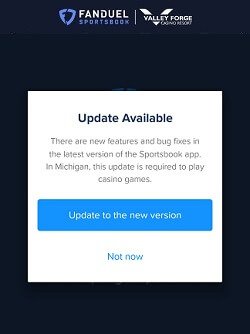 #6 – FanDuel login problems
We have seen problems on the app where you can enter your username and password correctly and you just can't get past the login screen. This is so annoying when you are trying to log in on the FanDuel app and keep getting problems. You may see the error message "Service unavailable, please try again later". This may be a problem with FanDuels servers which are preventing you from login into the app (see this reddit post and this one). If this is the case, the issue is their end and you will just have to wait it out until they fix it. Send them a tweet @FDSportsbook as they may be unaware.
#7 – Can you use the mobile site?
So forget the app and try logging in on the mobile site at sportsbook.fanduel.com. If you can successfully log in and bet on the mobile site, the issue is with the FanDuel app not working. Make sure your phone is updated and you are using the latest app version. You can always try restarting your phone. We have seen issues with both the Android and iPhone versions of the FanDuels sportsbook app so these problems aren't specific to one type of operating system.
#8 – Uninstall the app and try again
Sometimes something as simple as installing the sportsbook app, then reinstalling it can actually fix all your issues. It's simple to uninstall the iPhone & Android version of the app. Just hold down the icon on the screen and press uninstall. You can then re-download the app from the mobile site at www.sportsbook.fanduel.com.
Before hitting the uninstall button, you may want to use the force stop option on the app to see if that sorts the issue.
Android devices – Settings » apps » select FanDuel sportsbook » Force Stop
iOS devices – Double press the home button » open app switcher » swipe up to quit the app
#9 – Is FanDuel Down?
This problem may not be unique to you. There have been several cases of the server going down and causing widespread outages for all bettors. Luckily this downtime has never lasted too long but it can be annoying when you really want to get your wager down. The operator may be having issues across all platforms and be down everywhere.
#10 – Are you trying to bet at FanDuel using a VPN?
You can only wager using FanDuel in a state where sports betting is legal. Trying to bluff your location with a VPN or a proxy won't work. If you get caught you will have your account suspended and won't be allowed to wager with the book in the future.
How about using an alternative?
If you have tried all these steps and you still can't get the FanDuel sportsbook app to work. Give up and move on. Try one of these excellent FanDuel sportsbook alternatives:
FanDuel will continue to be a sportsbook that we use and it will always be one of the most popular books for US bettors. But, we sure hope they can fix the app log-in problems that seem to happen. The FanDuel sportsbook not working does no favors to the company or the customer so let's hope things get back on track soon.
Sportsbook & Casino app keeps crashing
If you can open the app and on the login screen it crashes, you will want to launch your phone. Developers are always updating and improving apps. If you are using an older build of the app, this may have been updated just for this crashing problem. Make sure you have the latest version installed. Restart your device and try and open it again. Sometimes a connection issue can stop your cell from talking to the server and this can cause the app to lag and then crash.
Only on a handful of occasions has the casino and sportsbook app done this to us and this was when an update was due on the app. We updated the app, restarted our phone, and managed to log in without a problem.
FanDuel Mobile app running slow
Occasionally we have been using the app fine, it just runs at the speed of Isaiah Thompson. Obviously, this is no good. The FD app running slow on Android or iPhone can mean you miss placing that bet in time. The first thing to check is that you have downloaded and are using the most recent version of the app. Go to the Google Play app store or iTunes and check for updates. You may need to uninstall the old app, download the new one and log in again.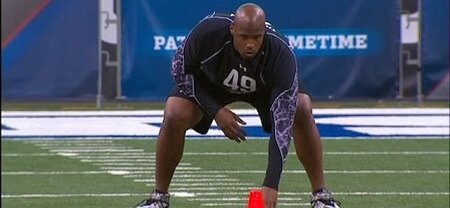 Your mobile may also have memory issues. If you have FanDuel, Instagram, Safari, Weather app, live scores, and 4 or 5 other apps running in the background, your phone may not be able to process all the requests. Close down all the apps and clear the memory. You also need to make sure you have a good signal. We have found FanDuel runs best with zero other apps open and having 3 or 4 bars coverage.
Common error terms
If you keep getting the FanDuel error processing your request message it means there is a problem with the FanDuel server. This is very common and not account-specific. Luckily when we have seen this message we have tried again in a few minutes and it's been fine. Other times we have had to give up and switch to another sportsbook app so we didn't miss getting the bet down.
One of the most annoying messages we have been getting is the bet rejected error with the FanDuel sportsbook. For whatever reason, we just can't place the bet. We have funds in the account, a good connection, and can place bets on other markets. We reached out to customer support before and were told it was a technical error stopping the bet from being placed. It seems it is quite common if you are on a winning streak of delaying live bets.
Other betting guides you may be interested in:
If you have any questions or feel we have missed any pointers, then feel free to hit us up on Twitter @Gamble_USA