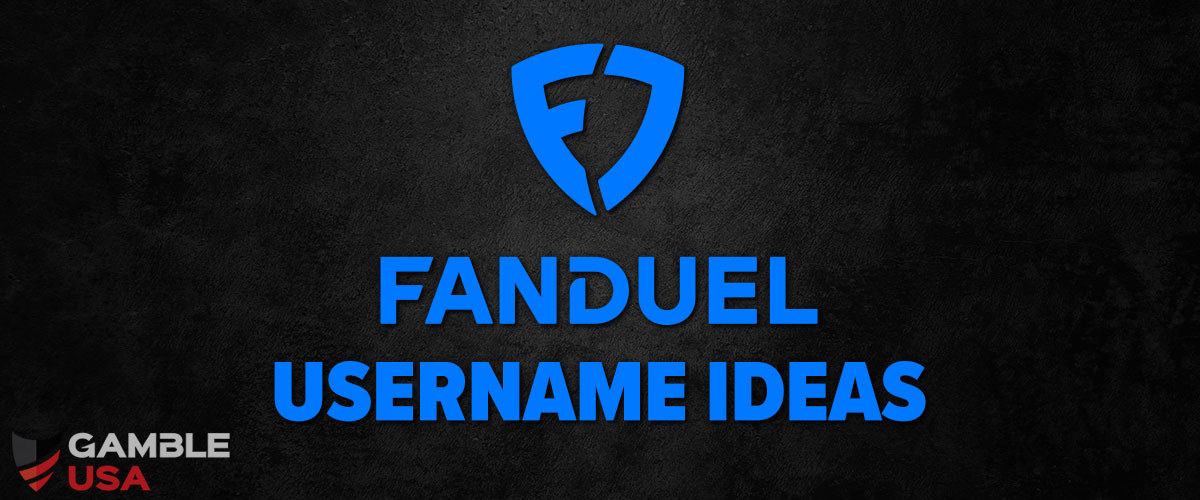 Having a positive sports betting ratio or topping the ranks in your Fantasy Football league is always impressive. However, an even bigger flex is doing it with a creative and unique username that other users from the FanDuel community will know you for.
The FanDuel username is more than just a word combined with some special characters you use to log in to the site. It's your identity. Whether you are using FanDuel for sports betting, Fantasy Football, or both, having a unique username is not just a requirement. It's also an opportunity to add a personal touch, be funny, represent your favorite team or player and separate yourself from the rest of your friends in a clever way.
While some FanDuel customers rely on their creativity and sense of humor, others are lending a helping hand from username generators. However, all share the same goal – to generate clever username ideas and fantasy football team names that will set them apart from the masses and allow them to define their unique identity.
While it may appear easy at first glance, the quest for crafting an incredibly awesome and one-of-a-kind username or fantasy football team name can be as perplexing as finding a needle in a haystack. Fear not, though, because we're here to guide you through the art of conjuring up the flashiest username ideas and ensuring they meet FanDuel's username requirements.
FanDuel Username Requirements
The first stop on the road to your FanDuel adventure is the registration process. During this process, you must provide personal details such as your full name, date of birth, address, social security number and enter a unique username and password. In addition to your responsibility of providing correct information, you must also enter a username that complies with the requirements of the platform.
Initially, your chosen username must be unclaimed, indicating it's not in use by another FanDuel user. Furthermore, it's crucial to avoid using inappropriate language or any username that contains a combination of letters and characters that could potentially offend other FanDuel users in any manner. Failing to do so may lead to FanDuel mandating a username change or enforcing an automatic modification.
From a technical perspective, it's important to note that your username must not exceed 20 characters in length, and this includes both uppercase and lowercase letters, numbers, and symbols.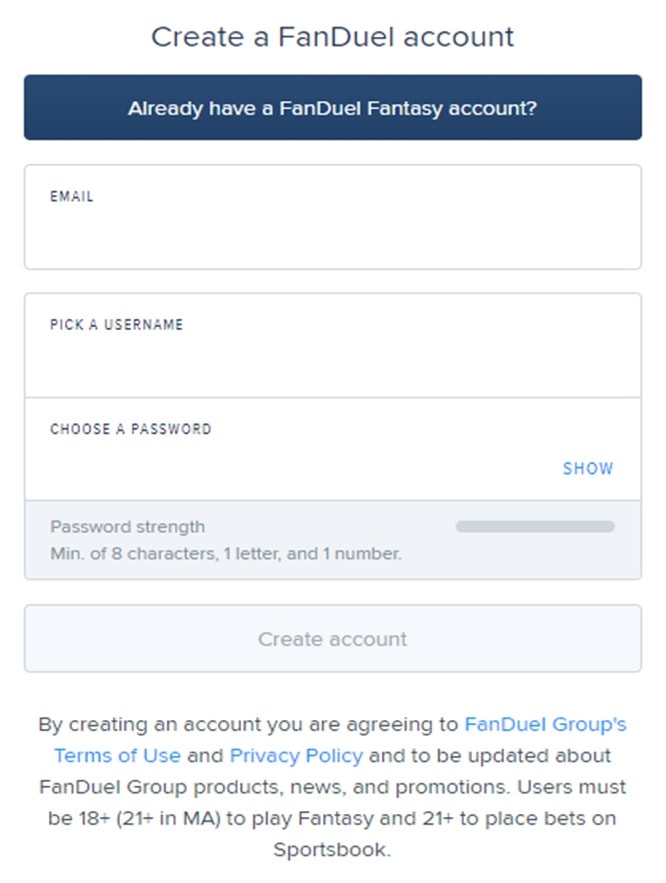 Last but not least, FanDuel prohibits the usage of usernames that promote commercial ventures. Hence, we advise you to avoid using the names of any commercial products or brands from any category in your username.
FanDuel Username Ideas with Your Name
The most straightforward way to create a unique username that you can use for sports betting or playing Daily Fantasy Sports at FanDuel is by crafting the username by combining your name with some other word or phrase.
Since the platform requires all customers to have usernames that are not already in use, you will probably have to add something. While most customers prefer to keep things simple and combine their names with birthdate numbers, city names, zip codes, uppercase and lowercase letters, others use this opportunity to represent their favorite sports team or player or make a mainstream-culture reference or comment.
Creating a FanDuel username that fuses your name with your favorite sports team or player can be a great way to express your passion for the game. It adds a personal touch, displaying your loyalty and enthusiasm. However, it's crucial to strike a balance and follow the rules by ensuring the username remains unique and complies with the usage guidelines of the site.
As a lifelong Knicks fan, my FanDuel Sportsbook account username is OrangeNBlueSkies33. My username not only gives my account an identity but also pays homage to the great NBA legend Patrick Ewing and reminds other Knicks fans that they are not going through the painful Knicks-basketball misery alone and that plenty of us are still trying to keep the dreams of Knicks becoming a dynasty alive.
Funny FanDuel Username Ideas
There is no better way to make your presence felt in the FanDuel world than having a funny username that can add a playful and entertaining twist to your gaming identity. The most clever approach has proven to be incorporating sport-related puns that bring humor and showcase your love for a particular team or player. Whether you are an NFL or MLB fan, you can create some clever puns for your favorite players.
For example, accounts with names like Walmart Johnny Manziel and Fantasy Football Team names like Hot Chubb Time Machine, Country Road Take Mahomes, and GronkAndRoll can easily make you a memorable part of the FanDuel lore and allow you to connect with fellow sports enthusiasts in a fun and lighthearted way. However, remember to keep it within the FanDuel guidelines and avoid offensive content.
Username Ideas Generator
If you ever hit a creativity roadblock and feel like your ideas have taken an unannounced vacation, don't lose hope. The internet is packed with username idea generators that can offer you a helping hand and swiftly whisk you away to the land of unique usernames. All you have to do is type your own word or keyword of choice and then decide which one you like from the pool of generated usernames.
With the help of tools like the NordPass Username Generator, you can easily access a diverse range of innovative, one-of-a-kind account username recommendations and Fantasy Football team names. These suggestions can be tailored to your interests and customized to include words of your choice or words from different categories, ensuring your FanDuel identity stands out from the crowd.
Username generators don't just serve up intriguing ideas; they also play a crucial role in safeguarding you from potential hackers. Hackers often employ the same tools marketers use to associate usernames across different platforms. To outsmart them and make it more difficult for them to identify and steal your login credentials and personal details, you can use a random username generator and avoid using the same name on other sports betting accounts and platforms such as YouTube, Instagram, Reddit, Twitter, etc.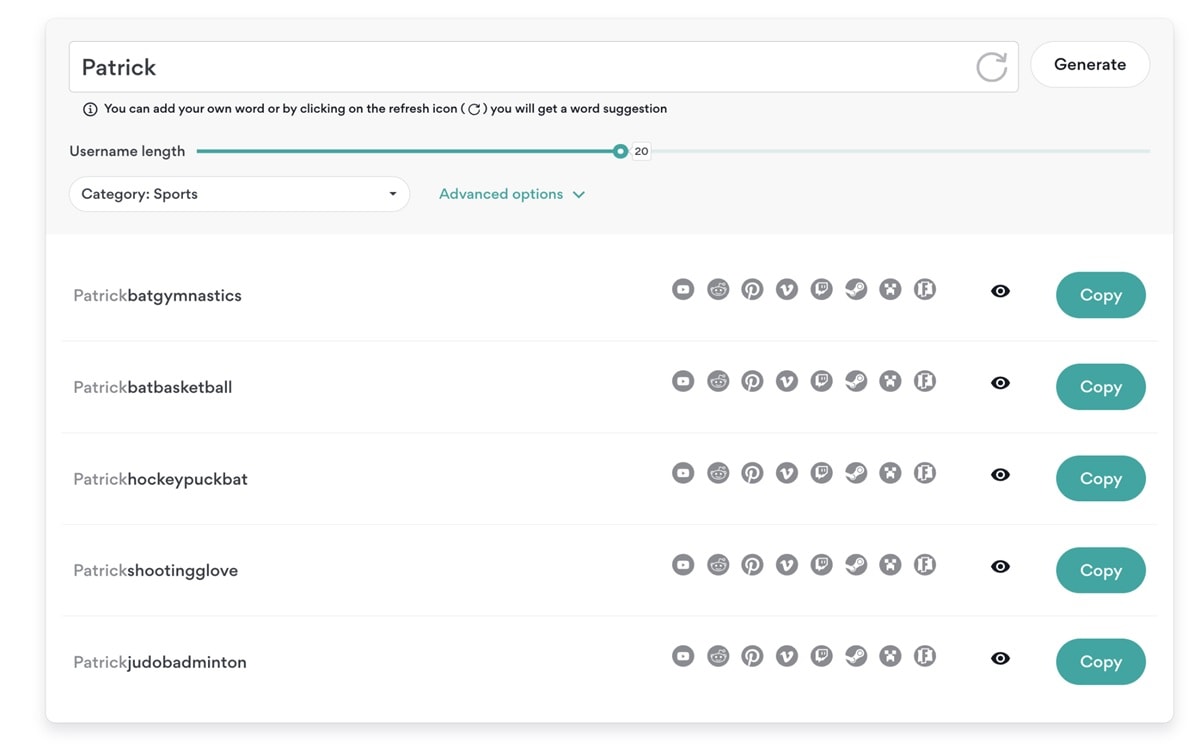 Setting Up a New FanDuel Username
Creating an awesome username is the hardest part of setting up a FanDuel account for many. However, once you have it, the rest is a breeze. Here are the most crucial steps to setting up a new FanDuel username.
Bet $5, Get $150 In Bonus Bets
21+. T&C Apply
21+. T&C Apply
Convenient banking
Massive choice of sports
Bet $5, Get $150 In Bonus Bets
21+. T&C Apply
21+. T&C Apply
Visit the official FanDuel site or download the mobile app of the FanDuel product you want to use
First, locate, then select the green Join Now button usually placed in the top right corner of the screen
Enter your username idea and see if it is accepted by the platform. (FanDuel checks the availability of your chosen username in real time, so you will not have to wait)
Proceed by providing all the additional required information, such as email, password, date of birth, address, and last 4 digits of your social security number
Activate your FanDuel account by confirming your email address through the confirmation link sent by the platform
Tweak your preferences and customize your FanDuel profile to enhance your gaming experience
Go to your account, select Deposit, choose one of the available banking methods, and enter the amount you want to add to your account balance
Head over to your FanDuel product of choice and enjoy FanDuel Daily Fantasy contests, sports betting, or casino games with the same FanDuel account
Does Your FanDuel Username Matter?
Yes, your FanDuel username does matter. It serves as your online identity within the community, helping you stand out from other accounts. While it certainly can't affect your gaming performance or help you earn bonus bets, a creative and unique username can certainly add an extra layer of fun to your gaming experience, making you a more memorable part of the FanDuel community.
Is It Possible to Change My FanDuel Username?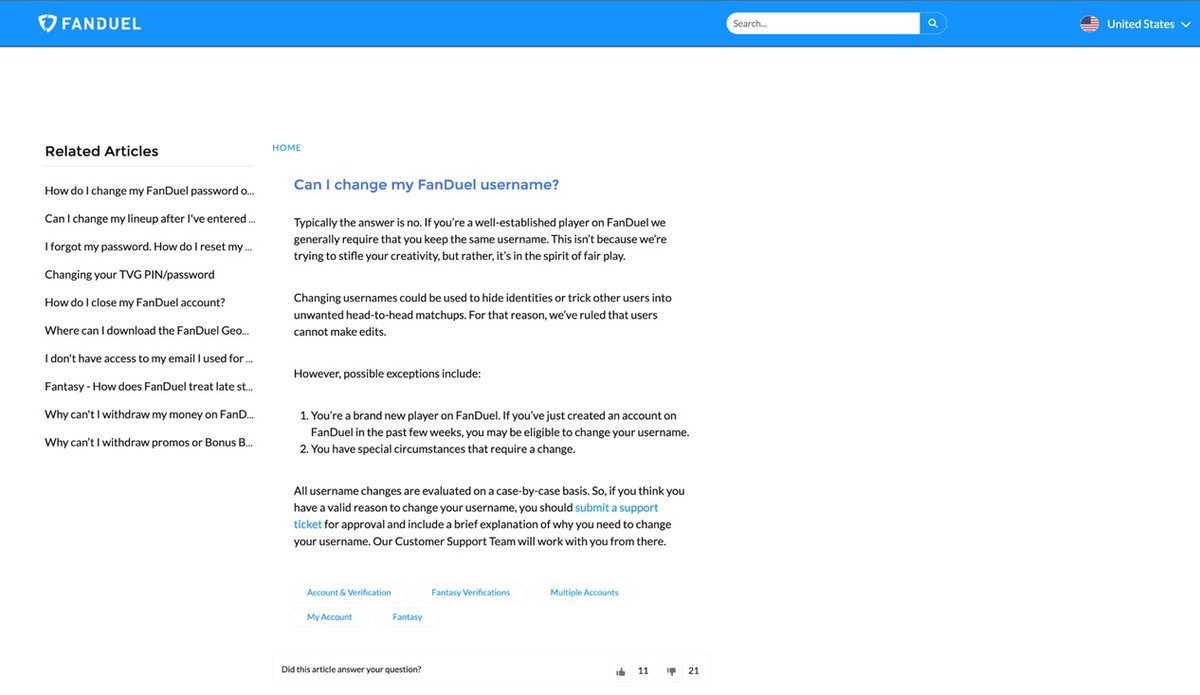 According to the FAQ section at FanDuel, the company generally does not allow users to change their usernames. FanDuel's goal is to provide fair service and prevent identity concealment, which is the rationale behind this policy.
While it may seem like a definite no-go, like with everything else, there might be some exceptions. If you are a new player who just created their account or have special circumstances, consider sending an official username change request.
All requests for username changes at FanDuel are evaluated individually, and users can submit a support ticket with a brief explanation to initiate the process through the customer support team.