Gamble USA strives to improve your online gambling experience. We aim to help you play safely, make informed decisions when gambling, and increase your betting knowledge through our guides.
We adhere to strict editorial integrity; our content may contain links to products from our licensed & legal US partners.
Now that legalized online sports betting has become an option in many states, the response has been phenomenal. Placing a bet has become easier than ever, and instead of being an activity often done in secret and in fear of breaking the law, is now out in the open and as socially accepted as casino gambling.
But online sports bettors must also face some difficult choices. Given the proliferation of legal online sportsbooks, how do you pick one betting site over another? Which are the best online sportsbooks, and what criteria should you consider when trying to decide which is the right legal sports betting site for you? This article will attempt to answer these all-important questions by comparing two top online sportsbooks – FanDuel and Caesars.
Why this FanDuel vs. Caesars Sportsbook comparison is a must read
A few years ago, there would have been no need for such an article because online sportsbooks did not even exist outside of Nevada. However, on May 14, 2018, after a long legal battle in the lower courts, the Supreme Court finally ruled that the federal sports wagering ban in most states associated with the Professional and Amateur Sports Protection Act (PASPA) was unconstitutional. Previously, except for four states – Nevada, Delaware, Montana, and Oregon – all forms of sports betting were completely illegal in the US. Also, Nevada was the only one of the four states that offered full-scale legalized sports betting. The options in the other three states were extremely limited.
The sports betting industry changed dramatically after the repeal of PASPA. Each state had the power to pass the necessary legislation if it wanted to make state-run sports betting in that state legal and to what extent. New Jersey, the same state that led the fight to get PASPA overturned, was also one of the first states to follow through and also one of the most successful. On June 14, 2018, the first two NJ retail sportsbooks opened at Borgata Hotel Casino & Spa in Atlantic City and Monmouth Park, and on August 6, DraftKings debuted the state's first sports betting mobile app. Since then, New Jersey has served as a model for many other states wishing to legalize sports betting.
Today, NJ sports bettors can choose from 11 retail sportsbooks and approximately two dozen online and mobile sportsbooks. FanDuel and Caesars are of particular interest, though, because they are both very well-known and highly respected brands. Besides being official partners of multiple NFL, NBA, NHL, and MLB teams, FanDuel Sportsbook is currently live in 15 states and Caesars Sportsbook is currently live in 16 states plus Washington, D.C.
FanDuel vs. Caesars Sportsbook: Who really is the best?
This article is a follow-up to the published one comparing DraftKings and FanDuel. Once again, we will be comparing two very prominent and widely available sportsbooks on different criteria. However, we don't think you will be disappointed with either of these betting sites because a lot of care and attention went into developing them. Both operators realize that a substantial number of new sign-ups will be people who have little or no previous experience with sports betting, so offering a betting app that is easy to download and use is imperative. In terms of the number of markets and range of available bets, the two sites are similar, but we give a slight edge to FanDuel. However, Caesars offers a more generous welcome bonus for new depositors, more special promotions, and a better loyalty rewards program for returning players.
The Caesars site is also easier to navigate and offers better customer support. However, FanDuel offers a much more extensive Sports Betting 101 section for beginners, including a very thorough glossary of terms and descriptions of types of bets educational material. It also offers a wealth of useful stats for seasoned do-it-yourself handicappers.
The bottom line is that the determination of which sportsbook is better, FanDuel or Caesars, will ultimately be an individual decision depending on the customer's needs and playing style. Certain features that might be very important to some sports bettors might not matter that much to other sports bettors.
FanDuel vs. Caesars Overview
FanDuel, like its chief rival DraftKings, was originally a site exclusively for Daily Fantasy Sports. In fact, FanDuel was founded first in 2009 vs. 2012 for DraftKings. Back then, certain provisions in the 2006 Unlawful Gambling Internet Enforcement Act (UGIEA) exempted DFS even in states where sports betting was otherwise prohibited.
FanDuel and DraftKings went on to become the No. 1 and No. 2 DFS sites in this country, respectively. However, neither expanded their operation to also include full-scale traditional online sports betting in any state until after the repeal of PASPA made it possible.
Caesars, on the other hand, was a land-based casino first and subsequently added the option of online and mobile casino gambling. It never offered DFS, but once individual states started legalizing sports betting, like FanDuel and DraftKings, it wasted no time in making that option available.
Today, FanDuel offers a mobile app in 15 states giving players legal access not only to DFS but also to traditional sports betting and, in a few of those states, online casino gambling as well. Caesars currently offers a mobile app for sports betting but not DFS in 16 states and Washington, D.C. As with FanDuel, depending on the state, the site may or may not include an online casino.
By the way, despite the repeal of PASPA, the UGIEA still exists. However, its only limitation on online sports betting in those states where it is legal is that it forbids gambling across state lines. That is why all legal state-operated online and mobile US betting sites require you to be physically situated within state borders whenever you make a real money wager.
FanDuel Sportsbook vs. Caesars Sportsbook – New Player Offers
The ability to keep attracting new players is vital to the success of any sportsbook. So, let's begin this in-depth comparison between FanDuel and Caesars Sportsbook with a look at their new player offers. When you are ready to sign-up, see this website first to take advantage of any applicable promo codes.
FanDuel New Player Offer: $1,000 Risk-Free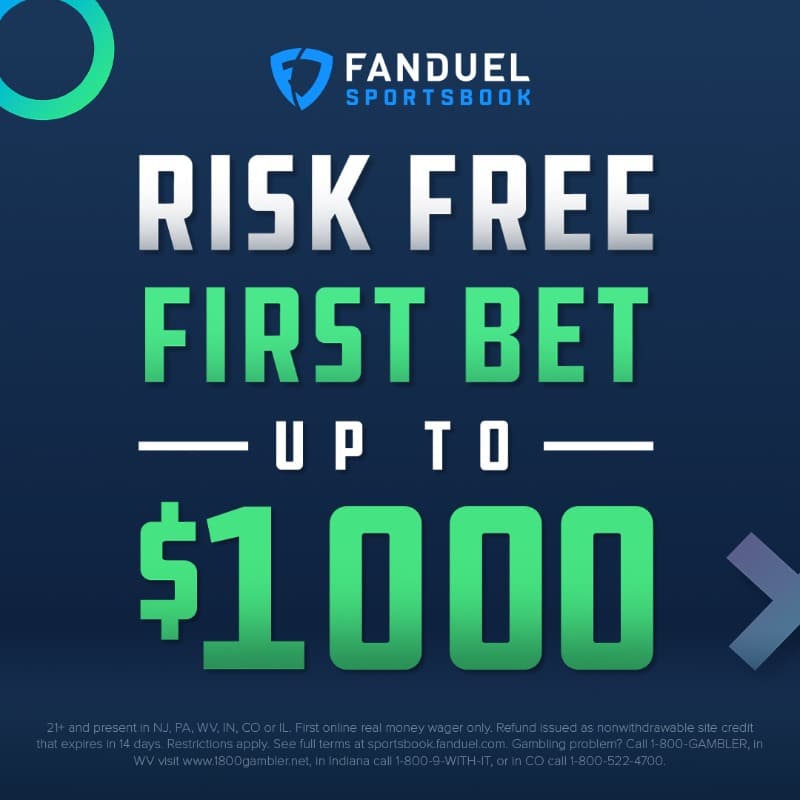 The FanDuel Sportsbook new player offer is a risk-free first bet up to $1,000 based on your performance in the first 24 hours of playing on the platform.
Deposit at least $10 and make your first bet of at least $5 to qualify. If you lose, FanDuel will credit your account within 72 hours with up to $1,000 to use on any sports bet of your choosing. Eligible bets include all FanDuel Sportsbook betting markets but no round robins or same game parlays. Players have 14 days from the receipt of the bonus to use it. If the free bet wins, the payout includes the winnings but not the cost of the bet. The $1,000 site credit itself is not withdrawable.
Only first-time FanDuel players who open their account during the promotional period are eligible. Whether FanDuel extends this promotion after the listed expiration date or changes its $1,000 risk-free first bet remains to be seen.
Caesars New Player Offer: First bet on Caesars up to $1,250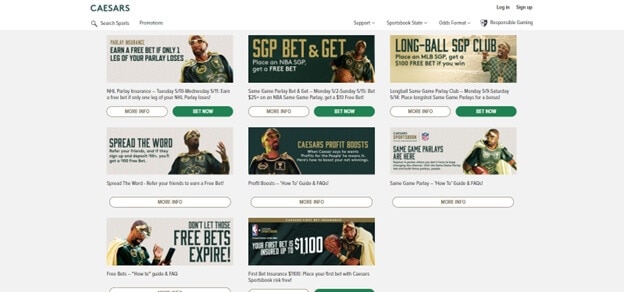 This offer is open to new users with no pre-existing Caesars account who make their first real money sports wager within 30 days of signing up. If you win, you get paid as usual, but you receive nothing extra from the sportsbook. However, if the bet loses, within two business days, you will receive back the full amount of your wager up to $1,250 in the form of site credit for a single free bet. You then have up to 14 days to make the bet. If you win the free bet, you will receive the winnings from the bet but not the cost of the bet.
The winner: Caesars
Caesars is slightly better than FanDuel because the risk-free bet has a higher cap. But most players won't be making a first bet of $1,000 or more, so to them, the difference is meaningless.
One problem with risk-free bets is that players who win the qualifying bet don't benefit at all. Also, the term risk-free bet is not entirely accurate. For example, a player who bets $110 hoping to win $100 but loses and then wins the $110 "risk-free" bet will only be paid $100, so he or she will still be down $10. If the original losing bet is for $1,100 and the free bet for $1,100 wins, the player will be down $100.
FanDuel vs. Caesars Sports Coverage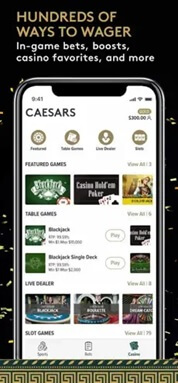 Both sportsbooks offer a very wide range of betting options. They cover all of the major sports and sports leagues like the NFL and UFC, including all of the following:
Australian Rules

Auto

(at FanDuel, listed as Motor Racing)
Cricket
Darts
Rugby League
Rugby Union
At both sportsbooks, players who wish to bet on important international sports like Australian Rules can do so. But because FanDuel's parent company is the Dublin-based global sports betting conglomerate Flutter Entertainment, which also oversees many European betting sites, there is a strong possibility that other betting options like swimming and surfing that are popular in Europe but not yet offered here could be added.
The FanDuel Sportsbook mobile app uses Scientific Games Open Sports for its software platform. The mobile betting app for Caesars Sportsbook runs on Liberty software, which Caesars acquired from William Hill.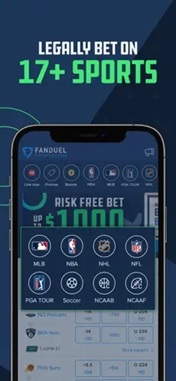 Same Game Parlays
FanDuel offers more extensive Same Game Parlay betting options than Caesars. In fact, there are some striking differences, as noted below.
The winner: FanDuel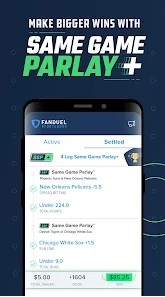 FanDuel vs. Caesars – State Availability: Where can you play and bet?
Now that legal online sports betting has become widely available, there is a good chance that your state offers it. If so, two licensed sportsbooks that merit strong consideration are FanDuel and Caesars. If only one of these betting sites is live in your state, your choice is easy, but in most states which allow online sports betting, you will find not only both FanDuel and Caesars but many other online betting sites as well. That is when you will need to weigh the pros and cons of each licensed sportsbook and, hopefully, pick one that is a good fit for you.
These are the 14 states where the current betting options include both FanDuel and Caesars Sportsbooks:
FanDuel, but not Caesars, is also available in Connecticut. Caesars, but not FanDuel, is also available in Maryland, Nevada, and Washington, D.C.
The Winner: A draw
FanDuel vs. Caesars – Banking Options
Both FanDuel and Caesars Sportsbooks offer a wide choice of safe and secure banking methods.
FanDuel Deposit Options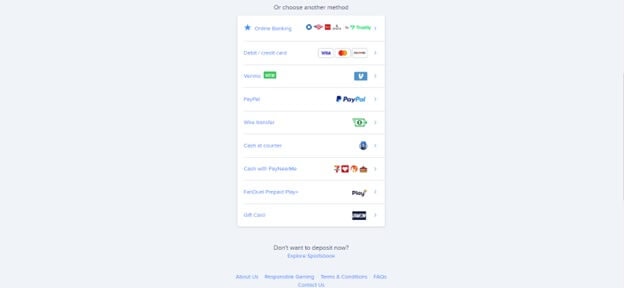 The minimum sportsbook deposit is only $10. There is also a maximum deposit of $1,000 per month for new sportsbook account holders. If this maximum does not meet your needs, you can contact FanDuel to see how they can better accommodate you.
FanDuel Sportsbook deposit methods including all of the following:
MasterCard,

Visa

, or Discover credit and debit cards (assuming your bank accepts them for gambling transactions)

eCheck

(ACH)*

PayPal

(personal accounts only)
Online Bank Transfer
PayNearMe: cash deposit at a participating store such as 7-Eleven or CVS**
Cash deposit at the cashier's cage of the affiliated casino*
*Several other reviews report that FanDuel no longer accepts eCheck deposits. However, I funded my account recently via this method, and a customer support representative confirmed that this method is still available.
**Not eligible for a deposit bonus
FanDuel Withdrawal Options
Not all of the above deposit methods can also be used for a FanDuel withdrawal. You will need to choose one of the following:
eCheck/ACH 3-5 days processing time
PayPal: 24-48 hours processing time
FanDuel Prepaid Play+ Card: 24-36 hours processing time
Cash at the cashier's cage of the affiliated casino: 24-36 hours processing time
Check by mail: 5-7 business days
No minimum or maximum amounts are specified on the FanDuel website. However, PayPal can only be used for withdrawal if it was also used for the deposit.
Caesars Deposit Options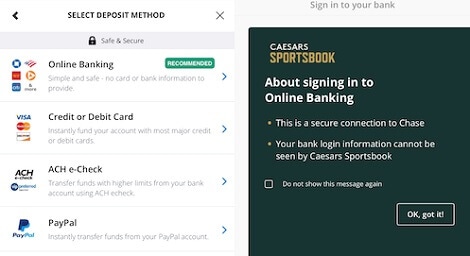 The minimum deposit is $20. The maximum depends on the method. These are your Caesars deposit options:
MasterCard, Visa, or Discover credit and debit cards (assuming your bank accepts them for gambling transactions)
VIP Preferred e-Check (ACH)
PayPal (personal accounts only)
Online Banking
Caesars

Sportsbook Prepaid Play+ Card

PayNearMe*
Cash deposit at the cashier's cage of the affiliated casino*
*Not eligible for a deposit bonus
Caesars Withdrawal Options
VIP Preferred e-Check (ACH)
PayPal
Skrill
Online Banking
Caesars Sportsbook Prepaid Play+ Card
Cash deposit at the cashier's cage of the affiliated casino
Caesars Sportsbook withdrawals are processed within 72 hours, after which the additional time to receive your money varies with the method. The minimum withdrawal for all methods is $20; the maximum depends on the method. PayPal can only be used for withdrawal if it was also used for the deposit.
The Winner: Caesars
Caesars has a $20 minimum deposit vs. $10 for FanDuel. However, a person who cannot afford to deposit at least $20 should probably not be betting online. The main reason for giving the nod to Caesars in the banking category is that Caesars offers 24/7 phone support. In case of any issues in completing a deposit or withdrawal, the customer can get immediate assistance and, if necessary, speak to a supervisor.
FanDuel vs. Caesars – Odds & Markets
Both sportsbooks offer competitive odds for all of the betting markets you are likely to use. However, shortly before a game's starting time, Caesars sometimes raises the price to -115 or -120 on sides or totals that are receiving heavy action. This is less likely to occur at FanDuel. In fact, large bettors who are looking for a slight edge in the line (i.e., -107 or -109 instead of-110) might occasionally find it at FanDuel.
When shopping around for the best possible line, your best option might be to sign up with both sportsbooks since there is no consistent rule of thumb for predicting which sportsbook is likely to have the best odds at a particular time on a particular game.
The Winner: FanDuel
Live Betting on FanDuel Sportsbook and Caesars Sportsbook
Live betting, also sometimes referred to as in-play betting, has become a very popular feature at licensed sportsbooks in the US. Suppose, for example, you want to bet on a particular game but you are busy with other things or have the wrong starting time. So, by the time you are ready to bet, the game has already started. Although the line might have changed, in most instances, your bet will still be accepted.
Or perhaps, you already have a bet on the game. However, the early action leads you to think either that the selection you made has an even greater chance of winning or that you bet incorrectly. In the first instance, you would love to increase your bet; in the second, it might be prudent to bet the opposite way. In both scenarios, the live betting option allows you to adjust your bet accordingly.
Yet another scenario where you might want to bet on sporting events in play is the following. As the game continues, you might want other types of action like a second-half line or total or a bet on the performance of a particular player.
FanDuel and DraftKings are two of the best sportsbooks for in-play betting. Caesars also allows in-play betting, but your options won't be as extensive. In fact, I recently tried to make a straight bet on the total on a scoreless USFL game at Caesars two minutes after it started and was denied. If the bet would have been on a much more heavily played league like the NFL or NBA, there would have been no problem. I didn't attempt to make the in-play USFL bet at FanDuel but probably could have done so.
The Winner: FanDuel
FanDuel vs. Caesars Sportsbook Features
Advanced online technology allows the nation's top sports betting sites like FanDuel and Caesars to offer many innovative features. Using them not only makes online sports gambling more fun but also potentially more profitable, particularly for the many people who are new to this activity. The following table lists some of the most important special features that customers at FanDuel Sportsbook, Caesars Sportsbook, or both currently have at their disposal.
| Feature | FanDuel Sportsbook | Caesars Sportsbook |
| --- | --- | --- |
| Android app | Yes | Yes |
| iOS app | Yes | Yes |
| Early cashout | Yes* | Yes |
| Live game wagering | Yes* | Yes |
| Parlays | Yes | Yes |
| Same Game Parlays | Yes* | Yes |
| Risk-Free Bets | Yes | Yes |
| Odds Boosts | Yes | Yes |
| Free-to-enter contests | Yes | Yes |
| Loyalty Program | FanDuel Players Club | Caesars Rewards* |
| Low minimum deposit | $10 | $20 |
| Refer-A-Friend | Yes | Yes |
| Sports Betting Guide | Yes* | Yes |
| Phone support | No | Yes |
*Superior to what the other sportsbook offers
The Winner: A draw
In the few areas where there is a difference, decide how important that feature is to you, personally.
FanDuel Sportsbook vs. Caesars Sportsbook App and User Interface
Both sportsbooks have designed mobile apps that should be compatible with any current iOS or Android phone or tablet. The following table shows the average user ratings for these sportsbook apps on the App Store and Google Play, respectively.
| Sportsbook | iOS App | Android App |
| --- | --- | --- |
| FanDuel | 4.8 | 4.7 |
| Caesars | 4.6 | 4.1 |
While these average ratings give a slight edge to FanDuel, it should be noted that individual ratings varied greatly. I encountered difficulties with both sites satisfying the two-step verification process, and this seems to be a common problem. Both sites need to make it easier for eligible new users to be verified quickly, so they can start playing.
Other problems I encountered with FanDuel involved getting my deposit credited to the Sportsbook platform rather than the DFS platform and not having the tablet display repeatedly close prematurely. However, FanDuel is faster in processing withdrawals.
The Winner: A draw
FanDuel vs. Caesars – Football Betting
Both sportsbooks excel in offering lots of betting options and special promotions throughout the NFL regular season and playoffs, including contests exclusively for sports betting account holders with the opportunity to win big prizes.
The Winner: A draw
FanDuel vs. Caesars – Promotions, Bonuses, and Offers
Both sites encourage existing players to return by offering a varied array of special offers and promotions. These might include any of the following, and that is just for starters: free bets, enhanced moneyline odds, site credit, parlay insurance, and daily odds boosts. Both sites also offer a Refer-A-Friend program, detailed in our FanDuel refer a friend and Caesars refer a friend reviews.
In addition, as mentioned in the preceding section, during the long football season, both sportsbooks hold exclusive contests in which any registered player can participate.
However, one area where Caesars Sportsbook clearly excels is its loyalty rewards program. All active players with a Caesars Rewards account earn both Reward Credits and Tier Credits not only for their play at any participating online or offline casino nationwide but also for their play at any participating online or offline sportsbook. These points are combinable and can be redeemed for free play or used as comps for meals, rooms, shows, etc. at any Caesars Rewards location of the player's choosing. Caesars Rewards is vastly superior to the FanDuel Players Club, which only awards loyalty points to those who enter DFS contests.
The Winner: Caesars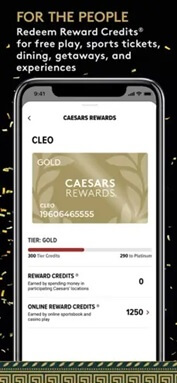 FanDuel or Caesars for New Players
Caesars Sportsbook is easier to navigate. Another advantage is the availability of customer support by phone instead of having to rely entirely on email or live chat if the FAQ section does not answer the person's questions or issues.
However, FanDuel does a better job in providing sports gambling newcomers with an outstanding guide on how to bet on FanDuel that is not only user-friendly and easy to follow but very thorough.
The Winner: FanDuel
FanDuel vs. Caesars Extras
Many sports bettors also like to play online casino games, and vice versa. While the availability of an online FanDuel or Caesars casino in addition to a sportsbook depends on the state, in those states where both are available, they use a single wallet. Therefore, with the same login, you can switch back and forth from one platform to the other.
The Winner: A draw
Alternatives to both FanDuel and Caesars Sportsbook
After reading this extensive comparison between FanDuel and Caesars, you may decide that neither of these sites is the best one for you. If that is the case, you might wish to consider the following sports betting alternatives:
You can also check out comparison of BetMGM and Caesars, to see who comes up as the winner.
Final Verdict: Should you choose FanDuel Sportsbook or Caesars Sportsbook?
There is no simple answer to the Caesars-FanDuel sportsbook debate. Both online sportsbooks have well-designed mobile apps for iOS and Android, a generous welcome offer, a variety of banking methods, and a tremendous choice of betting options. However, in some areas, one online sportsbook is clearly superior to the other. If you are new to sports betting, you will appreciate FanDuel's extensive material on how to bet. But if you need help setting up your account or making deposits and withdrawals, Caesars offers better customer support.
Experienced sports bettors who expect to make frequent use of DFS and/or SGPs and live betting should choose FanDuel. However, Caesars offers a much better loyalty rewards program.
In summary, it is up to each individual user to decide which sportsbook looks like the best fit. However, if you would like to access the best features of both sportsbooks, consider using our convenient link to sign up with both sites.
Why Choose FanDuel Over Caesars?
Comprehensive Sports Betting 101 Guide introducing new players to the basics
Extensive options for SGPs, SGP+, and Live Bets
Outstanding DFS platform
No Sweat First Bet Up To $1,000
21+. T&C Apply
21+. T&C Apply
Convenient banking
Massive choice of sports
No Sweat First Bet Up To $1,000
21+. T&C Apply
21+. T&C Apply
 Why Choose Caesars Over FanDuel?
Free access to one of the best player loyalty rewards programs in the country, Caesars Rewards
Earn and redeem rewards at any participating Caesars sportsbook or casino, online or offline.
24/7 phone support
Promo Code: GUSAFULL
Bet $50, Get $250
21+. T&C Apply
21+. T&C Apply
Promo Code: GUSAFULL
Massive welcome bet offer
Earn Caesars Rewards
Promo Code: GUSAFULL
Bet $50, Get $250
21+. T&C Apply
21+. T&C Apply