Fantasy sports, online casino games, sports betting — and now Faceoff. FanDuel is at the forefront of the evolution of online gaming, and with this newest step, they have added another feather to their cap as they double down on their commitment to diversifying gameplay to appeal to a broader customer base. 4.8/5 from over 3,500 reviews. Launched in March 2022 in collaboration with Game Taco. The reviews are in, and FanDuel Faceoff is a hit — with perhaps no game being more beloved than their take on the hit franchise Wheel of Fortune.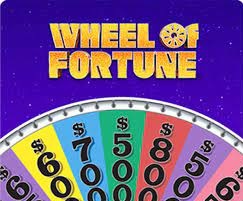 FanDuel Faceoff allows players to compete one on one with another user in a skill game of their choice for the opportunity to win cash prizes. Exclusive to iOS devices, Wheel of Fortune allows players to participate in the beloved word game and see if they can convert some of their trivia knowledge into cash. It is an exciting opportunity for anyone who enjoys online gambling to play a new thrilling game.
The FanDuel Group is one of the biggest gambling operators in the world. Initially known for its daily fantasy sports contests and sports betting, the brand now provides Las Vegas style games with FanDuel slots and table games. Anyone who creates an account with the FanDuel casino app can access FanDuel live dealer games, video poker, a wide range of online slot titles and now the Faceoff game. You can check out our FanDuel casino review to find out more about slots such as Divine Fortune and how to claim your promo code to access the welcome bonus.
But here we are going to concentrate on Faceoff. In this guide, we'll reveal the tips and tricks to ensure that your visit to the online gameshow is a success.
How to Play Wheel of Fortune on FanDuel Faceoff

The first thing to note is that Wheel of Fortune is not available on the FanDuel website, and instead is available exclusively to iOS users via the Apple app store with the FanDuel Faceoff app. At almost 400MB, it's a fairly big download. However, when you see what the app brings, you'll understand why.
If you have a FanDuel sportsbook or FanDuel casino account, you'll be able to log in directly. Though if not, registration is a breeze.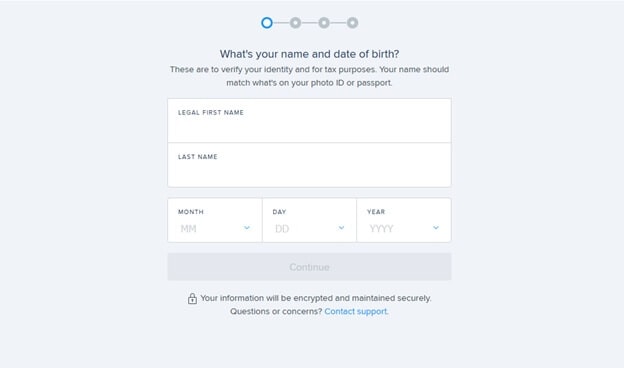 Using our secure links,

navigate to the FanDuel webpage

. Then click "

Register to FanDuel

".
From there, you'll need to enter in your desired account information including username, password, as well as your email address. Once you've done that, click "Next".
On the following few pages, you'll need to enter your personal details — including your full name, address, phone number, and last four digits of your social security number. Make sure to enter this information accurately, as they'll need it to

process your FanDuel withdrawals

according to their KYC (Know Your Customer) Policy. Once that's done, click "Next".
An email will be sent to you with a confirmation link. Click it, and you're in.
You can try the

app games for free and cash prizes

. However, with FanDuel

covering losses up to $1000

for the first 24 hours, you'll want to make a deposit and enjoy some risk-free gameplay. Simply navigate to the "cashier" section. Select deposit, your preferred option, and follow the prompts.
That's it. If you weren't already, you can now go onto your iOS device and select the Wheel of Fortune game.
If you're familiar with the TV show, the game will be easy to pick up. If not, it's pretty simple to understand and works via the two players trying to solve a word puzzle by first guessing letters, and then attempting to guess the word. If you're still feeling unsure, the next section will be for you.
Users currently can't access the game via FanDuel New Jersey, FanDuel Casino Michigan.  Although the FanDuel online casino is available those states, the game is not.
Strategy & Tips to Win FanDuel Wheel of Fortune
If you've never seen Wheel of Fortune, one thing that can really shock new players is that you shouldn't actually be trying to solve the puzzle initially. Instead, you should be trying to guess a frequently used consonant and then spinning the wheel to see how many points you earn. This is because when you correctly guess a consonant, you'll be awarded another turn, and thereby you can string multiple correct consonant guesses before finally solving the puzzle for the additional 1,000 points. That's the general strategy. But some other great tips include:
Don't buy vowels — They reduce your score and end your turn. Even if you have no clue what the word could possibly be, it's better to guess a consonant.
Guess common consonants — T, N, S, H, R, D, L, and C are the most common consonants in that order. If you're unsure as to what the word is, you should guess one of those letters.
Don't Stall — Every second you wait, you'll lose 25 points. Of course, you'll always lose a few, and there's nothing wrong with taking an extra second or two — but it's better to guess a random consonant than to stall for too long.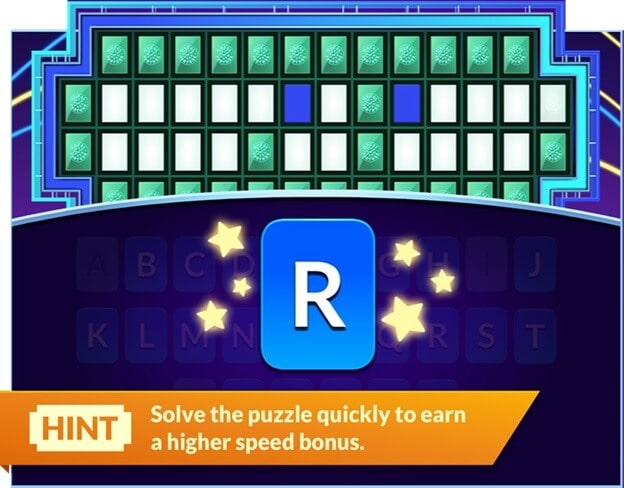 Keep Playing — You may find that you go on a losing streak when you first start. Don't worry though. Wheel of Fortune works by pairing players up based on a skill level system similar to the ELO system used in chess, so even if you're losing a lot at the start, you'll see that over time, you'll be matched with players closer to your skill level.
FanDuel Wheel of Fortune RTP
Since winnings of Wheel of Fortune are determined mainly by the player's skill, traditional metrics to calculate winnings like RTP don't hold up too well. Instead, borrowing from online poker, you should consider metrics like rake and win-rate. Wheel of Fortune's rake is 10-16.66% depending on the stake level, with the $0.60 level maxing out the rake at 16.66%. What this means is that when you wage $0.60, only 83.34% of your stake goes to the prize pool, with the casino claiming the other 16.66%.
Using math, we can then work out how high our win-rate needs to beat the rake and to breakeven over the course of 100 games:
100 x $0.60 = $60
Prize pool = $1, so $60/1 = 60 — therefore you need a win-rate of 60% to breakeven.
While this may sound doable if you were facing random opponents, the fact that Wheel of Fortune uses an ELO-based ranking system means that you'll also be facing more challenging opponents as you win. Therefore, unless you consider yourself to be a real whiz when it comes to word games, you probably won't be able to profit long-term the way this FanDuel game works.
Similar Casino Games on FanDuel
With the launch of FanDuel Faceoff having been fairly recent in March 2022, it's understandable that the game library at this point isn't massive, with only seven titles. However, these titles are a lot of fun, and when used in rotation with one another, can provide hours of fun. Other titles are:
Grand Slam Superstar
Block Trail
King's Crossing
Puzzle Pyramid
Scrabble Cubes
If you love word games, we recommend Scrabble Cubes. Though for something different, Pat McAfee's Field Goal Faceoff makes for an interactive casino experience as you compete against your opponent to see who can score the most field goals.
Who Can Play FanDuel Wheel of Fortune?
Residents of any of the following 32 states can play FanDuel Wheel of Fortune: Alabama, Alaska, California, Colorado, Delaware, Florida, Georgia, Illinois, Indiana, Kansas, Kentucky, Maine, Massachusetts, Minnesota, Mississippi, Nebraska, New Hampshire, New Mexico, New York, North Carolina, North Dakota, Ohio, Oklahoma, Oregon, Rhode Island, Texas, Utah, Vermont, Virginia, Washington D.C., Wisconsin, Wyoming, with more states being of the way.
However, as of writing, only iOS users can download the FanDuel Faceoff. Though FanDuel issued a press release stating that Android support was a top priority and was currently being worked on.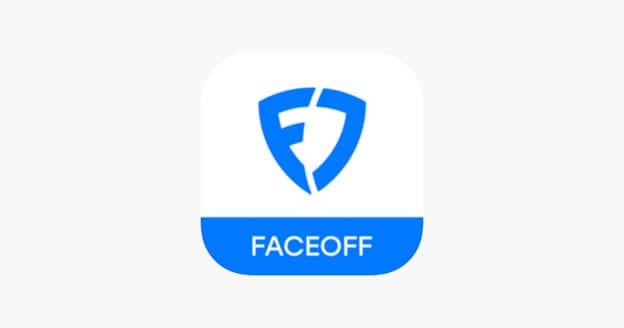 Outside of this, unlike traditional online gambling age limits, users need only to be 18 years old to play, with the two exceptions being Alabama (19), and Massachusetts (21).
Play Wheel of Fortune on FanDuel Without Any Risk for 24 Hours!
What makes FanDuel Faceoff even better though, is that new users who use our secure links are covered for all losses up to $1000 for their first 24 hours. As a writer covering dozens of US casinos weekly, I can say this is easily one of the best welcome offers available today, as while other casinos may flaunt higher numbers like the DraftKings $1000 matched first deposit, what separates FanDuel is the 1x playthrough requirement. No loopholes. No day-long grind session. If you're not up after 24 hours, losses are credited back to you instantly and you need to only playthrough them once to withdraw.
This makes FanDuel's welcome offer close to risk-free. Simply sign up using our secure link and start playing Wheel of Fortune today.
FAQs
Is FanDuel Wheel of Fortune a good game to play?
Yes. If you're a fan of the hit TV show or just word games in general, you will love Wheel of Fortune by FanDuel. While not the most profitable, their match-ranking system ensures that users of all skill levels will be able to play a competitive and fun game for cash prizes.
What is the house edge of FanDuel Wheel of Fortune?
Wheel of Fortune is a player v player game. What this means is that there is no house edge. Instead, the house takes a rake of 10-16.66% from each player's entry fee, with the rest of the money going into the prize pool. And as a game with a large skill element, your win-rate will vary based on your skill level.
Where can I play FanDuel Wheel of Fortune?
To play Wheel of Fortune, you must be at least 18 years old and reside in one of the 32 eligible states. FanDuel is working with the licensing bodies of other states though to extend their services. For full terms & conditions, be sure to check out their website.
Likewise, while Android support has been promised in the future, as of this moment, FanDuel Faceoff is only able to be downloaded via the Apple app store by iOS devices. You will first need to register an online account to login directly on the FanDuel Wheel of Fortune app. Use our links to sign-up and qualify for the FanDuel Faceoff bonus!
Is FanDuel Faceoff legal?
Yes, FanDuel is a licensed operator and is allowed to provide real money games in states with a legal online gaming industry. Faceoff is currently legal in 32 states, with the company hoping to add to this list in the near future. Bettors who are playing in a state with legal iGaming can play casino games for real money. If you are wondering 'is FanDuel casino legit'? Be sure that it is one of the most prominent operators globally.
What is FanDuel Faceoff?
FanDuel Faceoff is a skill game where players play one round of a specific game for each contest the user enters. The player who racks up the biggest score will earn the top prize. You play against real users and can pick your favorite games to play.