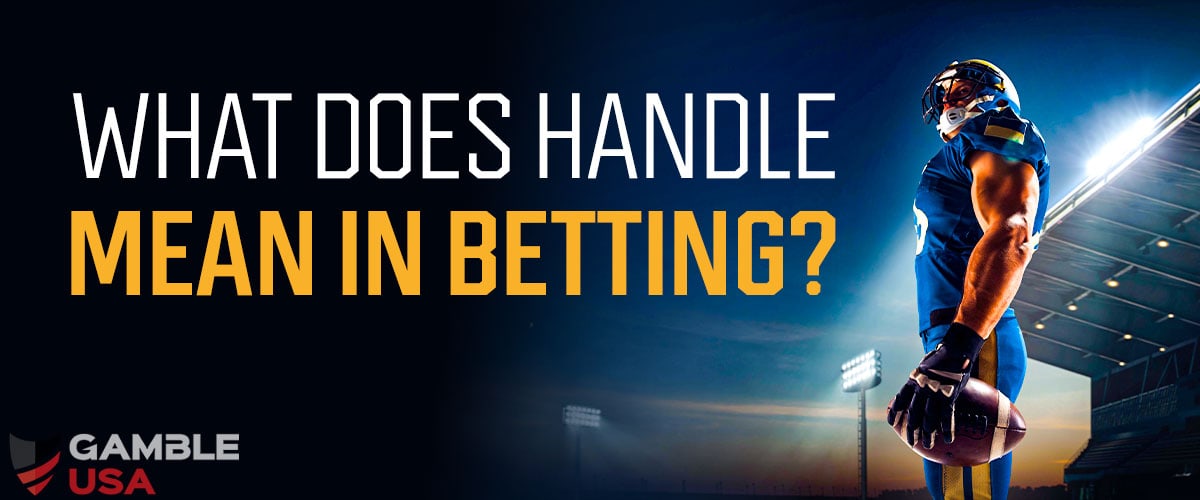 Sports handle and revenue are two terms that are frequently used by sportsbooks. But despite their straightforward definitions, many people, including lawmakers in states considering sports betting legislation, are confused about the difference between them.
As a sports bettor, you have probably encountered these terms, since they are tossed around a lot in the media, but do you understand them and how you might be affected? The purpose of this article is to clarify what handle and revenue percentage mean in sports betting.
Sports handle and revenue do not mean the same thing.     
Handle Meaning in Sports Betting
Handle in sports betting refers to the total amount of money wagered by sports bettors at a given sportsbook or group of sportsbooks in a specified location over a specific period of time. It includes both in-person and online wagering, although the two can also be reported separately.
The applicable time period can also vary. For example, it can be an entire year or season, or it can be for a much shorter period like a month, a week, or even a single game or betting event. The betting handle for a specific event would be of particular interest for major events like the Super Bowl or the culmination of March Madness to decide the NCAA Basketball Championship and would include team handle figures along with the total handle. Team handle is often indicated as the percentage of the total handle bet on each side of a given game rather than the amount in dollars.
Betting handles can be reported either for all sports combined or for a specific sport such as the NFL, NBA, MLB, or soccer. In addition, while each sportsbook is required to track and report its own betting handle, sports betting handle is also reported by state and by country. Data showing the total betting handle for a specific state or country would include all of the legally operating sportsbooks in that jurisdiction.
Betting Handle Applications
As you can see, the term handle in sports betting can apply to any sport with betting odds and legal wagers accepted. Furthermore, the handle represents only the amount of money wagered by bettors, irrespective of any resulting profits or losses. However, depending on the context in which the term is being used, the data can be interpreted in different ways.
For example, it would be unrealistic for a small state where sports betting was legalized very recently to have anywhere near the sports betting handle of New Jersey. So a more meaningful statistic would be a month-by-month comparison just for that state to see if the betting handle has increased over time.
Handle in Horse Racing
The term betting handle is also used in horse racing, where it refers to the total amount of money bet on the entire card offered at a given track on a given day. However, sometimes the data being reported will be the "all sources handle" rather than the track handle.
All sources handle also includes money bet at off-track betting facilities, casinos, or other race tracks offering simulcast betting. As with major sports events like the World Series, Super Bowl, and March Madness, much more attention is given to major horse racing events like the Kentucky Derby and Breeders Cup, since these races have the biggest handle.
Handle Vs Revenue
Revenue is the amount of money out of the total handle that the sportsbook retains after paying out the winners. As with the betting handle, revenue can be measured using multiple time and sports bet type parameters.
Revenue totals tend to be much smaller than one might think based on the betting handle. In addition to paying the winners, sportsbooks must pay federal excise tax amounting to 25% of the handle plus applicable state taxes, so typically, all that is left as revenue is just under five percent of the handle.
The revenue would go down even further if the sportsbook would have to pay integrity fees to any of the leagues. The NBA and MLB are both requesting a 1% integrity fee.
Benefits of Knowing the Handle as a Bettor
Many bettors like to use the percentage of the betting handle being wagered on each team in upcoming games as a handicapping aid. This information, frequently referred to as betting splits, is readily available online. However, it is not much help.
Even if significantly more money is being bet on one side of a particular event than the other, it would be difficult to determine the extent to which the discrepancy represents "smart money" as opposed to "dumb public money."
Also, simply looking at the line movement can often show you whether or not a disproportionate amount of money has been coming in on one side. On the other hand, changes in the odds, regardless of the reason, could affect some people's decision whether or not they still want to bet the game.
How Handle Is Used in Sports Betting References
Sports betting handle is important information not only for sports betting operators but also for government officials in states where sports betting is either already legal or legalization is being considered.
In states where legalized sports betting is already in place, the data would show whether legalization was a good move and the likelihood of additional growth. Individual sportsbooks would also see how their performance stacks up against the competition, which events and bet types are the most popular, and if they need to do anything differently to attract more customers to their site.
States that are still on the fence about legalizing sports betting can use the handle data to help them decide if this is an investment that is likely to pay off.
Sportsbooks Profit Margins & League Fees
Given how at one time the sports leagues were vehemently opposed to sports betting, it would seem like they have done a complete 180 in enthusiastically embracing it now. However, one area where the leagues and the sportsbooks are currently at odds is whether or not they are entitled to an integrity fee.
The NBA and MLB want to have sportsbooks pay them an integrity fee (also referred to as a royalty) amounting to 1% of the betting handle. The purpose of this fee is purportedly to allow the leagues to monitor sports betting to ensure that it does not in any way influence game outcomes. However, the regulating agency in charge of overseeing all of the legal sports betting activity in each state already assumes this responsibility.
Another reason why the leagues are asking for these fees is their stance that they deserve to be paid for providing the games or "intellectual property" on which the sportsbooks' customers can place bets. The sportsbooks not only disagree with that notion but also object because of the substantial impact that paying the integrity fee would have on their bottom line. Sportsbooks already operate at a fairly slim profit margin, so paying an integrity fee of 1% of the handle would reduce their revenue by an additional 20%. In other words, assuming that for every $100 in handle, a sportsbook averages just $5 in revenue, the integrity fee would reduce the revenue by another full dollar or 20%.
Some states might be willing to pay a lesser integrity fee (i.e., 0.25%). But if paying a 1% integrity fee were to become mandatory, the impact could be sufficient to be a deal breaker for some states that are still contemplating legalizing sports betting. In addition, existing sportsbooks would have no choice but to pass on the increased expense to their customers.
What is the Handle of FanDuel and DraftKings Sportsbooks?
DraftKings and FanDuel are the two biggest sportsbooks in the country consistently occupying the top two spots month after month in both handle and revenue in every state where they operate. For example, in New York State in July 2023, DraftKings was No. 1 with a handle of $488.6 million (42% of the market) and FanDuel was second with a handle of $488.1 million (36% of the market).