Gamble USA strives to improve your online gambling experience. We aim to help you play safely, make informed decisions when gambling, and increase your betting knowledge through our guides.
We adhere to strict editorial integrity; our content may contain links to products from our licensed & legal US partners.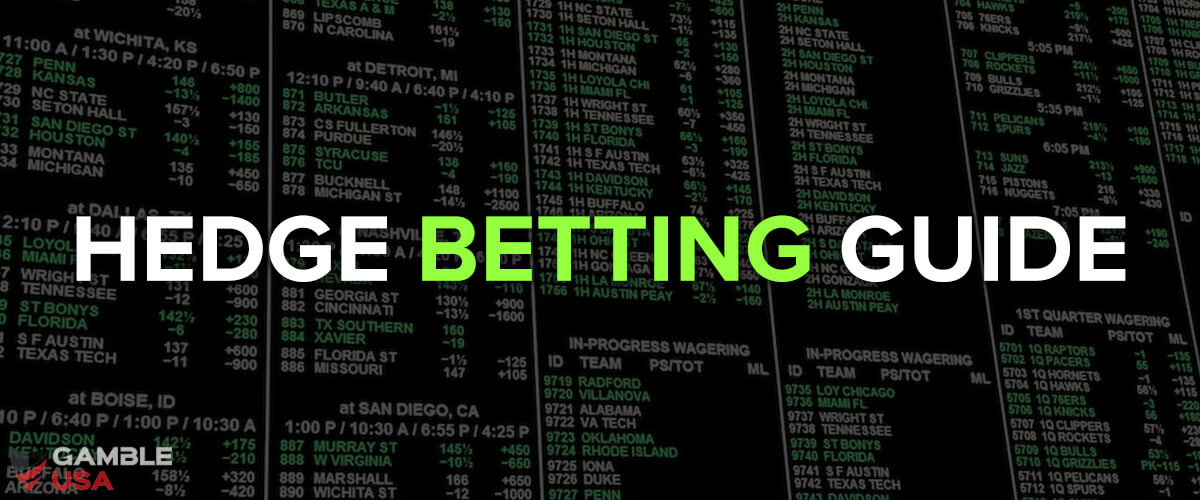 The world of sports betting abounds in enthusiasts that are motivated to keep going forward on their quests to find the perfect betting strategy that will allow them to finally beat the house and feel those gambling butterflies in their bellies.
Although the incredible rise of the betting industry and its current state provides sports bettors with an overload of lucrative opportunities, the quest to beat the oddsmakers requires more than just applying the first strategy you come across on a random forum after blowing your bankroll on your alma mater during March Madness.
Successfully implementing a strategy requires in-depth knowledge and an ability to detect the appropriate circumstances under which the specific method could work. To help you with all this, we will break down hedge betting, the advanced risk management betting strategy that has taken the gambling world by storm.
---
What does hedging a bet mean
Bet hedging is a sports betting strategy in which the bettor places a bet that is different or entirely contrasting to his original bet in order to secure a potential win, lower the risk of potential loss or reduce the size of the loss.
Hedging in sports is a proven risk-management strategy that got embraced by the betting community years ago and is still quite popular among the new generations of sports bettors who are more than happy to implement it online and secure a positive payout.
To hedge a bet means to protect yourself by assembling a combination of wagers that will create a situation that will allow you to walk away as a winner, no matter the outcome of the game. Now, take this with a grain of salt. Hedge bets cannot always secure your potential win. Hedge bets can be used to help you reduce a potential loss, which many bettors can still regard as a victory.
Bet hedging can get done through various types of bets under the right circumstances and by placing the correct amount of money. Whether you are into moneyline wagers or parlays, or maybe someone who claims to know the March Madness winner before the dance has even started, you can use bet hedging as your go-to sports betting strategy as long as you stick to the basic principles of it.
---
Hedge betting examples
As we previously mentioned, bettors can do bet hedging through multiple types of wagering options as long as they are fully aware of how the hedging strategy works and have the understanding that will enable them to detect the right circumstances to implement it.
Hedging a bet is not necessarily extremely complicated, however, to help you get the hang of it and learn the ins and outs of it, we will provide a few examples of bet hedging done through different types of bets. Let's get into it.
Hedging Futures
Futures bets and hedging go together like peas and carrots. Protecting your futures bet via hedging is, by far, the most appropriate method to ensure a net profit, and you can do it effortlessly. All you need to do is place a bet against your original wager. Here is an example of how the situation may look like.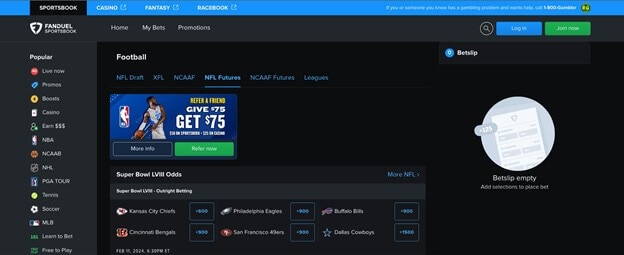 Hedge Betting Futures Example
Imagine a scenario where you have placed a future bet on the Kansas City Chiefs to win the Super Bowl at +600, months before the Championship game. Now the final game has come, and you have two options. You can let your initial bet ride, hoping that Mahomes will deliver, or you can hedge your bet and ensure you will get a profit at the end of the final game, no matter the outcome.
Here are the outcomes of all the possible scenarios.
Hedge Betting Example With Futures Bet
Bet
KC Chiefs - Futures Bet
SF 49ers - Super Bowl Moneyline
Odds
+600
+200
Stake
$100
$200
Total Return
$700
$600
Total Return After Hedge
$700-$200 = $500
$600-$100 = $500
Profit
$400
$300
If you have placed $100 on your original wager, the Chiefs winning the Super Bowl will earn you a total of $700, 0r $600 in net profit.
Hedging your bet will mean that you will now place a Money line wager on the opposite side, the San Francisco 49ers. By placing a second wager, a $200 Moneyline bet on the San Francisco 49ers at +300, you will get a return of $600 if they win the big game, minus the $100 stake on your first wager and $200 on your hedge, for a net gain of $300.
This scenario shows that by hedging a futures bet, you are reducing the maximum payout of your original wager, however, you are also protecting yourself from the original risk of losing everything if your main bet loses.
Hedging Parlays
Wagering on parlays is becoming an increasingly popular form of sports betting, and many new online bettors are embracing the thrill of it. Hitting a multi leg parlay can be tricky, so this is where hedging steps in to protect you from the sorrow of losing your four team parlay wager in the last game. Here's an example of how it works in practice.
Hedge Betting Parlay Example
Imagine you have placed $100 on a 5-leg parlay and nailed 4 of them. All you need now to win your parlay wager, is your final team, the New York Jets, to win their game. This situation creates a perfect opportunity for you to hedge the final leg of your parlay and make sure you go to bed as a winner.
Hedge Betting Example With Parlay Bet
Bet
NY Jets - Last Leg of Parlay
NY Giants - Moneyline Moneyline
Odds
+1200
+175
Stake
$100
$500
Total Return
$1,300
$1,375
Return After Hedge
$1,300-$500 = $800
$1,375-$100 = $1,275
Profit
$700
$775
To hedge this parlay bet, you have to place an additional wager against the New York Jets with an amount of money that will ensure a profit.
Now envision the Jets playing the Giants, and the odds for the Giants to win the game are +175, while the total odds of your parlay are +1200. To hedge your parlay bet, you will need to place a $500 Money line wager on the Giants.
If the Jets win in the East Rutherford clash, you will win your parlay bet and earn +1200 profit minus the $500 placed on the hedge wager. That will leave you at a $700 profit.
If the Giants win, you will earn a $875 profit. Now take out the $100 you placed on your initial parlay wager, and you will end up with $775, which is far better than riding the Jets wave and ending up with nothing.
When it comes to same game parlays, the hedging strategy would be more in line with the moneyline approach we've outlined above.
Hedging through Live Betting
Hedging through live betting is a risk-management strategy that allows each sports bettor to adjust to the current situation and reduce their potential loss or pile up on the winnings.
We all have seen how quickly things can change in professional sports. There are endless possibilities that may affect the outcome of each game. The team you placed a wager on can start the game poorly, the quarterback can get injured in the first drive, and any star of any NBA team can get on a never-seen-before shooting slump. This is what makes NBA betting, and sports betting in general, both difficult and interesting. Luckily for each sports bettor, hedging a bet can allow them to adjust to such hard-luck affairs and minimize the potential damage to their wallets.
Hedge Betting with Live Bets
If the game starts wrong for the team you backed on your initial wager, place an in play bet on the other team with the right amount of money, and you will earn the right to call yourself The Hedging Master.
In a situation where the team you backed on your initial wager starts the game red hot, the odds for the opposite side will significantly increase. That will create a betting climate in which placing a hedge bet on the opposing team will guarantee you profits regardless of the outcome.
---
When hedge betting is a good strategy
Hedging is a great sports betting strategy, yet in order to enjoy its benefits, you must learn how and when to execute it. This sports betting strategy has many advantages, but it also comes at a price. Thus it is vital to know when is the right time to pay that price and let the power of hedging turn the tide of your sports betting battle.
Hedging When You Have a Futures Bet to Guarantee Profits
If you are a person known for their knowledge of Football and you always have future bets up your sleeve, futures bet hedging is a betting strategy that can certainly help you secure some of your profits.
Imagine you placed a futures bet on a team to win the Lombardi, and now your pick is playing in the Super Bowl. This situation is what hedging dreams are made of. All you need to do to end up with a guaranteed profit is to place a wager on the opposing team and enjoy the magic of the big game.
Hedging due to Sudden changes in an event
Life comes at you pretty fast when the star of the team you placed a wager on gets an injury 30 minutes before kick-off.
Unfortunate events, poor runs, and sudden changes in sports games can destroy betting opportunities and easily crush the spirit of the bettors involved. Luckily, our favorite betting strategy is always available to make things better in case you're not able to cancel the bet before the game starts.
Situations like the ones mentioned above are other scenarios where bettors can adjust to the unfortunate circumstances and lower the potential loss or even break even by hedging a bet.
---
How to introduce hedging in your betting
Hedging a bet is a simple process once you detect a suitable opportunity. Whether there is an opportunity for you to hedge a futures bet, hedge a change in odds or lines or place a hedge bet to adjust to any sudden changes, all you need to do is place a wager countering your original one.
Start by comparing the odds at multiple fully licensed sports betting apps and sites and proceed by choosing the one with the highest odds. Proceed by entering the amount you placed on your original bet and its odds in our Hedge betting calculator, then add the odds of the hedge bet to find out the appropriate amount you need to put.
The last step requires you to kick back, relax and enjoy the game, knowing that you will still be a winner no matter the result after the final whistle.
---
Is hedging your bets illegal?
Here comes the good news. Hedging bets is entirely legal, and you have full permission to do it at any licensed online sportsbook. There is no law or particular rule in the rulebooks of any of the licensed sportsbooks that prohibit you from implementing this strategy.
As we previously said, hedging is a reasonable betting strategy that can help you secure profits, lower your losses, and allow you to adjust to the changes and act accordingly. The online sportsbooks will never mind you trying to implement this strategy since it basically means that you are willing to pay the vig for each new wager you place. The vig? That is the bread and butter of each sportsbook.
---
Resources to hedge your bets
Hedging is a betting strategy that requires knowledge and dedication, as evidenced by the fact that most pro sports bettors employ it. You can apply it to many different sports, but remember that you can execute it perfectly only if you put your knowledge and analytical skills to work.
If you are a bettor who would like to add hedging to your arsenal of betting strategies, our advice would be to learn as much as possible about it, so you won't need to rely on dubious hedging tips from the gambling rabbit holes of Reddit.
Learn how to detect situations suitable for hedging a bet, compare the odds at different sportsbooks, and understand how to use our hedge betting calculator to properly balance your bets by placing the appropriate amount.
Thanks to our hedge betting calculator, you can effortlessly discover the ideal hedge bet amount you need to place on your hedge bet to ensure yourself a profit. Just enter the odds and the stake of your existing wager and the odds of the hedge bet, and let our calculator show you the appropriate amount you need to place.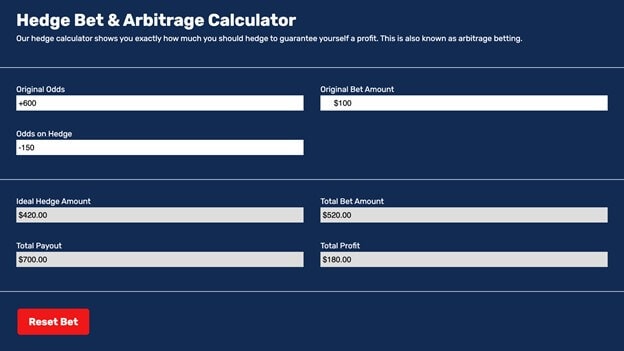 ---
FAQs
What is hedge in betting?
Hedging a bet is a risk management strategy that involves placing a wager opposite of your initial bet in order to secure a profit or minimize the size of your potential loss. By hedging bets, each bettor makes a new wager against his initial one.
Is hedging a bet illegal?
No. Hedging bets is entirely legal and bettors can use it at any licensed sportsbook. While online sportsbooks have the full right to limit your account if you are constantly winning, no written law or rule prohibits players from hedging their bets.
Is hedging your bets good?
Hedging your bets can be a great strategy that may allow you to secure your profits under the right circumstances, lower your chances of losing, or reduce your potential losses.
How to hedge a parlay bet?
The perfect time to hedge a parlay bet is when you have only one leg left on your parlay. Let's say you have a 4-leg parlay and got 3 out of the 4 legs correct, and now you are waiting on the outcome of the final game of your parlay. To hedge this parlay, you need to place an individual wager on the last leg, and that wager must counter what you have on your parlay.
How to hedge a bet on FanDuel?
Hedging a bet on FanDuel is the same as in any other online sportsbook. All you need to do is place a second bet against your original wager to secure your profit or limit your potential loss.