Gamble USA strives to improve your online gambling experience. We aim to help you play safely, make informed decisions when gambling, and increase your betting knowledge through our guides.
We adhere to strict editorial integrity; our content may contain links to products from our licensed & legal US partners.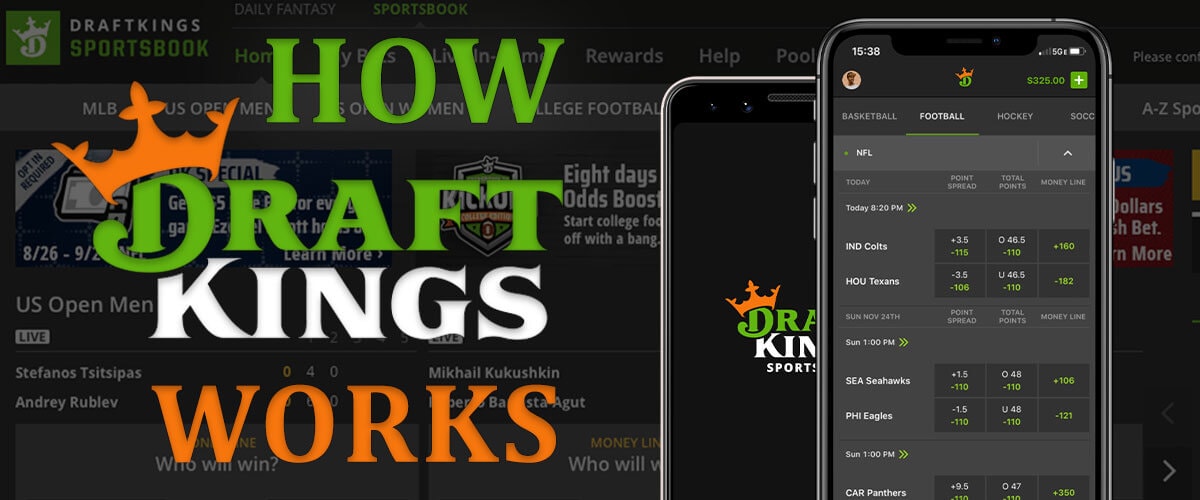 In its decade-long existence, DraftKings has established itself as one of the top daily fantasy, sports betting, and online casino hotspots in the US. What started out as a one-on-one fantasy baseball competition operated by three Vistaprint workers has now become one of the largest DFS, sports betting, and online casino brands in the country, offering their services to millions of Americans in dozens of states.
What makes DraftKings so appealing is the unique all-in-one package that it offers. Users can enjoy Daily Fantasy Sports in various contest formats, bet online on countless sporting events, or play their favorite casino titles – all while using a single account. The site is extremely intuitive, and the company has made placing sports bets, playing casino games, or engaging in DFS as straightforward as it gets – be it on a desktop or a mobile device.
In this guide, we'll explain how DraftKings works, how and where you can play on DraftKings, and explain all the details regarding the entire platform.
DraftKings Overview and Information
Launched 11 years ago as a daily fantasy sports platform, DraftKings is a company that revolutionized gambling in numerous states across the country. Its industry-leading Daily Fantasy Sports platform is the pioneer of this kind. It offers a wide variety of contests for all the major American sports, so it's no surprise that over 5 million Americans have used DraftKings' DFS services.
Since the Supreme Court allowed states outside of Nevada to legalize sports betting, DraftKings launched one of the safest and most secure online sports betting platforms in New Jersey, and it didn't take them too long to expand in other states as well. Through the DraftKings sportsbook, bettors got the opportunity to explore hundreds of different ways to bet on sports from all over the world.
Up To $1,000 Deposit Bonus
21+. T&C Apply
21+. T&C Apply
The best sportsbook
Amazing odds & offers
Awesome betting app
Besides the Daily Fantasy Sports platform and the sportsbook, DraftKings also runs an online casino with over 1,000+ exciting games powered by industry-leading software providers. Here, people can enjoy all the well-known casino classics and dive into online slots available exclusively on DraftKings.
On top of all these different products, DraftKings also has its own marketplace where people can buy and sell NFTs to improve their collections. Here, users can play most of their fantasy sports contests using the DraftKings NFTs, which makes the marketplace an exciting place for those interested in blockchain technology.
🏈DraftKings
🌐Website

www.draftkings.com

📅Launch date
2012
💵Revenue
$2.16 billion to $2.19 billion
🎲Products
Online Sportsbook, Online Casino, Daily Fantasy Sports, NFT Marketplace, DK Horse soon
🎁Sportsbook Bonus
20% deposit bonus up to $1,000 + 50 free bet
🎁Online Casino Bonus (Option 1)
A deposit match up to $2000 in bonus funds
✍️No deposit casino bonus
Free $50 on sign-up
🤑Daily Fantasy Sports Bonus
A deposit bonus up to $500
How Does DraftKings DFS Work?
DraftKings Daily Fantasy Sports is legal in most US states and allows millions of users to test their sports knowledge and enjoy the sensation of victory in DraftKings fantasy head-to-head contests, free games, private leagues, and season-long fantasy competitions with massive cash prize payouts.
To start playing DraftKings Fantasy, users first need to create an account and join a specific contest. A contest is a fantasy league in which each user competes against the lineups of others by accumulating fantasy points. Luckily for DraftKings players, the selection of fantasy sports offered on the platform is the best in the industry. DraftKings DFS even stacks up against FanDuel.
After choosing a fantasy league, each player must draft a lineup of real players competing in real-world games. DraftKings users can choose players from all the most popular sports, such as football, baseball, basketball, NASCAR, hockey, soccer, F1, UFC, and even some college and more niche sports.
Once the players fill all the positions in their daily teams without going over their budget, they can submit the lineups and watch their players of choice earn points based on their performance in real-life sporting events. Once the actual games are over, users can go to their contests page to check their standings in their DraftKings fantasy games and see if they have won any rewards or cash prizes. The rewards can vary according to the style and the specific rules of the Daily fantasy sports contest.
Here is a short list of some of the most popular DraftKings daily fantasy competitions.
Casual contests
Free contests
Head-to-Head contests
Multipliers
Tournaments
50/50 Contests
Qualifiers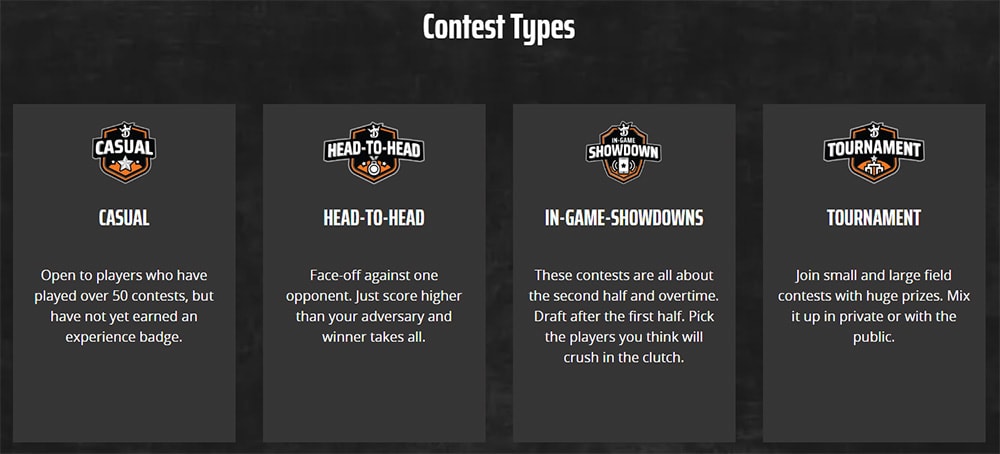 How Does DraftKings Sportsbook Work?
Up To $1,000 Deposit Bonus
21+. T&C Apply
21+. T&C Apply
The best sportsbook
Amazing odds & offers
Awesome betting app
Offering hundreds of different ways to bet to people in 20+ states is just one of the reasons why DraftKings is the number one rated sportsbook in America. At DraftKings Sportsbook, users can place a bet online on the vast majority of teams, sports, and sporting events from all over the globe, and the process to do that is extremely straightforward.
To be able to place a bet, each user must create an account on the official DraftKings site or app. Once the sportsbook account is activated, the user can access the sportsbook and choose a betting market from the pool of available sports. DraftKings offers an incredible selection of sports to bet on, and these are just some of them:
Basketball
Cornhole
Football
Gold
Lacrosse
MMA
Rugby League
Once the game is selected, the user can pick the betting type they want to place their bet on DraftKings. It is an online sportsbook with a long list of betting options users can choose from, so here are some of the most common ones.

DraftKings bettors can also enjoy live betting, same-game parlays, and the DK free pools where they can compete against other bettors for guaranteed prize pools. The platform offers new exciting promotions regularly and welcomes each new user who with a sportsbook deposit bonus.
How Does DraftKings Casino Work?
$50 Casino Credits + $2,000 Bonus
Excellent mobile app
User-friendly design & games
$50 Casino Credits + $2,000 Bonus
DraftKings casino offers its players a catalog of over 1,000+ thrilling games, courtesy of some of the most renowned gaming developers. Accessing this catalog is extremely easy. All users need to do is create an account and make a deposit. Once the funds get deposited successfully, users can start playing casino games on their phones, tablets, or computer devices for real money.
DraftKings has some of the most popular real money slot games, and they even offer step-by-step guides and various tutorials to help beginners get started playing games at DK. Here are some of the most popular games players can find at DraftKings.
Baccarat
Wheel of Fortune
Spanish 21
DraftKings also offers a large selection of Live Dealer card games, with HD streams running 24/7 and experienced dealers, making the live casino one of the most popular sections on the platform.
The DraftKings Rocket has proven especially popular, with games similar to DK Rocket popping out on other sites like Stake.us
The operator has a team of experts devoted to ensuring that all the games are tested and meet the regulatory specifications for fair play. All gambling activities in each DraftKings casino are under scrutiny by governmental agencies working to ensure that the casino operates according to the rules and regulations.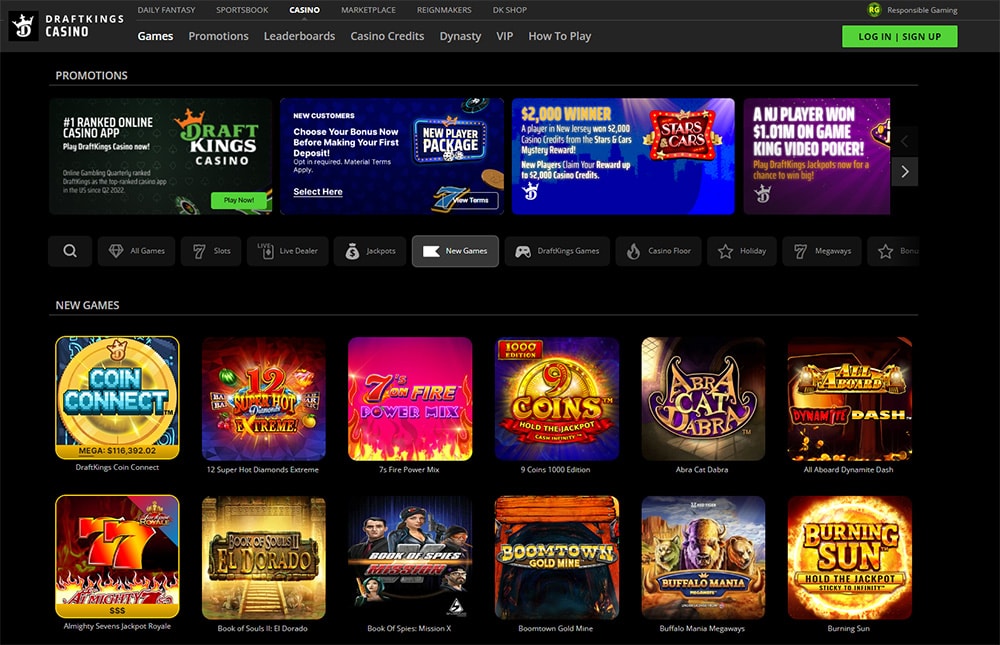 How to Play on DraftKings
No matter which DraftKings service you want to experience, we have provided you with their inner workings. To start, you must follow these steps:
Sign up Process
To be able to place bets, play fantasy sports or enjoy the wide variety of online casino games at DraftKings, each player first needs to register as a new user and successfully verify their account. The process is very straightforward and quick to complete. The best thing about it is that users need only one account to access all DraftKings products. Here are the steps each new user needs to follow to begin their DraftKings journey.
Open the DraftKings website or download the DraftKings mobile app.
Click on the green SIGN UP NOW button in the middle of the screen or click on the one in the top right corner.
Provide an email, username, password, phone number, and promo code (optional).
Read the terms and conditions and if you agree with them, click to confirm.
Provide personal information, such as full name, current home address, date of birth, and Social Security Number.
To successfully log in, deposit money, and start using the DraftKings products, each user must get their identity verified (KYC Checks) by the platform. Users may get asked to submit additional documentation, such as a copy of their driver's license or a state-issued ID. Once the DraftKings account is verified, players can log in with their credentials, select their preferred payment method, and make their first deposit.
Bonuses
DraftKings is a betting platform with a dynamic promotional calendar and is also known for its generous DraftKings sportsbook bonus. When creating a new account, each user gets an option to enter a promo code that will provide them with a specific bonus for their product of choice.
For example, fans of the DraftKings fantasy games who enter a promo code can get a deposit bonus of up to $500. Users interested in exploring the sportsbook can get a deposit bonus of up to $1,000 and a $50 free bet by using our links. Last but not least, new online casino players can get $50 in casino credits and a deposit match of up to $2,000 in casino bonus funds at DraftKings.
All options require a minimum deposit of $5.
Payments
DraftKings users need only one account to access all DraftKings products. However, keep in mind that some payment options that are available for one product may not be available for use on another.
The deposit methods depend on the location and the product, and they may vary by jurisdiction. However, DraftKings has a long list of available payment methods, including popular credit card/debit card options and e-wallets. These are all the accepted deposit methods in jurisdictions where permitted.
| Deposit Method | Daily Fantasy Sports & Marketplace | Sportsbook & Online Casino |
| --- | --- | --- |
| Online banking | ❌ | ✅ |
| Credit and debit cards | ✅ | ✅ |
| Electronic gift cards | ✅ | ✅ |
| DraftKings gift card | ✅ | ✅ |
| PayPal | ✅ | ✅ |
| Play+ prepaid card | ❌ | ✅ |
| Cash | ❌ | ✅ |
| VIP preferred e-check | ❌ | ✅ |
| Wire transfer | ❌ | ✅ |
There are various details regarding the DraftKings deposit methods, so we advise each user to head over to the DraftKings FAQ page to learn more about the minimum deposit amounts, possible fees, and the various processing times.
States Where DraftKings Works
DraftKings is, without a doubt, one of the most recognized companies in the fantasy sports scene in the country. It has also been a leader in the movement for the legalization of daily fantasy sports since the very beginning, so it's no wonder why playing daily fantasy sports through DraftKings is legal in so many states across the country.
Alabama
Alaska
Arkansas
California
Florida
Georgia
Kentucky
Maine
Massachusetts
Minnesota
Missouri
Nebraska
New Hampshire
New Jersey
New Mexico
North Carolina
North Dakota
Oklahoma
Rhode Island
South Carolina
South Dakota
Texas
Utah
Vermont
Wisconsin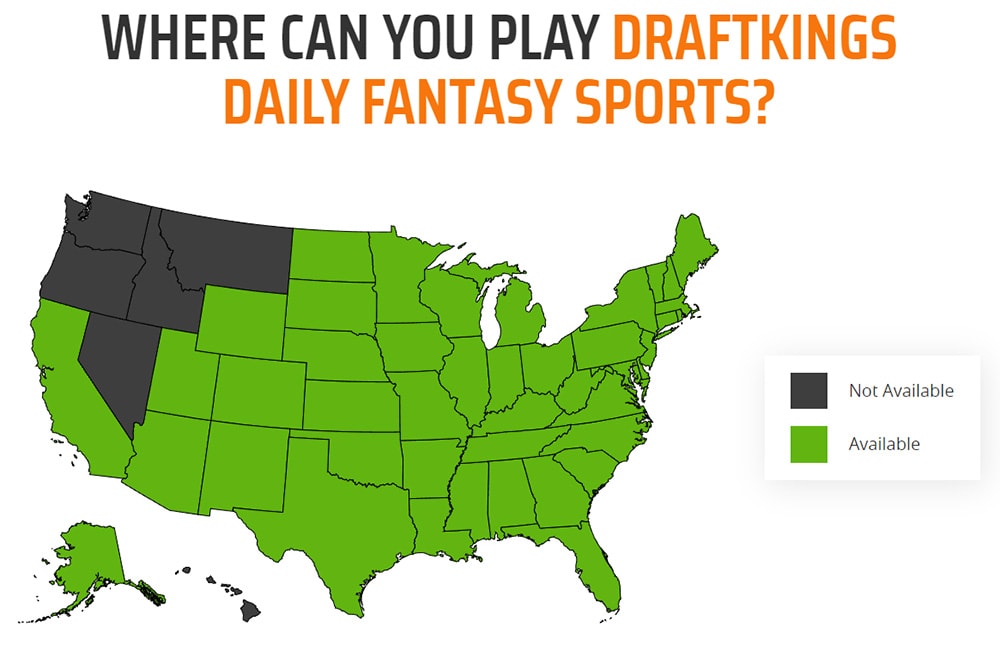 DraftKings Sportsbook is also among the leaders in the industry, being legal in the following states:
Alabama
Colorado
Connecticut
Illinois
Indiana
Iowa
Louisiana
Michigan
New Hampshire
New Jersey
New York
Oregon
Pennsylvania
Tennessee
Virginia
West Virginia
Wyoming
On the other hand, the casino industry and the legislation regarding online casino gaming is a bit different, so the list of states where DraftKings casino is legal is noticeably shorter. However, a significant expansion is expected in the near future. Here are the states where DraftKings users can legally participate in online casino gambling:
DraftKings vs FanDuel Operations
Comparing two gambling platforms that have been at the top of the food chain for so long is an incredibly challenging task. Both DraftKings and FanDuel are far ahead of their competitors, so spending hours reading Reddit comparisons doesn't guarantee one will come up with a definite answer. However, there are a few differences between those two that might give DraftKings a slight advantage.
Although very aesthetically pleasing, FanDuel's online platform has been a target of criticism for many dissatisfied users who claim to have experienced various bugs. Many FanDuel users have also complained about the reliability of the app and the various glitches occurring during score updates. On the other hand, both DraftKings' online platform and the app constantly provide sports fans with the utmost reliability while maintaining a visually pleasing design. We can attest to this since our FanDuel account suspended page is visited far more frequently compared to our DraftKings troubleshooting guide.
Bonuses are not something to which we can compare them since they're both the best in the business. However, there are a few differences in their selections of available sports in their sportsbooks. DraftKings doesn't offer its users betting on horse racing (yet), which can be a deal breaker for many, as we know how big and significant the horse racing market is.
FanDuel offers horse racing betting and has some of the best odds in the industry, but lacks in another aspect. Millennial and Gen-Z bettors can instantly notice that the eSports market has been entirely ignored by the platform, and judging by the rise of the popularity of video games, this may be a huge deal breaker for many.
How Does DraftKings Work with the UFC?
DraftKings is unquestionably one of the best places to bet on the UFC. The sportsbook has some of the most competitive odds for UFC and an incredible selection of various bets. Here are some of the most common ones.
Fight Lines
Winning Method Bets
Parlays
Props
Round Props
Futures
The winnings are paid out instantly after the end of the event.
Besides the online sportsbook, UFC fans with DraftKings accounts can win prize money through the DraftKings fantasy MMA contests. To compete, participants must create a virtual team of 6 fighters that does not exceed their budgets. Each MMA fighter comes at a price, so players need to have a good pricing strategy in order to win the fantasy sports match. The results are determined by the number of points accumulated by the lineup of each participant in the DraftKings fantasy contest.
How does DraftKings NFL work?
DraftKings has been a gambling haven for NFL fans for years because of the extensive list of NFL betting markets on the sportsbook and mainly because of the industry-leading daily and season long fantasy football contests where they can win huge cash prizes.
As the Official Daily Fantasy Partner of the NFL, DraftKings hosts exciting contests where players pay an entry fee to draft a lineup of NFL players to compete for the guaranteed prize payouts. Each player from the NFL pool has a price, so the goal is to assemble the best possible lineup within the salary cap. The points are based on the real-life stats of the drafted players. Players get points for offense and defense stats, such as rushing yards, passing yards, touchdowns, sacks, interceptions, and many others. The winner is the player with the highest amount of points, and the rewards are paid out immediately after the end of the competition.
Another way for NFL fans to win real money on DraftKings is by placing bets on the sportsbook. DraftKings has some of the most enticing NFL odds in the industry, and the process to withdraw the winnings is swift and easy. Here are some of the most popular types of bets NFL fans can find on the DraftKings sportsbook.
Moneylines
Point Spreads
Parlays
Over/Under
Prop Bets
Futures
Live/In-Game Bets
How does DraftKings work for the NBA?
DraftKings users interested in placing bets on the NBA can do it in the traditional way through the sportsbook or by playing in the plethora of exciting daily or season long fantasy basketball contests.
Each daily fantasy basketball contest is associated with a salary cap, so players must understand pricing. The price of each player in DFS demonstrates how much it would cost to draft that particular player for your fantasy team.
To win a daily fantasy basketball contest, players need to have the highest-scoring lineup compared to the other players on the leaderboard. Players can earn points according to the real-life performance of the players drafted into their new teams. Players accumulate points through stats such as points, blocks, steals, assists, rebounds, etc. New fantasy basketball contests get hosted daily, and the platform pays out the winnings immediately after the end of each one.
Betting on NBA games is a lot simpler but still as exciting. To bet on NBA games, all users need to do is head over to the DraftKings sportsbook and select the game they want to place a bet on. The process is incredibly straightforward, and the selection of types of bets is one of the best in the business. Here are the most popular types of bets.
Money Line
Parlays
Point Totals
Point Spreads
Over/Under
Futures
Prop Bets
Bets by Quarters
How does MLB work on DraftKings?
MLB fans can bet on DraftKings through the sportsbook or by playing the daily fantasy baseball contests. The process for each is simple and doesn't require lots of time.
To place a bet on an MLB game, players need to access the DraftKings sportsbook, select baseball from the pool of available sports, and proceed by clicking on the MLB and placing a bet on their game of choice.
Here are the most popular bets players can place on an MLB game.
Moneyline
Run Line Bets
Point Spread Bets
Over/Under
Prop Bets
Futures
The winnings are paid out shortly after the end of the game in question.
The other way players can test their MLB knowledge and win real money prizes on DraftKings is by getting some DraftKings fantasy work done by drafting the best selection of players. Each player in these competitions must learn about the pricing system because the lineup must not exceed the salary cap. Every MLB player that can get drafted comes at a price, so players must have a smart pricing strategy in order to win these virtual games.
To win DraftKings fantasy baseball competition players must reach the top of the leaderboard by accumulating the most points. The points are based on the performance of the MLB players in real-life sporting events that are taking place during the DraftKings fantasy match. The cash prize payouts are taking place on the same day.
FAQs
Do you win real money on DraftKings?
Yes. Players can win real money on every single one of the DraftKings products. However, to be able to do so, each user must be at least 21 years old and located within the borders of the state where the particular DraftKings product is legal.
How does DraftKings payout winnings?
DraftKings has different withdrawal options that vary by the product players wish to withdraw their winnings.

As an exmaple, the methods people can use to withdraw their winnings from daily fantasy sports (DFS) contests or marketplace.



Online Banking


PayPal


Debit Card


Venmo


Checks


Bank Wire


Here are the options for those who want to withdraw their winnings from the sportsbook or the casino.


Online Banking


VIP Preferred (e-check)


PayPal


Debit Card


Cash


Venmo


Play+ Prepaid Card


Checks


Bank Wire


How do you play DraftKings as a beginner?
DraftKings is the best place for beginners who want to embark on a gambling journey without paying higher entry fees and immediately exposing themselves to the risk of losing money.

DraftKings fantasy competitions for beginners are a fantastic place for new users to learn and improve without paying entry fees. Joining those free competitions is easy. All people need to do is log in and click on the sport of their choice. Then, click to see the list of available types of competitions for the particular sport and select beginner contests and use their free entry.

It's worth noting that the amount of free DraftKings Fantasy competitions users can enter without paying an entry fee is limited. After the 50 free contest entries, those users will have to join other daily fantasy sports contests that require an entry fee to be paid.
How do DraftKings winnings work?
People on DraftKings can win real money through any of the products. They can win by placing bets on sporting events, participating in the DraftKings daily fantasy sports paid contests, or playing online casino games such as online slots, table games, and live dealer games.
How does DraftKings make money?
Like any other online betting platform, DraftKings generates the biggest portion of its revenue through its gambling products. DraftKings Sportsbook generates income on vigorish and losing bets. DraftKings online casino does it whenever a user bets against the house and loses on slots, table games, and live dealer games.

However, the largest piece of the revenue cake comes through their fantasy sports contests, where users pay a participation fee, from which the company takes 10%. DraftKings also generates a significant amount of revenue through advertising.