FanDuel is one of the biggest and best US sportsbooks available. Now available in over 14 states, sports betting with FanDuel is more accessible than ever. But if you are brand new to betting, you are probably wondering where to start and how to bet on FanDuel.
FanDuel sports competes with other big hitters such as DraftKings sportsbook and Caesars sportsbook to attract bettors to the platform. The FanDuel Group has numerous sportsbook legal options across the US, with the FanDuel NY site and FanDuel sportsbook Ohio launching in 2022. You have probably seen all the FanDuel adverts and promos and thought hey, I want a piece of the action but have no idea where to start. Don't worry, we have you covered.
The top sites in the sports betting industry offer multiple betting options incorporating all of the major leagues such as the NFL, NBA, MLB, and NHL. Sports bettors have never had so much choice when it comes to football betting, and the types of bets you can place are more diverse than ever. FanDuel fantasy is already well established and the sportsbook is now very popular.
One of the top sportsbooks currently operating in the US is the FanDuel sportsbook. The brand was initially known for its daily fantasy sports contests but has since grown to become one of the most established sports betting platforms worldwide. It has joined forces with gaming company's such as Boyd Gaming to offer punters an excellent gambling experience. Additionally, the FanDuel sportsbook app provides users with the opportunity to access FanDuel betting lines and take advantage of your risk-free bet bonus and FanDuel odds boosts on the move.
However, you might not know how to bet on sports, and the thought of using your own money gambling on an app might seem intimidating for a first-time sports bettor. The good news is, going online and placing your bets is a straightforward process. It is easy to place bets on FanDuel and we will show you exactly how to do it with this simple guide.
So, if you are wondering how to bet on FanDuel sportsbook, this guide will help. We will cover how to use FanDuel, how to make a FanDuel sportsbook deposit, and the types of bets available on the FanDuel online sportsbook. Think of this as a type of sports betting tutorial or even a FanDuel for dummies article!
Bet $5, Get $150 In Bonus Bets
21+. T&C Apply
21+. T&C Apply
Convenient banking
Massive choice of sports
Bet $5, Get $150 In Bonus Bets
21+. T&C Apply
21+. T&C Apply
How to bet on FanDuel
Betting with FanDuel is simple, but follow this beginner's guide and you will be backing your team in no time.
1. Open a sports betting account with the book
It might seem obvious, but if you don't have a FanDuel account, you can't bet. You can start by clicking the "BET NOW" button on the homepage at fanduel.com/sportsbook or the Join Now button. This will then take you to the registration page, where you will be required to enter the following information:
Full Name
Date of Birth
Address
Email
Last four digits of social security number
The Fanduel sportsbook states that it must verify the identity of each player. This is standard procedure among all online sportsbooks and is done for your protection.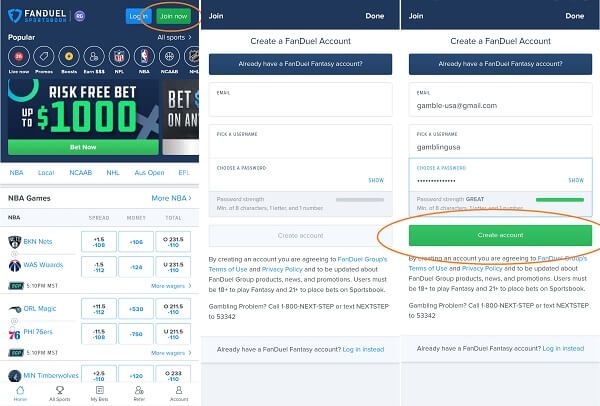 There are some other verification questions before the account can be created. The operator will ask you if the information provided is accurate, that you are not a casino key employee, and you are at least 21 years old. A new account will be set up if you meet all of those requirements. We should also mention if you have a FanDuel promo code you need to enter it upon registration. Make sure your bonus code is valid for the FanDuel New York, FanDuel sportsbook Illinois or the relevant FanDuel mobile sports betting site depending on which state you are located in.
There is no more to it than that. Once you have your login details, the next step is to fund your account to start getting involved with live betting and placing point spread wagers. Your account is where you track all your up-and-coming bets, your completed (settled bets), manage your personal details, set any limits you may want, make deposits & withdrawals, and see if you have any special offers. Creating a FanDuel sportsbook account is a straightforward process, and once done you can claim your free bets.
FanDuel Sportsbook is legal in the following US states: AZ, CO, CT, IL, IN, IA, KS, LA, MD, MI, NH, NJ, NY, PA, TN, VA, WV, and WY – The most recent state FD went live in was Maryland on November 23, 2022.
FanDuel casino is legal in: CT, MI, NJ, PA, and WV
2. Make a deposit to your account
Once you have an account, you now need to fund it. When people ask how FanDuel sportsbook works, one aspect they are typically referring to is banking. Once you have logged in, depositing is simple. Head to the cashier section of the site or app, click your chosen deposit method and enter your preferred amount.
Please note that you can't transfer funds from your linked DFS account to the app. FanDuel has numerous deposit options, including:
Credit/Debit cards
PayPal
ACH/Echeck
PayNearMe
Online Transfer
FanDuel prepaid card
All of the options are instant, and the money should appear in your account right away. When you make a deposit, it is a one-time deposit. You are not signing up for a subscription or direct debit. If you deposit $20, that's all you will deposit, of course until you make another deposit. FanDuel is one of the most trusted online sports betting brands in the US and it's safe and secure to make a deposit. You can read more on FanDuel sportsbook deposit options here, although the betting app is easy to use even without additional information.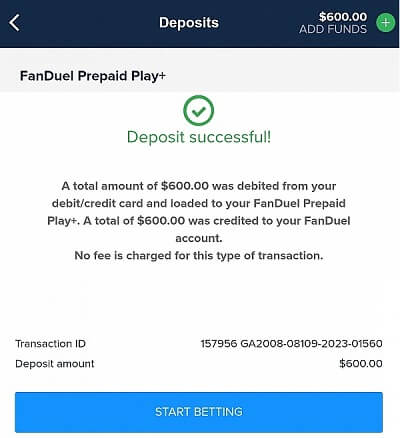 As a new customer, you can claim the awesome FanDuel $1,000 risk-free bet offer. What this means is if you deposit $100, FanDuel will match the $100 in credits if your bet doesn't come in, all the way up to $1,000. There is no need to use a FanDuel Sportsbook promo code to claim the offer, just sign up for a new account at fanduel.com/sportsbook and follow the steps. Once you have funds in your account, it's now time to place your wager with FanDuel.
3. Find your sport, event, game, or market
FanDuel makes it clear and straightforward to know exactly what the bet is, how much it is for, and how you will win.
The best way to bet on FanDuel is:
Choose your sport. This can be done by the sliding menu at the top of the page, or all sports on the footer of the app. On desktop, sports are listed on the left.
If applicable, you can search by league, featured, live now, futures, and upcoming games.
Find the game you are interested in and select "more wagers" to see the betting options.
Select the betting option and click the line you want to take.
Enter the bet amount on the betting slip and place the wager.
You can see all your bets on the My Bets tab at the bottom of the page.
That is all there is to placing a bet with FanDuel. At first, the app may look complicated, but we can assure you it's not. Before placing a bet, you may want to have a browse around the app to familiarise yourself with the setup. It is a very easy-to-use sports betting app.
There are lots of different bet types available that may confuse new sports bettors but don't worry, they are all easy to understand. Someone new to betting may want to just place a money line or straight bet. This is the most straightforward bet type where you pick the outcome of a game. For example, will the Packers win against the 49ers.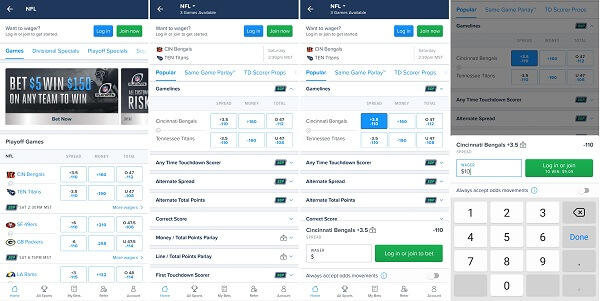 With that said, it is important to know the range of bet types there are available and how they work and we cover these further down the page.
How to bet on Football with FanDuel
As you have probably guessed, football betting with FanDuel is by far the most popular and most profitable sport to bet on. Betting on NFL or any football with FanDuel is easy and no different from any other sport with the book. They have one of the most popular, simplest apps for betting on the NFL.
First, you need a funded account which you can create at fanduel.com/sportsbook. For the purpose of this guide, we will assume you are using the FanDuel app. Select NFL from the top of the page, you can then see all games listed, or use the sliding menu at the top to see specials. On the main NFL page, you will see all the games available and the odds for Spread, Money, or Total. If this is all you want to bet on, tap the odds to add the pick to your betslip. You can add more bets, combine them and make a parlay; that's one of the best bets on FanDuel to make money.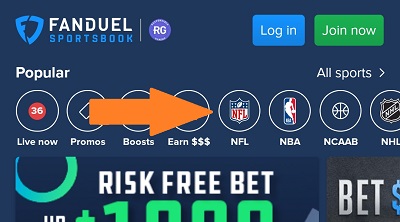 If you want to see more betting options, click on more wagers to see further markets. Again, all you need to do is tap the odds box on your selection to add it to the betslip. You can combine multiple selections from the same game and create a same game parlay. These are bets with higher odds, but a less chance of winning compared to moneyline bets.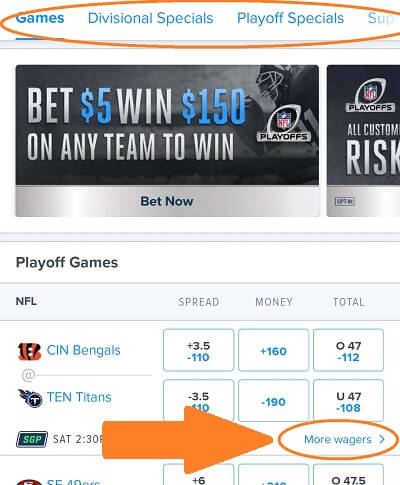 When you have finished with your selections, click My Bets, enter in your stake (the amount you want to bet) and see the potential returns should your bet come in. If you are happy with your choices, press place bet and that's it. That is how you bet on football with FanDuel. Now you can grab a beer, sit back and watch the game. Keep track of your bets in your account, or on the settled tab if the game/s has finished.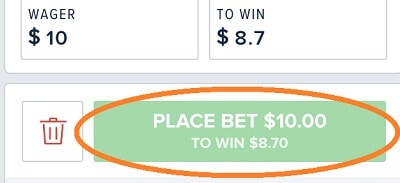 If you have picked the right bets and won, you can withdraw your winnings from FanDuel, or leave them in your account for any future wagers.
Types of Bets at FanDuel Sportsbook
Before we go into details about all of the types of bets individually, we thought it was worth listing them. FanDuel has some great resources to help a new bettor get acclimated, including guides and information.
The most prominent types of bets on FanDuel are:
Moneyline
Spread
Props
Parlay
Teaser
You can place a single bet or combine wagers depending on your preferred bet type. Let's take a look at these wagering options in more detail.
How to bet on a team to win on FanDuel
A lot of people are first attracted to the idea of sports betting because they want to put faith in their favorite teams. Whether you are an avid NFL fan, or enjoy the MLB, NHL, NBA and MLS, there are numerous teams you can get behind if you think they will be successful. A lot of fans take pride in following their hometown teams. For example, the upcoming Super Bowl LVII between the Kansas City Chiefs and the Philadelphia Eagles will see two of the most passionate fanbases come together as they hope their team ends up lifting the Lombardi Trophy. Regarding sports betting, there are multiple ways you can bet on your team to win.
The good news is, wagering on a team to win a match on FanDuel is straightforward. We have listed the main bet types below, and each can be applied when betting on a team. If you are new to sports betting, starting with a FanDuel moneyline wager on a team could be the best way to go. Here, you are simply betting on a team to win, with no added quirks or points involved, just who you think will win the match outright.
When betting on a team, one of the most common types of wager is a point spread. A point spread wager is you betting on a team's margin of victory or defeat. If you wager on the favorite which is the team with the minus sign next to it, they have to win by more than the number shown. On the flip side, betting on the underdog with the plus sign next to it means they have to win or lose by less than the number shown.
To place your bet, click on the match you are interested in and then choose your type of wager and add it to your betslip. FanDuel covers numerous sports and leagues so the teams available to you range from the most popular domestic franchises to niche international teams.
How to bet Moneyline on FanDuel
A moneyline bet is the most straightforward type of wager. They are straight bets where you are predicting the outcome of a game. The favorite will always be shown next to a minus sign (-), while the underdog is indicated by a plus sign (+). With the favorite, the moneyline is the amount you would have to bet to win $100. Whereas for the underdog, the moneyline is the amount you stand to win if you bet $100.
For example, let's say you wanted to place a team bet on an NFL game. The Seattle Seahawks are -300 favorites, and the Detroit Lions are +250. In this case, you would have to wager $300 on the Seahawks to win $100. On the other hand, the same bet on the Lions would see you win $250. Moneylines always assume a base of $100, and it's your choice if you bet less or more.
How to bet Over/Under on FanDuel
Also referred to as a total, a FanDuel over/under bet is when you predict the final number of points scored in a game by both teams. A wager on the over means that both teams must combine to score more than the shown point total. If you bet on the under, the teams must combine for less. If the teams combine for the point total exactly, then the bet is a tie, and all wagers are voided, and you get your stake back.
Below is an example from an NBA game:
Chicago Bulls Ov 210 (-110)
La lakers Un 210 (-110)
The above example shows that the total is 210. Wagering on the over means that the Bulls and Lakers must combine to score more than 210 points for the bet to cover. Because the commission is -110, you would have to wager $110 to win $100.
How to do Prop Bets on FanDuel
Props, or proposition bets, are often referred to as side bets because they allow users to wager on specific events that occur within a game rather than the game itself. Game props are often presented as moneylines and can cover a range of in-game events such as individual player performances and more.
For example, if betting on the NFL, you could predict a QB to throw over a certain number of yards or a wide receiver to score three touchdowns. Placing a prop bet is exciting as you could be watching one of your favorite players on Monday Night Football and if you wager on them to achieve a target it adds to the excitement.
To see all of the available props on FanDuel, just click on any matchup.
How to do Parlays on FanDuel
A parlay bet is decided on the outcomes of two or more wagers. The bets can be made up of several bet types, including a  spread bet, over/unders, and moneylines. A parlay will only pay out if each bet within it covers. Consequently, parlays have higher payouts than if each wager was placed separately.
Fanduel also has a significant same game parlays section. A FanDuel same game parlay allows you to combine multiple Same Game Parlays into one whole parlay. In order to do this, you must first create a single SGP by choosing outcomes under a game's SGP markets, which are indicated by the SGP logo. You can read more on FanDuel parlay betting options here.
You can also learn how to place a round robin bet on FanDuel from our dedicated guide, which is a safer parlay format.
How to do Teasers on FanDuel
A teaser combines two or more bets into a single wager and allows the user to adjust the spreads favorably. The bettor can choose how much to change the spread, but that adjustment is the same across every bet in the teaser. Because teasers shift the odds in the player's favor, they will have lower payouts than if each bet was placed separately.
For example, a -5 point teaser would move the spread for each bet favorably by five points. So, for an NFL bet, if the Pittsburgh Steelers (-7) are initially favored by seven to win, their spread would be moved to -2, meaning they would only need to win by three or more points. If the Steelers opponents, the Baltimore Ravens (+7), were originally seven-point underdogs, it would be adjusted to +12. This means they could lose by up to 11 points and still cover their part of the teaser.
Available sports on FanDuel
FanDuel offers one of the widest range of sports betting markets for players. You can wager on over 15 sports, including:
| | | |
| --- | --- | --- |
| Australian Rules | Cricket | MMA |
| Baseball | Cycling | Motor Racing |
| Basketball | Darts | Rugby |
| Boxing | Football | Snooker |
| College Basketball | Golf | Soccer |
| College Football | Ice Hockey | Tennis |
Understanding odds
We have mentioned odds a few times on this page. Now, most people will understand odds, but if you are brand new to sports gambling, they may confuse you. In the simplest terms, odds provide a measure of the likelihood of a particular outcome of a game or event. The higher the odds, the less chance of the outcome happening. Sportsbooks set the odds and you can wager an amount on the outcome you think will happen.
There are different types of odds available (American, Decimal, and Fractional) but the most common in the US is American odds. These are shown as three-digit numbers followed by a plus (+) or minus (-). These odds indicate if you are betting on the favorite or underdog and how much you can win if you bet $100.
You can read more on our guide to reading betting odds.
Beginners tips to betting on FanDuel sportsbook
If you are reading this guide to betting on FanDuel, there is a very good chance you are new to sports betting. Having a cheeky bet at the weekend adds some excitement to the game and for most, it's a great form of entertainment. If you are new, there are some tips we recommend when starting out at FanDuel.
Stick to sports you know
Don't make the mistake of trying to bet on sports you know little about. It's far better to have a bet on a sport you know and understand. If you are an NFL fan, bet on an NFL game over a third-division soccer game in a Mexican league you have never heard of before.
Stick to simple bets to start off with
As we mentioned above, FanDuel offers lots of ways to wager. A straight bet or moneyline is by far the simplest and the best for any new bettors.
Don't get carried away
Sports betting should be fun. Only wager what you can afford to lose and don't chase your losses. Betting should be seen as entertainment and not a sure-fire way to make a fast buck.
Check FanDuel odds boosts for enhanced odds
There is an 'odds boosts' tab on FanDuel which can be found at the top of the page if you are betting on the app or on the left side of the desktop site. This tab displays specific wagers where the odds have been significantly increased so you can potentially get a bigger payout. It is still wise to check before submitting your bet as it might not be worth playing, but there is the possibility of finding a great deal if FanDuel has recently updated the boost tab.
We would still urge caution and say it is still not a good idea to bet on a sport you know little or nothing about, even if the odds are boosted. While it may be tempting to think the reward outweighs the risk in this instance, the likelihood of winning if you have no knowledge on what you are betting on is slim.
Don't go overboard on Teasers to maintain good odds
A teaser bet allows you to add or subtract points from a total bet or a spread wager. FanDuel offers teasers on certain wagers, which means you can make your odds more challenging the increase the amount you are paid out. Use these bets sparingly  in order to ensure you are not making it even more difficult for you to win.
Foe example, you place a spread bet on the Kansas City Chiefs and New York Jets game. The spread could be Chiefs -8. If you feel the Chiefs will win, you might choose to add  8.5 points to make the odds +0.5, resulting in a far higher payout.
Use Our Detailed FanDuel for Further Information
FanDuel Extras
Sportsbooks are always looking for ways to add some excitement and twists to betting. Cash out is one of these features that is designed to help bettors. If your bet looks like it isn't going to come in, you can cash out your wager for a lower price. We cover in more detail this excellent feature on our FanDuel cash-out guide.
How does FanDuel Work?
While initially known for being a Daily Fantasy Sports provider, FanDuel has grown to become one of the most established online sportsbooks in the US. However, anybody new to online wagering may be unfamiliar with the process of placing bets online in the hope of winning some money. FanDuel is a sportsbook that makes money on players losing bets. The company sets odds based on the outcomes of who may win, or lose a match or event. Customers bet on events and if they lose, the money is FanDuels, if they win, the customer claims their winnings.
The good news is that the online betting process on FanDuel is straightforward, and works in the same way as it would if you were to visit a retail betting kiosk. The difference is all of the options are at your fingertips, with everything being processed on the web.
You can wager on the NFL, NBA, MLB, NHL, and other significant leagues from around the world. Choose your preferred sport from the list and then click a match you are interested in. Then choose if you want to bet on the moneyline, point spread, or parlay. A bet slip will appear as you make your selections. All that is left to do is choose your stake and submit your bet.
In a nutshell, that is how the FanDuel sportsbook works. Sign up, choose your sport, choose your bet type, and bet.
Can you really win money on FanDuel?
FanDuel is one of the most recognizable gambling brands in the world. As such, they are fully licensed to operate in states with a legal gambling industry. This means players are protected at all times, including any financial transactions.
If you get lucky (or you think of yourself as a betting pro) you can win some big money on FanDuel. Whenever you want to withdraw funds, simply request a withdrawal via the cashier section of the site and it will be instantly transferred to your bank account.
States where FanDuel Sportsbook is available
Being one of the biggest betting brands worldwide, FanDuel is legal in many states where you can place a sports bet. The following is a complete list of states where you can access the FanDuel sportsbook app:
FanDuel Arizona
FanDuel Colorado
FanDuel Connecticut
FanDuel Iowa
FanDuel Illinois
FanDuel Indiana
FanDuel Kansas
FanDuel Louisiana
FanDuel Michigan
FanDuel Ohio
FanDuel New Jersey
FanDuel New York
FanDuel Pennsylvania
FanDuel Tennessee
FanDuel Virginia
FanDuel West Virginia
FanDuel Wyoming
The FanDuel sportsbook Kansas recently launched (September 1, 2022) as the latest addition to the list. States where online betting isn't entirely legal yet, such as Maryland, still enable you to play daily fantasy sports. You can visit the FanDuel Maryland site to enter the competitions now.
States where FanDuel will launch soon
Although FanDuel is already live in numerous states and has a large presence across the country, the operator isn't sopping there. Big states such as Massachusetts are preparing for their imminent launches while other key states such as California, Missouri and Texas are considering sports betting legalization. If those states ever decide to give the green light to legal sports wagering, residents can expect interest from FanDuel.
Massachusetts was the latest state to announce that is has legalized sports betting. The launch date is expected to be for sometime in March 2023. Once again, it is likely that FanDuel and it's major competitor DraftKings will be the biggest players in the market.
FAQs
How long for FanDuel bets to settle?
Bets with FanDuel are normally settled within a few minutes. Sometimes there can be a delay on the system and it can take longer, but usually, they are settled after a couple of minutes. During big games or events (especially the Super Bowl) bets can take longer to settle due to the sheer volume. If after an hour your bet hasn't settled, contact customer support.
How old do you have to be to bet on FanDuel?
You must be at least 21 years old to gamble on legal sportsbooks, including FanDuel. When new states legalize sports betting, they will set their own age limit.
Can you cancel a bet on FanDuel?
According to FanDuel sportsbook rules, once your wager has been submitted, you will not be able to cancel or void it. You can utilize the FanDuel cash out option and cut your losses with the funds being added to the account. If your wager qualifies for cash out, you will be offered a "Cash Out Value". This will be shown on your betslip within the Active Bets tab.
How does FanDuel sportsbook work?
Although starting your journey with online sports betting may seem intimidating, it is relatively straightforward. Once you have signed up for an account, follow the steps we have highlighted above to fund your account and submit your first wager.
How to read FanDuel odds
You may have received an odds boost promo on FanDuel but are unsure how odds work. The good news is they are the same across all wagering sites. For most bets, you will see a - and a + sign next to teams taking part in the event. These indicate your potential payout and the favorite and underdog for the match. The negative number highlights how much you would need to wager to win $100.
How old do you need to be to bet on FanDuel?
You must be at least 18 years of age to wager on FanDuel (21 in Arizona, Louisiana and Iowa).
Do you get your wager back on FanDuel if you win?
If your bet wins, you make the profit on whatever the payout is and also keep the initial stake. This applies to bonuses as well such as risk free bets or bet credits.