Gamble USA strives to improve your online gambling experience. We aim to help you play safely, make informed decisions when gambling, and increase your betting knowledge through our guides.
We adhere to strict editorial integrity; our content may contain links to products from our licensed & legal US partners.
If you've been on the internet or watched television in the last two years, you've probably seen multiple hilarious advertisements for the Caesars Sportsbook because they are almost impossible to miss. The Caesars Sportsbook is one of the best sportsbooks in the entire country and is currently available in twelve states and one Canadian province.
With the rise to prominence of the sports betting arm of Caesars, you may be wondering how to bet on Caesars sportsbook. The Caesars Sportsbook is available for users who are 21 years or older and currently operates as an online betting platform with available retail sportsbooks in the following locations:
The Caesars Sportsbook is also available in Las Vegas, Nevada, as a retail sportsbook because their casinos operate in retail locations in the city. Still, it does not offer mobile betting at this time. Caesars Ohio will launch in early 2023 when sports betting launches in the state. Since going live, Caesars Illinois, Caesars New Jersey and Caesars New York have enjoyed huge success.
If you're new to sports betting, then one of the United States' largest sportsbooks may seem daunting to you, but after reading this review, it should feel like child's play. This review will teach you how to bet with Caesars Sportsbook, the different types of bets offered on the sportsbook app, the sports offered, how to read the odds, and tips for new bettors.
Promo Code: GUSAFULL
Bet $50, Get $250
21+. T&C Apply
21+. T&C Apply
Promo Code: GUSAFULL
Massive welcome bet offer
Earn Caesars Rewards
How to bet on Caesars
If you're new to online sports betting and are a bit overwhelmed with getting started, you've come across the right guide.
If you're looking to place a wager on the Caesars Sportsbook app or website, you'll need to do three things before your first bet. First, you'll have to register for an account, then you'll have to make a deposit, and lastly, you'll have to develop a bet. Caesars is among the best betting apps for beginners, so don't stress out.
Step 1: Create a Caesars sportsbook Account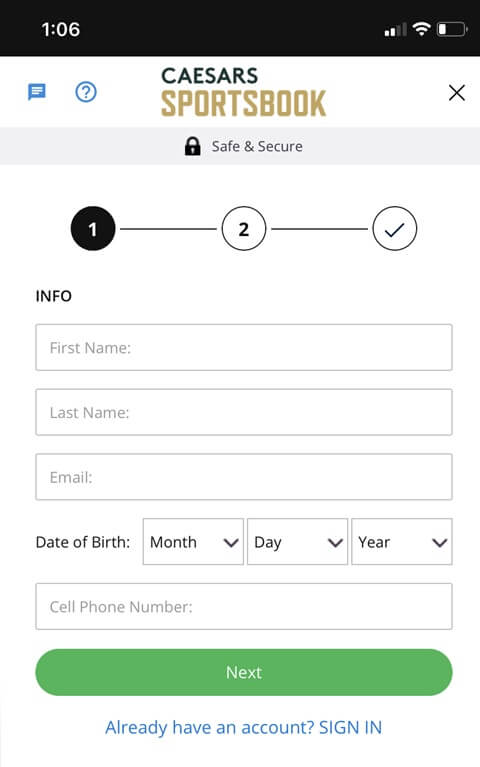 The first step to placing a bet with Caesars Sportsbook is creating your account, which will be the only one you will need for both the website and the app. To download the app, Android users can download directly from the Google Play store while iOS users can do the same from the App Store. The registration process only takes a few minutes and can quickly be done by either the website or app and new users can get a risk-free bet worth up to $1,250 by using our exclusive promo code.
To begin the registration process, click the link

here

to start.
From here, you'll be prompted to enter your full name, email address, date of birth, and phone number on the first screen.
After entering this information, you'll have to decide on a password for your account and two security questions to keep your account secure.
On this same page, you'll have to enter the last four digits of your Social Security Number and your home address to verify your identity for tax reasons before you're allowed to make a bet. Below this information, you'll get the option to enter a promo code, which is where you'll need to enter our exclusive Caesars promo code "GUSAFULL" for a first bet on Caesars up to $1,250, which is $100 more than most sportsbooks sign-up offers!
Another available option on this page is to enter your Caesars rewards program number, linking up your rewards between the retail casinos and the online sportsbook app. The Caesars rewards program is one of the best customer loyalty programs in the sports betting industry because of the multiple ways to redeem your rewards, such as discounted hotel stays or free bets.
After entering all of this information, your account will be created. This option is provided in any state, including those where the sportsbook is not yet legal online. If you are located in one of the Caesars legal online locations, you'll be ready for step two, making your initial deposit.
Step 2: Deposit to your account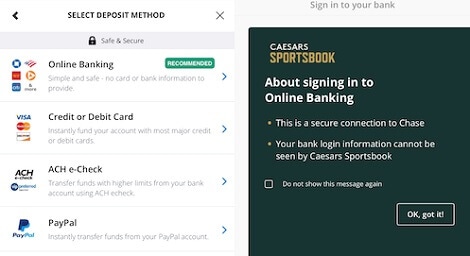 After registering for a Caesars online sports betting account, new users will need to deposit to their account before making their first bet. There are several deposit methods on Caesars Sportsbook, such as online banking, debit or credit cards, eChecks, a Play+ prepaid card (their preferred deposit method), and PayPal or Skrill.
Cash deposits are also available on the Caesars Sportsbook app by making your deposit at participating PayNearMe stores in your local area. The cash deposit option does not require a minimum deposit amount; however, online sportsbook deposits require a minimum amount of at least $10. All deposits are instant, as most withdrawal options at Caesars Sportsbook.
Step 3: Prepare your bet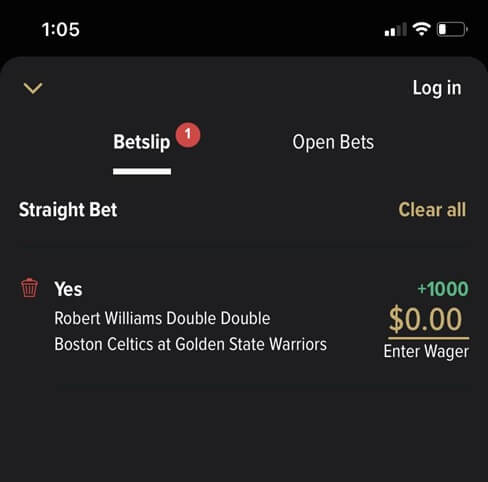 After registering for an account through our link and exclusive Caesars Sportsbook promo code, users who have made their initial deposits can place a risk-free bet for their first bet worth up to $1,250. This is opted in automatically after using the promo code "GUSAFULL" and is activated by whether or not your first bet (that's between $10-$1,250) is a winner, which means you'll receive a free bet of equal value if it loses, so be sure your initial bet counts. Many sportsbooks have similar first deposit offers, but this is more valuable than most; the Caesars refer a friend bonus are also worthwhile, if any of your pals want to start betting. In simple steps, that's how you place your first risk-free bet on Caesars:
Users will need to select an event from the home page or all-sports page and then decide on their choice's betting lines.
Once you've decided, click on your bet to add it to your bet slip, then choose the amount you'd like to wager.
After this is complete, review your bet one more time, then submit it to place the bet.
Players who know the sports and teams they want to bet on will be able to bet with Caesars in just a few minutes. This process is the same whether you are joining the Caesars New York sportsbook or the Caesars sportsbook Illinois.
How to bet on football with Caesars Sportsbook
The NFL and American football, in general, are one of the most significant sports betting markets in the entire industry because of the popularity of the sport in the United States. The Caesars Sportsbook offers several bets on professional and college football, ranging from simple bets to player, team, and game props to futures bets.
Step 1: Betting on football on the Caesars Sportsbook is incredibly easy and can be done by simply going to the all-sports page and selecting football.
Step 2: After selecting football, you will be prompted to all bets for the four leagues available on a different screen. You can choose between the NFL, USFL, NCAA College Football, and the CFL (Canadian Football League) to bet.
Step 3: After deciding on the sporting event of your choosing, you'll need to decide on the type of bet to make on the game. If you want more options than the three main bets (spreads, moneyline, and over-under), you'll want to select the event to expand the available betting options.
It is that simple. New Yorkers can access the Caesars NY site to wager on home favorites such as the New York Giants or New Jersey Jets.
For Advanced Bettors: You can even place the same game prop parlays, which are parlay bets that offer several different types of bets at higher odds.
Promo Code: GUSAFULL
Bet $50, Get $250
21+. T&C Apply
21+. T&C Apply
Promo Code: GUSAFULL
Massive welcome bet offer
Earn Caesars Rewards
Types of Bets at Caesars Sportsbook
Caesars offers several different betting options for all users to take advantage of, which allows users extra entertainment on almost every aspect of the game. Bettors can place wagers on player stats, game outcomes, total score, a future bet, live betting, etc.
This section will focus on how to bet on the different types of bets available on the Caesars Sportsbook and how they work.
How to bet Moneyline on Caesars
We will first talk about the most straightforward bet available, the moneyline. A moneyline bet is based on who you think will win a sporting event, with nothing else to it. Since this type of bet is traditionally easier to hit than a spread bet, the odds reflect that with valuable odds for the underdog and low odds for the favorite.
The Caesars moneyline bets are located on the far left of the top three core bets shown beside every event without the need to expand the betting details.
How to Bet Spreads on Caesars
Spread betting is when a user bets on whether or not a team will win (or lose) by being assisted by the spread, a line set based on the likelihood a team or athlete will win.
For example, the current puck line (or spread) for the Oilers vs. Avalanche is -1.5 in favor of the Avalanche. This would mean a bettor would need the Avalanche to win by two goals to win their bet. Similarly, if the bettor were to take the Oilers +1.5, they would still win if the Avalanche only won by one.
Spread bets will be located to the right of the moneyline option on the main pages, but alternate spreads can be found by pressing on the events information to expand the betting options.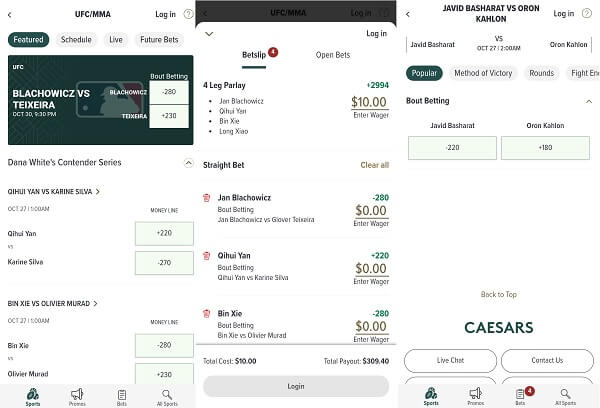 How to Bet Over-Under on Caesars
Making an over-under bet is also very simple and is one of the three traditional bets available next to every event on any sportsbook app and is located to the right of the spread. Over-under bets are bets on whether or not a game or event will go over or under a specific line.
If it's a sport with points, such as basketball and football, then a point total will be available, allowing users to vote on whether or not the combined number of points between both teams will be over or under the given line. In fighting sports like boxing or MMA, bettors can wager on the over-under of the number of rounds the fight will go.
How to Bet Prop Bets on Caesars
Placing a prop bet is incredibly easy and can be found by expanding the sporting events betting options by clicking on the event. You can scroll to the right in the tabs to find player, game, and team props for this event, which will give you the option to bet on whether or not specific things will happen throughout the event.
Whether the prop bet is on a specific player's total number of points or an over-under bet for the first half of a game, prop betting is exciting to wager and keep up with your favorite players and teams.
Remember, prop bets can only be parlayed with other prop bets from the same event, which is done by selecting the same game parlay option at the top of the event's betting screen.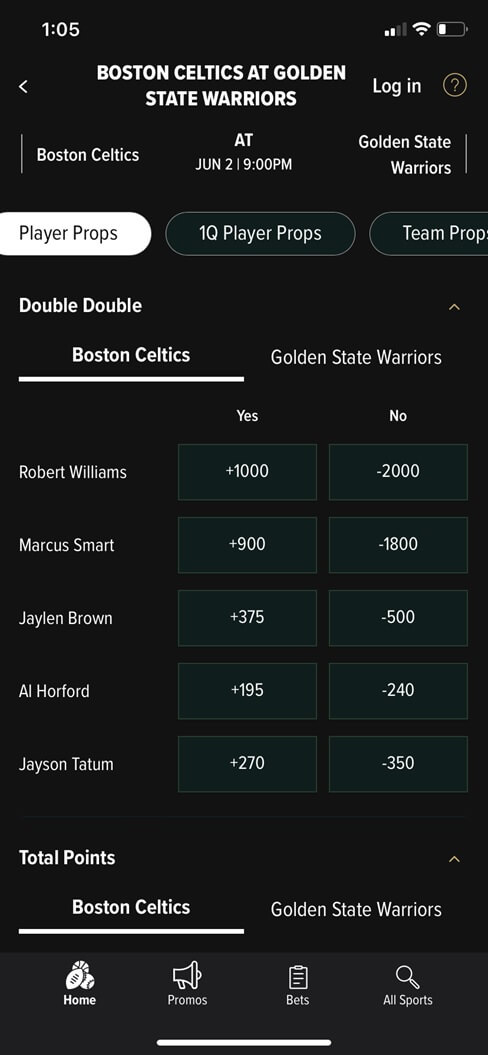 Other Types of Bets on Caesars
Caesars offers several other types of bets that would take me another full-length article to describe; however, I'll briefly explain some of my personal favorites below in this section.
Live betting is one of my favorite forms of betting because it allows you to see how the game is progressing before committing to a bet. Live bets cannot be parlayed, but users who would like to bet on a live event can place straight bets by going to the event that's currently in progress, selecting the event, and looking through the live bets available.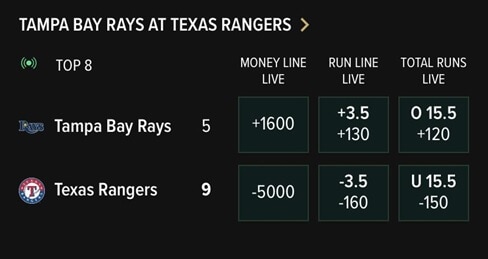 Another one of my favorite types of bets in sports betting would have to be a futures bet, which is a bet on the future of a player or team. The most common future bets that users place would have to be individual player awards like MVP or Defensive Player of the Year, or team performance bets like over-under total wins or who will win the championship.
Future bets can be found by clicking on the specific league you'd like to bet on and scrolling to the "Future Bets" tab at the top of the screen, which will open the available future bets offered by the sportsbook. These are entertaining bets that generally have great odds because of the volatility.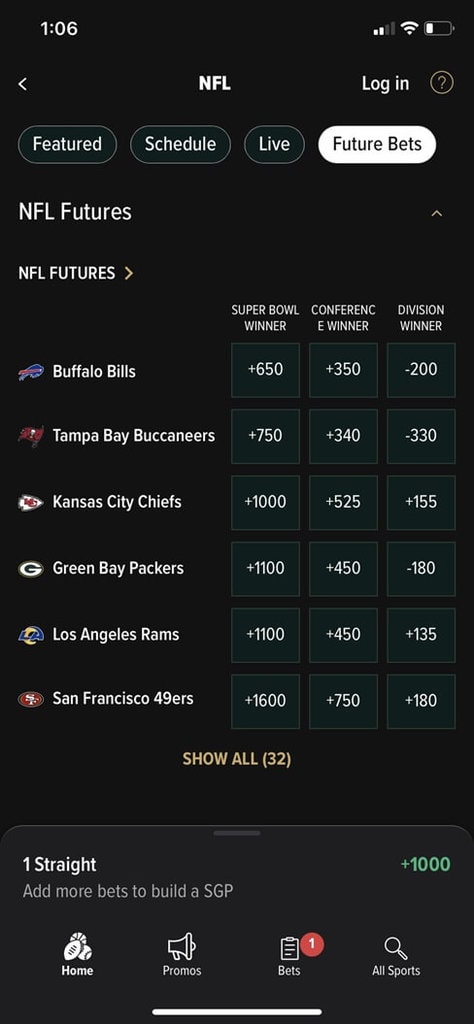 Available Sports on Caesars Sportsbook
Caesars has thousands of bets for most major sports, and more are being added every week as the popularity of sports betting is increasing around the sports world. You will always have the same betting market available, no matter your state. That means Caesars Sportsbook New York will have the same betting options as Caesars Sportsbook Indiana; however, they will not always have the same promotions or odds boosts.
As of right now, there are currently 19 sports available on Caesars for users to bet on, with 58 different leagues in total, including international markets and NCAA college sports. The current sports offered by Caesars are:
Football (NFL & college football) is the most popular market in the US. Any sports bettor who has an account on the Caesars app can bet on the Super Bowl on college playoffs.
Promo Code: GUSAFULL
Bet $50, Get $250
21+. T&C Apply
21+. T&C Apply
Promo Code: GUSAFULL
Massive welcome bet offer
Earn Caesars Rewards
Understanding Caesars Sportsbook Odds
Understanding the odds of what you're betting on is an essential aspect of sports betting for several different reasons: to protect your hard-earned money. Caesars Sportsbooks users should always take the time to understand the likelihood of the bet winning before placing money on it, so let me explain.
A bet with a negative number of odds means it's a favorite and is more likely to win than lose. The negative number represents the amount of money a user will need to bet to win $100, which means a bet with -110 odds will require a $110 stake to win $100 ($210 in total because of the initial $110 bet).
In contrast, a positive number means that the bet is an underdog and is less likely to occur. This positive number also represents the amount of money a user will win from a $100 stake, meaning that a bettor will win $150 from a $100 bet ($250 in total) at +150 odds.
Caesars regularly offers an odds boost on significant events so make sure you keep an eye out as they will increase your payout on a single wager if you win.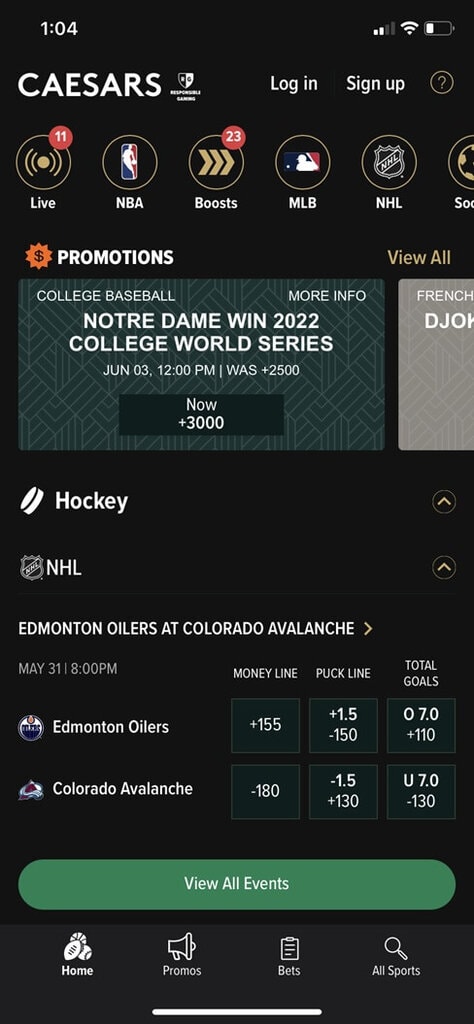 Tips for New Caesars Sports Bettors
The most important tip I can give new users to Caesars Sportsbook or any online casino gaming platform is to practice responsible gambling. Sports betting is a lot of fun and can be used irresponsibly like many fun things.
Caesars is committed to responsible gaming and offers its users the ability to set account limits to their account, limiting the money they can deposit on a daily, weekly, or monthly basis. This allows sports fans to comfortably bet on popular sports without the fear of overspending money they can't afford to lose.
If you believe you may have a gambling problem, please call 1-800-gambler, a toll-free helpline that provides gambling problem crisis counseling services for anyone willing to call or text them. They also have crisis counseling and referral services that allow people to refer their friends they may be worried about.
Other aspects new Caesars players should take a note of are the following:
We would also encourage you to make the most of the welcome bonus. Caesars is currently offering new players a risk free bet worth up to $1,500 when they sign up for an account. There is no Caesars sportsbook promo code required to claim this offer.
How does Caesars Sportsbook work?
The Caesars online sportsbook app operates legally in twelve states and one Canadian province for users that are 21 years old or more. Caesars makes its money through the bets that users lose and is backed by Caesars Entertainment (based in Las Vegas) and William Hill (based in the UK), two of the largest gambling entities in the world.
Caesars is currently available in AZ, CO, IL, IN, IA, LA, MI, NJ, NY, TN, VA, WV, and Ontario, which means that users will need to geolocate their device within these states or provinces to be able to place a bet. Due to the fact Caesars is a legal sportsbook, it is backed and insured by the local state governments' gaming commissions, meaning the state ensures all transactions and personal information.
Caesars being backed by local state legislation also means that the state upholds responsible gambling laws for the safety of the bettor. The following state gaming commissions regulate and insure the Caesars Sports betting app in their area:
FAQs
How old do you have to be to bet on the Caesars Sportsbook?
All users of the Caesars Sportsbook need to be 21 years of age or older to access the platform and play responsibly.
How long for Caesars Sportsbook bets to settle?
Bets generally settle only a few minutes after the event is complete. If your winnings are not posted to your account ten to fifteen minutes after the event, you may want to contact customer support.
Is Caesars Sportsbook Legal?
Yes! The Caesars Sportsbook is currently legal in twelve states (AZ, CO, IL, IN, IA, LA, MI, NJ, NY, TN, VA, WV) and one Canadian province (Ontario). It is backed and regulated by the local state government gaming commissions. The Caesars sportsbook New York is now accepting bets with sports app available for residents who are 21 or older.
How to cancel a bet on Caesars Sportsbook?
After a bet has been placed and confirmed at Caesars Sportsbook, there is no recourse. All placed bets are final and can only be cancelled by the operator in case of a postponed or cancel event. Read our guide carefully to not face any such issues when betting on the Caesars Sportsbook app.
Promo Code: GUSAFULL
Bet $50, Get $250
21+. T&C Apply
21+. T&C Apply
Promo Code: GUSAFULL
Massive welcome bet offer
Earn Caesars Rewards