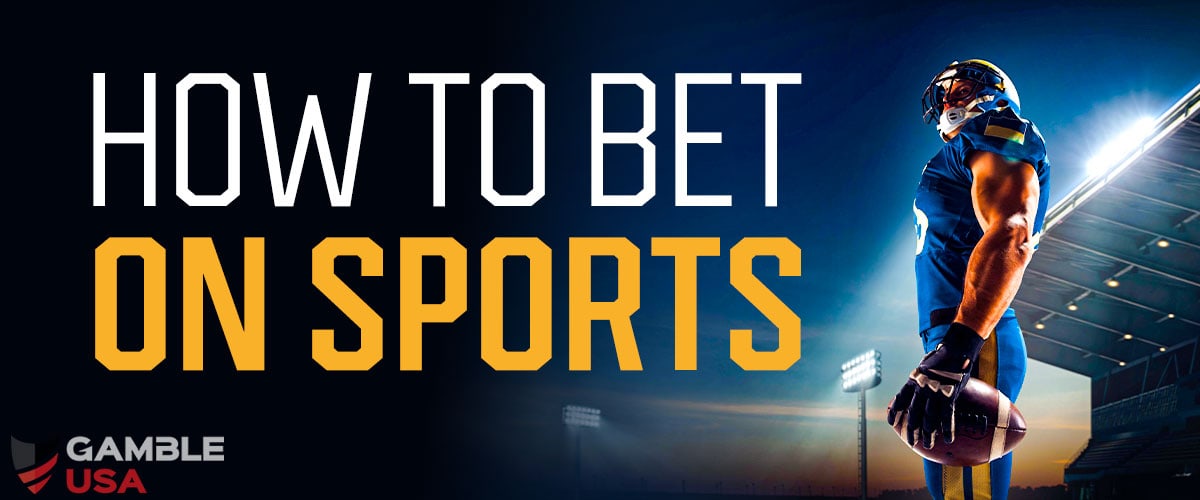 Over the last few years, sports betting in the US has emerged from the background and into the mainstream. There was an anti-gambling movement which existed for decades in America that has quickly faded. Nowadays, sports betting is a multibillion-dollar industry giving sports fans the chance to place online sports bets on their favorite teams throughout the country. With the introduction of online sportsbooks in many states, there is no longer a requirement to visit Las Vegas to participate in some betting action.
Anyone has the potential to be a successful sports bettor with the right information. That is why we have put together this guide that includes all the fundamentals to know before you sign up for a betting site and start playing.
Find out more about the type of sports wagers you can place, how to read American odds, and how to manage your bankroll to maximize the value of your bets. We will break down some confusing terms you will come across and list some things to consider before you start.
---
Types of Online Sports Bets
With sports betting now legal in numerous states, millions of sports enthusiasts will be looking to enter the market for the first time. However, with all the terminology associated with an online sportsbook, where do you begin?
There are three sports bets that every bettor should know. They are not complicated at all, and sportsbooks will offer these bets for virtually all sports
The first step is to become familiar with the three main bets first, and then you can apply your knowledge in practise by signing up for a good sportsbook and testing them out for yourself.
---
How to Bet Moneylines
A moneyline bet is the most straightforward wager there is, so a good place to start. When you place a wager on the moneyline, you are simply picking a side to win. In other words, moneylines are like straight bets. Although a moneyline bet is still the simplest sort of wager, in theory, there are some intricacies involved.
As mentioned, a moneyline bet is a prediction on which team you think will beat the other. When the final score is confirmed, the sportsbook grades a bet one of three ways:
Win: Your chosen team won, and you get your stake back plus winnings.
Loss: Your chosen team lost, and the sportsbook keeps your stake.
Tie: The game or segment (quarter, half, period) finished in a tie. In this case, you get your stake back.
Moneyline bets will be displayed at any new online sportsbooks as follows:
Green Bay Packers -190 vs Chicago Bears +160
The most straightforward way to understand moneyline bets is by using a $100 wager. Using the above example, the moneyline on the underdog Bears was +160. A 100$ bet on odds of +160 will pay $160 in profit if the Bears win. Players often like choosing the underdog as they are typically "plus" money. This side of the moneyline bet pays out more money than a wager on the favorite.
In the above example, the moneyline favored the Packers at -190. Consequently, you would need to bet $190 to win $100. Because the favorite is considered the better team with a higher chance of winning, a winning bet will usually pay out less than the original amount wagered.

---
How to Bet Spreads
A point spread represents first the bookmaker's and then the betting market's best estimates of the numerical difference between two competitors. You might find that occasionally the spread can be as little as half a point. Other times, when there is an overwhelming favorite in a competition, you might discover spreads upward of 50 points.
Typically, the competitors are very evenly matched at high levels in professional sport, so the handicap will be on the small side. The recent Super Bowl between the Los Angeles Rams and the Cincinnati Bengals. The Rams went into the contest as 4 point favorites at most sportsbooks. This will have appeared as LA Rams -4, meaning the Rams needed to win by five or more points to cover the spread.
The Bengals were a four-point underdog, appearing as Bengals +4, meaning the Bengals would have needed to win the game or not lose by five points or more. The final score was Rams 23, Bengals 20, so anybody who wagered Bengals +4 would have won their bets because Cincinnati only lost by 3 points. Additionally, if the Rams had won by exactly 4 points, the betting result would have been a "push", and all bettors who bet on both sides would have got their stake back.
Point spreads are a great way to bet on one team you like or if you are interested in points scored in any match.

---
Betting on Over Under
When most people think about which betting team they want to place money on, they think of spread betting or betting on the moneyline. However, another prominent way to bet is on the over-under. These are also referred to as totals" in the gambling world. They are not complicated but are totally different from the wagers mentioned above as they don't revolve around comparing the two teams' performance.
A betting total is precisely what it sounds like. You are betting on the sum of something in a sporting event, typically total points scored. Like most types of sports betting options, over/under bets have expanded. Wagering a total is no longer just restricted to pre-game bets. There could be totals available or partial games (quarters or periods) during live betting and for individual teams.
Let's look at the 2020 Super Bowl between the Tampa Bay Buccaneers and the Kansas City Chiefs. The game started with a total of 54.5. That is, the market predicted the teams combined to score around 55 points. Both teams had two of the most productive quarterbacks in the NFL leading their passing offenses. Additionally, the Chiefs' defense was not great, so a high scoring affair was likely, hence why the over under was 54.5.
A bet on the over means you think there will be more than the applicable total of points, runs, goals or whatever other market is in question. A bet on the under reflects the opposite; you believe fewer will occur.
---
Advanced Betting Options
We have highlighted some types of wagers above that may be considered more straightforward compared to some others. However, if you are a pro sports bettor and maybe want to try some more advanced options, the below bet types could be the ideal choice.
Parlay Betting
A parlay is a wager that connects the outcomes of multiple sporting events in a single bet. For the parlay to win, every bet in the overall wager must win. When you bet on two (or more) games at once, your chances of winning decrease, but your payouts get significantly bigger. No matter if that's an MLB parlay bet or a same game parlay, the idea remains the same.
With parlay betting apps, you can combine several bet types (moneyline bets, against the spread, over/under) into a single stake. Each outcome is referred to as a 'leg', and every leg must win for the parlay to be counted as a winner. So, in a parlay with six games or legs in which only five of the picks win, that would be considered a loss. Parlays are also sometimes referred to as multi bets or multiple bets.
For example, if you think the 49ers will cover the spread against the Cardinals and also like the Raiders to beat the Chiefs the same week, you can combine those bets into a single parlay. However, you are not limited to parlaying just two events or outcomes; the more you add, the higher the payout. Although you are more likely to lose money with parlays, they are fun, and the payouts are significant.

The more legs you include in your parlay bet, the larger the risk becomes. Whenever making a parlay, you should consider how much risk you want to play with, and if the potential rewards are good enough. You can refer to our parlay betting calculator to find out exactly how much you stand to win with your parlay. Feel free to experiment with the parlay calculator to get a better understanding of the relation between legs and parlay odds.
In-Play Betting
In-play betting (also known as live betting) is becoming very popular among sports bettors. Many players enjoy the fast pace and ability to wager on unique aspects of the game as they develop.
If you are armed with the right information, in-play betting isn't any more challenging than placing a more traditional wager before the game begins. If you have an understanding of the moneyline, spread and total, you won't have a problem understanding how live betting works. These beginner-optimized betting apps make the overall experience even easier.
When wagering on live odds, you are still betting on moneylines, spreads, and over/unders. Although you can wager on different aspects of the game once it's begun, there are several more similarities between in-play betting and regular than there are differences.
With live betting, first-half and quarter lines are usually still available (depending on the stage of the match) but so are additional proposition bets like the outcome of the next play, next drive, and so on.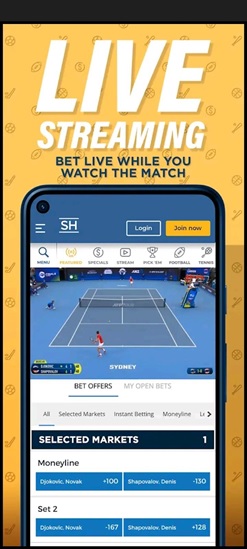 Futures Betting
As the name implies, futures bets allow you to wager on who wins an upcoming title or championship way before the teams have even been determined. There are typically numerous markets for futures bets, such as individual player awards, like NBA MVP awards. Futures wagers make you think long-term when you are placing your sports bets.
One of the attractions of futures bets is that they can be highly lucrative. Underdogs are given a small chance of winning, with a huge payout attached to them. Betting on championships or playoffs is undoubtedly the most popular form of futures wagering.
Championship futures markets open before the regular season even starts, and the odds are frequently updated throughout the season and into the playoffs. Once the seeding for the playoffs has been decided, teams that missed the playoffs are removed from the listings, so the lines for the remaining teams will get shorter. These types of championship wagers are available for every major sport, including the NBA, NFL, NHL and the MLB. Finding an NBA betting app or a CFL betting app can be challenging, so our dedicated guides (i.e. NHL betting apps, best Soccer betting apps, etc.) can help you find the perfect match.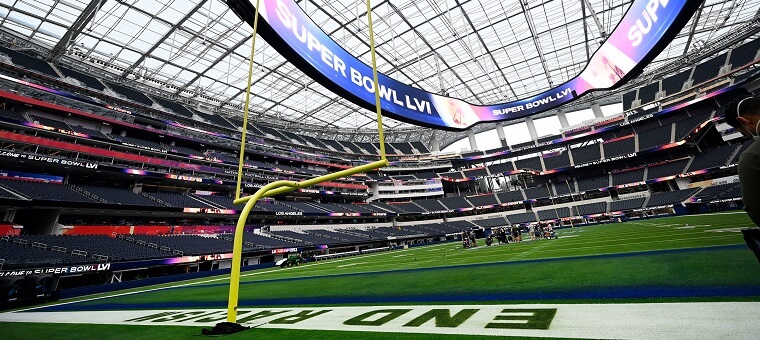 ---
Understanding How to Bet on Sports in 7 Steps
For anybody who is new to betting, whether they are planning to make serious money or are just getting involved purely for entertainment purposes, it can be daunting to know where to start. Some of the terminologies, from a betting line to the basic premise of what odds mean, can be difficult to understand. Below we have set out seven steps that should help explain the basics of how to bet on sports online.
#1. Plus and Minus in Sports
The plus and minus signs in US sports betting are really important, and you must pay attention to them. Along with the number, they will tell you lots of information about the wager and the match.
Odds with minus sign (Favorite)
The minus sign will tell you which team is favored. When you bet on the favorite, the payout odds won't be as high as you are more likely to win. Let's break it down:
The team that has a negative number next to it (like -110) is considered the favorite
The number alongside the minus sign is the amount you must wager to win $100
If the number is -110, you must wager $110 to win $100.
Odds with a plus sign (Underdog)
When you encounter a plus sign next to a number (such as +160), it shows you which team is the underdog. If you are looking for a large payout, this is the way to go as the underdog is less likely to win but there are always upsets in sports.
The team with the plus sign is the underdog
The number informs you how much profit you will win if you bet $100
If the number is +160, a $100 bet will win you $160 in profit
All sportsbooks will display these signs to show you the favorite and underdog before you place your bet. Fixed odds might alter anytime before a match, so you might need to check back and ensure you made the right call.

#2. Odds Types
As well as different bet types, there are also different odds types in US betting.
Moneyline odds: These are the odds displayed for selecting a winner of an event based on the strength of the match.
Point spread odds: These odds are used to make the match between two unbalanced teams more even.
Total points odds: The odds for wagering over or under the total number of runs, goals or points by both teams.
Pre-game odds: All odds listed before the game begins.
Vegas odds: These are the odds shown relative to a $100 bet.
Reading betting odds, and in particular reading football betting odds, can seem daunting at first; but it's really not. Just read carefully the above examples and you are set.
#3. How to Set your Bet
Fortunately, placing a bet on an online sportsbook is straightforward. Simply select a sport you are interested in, then click on a betting market that you would like to punt on. Next, select an outcome you would like to back. Once you have done this, you will notice that your chosen outcome will appear on the bet slip, which typically pops up on the right-hand side of your screen.
This is different for live betting. Most sportsbooks will have a whole section dedicated to in-play wagering. For these markets, choose a game that has already started and then bet on the next player you think will score a touchdown in an NFL game, of the next corner kick in soccer and so on.
The minimum stake you can place varies among sportsbooks but is typically between $5 and $10.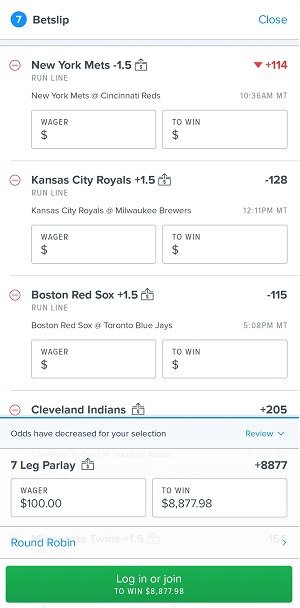 #4. How much you should Bet as a Beginner
Ultimately, you have the final say on how much to risk on a game; however, a golden rule is that you only what you can afford to lose. When you are starting out, you must realize that sports betting is a marathon, not a sprint. There will be ups and downs, so we recommend a flat-betting approach. This means wagering the same amount on every game and betting only 1% to 5% of your bankroll per play. So, if you start out with a bankroll of $100, you should not risk more than $5 per game.
Every sports bettor should always be conscious of their bankroll, no matter how much or how often they intent to bet. To be successful and not run into any gambling problem, you should blend your sports knowledge and research with some basic maths. Even if you just want to be a casual bettor and want to add some excitement into the week's games, you must know how to manage your money.
#5. Did I win my Bet?
You can find out if you won your bet by visiting the 'my bets' section of the sportsbook app. You will notice there will be tabs for settled bets and open bets. To view all of your winning bets, simply click the settled bets tab. The bets are usually sorted by date, with the most recent wagers listed first. Scroll down if you want to see bets you have won in the past.
#6. Where to Bet Online
If you are wondering where to bet on sports online, we have got you covered. There are multiple essential qualifications your sports betting site should have, and we list them for you in this section. By following this guide, you'll be able to assess the safety and perks of a sportsbook in no time.
We have provided a list of the best betting sites in the US on Gamble-USA. Each of these platforms is highly ranked, reliable, and trustworthy. Let's look into this even further. You first need to pick a trustworthy sportsbook that meets your unique preferences and needs as a sports bettor. Some of the things to consider before choosing where to bet online are:
If your sportsbook is licensed
How long your sportsbook has been operating
What types of bets are available
Is the welcome bonus or bonuses attractive
Quality of the customer service
Does the sportsbook have a good app
With that said, you should never choose to bet with an offshore sportsbook. Your information will not be protected, and you would leave yourself vulnerable. Always choose a licensed online sportsbook.
#7. Understand the Lines
A betting line is a form of wagering where the operator sets gambling odds and chooses the favorite and underdog in each match. This handicap creates a line or margin between the two teams, where only two outcomes are possible, and determines the parameters for betting on the game.
These lines can move, and they vary by site, so finding value in the market is what it's all about. This is more than betting on who will win a game; it's thinking about whether the price/odds of that team/player are really representative of what is likely to play out.
---
Retail vs Online Betting on Sports
The gambling world has changed dramatically in recent years. Advances in technology and the internet and smartphones have meant a lot of bookmakers have moved from the high street to the virtual world. That doesn't mean there are no retail sportsbooks; there are many in Vegas still going strong!
But which offers the better experience? Let's take a look at some pros and cons of betting online and visiting a retail sportsbook to place your wager.
Pros of betting online
More flexibility, you can bet from home
Bet on the go with iOS & Android mobile sports apps
Withdraw from anywhere
Generous welcome bonuses just for signing up
More betting options and better lines
Place wagers instantly
Loyalty reward schemes (i.e. referral sportsbook bonuses)
With the fast pace of modern life, lots of bettors enjoy being able to bet on their mobile devices. A lot of operators design their offerings with mobile users in mind to fit this need.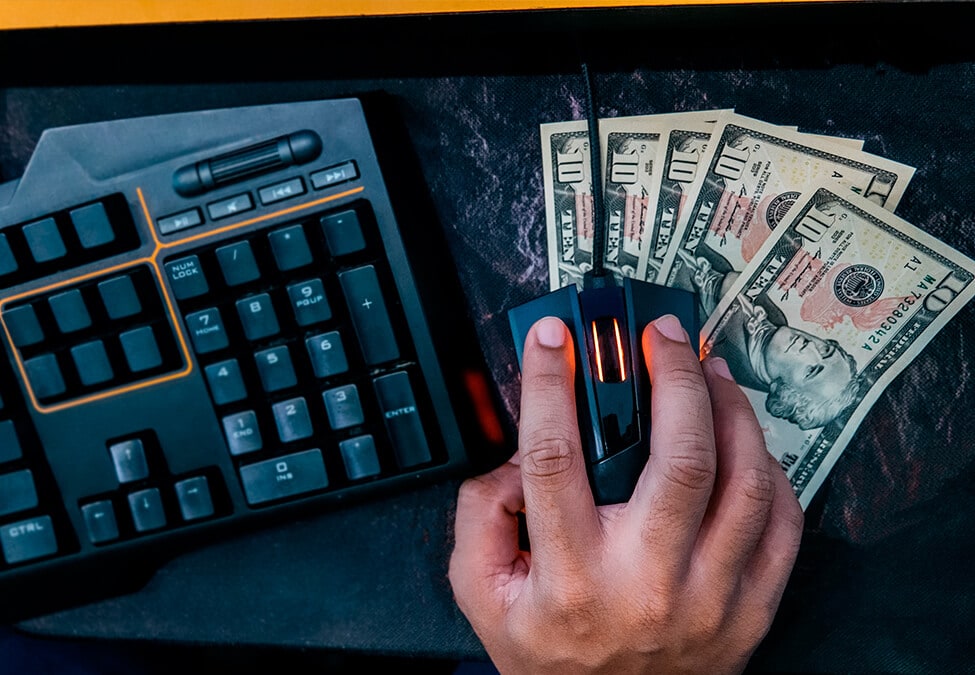 Cons of betting online
Online sportsbooks restricted by location
Sign up process can be irritating with copies of ID and documents required
At risk of hacking
Some bonuses come with high wagering requirements
Although many people now prefer signing up online and betting on mobile, plenty still enjoy the physical sportsbook experience. Let's take a look at the pros and cons of a retail sportsbook.
Pros of retail betting
It is more social; you can visit with friends
Simple transactions
No frustrating sign-up process
No need to be tech-savvy
Cons of retail betting
Limited betting options
If you lose your winning ticket, you won't get the cash
Waiting in line to place bets
If you are busy, online betting is probably the best choice. However, if you ever get the chance to visit a place like Las Vegas, the experience of placing a bet on the vibrant trip is fantastic.
---
Legal US States to Bet on Sports Online
Although online gambling is booming in the United States, not every state has a legal online market. Below is a list of states where it is currently legal to bet online:
There are likely to be more states introducing online betting soon; tap on the above links for the legal sportsbook in each US state.
---
101 on How to Bet on Online Sportsbooks
Let's go through the process of joining an online sportsbook, placing your first deposit and then submitting your opening bet. The good news is, all of the top online US sportsbooks make it as straightforward as possible to join and then start betting.
Joining a sportsbook
When you have chosen a betting site you want to join, head to their website. There will be a 'join now' or 'register' button on the homepage, typically located on the top banner of the page. Once you click this button, you will be taken to the registration page.
Here, you must provide some information such as full name, birth date, email and address. Once you have completed all of the fields, your information will be checked for verification purposes. You will receive an email once you have been cleared, and then you are ready to start betting.
Make a deposit
Once your account has been verified, you now must add funds to it. All of the best betting sites will have a comprehensive banking section, and once you are logged in, depositing is simple. Visit the cashier section of the sportsbook or app, click your chosen deposit method and enter your preferred amount.
The most common payment methods available online are:
PayNearMe
Online Transfer
Placing a bet
First, choose the sport you want to bet on. All sportsbooks will have a menu either at the footer or the top of the homepage. You can also search by league, featured, live now, futures, and upcoming games. Find the event you are interested in and click it. This will present all of the betting options available for that game. Choose your betting option and click the line you want to take.
A betting slip will then load on the screen, enter the amount and submit your wager. There are, of course, different markets available on different sportsbooks, but all of the significant operators offer options on the NFL, NHL, MLB and NBA. For more details on how to bet on DraftKings, placing a bet on FanDuel, betting on BetMGM sportsbook, etc., you can use the above guides. Details on the best bets to place on FanDuel or how to parlay on Caesars are provided, along with helpful tips on the best sports to bet on and more.
---
Before you Start Betting
There are a couple of vital things to know before you start betting. The first is to ensure you are safe while betting. To do this, make sure you sign up for an online sportsbook that is licensed to operate. Some of the best options include:
All of the above brands are licensed, so your information is protected if you join. Additionally, another thing to keep note of is the welcome bonuses available at each site. Taking advantage of bonuses will give your bankroll an early boost, so always check for the best options out there.
FAQs
How old should I be to gamble in the US?
Across the US where gambling is legal, you must be 21 years or older to bet. Regulated sportsbooks require an ID to verify your age when you register, so there is no way to gamble if you are underage.
Is online betting safe?
Absolutely! online gambling is strictly regulated in the states where it is legal, and the legislation is there to ensure a safe gambling environment. Our sites use cutting edge encryption tools to keep your data safe and are fully legitimate operations. Be wary of offshore online sportsbooks as they are not regulated in the US and can be quite dodgy.
In which states is gambling legal?
Gambling in the US is legal in the following states: New Jersey, Nevada, Pennsylvania, New York, Louisiana, Iowa, Indiana, West Virginia, Michigan, Colorado, Illinois, Tennessee, Delaware, Virginia, Arizona, Connecticut, Wyoming. You do not have to be a resident in these states to bet online, but you do need to be within state borders at the time you make your bets.
Can I bet at a sportsbook in a state I don't live in?
You are not allowed to place bets for real money if you are not within a state where it is legal. For example, if you sign up at DraftsKings New Jersey and then leave the state, then you cannot gamble at the sportsbook. When you return and are within the state borders, you can place real money bets again. It is important to note that you do not need to be a resident of the state. You can sign up for an account and then even if you are traveling through a state that allows online gambling, you can play for real money.
What is the + and - in sports betting?
In the American odds format, there is a plus or a minus sign in front of the odds. The minus signifies the favorites whereas the plus is always the underdog bet. Odds of +120 means that for every $100 you bet, you can win $120. Odds of -120 means that you must bet $120 to win $100.
How can I claim my winnings in online betting?
At an online sportsbook, you can make a withdrawal request at any time, and this should send you your money electronically. You can decide whether the winnings should be sent to your bank account, an eWallet, or a prepaid card. Typically, withdrawals may take anywhere from 0 to 5 working days, depending on which electronic payment service you use.