Gamble USA strives to improve your online gambling experience. We aim to help you play safely, make informed decisions when gambling, and increase your betting knowledge through our guides.
We adhere to strict editorial integrity; our content may contain links to products from our licensed & legal US partners.
If you live in New Jersey or one of the other locations sports betting is legal, and are looking for a new online sportsbook, then let me introduce you to bet365.
They are one of the world's best online gambling operators. bet365 is the most frequently used bookmaker in the world from the UK that operates in several countries worldwide and is now available in several US states, including Colorado, Iowa, New Jersey, Ohio, and Virginia.
A bet365 account gives new customers a great bonus and the opportunity to bet on several different types of sports (including live betting) and many different bet365 casino games, including online slots, poker, and live dealer tables. This guide will show you how to create an account on bet365, the criteria for opening an account, the benefits of having one, and issues that may arise in the registration process.
---
Quick Step-By-Step Guide To Sign Up On bet365
If you want to play on the bet365 Casino or Sportsbook, you'll need to follow the following four steps to make an account.
Go to the

bet365 website

Enter your details
Verify your account
Make your first deposit
These steps are pretty straightforward and only take a few minutes to complete; however, read below for more info and tips on how to speed the process up.
---
Opening Your bet365 Account
Opening a bet365 account only takes a few minutes and requires some personal information and a picture of a government-issued ID.
1: Go to the bet365 website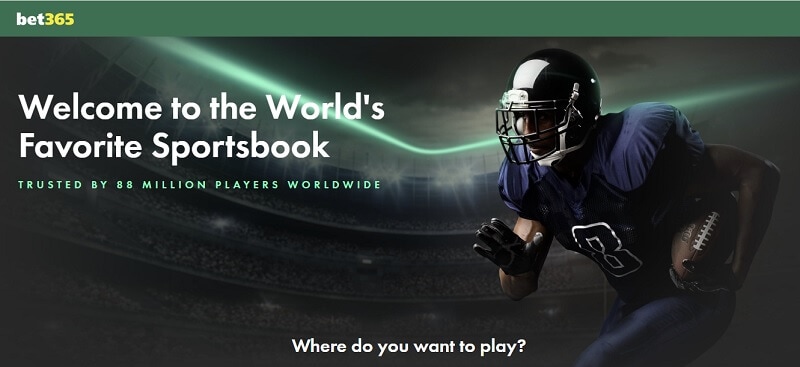 First new players will need to go to the bet365 website and click the yellow "join now" button in the top right corner of the screen. To get to this page, just click the link below
2: Enter your personal details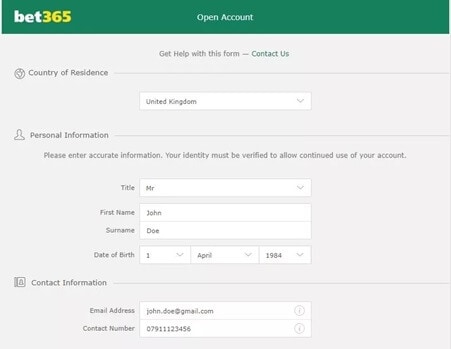 Step two will require the following details to make a new account for bet365:
Gender
Full name
Country
Social Security Number (contact number)
Date of birth
Email Address
You will also need to create a username and password for your login information. The password must be at least eight characters and have one capital letter, a number, and a unique character (such as !@#$).
Once this useful information is all entered correctly, your account will be created, and you'll be able to sign in, but you need to link your account before making your first deposit.
3: Verify your account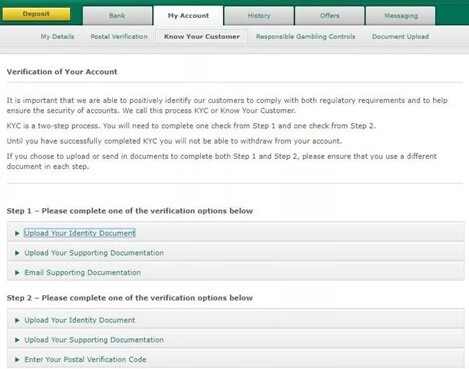 The verification process for a bet365 account does take a few minutes and requires pictures of certain legal identity documents. I will discuss why bet365 requires proof of these documents and identification below in the guide, but for now, let me tell you what they need.
bet365 requires people creating a new account to prove their citizenship before making a deposit, meaning you'll need to upload a picture of one of your IDs. To do this, click on "Services," then navigate to your account by clicking on "Members," then "My Account," and finally "Know Your Customer" (pictured above).
After you've started the registration process, you will be prompted to enter all your personal details on the registration form pictured below in a pop-up window.
You'll need to upload a government form of identification, such as any of the documents below:
Passport
Driving license
Birth Certificates
ID Card
After this document is uploaded and reviewed, users will be able to make their first deposit, but not a withdrawal. It generally takes about 48 hours for bet365 to review your documents; however, you can get in touch with bet365 customer support to make it happen faster!
4: Make your first deposit
After you're done verifying your identity, you will need to make your first deposit before you're able to place your first bet!
bet365 will accept almost any payment method you can think of to make a deposit, but some of them will not be instantly posted to your account. bet365 is completely legit meaning that all your transactions will be safe. The following payment methods are currently accepted on bet365 and will post instantly to your account:
Visa

& Mastercard Debit Cards – (Min $5/Max $20,000)
Apple Pay – (Min $5/Max $5,000)
Google Pay – (Min $5/Max $5,000)
Skrill – (Min $5/Max $25,000)
PayPal – (Min $10/Max $5,500)
Neteller – (Min $10/Max $37,500)
Pay by Bank app (Min $5/Max $2,000)
Paysafecard – (Min $5/Max $770)
Users can also make a deposit using an online bank transfer or a wire transfer, although the deposit will take a few days to post to your bet365 account.
How To Open An Account Using The bet365 App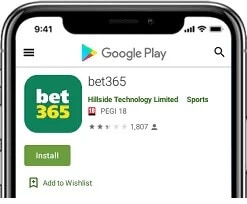 The registration process for betting accounts is the same on the mobile version as on their site, so be sure to follow the directions above to make your bet365 account on the app. Users with Android or iOS devices can download the app from the links below or by searching "bet365 Sportsbook" in the app store.
bet365 Download – Android Users
When searching for the sportsbook app from bet365, be sure you're clicking on and downloading the one pictured below! Other apps, such as bet365 Bingo, are apps where your account will work; however, you will not have access to the sportsbook.
iPhone users will only need an iOS of 8.1 and up, while Android users will only need an APK of 4.0 and up.
---
How to Verify Your bet365 Account – Know Your Customer Policy
Even though you've already verified your identity, you will still need to prove your home address, which should only take a minute or two to submit. The betting site does this because of its "Know Your Customers" policy that adheres to local state/country laws for online gambling.
New users will need to prove their home address before they can make a withdrawal by uploading a photo of a bill mailed to their current address with their name and addresses legibly on it. The document could be any of the following:
Utility bill
Bank statement
Mobile device bill
Mortgage statement
After this document has been uploaded to bet365, it will take about 48 hours to review an account before new players can make their withdrawals and get money from their accounts.
---
Eligibility Criteria to Create a bet365 Account
To make a bet365 account and place bets, users must be at least 21 years old and able to prove their citizenship and home address. bet365 requires proof of citizenship and home address because it needs to verify who you are to deter the creation of multiple accounts, which is forbidden by law to deter fraud. You also need to be located in one of the bet365 legal states in the US, or in one of the countries where bet365 operates.
---
Problems Signing Up On bet365
While they're uncommon, bet365 will have some issues during the registration process in some instances. Always have a secure internet connection before making an account, or else it will be difficult to access and complete.
One of the most significant issues that users will have is getting a blank screen (pictured below) when trying to access the bet365 site. The blank screen will only occur if the geolocation software cannot track you to a legal betting area, meaning that you're in an illegal state and therefore your bet365 account is restricted. Users will need to be located in CO, IA, NJ, OH or VA before they can bet with the book, they can however create an account from any state.
Other issues may include problems with the documentation provided in the pictures you've submitted for review. The most common cause of this problem is the picture being too blurry, so be sure it is clear and legible.
Any issue can be handled by a customer service team member, who can also help move along your verification process!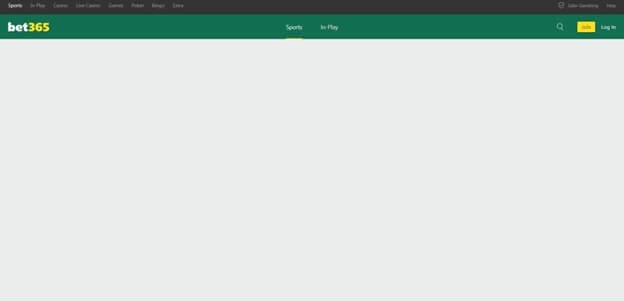 Benefits Of Opening An Account With bet365
bet365 is one of my favorite online betting platforms for many reasons, but mainly for its reliability.
The best reason to open a bet365 account is their phenomenal odds and different betting markets and options available. The bet365 site allows users to make sports bets, bets on slots, bets on live table games, and bets on online blackjack.
bet365 live streaming beautifully complements the in-play bets and cash-out options that give users more maneuverability to place better bets. Both of these options can be limited due to a change in the game's momentum or other restrictions because of time limits like the event's last minute. Furthermore, the Edit Bet feature on Bet365 helps you salvage seemingly lost wagers before kick-off, helping you stay in the black.
bet365 also has a phenomenal welcome bonus that's entered and doesn't require a bet365 sportsbook bonus code! All you have to do is click the link below, open an account, and make a qualifying bet of $1 or more to get $200 in bet365 credits (min odds -250)!
---
FAQs
Is it possible to withdraw your bet credits from the welcome bonus?
No. The bonus is only permitted to be used as betting credits on the sportsbook; however, users can claim the winnings from their bets as their own. Place qualifying bets by using the credits from your account, and once you win and clear the wagering requirements, the money is all yours!
What information is needed to create a bet365 account?
Becoming a member of bet365 requires users to enter the following details:

Gender
Full name
Country
Social Security Number (contact number)
Date of birth
Email Address
Password
Phone number

Don't worry about your personal information; it is entirely safe and secure. bet365 is licensed and insured by the New Jersey Gaming Commission, which means that the local government regulates its cybersecurity systems.
How does the bet365 site and app know your location?
bet365 has geolocation tracking software that will find your location to be sure you're in a legal betting state or country.
Can I deposit before verifying my account?
No, however, there is a two-step process to verifying your account, and first-time accounts only need to complete one of them before being able to make a deposit. You will still need to upload a picture of a government-issued ID and have it reviewed by bet365 before making a deposit.
Can I use a VPN at bet365?
No. You can only sign up for bet365 if you are within one of the states where the sportsbook operates. You do not need to reside in one of those states, even if you are just visiting you can still make an account. But be aware that you can only place bets, manage your funds and withdraw your winnings if you are in one of the states bet365 operates in.
If you are using a VPN, then bet365 can deactivate your account because it is in breach of the terms and conditions that you sign when you register here.