Part of the gambling landscape for 30 years in Las Vegas, BetMGM's online sportsbook, combined with their online casino offerings, makes BetMGM Resorts International the largest iGaming operator in the US, with almost 33 percent of the market share last year.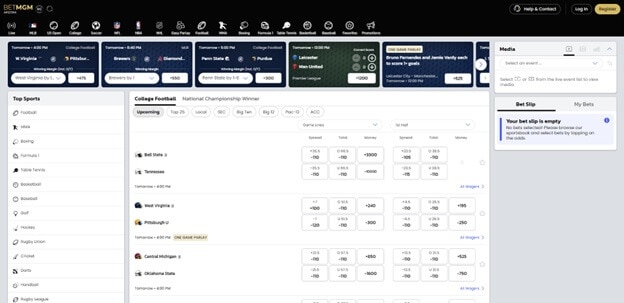 Operating sportsbooks in over 16 states since legal online sports betting was given the green light in 2018, BetMGM has closed the gap on the online sportsbook competition in a hurry.
Along with a smooth look and user-friendly layout, BetMGM sportsbook features 26 sports betting markets, competitive in-house odds, live betting, same game parlays, an edit-your-bet option, and plenty of ongoing promotions.
To welcome new users, BetMGM online offers a bonus bet up to $1,500 refunded in free bet credits if the wager settles as a loss. Bettors can also earn rewards program points redeemable at retail locations.
If you're ready to claim the welcome bonus risk-free bet and start racking up rewards points, click here or continue reading to learn more about the registration process. We cover everything, from how to create a new sportsbook account to placing your first bet. The entire process takes a commercial break to complete.
Quick Step-By-Step Guide To Sign Up With BetMGM
This article will go into further detail to follow, but below is a quick step-by-step guide to signing up with BetMGM. The registration process takes just a few minutes to complete. Sports bettors must be 21 years of age and physically located in one of the participating BetMGM states.
Visit BetMGM sportsbook
Select register
Create an account
Enter your personal information
Make a deposit
Place your first bet
Opening Your BetMGM Account:
Opening an account with BetMGM begins by visiting the sportsbook website by clicking here or downloading and installing the BetMGM app by going to Google Play or the Apple app store. You will need to allow the BetMGM sportsbook app to access your location while using it.
1. Select register
For both the browser and online betting app, signing up with BetMGM sportsbook starts by locating the gold 'register' button in the top right corner of the website and clicking on it. BetMGM does allow you to preview the sportsbook app before creating a new account. If you have a PayPal or Yahoo! Sports account, you can import that.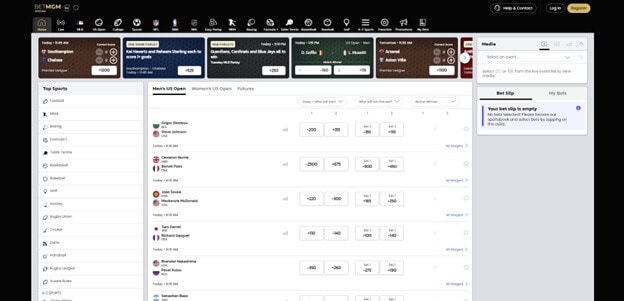 2. Create an account
The first step in creating a BetMGM sportsbook account begins with entering the email you'll log in with each time. The grayed-out 'continue' button will turn gold. Tap it to move on to creating a password.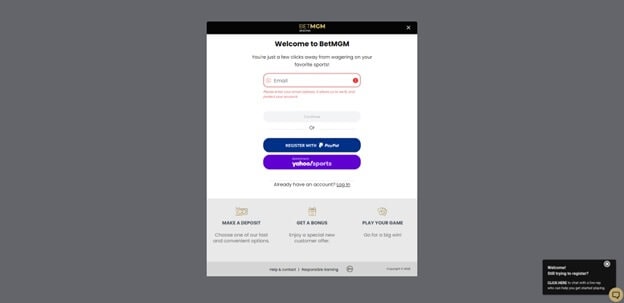 3. Enter your personal information
Similar to the email and password section, the BetMGM website goes slide by slide to collect your personal information as part of the know your customer policy. This information includes your name, date of birth, phone number, address, and the last four digits of your social security number. BetMGM online uses encryption technology to keep your information and bank account secure.
Before moving on to the deposit screen, you'll need to check three boxes confirming you are over 21 years old, have entered accurate information, and have read the terms of service. You'll also be prompted to create two security questions. The verification process will take place between steps three and four.
BetMGM account information checklist: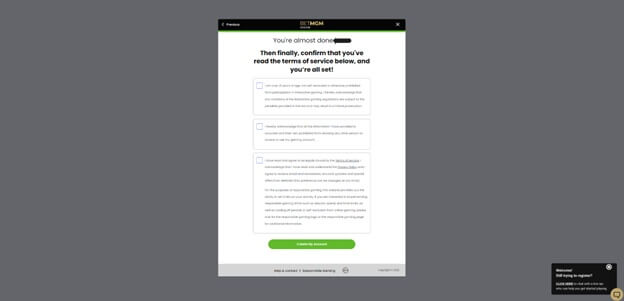 4. Make your first deposit
BetMGM sportsbook features various deposit methods, many of which are instant, including bank transfers, credit/debit cards, and PayPal.
Most BetMGM withdrawal methods take anywhere from 1-4 days to settle and include bank transfers using VIP preferred, online banking, and PayPal.
Complete list of banking methods: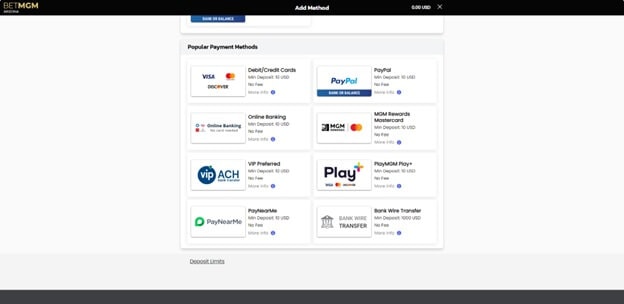 5. Place your first bet
BetMGM sportsbook provides multiple ways for sports bettors to get to the contest of their choice, including the sidebar (top sports/all sports), A-Z sports icon towards the end of the options across the top, or the difficult-to-see search icon in the top right corner.
After selecting the side you wish to wager on, the odds box will turn gold, and a bet slip will generate on the right side of the screen. After entering the stakes, the potential payout will appear. If multiple bets have been selected, the BetMGM parlay option on the bet slip will go from light gray to dark gray. The slight change can be difficult to notice; if available, you'll also be able to click on it.
The 'sports' tab on mobile is located in the top right corner, next to the search bar. Upcoming or popular events may be available on the home screen.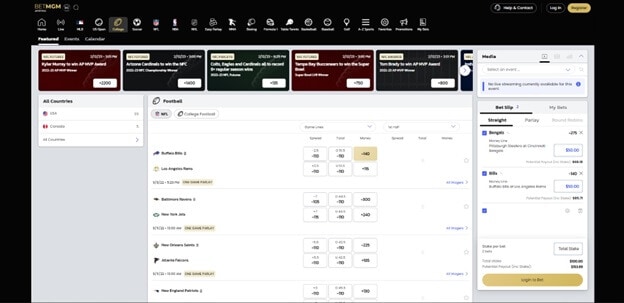 How To Open An Account Using The BetMGM App
Available for Android and Apple, BetMGM is tied with DraftKings and FanDuel for the highest-rated sportsbook app on iOS at 4.8/5 stars. BetMGM mobile checks in at 4.4/5 stars on Google Play.
The BetMGM app doesn't often update because they don't need to, as the betting app mirrors the website's ease of use. All 16+ states filter into one BetMGM app, which can be downloaded and installed like any other program.
BetMGM Sportsbook iPhone App Download
BetMGM Sportsbook Android App Download
How To Verify Your BetMGM Account – Know Your Customer Policy
State law requires legal online sportsbooks to know their customers to help prevent fraud, money laundering, and other questionable activity. They are subject to fines for failure to do so.
The information collected during the BetMGM online sportsbook registration process is also needed for tax reporting purposes. Online sportsbooks are required to report winnings and withhold taxes on profits of more than $600. Individuals will need to self-report total profits at the end of the year.
Eligibility Criteria To Create A BetMGM Account
To access the BetMGM sportsbook, sports bettors in the US must be 21 years of age and physically located in a legal betting state listed below. A geolocation check will be performed each time you visit the sportsbook.
Retail locations are in Maryland, Oregon, South Dakota, Washington, and Washington D.C. The BetMGM app is available in Nevada; bettors must sign up in person first.
Problems Signing Up With BetMGM
Problems signing up with BetMGM online are few and far between. Most can be chalked up to bad internet connections, malfunctioning devices, and accidental attempts to create multiple accounts. To access the help and contact section, click on the tab in the top right corner to the left of the log-in/register buttons. It can also be found among the links at the bottom of the page.
The BetMGM customer support section narrows your search by asking what brings you to the help page. Users can get to the complete FAQ list by selecting the 'browse the help pages' link after landing on your first BetMGM support answer. Getting to BetMGM contact information is more complicated, and the live chat is almost non-existent. Googling your state and BetMGM support email is the fastest way to come up with an address you can turn to our BetMGM troubleshooting guide.
Benefits Of Opening An Account With BetMGM
The BetMGM sportsbook hosts one of the most extensive lists of sports betting markets with 26, including niche sports like badminton, handball, lacrosse, snooker, skiing, table tennis, and water polo. Small details like recent line changes highlighted by green and red borders, country flags, and team-colored jerseys/helmets next to competitors' names are a nice touch.
Along with a limited but improving same game parlay section, BetMGM online features a customizable and super cool 'edit my bet' option, which allows you to change in-play wagers. Even if a parlay has settled portions, you can add, swap, or remove selections, and increase stakes. A great way to beat the book this football season.
The online sportsbook also has same game parlay insurance, daily odds boosts aplenty, and BetMGM rewards, which can be redeemed at MGM resorts and casinos for free or discounted rooms and expedited sportsbook window service.
BetMGM is giving new users a risk-free first bet up to $1,500 refunded in bet credits if the wager settles as a loss. A minimum deposit of $10 is required. Use our exclusive BetMGM bonus code GAMBLEUSA to claim the risk-free bet. Free bets will be added to your BetMGM account within 24 hours. Stakes using free bets are not included in any payouts.
If your first wager loses and is an amount greater than $50, you will receive five free bets back in equal denominations of 20% of the total amount up to $1,500. If your wager loses and is less than $50, you will receive a single free bet back in a single denomination equaling the total amount of the qualifying bet. Stakes using free bets will not be included in the payout.
Complete list of sports betting markets:
FAQs
What information do I need to sign up with BetMGM sportsbook?
The information you'll need to sign up with BetMGM online is your email, name, date of birth, phone number, address, and the last four digits of your social security number. You will also need to create a password.
Why does BetMGM sportsbook need my SSN?
BetMGM online needs the last four digits of your SSN to verify you are who you say you are and prevent fraud or multi-accounting.
Does BetMGM sportsbook have a welcome bonus?
BetMGM welcomes new users with a risk-free first bet up to $1,500 refunded in bet credits if the wager goes south. A minimum deposit of at least $10 is required to unlock the risk-free bet bonus offer. Use the BetMGM bonus code GAMBLEUSA. Click here to create a new account.
How many betting markets does BetMGM sportsbook have?
BetMGM online has an extensive list of online sports betting options with 26 markets, including college sports and all the major sports leagues. The sportsbook features all the traditional bet types like moneyline betting, spread betting, and futures odds, and more exciting ways to wager, including live betting and same game parlays.