Gamble USA strives to improve your online gambling experience. We aim to help you play safely, make informed decisions when gambling, and increase your betting knowledge through our guides.
We adhere to strict editorial integrity; our content may contain links to products from our licensed & legal US partners.
The Betway Sportsbook is an up-and-comer in the online sports betting industry, and I highly recommend it to any new gambler looking for a book. Betway was founded in 2006 in Great Britain as a retail sportsbook and quickly became international as its success began. In 2018, Betway moved its way into the online sports betting and casino space as legislation around the United States changed, allowing states to control their gambling laws individually.
If you're interested in creating an account, read below for more details! This Betway guide will show you how to create a new Betway account step-by-step, how to do so using their apps, how to verify your account, the benefits of using the sportsbook, and potential issues that may occur while creating an account.
Up To $250 In Bonus Bets
21+. T&C Apply
21+. T&C Apply
Live In-Game Betting
Odds Boost
Quick Step-By-Step Guide To Sign Up On Betway
I'll go into more detail about each of these steps for the registration process in the section below, but for now, here is a quick and easy overview to create your new account. Before you begin the registration process, be sure you have a stable internet connection, are on the official Betway website, and that it's licensed in your state by your local gambling commission.
Navigate to the

Betway website

Create your account information
Enter your personal information
Make your first deposit
These four steps only take a few minutes to complete, and they give new customers a welcome bonus of a risk-free bet worth up to $250 on their first bet!
Opening Your Betway Account
Each step below will show you in detail how to join Betway and will provide illustrations to help readers see what screen they should be on.
1: Navigate to the Betway websites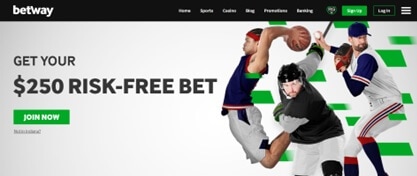 First things first, getting to the official Betway website. All you'll need to do is click the link below, which will bring you to the website (pictured below) to create your Betway account. Once there, click the green register button in the top right corner of the screen.
If you decide to Google Betway, you may be bombarded by ads for other sportsbooks, so it's probably easier to click the link above.
2: Create your account information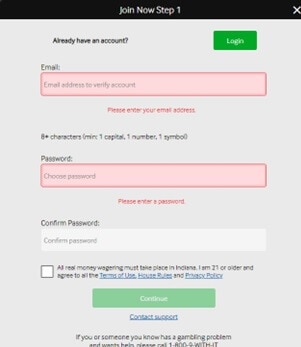 The second step requires users to give a valid and correct email address, followed by creating a password. The password is case sensitive and requires at least eight characters consisting of at least one capital letter, number, and symbol (such as !@#$%). Be sure to remember this information because this is your login info.
3: Enter your personal information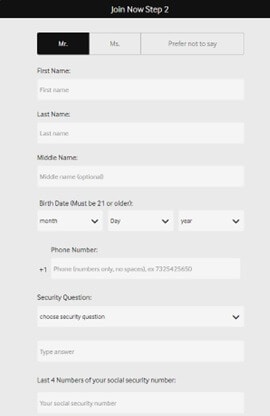 The third step will require you to enter all of your details. This information is required by law so the sportsbook can track the identity of people using their services. When creating a new account, be sure you're entering all of the information correctly (submit correct date of birth, email address, SSN, home address, etc.) because that is the problem that occurs most for users making an account.
The following information is required to create a Betway account:
Full name
Gender
Date of birth
Home address
Mobile number
Security question answer
Last four digits of your social security number
You will determine the security question answer based on the security question you decide to use so that you can have an extra layer of security to your Betway account. These questions will be something like your first pet's name or the street you grew up on.
Don't worry about your personal information; it is entirely safe. Betway is insured by each state's government, meaning that if anything were to happen, your local gaming commission would cover your losses.
4: Make your first deposit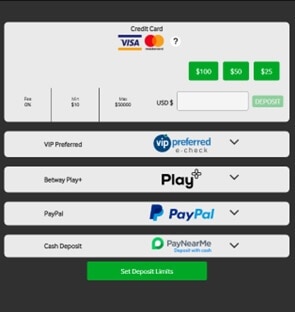 Last but not least, new customers will have to finish one last step after creating their account before they can start betting, and that's making their first deposit. To make a deposit, click on the green deposit button in the top right corner of the screen, which will take you to the screen pictured below.
The following payment methods are available to use to make a deposit on Betway:
The deposit limits and minimums for each online payment method are $10 minimum and $50,000 maximum. Pay near me payment methods have a $500 daily deposit limit with a $10,000 max over 30 days but have no minimum.
How To Open An Account Using The Betway App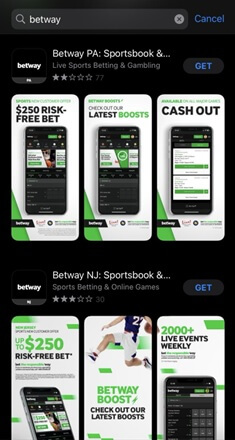 Creating an account on the Betway app is very similar to creating one through the website and only differs in one critical aspect. Betway is available on the Google Play Store and Apple App Store as different downloadable betting apps by state, giving anyone with a smartphone access to it.
Each state where Betway is legal has its own individual app, meaning that users may only use the Betway Indiana app while in Indiana, even though all of them can be used by your single account. Be sure that you're downloading the correct app for your state because when you search for it in the app store, you will likely get a screen similar to the image below.
Up To $250 In Bonus Bets
21+. T&C Apply
21+. T&C Apply
Live In-Game Betting
Odds Boost
How to Verify Your Betway Account – Know Your Customer Policy
The verification process occurs while you're creating your account, between steps three and four. Your details will be entered into their database to verify whether or not the information you've entered is correct and that you are who you claim to be.
Betway and many other sportsbooks do this because they have to adhere to local gaming commission policies to deter fraud. This also prevents users from creating multiple accounts, which is illegal.
If you have any problems during the verification process, check two sections below for more information.
Eligibility Criteria to Create A Betway Account
Betway isn't an exclusive nightclub or yacht party, so the eligibility requirements aren't a Rolex or an NFT of a monkey with sunglasses. To be eligible for Betway in the United States, users must be over the legal gambling age of 21 years old; that's it.
While it is possible to create an account from anywhere, to use the account, you will need to be geolocated in a legal betting state that's on the list below:
You may be wondering why Betway is only operating in these six states, and that's because these are the states they have obtained a license to operate in by that state's local gambling commission. These commissions are in place to regulate their state's online sports betting and casino services. The commissions do this by overseeing the operator to be sure they are not being predatory on the commission's constituents and to regulate their cybersecurity. Hence, their users' information is completely safe. Betway slots and casino games are only available in PA and NJ for now.
Problems Signing Up On Betway
Just like every other website on the internet, some issues may occur during the Betway registration process, although these occurrences are rare. Some issues may be due to incorrect information entered during the sign-up process, trying to create multiple accounts, network issues, or technical issues that could lead to your Betway account suspended or closed.
The network and technical issues are very similar; however, they are, at their core, different. Network issues may occur if you don't have a stable internet connection, so be sure that your wifi or hard-line internet connection is up and operating before you open an account.
Technical issues on the website have nothing to do with anything on your end; sometimes, a web page needs an update, and it may occur while you're trying to sign-up for an account (although rare). In both cases, users will need to come back when the connection to their network is reinstated or when the website is back to being operational.
If you're having trouble verifying your account when you are trying to register, double-check to be sure that you've entered all of the information correctly because that information is used to verify your identity and age. If all that information is correct, then be sure you don't already have an account because multiple accounts are forbidden by state law. Do this by going to the login page and clicking on the forgotten password button underneath the login screen.
The issues above happen most commonly with issues with your social security number. If there are issues with your SSN, please get in touch with customer service to straighten these issues out.
In some cases, customer service may require you to upload a picture of a different document to verify your identity before you can use your account. The document may be something such as a valid passport or valid driver's license, but sometimes it could be a utility bill with your full name and address on it. To complete this process, go to your account tab and select the upload documents button (pictured below).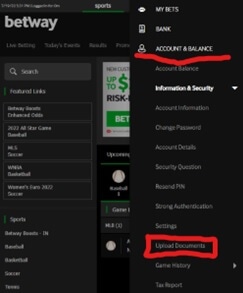 Benefits Of Opening An Account With Betway
There are several benefits of using Betway as your new online sportsbook and casino for any of your wagering needs. This section will detail the different benefits and why it's time to enjoy betting on Betway.
To begin, the sportsbook has a vast range of betting markets available, as well as tons of betting options to go with them! Customers are placing bets on everything from Formula 1 to NFL football and on everything from who will win the race to who will win the coin toss, and all with phenomenal odds!
Betway also features exclusive Betway Boosts on select events, meaning odds will be increased on an individual or team for that event! Customers with a betting account can take advantage of these boosts because they can help them win more money!
Betway also has same-game parlay and cash-out options on their sportsbook. Same-game parlays are extremely popular in sports betting because up until recently, there was no way to parlay prop bets together. Cashing out is also an excellent tool because it allows users to get some of their money back (or potentially more than they even bet) before the event is over.
Lastly, the Betway risk-free bet bonus is one of the best offers from any sports betting service because customers unlock a free bet worth up to $250 if their first bet loses. Unfortunately, customers do not get their deposit matched but receive a bonus in the form of a free bet, which can be used to win big!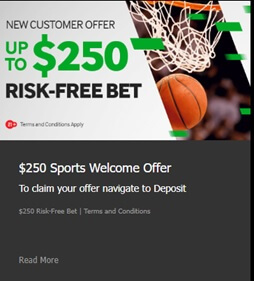 Free bets cannot be withdrawn or split up, and they will expire after six months if they haven't been used, so be sure to use them before they do! Terms apply, so read through the full terms before signing up to be sure you get your bonus. To claim this bonus, click on the link below and set up a betting account by following the steps above in the Betway guide!
Up To $250 In Bonus Bets
21+. T&C Apply
21+. T&C Apply
Live In-Game Betting
Odds Boost
FAQs
Where do I have to be located to use the Betway Sportsbook?
The Betway Sportsbook is currently operating in six states and can be accessed by people over the age of 21. Betway is legal and licensed by the local state gambling commission in the following states:
Arizona
Colorado
Indiana
Iowa
New Jersey
Pennsylvania
What information do I need to provide to create an account on Betway?
While customers register for an account, they will need to provide additional information to their correct email address and case-sensitive password. The following information will be required to create a Betway account:
Full name
Gender
Date of birth
Home address
Mobile number
Security question answer
Last four digits of your social security number
Why do I need to provide my social security number during the registration process?
Your social security number is the unique identification factor for each account. They do this because there isn't allowed to be more than one account for each person identified by their SSN.
Don't worry about your data; it is in entirely safe hands. Your local state government regulates Betway cybersecurity to be sure that it is 100% safe for users to log in from their personal computer or mobile phone.
What payment methods are available to make a deposit on Betway?
Betway has several different payment methods that users can take advantage of to instantly deposit money into their account from anywhere in the world to start betting. The payment method information can also be saved for easy access for future deposits, meaning that after the initial deposit (which takes maybe two minutes), users can use the same account with just a click of a button.
The following payment methods are available to use to deposit while using a Betway account:
Credit or debit card
VIP preferred e-check
Betway Play+ prepaid cards
PayPal
Pay near me options
How many different betting markets does Betway have?
A Betway account allows users access to 19 different sports and 130 leagues to bet on through their sportsbook. The list below contains each sport and the number of leagues offered. Soccer has by far the most, with 61 total leagues offered: Baseball (2 leagues), Basketball (11 leagues), Soccer (61 leagues), Tennis (12 leagues), Golf (11 leagues), MMA (2 leagues), Motor Racing (7 leagues), Boxing (1 league), Football (3 leagues), Hockey (4 leagues), Lacrosse (1 league), Table Tennis (2 leagues), Aussie Rules (1 league), Athletics (1 league), Cycling (1 league), Cricket (3 leagues), Darts (1 league), Rugby League (2 leagues), and Rugby Union (4 leagues).
Up To $250 In Bonus Bets
21+. T&C Apply
21+. T&C Apply
Live In-Game Betting
Odds Boost