Gamble USA strives to improve your online gambling experience. We aim to help you play safely, make informed decisions when gambling, and increase your betting knowledge through our guides.
We adhere to strict editorial integrity; our content may contain links to products from our licensed & legal US partners.
If you're new to sports betting and looking for one of the best online sportsbooks, then look no further than the most popular in the United States, DraftKings. Let me explain if you haven't seen the hundreds of ads for the DraftKings Sportsbook.
DraftKings is an online sportsbook that started as a daily fantasy sports website that allows users in 45 states access to daily fantasy sports that can win cash. After a change in federal legislation in 2018, DraftKings changed its focus from daily fantasy sports to online sports betting and is now available for users 21 years or older in 18 states (so far).
DraftKings Sports is well known globally for its daily fantasy sports contests. It is now a fully fledged sportsbook providing free bet offers, numerous sport options and more in several locations. DraftKings Arizona, DraftKings NY, DraftKings Illinois, DraftKings Louisiana are now all accepting wagers. The betting site is proving to be a big hit, with the brand now being recognized for more than just DraftKings fantasy.
If you think you might want to open a DraftKings account, but you're not sure how, then you're in the right place. Below is a step-by-step guide on how to create an account, how to verify that account, the eligibility requirements, potential issues users may have during the registration process, and the benefits, including, in my opinion, the best sign-up bonus in the industry.
Up To $1,000 Deposit Bonus
21+. T&C Apply
21+. T&C Apply
The best sportsbook
Amazing odds & offers
Awesome betting app
Quick Step-By-Step Guide To Sign Up On DraftKings
You may have been wondering for a while how to open a DraftKings account. There are five easy steps to sign up for a DraftKings account, and they can be finished in a matter of minutes. Users can create their accounts from the website or the app if they are 21 years or older and in all 50 states.
Set up your account
Verify your information
Secure your account and verify your location
Make your first deposit
It's free entry to register, but users cannot have multiple accounts, so the sportsbook adheres to fair play laws around the country. Creating an account will require some personal information to verify your identity. The following information is required:
Unique Username
Email
Password
Full name
Date of birth
Last four digits of the SSN
Address
Opening Your DraftKings Account
Below is a detailed step-by-step guide on opening a DraftKings account and all the additional information that goes into creating it. First, you'll need to register by going to the DraftKings website.
Sign-up with the DraftKings Sportsbook
Step 1: Go to the DraftKings website
First, go to the DraftKings website by clicking the link above.
Once you've clicked the link, you'll be redirected to the screen below, which will prompt you to create a DraftKings account by clicking on the "Sign Up" button in the middle of the screen, underneath their sign-up bonus. If you already have an account, there's an option to sign in to your account in the top right corner of the screen.

Step 2: Set up your account
Once you've begun the registration process, you will be redirected to a screen to set up the basic information linked to your account. You'll need to first decide on a unique username and password for your account.
The password must be at least ten characters long and contain at least one number, letter, and special character (such as !@#$). You will also need to provide your email address during this step, which can also be used to sign in to your new account.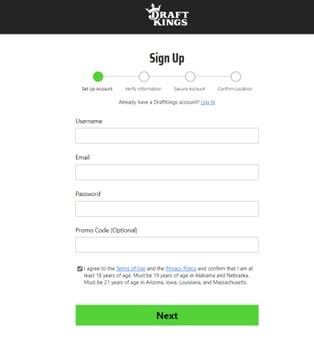 This screen also allows users to use a DraftKings promo code, although it is not required. The sign-up bonus doesn't require a promo code for new users to receive; however, DraftKings refer-a-friend bonuses can be obtained through a unique promo code given to each user.
Step 3: Verify the information
The third step is where users will enter all of their personal information for their account to be verified. This step is essential because users can only have one account, and these crucial factors link their identity to their account.
Users must enter their full name, date of birth, last four digits of their social security number, and home address. Don't worry about your personal data's security; DraftKings is a legit operator operated by a massive company with an incredibly secure website with its cybersecurity systems regulated by local gaming commissions such as the New Jersey Division of Gaming Enforcement.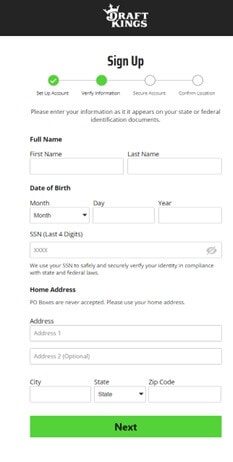 After this information is all checked and verified, users will be prompted to secure their accounts.
Step 4: Secure account and verify location
New users must secure their account by providing their Social Security Number one last time before verifying their location. To verify your location, you will need to turn on tracking services on your laptop or mobile device for the DraftKings app or website. Don't worry; when you sign up, you will get a notification to turn these on during this step.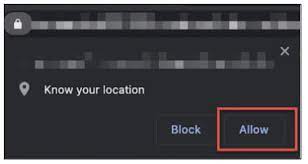 Once completed, the website or app will use its geolocation services to ensure that you're located in a legal state. Even though your account is now created, there's still one more (optional) step, making your first deposit.
Step 5 (optional): Make your first deposit and get a 20% deposit bonus
If you want to start betting, you'll need to transfer money to your account first! Luckily if you use our link above to sign up, you'll receive a deposit bonus of 20% on your first deposit after registering for an account.
First, click on the deposit button in the top right corner of the screen to bring up the different deposit options for your DraftKings Sportsbook account (seen below).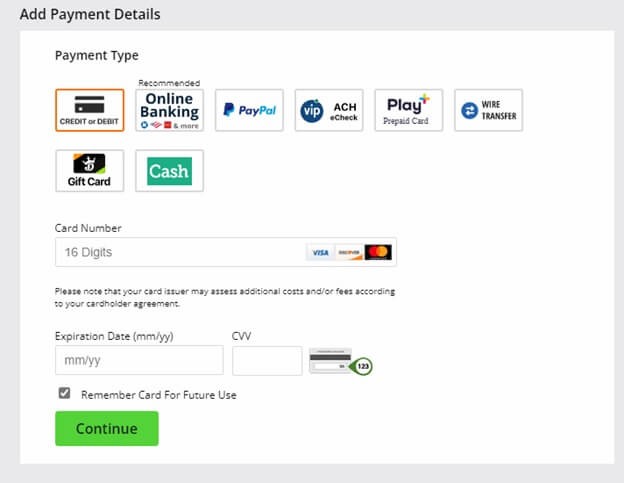 Here users will choose different online payment options to transfer money into their accounts. Several options include debit/credit cards, online bank transfers, PayPal, DraftKings Play+ prepaid cards, or even in-person cash payments.
Once you've made your first deposit, your bonus will be applied to your account in bonus cash, known as DraftKings dollars.
How To Open An Account Using The DraftKings App
The DraftKings app is one of the country's best online sports betting apps because of its well-organized design and remarkable features. Apple and Android users can download the app to their mobile devices through their respective app stores (or by clicking the links below).
DraftKings Download – Apple App Store
DraftKings Download – Google Play Store
The account registration process in the DraftKings app is identical to the process online, so be sure to follow the steps above to complete the setup of your account when the app is downloaded.
How to Verify Your DraftKings Account – Know Your Customer Policy
Once you're finished registering for a DraftKings account, you will need to quickly verify it before you're able to make a withdrawal from your account. To do this, confirm your email address by clicking on the link from DraftKings that was sent to your email, and then upload a picture of your identification.
Confirming your email is as simple as clicking the link; however, uploading a picture of your I.D. may take a bit longer. First, take a clear picture of any of the following options:
Drivers license
Passport
Government-issued I.D.
Proof of residence (utility bill, bank statement, etc.)
Next, while you're signed in to your account, you will need to go to your account menu in the top left corner of the screen. You must then scroll down to the help center and select the document upload option (seen below) from this menu.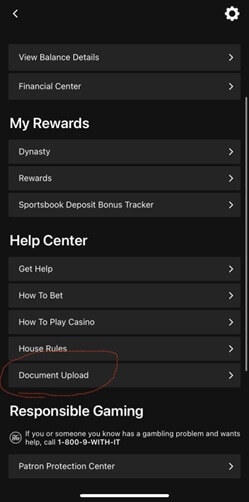 DraftKings must adhere to their "know your customer" policy that helps prevent illegal gamblers that may be underage, in an illegal state, or may have multiple accounts.
Eligibility Criteria to Create A DraftKings Account
The good news about creating a DraftKings account is that it's legal to create one in all 50 states if you're 21 or older. This is legal because users will only be able to use their accounts when they are physically located in a state where DraftKings sportsbook is available.
DraftKings Sportsbook is available in the following states:
DraftKings daily fantasy is available in 45 states, including Alaska and Hawaii; however, it is not available in Washington, Nevada, Idaho, Montana, or Oregon. The DraftKings Casino is available in far fewer states due to state laws around online casino gaming. DraftKings casino is available and legal in NJ, CT, WV, PA, and MI through the same website and app. There is no need to open a separate account to play DraftKings slots or other games.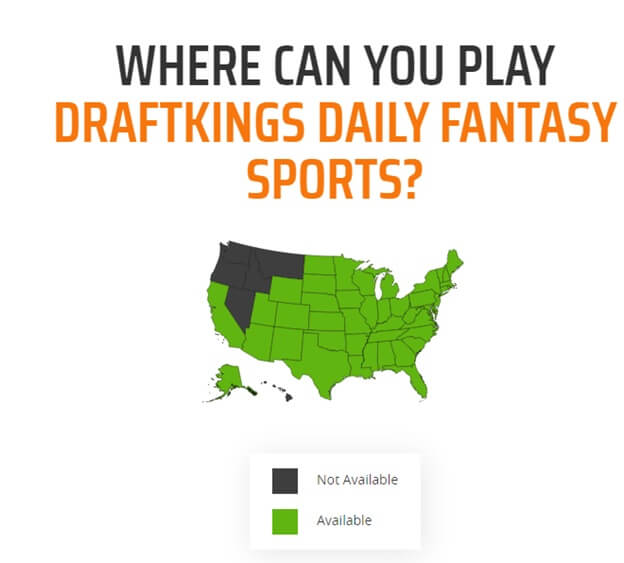 New customers will also need to provide their correct full name, Social Security Number, home address (on their I.D.), date of birth, and email address. Their database will check the information mentioned above, so be sure to enter it correctly, or you may have issues creating the account.
Up To $1,000 Deposit Bonus
21+. T&C Apply
21+. T&C Apply
The best sportsbook
Amazing odds & offers
Awesome betting app
Problems Signing Up On DraftKings
As I mentioned above, potential issues may occur when creating a DraftKings Sportsbook account if you enter any of the required information incorrectly. Any issues with your social security number will be a problem because that is one of the main ways they add new users to their database.
If an issue with your Social Security number occurs, it is likely because you already have an account or entered the number incorrectly. Social Security numbers are a unique link to a DraftKings account, and users are only permitted by law to have one account.
If you already have a DraftKings account, you need to recover it by talking to a customer service representative. Multiple accounts are forbidden by local state laws to help prevent users from developing a gambling problem or committing fraud.
Other issues might include an incorrect address because it doesn't match the SSN of the new account or geolocation issues; however, the most likely issue is with the wifi connection. Be sure to have a good connection because delays during registration may cause issues due to small details.
Benefits Of Opening An Account With DraftKings
There are several different benefits to signing up for a DraftKings account, including tons of betting markets, contests, wagering options, odds boosts, free bets, and the best sign-up bonus out of all legal sportsbooks, in my opinion. Let's first go over the massive benefits of a DraftKings account; then, I'll explain the deposit bonus at the end.
To begin, DraftKings has a plethora of betting markets, features, and betting options compared to most online sportsbooks in the United States, making it a one-stop shop for all sports bettors. The DraftKings sportsbook app also has a phenomenal user interface, several great odds boosts, free entry to contests, and ways to watch games live.
Whether you are using DraftKings New York, the DraftKings Arizona sportsbook or DraftKings New Jersey, you can place bet on all of your favorite sports. Once you have claimed your bonus funds, you can use them to wager on college football, the World Series or even the Open Championship if you are  golf fan. With DraftKings Daily Fantasy Sports contests and regular promos and betting news also available, it is little wonder this sportsbook is one of the most well-known in the United States sports betting market.
The DraftKings VIP scheme is a great rewards program to win crowns on every game that users bet. Crowns can be used to access different benefits for each tier of the program, such as free bets and exclusive tickets to live, in-person events or experiences.
The welcome bonus for new users who create a DraftKings Sportsbook account is a 20% match on your first deposit worth up to $1,000. This deposit bonus is unique because it provides users DraftKings dollars rather than risk-free bets, which means there's no limit to how many bets a player can place using their bonus. There is no DraftKings promo code required for this bonus.
No DraftKings sportsbook promo code is necessary to access the welcome bonus; however, you need to click the link here (or above) before registering for an account. I highly recommend doing so, this is one of my favorite online sportsbooks for many reasons, and it never stops improving!
Up To $1,000 Deposit Bonus
21+. T&C Apply
21+. T&C Apply
The best sportsbook
Amazing odds & offers
Awesome betting app
FAQs
Do you need SSN for DraftKings?
DraftKings, as any other legal sportsbook, will require the four last digits of your SSN. You will be asked to submit these when you first open a DraftKings account.
Why does DraftKings need my SSN?
There are two main reasons that DraftKings needs your social security number. The first is to confirm your identify and age, and the second has to do with the DraftKings tax form. The sportsbook is required to report any players who win over $600 sports betting.
What do you need for a DraftKings account?
New players will need to create an original username, provide a verifiable email address, and set up a password in the first registration form of DraftKings. Your full name, birth date, address, and last four digits of SSN will be asked next. An ID and residence proof must be provided to DraftKings for account verification purposes.
Can you use DraftKings out of state?
Users will be able to use DraftKings in any US state, as well as open an account. However, you must be in a legal state for the DraftKings service you are using (Sportsbooks, DFS, Casino) to bet real money.
Can you make multiple DraftKings accounts?
No, players are not allowed to open more than one account with DraftKings. That's to ensure a fair betting environment and to meet the legal requirements placed by each state where DraftKings is legal.
What are the DraftKings username requirements?
The requirements for a DraftKings username are that it must be at least 6 characters long and unique. You can use letters and numbers, but no special characters. Choose wisely, as you will not be permitted to change it in the future.
Can you change your DraftKings username?
If you want to place a sports bet on your existing DraftKings account but want to change the username, you must put in a request to the DK customer support team. The official line from the operator is that, generally, they won't change usernames but will deal with each request individually. Because DraftKings DFS is a skill-based game in which players go head-to-head against one another, it is important they are able to identify each other. This is one of the reasons they are unlikely to change usernames, but if you let them know why you want to make the change they may accept.