Gamble USA strives to improve your online gambling experience. We aim to help you play safely, make informed decisions when gambling, and increase your betting knowledge through our guides.
We adhere to strict editorial integrity; our content may contain links to products from our licensed & legal US partners.
Thanks to a massive daily fantasy sports site user base available in almost every state and various professional sports team partnerships, FanDuel online sportsbook has become a household name in the few years since sports betting became federally legal.
One of the most popular and highly trusted online sportsbooks, FanDuel's arrival in Kansas in time for the football season makes 16 states where the top-rated sportsbook operator has an online gambling presence.
Along with 19 sports betting markets, competitive lines, live betting, and the best in same game parlays, FanDuel sportsbook features an intuitive design, clean layout, and seamless transition from daily fantasy sports to sports betting on the same wallet. When you sign up for a FanDuel account, you can benefit from the excellent opening bonus bet, FanDuel DFS contests and numerous bet types for massive events like the Super Bowl.
A subsidiary of Flutter Entertainment, FanDuel sportsbook checks all the boxes for novices and seasoned bettors alike. Both will appreciate the daily odds boosts, risk-free bet opportunities, and other ongoing promotions FanDuel offers to keep their online sportsbook accounts profitable.
FanDuel also offers new users a generous $1,000 in free bet credits if their first day doesn't go as planned. No FanDuel promo code is required to claim the welcome bonus.
If you're ready to open a FanDuel sportsbook account and claim the welcome bonus free bets click here to head to the website. The registration process only takes less than two minutes to complete. Continue reading to learn more about creating a new account, from how to sign up to placing your first bet.
No Sweat First Bet Up To $1,000
21+. T&C Apply
21+. T&C Apply
Convenient banking
Massive choice of sports
Quick Step-By-Step Guide To Sign Up With FanDuel
If you are looking to know how to open a FanDuel account, we must start at the very beginning. We will go into more detail about the FanDuel registration process to follow, but below is a quick step-by-step guide to signing up with FanDuel. The entire process takes two minutes tops to complete. Bettors must be at least 21 years of age and physically located in a participating state.
Visit FanDuel sportsbook
Select your state
Create an account
Enter your personal information
Make a deposit
Place your first bet
Opening Your FanDuel Account:
Opening a new account starts with heading to the FanDuel website by clicking here or downloading and installing the FanDuel app via the Android or iOS app stores. With the FanDuel sportsbook pulled up, you'll be asked to select your state.
1. Select sign up
For both online and mobile, signing up with FanDuel sportsbook starts by locating the green 'join' button in the top right corner of the screen and clicking on it. By doing so, you'll be brought to another screen to begin creating your sportsbook account.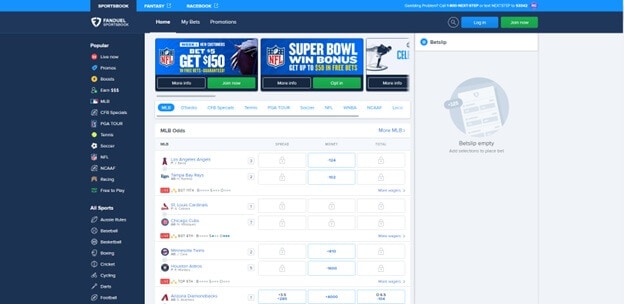 2. Create an account
To create an account with FanDuel sportsbook, you'll need to create a username and password (at least eight characters/strength requirements) and enter the email address you'll log in with each time.
The grayed-out 'create account' button below the password strength bar will turn green when you've satisfied all requirements. Click on the green button to move on to entering your personal information.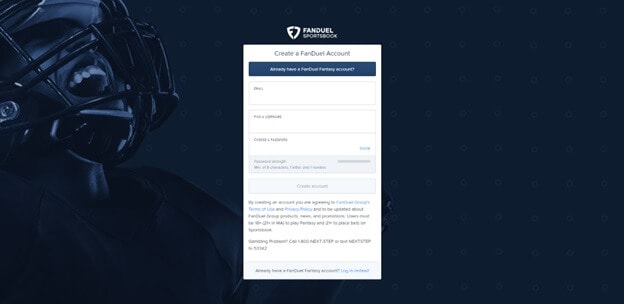 3. Enter your personal information
As part of the FanDuel sportsbook account know your customer policy, the following five screens will prompt you for personal information, including name, date of birth, phone number, address, and last four digits of your social security number. Accurate information must be entered to access the deposit screen.
On the last page, bettors need to check four boxes agreeing to terms and conditions, confirming all info is accurate, that you're not a prohibited employee, and that you're 21 years of age. When completed, the verify identity button will turn green.
The verification process will take place between steps three and four. Along with being licensed by local gaming commissions, FanDuel uses industry-standard encryption technology to ensure information is secure and your bank account is safe.
No Sweat First Bet Up To $1,000
21+. T&C Apply
21+. T&C Apply
Convenient banking
Massive choice of sports
Account information checklist:

4. Make your first deposit
FanDuel sportsbook features various ways to deposit funds, including multiple instant deposit methods like credit/debit cards, online banking using Trustly, your PayPal account, and now Venmo. Trustly has been in the online consumer banking industry since 2008 and is used by more than 8,000 merchants.
Most FanDuel withdrawal methods take anywhere from 1-3 days to settle and include cash at the counter, checks, debit cards, PayPal, Trustly, and Venmo. Once a method has been verified, transfers will become almost instant.
Complete list of FanDuel banking methods: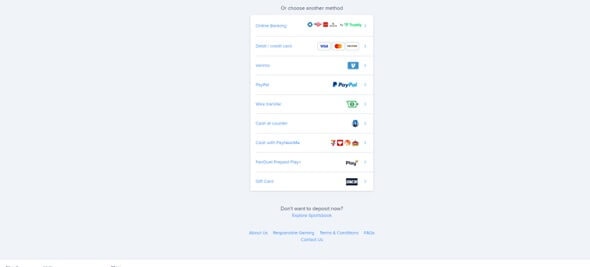 5. Place your first bet
FanDuel sportsbook makes placing your first bet a breeze by providing multiple ways to get to the event you wish to wager on. Sports bettors can get to the contest of their choice by using the sidebar popular section, by selecting the individual sport, or by getting to the search bar by selecting the small search icon next to the log-in button. Upcoming or popular events may be featured on the homepage. Select the blue 'more wagers' text under the odds in the bet box to get additional bets for a single event. You can find the best bets to make money on FanDuel through our guide, if you are already through with registration.
After selecting your side of the bet, the odds box will turn blue, and the bet slip will pop up on the right. If multiple wagers are selected and available to be combined into a single parlay, this option will show at the bottom of the bet slip. After entering the stakes you wish to wager, the potential payout will populate. Once to your liking, hit the green button labeled 'place' at the bottom of the bet slip to confirm your wager.
Placing bets is just as easy for bettors using the FanDuel sportsbook app. To get to the complete list of sports, select the 'all sports' icon at the bottom of the screen. Once you've chosen your side, the bet slip will populate at the bottom of the screen. The bet slip will shirk if multiple selections exist, and you'll need to click on it to bring up the full-screen version.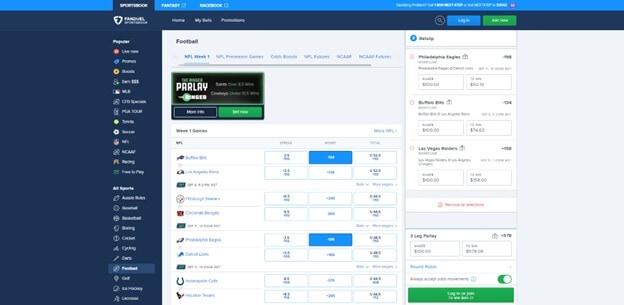 How To Open An Account Using The FanDuel App
Tied for the top-rated online sportsbook app along with DraftKings, the FanDuel sportsbook app mirrors the user-friendly experience of the web browser, from opening an account to placing your first bet. Available for both Android and iOS, both have ratings of 4.7/ 5 stars on Google Play and 4.8/5 stars on the Apple app store.
All 16 states feed into the one FanDuel app, which is updated weekly. To begin the sign-up process, search FanDuel sportsbook and install like you would any other app.
FanDuel Sportsbook iPhone App Download
FanDuel Sportsbook Android App Download
How To Verify Your FanDuel Account – Know Your Customer Policy
State law requires online sportsbooks to collect certain information as part of the know their customer policy to prevent fraud, money laundering, and other questionable activity and are subject to fines for failure to do so.
The information gathered during the FanDuel registration process is also required for tax reporting purposes. Online sportsbooks must withhold taxes and report winnings over $600. All other winnings must be totaled and self-reported at the end of the year. It is easy to do this, especially when using our sports betting winnings tax calculator.
Eligibility Criteria To Create A FanDuel Account
Sports bettors must be 21 years or older and physically located in one of the 16 approved states listed below. A geolocation check will be performed each time you sign in.
FanDuel sportsbook is partnered with retail sportsbook locations in many of the states listed below, as well as Maryland and Washington D.C.
Whether you are signing up on FanDuel Maryland, FanDuel Ohio or FanDuel New York, the process remains the same. The FanDuel bonus bets are the same on all of the sites across the country, and no matter what state you are in, you can still use the excellent same game parlay feature and live betting options.
No Sweat First Bet Up To $1,000
21+. T&C Apply
21+. T&C Apply
Convenient banking
Massive choice of sports
Problems Signing Up With FanDuel
Problems signing up with FanDuel online sportsbook are infrequent. Most reported issues creating a new account can be boiled down to spotty internet connections, malfunctioning devices, or accidental attempts at multiple accounting, which is illegal.
FanDuel features a support section for those seeking assistance that will get you to the FAQs link and populate the live chat option in the bottom right corner of the screen. For more complicated matters, an email address is available as our FanDuel troubleshooting guide.
Benefits Of Opening An Account With FanDuel
Sports fans turned sports bettors will find 19 sports betting markets on the FanDuel website, including niche sports like darts, lacrosse, and table tennis.
FanDuel sportsbook features competitive odds, all the traditional ways to wager, and more interesting sports betting options like live betting and same game parlays. Pioneers of the SGP, everyone else is playing catch up to FanDuel's wide variety of offerings and combinations.
FanDuel offers a generous $1,000 risk-free day to welcome new users. A minimum $10 deposit is required. Free bets will hit your account within 72 hours and don't need to be used in one lump sum. Stakes using free bets won't be included in any potential payouts.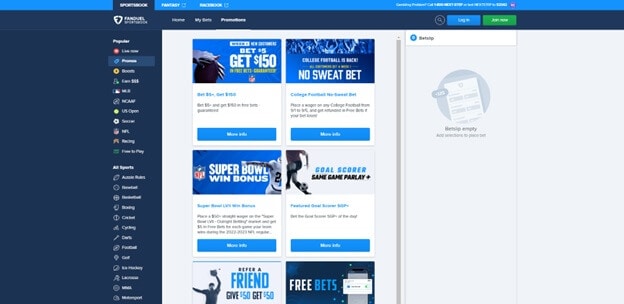 Along with daily odds boosts, FanDuel sportsbook routinely offers engaging and entertaining ways to earn additional free bet credits, including parlay bet insurance and other in-season promos, even the occasional event-based free-to-play pick'em pools to earn FanDuel cash.
No Sweat First Bet Up To $1,000
21+. T&C Apply
21+. T&C Apply
Convenient banking
Massive choice of sports
Complete list of sports betting markets: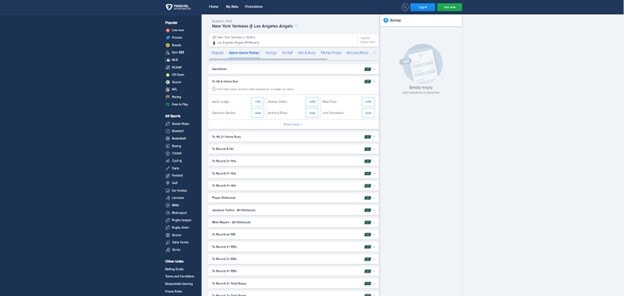 FAQs
What states can FanDuel sportsbook be found in?
The states FanDuel sportsbook can be found in are Arizona, Colorado, Connecticut, Illinois, Indiana, Iowa, Kansas, Louisiana, Michigan, New Jersey, New York, Pennsylvania, Tennessee, Virginia, West Virginia, and Wyoming.
What information do I need to sign up with FanDuel sportsbook?
The information you need to sign up with FanDuel sportsbook is an email, date of birth, name, address, phone number, and the last four digits of your social security number. You'll also be asked to create a username and password.
FanDuel username requirements
When signing up for an account on the FanDuel betting site, whether it is the FanDuel sports side or the FanDuel casino, you must create a username and a password. In terms of username requirements, there is no stated character limit or symbols required. Of course, make sure it is something memorable, so the next time you want to play FanDuel fantasy you can login quickly.
Why does FanDuel sportsbook need my SSN?
FanDuel as any other sportsbook needs the last four digits of your social security number to verify your identity as part of the required know your customer policy. Verification helps protect players by preventing fraud and other illegal activity.
Does FanDuel sportsbook have a welcome bonus?
FanDuel sportsbook offers new users $150 in free bet credits after placing a $5 wager or the standard FanDuel $1,000 risk-free bet. A deposit of at least $10 is required. Free bets will arrive in your account within 72 hours and do not need to be used all at once. No FanDuel sportsbook promo code is needed. This is one of the best offers in the online sports betting space and you can also claim it on the FanDuel sportsbook mobile app.
How many betting markets does FanDuel sportsbook have?
FanDuel sportsbook has 19 sports betting markets, including college sports and all of the major sports leagues. The online sportsbook has all the traditional wager types like the moneyline or point spread and more exciting prop bets, and same game parlays.
No Sweat First Bet Up To $1,000
21+. T&C Apply
21+. T&C Apply
Convenient banking
Massive choice of sports