If you're looking through online sports betting mobile apps and don't know where to begin, let me introduce you to Unibet Sportsbook. It's one of my favorite sportsbooks for several reasons, and this detailed guide will show you exactly how to sign up for an account.
Unibet is one of the best up-and-coming bookmakers in the United States that isn't one of the titans of industry like DraftKings or FanDuel. It was created in 1997 by Anders Ström and is currently operating in ten countries, including the United States, and can be used in Arizona, Indiana, Iowa, New Jersey, Pennsylvania, and Virginia.
The guide below will show you the step-by-step registration process, how to use the app to register, eligibility criteria to create an account, issues that may occur while signing up, and the benefits of using Unibet over other mobile bookmakers.
Quick Step-By-Step Guide To Sign Up On Unibet
I will go into greater detail about the operator's terms and conditions in the following section; however, below is a quick step-by-step guide to completing the Unibet registration process. It will only take a few minutes to sign up for an account, and all of your details are at minimal security risks due to the gambling act of 2018 that allows sportsbooks to operate and regulates their cybersecurity measures.
Go to the Unibet website for your state
Register for an account
Provide your personal details
Make a deposit
After you've finished these four steps, you're entirely done with the Unibet registration process and are ready to start playing and place your first wager on any of your favorite sports teams!
Opening Your Unibet Account
Now for the more in-depth explanation of how to create a Unibet account on their online site. Be sure to click our link in step one so that you get access to our exclusive welcome bonus through Unibet as a risk-free bet worth between $100 – $500.
Read below for all the information required for the Unibet sign-up process (which takes less than five minutes), and remember to play responsibly!
1. Go to the Unibet website for your state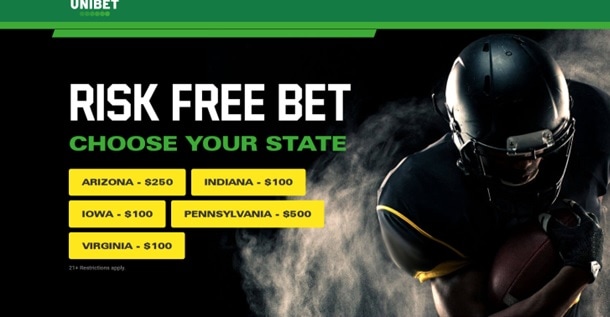 First, be sure that you don't have an outdated browser, and if you do, download the latest version to be safe (Safari, Google Chrome and Firefox all work great). After this is finished, search your settings for the contact preferences section for individual sites and allow Unibet access to your location's services from your device. Once this is done, click the link below, and you will be brought to the page pictured below.
From here, you'll need to choose the state you're located in, which will then take you to the sports betting page to begin the registration form!
2. Register for an account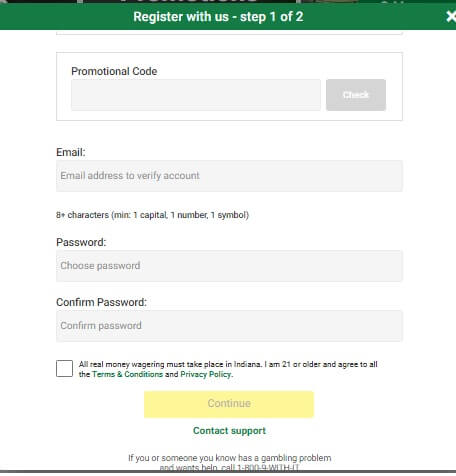 The second step is straightforward, use a Unibet promo code (not needed), enter your email address, and then choose a password. This password will need to be more than eight characters long, including a capital letter, a number, and a unique character (such as !@#$). Once you're finished, scroll down to the bottom and click continue!
3. Provide your personal details
Step three is when users fill out their contact details, including their gender, full name, address, phone number, date of birth, and the last four digits of their social security number. You will also need to choose a security question (like what was your first pet's name) and answer for extra security to protect your account.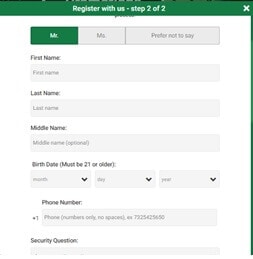 If you're worried about any of your personal information being stolen, don't! Unibet is entirely legal and licensed by each state's gaming authority which is there to protect their constituents by ensuring all of their data and regulating online sportsbooks' cybersecurity systems.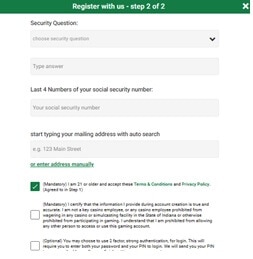 4. Make a deposit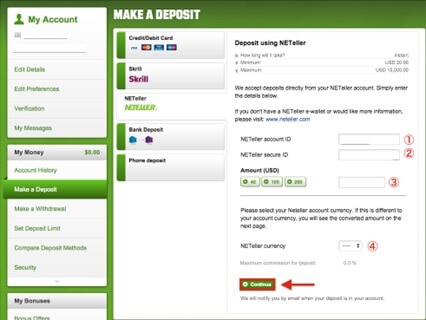 Once the verification process for your account is complete, you only have one step left before you can start betting, and that's making your first deposit! It's effortless, and every payment method can be saved for easy use later (except for cash payments at retail locations).
All you need to do is click on the deposit button in the top right corner of your screen, and it will take you to the menu shown below. From this screen, you'll need to choose from one of the following payment methods to make your first deposit.
Credit/debit card
Bank transfer
Cashier's check
PayNearMe options (retail sportsbooks and other participating locations)
The maximum and minimum deposit amounts vary based on the payment method, but most deposit methods have a minimum of $20.
How To Open An Account Using The Unibet App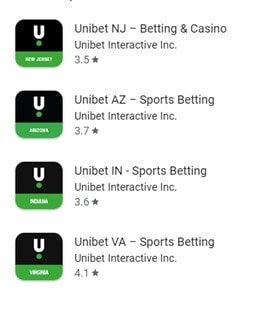 Using the Unibet app for account registration is like using their site, so the steps above will cover any questions you may have. You will need to download the app from either the Google Play Store or the Apple App Store by using their search bar to look for Unibet. The same process will allow you to play on Unibet Casino in the states where it is legal.
Once the results come back, you will need to scroll down and choose the correct app for your state (seen below), meaning that you will only be able to use that app while in that state. For example, if you download the Unibet Indiana app, you will not be able to use it when you're in Pennsylvania.
How to Verify Your Unibet Account – Know Your Customer Policy
Users will need to verify their identity before their account is completed because of Unibet's know your customer policy. This is normally done during the third step of the process, however, sometimes if there are issues, you may be required to provide other legal documents like a picture of your driver's license or a utility bill. If this happens to you, go to your "Account" page, then to the "Information and Security" tab underneath and then click on "Upload Documents".
This policy is a requirement so that Unibet can verify you are the person you claimed to be on your registration form to deter underage users or defend against users trying to create multiple accounts. Multiple accounts are explicitly forbidden by state and federal legislation.
Eligibility Criteria to Create A Unibet Account
Being eligible for an account on Unibet is very simple; if you're a citizen of the United States and are over the age of 21, then you're eligible to create an account. On the other hand, this account will not be ready to use unless you are geolocated by the app or site's software that determines you are in a legal betting state.

Problems Signing Up On Unibet
While problems during the registration process don't usually happen, they sometimes might occur for a few reasons that can be easily avoidable. Any issues with your wifi, browser, or social security number will be the most common for new users looking to sign up for an account.
Be sure you have a solid connection to your wifi because any interruptions could cause your registration process to continue longer than it should. Browsers should also be entirely up to date and should only be used when signing up from a computer. If you're using your cell phone, then be sure to download the app and not use any of the mobile brands browsers.
The following browsers can all be used to access the Unibet site:
Safari
Google Chrome
Firefox
Microsoft Edge
Any issues that involve your social security number or legal documents will need to be settled by a member of the Unibet customer service team. If you've already created an account, you will need to recover the account, which is part of why they have security questions in place. As I mentioned above, these rules are set in place to deter multiple accounts to defend against fraud.
Benefits Of Opening An Account With Unibet
There are several different reasons to bet on the Unibet Sportsbook, and it has more pros than cons. First of all, it has some of the best promotions in the entire industry because some of them can be used repeatedly.
Most online sportsbooks have different weekly promotions for users to boost their odds of winning bigger, but Unibet offers a level-up parlay booster that can be used DAILY. Not only that, but they have daily odds boosts that can be used on select events to get better odds on the underdogs of the day!
Along with these two daily promotions, Unibet offers weekly promotions that allow users to boost their odds and earn free bets based on the types of bets they're making. For example, they're currently running a promotion that offers boosts for MLB games on same game parlays or for users to earn a $10 free bet no deposit by placing an MLB parlay worth at least $20.
Accompanied by their fantastic promotions, Unibet also offers a wide range of betting markets and options. Users can bet on tons of different betting markets (including more unique events such as "The Basketball Tournament" as seen below) and are allowed to play with pre-event betting or live betting, with tons of different options for both!

Unibet also has a great welcome bonus in the form of risk-free bets worth up to $500, depending upon what state you're signing up in. If you're not familiar with risk free-bets, then let me explain a bit; risk-free bets are bets that are insured by the bookmaker. Bets insured are paid out in real winnings if the bet hits or a free bet credit of equal value if the bet loses, giving you two total chances at winning your bet!
If you want to claim this bonus, click the link here and sign up for an account using accurate information; no promo code is necessary! After creating your account, make a deposit and place any wager between $10 and the promotion amount for your state (read promotional info for more details). If it loses, you'll get your money back in a free bet credit.
Remember to always play responsibly, and if you think you may have a gambling problem, please click the link here to get help. Unibet also offers spending limit features to deter users from developing a gambling addiction. These can be accessed by speaking to customer service and requesting they set limits to your account. These limits can be for single bets, spending totals for days, spending totals for weeks, or spending totals for months!
FAQs
Where is Unibet currently available?
The Unibet Sportsbook's website and app are available to use for players over the age of 21 in the following states:
Arizona
Indiana
Iowa
New Jersey
Pennsylvania
Virginia
Unibet is 100% legal in these states and is backed by their local state gaming commissions that provide security and safety for their online sports bettors!
What information is required to sign up for a Unibet account?
You will need to provide some personal details about yourself to create an account for Unibet because it verifies your identity for tax purposes and confirms you're of legal age. The following info is required on the Unibet registration form:
Email address
Mobile phone number
Full name
Date of birth
Gender
Security question
Last four digits of your social security number
Mailing Address
Why does Unibet need the last four digits of my social security number?
Unibet needs this information to confirm your identity to be sure that you're of age and an American citizen. In some cases, if your registration process was interrupted or had problems, you may even need to give your entire social security number because they are trying to deter people from creating more than one account.
Do not worry about your personal information being stolen; it is backed and insured by your local state gaming commission, which means it's just as safe as an online store like Best Buy or Walmart!
What welcome bonus does Unibet offer for new customers?
The short answer is that it depends on the state and will range from $100 to $500. There's no promo code necessary; click the link above (or here) and fill out the registration form to receive your bonus!
Arizona: $250
Indiana: $100
Iowa: $100
New Jersey: $100
Pennsylvania: $500
Virginia: $100