Gamble USA strives to improve your online gambling experience. We aim to help you play safely, make informed decisions when gambling, and increase your betting knowledge through our guides.
We adhere to strict editorial integrity; our content may contain links to products from our licensed & legal US partners.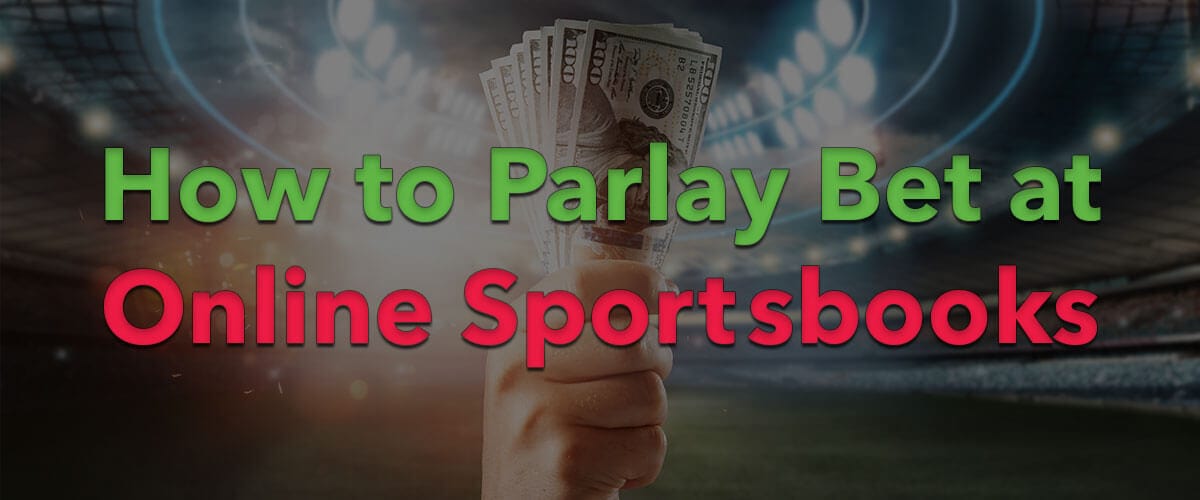 If you're an online sports bettor looking to get bigger odds on your bets, then you're probably familiar with parlay betting. If you're not, let me explain.
Parlay bets are one of the most popular forms of complex betting on online sportsbooks because of the fact it allows users to place multiple wagers for a bigger potential payout. Whether it be prop bets, spreads, point totals, or moneyline bets, users can add several different types of bets to their parlay for a better chance at winning big!
If you're new to online sports gambling and aren't sure how to make a parlay bet, read below for a step-by-step guide, information on what they are, potential risks of parlay betting, and the different types available.
Step 1: Visit a Parlay Betting Site and Register
The first step to making a parlay bet is to decide the sportsbook you want to use and register for an account. My top five parlay betting apps (in no particular order) for parlay betting are listed below:
Not all sportsbooks let you parlay bet, so the above should be appreciated. After deciding on your sportsbook, begin the registration process and enter the following personal information to create your account and verify your identity:
Full Name
Date of Birth
Email Address
Phone Number
Address
Last Four Digits of Your SSN
Step 2: Make a First Deposit
To make your first deposit, go to the cashier's page by selecting a button similar to the one pictured below based on your chosen operator.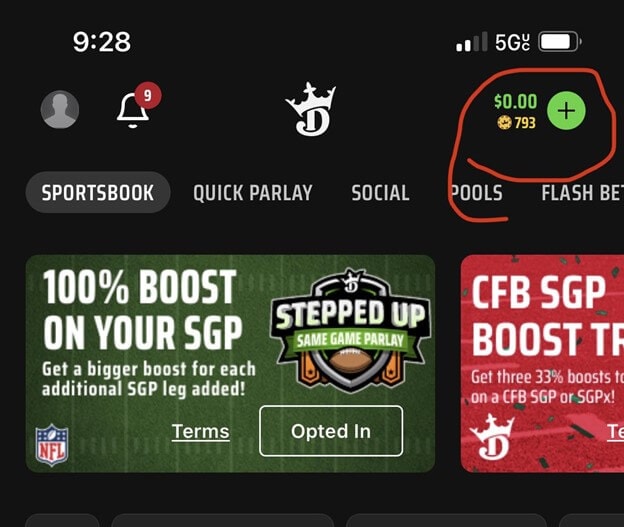 From the cashier's page, select the amount you would like to deposit, which generally has a minimum of $5-$10. Next, select your method of payment. While the options will vary based on the sportsbook you're using, it will likely feature some of the following:
Online Bank Transfer
PayNearMe Locations
Step 3: Research and Select Your Odds
Now for the fun part; choosing your bets! Be sure to do your research by looking at the injury report, checking previous matchup data, and looking at key player matchups to have the highest chance of winning your bet.
A parlay bet must have at least two legs, so be sure to add more than one to your bet slip. The bets you can add can be any of the ones listed below as long as they are on separate events; if they are on one individual game, it will be considered a same-game parlay.
Step 4: Confirm and Lock Your Parlay Bet
After you've selected all the bets, you'd like to add to your parlay, open the bet slip and review your picks and odds. Sometimes odds will change while you're selecting your bets for the parlay, so if they do, you will need to agree to the updated odds before you're able to place your wager.
Remember to enter the amount you'd like to wager in the parlay box (pictured below) and not in individual bets, or else they will not be placed together as a parlay bet.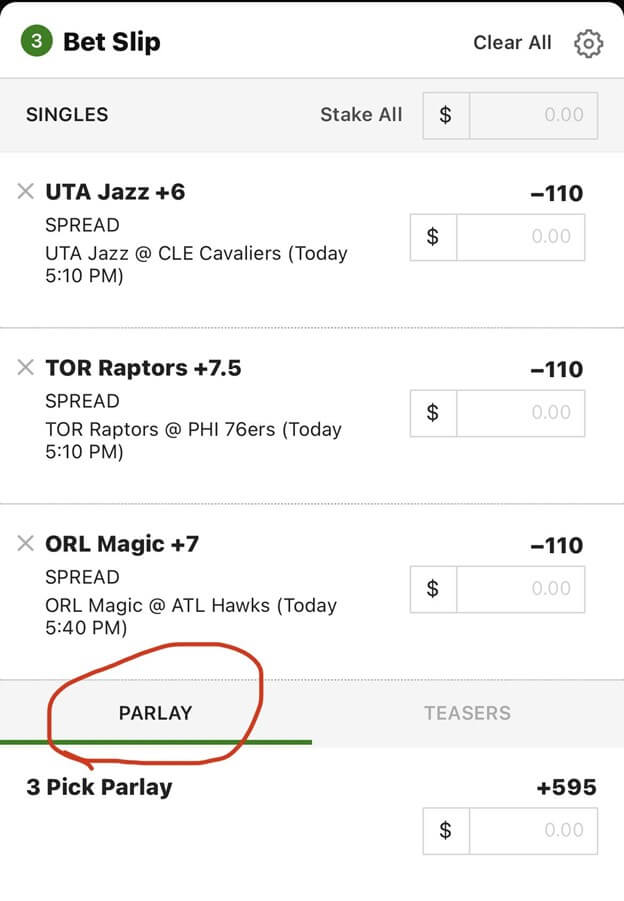 Step 5: Wait for The Outcome or Cash-out Early
After the bet is placed, you can wait for the events to unfold or cash out during the event based on how well the bet is doing.
If it's doing well, you may be given a chance to cash out for more than your initial risk but less than the total of your parlay payout. If it's not doing well, you will either receive an offer for less than your initial risk or not have the opportunity to cash out.
What is a Parlay Bet?
Parlays are a form of betting that allows users to win big by adding various bets together for a larger payout. If any of the legs of the parlay loses, the ticket will not cash, meaning every leg of the parlay needs to win to receive any money.
Because every leg needs to win, the more bets added to the parlay increases the odds, which increase very quickly after four or five teams. Parlay bets must have at least two picks but can go up to 25 legs on certain platforms.
Parlay Odds and Payouts
Parlay bets are known for their huge payouts and big odds because they can essentially be as large as you want them to be. Most sportsbooks allow ten legs in a single parlay, while some allow up to 25 legs, which means payouts can be astronomical! You can view here a list of the craziest parlay wins for inspiration.
Payouts can be so big because a parlay essentially makes a multilevel bet where the risk and winnings from each bet in the parlay are then placed on the subsequential bet in the parlay, compounding the winnings. Bets in the parlay don't need to be at different times to be accepted; the sportsbook will effectively do that on its own when accepting the parlay.
Remember, every leg of the parlay needs to be a winner for the ticket to cash, so don't get out of your head when you see a huge payout; the odds are that high because that's how unlikely it is that all of the bets happen.
Parlay Bet Types Explained
There are several types of parlay bets, as they are one of the most versatile and complex forms of sports betting. Below are some of the most popular types of parlay bets, how they work, and how their odds might compound for a given scenario.
3-team Parlay Bets
Three-team parlays are one of the most common forms of parlay betting and, in my opinion, are a perfect size. Below is an example of a three-team parlay containing NBA spread bets at -110 odds to simplify things and make it easier to understand.
Sacramento Kings -6 (-110)
Minnesota Timberwolves +2.5 (-110)
Chicago Bulls -2.5 (-110)
These three wagers by themselves at $100 each would only net bettors $90.90 for each bet, meaning you will risk $300 to win $272.70. Parlaying these picks together makes the odds of the bet +595, meaning a $100 bet would win $595.
4-team Parlay Bets
Like a three-team parlay, a four-team parlay is a great size to make your bet because it makes your odds better, but it's less aggressive than a seven or eight-team parlay. Typically, a four-leg parlay will feature odds that are around 12:1, although these will change drastically based on the odds of each leg.
Let's continue to build off of the example above:
Sacramento Kings -6 (-110)
Minnesota Timberwolves +2.5 (-110)
Chicago Bulls -2.5 (-110)
Philadelphia 76ers -9 (-110)
The odds roughly double between the three and four-team parlay bet, so keep in mind that each leg added makes the bet a lot more difficult to win but also pays out a lot more.
Same-Game Parlays
Same-game parlays are exactly what they sound like; parlays filled with bets from the same game. Most sportsbooks offer SGPs nowadays as they've become one of the country's most popular forms of sports betting!
SGPs are similar to parlays except for how the odds are calculated, and the lines are given. For example, the regular point total on the Kings game is 237.5 at -110 odds for the over; however, when you select the same-game parlay button, those odds change to -115.
The reason that online sportsbooks do this is that it allows them to limit their own risk to bettors who are making correlated parlays.
Correlated Parlay Betting
Correlated parlay betting is the practice of betting lines that increase the odds of the other lines of the parlay winning, which will need to be done through a same-game parlay. For example, if you wanted to bet the first half over on a Philadelphia 76ers game, you should parlay that with the first quarter over as well.
People do this because a first-half over will require a lot of points in the first two quarters, meaning that if you believe that bet will win, you will think that there would be a correlation to a lot of points being scored in the first quarter. Some sports betting services will lower the odds of correlated parlay bets because they know they have a higher chance of winning.
Round Robins
Round robins are a great form of parlay betting that requires at least three teams because they break down parlays into several combinations of smaller parlays. So, let's take our three-team parlay example from above and turn it into a round-robin below.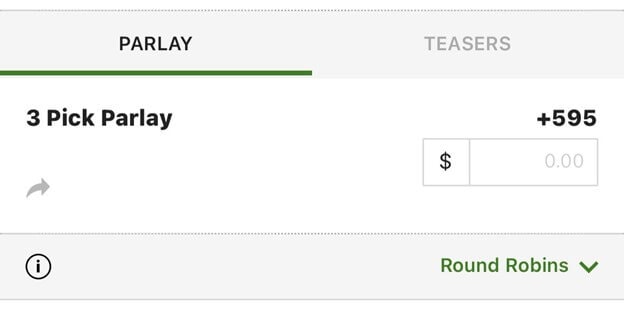 The original parlay contained three spread bets at -110 odds each that combined to equal +595. If we were to make this a round-robin, we would break the three-team parlay into three separate two-team parlays at +264 each.
Parlay 1: Sacramento Kings -6 & Minnesota Timberwolves +2.5 (+264)
Parlay 2: Sacramento Kings -6 & Chicago Bulls -2.5 (+264)
Parlay 3: Minnesota Timberwolves +2.5 & Chicago Bulls (+264)
Doing this doesn't yield as much winnings as placing a standard parlay does with the same amount of risk; however, it does help limit losses because it allows a larger margin of error. While a parlay is lost if one of the bets loses, a round-robin can still yield results if the other two are winners!
Round robins are not limited to two-leg parlays either; users can add as many as 25 picks and break them down into nine-leg parlay combinations on some sportsbooks like with round robins on FanDuel and DraftKings!
Teaser Bets
Teaser bets are essentially large parlays on alternate spreads where the user buys or sells points in the point spread (through the odds they take) for a better chance at winning or better odds. Teasers move the original line by a specific number of points, meaning a six-point teaser will increase the underdog's point spread by six points or increase the number of points taken away from the favorite by six points.
Doing this provides users with much better odds if they take the more difficult favorite; however, it can also give bettors worse odds if they take the easier underdog. Typically, users take several bets and tease them together for a better spread and a better chance of winning.
The only bets that can be teased are point spreads and point totals; moneyline bets cannot.
Parlay Betting Dangers
Parlay betting is a lot of fun because it allows users a better chance at winning more money than they would through straight bets. Because of this, many people lose tons of money because they get caught up in the potential payout and lose their heads.
Parlays can only cash if all of the legs involved win, and the odds you're receiving are so big because that's how unlikely it is to happen, so if you're looking at +125,000 odds, don't bet your entire bankroll; bet $1. Sportsbooks love when casual bettors throw a lot of money on a large parlay because many people (myself included) initially don't realize how unlikely it is that all of these things occur.
You might be looking at the point spreads thinking they are 50/50 winners, so how hard would it be to pick 4-6 winners out of a 20-game slate? The answer is incredibly hard. Sportsbooks are built on users believing they can win more than they lose on parlays, and the only reason they can payout such large quantities is that those users are wrong.
When you're betting parlays, bet a quarter of your normal unit of risk. If you normally put $100 down on straight bets, only put $25 on your parlays. If you still don't believe me, I bet $1 on a four to 10-leg parlay every night on the NBA, and I've never won anything over six legs.
Parlay Betting Opportunities
There are parlay opportunities daily because users can add any sport as long as it's a qualifying bet, meaning one parlay can potentially contain a point spread, point total, or moneyline bet from the World Cup, the NFL, and the NBA!
Something I personally enjoy doing on NFL Sunday is making parlays based on the slate of games at each specific time of the day. For example, there are always more morning games than afternoon games, so I place a larger parlay in the morning and a smaller one in the afternoon, concluding the day with a same-game parlay for Sunday Night Football.
Another type of parlay I like to build is a parlay containing several different sports! For example, last Sunday featured NBA, NFL, and NHL games all on the same day, so I decided to choose one bet from each sport I was most sure of. Doing this allowed me to narrow down my favorite picks from all of the bets available on the day for a better chance to win!
FAQ's
How do you parlay a bet?
Placing parlay bets on most sportsbooks can be done by selecting multiple bets to your bet slip, then going to the parlay option in your bet slip and selecting the amount you'd like to risk. Remember, all wagers in your bet slip will be added to your parlay.
Is a parlay a good bet?
Well, that depends on the odds of the bet and how many legs it features. Bigger odds mean a less likely chance of winning, so the higher your odds and the more legs featured on your bet will decrease your odds of actually winning. While you could potentially pick 10 moneyline favorites for odds of +200, every single bet will need to win for the bet to cash, meaning there's more of a chance something goes wrong.
How much does a $20 parlay bet pay?
It depends on the parlay odds because parlays can range anywhere from -1,000 to +100,000, depending on the selections made. If I were to place $20 on a two-team parlay featuring two-point spreads at -110 each, I would receive odds of +264, which means that if I win, I will win $72.89.
What rules apply to parlay bets?
The rules that apply to parlays are that all wagers need to win for the ticket to cash, there needs to be at least two or more bets (the max number of bets allowed varies by sportsbook), and each bet will need to be placed on different games. If you'd like to place multiple bets on the same event, you will need to make same-game parlays, which can be done by selecting the same-game parlay button on the event's page.
Can I parlay props?
Yes! Users can choose from prop bets, point spreads, point totals, moneyline bets, and even alternate spreads or totals to parlay together! It depends on the sportsbook's rules, but some allow users to parlay futures bets together.

If you'd like to parlay prop bets from the same event, you must select the same-game parlay button from the events page before you build your wager.
What is a push in parlay betting?
A push is neither a win nor a loss, which essentially means that the sportsbook voids the bet. If your other bets win, the odds from the bet that was pushed will be taken out of your potential payout, and you will still receive some of your money! However, if one of the bets loses, you will lose all of your risk because the parlay as a whole lost.