Gamble USA strives to improve your online gambling experience. We aim to help you play safely, make informed decisions when gambling, and increase your betting knowledge through our guides.
We adhere to strict editorial integrity; our content may contain links to products from our licensed & legal US partners.
The BetRivers Sportsbook app has one of the widest choices of bet types available. You can make money line bets, point spreads, straight bets, teasers, totals, props, and of course, parlays. Parlay betting at BetRivers is really easy to do, but if you have never made a parlay bet before, you probably wonder how to get started.
Online sports betting is expanding right across the United States. Anyone located in states with a legal gambling market can access several top-quality online sportsbooks and betting apps. Whether you like placing sports wagers recreationally or are a more serious bettor, you can bet on multiple sports games on the go thanks to the latest innovative gambling software on mobile betting apps.
One of the most popular types of wager you can place on a sportsbook is the parlay bet. The best apps to parlay bet will allow you to participate in multiple sports games wagering on all significant domestic and international sporting leagues like the NFL, NBA, and MLB. It would be a surprise these days if you found a sportsbook won't let you parlay as parlay bets have become a favorite among sports gamblers worldwide.
One of the reasons a parlay is a popular type of sports bet is the potential payout for players is humongous. One of the market-leading sites that offer a fantastic selection of betting options, including parlays, prop bets, and teasers, is the BetRivers sportsbook. The BetRivers sports betting app allows you to combine multiple bets in the same bet and enjoy massive payouts.
BetRivers is an arm of Rush Street Gaming and currently operates in over 6 states, including NY, CO, and IN. It has established itself as one of the best legal online sportsbooks in the US. Rush also runs the PlaySugarHouse app which runs on the same platform so the process is exactly the same with the SugarHouse app too.
This step-by-step guide will help with anyone wondering how to bet parlay on BetRivers. We will cover how to do a parlay on BetRivers, how to cash out a parlay on BetRivers, how to do a 5 team parlay on BetRivers, what to do if you see a BetRivers parlay not working message, and more. We will also cover the basics of parlays, such as how the betting odds are affected and what goes into a parlay wager.
What is a Parlay?
Before we talk about placing a parlay bet on BetRivers, it is essential to know what this type of wager is and how it differs from a single-game bet. Instead of making several single bets, a parlay bet combines two or more bets into one wager. Picking more than one winner is more difficult, but the trade-off is the rewards for winning are higher.
For you to win a parlay bet, every selection must win. In other words, if any bet within the parlay wager loses, the total bet loses. A parlay can be a combination of point spreads, moneyline bets, and the over/under option. You may also find some sportsbooks offering different kinds of prop bets and half-time wagers. Depending on the type of parlay bet you make, the payout could be minor or significant.
So, let's say you want to parlay on BetRivers. You could select a parlay wager that combined the Green Bay Packers -10 Vs. the Dallas Cowboys and the Kansas City Chiefs -4.5 Vs. the New England Patriots in any game week.
For the above parlay to win, both the Cowboys and the Chiefs would need to cover the spread. There must be a minimum of two different bets in a parlay wager, but you can have more than two legs if you wish as well. The more legs you have, the higher the return on a winning bet. You can also use the BetRivers cash-out option if some of your legs have won, and you would rather cut your losses and get at least some money back rather than wait to see if the other legs win.
How to Parlay on BetRivers
Before you can benefit from those BetRivers parlay payouts, there are some steps you must take. Let's look at how to signup for an account before delving into how to do parlay bets on BetRivers.
Step #1 Create an account
It may seem obvious, but you must have a valid online account to place bets on the BetRivers sportsbook. You must be at least 21 years of age and have a valid Social Security Number to register.
Getting set up is simple. First, go to the BetRivers.com site on your mobile or desktop. If you already have an active account, click the  'Login' tab on the homepage. If not, click the 'Join Now' option.
You must then fill in the four steps of the registration form, and when step four has been completed, click the 'Continue' tab. BetRivers will now verify your details. Once the verification is successful, you can log in and start betting on horse racing, football, basketball, soccer, and more.
Step #2 Adding bets to your bet slip
Not that you have an active betting account, you can now start placing a parlay bet. On the BetRivers sportsbook, you can find streaming options, most featured, and a wide range of sports. On the left side of the lobby page, you can find the most popular games and all of the sports available in the book. There is also an option to search for your favorite sport/event.
Choose the ports and events you'd like to bet on. Then select the odds you would like to play. Each selection will be added to your bet slip.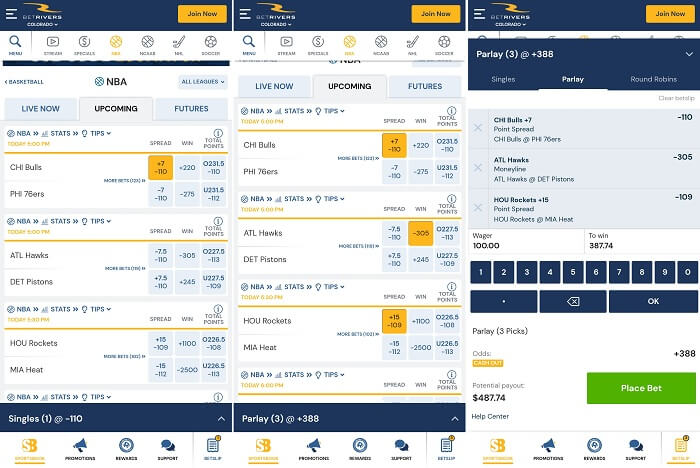 Step #3 Create your Parlay bet
The parlay section automatically appears once you have added more than two eligible wagers to your betslip. Click the 'Parlay' tab. This is where you will find all the selections along with the odds. There will also be cash-out odds available at the bottom of the bet slip.
If you change your mind, you can even delete a selection by clicking the 'X' option. If you wish to remove all the selections at once, click the 'Clear Betslip' option.
Enter the amount you would like to bet in the 'Wager' box. The betslip will then show the potential payout.
Step #4 Submit your bets
Make sure you et up your parlay bet as fast as possible as the markets, odds, or availability might change. This happens all the time for live games and affects live betting options.
Click the 'Place Bet' option. You will be taken to a confirmation screen where you can check the selections and potential payout and confirm the bet. Your parlay bet will be settled only after all the individual bets are settled.
You can also check the sports betting section for any BetRivers parlay limit. Check out our parlay calculator here if you want to work out how much your parlay might payout before creating it.
How to bet Same Game Parlays at BetRivers
If you don't want to place a multi-game parlay on BetRivers, the platform offers same game parlays (SGP's). This lets you use the parlay option on the same event. On BetRivers, you can utilize the parlay builder feature to build, create, and place same-game parlays. This is a straightforward process, just choose the game you want to bet on, and then navigate to the tab titled "Same Game Parlay."
Once you are there, you will see all of the available selections displayed that can be used to create a same-game parlay. It is then just a simple matter of tapping the selections you want and adding them to your betslip. Not all games have the BetRivers Same game parlay option, only those that show the same game parlay option at the top of the markets.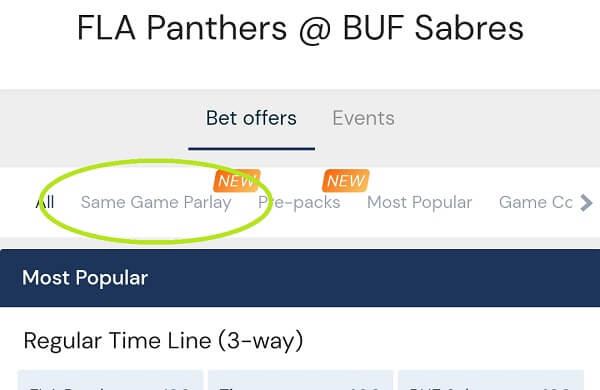 BetRivers Jackpot Parlay – what is it, and how do you do it?
The BetRivers sportsbook has a jackpot parlay feature which is unique to this site. When you click the bet Now' tab on the Jackpot Parlay Feature of the app or desktop site, it will automatically select eight random combination bets.
If you are satisfied with your selection, you can tap the 'Place Bets' option. However, if you want more control over these wagers, follow the below steps:
Click the Jackpot parlays option on the BetRivers app/site.
Choose the sports you wish to bet on.
You can remove any bets from the list by clicking the 'X' option.
Choose the time period that you want the wager to be settled.
Select the number of bets you want in the jackpot parlay.
Enter your stake and click the 'Place Bet' button.
Finally, a bet slip will appear with all of your choices, and you can confirm the bet by clicking the 'Place Bet' tab.
BetRivers enables its users to bet on multiple games with ease, and you can use your $250 welcome bonus on a parlay wager if you wish.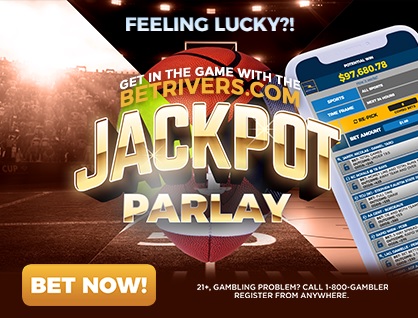 FAQs
How does parlay insurance work on BetRivers?
PointsBet sportsbook offers parlay insurance as part of its ongoing promotions. It works by offering a $25 refund to customers who place a 4+ leg parlay on any significant sport such as the NFL, NBA, MLB, etc.