Parlay betting is now one of the most popular bet types available. Most sportsbooks offer them, but FanDuel Parlays are definitely the most popular. If you are new to this bet type, you are probably wondering how do you parlay on FanDuel. Well, it's really straightforward.
Online sports betting is growing across the United States. Bettors across the nation have more access than ever to a range of top-quality betting apps and features. Additionally, there is a wide range of bet types available. Whether you want to place a single bet or multiple bets on the move, you can thanks to modern betting apps with intuitive features.
One of the most popular sports bets used for any sport is the parlay wager. The best parlay apps will allow you to place game parlays on the NFL, NBA, MLB, and other major leagues. It is extremely rare these days to find a sportsbook that won't let you parlay, as they have become one of the most common bets found on the bet slip.
Many online sportsbooks offer the ability to place parlay bets, and the FanDuel sportsbook is one of the best apps for parlays. We have provided an extensive step-by-step guide below if you are looking to place parlay on FanDuel. We will cover how to bet parlay on FanDuel, how to do a 5 team parlay on FanDuel, how to cash out a parlay on FanDuel, and more. We will also provide some background on the FanDuel app and explain why it is one of the best options if you want to place a parlay bet.
Up To $1,000 Risk Free Bet
21+. T&C Apply
21+. T&C Apply
Convenient banking
Massive choice of sports
Up To $1,000 Risk Free Bet
21+. T&C Apply
21+. T&C Apply
How to bet parlays on FanDuel
As it stands, FanDuel is one of the easiest (and best) sportsbooks to place a parlay with, it is really easy to do, just follow these steps:
Step 1: Create A FanDuel Account or Sign-In
Naturally, before placing a FanDuel parlay, you must sign in or register a Fanduel betting account. The FanDuel online sportsbook is one of the best around and has a fantastic welcome bonus of up to $1000! You can create an account at fanduel.com/sportsbook in a matter of minutes.
Creating an account with FanDuel is really easy and it's essential to open your account before you can place any type of bet. Simply follow the instructions to register your account, and you can be placing a multi-game parlay on FanDuel within minutes. Please note that you will be required to provide some personal details such as name, address, email, and birth date to complete your registration.
If you already have an account, sign in at  fanduel.com/sportsbook or log in using the app.
Step 2: How To Add Bets To Your Betslip
Once you have created a FanDuel account, you can then start looking to place your wagers. If you are wondering how to do parlay bets on FanDuel, the following information is how you get started. The first thing you must do is find the FanDuel bets in which you want to play.
FanDuel has many markets to choose from, and it is entirely possible to add numerous sports into your parlay. These can include soccer games, an NBA game, or matches in the NFL. You will need to navigate the site and click the odds you wish to play to do this.
Once you click a set of odds, they will appear in your bet slip, and then you can begin to build your parlay wager. You can add as many selections into your betslip as you wish. As you add more choices to your betslip, the option to submit a parlay bet will then appear.
Step 3: Create Your Bet
From that point, it is simply a case of placing your bet. In order to do this, you must first select how much stake you would like to risk. This is a straightforward process as all you are required to do is enter your stake in the parlay "Wager" box located in your betslip.
It is worth checking the FanDuel parlay limit and whether FanDuel cash out is available before you confirm your choices. Some markets may be restricted on specific parlay bets, so make sure you read all of the information before confirming your selections.
The parlay bet box is a section filled with crucial information. It includes a space for how much you want to wager in addition to the odds in the top right-hand corner of the box. There are also the FanDuel parlay payouts you could win in the "To Win" box. If you really want to maximize your earnings, you could use a parlay calculator to inform you how valuable a straight bet is compared to a game parlay bet.
Step 4: Place Your Wagers
The next step is simply a case of placing your bets. At the bottom of your betslip, you will see a green button that reads "Place Bets." Once you click that, your bets will be submitted. All you need to do is sit back and keep your fingers crossed that your winnings will start creeping up.
Changing your betslip selections if needed
While you are working out how to do a parlay on FanDuel, you can add bets to your betslip or remove them before submitting your bet. This can be done very quickly with just a single click. Alongside every selection in your betslip, you'll also find a red trash can. Once you click the trash can, the selection will disappear from your betslip. You may change your mind on who is going to win or want to back a completely different team. Well, that's fine, just add and remove your picks as required.
If you have any issues placing a parlay, then you may want to read out guide: Why won't sportsbooks let me parlay?
What Is A Parlay?
Before becoming familiar with how to place a parlay bet on FanDuel, it is worth knowing what a parlay bet is. The good news is, they are one of the most basic markets to understand. A parlay bet is a wager that includes two or more selections placed within one bet. Consequently, you could place the Seattle Seahawks to win, the Dallas Cowboys to win, and the Las Vegas Raiders to win, all with the same stake.
However, all three of those teams must win in order for you to get a payout. The benefit of this is that when you combine multiple bets, your odds will be boosted. Conversely, the downside is that it only takes one team to lose for the whole bet to fail. It is a high-risk, high reward wager.
What Is A Same Game Parlay on FanDuel?
FanDuel is the first online sportsbook to launch a same game parlay bet in the United States. Same game parlay bets combine wagers from the same game.
For example, in an NFL game (let's say the Green Bay Packers against the Pittsburgh Steelers), a same game parlay could contain the following betting options:
Packers to win (Moneyline)
Devante Adams to score over two touchdowns
Aaron Rodgers to throw for over four touchdowns
Total points over 22.5 points
Steelers to win first quarter
If you are interested in same game parlays, the FanDuel sportsbook is a fantastic option.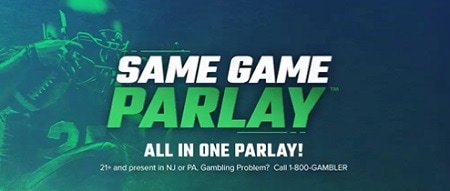 How To Same Game Parlay on FanDuel?
Placing a same game parlay in FanDuel is exactly the same as placing a normal parlay with the book, except that your selections are all from the same game. Tap on the game you want to show all the available markets for the fixture. Then simply tap on the odds of the selection you want to make. This then adds the selections to your betslip. Once you are happy with your choice, click on betslip, enter the amount you want to wager, and press the big green button to confirm your bet.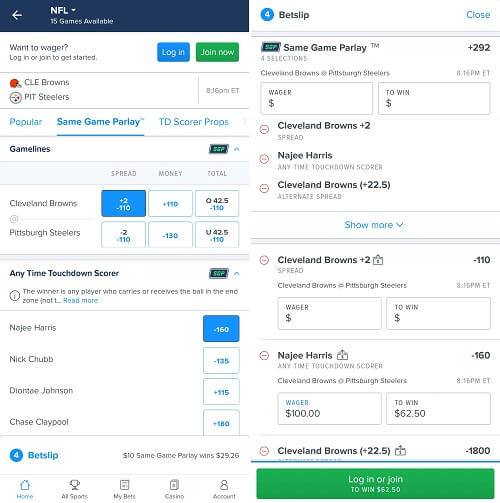 How Does A Same Game Parlay Work With FanDuel?
A straightforward parlay bet combines two or more selections from different games into one bet. The same game parlay performs the same function, but all selections must be from a single game. For example, the same game parlay often links outcomes such as half-time result, over/under points, home team points, point spread, QB passing yards, and individual player props from the one game.
Just remember, if you want your bet to qualify for a same game parlay, then follow these steps:
Find your match: First, you need to choose your game and then click on the same game parlay tab.
Assess your betting options: Once you choose your parlay legs, choose and place your bet (you will see your potential payout).
Watch the match live: You can follow the result/outcome of your parlay in the live bets tab.
Parlay betting is a more advanced way of placing a bet. If you are new to sports betting, particularly online or mobile, you may want to first read our guide on how to bet on FanDuel which covers all the basics of placing your first wager.
If you are ready to get involved in the action, sign up to the FanDuel sportsbook today and claim your risk-free bet up to $1,000 in site credits!
FAQs
Am I eligible to place a FanDuel parlay bet?
You must be at least 21 years of age to create a FanDuel sportsbook account. You can sign up from any state but must be in a state where FanDuel is legal to place a parlay.
Can you cash out on a FanDuel same game parlay?
Yes, you can. The ability to cash out on a SGP with FanDuel is not available on every bet, but the majority, you can cash out and settle your bet early. You can check if your bet qualifies in your account, under my bets. If your SGP is available to cash out, you will see the green Cash Out button with the Cash Out Value next to it.
Can you cash out a parlay early FanDuel?
Yes, on selected FanDuel parlays, you can cash out your bet early. You can check if your parlay bet is available for cash out under active bets in your account. If you can cash out, the green cash out button will show along with the cash out value. Just press the button to cash out the bet,