PointsBet sportsbook is one of the fastest-growing sports betting operators in the US. Packed full of features and betting markets, they are taking the US by storm. One of the most popular features of the book is parlay betting. If you have never placed a parlay before, you probably have a few questions, like how do you parlay with PointsBet.
PointsBet has made a huge splash in the market with their unique pointsbetting wager feature in addition to offering numerous bet types. The rewards scheme is one of the best around, offering a rewards point every time you wager. With daily odds boost promos and bonus bets, it is easy to see why this book is popuar. Consequently, the brand has expanded with PointsBet Kansas, PointsBet NY, PointsBet NJ and PointsBet Michigan all live and available.
One of the most prominent sports bet types among players is the parlay bet and the same game parlay. The best apps to parlay bet will allow you to place game parlays on the NFL, NBA, MLB, and other major leagues. Nowadays, it would be a surprise to find a sportsbook that won't let you parlay, as they have grown to be near the top of the list of popular bet types at online sportsbooks.
Lots of betting sites offer the ability to place parlay bets, and the PointsBet sports betting app is one of the most popular in the country. We have provided a detailed step-by-step guide below if you are looking to place a parlay on PointsBet. We will cover how to bet parlay on PointsBet, how to do a 5 team parlay on PointsBet, how to cash out a parlay on PointsBet, and more. We will also talk about the PointsBet app and explain why it is one of the best options out there if you want to place a game parlay wager.
10 x $100 Second Chance Bets
21+. T&C Apply
21+. T&C Apply
Awesome live betting
Multiple bet types
Huge range of sports & markets
Step 1: Create A PointsBet Account or Sign-In
Let's delve into how to parlay on PointsBet. Before you can claim that welcome bonus or use your two risk-free bets, you must sign in or register a PointsBet betting account. The PointsBet sportsbook is one of the best around and offers a generous welcome bonus worth up to $2,000. You can create an account in minutes at pointsbet.com. There is no PointsBet promo code required to claim this offer, and as we said, you get not one, but two risk free bet wagers. This offer comapres well to PointsBet USA competitors such as Caesars sportsbook, and you can use them on your favorite betting option such as prop bets or totals.
You can use our exclusive links to sign up today and start boosting that bankroll. Simply follow the instructions to register your account, and you can be watching the game you have bet on via NBC sports hoping for a nice payout. Please note that you will be asked to provide some personal details such as name, address, email, and birth date to complete your registration. This is for verification purposes and applies if you use PointsBet New York or play in West Virginia.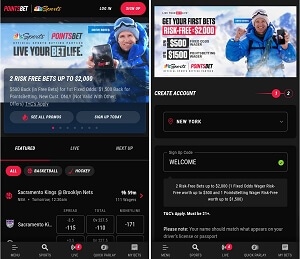 Step 2: How to add bets to your Bet Slip
Once you have created your PointsBet account, you can then look at the betting options and look to place your bets. If you are wondering how to do parlay bets on PointsBet, the following information is how you get going. The first thing is to find the sports market you are interested in.
PointsBet has multiple markets to choose from, and it is entirely possible to add numerous sports into your overall parlay. These can include games from the NFL season, an NBA game, MLB matches, or soccer matches. You will need to navigate to the market you would like to bet on and click to add it to your betslip.
When your betslip appears, it will show the sporting event you have clicked on, whether it is a regular-season NFL game or the Super Bowl. You can add as many selections into your betslip as you wish. The odds will also be visible at this stage.
Step 3: Create Your Bet
When you see the confirmation page, click 'Start Parlay.' This will be your first leg. You then repeat this with other markets you would like to bet until you reach your desired amount. You must also decide much stake you would like to risk. This is straightforward as there is a white field in the bet slip which you can enter the amount you want to bet.
It is worth checking the PointsBet parlay limit and whether PointsBet cash out is available before you lock in your choices. Some markets may have restrictions for specific parlay bets, so always read all of the terms and conditions before confirming your selections.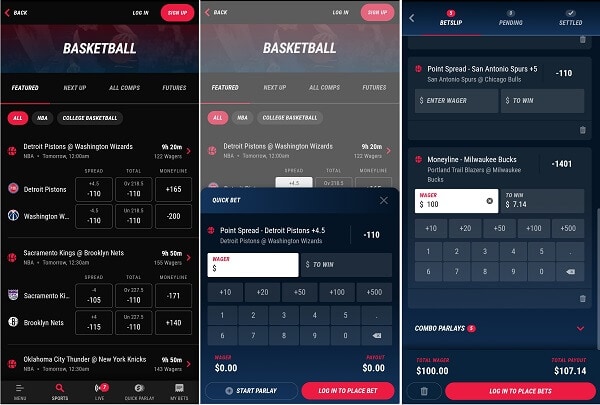 The parlay bet box is filled with vital information. It includes a field in the middle of the box for how much you want to wager, in addition to the odds on the main screen next to the matches. There are also PointsBet parlay payouts you could which appear next to the stake box with a red 'payout' color. If you are looking to maximize your earnings, you could utilize a parlay calculator to inform you how valuable a straight bet is compared to a game parlay bet.
Step 4: Place your wagers
Once you are happy, the next step is submitting your bets. Go to your betslip, enter your bet under the parlay section, and click submit. If you have claimed a parlay booster or any other bonuses, so as a risk-free bet, you can cash them in before submitting.
Changing your betslip on PointsBet
While you are working out how to do a parlay on PointsBet, you can add selections to your betslip or remove them before submitting your wager. This can be done quickly with just a click of the mouse. Alongside every selection in your betslip, you will find a white trash can in the bottom right. When you click the trash can, the choice will disappear from your betslip.
If you have any issues with the PointsBet parlay not working or you are wondering how does parlay insurance work on PointsBet, there is no need to panic. There is an extensive FAQ section on the PointsBet sportsbook covering these topics if you require assistance.
What is a Parlay?
Before getting to know how to place a parlay bet on PointsBet, it is worth knowing what this type of bet involves. Fortunately, they are one of the most basic markets to understand. A parlay bet involves betting on two or more outcomes at once and combining the wagers into a larger overall wager with escalating returns. All the best within a parlay must-win for the entire wager to be a winner.
The benefit of this is that your odds will be enhanced when you combine multiple bets. Conversely, the downside is that it only takes one leg to fail for the whole bet to lose. It is a high-risk, high reward wager.
Parlay Builder
Most sportsbooks, whether it be DraftKings sportsbook or the FanDuel sportsboook, offers a parlay builder. The parlay builder on PointsBet is called 'Quick parlay' and any bettor can find this by clicking the drop-down menu at the top left of the homepage. This quick builder allows you to organize all of your legs into separate categories. This avoids any confusion so any sport and betting market you are wagering on can be seen clearly. There is no player props with this option, however, you can get totals, moneylines and point spreads.
What is a Same Game Parlay on PointsBet?
PointsBet has become one of the latest sportsbooks in America to launch a Same Game Parlay feature. Same game parlays allow you to parlay items for the same event, such as over/under, the spread, player props, team points, and more, into one bet.
Consequently, if you like a favorite to win and a player to have a big game, then you can combine these bets for a larger payout without having to increase your bet or risk two separate bets. With a single game parlay on PointsBet, you can construct your own for basketball and football bets.
If you would rather parlay on one game instead of a multi-game parlay on PointsBet, you can do so.
How does it work?
A simple parlay bet combines two or more selections from different games into one wager. The same game parlay has the same principle, but all selections must be from a single game. For example, the same game parlay typically links outcomes such as total points, over/under points, home team points, half-time result, point spread, QB passing yards, and individual player props from the one game.
Using the same game parlay feature on PointsBet is simple; follow the below steps to get bet in quickly.
Find the Single Game Parlay option within the event page: This is located on the top menu in between PointsBetting and fixed odds.
Choose your game and betting options: Once you have selected your parlay legs, choose and place your bet (you will see your potential payout).
If you feel ready to get involved, sign up to the PointsBet sportsbook today and claim your new player offer worth up to $2,000.
10 x $100 Second Chance Bets
21+. T&C Apply
21+. T&C Apply
Awesome live betting
Multiple bet types
Huge range of sports & markets
PointsBet Parlay Booster
The PointsBet online sportsbook launched a first of its kind parlay booster which has taken the New Jersey and other sports betting markets by storm. Players can get two free parlay boosts to use every day. You can use one on same game parlays and one on traditional parlays.
Getting access to the two parlay boosts is straightforward. When you sign in to your betting account, check your current balance of booster tokens. Then set up a minimum three leg parlay in your betslip. You will notice a lightning icon appear so click that to boost the parlay. All that is left to do is place the bet and hopefully enjoy the boosted winnings you will be withdrawing.
As we mentioned, the two wagers could be a moneyline parlay or a same game parlay.
FAQs
Are all bets eligible for parlays with PointsBet?
Most bets and sports are eligible to parlay or same game parlay with PointsBet.
Can I can out a Parlay with PointsBet?
Yes, you can cash out parlays with PointsBet. Log into your account and see your active bets. Those that are eligible for cash out will show the cash-out value and cash out button next to them.
Can you bet parlay in-game with PointsBet?
Yes, you sure can. Just head to the Live page and you can see all the events happening right now with the option to parlay bet on.
Can Paige Spiranac place a parlay for me?
Whilst we arent 100% certain on this, we are pretty sure Paige wouldn't place a parlay for you. It would be nice if she did 🙂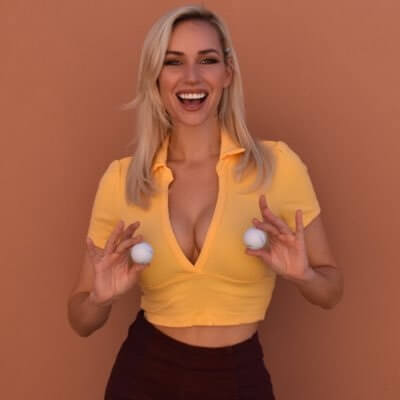 Are there any markets I cant parlay on with PointsBet?
Yes, there are a couple of times where you can't bet parlay with PointsBet. These are on correlated parlays, Name A Bet Markets and Booster Odds Markets.