Gamble USA strives to improve your online gambling experience. We aim to help you play safely, make informed decisions when gambling, and increase your betting knowledge through our guides.
We adhere to strict editorial integrity; our content may contain links to products from our licensed & legal US partners.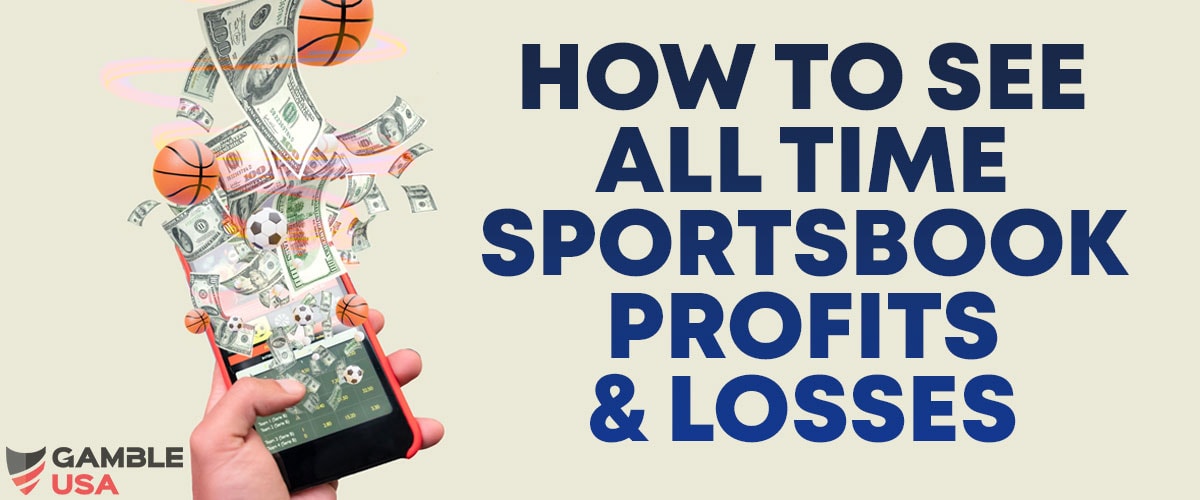 Sports betting is an exhilarating hobby that brings unique excitement to sports fans and enthusiasts alike. It's the perfect mixture of the euphoria of competition and anticipation of financial gain.
The emotional rollercoaster of watching a sports game, knowing that your bet is on the line, heightens the adrenaline rush and keeps bettors engaged. Due to this, most people can easily get distracted and start recklessly wagering large amounts of money.
Despite the compelling nature of betting, bettors can still remain responsible. One of the key ways to do so is by having an easy way to access the entire betting and transaction history of your betting online account.
Here bettors can check their financial performance by staying on track with all their account information, such as their lifetime winnings, total deposits, total withdrawals, total profit and other data related to their betting and transaction history.
So whether you are a stats nerd with an inexplicable love for Excel spreadsheets, a betting fanatic looking for ways to stay responsible, or someone ready to ditch the negative betting patterns and finally come up with a profitable betting strategy, being able to see your betting and transaction history can be a real game changer.
How to Find Your Betting History Online?
Although online sportsbooks are much happier when you lose track of your deposits during the NFL hype frenzy or other major sporting events, finding your betting history online is easy and just a few clicks away from you at all times.
Here's a general step-by-step guide to help you find your betting history online:
Open the app of your betting platform of choice or visit the official website.
Enter your credentials and sign in to your account.
Navigate to your account information. You will likely find it under "Profile" or "Account Overview."
Once you enter your account overview, search for your betting history. You can usually find it under "My Bets" or "Betting History." There you will see a list of all your past bets and all the information related to each one of them.
Besides your betting history, the Account section at most online sportsbooks will allow you to review your transaction history. Once you visit your transaction history, you can manually select a particular date or period and see all your deposits and withdrawals.
Which Sportsbooks Allow to See Profits & Losses?
Nearly all of the top-notch online sportsbooks promote responsible gambling. Therefore, bettors can expect access to their Win/Loss records within the account menu.
Here are the top 5 online sportsbooks that allow customers to see their profits and losses without hassle.
How to Find Your Profits & Losses on FanDuel Sportsbook
Finding your profits and losses record on FanDuel is incredibly easy. All you need to do is click your profile image in the top right corner and select Account Overview. From there, proceed by selecting Activity Statement.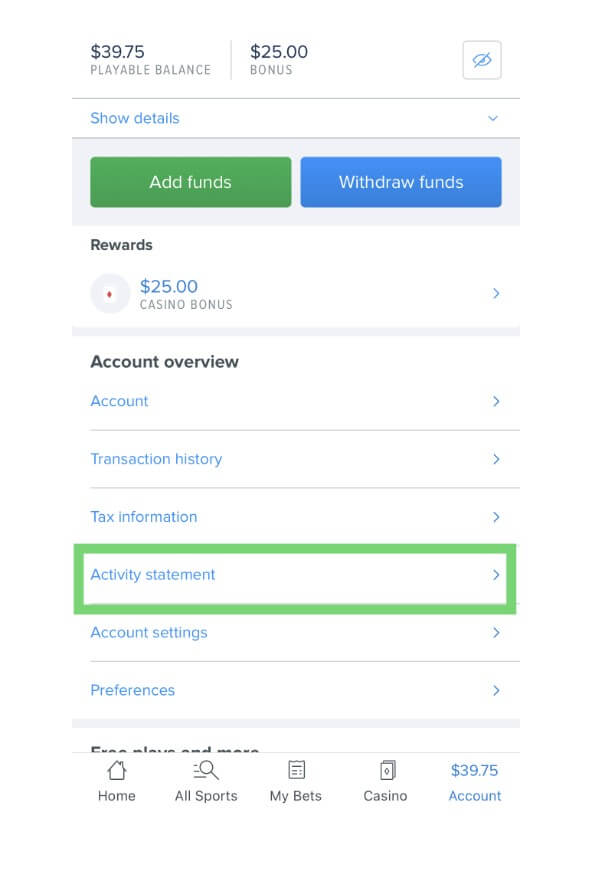 Your Player Activity Statement contains all your information, including all your bets, transactions, and contests across all FanDuel products. To get a more detailed view of your history, you can customize it and select particular periods or FanDuel products.
How to Find Your Profits & Losses on bet365
bet365 is another betting site that puts emphasis on responsible gambling. Thus, bettors can find their entire account history, including their profits and losses statement, in just a few seconds.
To access their history of transactions, bettors should visit the Account Menu in the top right corner.
From there, they can find their Win/Loss history on the My Activity or the History page. Both of these pages are easily accessible through the Account Menu, and by visiting them, users can effortlessly track all their betting activities on the platform.
How to Find Your Profits & Losses on DraftKings Sportsbook
Each bettor at DraftKings can access their transaction history through the official website or the DraftKings mobile app.
If you are using the website, start by visiting the Information section, which can be found by clicking your username in the top right corner of the screen. From there, select Account Statement – Transactions from the menu on the left side and proceed by clicking Show Summary.
If you are using the DraftKings app, click on your account icon, enter the Financial Center, and proceed by selecting Statements and Transactions. Here you will get an overview of all your transactions for any period of time.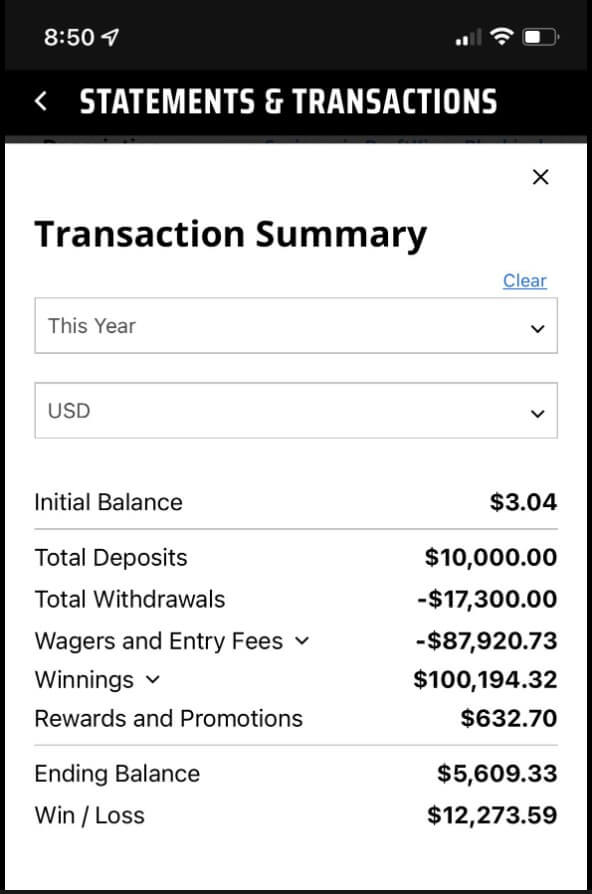 To get a detailed Win/Loss statement from DraftKings, bettors must contact the customer support team and submit an official request. Once the request is accepted, the bettor will get a detailed overview of their entire account activity for the particular timeframe.
How to Find Your Profits & Losses on BetMGM Sportsbook
It's not hard to remain responsible when you are literally three clicks away from getting your Win/Loss statement for the entire year at BetMGM.
To get your Win/Loss statement at BetMGM, click on My Account, select Settings, and then click on Win/Loss Statement. Once you click on it, you will access a new page where you can choose the year of the statement you would like to see.
How to Find Your Profits & Losses on PointsBet
Although finding a detailed breakdown of your betting history at PointsBet is not as easy as at the other sportsbooks mentioned in this article, bettors can download activity statements from the PointsBet app and website in less than a few minutes.
To do so, bettors must first navigate to the My Account section, where they can find monthly activity statements from each year. By downloading the monthly activity statements, bettors can get detailed lists of all transactions in the form of a PDF file.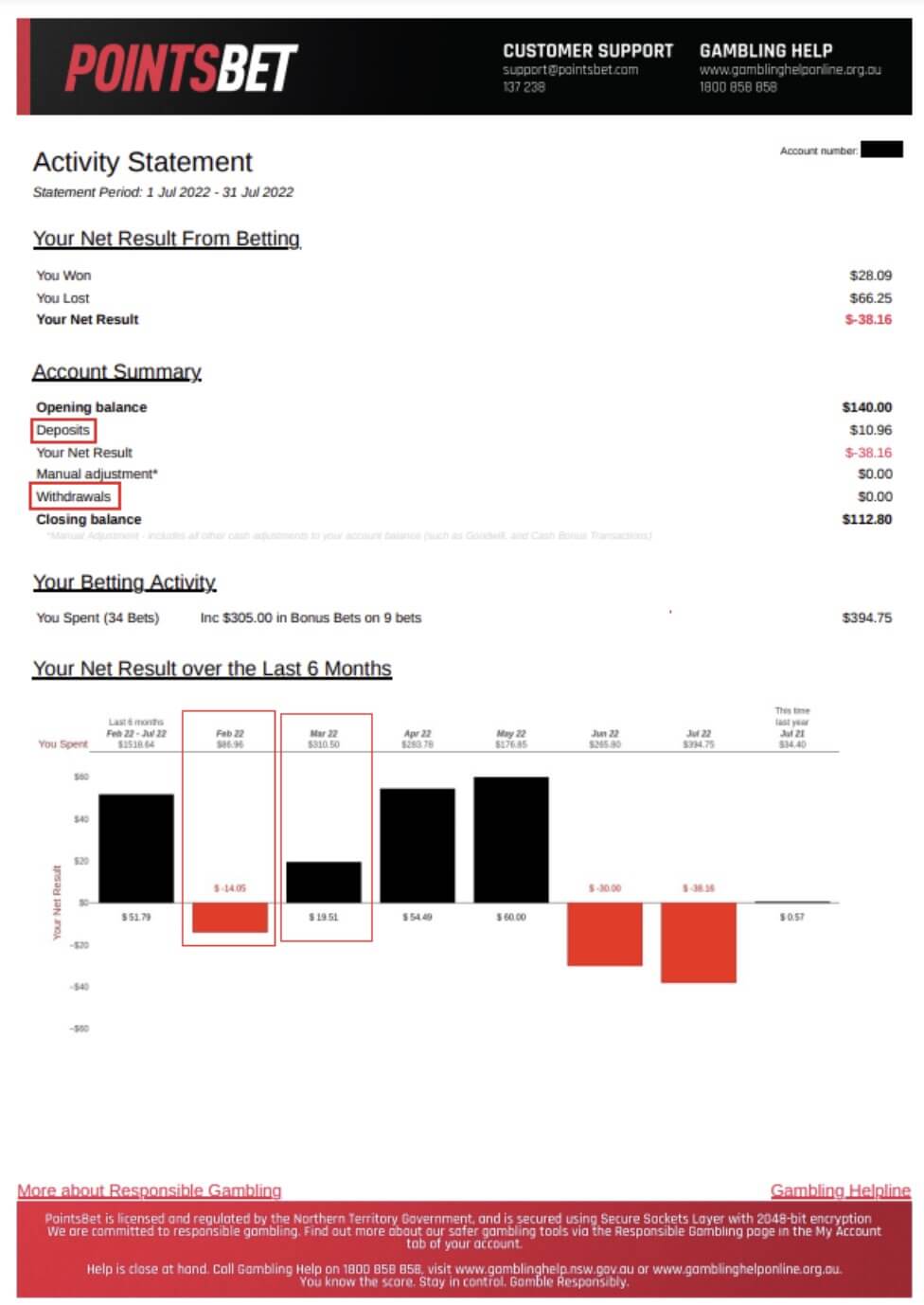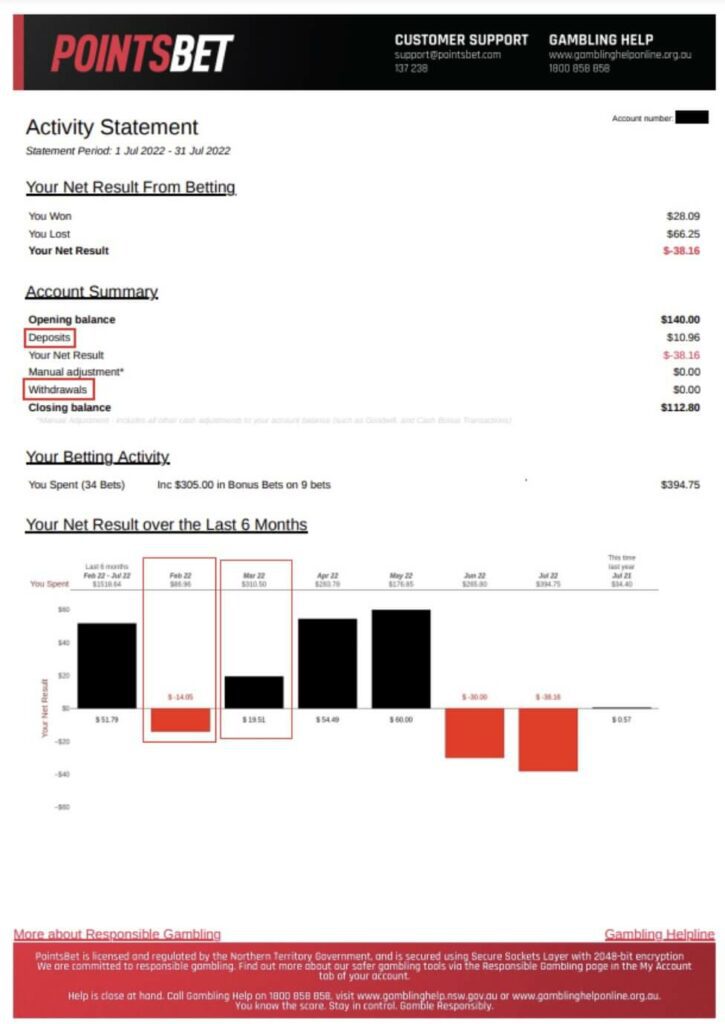 Why Know Your Sportsbook Betting History?
Having the ability to see your entire history of betting at an online sportsbook is crucial for several reasons. It is also a source of data that can help with various aspects. Here are the three most vital ones.
To analyze your performance
Not all betting markets and sports leagues suit every bettor, and although it is absolutely normal to struggle with particular sports or betting markets, there are ways to help you avoid the struggle.
The go-to way to do so is by analyzing your betting performance through the available data in your betting history. Although sports betting strategies and betting, in general, can be delicate, your betting history contains all the data that can show you your weaknesses and your negative tendencies.
It can also show you your sports betting strengths and help you utilize them to create a more profitable betting strategy.
To learn from your mistakes
We all have placed a bet against Tom Brady. Remember how it ended? Mistakes are an inherent aspect of betting, and we all seem to make them pretty often. However, there are many ways that can help you learn from your mistakes. By analyzing the data in your betting history, you can detect betting patterns that lead you to losses on numerous occasions.
Whether it's your reckless betting driven by your wild impulse, your need to chase losses, or your lazy approach when it comes to research, your betting history contains all the data that can point out nearly all your sports betting mistakes.
To remain responsible
We all know that sports betting can be compulsive, and it can easily distract you. Because of that, bettors should take measures to maintain a clear understanding of their financial situation and never let the gambling adrenaline stir them away from remaining responsible.
One of the best ways to remain responsible is keeping track of your betting history and managing your bankroll. By being on top of your sports betting history, you can have precise info on your overall balance and profitability. This info will help you make more accountable decisions and remain responsible by limiting your losses.
Moreover, limiting your losses will allow you to maintain a healthy perspective on sports betting. No matter how invested you are, you should still see sports betting as a recreational activity rather than a source of reliable income.
Are Betting History and Transaction History the Same?
Although related, betting history and transaction history are not the same.
The betting history refers to all the bets you have placed and all the details about them, like the date and time, the type of bet, the betting odds, your stake, and the final outcome of the bet.
On the other hand, the transaction history refers to all the deposits and withdrawals made from your account.
Both betting and transaction history play integral roles in promoting responsible gambling practices, so we recommend you make the most of them.
FAQs
What is my betting history?
Your betting history is a log of all your bets made at a particular betting site or online casino. In your betting history, you can find detailed information about the time you placed each bet, the betting market, the odds, the amount of money you wagered, and the outcome.
How do I find my win/loss betting record?
To find your Win/Loss betting record, log in to your account and navigate to a section where you can get details about all your previous bets, including all your transactions.
How do you check wins/losses on DraftKings sportsbook?


Click on your username and select Account Information from the drop-down menu.


Select Account Statement – Transactions from the menu on the left side of the screen.


Click on Show Summary


If you are using the DraftKings mobile app, use the following steps:


Click on your Account Icon


Select Financial Center from the drop-down menu


Select Statements and Transactions


Click on Show Summary


How do I see total wins/losses on bet365?


Visit the Account Menu in the top right corner of the screen


Click on My Activity or History