Gamble USA strives to improve your online gambling experience. We aim to help you play safely, make informed decisions when gambling, and increase your betting knowledge through our guides.
We adhere to strict editorial integrity; our content may contain links to products from our licensed & legal US partners.
To see if an online sportsbook is legal in the U.S., the easiest way to do this is to check their license. Any sportsbook providing betting and gambling has to be registered with one of the legal states and relevant state gaming commissions.
The easiest way to check is to scroll to the footer (bottom) of any online sportsbook or mobile sportsbook, and you should be able to confirm if they are licensed and provide legalized online betting.

Another way to check is by using the live chat support or help section of the sportsbook site and doing a search for "license" in the search box.
Top Legal Sportsbooks in the US to Bet On
Placing sports bets is a lot of fun and gives you an interest in the game or sport you are watching, like football, horse racing, basketball, baseball, and many other sports.
But it is not fun if you are not undertaking legalized online sports betting in a state that allows this activity or is an offshore sportsbook. Betting this way is against the law in the United States and can get you in trouble.
We have picked out our top 5 legal sports betting sites that offer online and mobile sports betting.
🏈Sportsbook
🇺🇸 No of licensed states
✍️Welcome Offer
🎁Online Sports Betting Promo 1
🎁Online Sports Betting Promo 2
🎁Online Sports Betting Promo 3

Caesars Sportsbook

22 online sports betting/mobile + New Mexico and Ontario
$1,250 risk-free bet
Same Game Parlay profit boosts
Multisport Parlay Insurance
VIP Deposit Match - 25% deposit match

BetMGM Sportsbook

18 online sports betting/mobile
3 retail
$1,000 risk-free bet
First Touchdown Scorer Insurance
One Game Parlay Insurance
Parlay+ with up to 40% winnings boosts

DraftKings Sportsbook

19 online sports betting/mobile
2 retail
Bet $5 and get $200 if the first moneyline bet wins
Same Game Parlay Odds Boosts
Daily Free To Play Pools
NFL Stepped Up Same Game Parlay 100% Boost

FanDuel Sportsbook

17 online sports betting/mobile
Up to $1,000 back in free bets
FanDuel NFL Quick Hits
3 months of NBA League Pass Free
Same Game Parlay+

PointsBet Sportsbook

12 online sports betting/mobile
Up to $500 in free bets
Same Game Parlay "Live"
PointsBet Partial Cash Out
No Rollovers Required
Signs of Legal USA Sportsbooks
Online sports betting legislation changed in the U.S. on May 14th, 2018, when the Supreme Court upheld a judgment to legalize online sports betting in New Jersey.
That judgment paved the way for legalized sports betting and many sportsbook companies to accept bets and real money wagers online.
PASPA (The Professional and Amateur Sports Protection Act) was the law that was in place to stop any state or entity from either licensing or supporting online sports betting. Professional sports teams argued that the federal ban on the sports betting bill was correct and that legalizing online sports betting put sports in jeopardy of players, coaches, and team connections, either fixing or rigging games.
In reality, this was nonsense, as horse racing has existed as a sport that Americans have been able to bet on for many years.
One thing that remains illegal in many states is online sports betting on NCAAF college sports.
To check if a sportsbook is legal, then follow the points below as a reference check.
Operating in selected states only
Online sports betting and mobile sports betting are not available in every state, and not every sportsbook is licensed in every state.
For example, below, you can see the map of locations for the FanDuel website.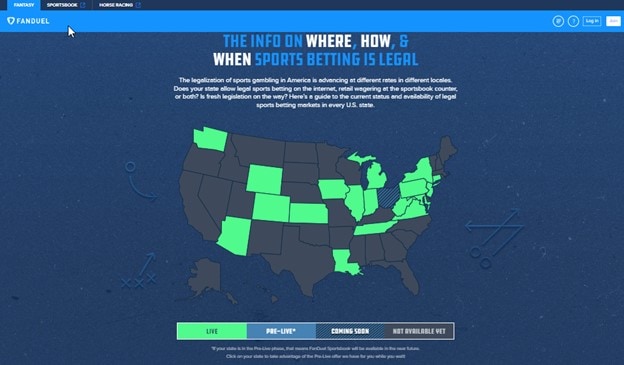 You will find similar maps on many of the other sportsbooks as well.
Licensed for each state it operates in
Please note that all states in the U.S. have their own licensing authority, and it is this authority alone that can grant a license and rights to run a legal sportsbook and online betting in that state. You can see the licensing authorities for each state which allow some form of legal sports betting in the table below.
| 🇺🇸 Sports Betting State | 🏛️Licensing Authority |
| --- | --- |
| Arizona | Arizona Department of Gaming |
| Colorado | Colorado Division of Gaming |
| Connecticut | Connecticut Gaming Division |
| Illinois | Illinois Gaming Board |
| Indiana | Indiana Gaming Commission |
| Iowa | Iowa Racing and Gaming Commission |
| Kansas | Kansas Racing and Gaming Commission |
| Louisiana | Louisiana Gaming Control Board |
| Maryland | Maryland Lottery and Gaming Control Agency |
| Michigan | Michigan Gaming Control Board |
| Nevada | Nevada Gaming Control Board |
| New Hampshire | New Hampshire Gaming Regulatory Oversight Authority |
| New Jersey | New Jersey Division of Gaming Enforcement |
| New York | New York State Gaming Commission |
| Ohio | Ohio Casino Control Commission |
| Pennsylvania | Pennsylvania Gaming Control Board |
| Tennessee | Tennessee Education Lottery Corporation |
| Virginia | Virginia Lottery |
| Washington | Washington State Gambling Commission |
| Washington D.C. | Office of Lottery and Gaming |
| West Virginia | West Virginia Lottery |
| Wyoming | Wyoming Gaming Commission |
Partnered with a gambling facility in each state
Many of the big sportsbooks will also have retail sports betting partnerships allowing them to provide a sportsbook at a physical location.
Before sports betting online became legal, other forms of betting were licensed. These included, land-based tribal casinos, commercial casinos and resorts, slot machine gaming, and racetracks, where tote and pool betting has existed for many years as a form of retail sports betting.
Since the laws have changed, sportsbooks have partnered with these retail locations and tribal casinos because they offer automatic access to a captive audience of potential online sports bettors. In the example below, you can see a screenshot of the Caesars retail location finder.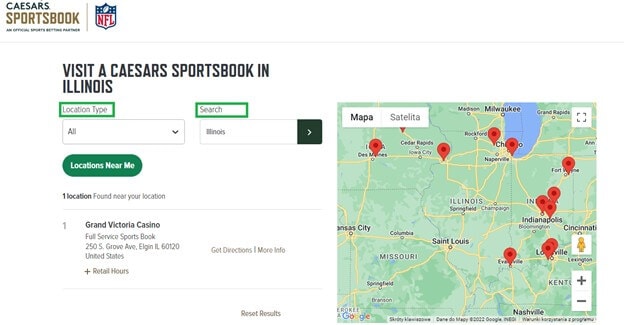 Use the "Location Type" dropdown to find which type of betting outlet you want.
Use the "Search" dropdown to choose your state.
Accepts players who are over 21 and based in the US
Betting in the U.S. is restricted to persons aged 21 years or older, and this is a sign to look for when signing up for any sportsbook. All sportsbooks must adhere to this rule.
Any sportsbook not having this age stipulation should be reviewed carefully, and you should check before signing up and making any deposits. The 21+ age needs to be shown clearly in the footer of the website. If not, this could be a sign of a potentially unlicensed sportsbook.
You will find this on sites that are run offshore, with sites like Bovada accepting players over 18.
These sites break US laws, as players who bet on these sites are, in effect, breaking the law.
Owned by a reputable company
An easy way to check if a sportsbook is licensed will be to look for reputable, well-known brands like Caesars, BetMGM, FanDuel Sportsbook, and DraftKings Sportsbook, which are all well-known and are most definitely owned by reputable parent companies.
Caesars Entertainment, MGM Resorts, and Flutter Entertainment are the owners of the above, providing an evident example of this.
Partnered with sports betting teams or institutions
Online sports betting is one of the fastest growing industries in the world, and you will most likely have seen several sportsbook brands on players' jerseys and screens and hoardings at the pitchside.
A league or sports team with sponsorship from a well-known sportsbook would not be working or entering into agreements with those companies unless they offered legal betting options.
Therefore, this is an excellent guide to show if a sportsbook offers legal sports betting.
Below you can view the partners of the various major leagues in U.S. sports.
🏟️Major Sports League
⭐Official Sponsor
🏈

NFL

Caesars, FanDuel, DraftKings
🏀

NBA

Caesars
⚾

MLB

BetMGM
🏒

NHL

BetMGM, FanDuel, PointsBet
⚽

MLS

BetMGM
Supports reputable payment options
Legalized sports betting legislation means that operators must provide safe and secure online wagering. It means that companies that offer sports betting should have methods that provide secure transactions.
Below are the leading payment options that allow players to bet online with sportsbooks like Caesars, BetMGM, and PointsBet, and play daily fantasy sports on sites like FanDuel Sportsbook and DraftKings Sportsbook.
💳Payment Method
🏈Caesars Sportsbook
🏈BetMGM Sportsbook
🏈DraftKings Sportsbook
🏈FanDuel Sportsbook
🏈PointsBet Sportsbook

Debit Card

/

Credit Card

✅YES
✅YES
✅YES
✅YES
✅YES
ACH Transfer
❌NO
✅YES
✅YES
✅YES
✅YES

E-Check

✅YES
✅YES
✅YES
❌NO
✅YES

Play+

✅YES
✅YES
✅YES
✅YES
❌NO
PayNearMe
✅YES
✅YES
✅YES
✅YES
✅YES

Prepaid Gift Card

✅YES
✅YES
✅YES
✅YES
❌NO

PayPal

/

Venmo

❌NO
✅YES
✅YES
✅YES
❌NO
Online Banking
✅YES
✅YES
✅YES
✅YES
✅YES

Apple Pay

❌NO
✅YES
❌NO
❌NO
❌NO
Cash Deposits
✅YES
❌NO
✅YES
✅YES
❌NO
Clearly outlines its terms and conditions
One of the essential things a sportsbook can do is to show a clear link to its terms and conditions page.
Most sportsbooks will have in-depth T&Cs, and it is always advisable to read through these to ensure you understand the rules of the online sportsbook.
It's key to have an understanding of how bonuses and promotions work. Many sportsbooks will hide these elements deep in the T&Cs or make them difficult to understand with many legal terminologies.
Also, any sportsbooks that have complicated wagering rules on your deposit bonus are more than likely to be unlicensed offshore sportsbooks.
Legal U.S. online sportsbooks make things simple in claiming promotions, especially the welcome bonus. Most reputable sportsbooks now have simple "risk-free bet" offers with no special playthrough requirements. This is a good sign of a legalized and licensed sportsbook in the U.S.
Runs a KYC procedure after registration
"Know Your Customer," or KYC as it is known in the online sports betting industry is a practice whereby sportsbooks take steps to make sure that you are, in fact, able to bet in the state you are applying for an account from.
This verification process also protects the sportsbook as they are legally required to carry out this check to ensure that any financial online gambling transactions cannot be classified as anti-money laundering.
The KYC process requires you to upload documents to prove your registered address and bank details and that you are the legal age to carry out online sports betting and wagering.
As a sportsbook user, this process is one way of knowing you are dealing with a licensed sportsbook. The KYC process is designed to protect the sportsbook and the player.
How to Spot Unlicensed Sportsbooks
With more and more states legalizing sports betting, it has become easier than ever to place an online sports bet. However, this has also encouraged offshore and fake sportsbooks to try and lure players to their platform with fake promises and odds that seem too good to be true. It is vital that you pick up on the signs of an unlicensed sports betting site. Some of the things to look out for include:
Bonuses that seem too good to be true
Odds and lines that seem too good to be true
Check if the sportsbook's license
Poor website design
You have called and emailed the customer support team but nobody responds
Your payouts are always delayed
The verification process takes too long
There are other slightly more subtle things that can reveal if a sportsbook is dodgy or not, but these factors and the biggest indicators. All of the sites we have listed on this page are all licensed and legal to operate in the United States. Make sure you do your due diligence on any sportsbook before you create an account.
How to legally bet on Sports Online
We have covered a lot of the information above, but the five main things to check when signing up for a sportsbook are:
Check that the state issuing authority licenses the sportsbook you choose.
Only bet with a proven, reputable brand.
Only bet with sportsbooks with limited or zero wagering requirements for welcome bonuses.
They have a "Know Your Customer" sign-up process.
They offer only legal account funding and online gambling options, as we covered earlier.
The operators listed above all meet this criteria so you can use our links to bet on a legal sportsbook online.
Legal Sportsbooks FAQs
Do legal sportsbooks accept cryptocurrencies?
Using cryptocurrencies is still a grey area when it comes to sportsbook betting. Some sportsbooks accept crypto as a payment method, but these are limited. You will need to check the payment methods for each sportsbook, as some accept crypto but only in selected states. An example is Barstool Sportsbook in VA and IN.
Are sports betting sites legal in the US?
The simple answer is YES. However, you need to look at your favorite sportsbooks to see if they are fully licensed in your state. Companies like Caesars, BetMGM, DraftKings Sportsbook, FanDuel, and PointsBet make it very clear on their sites which states they cover.
How can I bet legally on the NFL?
All major sportsbooks have great offers for NFL fans, and betting legally on NFL football is easy as long as you are on a licensed sportsbook. Once you have confirmed you are on a legal sportsbook, you can go to the main menu and are likely to see an NFL icon which will direct you to all of the various football wagers you can place.
Can I fund my account with a gift card?
Some sportsbooks will accept gift cards but check before purchasing any gift card, as a number of VISA-branded gift cards cannot be used to fund gambling-related accounts. The best gift cards to purchase are the official cards from sportsbooks like FanDuel and DraftKings.

Also, most legal sportsbooks allow you to fund your accounts with a Play+ card, a company working exclusively with licensed US sportsbooks.
Can I place a bet on College Football on my sportsbook account?
Most sportsbooks offer College Football, but you need to be aware that this is only available in some states. Some states have banned betting and wagering on College Football to protect the sport's integrity.

Some states allow betting on games but not on prop bets. This is because prop sports bets are based on individual events and players and can be open to integrity issues.

College athletes are not allowed to place an online sports bet or other types of bet on collegiate-related sports.