Gamble USA strives to improve your online gambling experience. We aim to help you play safely, make informed decisions when gambling, and increase your betting knowledge through our guides.
We adhere to strict editorial integrity; our content may contain links to products from our licensed & legal US partners.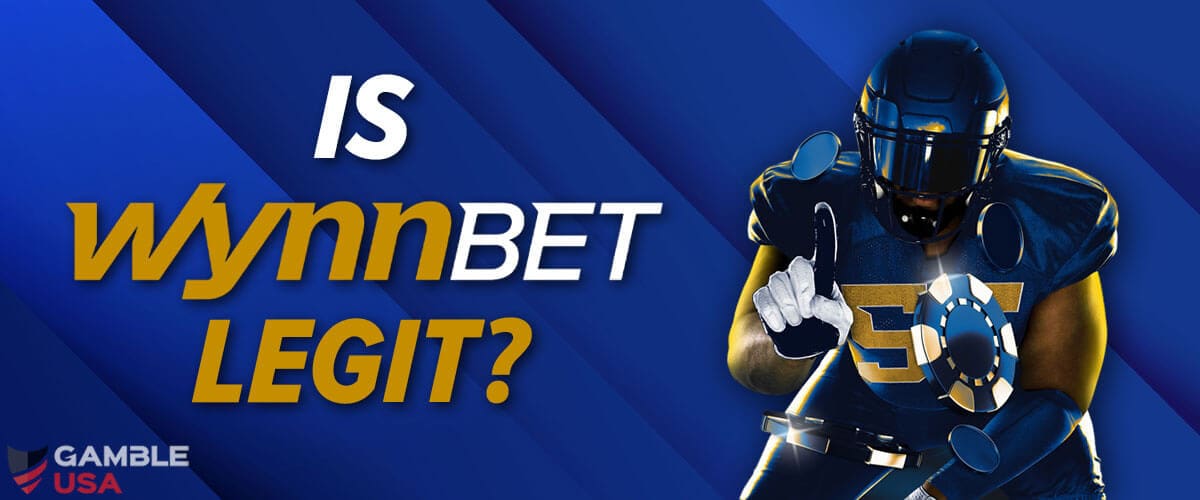 WynnBET is one of the most recent sports betting sites to arrive on the US market and that's led many to wonder, is WynnBET legit?
It's the first thought that should come to mind whenever you're signing up for a new sportsbook platform and we'll be taking a look at all of their details to either scratch them off or put them up on the list of reputable online sportsbooks.
WynnBET Pros & Cons
| ✅Pros | ❌Cons |
| --- | --- |
| Access to The Playbook betting guide | Live betting platform needs more features |
| Highly competitive odds | More payment methods could be added |
| Decent welcome offer | |
| Frequent existing customer promotions | |
Player Reviews & Comments about WynnBET
If you search for customer reviews and comments about WynnBET, you'll be bombarded with accounts claiming the worst of the WynnBET website. Their Trustpilot page has a horrible score of 2.6 as you can see in the screenshot below: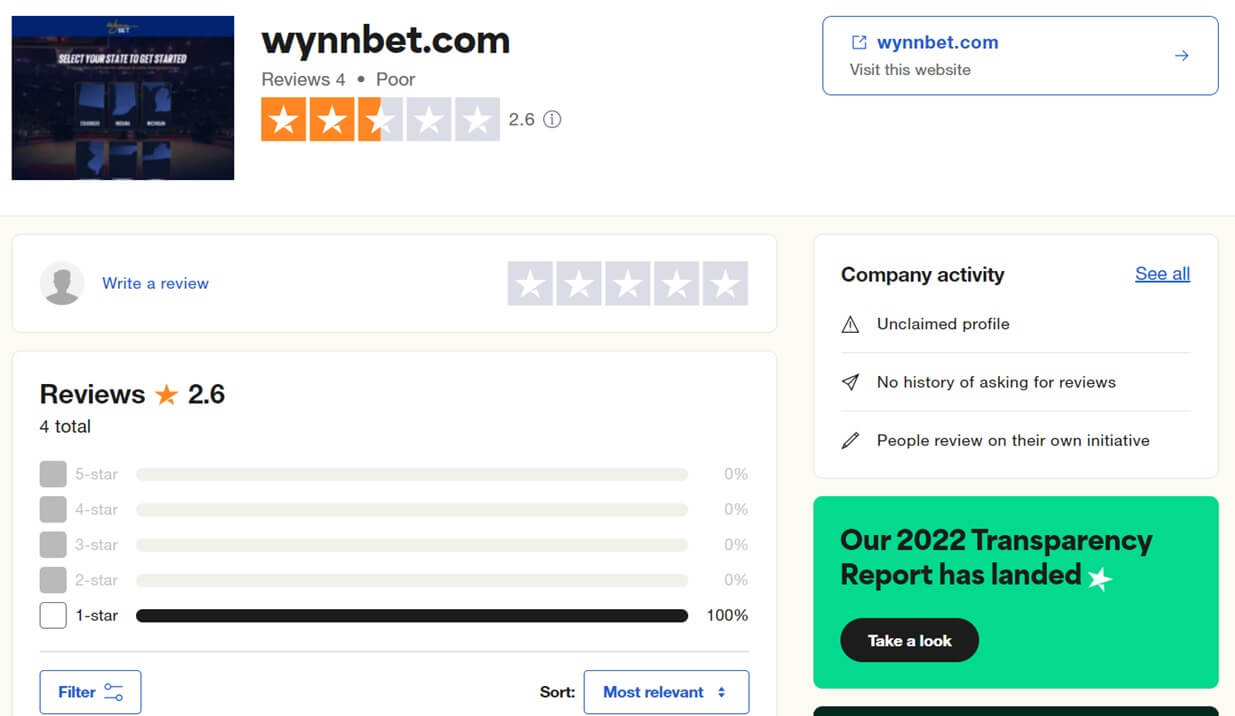 So far, there are only four 1-star reviews and we expect that to only get worse over time.
The thing about online review pages like Trustpilot is that customers will usually only sign up and post if they have something to complain about. Even the most reputable betting sites will have similar scores on these websites and it can't be considered a fair way to judge the platform.
Reddit
The best exposure you can find to authentic customer reviews would be Reddit. Other social media sites also allow authenticated accounts to comment on a platform but it's usually a hassle to scroll through all of the promotional posts and content.
By searching for the phrase 'WynnBET Reddit' you'll be able to browse through all of the threads where the WynnBET sportsbook is mentioned. We came across these: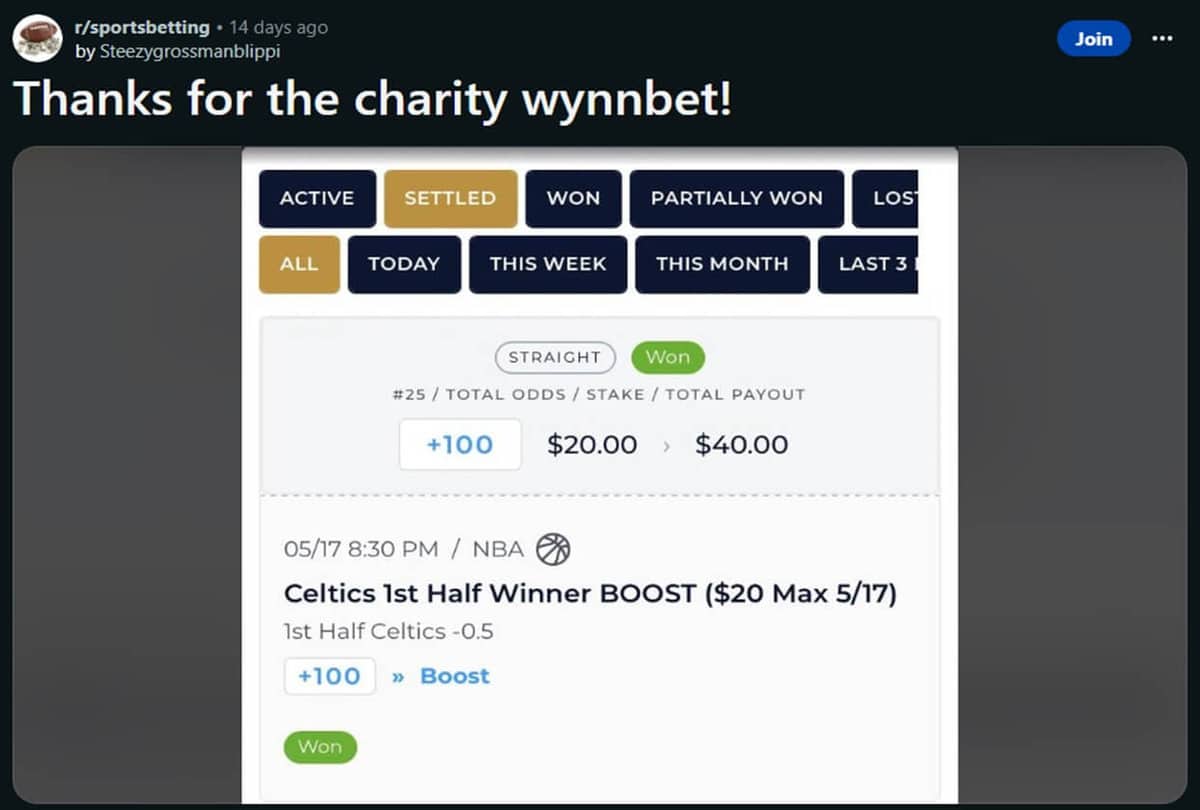 The first screenshot was posted on r/sportsbetting. It's an active subreddit with more than 200,000 subscribers and it's useful for both sportsbook reviews and general match information. This specific customer took advantage of an odds boost to double their money.

You'll be able to use the WynnBET Spin for both the sportsbook and casino so we went on a deep dive to see if these promotions actually pay out. One customer won a jackpot while using the site but another had the experience below:

As always, there are a variety of customer reviews out there, and you will be able to find both good and bad ones. In general, all the comments and threads we found were mediocre, none extremely bad but there were also none praising the platform.
Should I trust WynnBET customer reviews?
Anyone can sign up on social media and make a review, so we wouldn't say that you should take these posts as the absolute truth.
You can trust them more than the reviews that you find on sites like Trustpilot or Feefo, customers visit those pages with one intention and that is to get the company's attention by posting a complaint. Reddit is more of a discussion forum and allows the brand name to come up in conversations about relevant topics.
To get to the truth of the WynnBET sportsbooks, we're going to dive a little deeper.
Who owns WynnBET?
WynnBET is owned by the Wynn Resorts, Ltd. company that's listed on the NASDAQ stock exchange. The stock is part of the S&P 500 Index and it owns 2 enormous hotels in Las Vegas. Their online gaming division, Wynn Interactive launched the sportsbook affiliated with the company to branch into the online gambling industry.

Since its launch, WynnBET has partnered with NASCAR, the Indianapolis Colts, Detroit Lions, and New York Jets. Their brand ambassadors include Shaquille O'Neal, Ben Affleck, and Julian Edelman. They have retail sports bars that are located at MetLife Stadium, Ford Field, Lucas Oil Stadium, and Richmond Raceway. There are clearly some big names and brands involved with the sportsbook which counts in their favor.
In which states is WynnBET legal?
Whether the betting app is legitimate or not, the responsibility falls on you, as the customer, to ensure that you are legally using their platform from a state where it is available.
At the moment, WynnBET is legal in the following states: Arizona, Colorado, Indiana, Louisiana, Massachusetts, Michigan, New Jersey, New York, Tennessee, and Virginia. The platform will show an error message when trying to sign up from a state not included on this list, but any attempts to bypass this would be the fault of the person opening the account.
How is WynnBET legit in these states?
WynnBET is allowed to offer its sportsbook in these states by partnering up with a retail outlet in each of them and by obtaining the necessary licensing from the gambling commission in each state. We've included the details of each state's licensing in the table below:
| 🇺🇸 State | 📜License awarded by | 🏛️Retail partner |
| --- | --- | --- |
| Arizona | Arizona Department of Gaming | San Carlos Apache Tribe |
| Colorado | Colorado Department of Revenue | Full House Resorts |
| Indiana | Indiana Gaming Commission | Rising Star Casino |
| Louisiana | Louisiana Gaming Control Board | Caesars Entertainment |
| Massachusetts | Massachusetts Gaming Commission | Encore Boston Harbor |
| Michigan | Michigan Gaming Control Board | Sault Tribe Online Gaming |
| New Jersey | New Jersey Division of Gaming Enforcement | Caesars Atlantic City |
| New York | New York State Gaming Commission | - |
| Tennessee | Tennessee Sports Wagering Advisory Council | - |
| Virginia | Virginia Lottery Board | Richmond Raceway |
WynnBET Online Sportsbook Review
While customer reviews are helpful, you'll find that some are negative because of simple issues such as payment method support. For this reason, we've included a review of our own while using the WynnBET sportsbook.
App – 4/5
Our first issue arose when we downloaded the WynnBET mobile app, you'll find that there is an app available for every state that is included within their service. This is convenient to know where you can use the platform but a bit of a hassle for a sports bettor who travels frequently.
Besides that, the app here in New Jersey was well-designed and responsive while in use. We could easily open up our accounts and deposit funds. Debit/credit cards, ACH, bank transfers, PayPal, and Cash at Cage are all available and it's fairly easy to navigate to the payment page. We couldn't fault the experience when placing bets.
Bonus – 4/5
Bet $100 Get $100
21+. T&C Apply
If you or a loved one is experiencing problems with gambling, call (800)-327-5050 for 24/7 support Terms and conditions at bet. WynnBET.com. Must be 21 or older to participate.  Get set before you bet – talk to GameSense first! LiveChat @ GameSenseMA.com or call 1-800-GAM-1234.
Sports Betting & Casino
In-game betting
Bet $100 Get $100
21+. T&C Apply
If you or a loved one is experiencing problems with gambling, call (800)-327-5050 for 24/7 support Terms and conditions at bet. WynnBET.com. Must be 21 or older to participate.  Get set before you bet – talk to GameSense first! LiveChat @ GameSenseMA.com or call 1-800-GAM-1234.
Promotions are an important part of the sports betting industry with just about every platform advertising a competitive offer. At the moment, there is a welcome bonus of 'Bet $100, Get $100' available. You'll have to deposit the amount you want to use for your first bet and then find an option with odds of -120 or greater. The minimum deposit is set at $10.
Besides the welcome offer, there are plenty of existing customer promotions which you can see below. Our team found them to all be decent in value, just make sure that they'll apply to the sports markets you're interested in.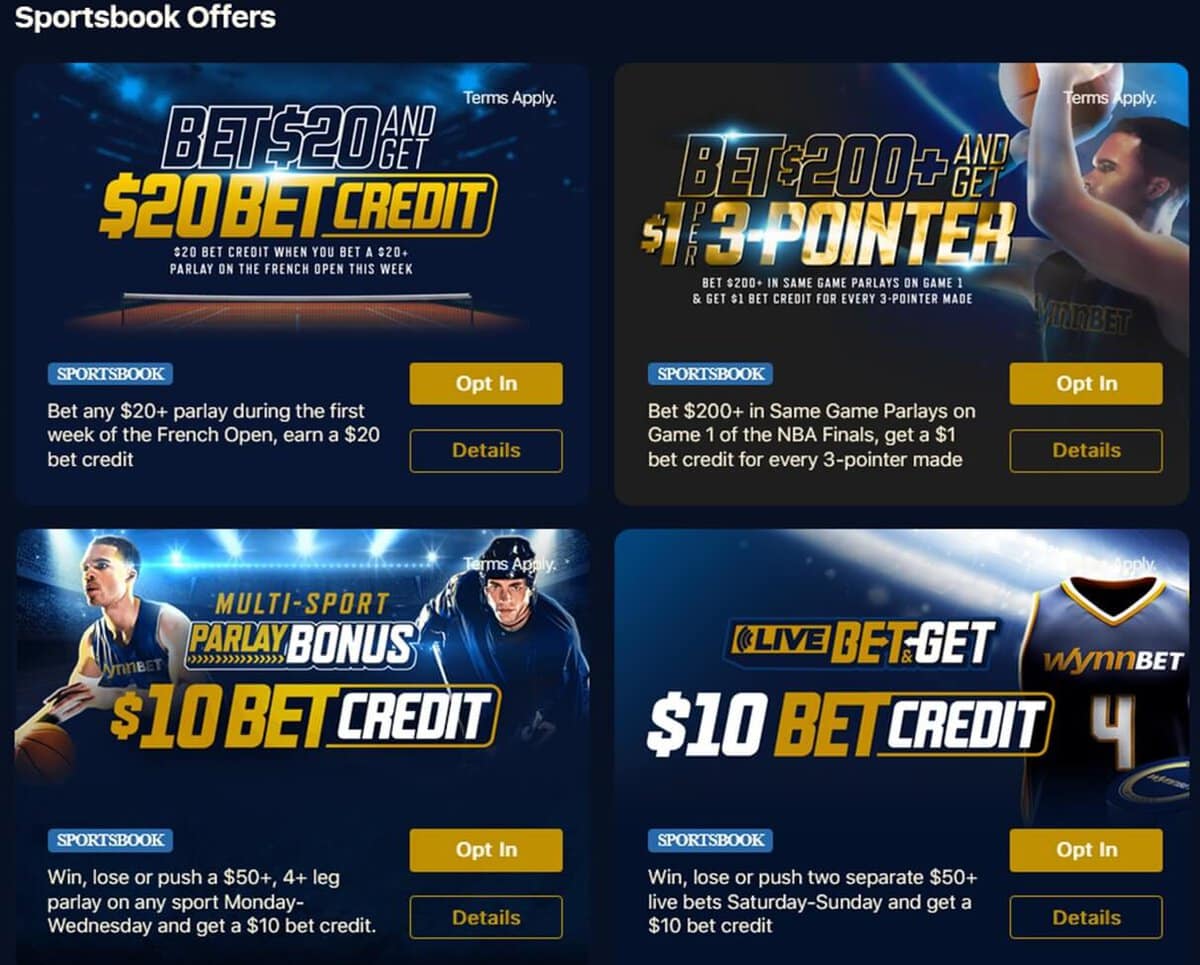 User experience – 4/5
Finally, our experience while using the WynnBET sportsbook was a positive one. We really enjoyed the commentary that their experts shared in The Playbook to branch into new betting markets. We were lucky enough to read through a couple of key insights before some big matches.
Opening and validating our account was a breeze thanks to the professional customer support team. After submitting all the details, the verification process was completed in about an hour.
The only room for improvement in the sports betting experience would be some upgrades to the live betting platform. It's functional but some competitors have included live streaming or at least some match graphics to see what's going on.
Are the odds on WynnBET fair?
Betting odds can differ between sports betting sites and it's crucial for bettors to know that they're putting their money on a decent offer. To determine if WynnBET's odds are fair, we've compared an upcoming NBA match offer to what's available at DraftKings, one of the biggest names in sports betting. You can see the two options shown below.

The spreads and totals were about the same, the only difference being the half-point in WynnBET's totals, 219.5 instead of 219. The odds also reflect that with a -120 instead of the better DraftKings offer of -110. The difference between the two is very narrow and we're impressed with what WynnBET is putting on the table.
Another important factor to check is the vigorish that each sportsbook charges. It's a small percentage of your bet that goes directly to the sportsbook. By using the moneyline odds of each platform, DraftKings was charging 3.58% and WynnBET, 4.59%. This is incredibly close, as some sportsbooks can charge up to 7 or 9%.
We'd say the WynnBET odds are fair and reasonably priced, but they're not the best on the market.
Is the WynnBET Online Sportsbook Safe?
After carefully combing through WynnBET reviews and comments, we couldn't find anything to indicate that the sports betting site or the online casino was unsafe. There has not been a major exploit of customer data since their release and while some customers have lost their account credentials, there isn't a major case of the userbase losing money.
All of the pages on their site use TLS encryption which is the latest in the field. This means that any data you send or receive while using the platform will be encrypted and secured.
Their state licenses also ensure that they abide by the regulations and laws set in each state. You don't have to worry about the online sportsbook running away with all your money.
Is the WynnBET App Legit?
With a legit service, it's no surprise that the app reviews also have a legit rating. On both the Apple and the Google Play Store, most app versions had a remarkably positive user experience.
The ratings differ in each state and you can see a detailed look at WynnBET CO below:

We need to include some of the other states where the platform is not so well received, take a look at the table to see each state rating. If the rating is low in your state (below 4.0), you might want to visit the app store and see what customers are complaining about.
| 📱App | ⭐App Store Rating | ⭐Play Store Rating |
| --- | --- | --- |
| WynnBET AZ | 4.1 | 3.8 |
| WynnBET CO | 4.6 | 4.1 |
| WynnBET IN | 4.4 | 4.0 |
| WynnBET LA | 3.4 | 3.6 |
| WynnBET MA | 3.7 | 4.1 |
| WynnBET MI | 4.5 | 4.1 |
| WynnBET NJ | 2.9 | 3.3 |
| WynnBET NY | 4.6 | 4.5 |
| WynnBET TN | 4.5 | 4.1 |
| WynnBET VA | 4.3 | 4.3 |
Can you cash out on WynnBET?
Bet $100 Get $100
21+. T&C Apply
If you or a loved one is experiencing problems with gambling, call (800)-327-5050 for 24/7 support Terms and conditions at bet. WynnBET.com. Must be 21 or older to participate.  Get set before you bet – talk to GameSense first! LiveChat @ GameSenseMA.com or call 1-800-GAM-1234.
Sports Betting & Casino
In-game betting
Bet $100 Get $100
21+. T&C Apply
If you or a loved one is experiencing problems with gambling, call (800)-327-5050 for 24/7 support Terms and conditions at bet. WynnBET.com. Must be 21 or older to participate.  Get set before you bet – talk to GameSense first! LiveChat @ GameSenseMA.com or call 1-800-GAM-1234.
As we've mentioned above, WynnBET sportsbook does offer a nice range of payment methods for customers to both deposit and cash out when they're ready. If you're looking to make a withdrawal, you'll need to use PayPal, Play+, or VIP Preferred. It's not the range of payment methods you'd come to expect from a sports betting site but you will definitely be able to cash out your funds.
Just like the minimum deposit, the minimum withdrawal is also $10. So you should be able to take out whatever you've put in.
How long does it take to get money from WynnBET?
There are some online posts from users struggling to withdraw their cash but this is usually just personal fault.
If you have the minimum amount and you're using one of the methods mentioned above, it should take 3-5 working days for the WynnBET sportsbook to process.
Another customer had a similar experience to us, only waiting 3 days for the cash to be deposited.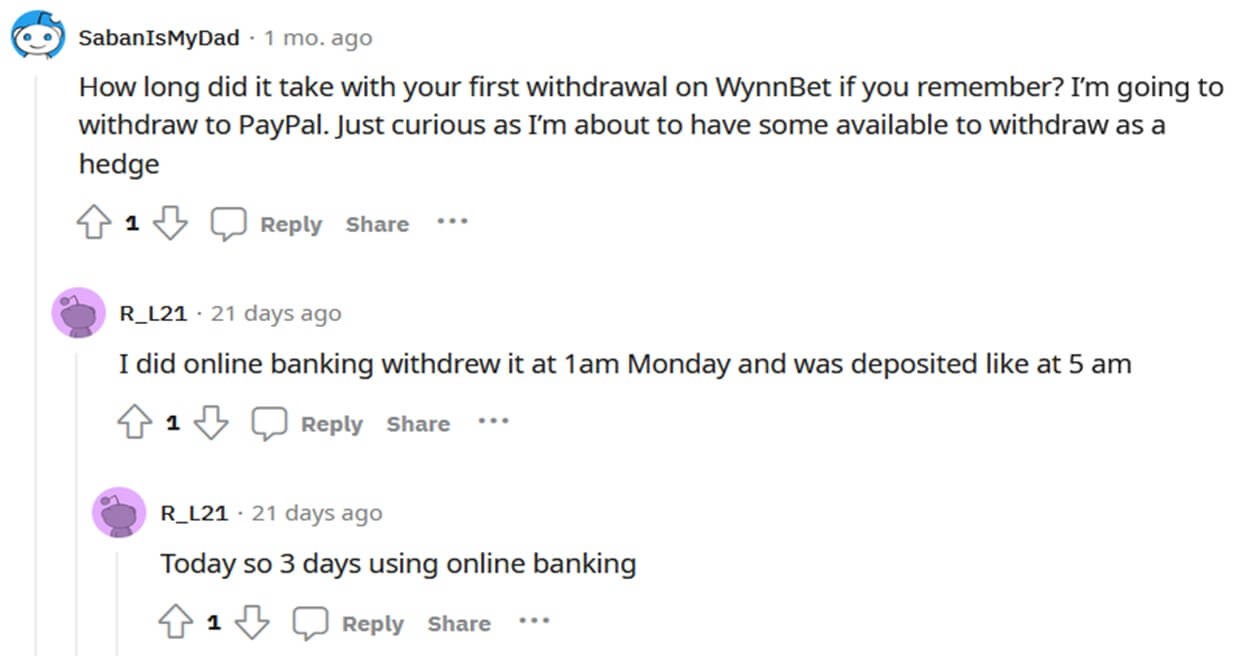 Is WynnBET Casino Legit?
The WynnBET online casino shares the same owner and operator as the sportsbook and also uses the same licenses to operate in each state. That being said, online casino games differ significantly from sports betting markets since you are betting on software that is sometimes tilted to ensure that the house always wins.
While trying our luck with the online casino, we found that the jackpots were won by other users quite frequently. The Rapid Rewards games felt a little impossible to win big but that's usually the case with online slots.
The classic table games like poker and blackjack felt like the real deal, so while some of these online games are in the online casino's favor, we never felt as if we were being cheated out of any cash.
The online casino is licensed and regulated in Michigan and New Jersey under the Wynn Slots brand name. The studios featured on WynnBET Casino were names we knew quite well, such as IGT and Evolution Gaming. This definitely made us feel safe and right at home.
New Player $1,000 Bonus
21+. T&C Apply
21+. T&C Apply
Awesome Liver Dealer Games
Amazing Promos
New Player $1,000 Bonus
21+. T&C Apply
21+. T&C Apply
Are the WynnBET Promo Codes Fair?
Just about all online sportsbooks have some sort of promotion available and this allows us to determine the industry standard that is currently available. Not only do we look at the value of the bonus bets, but we also take a close look at the terms and conditions to see if the offer is fair to the bettor.
As we mentioned before, WynnBET sportsbook currently has a welcome bonus of Bet $100, Get $100 available. In terms of value, this bonus is about the standard set by the competition but it does require the bettor to have an interest in the online casino to use all of the rewards.
The $100 credit is split 50/50 between the sportsbook and the online casino in New Jersey and Michigan. If you're in any other state, the $100 will only contribute to the sportsbook.
The terms and conditions of each state offer seem fair. There are a couple that we'd like to highlight which might exclude some customers.
You must have a valid WynnBET account which means you must be over 21 years of age and able to verify your identity.
Bet credits can only be used on matches with odds of -150 or greater.
Credit expires ten days after it's awarded.
The amount awarded is equal to the amount initially deposited.
These terms are fairly standard when compared to other offers. We just recommend taking your time and ensuring that you have the right matches lined up to make the most of the credits.
Does WynnBET protect players?
Modern sportsbooks need to make efforts to protect their customers, both from external and personal threats. We expect any platform to support responsible gambling and have the necessary contact methods to resolve any account issues quickly. Let's take a look at what they've included.
KYC
Know-Your-Customer or KYC is a verification step that sportsbooks have to include to ensure that the person opening an account is not laundering money or abusing the financial transaction system tied to the sportsbook. WynnBET incorporates the KYC policies by ensuring the customers accept the responsibility and share the necessary details (the last four digits of your SSN) to identify their account. From there, WynnBET monitors transactions and will step in if there is any risk associated with your account.
Responsible Gambling
To curb gambling addiction, WynnBET has also included a detailed page of information to both identify and reduce the risks associated. There are plenty of options that you can use as a customer to control your account, they include a timeout period, daily/weekly time limits, deposit limits, and spending limits. They've also made a variety of self-exclusion tools available if you wish to step away from gambling entirely.

Complaint process
While there is no specific complaint process you can go through on the site, the WynnBET site does not hide any of its contact details or customer support channels. You can simply visit this page and select your preferred method of contact in your state.
Customer support
Speaking of, the customer support options at WynnBET are remarkably thorough.
It differs from state to state but in general, you will be able to visit a detailed FAQ page that covers most topics or send their support team an email. There is also a live chat option available on the site and a dedicated telephone line that operates 24/7.
We tried out each method and of course, the live chat option was the quickest, after a day, we'd received a response from each option on the list.
Is WynnBET Legit or Scam?
To answer the question, is WynnBET legit, we'd have to say yes. They are a fairly new sportsbook on the market but the company has made sure to check all the boxes before launching in each state. All the necessary licenses have been awarded and every effort has been made to protect customer funds and personal details.
The sportsbook odds are competitive and the juice is about the industry standard. We couldn't find any information exposing this platform as a fraud. As always, read through the terms and conditions carefully before opening your account.