Gamble USA strives to improve your online gambling experience. We aim to help you play safely, make informed decisions when gambling, and increase your betting knowledge through our guides.
We adhere to strict editorial integrity; our content may contain links to products from our licensed & legal US partners.
You may have seen some clips on social media of players whipping heaters at a wall wearing a curved glove on one hand, noticed jai alai popping up on some of the betting app listings, or even seen the 2019 Miami Film Festival winning documentary Magic City Hustle. And all the while thinking, what is jai alai?
Pronounced hy-uh-ly (high-lye), jai alai is the world's fastest sport ball sport, not including golf, with speeds reaching upwards of 180 mph. Like tennis in scoring, jai alai involves a ball being bounced off a wall by accelerating it to high speeds with a hand-held device known as a cesta.
This lightning-quick sport is easy to get into, and it is very moreish – in that after watching some plays, you will want to sit back and take in game after game of jai alai. For bettors, there is a world of jai alai betting markets to explore, that come with some juicy odds.
---
What is Jai Alai?
Popular in Europe, Latin America, and the Philippines, most notably Mexico, Spain, and France, jai alai, or the merry festival when translated from the language of Basque (Spain) to English, was given its name when the game made its way to Cuba in 1900.
Stateside, jai alai is most well-known in Florida and parts of the Northeast. The sport began to gain traction in Miami back in the 70s and 80s, but tight gambling regulations hamstrung the sport's popularity. With little to no presence in the Western United States, Rush Street Interactive and their leading online sportsbook BetRivers, hope professional jai alai will have a major resurgence in the US thanks to a newer league and rule tweaks emphasizing head-to-head play and fresh faces.
The 28-player Magic City Casino jai alai league based in Florida is in its fifth year. Magic City has taken the best features of jai alai and combined them with a state-of-the-art glass fronton and an athletically-diverse roster, most of which are former college athletes. Every player on the website has their previous sport and alma mater listed next to them if available. Only six players have a prior history with jai alai.
Other innovations include their inaugural Battle Court season, a team concept dividing the league into four teams to compete. The Magic City season runs from mid-February until the end of November. The league hosts matches three days a week, usually midday on Saturdays, Mondays, and Tuesdays. Match days at just as fast as the ball speed, taking less than three hours to complete the obscure but exciting sport.
Promo Code: SPORTS
Up To $500 2nd Chance Bet
21+. T&C Apply
21+. T&C Apply
Promo Code: SPORTS
Regular promos & rewards
Generous sign up bonus
Promo Code: SPORTS
Up To $500 2nd Chance Bet
21+. T&C Apply
21+. T&C Apply
---
What is Jai Alai Betting?
To speed up the sport, Magic City reduced the traditional fronton by nearly 60 feet and replaced the goatskin ball with a bouncier one that ricochets against the Florida fronton plexiglass instead of the traditional granite wall.
As a result of these modern head-to-head matches transitioning away from the traditional parimutuel play and into new, a more fast-paced fixed-odds betting, round-robin format, jai alai bettors can now wager directly on matchups, sets, and points, just like in tennis and table tennis. Jai alai bettors can also wager on players and two-member teams to win, place, or show. Jai alai even has trifectas and other wagers we see in horse racing.
Some of the above betting opportunities are still being rolled out on BetRivers and PlaySugarHouse Sportsbook. During Battle Court, wagering is limited to the moneyline bets, with a few more bets available during live betting. In the BetRivers sportsbook example below, the lines reads as Vuelo favored at (-125) over Joseph (+100).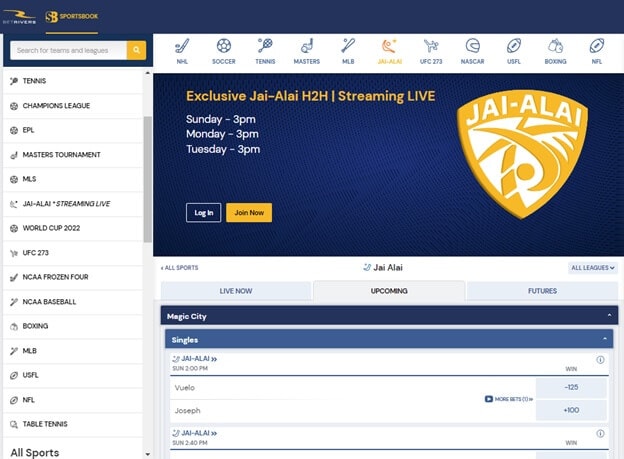 ---
States & Sportsbooks that Allow Jai Alai Bets
With chief operating officer Richard Schwartz at the helm, RSI signed an exclusive deal in September of 2021, gaining access to league data and streaming capabilities, making BetRivers and PlaySugarHouse the new jai alai betting home for seven states.
A top-five reliable online sportsbook based on betting handle and revenue, BetRivers is available in Arizona, Colorado, Illinois, Iowa, Pennsylvania and Virginia, while sibling sportsbook PlaySugarHouse can be found in New Jersey, and Pennsylvania. RSI also operates in Connecticut, Indiana, Louisiana, Michigan, and New York, but those states have yet to gain access.
Use the link and code MATCH250 when signing up with the BetRivers sportsbook to unlock a 100% deposit match welcome bonus up to $250. The deposit bonuses are set at $25, $50, $100, and $250. Bonus credits will need to be played through once before they become available to withdraw.
---
🏆#1 Jaia Alai Sportsbook – BetRivers
BetRivers is the go-to place for all your jai alai betting. This betting site covers virtually every sport you can think of, from major competitions such as NFL and MLB, to niche sports such as Pesapallo and Jai Alai. To sweeten the deal, BetRivers' parent company, RSI became the official sports betting partners of the Magic City Jai Alai League. At BetRivers, you can live stream all the jai alai games in the US.
BetRivers is available in AZ, CO, IL, IN, IA, LA, MD, MI, NJ, NY, OH, PA, VA & WV. You can only register with the sportsbook if you are 21 years old or older, and are within one of the states where the sportsbook operates. The Sportsbook welcomes newcomers with open arms, and a second chance bet of up to $500.
Expert Comments:
"
I have used BetRivers a lot, but up until the Magic City Hustle had never really checked out jai alai. It was all really easy, as BetRivers not only supplies tons of bets on the sport, but it livestreams all the events. I don't expect them to give out jai alai-specific promotions anytime soon, but I can make use of their general promos to bet big on one of my new favorite sports.
"
– Paul Ricci (Chief Sports Editor)

---
Jai Alai 101 – Become the Expert
The world's fastest sport is played on an enclosed three-wall court known as a fronton, using a ball 3/4 the size of a baseball and harder than a golf ball, called a pelota. The cesta is used by helmeted players, or pelotaris, to scoop and whip the pelota using one fluid motion. Former jai alai player José Ramón Areitio threw the fastest jai alai ball ever recorded, hitting a world record speed of 188 mph in 1979 at the Newport jai alai fronton in Rhode Island.
Traditionally about the size of two basketball courts, frontons feature a wall on the left and an out-of-bounds zone to their right, along with the main front wall, where hits are directed. The front wall has a line at a determined height to indicate the target zone. The perpendicular wall is longer and has marks at different distances for scoring purposes. There is also a back wall to play shots off.
To win a head-to-head jai alai match, a player must win two out of three sets. Each set is played up to six points. If a player wins the point, they retain the serve. Like tennis, they get two serves. The loser of the last set gets to serve first in the next set. The ball cannot bounce twice on the ground, or the point is lost.
In traditional Magic City jai alai play, the first of eight players to reach seven or nine points takes the win, the player with the second-highest number of points takes the place, and the player with the third-most points when the game ends takes the show.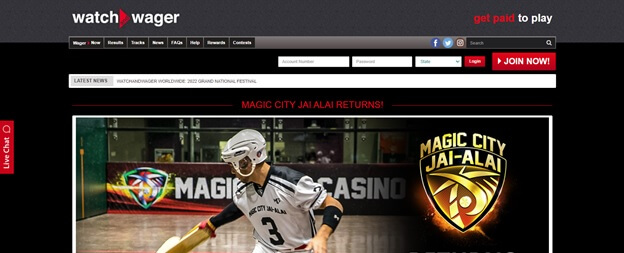 Pick
The first thing to do when betting on jai alai is to decide a winner. Bettors can find stats and information by going to the Magic City Casino jai alai website. BetRivers users can subscribe to the jai alai YouTube channel to scout players or watch their wagers in action.
Place
After creating a BetRivers sportsbook account, locate the jai alai section and click on it. This will populate any upcoming options. To begin the betting process, select the +/- number next to that player's name. This will bring up or send the pick to the bet slip. Place the amount you wish to wager in the first box. The slip will generate a number next to it that reflects the winnings and below it that represents the total payout. Click the big green place button to lock in the wager.
Profit
Along with a watch and wager website link with news, results, a complete FAQ, and more, jai alai matches can also be found directly on youtube for your viewing pleasure. Remember to use the BetRivers welcome bonus link to bump up that bankroll. The extra bets will provide more opportunities to learn the game.
Promo Code: SPORTS
Up To $500 2nd Chance Bet
21+. T&C Apply
21+. T&C Apply
Promo Code: SPORTS
Regular promos & rewards
Generous sign up bonus
Promo Code: SPORTS
Up To $500 2nd Chance Bet
21+. T&C Apply
21+. T&C Apply
---
Is Jai Alai Betting on the Rise?
Magic City COO Scott Savin does appear to be doing everything right. Along with making the scoring wall glass to allow for more visibility, the quality of play has improved, and the prize money is creeping up. By recruiting local former college athletes from other sports, including six University of Miami alumni, Savin has brought some buzz to the sport. Nearly half the Magic City jai alai roster is former Division I athletes.
Savin wanted the University of Miami to send out an email blast to all of its former athletes from the past 20 years and offer them the chance to play jai alai. Many Miami athletes thought the email was a mistake at first, but a few became intrigued.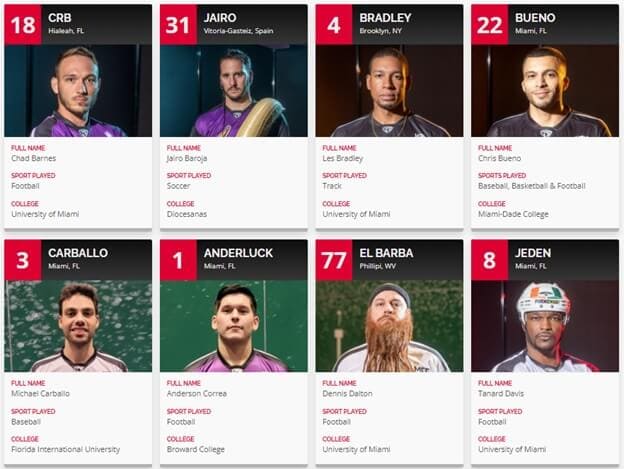 The highlight of which is Tanard Davis, a former four-year NFL cornerback. Davis won a Super Bowl ring with the Indianapolis Colts in 2006 as a member of the practice squad and is widely considered a top jai alai up and comer, despite being one of the older players.
Daryl Roque, who spent some time trying his hand at professional baseball with the Baltimore Orioles and Montreal Expos, is another former Miami Hurricane turned pelotari.
Right now, all four professional frontons are in Florida. The local focus could be a repeatable process as jai alai finds its footing with bettors and fans. In its heyday, Miami jai alai events would regularly attract thousands of attendees to what was referred to as the Yankee Stadium of frontons. Located close to the Miami International Airport, the Miami jai alai fronton is still open year-round.
---
Summary
Banking on a new betting product, the Magic City Casino did away with greyhound racing in 2018 and replaced it with jai alai. Five years later, they're focused on head-to-head action and an influx of new talent from all these other sports to grow the game.
Thanks to a competitive facelift and recent backing from one of the premier online sportsbook operators in the US, jai alai has been given a desperately needed shot in the arm. The BetRivers sportsbook is the sports betting partner of the Chicago Bears. Adding a niche sport like jai alai could attract a different kind of customer.
Magic City put out a "how-to" video in its first year, and that video has been seen millions of times on TikTok, fueling Savin's outlook that the sport can become popular with a new demographic.
The league has a great opportunity available with the Hamilton Downs jai alai fronton relinquishing their rights while they settle some horse racing litigation involving similar language. The multi-million dollar Hamilton jai alai fronton was the first jai alai court to be built in the US in more than 20 years.
Click the link and use BetRivers promo code MATCH250 to get started.
---
FAQs
Where can I bet on jai alai?
BetRivers is the best sportsbook to bet on jai alai. It offers a range of betting markets on the sport, giving you the freedom to go into more detail with your predicitons. Alternatively, you can pick futures bets here, and predict who you think will win the upcoming US National Jai Alai Championship.
Please note, BetRivers only supplies jai alai bets in the following states: AZ, CO, IL, IA, PA, and VA. Alternatively, you can bet at PlaySugarHouse if you are in NJ, and PA.
What kind of bets can I make on jai alai?
The betting markets for jai alai are similar to horse racing bets. You can bet on the winner of a game or on contestants to place or show. If you want to go for the big money shots, you can pick some boxed bets such as exacta, trifecta and superfecta.
Is jai alai betting worth it?
Jai alai is very much new territory for bettors and sportsbooks. The good thing about that is the odds will be quite generous, and if you can read the game well, you can pick out some fantastic deals. Of course, you will need to brush up on your jai alai knowledge and find out who is who in the world of jai alai.
Where can I watch jai alai?
RSI, the company that owns BetRivers (along with numerous other establishments), signed a deal with Magic City Jai Alai, making them the exclusive sports betting partners of the sport. Do not worry about where to find live streams, as you can get them all at the BetRivers Sportsbook. That's right, you can place your bets here and also watch the rivetting games.