Gamble USA strives to improve your online gambling experience. We aim to help you play safely, make informed decisions when gambling, and increase your betting knowledge through our guides.
We adhere to strict editorial integrity; our content may contain links to products from our licensed & legal US partners.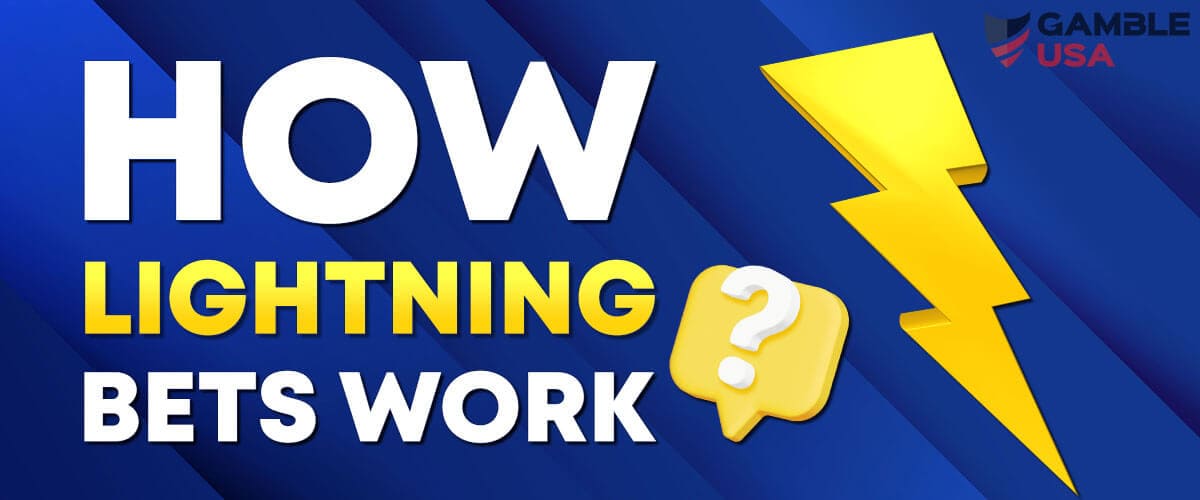 If you are a sportsbook fan wondering what the hell "Lightning Bets" are, then you are in good hands, as we'll explain all you need to know and cover some frequently asked questions.
In this guide, we'll cover what these bets are about, and which sportsbooks allow you to place this type of bet.
Not only that, but we'll also go into which sports and markets you can play these bets on, and what the pros and cons are when making lightning bets.
What are Lightning Bets?
This is a type of bet which you can place live in-game, but this is not your ordinary in-game live betting experience. Oh no! These are way more exciting and give you multiple chances to bet on additional markets throughout the game.
Lightning bets are for the real sports bettor who knows the game, player, or team they are betting on. These bets are placed and finished literally within minutes, and go against the sports betting status quo.
At present, the main sports that you can place this type of bet on are NFL Football, NBA, and college basketball. They look similar to prop bets, but are dedicated to live betting and very specific wager types like who will win the next round in a race or the next touchdown in the NFL.
Lightning bets are also very popular in Europe for tennis and soccer betting (known as "fast markets"), so it is good to check with your favorite sportsbook to see if they are offering these on the American sports market, and if they have Lightning Bets offers and live odds for specific sports.
Sportsbooks where you can make Lightning Bets
With these types of bets being new to the North American Sportsbook marketplace, it is not always easy to find a sportsbook that offers these.
Our top 5 sportsbooks that offer the best markets are listed below. Check each sportsbook for the current markets by visiting their "Live Betting" page:
There is no doubt that PointsBet has ripped the band-aid off when it comes to this new type of betting and is quickly gathering a following of unique customers who are trying these out more and more. Other sports betting apps call Lightning Bets differently, often flash bets or micro bets.
Steps to place a Lightning Bet
Placing a Lightning Bet is as easy as placing any other type of bet. You'll find these bet options under the live betting tab of your favorite sportsbook.
Let's look at an example of placing one of these bets on the Pointsbet Sportsbook. It is important to understand that these odds move very quickly (hence the term Lightning).
If you are betting on a popular market, like the result of an NFL drive, the next point in an NFL game, the next corner in an MLS game, and even the next game in a tennis match, you'll need to lock in that bet quickly.
The key objective is to be watching the game live and using the Pointsbet App to place your wagers to make quick small profits on multiple bets.
You can find all of the options in the homepage feature section. Below are a few examples from PointsBet.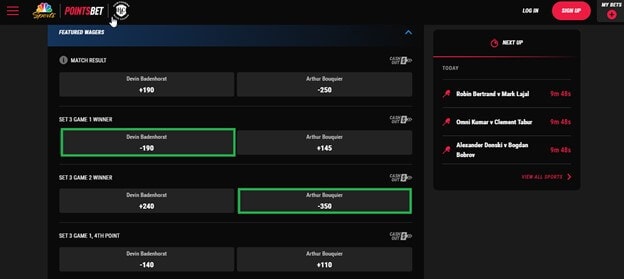 So the above screenshot shows a tennis match with offers of who will win the first game in set 3 and who will win the second game in set 3.
Of course, in tennis, the server is always going to be the chalk.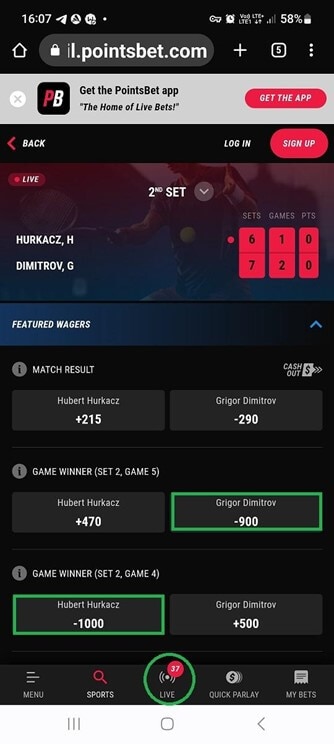 The above screenshot shows you how this type of bet looks on the PointsBet mobile app. Also, note the LIVE icon near the bottom of your mobile screen. This shows you how many live events are in play across all sports.
Supported Markets and Bet Types
The top 5 sports and markets for these types of bets are listed below. Make sure to check the live bet screen of your favorite sportsbook. This type of wager will only appear once a game has gone into play, so you will need to look at the options and choose the type of bet that suits you best.
Football Lightning Bets
Next Scoring Play
Result of Current Drive
Result of Next Play
Basketball Lightning Bets
Next 4 Minutes Result
Next 4 Minutes Total Points
Next Minute Both Teams to Score
Type of Next Field Goal
Team to Score Next Point
Race to 10 points
Race to 20 points
Race to 30 points
College Basketball Lightning Bets
Race to 10 points
Race to 20 points
Race to 30 points
Tennis Lightning Bets
Next Point
Next Game
Next Set
Soccer Lightning Bets
Next throw in
Next corner
Next free kick
Next yellow/red card
Next goal
These are just a few of the different sports and markets available to Lightning bettors at the moment. As this type of live wagering becomes more popular, we are bound to see other sports like baseball, hockey, table tennis, pool, snooker, and golf having various action points and lightning markets to place wagers on.
Pros and Cons of Lightning Bets
Any type of bet has its pros and cons and it is important to understand what these are.
Pros
The ability to place multiple wagers on a single game, match, or market.
Backing your judgment in seconds and having a wager that can turn a profit in minutes.
A fun bet that can give you that extra bit of excitement when watching live with your friends.
An edge can be found if you are an expert in a particular sport like NFL, NBA, MLS, or tennis.
Cons
You need an ultra-fast internet connection so you do not miss your odds on your chosen bet.
You may need a bigger bankroll to account for the number of bets you will be placing.
A Lightning Bet can lead to increased wagering, so it is important to set aside a fixed amount you wish to bet. Losses can be increased with these types of bets.
This is not a

bet suited to beginners

or bettors who do not understand betting interfaces.
You cannot always place these bets from a standard mobile browser. You'll have to download the sportsbook app on your mobile device. This is the case with PointsBet who are leading the way at present.
PointsBet Lightning Bets Progress
Pointsbet is one of the new kids on the block when it comes to sportsbooks on the North American Market, but they have quickly started to shake up the industry, particularly with their Lightning Bet feature which gives sports bettors a new way of betting live on sports.
The Lightning Bet homepage feature was unveiled in late 2022 and was an immediate hit with sports fans.
It was initially only available on NFL and NBA markets, but after continued development, is now available on college basketball and was also trialed at the soccer world cup in Qatar with great success.
Pointsbet is already big in tennis betting, so it will be likely they'll introduce this product to tennis bettors and fans of major league soccer once the new season is underway.
In a recent press conference, Pointsbet USA CEO Johnny Aitken predicted that in the future, more than seventy percent of sports bets will be placed on live wagering markets.
He was clear that the sports betting public now wants to be involved in the game through every quarter, and that live in-play betting on sports will be the future of wagering over the coming years.
This was backed up by the Deputy Commissioner of the NBA, Mark Tatum, who predicted that more than 70% of all sports betting will soon be this new type of Lightning Bet live wagering.
Since its inception, reports are that the average Lightning Bets handle or average stake size has been $100.
FAQ's
Where can I place lightning bets?
You can place this type of bet on a number of sportsbooks. These can be found in the section which covers live betting.
What's a lightning bet?
One of the most popular bets are the NFL Lightning Bets. Any Lightning bet is focusing on wagering live. These are quick bets that are placed in seconds and the result of the bet can be concluded in seconds or at the most a few minutes.



Next Scoring Play


Result of Current Drive


Result of Next Play


So those are just three of our favorite NFL Lightning Bets that could be placed on a sportsbook like PointsBet using their NFL live betting feature.
Can I lightning bet over/under bets?
Many sportsbooks offer live bets, and over/under betting is popular across a wide range of sports.
Can I lightning bet on college basketball matchups?
Many sportsbooks only offer straight-line wagering on college basketball, but a number of sportsbooks, including PointsBet, offer the opportunity to wager lightning bets on college basketball matchups.