Gamble USA strives to improve your online gambling experience. We aim to help you play safely, make informed decisions when gambling, and increase your betting knowledge through our guides.
We adhere to strict editorial integrity; our content may contain links to products from our licensed & legal US partners.
If you're new to sports betting, you've probably heard of people placing wagers on an athlete or team while the event is in progress. This is known as live or in-play betting, and it's one of the best ways to watch sports today with some action on the side.
Live bets allow bettors to get a feel for the game before putting their money down and are one of the most popular forms of sports betting on most online sports betting platforms. If you're looking to place in-play bets but don't know where to start, you're in the right place.
This guide will teach you the ins and outs of live betting, including seven tips for building a strategy, online sportsbooks offering live betting, and the differences between pre-game wagering and live betting lines.
Up To $1,000 Deposit Bonus
21+. T&C Apply
21+. T&C Apply
The best sportsbook
Amazing odds & offers
Awesome betting app
Up To $1,000 Deposit Bonus
21+. T&C Apply
21+. T&C Apply
---
What is Live Betting?
Live betting is straightforward; it's when a bettor places a wager on a sporting event that is currently in progress. In-game betting allows users a break from monotonous pre-game betting and gives them a unique experience of making several different bets.
Because live betting has so many different factors for the odds compilers, many sportsbooks only offer a limited number of live betting options (if any) because of how live betting odds work. Typically most will at the very least offer simple bets like moneyline, point spread, and point totals.
In contrast, larger sports betting platforms offer several kinds of live bets, including bets exclusive to those who are placing in-game wagers. These bets are often considered flash bets and include specific prop bets such as;
Result of the next pitch – Strike, ball, hit, out (in the field), or homerun
Next team to score – team 1 or team 2
Next basket – team 1 two-pointer, team 1 three-pointer, team 2 two-pointer, team 2 three-pointer
The main difference between pre-game bets and in-play betting is the line movement, which can give bettors much better value than the pre-game closing lines. Live lines continuously move after the game begins, which means that in games like basketball, with constant swings in momentum, bettors can get better odds than the opening line very quickly after a run.
Is in-game and in-play the same as live betting?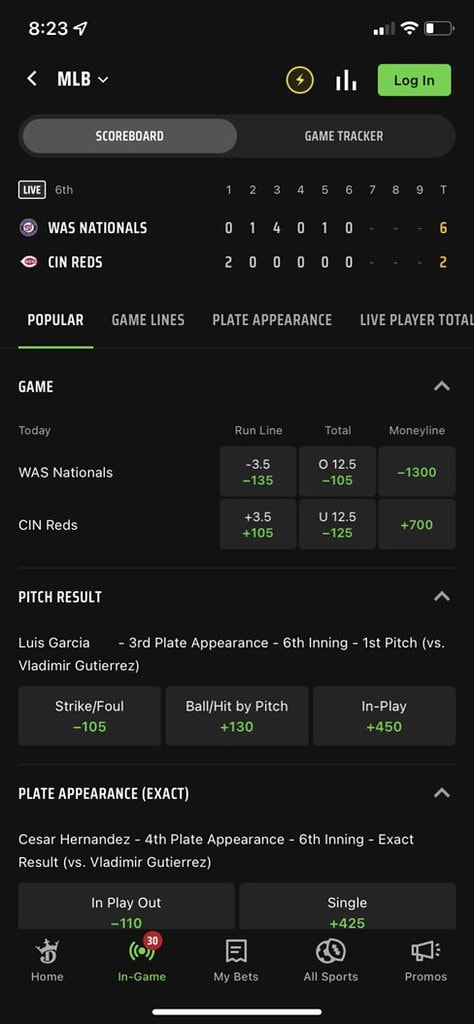 Yes! In-game, in-play, and in-running betting are all synonyms for live betting and mean the same thing. Online betting has become such a large community of members worldwide, and they've created all kinds of different slang terms for live betting because of how popular it is!
---
7 Live Betting Strategies & Tips for Profits during the Game
Live betting, like all kinds of sports betting, requires a solid strategy for someone to be successful. If you're looking for a solid live betting strategy to possibly make some extra money, use these seven tips to develop the one that works for you best!
#1 Study the upcoming events
Just like pre-game wagers, a live bet should only be made after you've done some research on the event to be sure you're spending your money wisely. Think about it; if a football team is traditionally a second-half team that performs better later in the game, it might not be the best idea to bet the other teams spread after the first quarter.
Pairing studying the matchups before the game starts and watching the game goes very well together, not only for entertainment purposes but also because you'll have a better feel for each matchup. Below are a few stats and things to look for that I like to check out while doing my research for upcoming events that have improved my gambling win percentage.
Check whether it is home or away
Did they win or lose the last game (you really should check the last five)
When was the last time both teams or athletes participated in an event (for fatigue)
Previous results from the two teams or athletes matching up with each other
Always check the injury report (specifically for missing key players)
Check team or athlete's performance by quarter, half, period, etc.
#2 Decide early on which bets you will watch (keep it simple)
As I mentioned above, focus on in-play betting on the games you will be watching. Do NOT just check the stats and place a random live bet because the odds are appealing; it will rarely work out in your favor.
Don't try and follow ten different games either, because this will result in too much of your attention being split between them, which will likely cause your account balance to suffer. If you want to keep your account balance growing, find one or two games to live bet and keep yourself focused.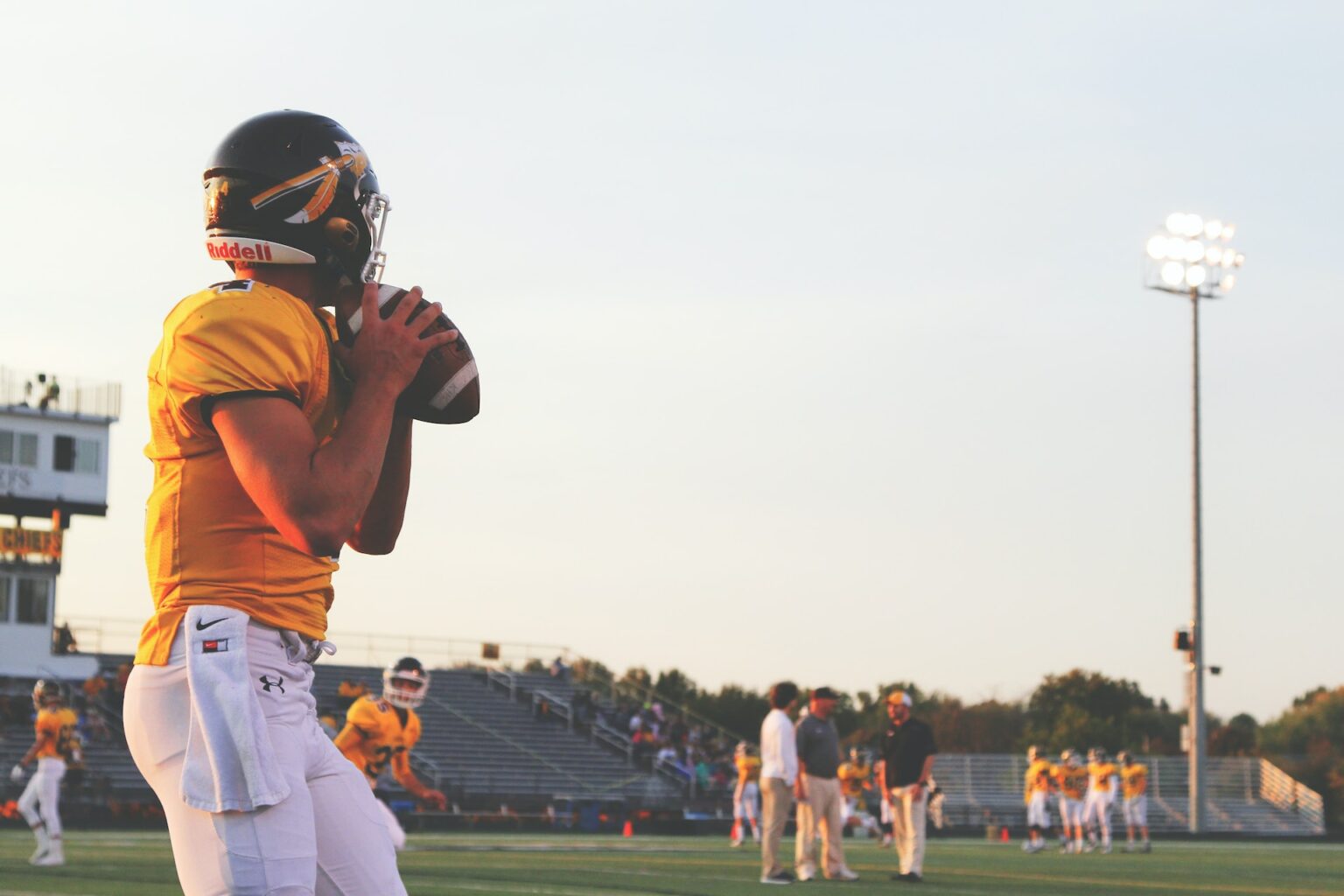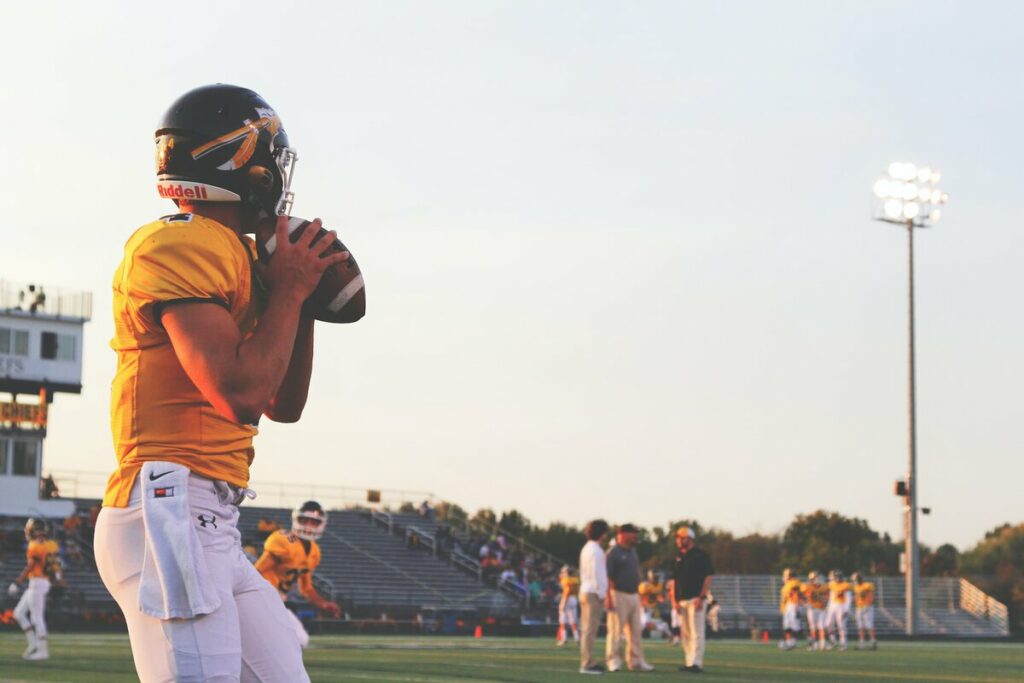 #3 Set a budget for each live betting event
This is an excellent rule for many reasons, but mainly because you're just unlucky some days, and you don't want to lose the money you can't afford to lose. There are hundreds of available live bets and flash bets that can quickly take all your money, and if you try to chase a win, they'll do just that (trust me).
#4 Watch the games live closely
Watching the event live gives you the best insight into what direction it is headed in and can help you compare odds to the game's current circumstances. This is important because it allows you to see the matchups being exploited and the players having great games.
Watching games live is also vital for spread bets, mainly because the spreads can change very drastically. The change in the spreads can be a valuable tool for an attentive sports bettor because often if a game is one-sided early, but they know the team will come back, they can get some extra help from a spread bet made during a run.
#5 See how the lines shift and predict how they will move
Be sure to check the pre-game odds on the games you intend to live bet to ensure that you're following the line shifts in the right way. This connects to the previous tip because if an underdog comes out hot and loses steam, live betting the favorite before the comeback begins is a great value.
Watching the game live helps to understand why the live odds are changing their ways, which helps you get a feel for the game and the way it will unfold. Since the odds are constantly changing, a betting site is likely to overcompensate and give significant value odds.
#6 Bet during the breaks
As I mentioned before, it will be somewhat challenging to get a specific line or even place a live bet on sports continuously in play, like basketball, so bet during the breaks. This also helps bettors not make bad bets by getting too excited during a run because they get a moment to collect their composure. Halftime bets are perfect because they give bettors enough time to analyze what's happened in the event so far.
While it's crucial to find the best line possible, it's also essential to keep a cool head, so you don't blow your money getting caught up in the moment.
#7 Stick to your initial budget
Remember, you made a budget for a reason, so do not go back. If you go up and are winning early, go ahead and bet a little more, but be careful not to lose all your winnings!
Many people suffer from gambling addiction, and it is a tell-tale sign when someone is constantly going over their budget. While there isn't a feature that allows bettors to set their gambling limits per event, there are features that allow you to set daily, weekly or monthly limits to deter people from becoming addicted.
If you think you or a loved one are developing a gambling addiction, please click the link here for more information.
---
Sportsbook with Live & Flash Betting Options
Not every sportsbook has live betting options. Generally, the bets offered can vary wildly based on the sportsbook, the event, or even the state you're in because of local gaming enforcement laws. Because of factors like this and the sportsbook's live betting interface, I've decided to create a list of my top five favorite live betting apps.
The following list has been chosen based on the number of live betting options available, whether or not they have flash bets, how good their user interface is for live betting, and how good their live odds are. If you're new to any of the following sportsbooks, click on the link to sign up for a sportsbook account and use our promo code if necessary to get their welcome bonus:
---
Key Features of Our Top 5 Live Betting Apps
Let's look at each sportsbook a bit closer, and see exactly what they can offer. Specifically, you will need to know what types of live bets they offer, how easy the mobile apps are to use during a game, and what kinds of live betting markets they provide. Bonuses and promotions for live bettors are always welcome too.
DraftKings Sportsbook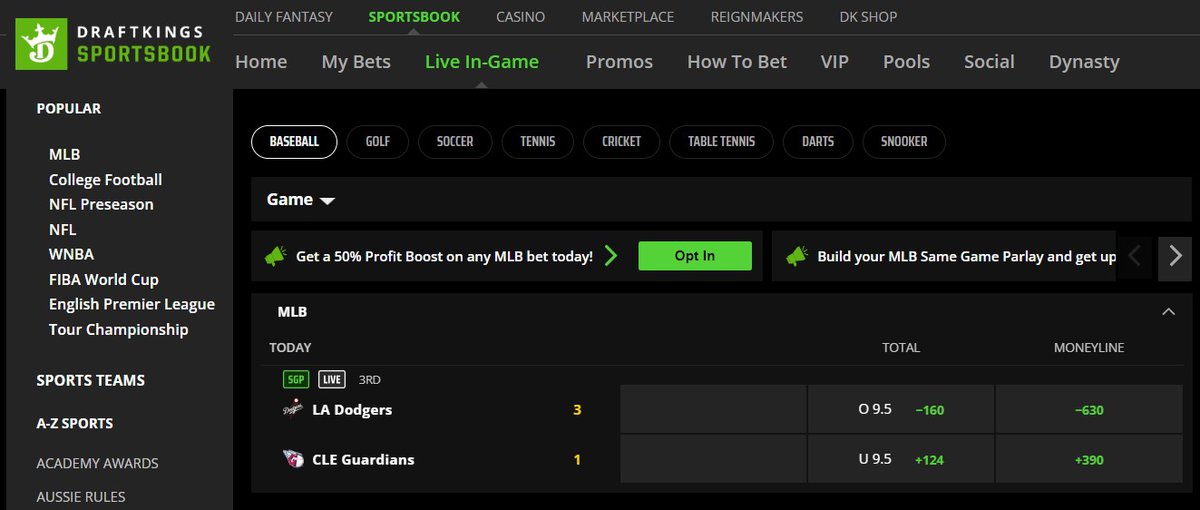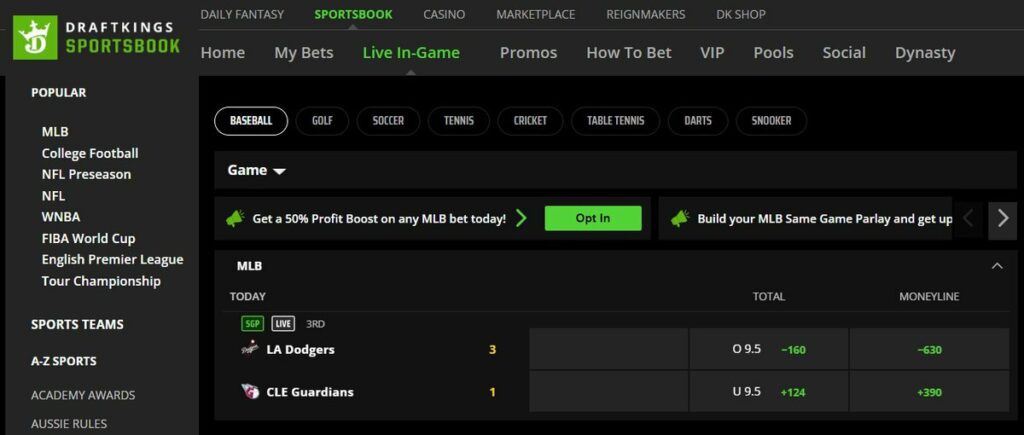 DraftKings is a top choice sportsbook for your live bets. The sportsbook has a ton of features and stats, all of which can have a significant impact on your betting strategy. For example, before the game starts, you can view historical information on how the lines changed in the upcoming days to the event. Then, you have all sorts of live game props, live Same Game Parlays and player bets, which richens your palette, (and more importantly) giving you more options for your live betting strategy. In addition to this, it has frequent promotions and a chunky welcome package boost for new players.
Expert Comments:
"
At DraftKings, all the information in one place to give me an edge on my wagers. The stats and tools have helped me out a lot, and these are all integrated into the betting app. This one app really does it all, and with the Social function I can check out what bets fellow sports fans are picking out.
"
– Damjan Spajić (Sports Editor)

---
FanDuel Sportsbook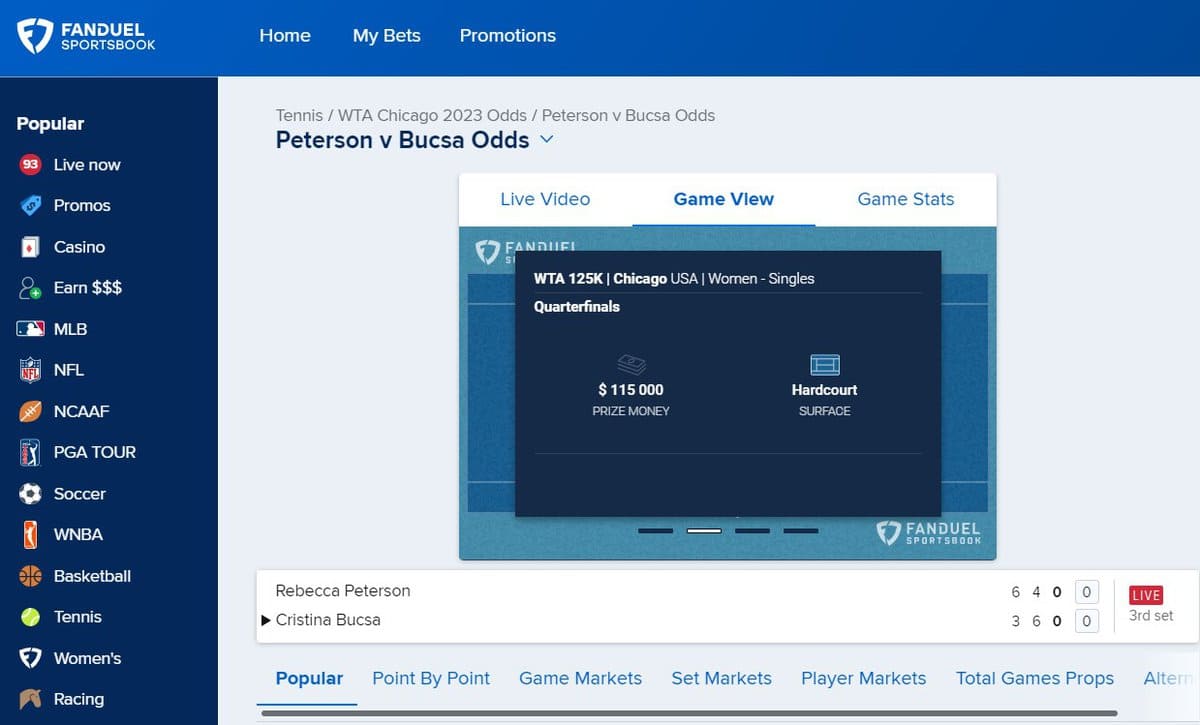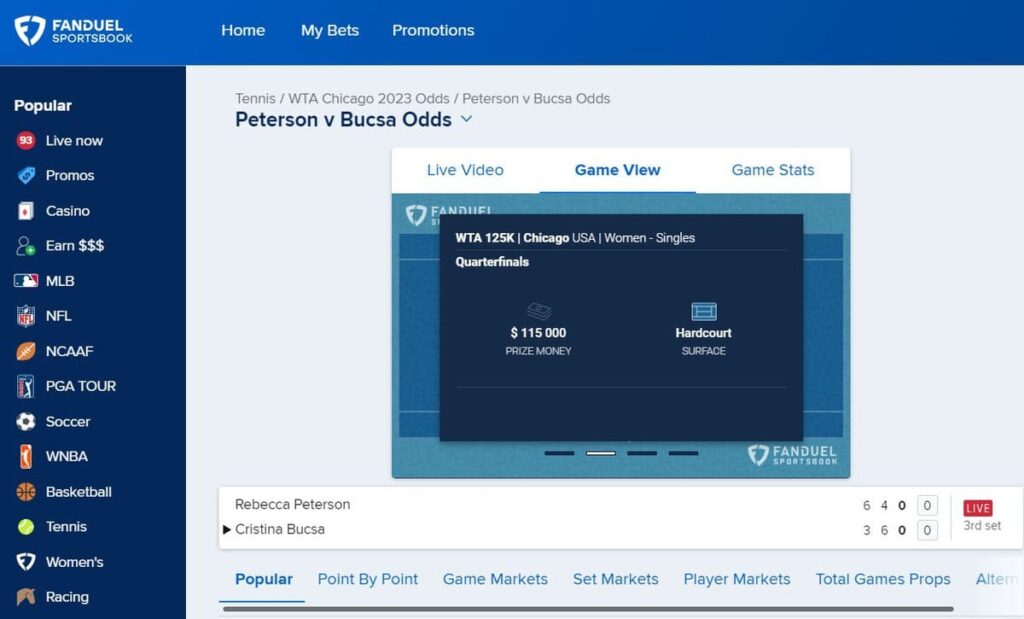 The sheer volume of live betting options at FanDuel has attracted swarms of bettors from the US. Most bettors will recognize FanDuel as being one of the country's top daily fantasy sports destinations, and its sportsbook is just as popular. It has a massive coverage of sports, and extensive betting markets, covering various aspects of each game. FanDuel also provides streaming for the MLB, as well as lots of soccer and tennis competitions.
Expert Comments:
"
FanDuel is a reliable platform with a great betting app for in-game wagers. When I want to bet on MLB or tennis, this is my go-to app, as it has loads of betting markets and I can watch live video coverage on the app. The odds are highly competitive, giving you good bang for your buck .
"
– Oliver Dickinson (Sports Editor)

---
PointsBet Sportsbook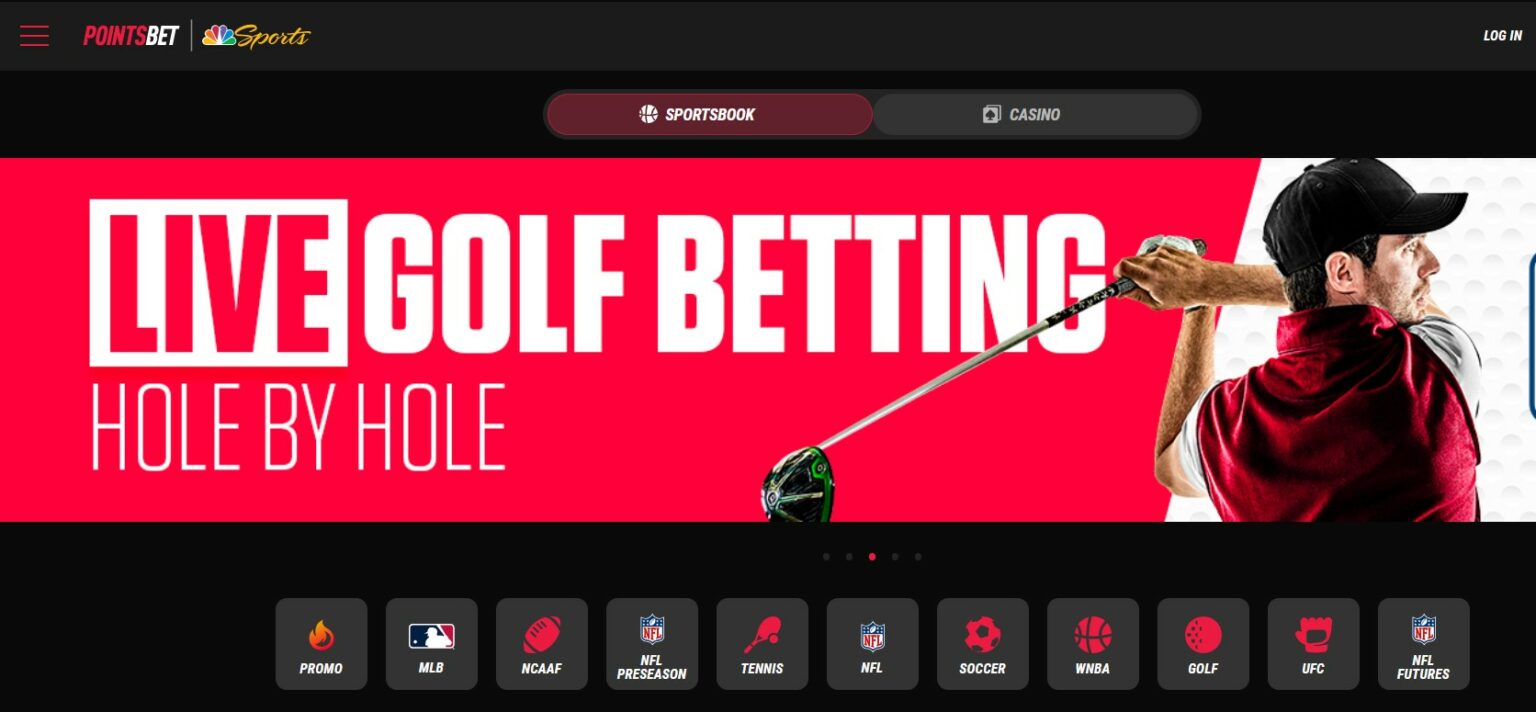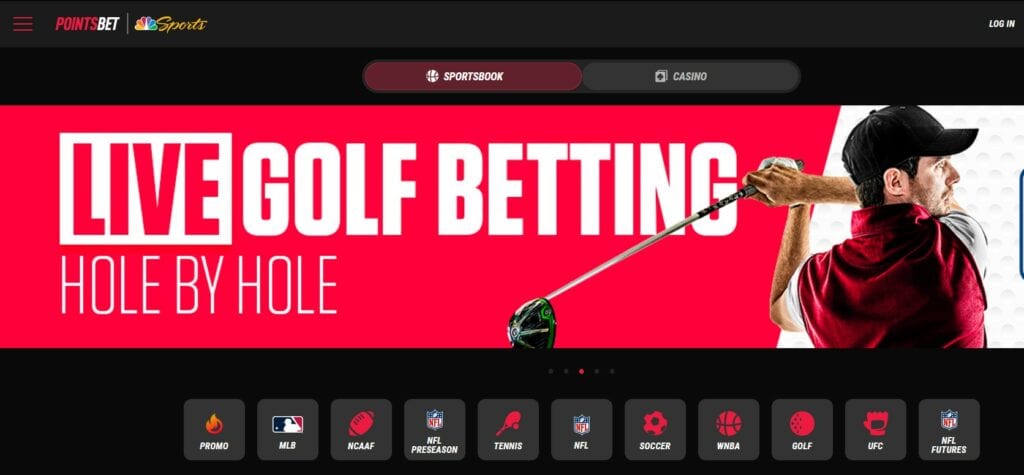 PointsBet has a widespread sports coverage, bringing bettors markets on all major sports, a number of niche ones, and even some "just for fun" bets in a category called Entertainment. The sportsbook has top-notch features, such as Partial Cash Outs, Same Game Parlay Combos and the special PointsBetting markets. Unfortunately, pointsbetting is only available as a pregame market, but for live bettors there are many excellent betting opportunities, such as hole-by-hole live golf bets and the special Lightning Bets – which bring quickfire in-game odds on what will happen next.
Expert Comments:
"The hole-by-hole golf betting markets has completely changed my betting strategy on the sport. Pointsbet has amazing odds in this category, and I can open them all in seconds on the betting app. The live in-game stats are also a big help, giving me a good foundation to pick out my lightning bets. "
– Oliver Dickinson (Sports Editor)

---
Caesars Sportsbook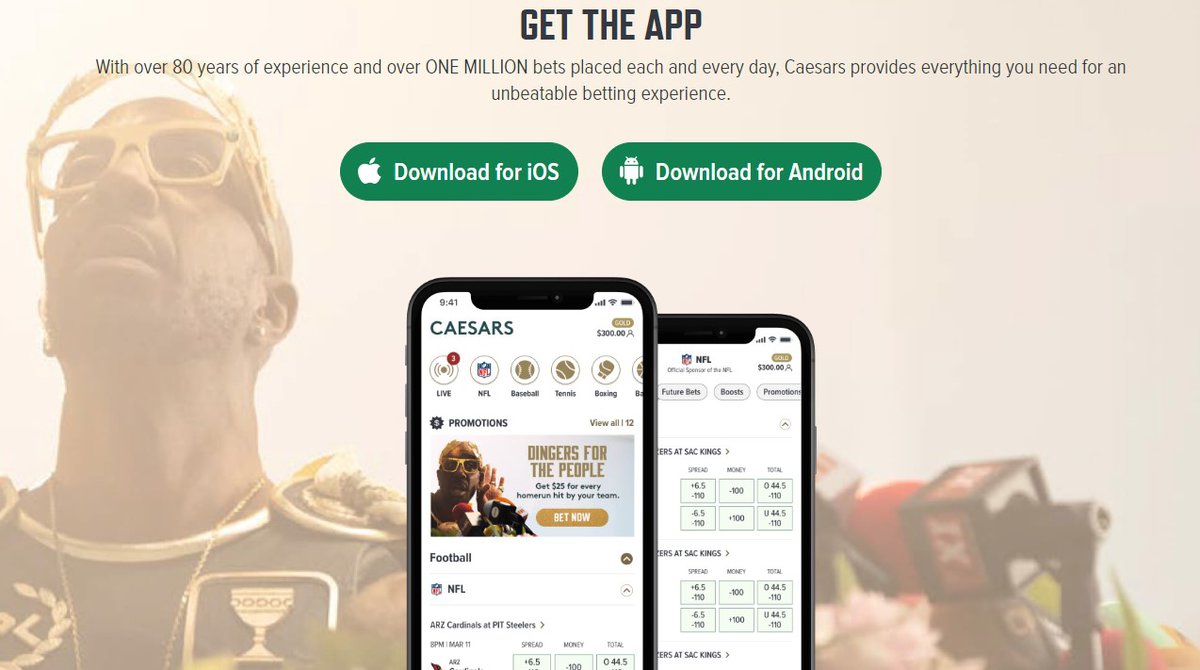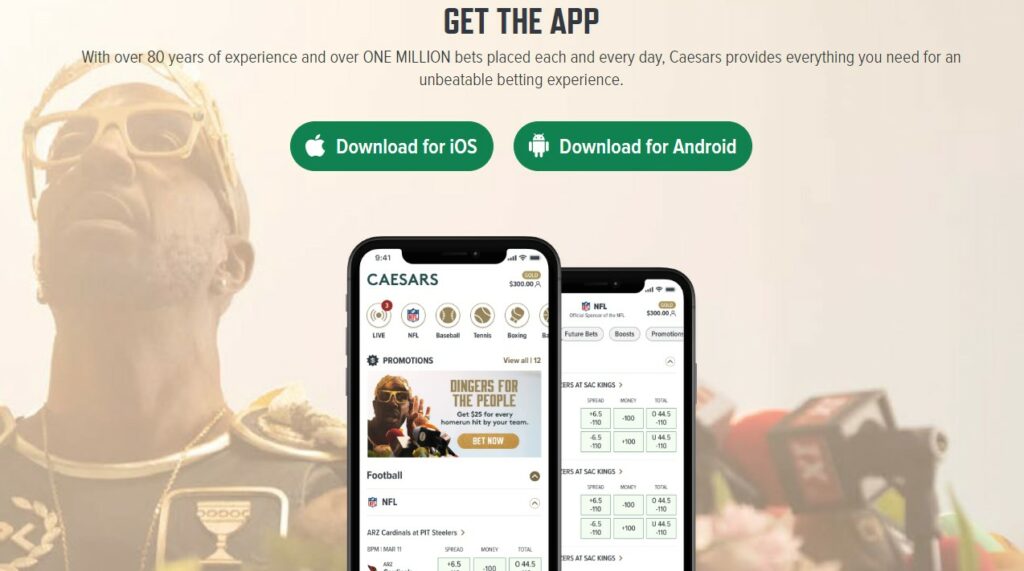 Caesars Sportsbooks is currently the only sportsbook where you can watch live NFL video coverage. Caesars acquired William Hill, a famous English sportsbook, in 2021. The quality and extensive knowledge of both institutions have come together to produce a highly competitive sportsbook, complete with top offers, enhanced odds, and many other perks.
Expert Comments:
"When I heard Caesars would start streaming NFL Games, it naturally caught my interest. I tried it out for myself and was extremely pleased with the results. I could watch NFL games in HD on the app and take advantage of the live betting markets too. I highly recommend the app for NFL fans."
– Paul Ricci (Chief Sports Editor)

---
BetRivers Sportsbook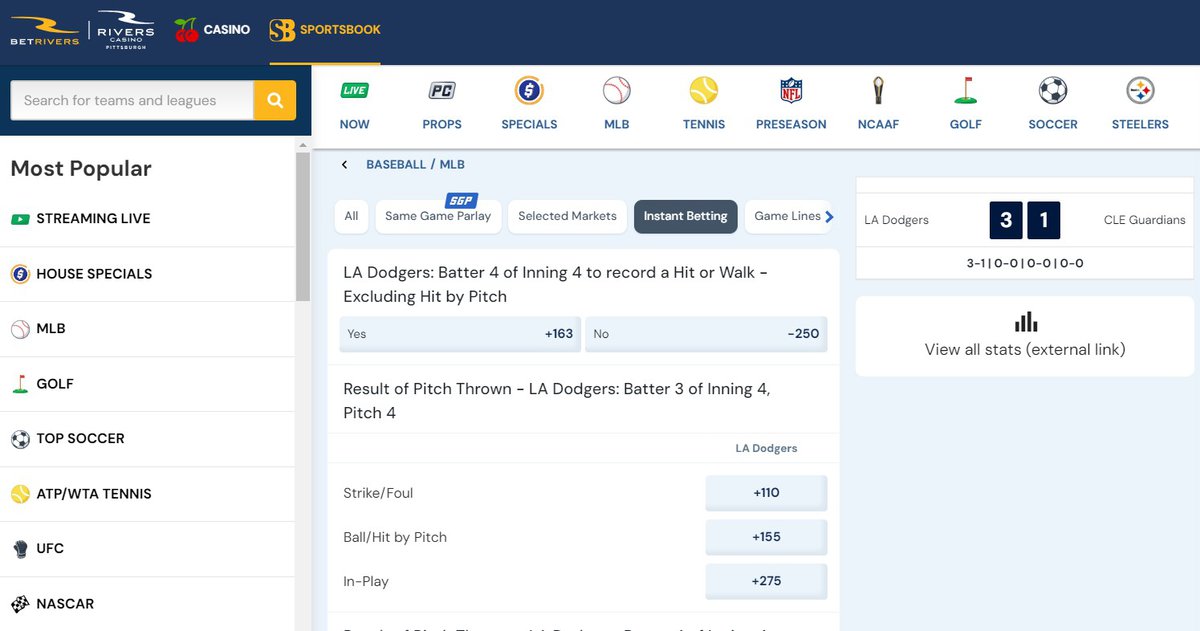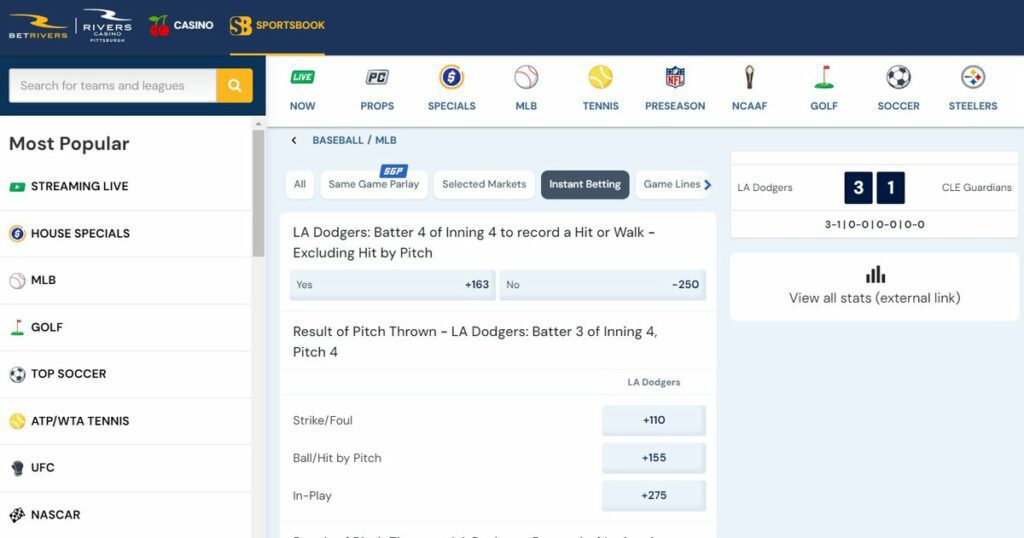 BetRivers Sportsbook covers many sports, but it focuses mainly on the most popular US Sports. The sportsbook is renowned for its innovative promotions, including parlay insurance, Bet & Get bonuses, Daily Odds Boosts, and Matched Bets. It has a lot of props and featured bets, which call on bettors to test their sports knowledge. The range of sports covered at BetRivers Sportsbook is very broad. It focuses mainly on US major leagues, but there are also betting markets for many niche sports, such as Pesapallo and Jai alai.
Expert Comments:
"Opening the BetRivers app is usually quite a thrill, as I always head straight to the House Specials and Featured Props. The app is very smooth and speedy for live betting. BetRivers has a good selection of live betting markets, including the Instant Betting markets, which you have to grab quickly as they constantly update. "
– Damjan Spajić (Sports Editor)

---
Live Betting Insights & Information
Understanding live betting is incredibly important for anyone attempting to build a successful live betting strategy. In this section, I will discuss three different factors that bettors need to consider before making a live bet.
First, I will discuss the differences in pre-game and live betting availability, followed by how to understand live odds and finish with how your live betting strategy should change based on the betting market.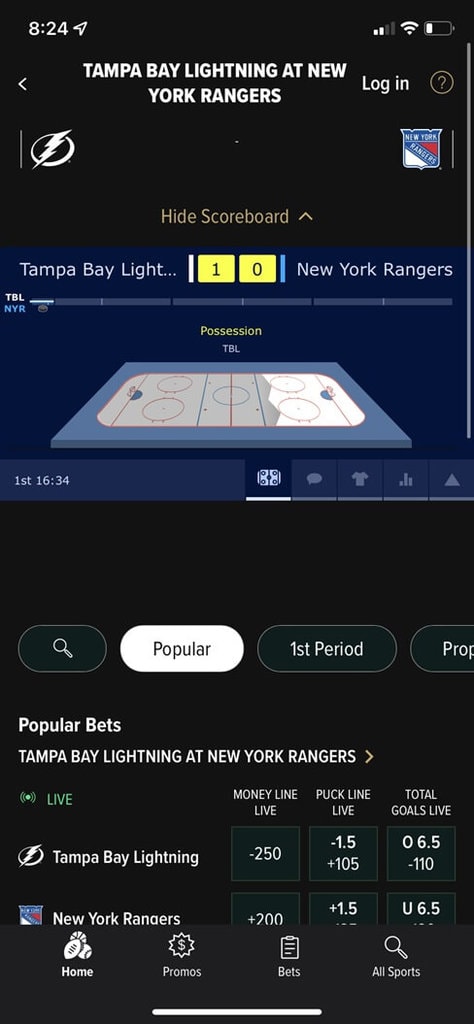 Availability of Live Bets vs. Pre-Game
One of the most significant differences between pre-game betting and live betting is the availability of the different betting options. Pre-game lines close when the game begins and live betting lines open, but they do NOT operate the same.
Pre-game lines are almost always available until the game begins and they only shift minorly based on the betting public. On the other hand, live lines are not always open during the entire event and constantly change based on who has the significant advantage at the time providing new odds based on the game flow. Often it won't be easy to place a live bet during an event like basketball that is constantly in play because lines will close so that they can adjust.
Pre-game markets are also different because they allow bets on multiple events to be combined into parlays, round robins, or teasers. Users cannot place these multiple bets during live betting and have to bet games straight.
Understanding Live Betting Odds
As I mentioned above, live betting odds are calculated based on game flow and the better team, which means that an early lead can cause the odds to swing in their direction, giving more excellent value to someone who may be the better team or athlete. In-running bets are something you want to watch the lines for a little bit before deciding on a bet for a few different reasons.
Odds are constantly changing based on the game, so it's essential to find that sweet spot that gives you the best bang for your buck. Users should only place bets live when they are watching the game to truly understand the odds they see in front of them because often, stats do not show momentum.

Live Betting Strategies Vary Based on Market
Betting markets always determine betting strategies, and that's no different for in-play betting because the different sport determines the different live betting options available. For example, horse racing doesn't offer live betting because of the short length of the race, but betting markets like tennis and baseball can be calculated based on the constant stoppage.
Markets with constant stoppage are ideal for bettors looking to place in-play bets because it allows them to place bets after the game starts, which can sometimes be difficult in a constantly in-play sport.
---
The Sportsbook Matters when Betting Live
Above all else, find a sportsbook that works for you. Each interface is different, the in-play odds are different, and the lines update differently by the sportsbook. Good sportsbooks will have live games prominent on the home page, an easily accessible live betting menu to navigate the live betting options, and will frequently have live stats and a game tracker to follow along.
Importance of the interface
The user interface is easily one of the most prominent aspects when searching for a sportsbook to use for in-game wagering. If you can't find the lines you're looking to bet on, it's probably not the right book for you.
When looking for a book to bet on, you'll want to be sure the user interface fulfills three basic needs.
Is it easy to use?
Does it have a live game tracker?
Are there enough betting options?
First of all, using a sportsbook that's easy to use is my most important characteristic when finding a sportsbook. I want a sportsbook with all of the live events front and center and a well-organized betting page for each event.
The game tracker feature is also crucial because looking at live stats on the sportsbook is much easier than flipping between the sportsbook and the ESPN app. Plus, sportsbooks generally offer common trends and stats for betting that other apps might not have.
Odds on live bets
Odds can change during an event in the blink of an eye, so finding books with solid odds is essential. If you're looking for the best betting strategy, then good odds are the most important.
To do this, get on several different sites during the same event and compare odds for an in-play bet. Pre-game point spreads will generally have odds of -110. However, in-play spread betting odds can easily reach + money based on the spread and the current outcome of the game.
While the following sportsbooks are some of the best and have the best odds in the industry, here is a table comparing them to each other.
| Event | DraftKings | FanDuel | Caesars | PointsBet | BetRivers |
| --- | --- | --- | --- | --- | --- |
| Washington Nationals @ Cincinnati Reds | Nationals ML -950/ -3.5 -135 | Nationals ML -1200/ -4.5 +112 | Nationals ML -1800/ -5.5 +120 | Nationals ML -1812/ -4.5 -131 | Nationals ML -1000/ -3.5 -125 |
| San Francisco Giants @ Miami Marlins | Giants -3500/ -5.5 -120 | Giants -3500/ -5.5 -108 | Giants -2500/ -5.5 -120 | Giants -855/ -3.5 -121 | Giants -3200/ -5.5 -125 |
| L.A. Angels @ Philadelphia Phillies | Phillies -1450, -4.5 -125 | Phillies -1600, -4.5 +108 | Phillies -1100, -3.5 -140 | Phillies -1356, -4.5 +130 | Phillies -1500, -4.5 -135 |
Line updates
As I just mentioned above, odds can change in the blink of an eye, which can sometimes cause significant issues for bettors looking to make live bets. A sportsbook constantly changing the line can cause trouble for people trying to place bets because it won't accept until the line is settled.
It is also essential to watch the lines change because this can show the shift in the money being bet by the public. This gives you an edge to see where you think the game is headed and where the sharps who bet on sports for a living will be betting.

---
Bonus Tip – Watch out for Hedging Opportunities
There are two primary forms of hedging your pre-game bets, but they are different in many ways. If you're unfamiliar with what hedging means, then let me explain. Hedging is basically when you place another bet that can win some of your pre-game bet losses. This can be done before the game begins if the line shifts enough; however, this is generally done through live betting.
The first type of hedging is a bare hedge. This happens when you place a bet before the game starts on one team or athlete, then after the game starts and it feels like it's going the other way, placing a live bet on the opposing team to recuperate some of the losses that may have come from your initial bet.
The tricky thing about hedging is calculating the amount of money you're willing to risk because the game might not end how you're anticipating. Bettors who hedge find them in unique situations where they must weigh the current risk and reward of the live bet, then compare that to the risk and reward of the original bet. If there's potential to get some of your winnings back after you've started betting, and it looks like a bad bet, I highly recommend you take it.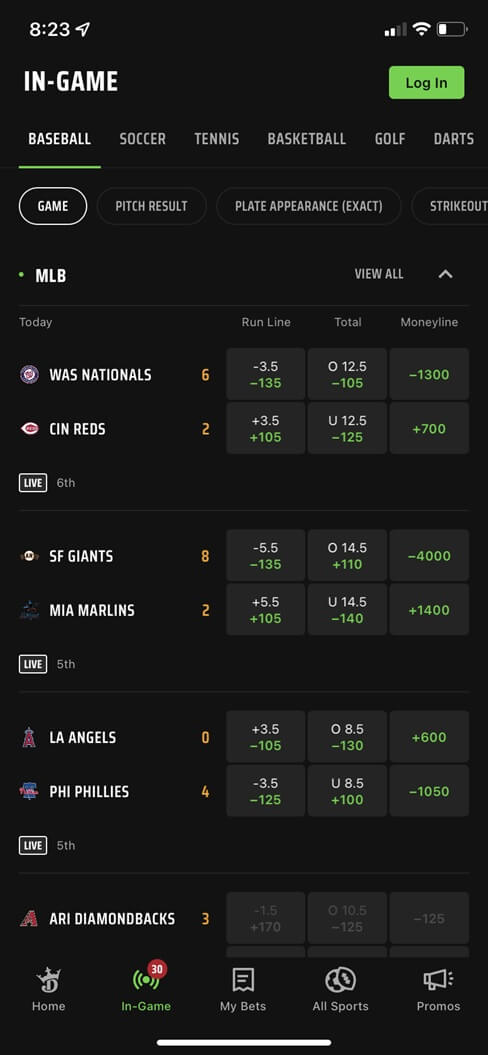 The downside of bare hedging: Be wary of live point spreads bets as a form of hedging because this could result in a double loss. It may seem nice to be betting on -110 odds rather than something like -250, but they are much less likely to win, and losing twice hurts double if you are planning on jumping on a point spread bet for in-play betting; wait until the end of the first half or period to gauge where the event will go.
The second type of hedging is something a bit more complex and takes a quick trigger finger and a very attentive bettor to pull off. This requires your original bet to be winning big early, but for you to have the wherewithal to notice that they won't finish the game that way, let me explain.
If your team is winning big early, you'll have the option to cash out from your bet for a portion of your original winnings and more than your original wager. If you notice your bet running out of steam in a time like this, I like to cash out, then place everything from the cash out on the opposition, which will likely have great odds if you do this right.
Performing this right will allow you to place large bets with house money covering the difference and win more thanks to the extra risk and the better odds. It's a risky play and can often backfire, but when pulled off, it is exhilarating.
---
Summary
If you're looking to live bet on upcoming sporting events, do it with a solid live betting strategy. There are tons of ways to live bet, and finding the types of bets and sportsbooks that work for you is critical to becoming a better live bettor.
In-game odds will always be different from current lines, and using the ever-changing odds to your advantage is a necessary tool for any successful sports bettor. Focusing on the game live and how the odds change helps the user better understand where the game is going.
If you're unsure which sportsbook to start with, read through this guide and check out the five I mentioned above. While they are all great for live betting, my favorite is DraftKings (my favorite sportsbook in general), but check them all out and see which works for you best.
If you're new to these sportsbooks, remember to click on our links and use our promo codes to register for an account to get their bonus bets and deposit bonuses for live betting!
---
FAQs
Is live betting more profitable?
With a good strategy, live betting can be more profitable than using pregame betting markets. To hone your strategy, you have to be able to read early signs as to what may happen in the game, and use your expertise to pick out good odds. It also opens up the possibility of hedge betting, which can greatly diminish your losses (at the expense of making big money on each win).
Which live bets make the most money?
Player props can have long odds, but it all depends on the sport. You can also make money by picking the underdog, but it comes with its own risks. The pro approach to live betting is not to look for longshot bets, but use your knowledge of the game to predict what happens next, and go with bets you are more confident about.
What are instant bets?
Instant bets are wagers on what will happen in the next action or next few seconds in a game. These bets are not available in pregame markets, as they are only relevant for that specific moment in time. In NFL, these are bets such as which team will score next, will the next points come from a touchdown, will the current team win points from their drive, etc.
Why are the live bets locked?
Momentarily during play, live betting markets may be suspended. This is because something has happened on the field which has a significant impact on the game, and the odds need to adjust. In soccer, this may be when a team has a dangerous attack, if a team is awarded a penalty, or during a corner. Don't worry though, as the odds should be generated quickly after the action/scoring, and you will be able to bet again in no time.