Gamble USA strives to improve your online gambling experience. We aim to help you play safely, make informed decisions when gambling, and increase your betting knowledge through our guides.
We adhere to strict editorial integrity; our content may contain links to products from our licensed & legal US partners.
If you are a regular bettor, you may have come across the terms Vig, Vigorish, Juice, or House Edge. These don't mean anything to many people, while others don't care since they only play for entertainment purposes. However, as a sports bettor who wants the best returns from his/her wager, these are important terms.
These terms are the edge an online sportsbook gives itself over bettors to make sure it earns a profit. Other terms such as implied probability, actual probability and reduced juice betting line are also associated with wagering on a betting app.  If you want to get the best from your wager, you must understand the vig and how it affects you. We understand that all you want to do is bet on your favorite team and win, so we have done the research for you.
After all, before you wager on team A or team B to win the Super Bowl on your sportsbook app, it is worth knowing the reduced juice sportsbooks so you can maximize your potential earnings. Finding the most competitive odds before you submit that prop bet is vital if you want your online sports betting experience to be a fruitful one.
Our experts have put together this extensive guide to teach you everything about the vig. You will find out how it is calculated in sportsbooks and its impact on your winnings. We will also provide a list of 5 top sportsbooks with low vig in the US for real money betting that you can try out. Knowing this, let us get started!
Top 5 Betting Sites with Lowest Vig
Locating the best betting platforms with low vig can be a complicated task, even as an experienced player. It has to do with going line shopping by comparing the odds on the individual sportsbooks and settling for the best.
This sounds easy, but you will still need to ensure the betting site excels in other areas like payment, sports markets, bet types, etc. This comparative process can be time-consuming, especially when you already have a game in mind to wager on. But it is important you sort this out before you involve real money betting.
Fortunately, we have done all the hard work for you and compiled a list of the top betting platforms in the US that offer reduced juice betting.
BetRivers Sportsbook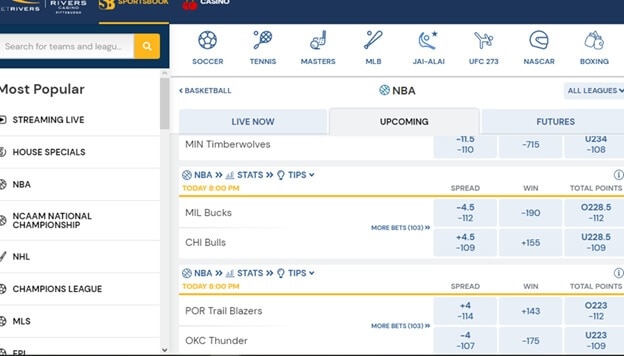 BetRivers is a popular low vig online sportsbook that caters to US players. It is legal in many US states, including AZ, VI, WV, NY, IL, etc. New players who register on BetRivers and use the bonus code "250MATCH" get a 100% match up to $250. This betting site extensively covers numerous sports markets ranging from major sports like the NFL, NBA, and Soccer. You will also find other markets for Hockey, Tennis, UFC, etc.
The odds are reasonable, with BetRivers offering the standard -110 odds for most spreads, totals, and moneyline bets. However, it does provide reduced juice betting odds of -107, -108, and -109 in some NBA sports events. This is not as low as you will get in some other platforms on our list, but it is decent.
BetMGM Online Sportsbook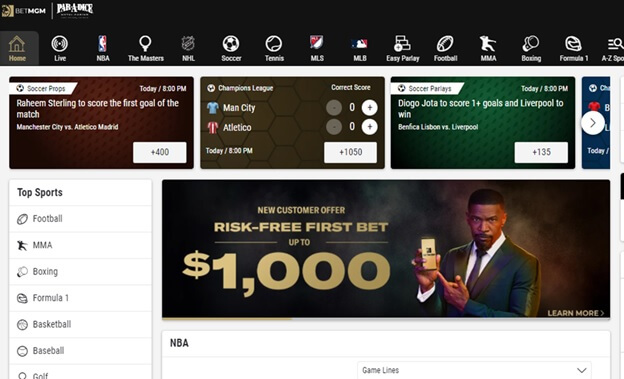 BetMGM is a leading US sportsbook licensed in various states, including AZ, IL, NJ, NY, Pa, and many others. New players who sign up on this platform with the promo code "GAMBLEUSA" get access to a fantastic welcome offer. This is a $1,000 risk-free bet which requires a deposit of at least $10. BetMGM covers a variety of sports markets, including Soccer, Basketball, Hockey, etc.
The juice on this platform is fair, with most odds pegged at -110, the standard in most sportsbooks. This means you will have to pay $110, to win $100. However, it also offers some reduced vig betting odds of around -105 on its totals and few spreads, particularly on its NBA markets. You will also find some low vig odds of -105 in the soccer market if this is what you prefer.
Twinspires Sportsbook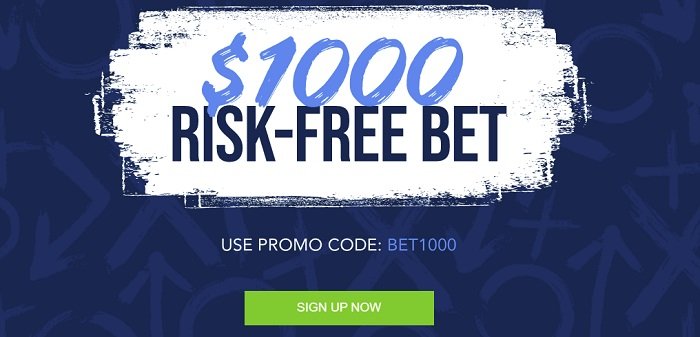 This top US sportsbook is very popular among bettors. It has a racetrack, sportsbook, and casino, ensuring that players can wager on their favorite events without hassles. New players who register on this platform get a $1,000 risk-free bet if they use the promo code "SUPERBONUS." The betting site covers a variety of sports, including Boxing betting, Baseball betting, Golf, NFL betting, and many more. It also supports numerous bet types like totals, moneylines, futures, round robin betting, matched betting, multibets, p2p sport bets, etc.
The vig on TwinSpires sportsbook is within the standard range of -110 for the most part. However, you can find low vig on some spreads ranging from -109 and -108 in some cases. Also, it is fond of offering disproportional vigs, meaning you can find -109 on a team and the other with -112. With this, you can create alternate totals and spreads for the best outcome.
Borgata Sportsbook

Borgata is one of the leading names among bettors in the USA today. It has a very comprehensive offering and is licensed by the New Jersey Division of Gaming Enforcement. New bettors who register and use the "GUSA" bonus code will get $100 in free bets no deposit when they wager $20. Bettors can also find numerous sports markets, including soccer, tennis, basketball, NHL, etc.
The vig on Borgata sportsbook is standard at -110, but it offers low vigs on totals even though they are disproportional like TwinSpires Sportsbook. Nonetheless, it is an excellent option for anyone looking for a sportsbook with a decent vig.
FanDuel Sportsbook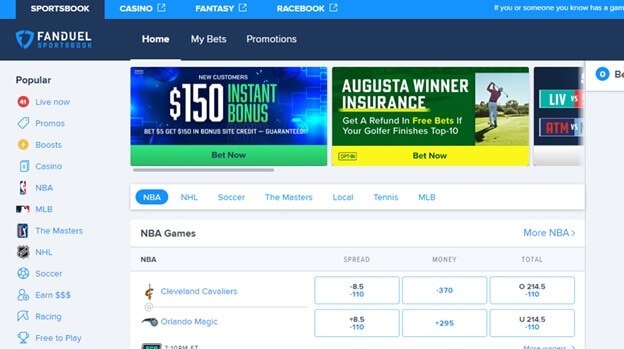 FanDuel is another recognized name in the US. It initially began offering its services to players in New Jersey on the 1st of September 2018. Then it expanded its services to other states, including Connecticut, Michigan, Virginia, and New York, etc. New bettors who sign up on this platform get a $1,000 risk-free bet which is a great way to start.
The sports markets covered here are decent, and you will find sports like soccer, NBA, Tennis, MLB, Racing, etc. Like you'll expect from a top sportsbook, the odds are within industry standards at -110, but you will still find some reduced juice. Specific events tend to have odds of -108 and even -105, which means more profit for you if you play your cards right with this low vig sportsbook.
Other notable online bookmaker options for low vig include Golden Nugget Sportsbook, DraftKings Sportsbook and Caesars Sportsbook.
What is Vig in Sports Betting?
Vig is a term also referred to as Vigorish in sports betting. It is like the sportsbook's share for every bet players make on the platform. Each bet a player places on a sportsbook will have its actual odds and the odds set by the bookmaker. The difference between both odds is referred to as the vig.
To help you understand better, we will be using an example.
Presuming you make a wager at odds of -120, your return will be lower than the amount you initially wagered. For instance, if you wager $120 and win, you will receive your initial stake alongside a $100 profit. Ideally, you should have won back precisely double the amount you wagered as winnings, but the extra is what the sportsbook keeps as its share. This fee helps it make a profit and keep its operations going regardless of how the match ends.
Looking at another game, with both teams having equal odds of -120, it means they are evenly matched. However, one team will surely win, and the others will lose. If you bet on the winning team, you get paid, while those who bet on the losing team will wager on another game. The main goal of a bookmaker is to pay out less than what they keep for themselves. The vig is what helps the sportsbook achieve this feat.
Many wonder why there are many low vig sportsbooks in the US, and the answer is simple. Charging the lowest vig consistently will end up bankrupting the operator. And the way you can still benefit is to shop around for the best odds for the same event across several books. All best lowest vig sportsbooks on this page are a great place to start.
What does 'Vigorish' mean?
There are many terms in the sports betting market that you may be unfamiliar with. If you have visited Las Vegas, you may be overwhelmed with the jargon linked to wagering and all you want to do is look for better odds to place your point spread wager. One of these terms is Vigorish and it is a fee hat the sportsbook takes for each bet. Every wager you place will will have true odds and odds that have been set by the operator. The difference between the value of both is the vig.
For example, if you have a true 50/50 scenario like betting on the outcome of a toss of a coin, both sides have an equal chance of success. So you would assume you will get even money if you make the right selection.
Why is the Vig Important?
For the sportsbook, the vig is a cushion that ensures it makes a profit regardless of the match outcome. However, it still needs to ensure the odds are balanced so that players can bet on both teams. This will ensure it draws in enough bets to make the vig profitable for it.
In contrast, the vig for bettors is a way of determining the disadvantage of a specific wager. This is because the vig differs depending on the gambling site. Many casual bettors don't care about this and are only worried about how much they win. But for experienced bettors, the vig is an integral part of the sportsbook that they need to factor into their wagers, especially if they want to make a long-term profit.
The hardest part is finding an online sportsbook with consistently low vig and solid bonus/odds boost. Usually, operators choose one of two ways to attract players. But you can find the best of both worlds on our listed lowest vig sportsbooks in the US.
Benefits of Low Vig Sportsbooks
The benefits of low vig in sportsbooks are centered around the profit you make when you wager. As a sports bettor, your goal is to get the best deal on sportsbooks when you win your bet. Here are some ways a sportsbook with low vig makes this happen:
You Lose Less
Regardless of how skilled or informed you are, you will eventually lose when wagering on a sportsbook. However, playing on a low vig sportsbook saves you some money on every bet you lose.
Let's use an example. Say sportsbook A offers you odds of -110, which is the standard you will find in most sportsbooks. Here, you will need to wager $110, to win $100. But sportsbook B offers odds of -120, which means you will need to wager $120 to win $100.
The difference between both is $10, which may seem insignificant, but the little money saved up can significantly minimize your losses in the long run. For instance, if you make 20 ($110) bets at sportsbook A in our example above, you would have spent $2,200 to win $2000. However, the same bets in sportsbook B mean you would spend $2,400 to make the same $2,000.
This is one primary reason low Vig sportsbooks are essential. They can save you a significant amount of cash.
It Is Easier to Make A Profit
Since it is easier to reduce your losses, making a profit from an online sportsbook with low vig is easier. In most cases, you will need an average win of 54.2% to break even at odds of -110. The less you lose, the easier it is for you to achieve this and make a profit!
Higher Bet Limits
This is another fantastic benefit of betting on a low vig sports betting site. Most online gambling platforms tend to limit your bet amount to around $1,000 – $2000. However, low vig sportsbooks tend to offer higher prices to make up for their low vig. You can find limits of up to $10,000 or more in these sportsbooks. This aims to get players to make more bets, and it can be beneficial to you if you are a high roller.
Stay away from Offshore Betting Sites with Low Vig
If you are a regular bettor, you will most likely have heard about offshore betting platforms. These are sportsbooks with a license from overseas offering their services to US players. Some of the common licenses you will find include those from Curacao, Costa Rica, and Panama.
In the US, sportsbooks that can operate legally need to partner with racetracks or casinos that have a physical location in that state. This way, the sportsbook will be able to share its license and have a badge from the respective state regulatory body.
Like the legal and licensed sportsbooks, these betting platforms also offer low vig to players. The goal is to get them to sign up to their betting platforms and bet with them. This is not necessarily a bad thing since most offshore sportsbooks promise a lot to players. However, it is important to be wary when dealing with these online betting sportsbooks because even though they may be great from a distance, a closer look will tell you that there is a range of drawbacks too. Here are some reasons you may want to stay away from them:
Problems with licensing and regulation
You may get a very low vig from an offshore sportsbook, but they don't operate under the same strict guidelines as licensed betting platforms. This may become problematic if you have an issue with the sportsbook. Since the same strict bodies do not regulate them, your safety is uncertain, as they could get away with most shady practices.
Voiding Bonuses
Some unlicensed sportsbooks may offer the best bonuses and a low vig to get an advantage in the competitive gambling market. However, unlike their licensed counterparts, they may have no intention of offering a payout when you win. Other times, they may even add unfavorable wagering requirements to frustrate you into losing the whole bonus.
High Minimum Withdrawals
You are most likely playing on a low vig sportsbook to save cash. However, unlicensed betting platforms may have a very high minimum for withdrawals. If you are a casual bettor, this could leave your cash stuck on the website for a long time.
Payment Delays
Most offshore sportsbooks are notorious for delaying payments. There is no one monitoring their activities, so they can easily get away with this. If you like fast payouts, this can be quickly frustrating.
No Support For Responsible Gaming
Licensed sportsbooks offer support for their players to ensure responsible gaming. They achieve this by allowing only adult users and providing support for those who have a gambling problem. This is something that is not available in many offshore gambling sites.
Playing in offshore sportsbooks with low vig like Bovada, BetAnySports, Pinnacle, and Heritage Sports may seem like a good choice, but it's best to stick with properly licensed sites if you want a good low vig sportsbook that will payout your profits. You can check out our recommended lowest vig US sportsbooks for one that suits you.
Is the Vig higher or lower on Futures wagers?
Bet type can determine the vig. The vig on a futures bet is typically higher when compared to standard bets. On a standard moneyline wager, the total implied probability is between 105% and 110%. However, a futures bet can reach up to 140%. One of the things that draws people towards futures bets is they come with a significant potential payout die to the high odds. There is no point searching for the best value when it comes to futures, just like parlays, they are a high risk, high reward type of wager.
Bottom Line
Vig may seem like a complex and unimportant term, especially if you are playing for the first time on a sportsbook. However, this concept simply tells you how much of your wager the betting site keeps. It is also crucial to determine how much profit you make on specific bets. If you want to get the best returns from your wager, you need to play on a low vig sportsbook.
We have compiled a list of the top 5 betting sites with low vig for bettors in the US. Regardless of the kind of sports event you are trying to wager on, ranging from NBA, or Soccer, down to eSports, you will indeed have the best experience with any of these platforms. All you need to do is pick one, sign up, make a deposit, and start playing one of the reliable online books listed on this page!
FAQs
Are juice and Vig the same in sports betting?
Yes, juice is another name for vig in sports betting. They mean the same thing and are the cut the sportsbook takes out of every bet players make on the platform. Different sportsbooks and betting apps will have varying cuts, with some lower than others.