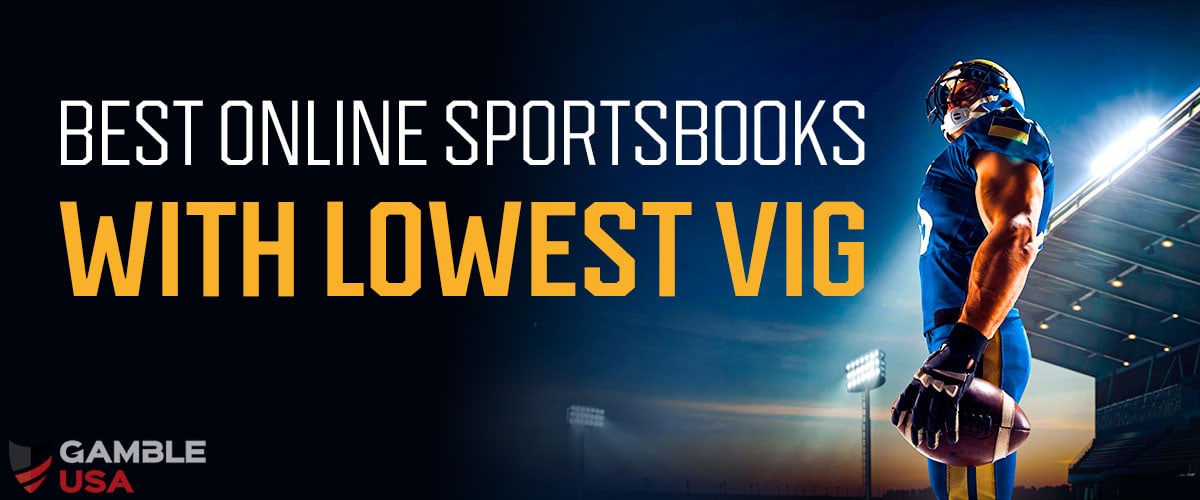 If you are a regular bettor, you may have come across the terms Vig, Vigorish, Juice, or House Edge. These don't mean anything to many people, while others don't care since they only play for entertainment purposes. However, as a sports bettor who wants the best returns from his/her wager, these are important terms.
These terms are the edge an online sportsbook gives itself over bettors to make sure it earns a profit. Other terms such as implied probability, actual probability and reduced juice betting line are also associated with wagering on a betting app.  If you want to get the best from your wager, you must understand the vig and how it affects you. We understand that all you want to do is bet on your favorite team and win, so we have done the research for you.
After all, before you wager on team A or team B to win the Super Bowl on your sportsbook app, it is worth knowing the reduced juice sportsbooks so you can maximize your potential earnings. Finding the most competitive odds before you submit that prop bet is vital if you want your online sports betting experience to be a fruitful one.
Our experts have put together this extensive guide to teach you everything about the vig. You will find out how it is calculated in sportsbooks and its impact on your winnings. We will also provide a list of 5 top sportsbooks with low vig in the US for real money betting that you can try out. Knowing this, let us get started!
---
Top 5 Betting Sites with Lowest Vig
Locating the best betting platforms with low vig can be a complicated task, even as an experienced player. It has to do with going line shopping by comparing the odds on the individual sportsbooks and settling for the best.
This sounds easy, but you will still need to ensure the betting site excels in other areas like payment, sports markets, bet types, etc. This comparative process can be time-consuming, especially when you already have a game in mind to wager on. But it is important you sort this out before you involve real money betting.
Fortunately, we have done all the hard work for you and compiled a list of the top betting platforms in the US that offer reduced juice betting.
🥇#1 – FanDuel Sportsbook – Low Vig on Point Spread Bets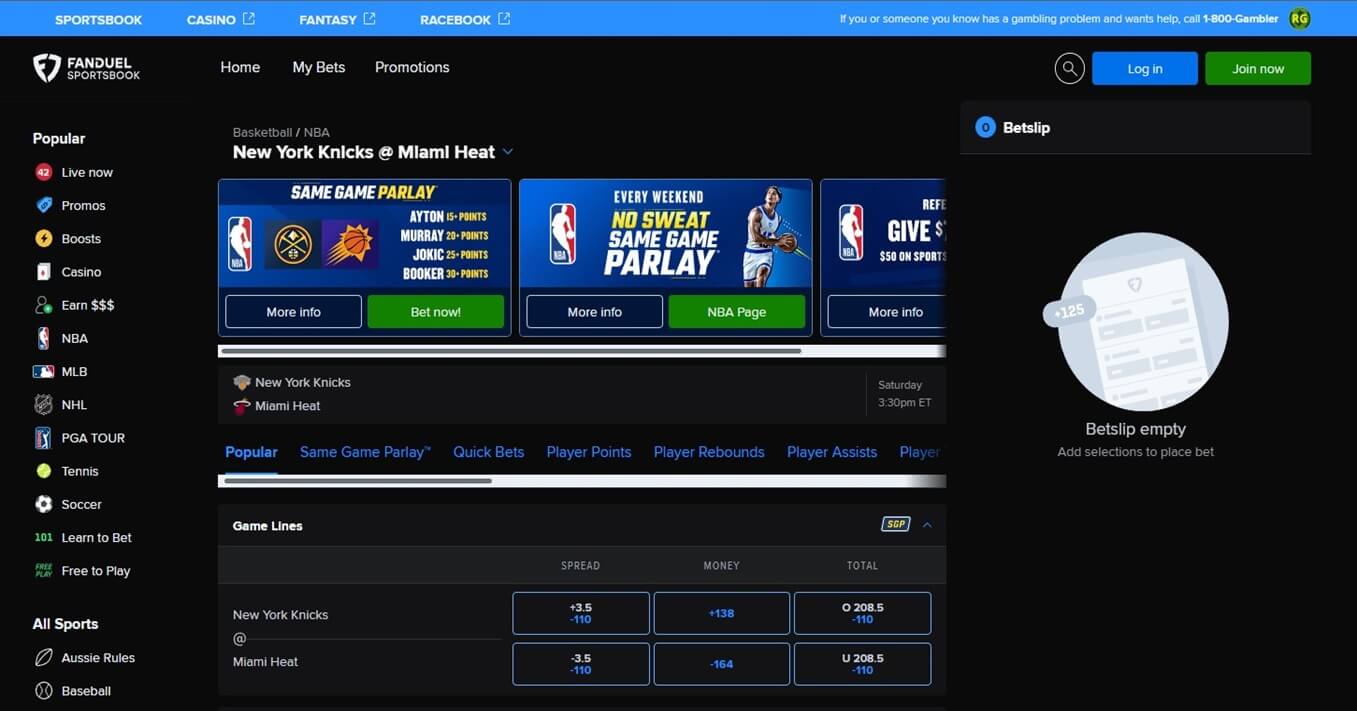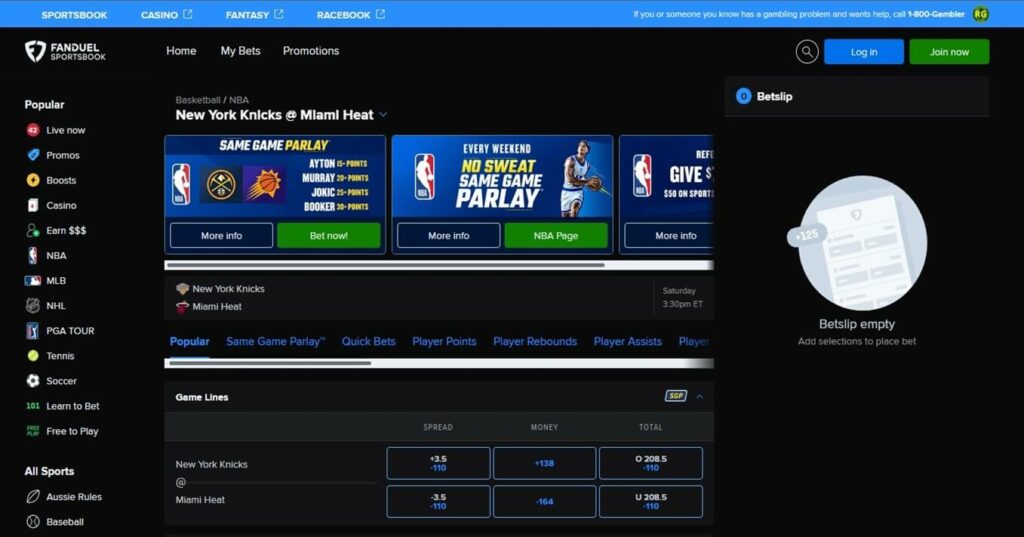 FanDuel offers a plethora of betting markets, all available within a few clicks on its smart betting app. It became hugely popular in the states as a DFS Fantasy Sports platform, which is still widely used and better than ever. FanDuel is available in 20+ states, and offers the DFS Fantasy Sport, FanDuel Casino, FanDuel Sportsbook and FanDuel Racing platforms.
Our team has tested the bets and low vig on FanDuel for several years now, and it has always provided highly competitive prices. The juice is extremely low, especially for spread betting, for which the industry standard is -110, but at FanDuel you can occasionally pick out better deals, such as -108 and even -105. FanDuel also regularly offers promotions and sport-specific bonuses, so you can
✅Tested for:
🏈NFL
🏀NBA & NCAAB
🏒NHL
🏇Horse Racing
🎾ATP/WTA & Grand Slams
🏌️PGA Tour
🥈#2 – BetMGM Online Sportsbook – Low Vig on Underdogs and Futures Bets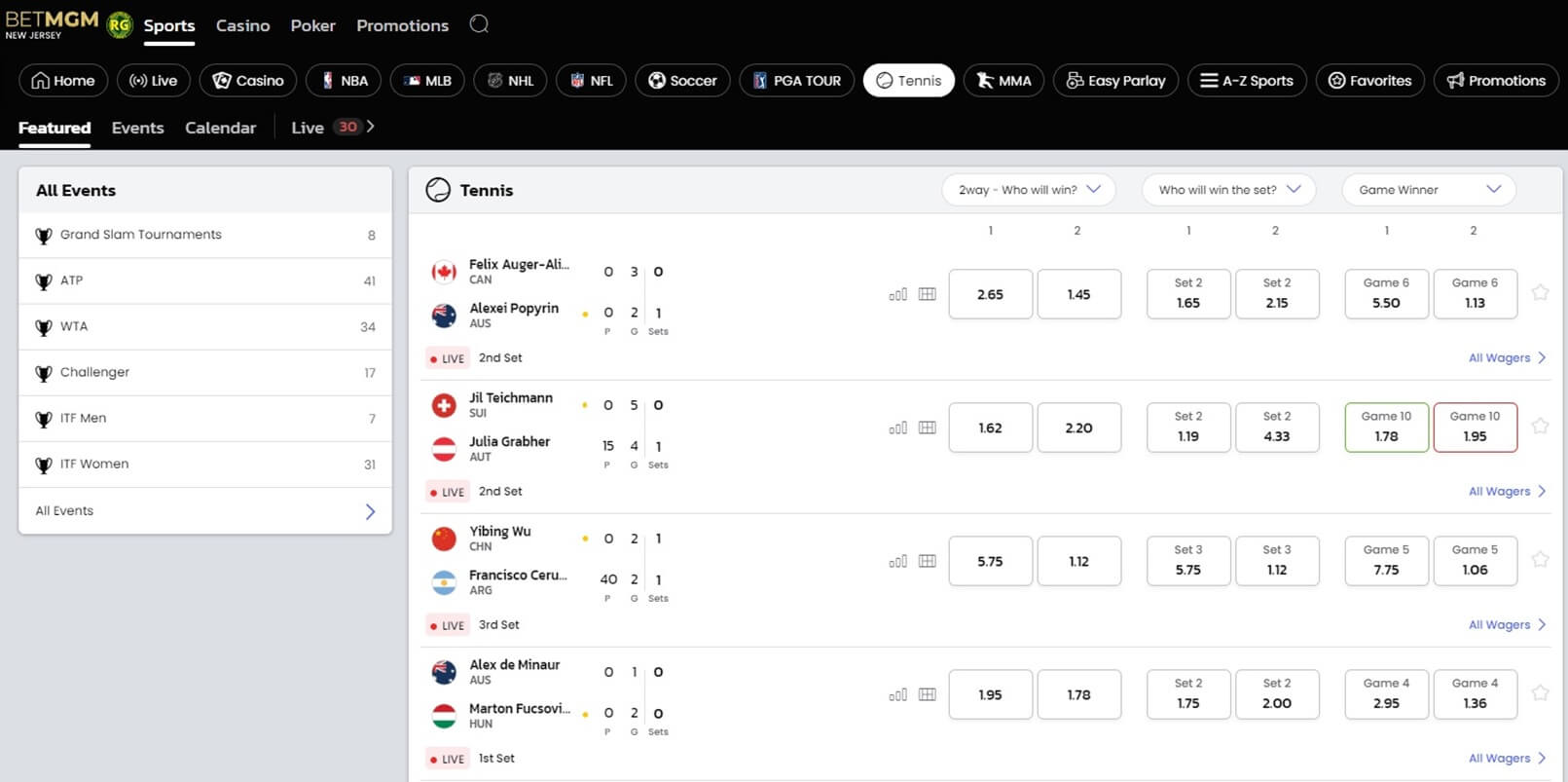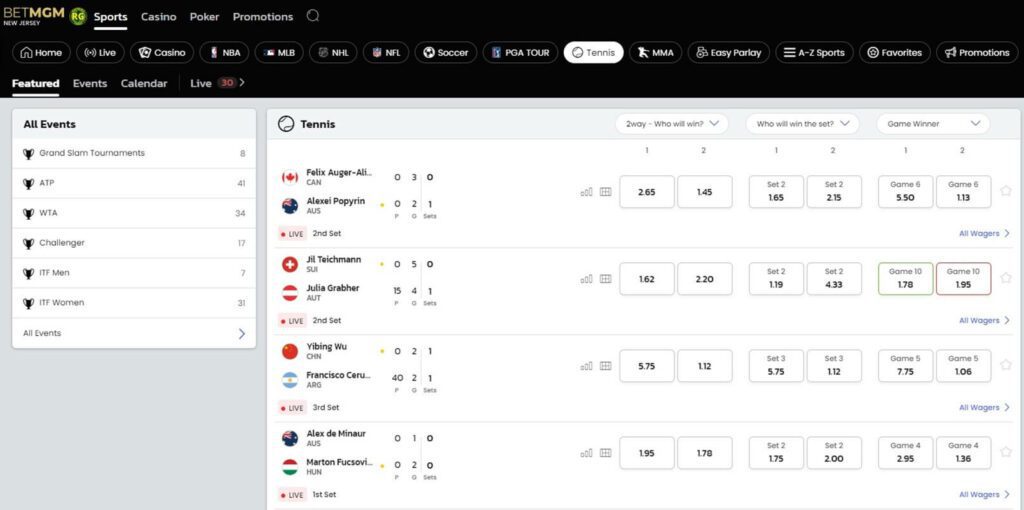 BetMGM is a leading US sportsbook licensed in 20+ states, including AZ, IL, NJ, NY, PA, and many others. The juice on this platform is fair, with most odds pegged at -110, the standard in most sportsbooks. It covers all the major US sports leagues, and is great for making advanced bets such as round robins or big parlays. The platform also provides BetMGM Casino and BetMGM Poker, in addition to its versatile, low vig sportbsook.
The vig on futures bets is quite low, and there are tons of excellent picks to explore. For example, NFL fans can bet on futures such as NFL Player Awards, bet on which Division/Conference will win the Super Bowl and even bet on the two NFL Super Bowl Finalists, at staggeringly long odds. BetMGM is also noted for its gigantic Sportsbook welcome bonus, and frequently gifts existing users with promotions such as Odds Boosts, Parlay Boosts, and Survivor Pool Challenges.
✅Tested for:
🏈NFL & NCAAF
🏀NBA
⚽MLS & World/European Soccer Leagues
⚾MLB
🏒NHL
🥊MMA/UFC
🥉#3 – DraftKings – Tons of Game & Player Props with Low Juice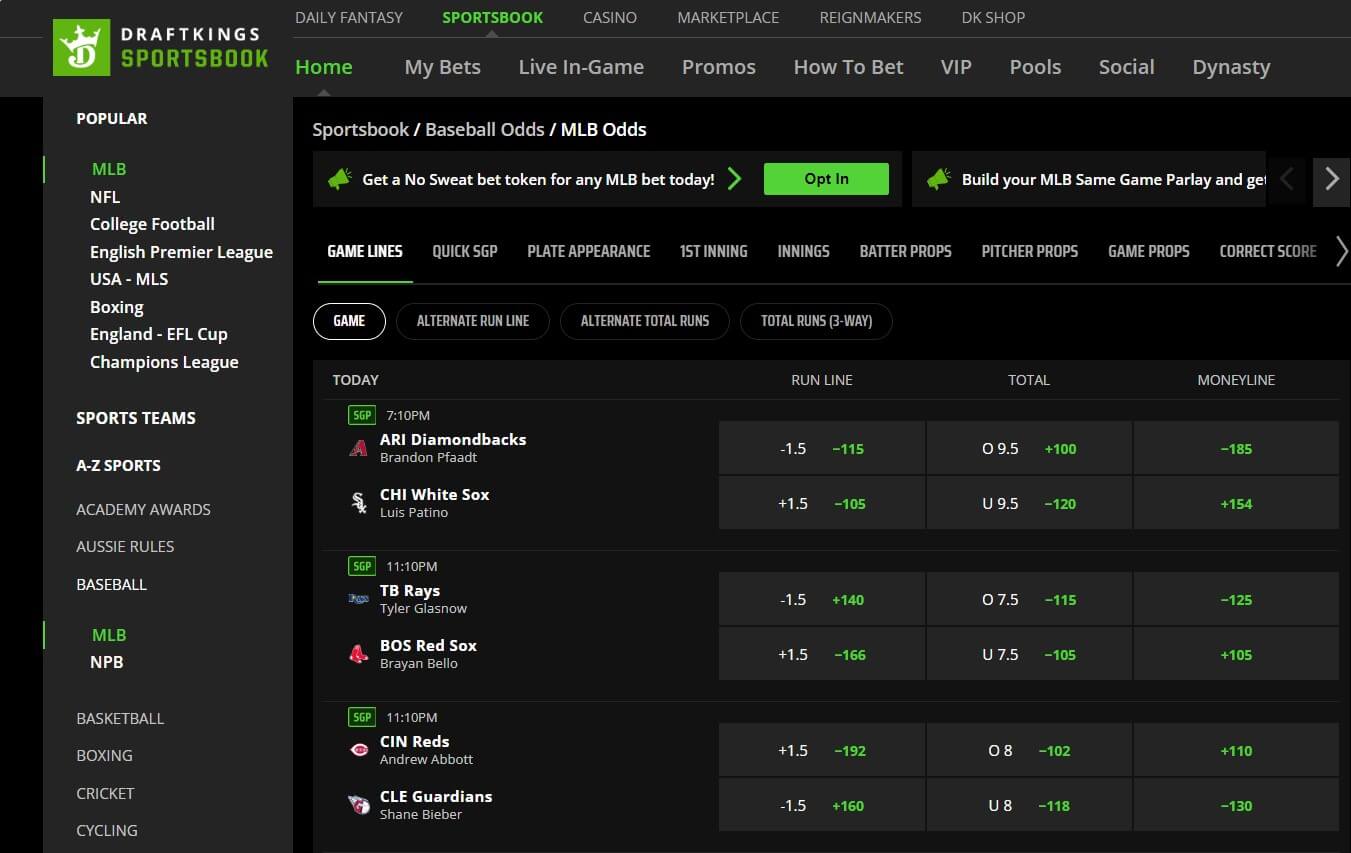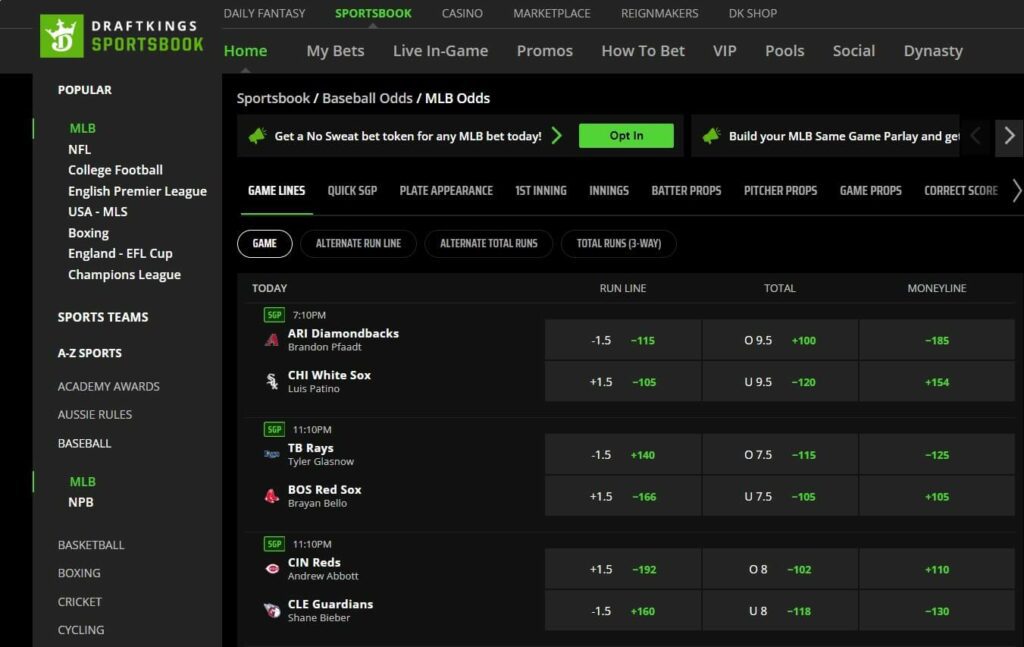 All US bettors should be familiar with DraftKings, which alongside FanDuel, dominates the US betting market. The sportsbook has become the home for player prop bettors, specifically those NFL fans who want to back their favorite players. DraftKings Fantasy is available in 40+ states and the DK Sportsbook operates in over 20 states across the US.
We have a lot of experience testing out DraftKings bets and promotions, and have to mention its exceptional interface. Everything is optimized to bring you the premier betting experience. With tools to help you build your DraftKings parlays, SGP and SGP+ bets, symbols to show you which bets have cash out offers, and highly detailed game and betting stats so you can bring your A-game for the next match.
Point spread bettors can take advantage of the betting lines at DraftKings, which sometimes differ from the lines you can get elsewhere. Combining those lines with the game and player props that DraftKings is famous for, and you have a recipe for success.
✅Tested for:
🏈NFL
🏀NBA
⚾MLB
🎾ATP/WTA & Grand Slams
⚽MLS & International Soccer Leagues
🏍️Motorsports (NASCAR, F1, etc)
🏓 Niche Sports
🎖️

#4 – Caesars Sportsbook – Low Vig on Live Betting Markets (+NFL Live Streaming)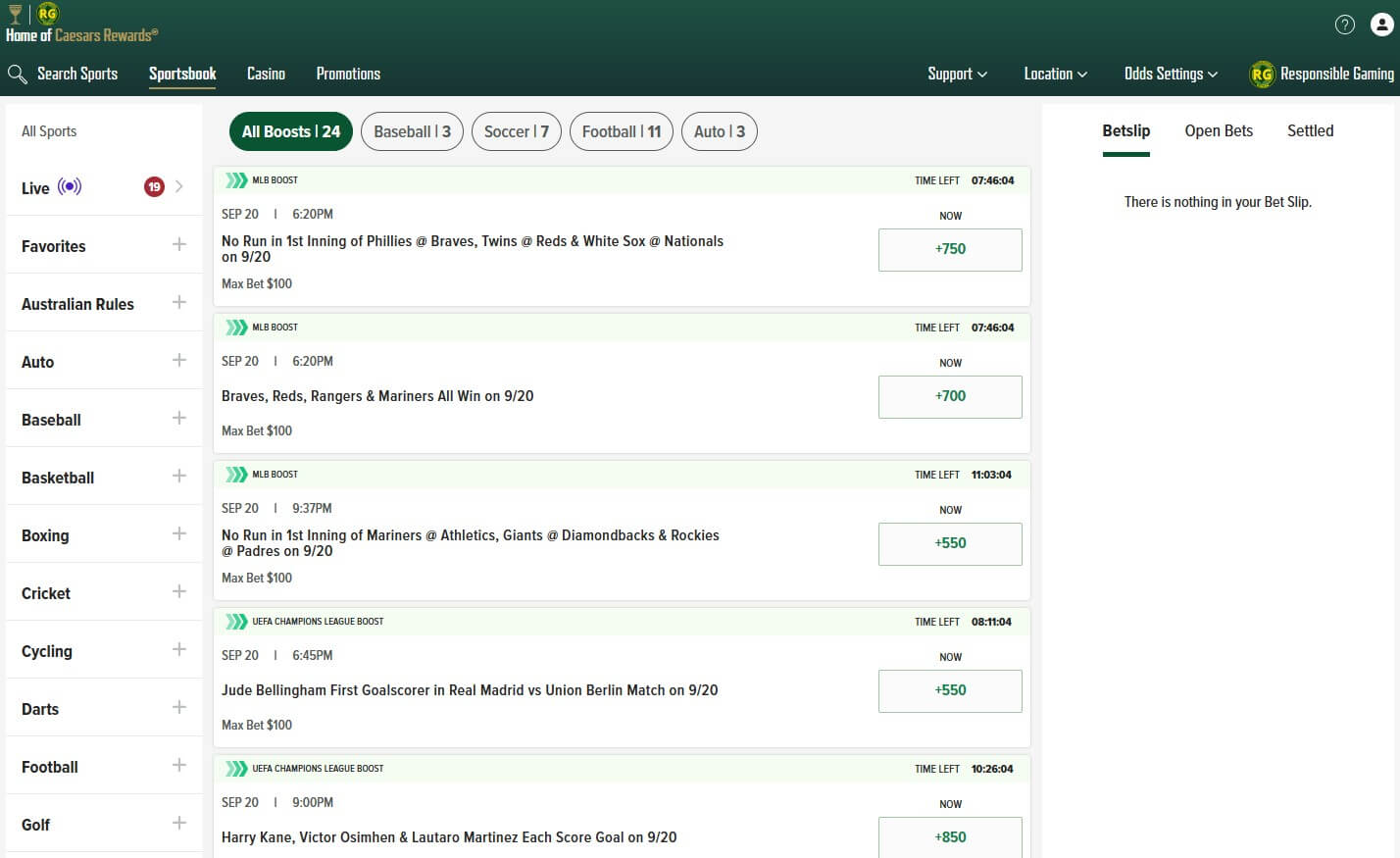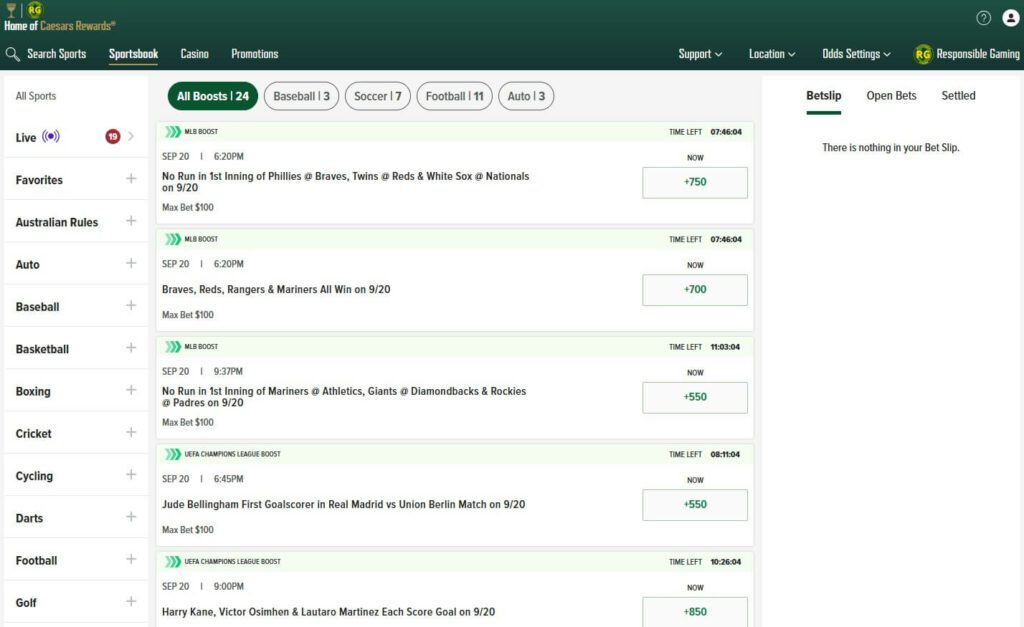 Caesars Sportsbook is king when it comes to NFL betting. The Watch & Bet feature allows you to watch NFL live streams and pick from a great helping of live NFL betting markets. Caesars operates in numerous states, including CO, IL, KS, NJ, PA and VA. It has a mighty loyalty program that can gift you exclusive rewards, such as trips to Las Vegas and invitations to epic tournaments.
A world of betting opportunities awaits bettors at Caesars, from betting on the American Triple Crown horse racing meetings to upcoming boxing bouts. The vig on games in popular sports such as NFL, MLS, MLB, NHL, and NBA are relatively low, and you can also take advantage of promotions that bend those odds in your favor even more.
If you are to play at Caesars, we highly recommend you download the mobile app. It makes betting a cinch, with straightforward payment methods and smart optimization tools. You can tweak the app to highlight the events you want to bet on and wagers that may interest you.
✅Tested for:
🏈NFL & NCAAF
🏀NBA
⚽MLS & International Soccer Leagues
⚾MLB
🏇Horse Racing
🏒NHL
🥊Boxing & UFC/MMA
🏅

#5 – BetRivers Sportsbook – Best Local/Collegiate Low Vig Bets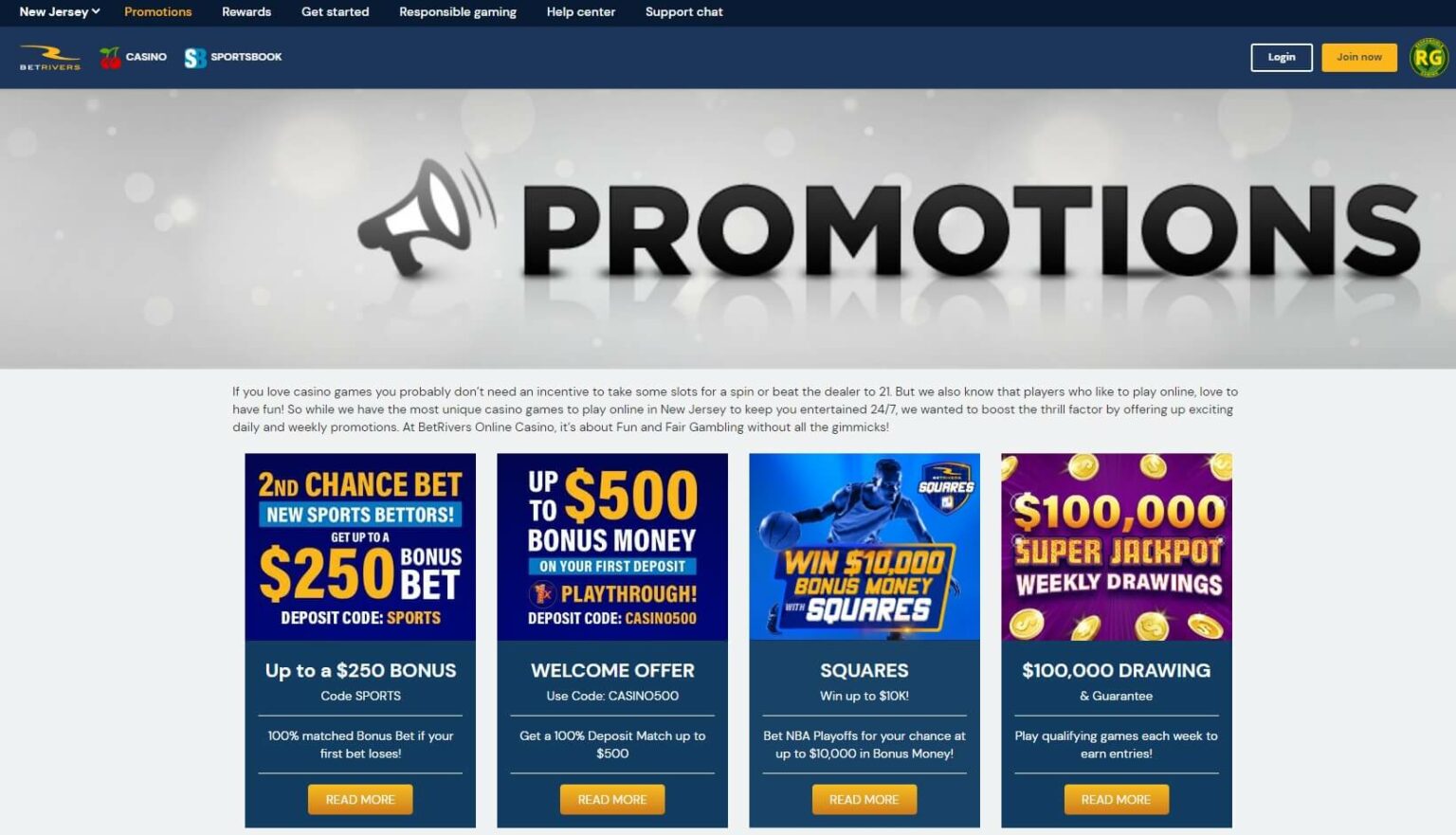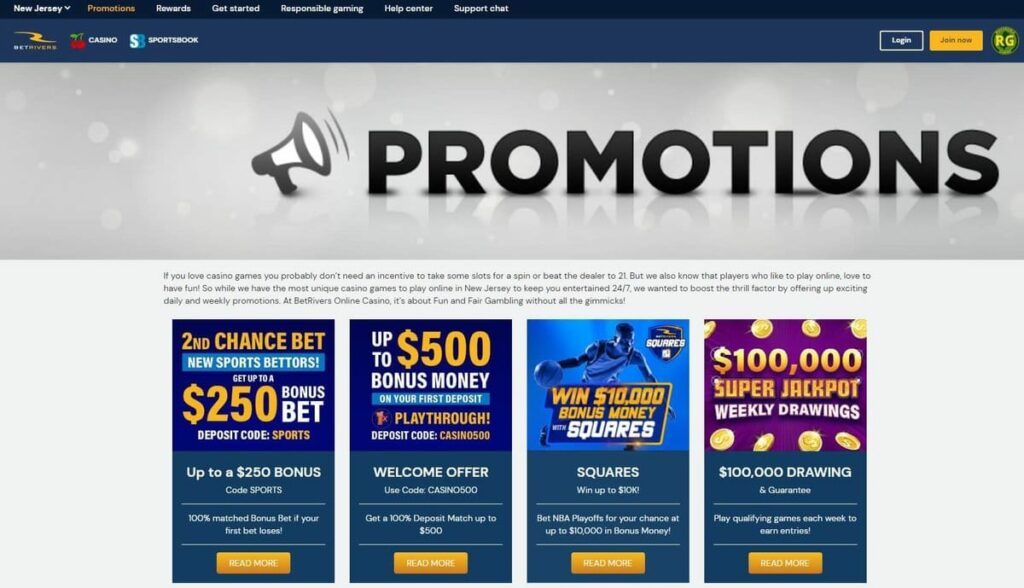 BetRivers is a popular low vig online sportsbook that caters to US players. It is legal in 10+ US states, including AZ, VI, WV, NY, and IL. Point spreads are generally priced at -110, but you can also pick out deals for as long as -107. Though it is not as low as what you may find at other platforms on our list, BetRivers has its own distinguishable features.
For fans of local professional and college teams, BetRivers is one of the best sportsbooks around. It does a remarkable job of offering extensive betting markets on your local franchises, especially for hyped events such as local rivalries and tournament events. You can find tremendous deals on those local games listed under the House Specials category, where the bets have negligible vig.
One feature that we have tested numerous times is the BetRivers Quick Picks. These are ready-made parlays that combine player bets, points bets and various other types of wager. If you ever find yourself in a rut and don't know what bets to pick, you can always head over to the Quick Picks or Prop Central for some inspiration.
✅Tested for:
🏈NFL & NCAAF
🏀NBA & NCAAB
⚾MLB
🏒NHL
⚽MLS &  European Soccer Leagues
🏓 Niche Sports
🏆And More!
Finding the best low vig US sportsbook is not an easy task, as there are lots of aspects you must factor in. The vig on the sport you want to bet on and the type of bets you pick can vary between sportsbooks. However, as there as so many great legal US sportsbooks to play at, the market is extremely competitive, which results in all these top sportsbooks cutting their vig to a minimum to stay relevant.
You may also be interested in our other low vig US sportsbooks:
---
What is Vig in Sports Betting?
Vig is a term also referred to as Vigorish in sports betting. It is like the sportsbook's share for every bet players make on the platform. Each bet a player places on a sportsbook will have its actual odds and the odds set by the bookmaker. The difference between both odds is referred to as the vig.
To help you understand better, we will be using an example.
Presuming you make a wager at odds of -120, your return will be lower than the amount you initially wagered. For instance, if you wager $120 and win, you will receive your initial stake alongside a $100 profit. Ideally, you should have won back precisely double the amount you wagered as winnings, but the extra is what the sportsbook keeps as its share. This fee helps it make a profit and keep its operations going regardless of how the match ends.
How to Calculate Vig
If you want to see what the house edge is for yourself, you will first need to convert the American odds into decimal odds. This can be done by simply switching the format you see the odds in on your sportsbook. Alternatively, there are formulas to convert the minus and plus odds into decimal odds, which you can check out in our guide to minus and plus odds.
Once you have the decimal odds ready, you have to find out the probability of each bet, and then add them. The probability is a % of how likely the bet is to win. It is calculated using the following formula:
1 / Decimal Odds = Probability [%]
The sum of the probabilities on each bet will always end up over 100%. What remains after you subtract 100% is the vig.
How to Calculate Vig on Low Vig US Sportsbooks
Two-Way Bet
Type of Bet
Decimal Odds (American Odds)
Probability
Total Probability
House Edge
Team A to Win
2.5 (+150)
40%
104.5%
4.5%
Team B to Win
1.55 (-182)
64.5%
Three-Way Bet
Type of Bet
Decimal Odds (American Odds)
Probability
Total Probability
House Edge
Team A to Win
2.85 (+185)
35.1%
105.56%
5.56%
Team B to Win
3.2 (+220)
31.25%
Draw
2.55 (+155)
39.21%
The house edge usually ranges between 4-6%, but it can go much higher too. When you have bets that are not two-way or three-way but have 6 or more possible outcomes, you can expect much bigger vig.
Many wonder why there are many low vig sportsbooks in the US, and the answer is simple. Charging the lowest vig consistently will end up bankrupting the operator. And the way you can still benefit is to shop around for the best odds for the same event across several books. All the best lowest vig sportsbooks on this page are a great place to start.
What Does 'Vigorish' Mean?
Vigorish is a fee that the sportsbook takes for each bet. Every wager you place will have true odds and odds that have been set by the operator. The difference between the value of both is the vig.
---
Why is the Vig Important?
For the sportsbook, the vig is a cushion that ensures it makes a profit regardless of the match outcome. However, it still needs to ensure the odds are balanced so that players can bet on both teams. This will ensure it draws in enough bets to make the vig profitable for it.
In contrast, the vig for bettors is a way of determining the disadvantage of a specific wager. This is because the vig differs depending on the gambling site. Many casual bettors don't care about this and are only worried about how much they win. But for experienced bettors, the vig is an integral part of the sportsbook that they need to factor into their wagers, especially if they want to make a long-term profit.
The hardest part is finding an online sportsbook with consistently low vig and solid bonus/odds boost. Usually, operators choose one of two ways to attract players. But you can find the best of both worlds on our listed lowest vig sportsbooks in the US.
---
Benefits of Low Vig Sportsbooks
The benefits of low vig in sportsbooks are centered around the profit you make when you wager. As a sports bettor, your goal is to get the best deal on sportsbooks when you win your bet. Here are some ways a sportsbook with low vig makes this happen:
You Lose Less
Regardless of how skilled or informed you are, you will eventually lose when wagering on a sportsbook. However, playing on a low vig sportsbook saves you some money on every bet you lose.
Let's use an example. Say sportsbook A offers you odds of -110, which is the standard you will find in most sportsbooks. Here, you will need to wager $110, to win $100. But sportsbook B offers odds of -120, which means you will need to wager $120 to win $100.
The difference between both is $10, which may seem insignificant, but the little money saved up can significantly minimize your losses in the long run. For instance, if you make 20 ($110) bets at sportsbook A in our example above, you would have spent $2,200 to win $2000. However, the same bets in sportsbook B mean you would spend $2,400 to make the same $2,000.
This is one primary reason low Vig sportsbooks are essential. They can save you a significant amount of cash.
It Is Easier to Make A Profit
Since it is easier to reduce your losses, making a profit from an online sportsbook with low vig is easier. In most cases, you will need an average win of 54.2% to break even at odds of -110. The less you lose, the easier it is for you to achieve this and make a profit!
Higher Bet Limits
This is another fantastic benefit of betting on a low vig sports betting site. Most online gambling platforms tend to limit your bet amount to around $1,000 – $2000. However, low vig sportsbooks tend to offer higher prices to make up for their low vig. You can find limits of up to $10,000 or more in these sportsbooks. This aims to get players to make more bets, and it can be beneficial to you if you are a high roller.
---
Stay Away From Offshore Betting Sites With Low Vig
If you are a regular bettor, you will most likely have heard about offshore betting platforms. These are sportsbooks with a license from overseas offering their services to US players. Some of the common licenses you will find include those from Curacao, Costa Rica, and Panama.
In the US, sportsbooks that can operate legally need to partner with racetracks or casinos that have a physical location in that state. This way, the sportsbook will be able to share its license and have a badge from the respective state regulatory body.
Like the legal and licensed sportsbooks, these betting platforms also offer low vig to players. The goal is to get them to sign up to their betting platforms and bet with them. This is not necessarily a bad thing since most offshore sportsbooks promise a lot to players. However, it is important to be wary when dealing with these online betting sportsbooks because even though they may be great from a distance, a closer look will tell you that there is a range of drawbacks too. Here are some reasons you may want to stay away from them:
Problems with licensing and regulation
You may get a very low vig from an offshore sportsbook, but they don't operate under the same strict guidelines as licensed betting platforms. This may become problematic if you have an issue with the sportsbook. Since the same strict bodies do not regulate them, your safety is uncertain, as they could get away with most shady practices.
Voiding Bonuses
Some unlicensed sportsbooks may offer the best bonuses and a low vig to get an advantage in the competitive gambling market. However, unlike their licensed counterparts, they may have no intention of offering a payout when you win. Other times, they may even add unfavorable wagering requirements to frustrate you into losing the whole bonus.
High Minimum Withdrawals
You are most likely playing on a low vig sportsbook to save cash. However, unlicensed betting platforms may have a very high minimum for withdrawals. If you are a casual bettor, this could leave your cash stuck on the website for a long time.
Payment Delays
Most offshore sportsbooks are notorious for delaying payments. There is no one monitoring their activities, so they can easily get away with this. If you like fast payouts, this can be quickly frustrating.
No Support For Responsible Gaming
Licensed sportsbooks offer support for their players to ensure responsible gaming. They achieve this by allowing only adult users and providing support for those who have a gambling problem. This is something that is not available in many offshore gambling sites.
Playing in offshore sportsbooks with low vig like Bovada, BetAnySports, Pinnacle, and Heritage Sports may seem like a good choice, but it's best to stick with properly licensed sites if you want a good low vig sportsbook that will payout your profits. You can check out our recommended lowest vig US sportsbooks for one that suits you.
---
Is the Vig Higher or Lower on Futures Wagers?
Bet type can determine the vig. The vig on a futures bet is typically higher when compared to standard bets. On a standard moneyline wager, the total implied probability is between 105% and 110%. However, a futures bet can reach up to 140%. One of the things that draws people towards futures bets is they come with a significant potential payout due to the high odds. There is no point searching for the best value when it comes to futures, just like parlays, they are a high risk, high reward type of wager.
---
Bottom Line
Vig may seem like a complex and unimportant term, especially if you are playing for the first time on a sportsbook. However, this concept simply tells you how much of your wager the betting site keeps. It is also crucial to determine how much profit you make on specific bets. If you want to get the best returns from your wager, you need to play on a low vig sportsbook.
We have compiled a list of the top 5 betting sites with low vig for bettors in the US. Regardless of the kind of sports event you are trying to wager on, ranging from NBA, or Soccer, down to eSports, you will indeed have the best experience with any of these platforms. All you need to do is pick one, sign up, make a deposit, and start playing one of the reliable online books listed on this page!
---
FAQs
Are juice and Vig the same in sports betting?
Yes, juice is another name for vig in sports betting. They mean the same thing and are the cut the sportsbook takes out of every bet players make on the platform. Different sportsbooks and betting apps will have varying cuts, with some lower than others.
Which sportsbooks have the lowest vig?
The top legal sportsbooks such as FanDuel, DraftKings, BetMGM and Caesars Sportsbook all have low vig. Of course, vig can vary between different sports, different types of betting markets, and how many possible outcomes there are for individual bets.
What is vigorish in sports betting?
Vigorish is a term relating to how much juice a sportsbook implements on their odds. A sportsbook that is "vigorish" is considered to have low juice.
Which bets have the lowest juice?
Generally, two-way and three-way bets have lower juice than bets with more possible outcomes. The house edge for bets with 2-3 possible outcomes tends to be around 4-6%, whereas bets with 6+ possible outcomes can have up to 20% or more.
Which sportsbooks have 0 vig?
All sportsbooks have to create a small house edge to stay in business. You should be wary of offshore sportsbooks that charge very little vig, because they are unreliable and may not pay you out.
Some legal sportsbooks offer odds boosts or enhanced odds offers, in which the juice is reduced from around 5% to as low as 1%, which can extend your potential profits tremendously.