Gamble USA strives to improve your online gambling experience. We aim to help you play safely, make informed decisions when gambling, and increase your betting knowledge through our guides.
We adhere to strict editorial integrity; our content may contain links to products from our licensed & legal US partners.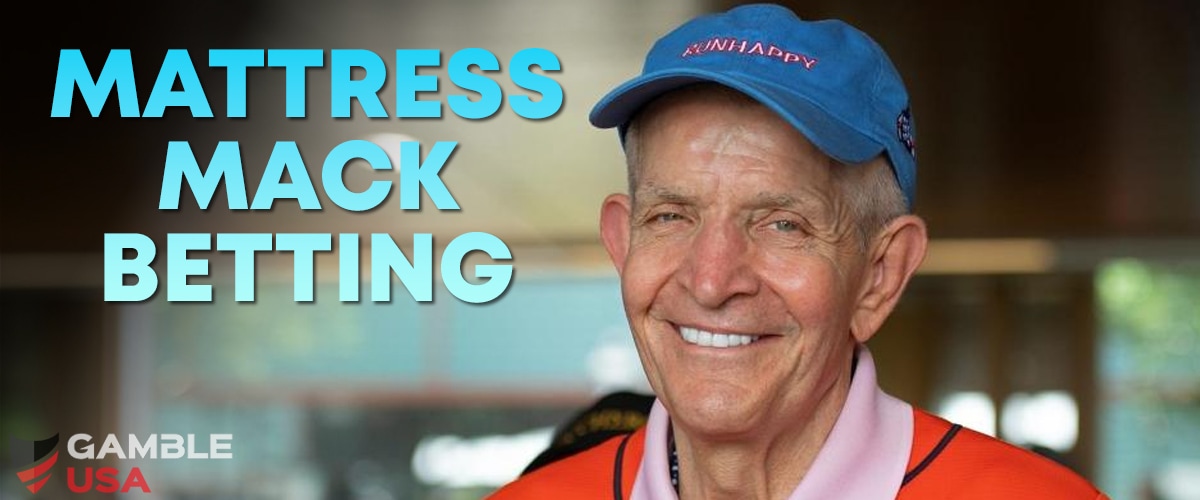 In the bustling city of Houston, there exists a charismatic and enterprising figure known as Mattress Mack. Born James Franklin McIngvale, he earned the endearing nickname 'Mattress Mack' for literally wearing mattresses to promote his furniture store chain Gallery Furniture on TV.
However, his intriguing journey to fame extends far beyond his accomplishments in the furniture business – Jim is an individual with a knack for both high-stakes betting and captivating the hearts of the public.
Mattress Mack's affinity for betting became part of his public persona. From sporting events to momentous occasions, he is never one to shy away from a wager. And his passionate support for the Houston Astros baseball team earned him recognition as a fervent sports enthusiast. Notably, Jim Mcingvale placed large bets on the Astros, and in 2022, he won the largest legal payout in American sports betting history – $75 million, to be precise!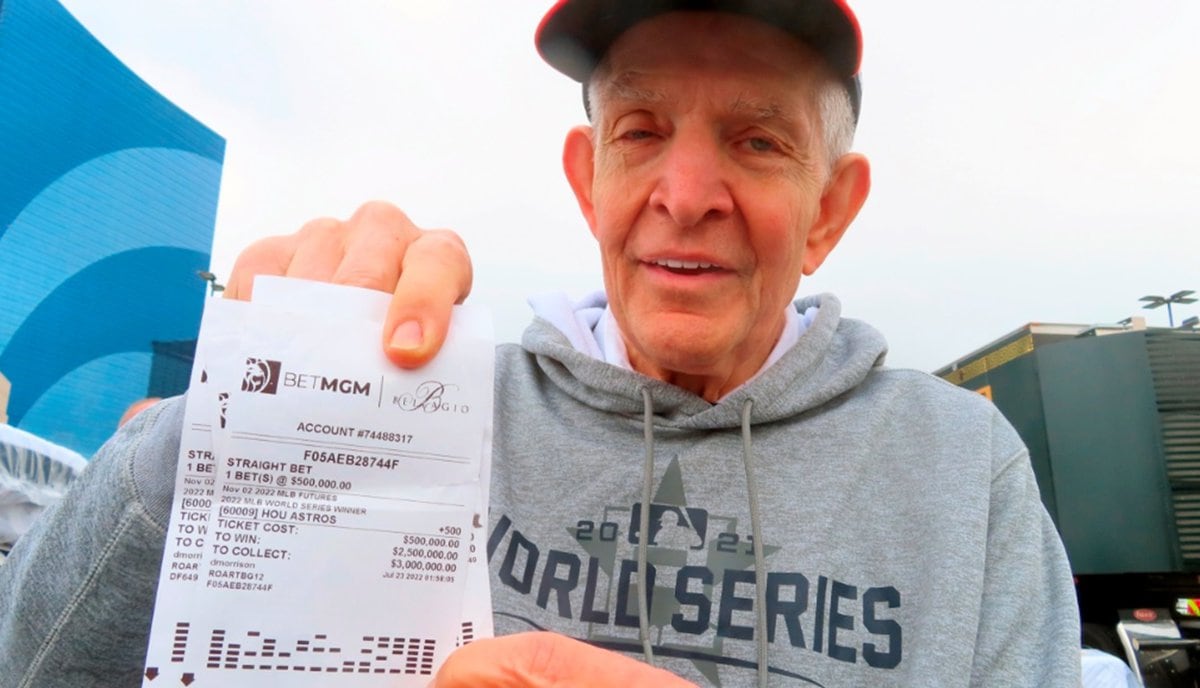 While Mattress Mack's involvement in sports betting garnered attention, it was his philanthropic endeavors and unique style that catapulted him into the limelight. His generous nature and commitment to giving back to the community became synonymous with his name. In times of need, such as during Hurricane Harvey and the Texas power crisis, he opened the doors of his Gallery Furniture stores to provide shelter, comfort, and hope to those affected.
Beyond his charitable acts, Mattress Mack's shrewd business acumen and dedication to customer satisfaction, coupled with strategic sports betting, have propelled him to great success. And in the subsequent sections of this article, we will delve deeper into the captivating betting saga of Jim McIngvale, exploring his notable wagers and the impact of his sports betting on his net worth.
Who is Mattress Mack?
Growing up in the vibrant city of Houston, Mattress Mack's passion for business and his strong work ethic emerged at a young age. Raised in a modest family, he learned the value of hard work from his parents, and inspired by their teachings, James embarked on a journey to create a business empire, starting his Gallery Furniture retail chain back in 1981.
However, it was during his early days in the furniture industry that Mattress Mack discovered another facet of his entrepreneurial prowess: sports betting. Fueled by his love for the Astros and his unwavering belief in their success, Jim found himself drawn to placing bets on their games. And as his knowledge of the game grew, so did his confidence in making calculated wagers.
Over the years, Mattress Mack's calculated bets on sports games, including the Astros' victories and other significant sporting events, proved to be not only a source of entertainment but also a means to amass substantial wealth and promote the Gallery Furniture store. Through his strategic approach, he leveraged his deep knowledge, intuition, and financial acumen to make successful wagers and shape his remarkable net worth.
How Rich is Mattress Mack?
Jim McIngvale has amassed substantial wealth through his successful business ventures and strategic sports betting. And according to information gathered from multiple reliable sources, Mattress Mack's net worth is approximately over $300 million.
Much of his wealth is attributed to his ownership of Gallery Furniture, which generates an annual revenue of well over $50 million from furniture sales. Additionally, his ventures in sports betting, where he has placed and won sizable bets on major sports games – most notably, his $75 million win in 2022 – have further bolstered the Mattress Mack net worth.
How Did MM Make His Money?
Mattress Mack's wealth can be attributed to two primary sources: his successful furniture business and his ventures in sports betting. With his entrepreneurial spirit and as the owner and CEO of Gallery Furniture he managed to grow his business exponentially, becoming one of the leading furniture retailers in Houston.
In addition to his furniture empire, Mattress Mack has gained recognition for his strategic sports betting endeavors. With a keen interest in sports and a shrewd understanding of the betting landscape, he has made calculated wagers on major sporting events, including the World Series and the Super Bowl. Through his bold bets and promotional campaigns tied to sports outcomes, Mattress Mack has garnered attention and admiration as a skilled and daring sports bettor. His ability to leverage his wealth and betting acumen has contributed significantly to his financial success.
Mattress Mack 2022 Big Bet
The year 2022 marked a defining moment for Mattress Mack's betting career, as his audacious wager on the Houston Astros to win the World Series catapulted him into the national spotlight. With his reputation as a daring sports bettor and successful furniture businessman, Jim McIngvale placed a series of bets totaling an astounding $10 million on the Astros to emerge victorious.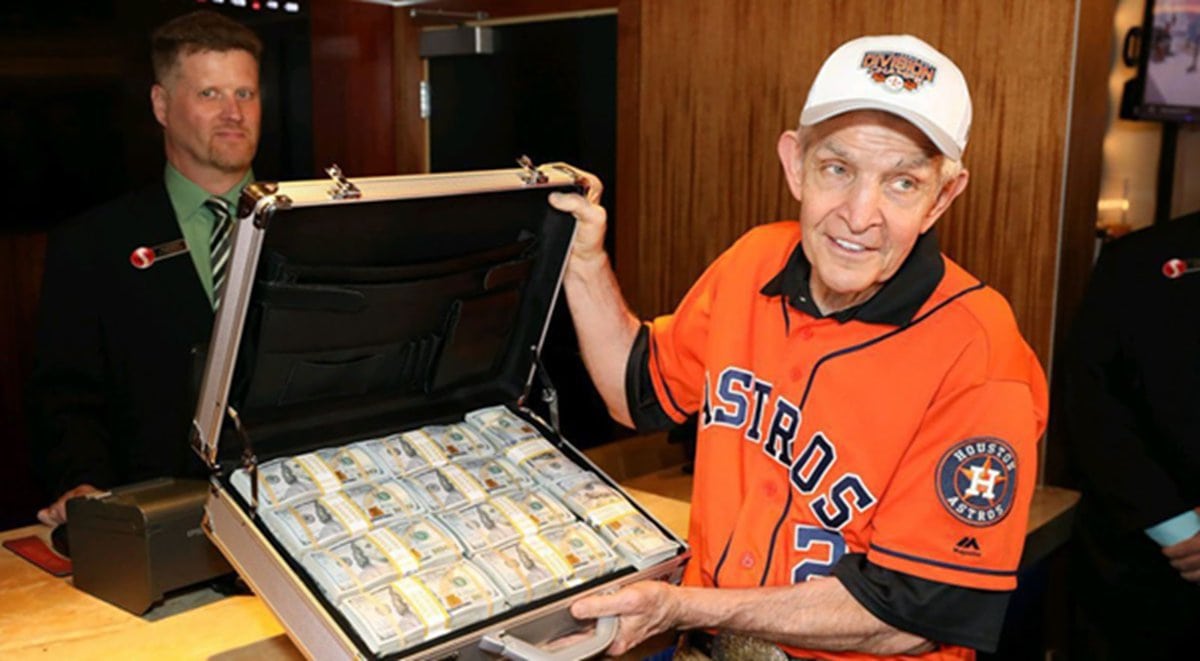 Throughout the 2021/22 season, Mattress Mack strategically placed his bets on the Astros, securing odds around +750 from various sportsbooks across the United States. And as the Astros battled their way through the season, Mack's confidence in his home team remained unshaken.
The Astros, defying the odds, overcame a 2-1 deficit in the World Series against the Philadelphia Phillies and emerged as champions. It was a moment of triumph for both the team and Mattress Mack, as he raked in a staggering $75 million — the largest payout in American sports betting history!
Mattress Mack's $75 million winnings played a crucial role in mitigating potential losses incurred from a promotional campaign conducted by his Gallery Furniture store business. The campaign entailed offering customers a $10,000 refund on furniture purchases exceeding $5,000 if the Astros emerged as champions.
Other MM Big Bets
With an astute understanding of the sports world and a knack for identifying favorable odds, Mattress Mack has gained a reputation as a confident bettor with substantial wagers on numerous sporting events.
Mack's approach to betting combines strategic analysis, calculated risks, and unwavering belief in his chosen teams or outcomes. And we can clearly see this approach at play in some of his biggest wagers that we've outlined below:
Bet on Houston Astros in the 2017 World Series
In 2017, Mattress Mack embarked on a memorable betting endeavor when he placed a series of bets on the Houston Astros to win the World Series, with the franchise aiming for its first-ever championship.
With odds around 3-2, Mattress Mack went from one Las Vegas sportsbook to another, wagering more than $1 million in total. Ultimately, the Astros emerged victorious against the formidable Los Angeles Dodgers, clinching their first World Series title.
However, Mattress Mack's promotion, offering refunds to Gallery Furniture customers if the Astros won, ended up costing him over $13 million in refunds.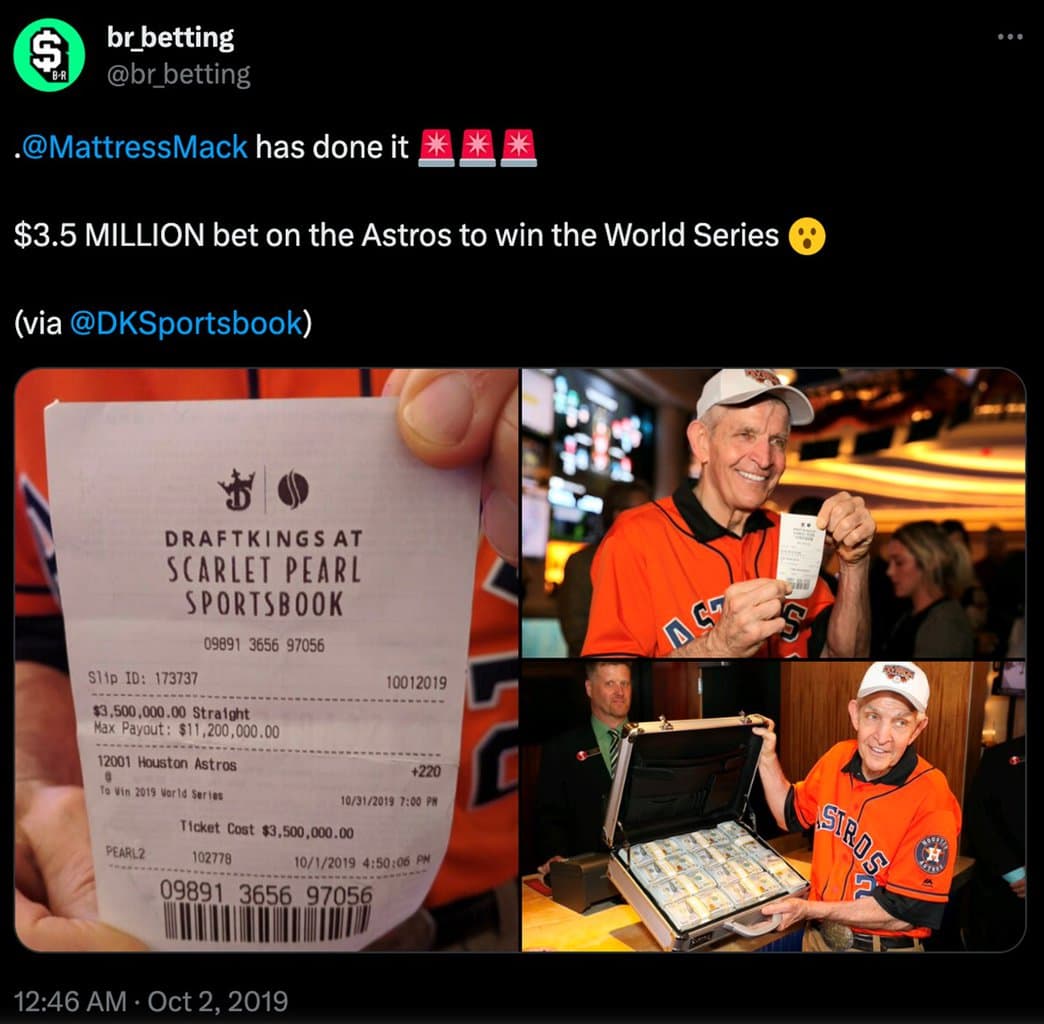 Bet on Tampa Bay Buccaneers in Super Bowl LV
Jim made headlines with his wager on Super Bowl LV. Placing the largest bet on the game at that time, he staked an impressive $3.46 million on the underdog Tampa Bay Buccaneers, taking them at +3.5, via the DraftKings mobile betting app. With the odds slightly adjusted (-127) to secure the Buccaneers at +3.5, Jim McIngvale won a staggering $2.72 million following the Buccaneers' 31-7 victory!

Bet on Alabama Crimson Tide in College Football Playoff
In a bold move, Mattress Mack placed a series of wagers on the Alabama Crimson Tide, who were priced at +125 odds, to win the College Football Playoff in 2022. However, the Tide ultimately faced a formidable defense in the Georgia Bulldogs and suffered a loss. Jim's wager on the Crimson Tide resulted in a significant loss of over $6 million.

Bet on Kansas to Win the 2022 NCAA Men's Basketball Championship
In 2022, Mack made two significant bets on Kansas to win the NCAA Men's Basketball Championship at +190 odds. He placed a $3.3 million wager through the Caesars sports betting app and another $2.2 million bet through Barstool Sports.
In a thrilling final, Kansas secured a 72-69 victory against the North Carolina Tar Heels, and Mattress Mack's bold bet proved to be successful, adding another chapter to his remarkable betting endeavors.
Unsuccessful MM Big Bets
While Mattress Mack's betting ventures have brought him substantial success and acclaim, not all of his wagers have yielded the desired outcomes. Despite his strategic approach and calculated risks, there have been multiple instances where Lady Luck was not on his side. And in addition to some of the losses we've discussed earlier, some other unsuccessful big bets from MM include:
Bet on Houston Astros in the 2019 World Series
In similar fashion to his 2017 triumph, Mattress Mack had a staggering $11 million at stake during the 2019 World Series showdown between the Astros and the Washington Nationals. Displaying his unwavering support for his hometown team, he placed a massive bet on the Astros to emerge victorious in the tie. Unfortunately, the Astros fell short in the series, resulting in a loss and negatively impacting Mattress Mack's net worth.
Bet on Houston Cougars in the 2022 NCAA Tournament
In a remarkable display of confidence, Jim used his DraftKings sportsbook mobile app to place a colossal bet of $1 million on the Cougars to win the 2022 NCAA tournament at enticing 9-1 odds. This wager stands as one of the largest reported bets ever made on the NCAA tournament. Unfortunately, despite his optimism, the bet ultimately ended in a loss for Mattress Mack following the Cougars' resounding 78-59 defeat to the Baylor Bears.
Bet on the Cincinnati Bengals in Super Bowl LVI
In a bold move, Mattress Mack placed a staggering $9,534,000 in total bets on the Cincinnati Bengals to win Super Bowl LVI. With high hopes for a significant payout, he placed his wagers both online and at physical sportsbooks. However, the Los Angeles Rams emerged victorious with a narrow 23-20 win, resulting in a loss for Mack.
Bet against the Kansas City Chiefs in Super Bowl LIV
In Super Bowl LIV, Mack wagered two separate $500,000 bets on the San Francisco 49ers' +120 money line against Kansas City Chiefs, with the hope that the trophy would return to the Bay Arena. Despite a competitive game, the Chiefs triumphed with a 31-20 victory, resulting in another unsuccessful bet for Mattress Mack.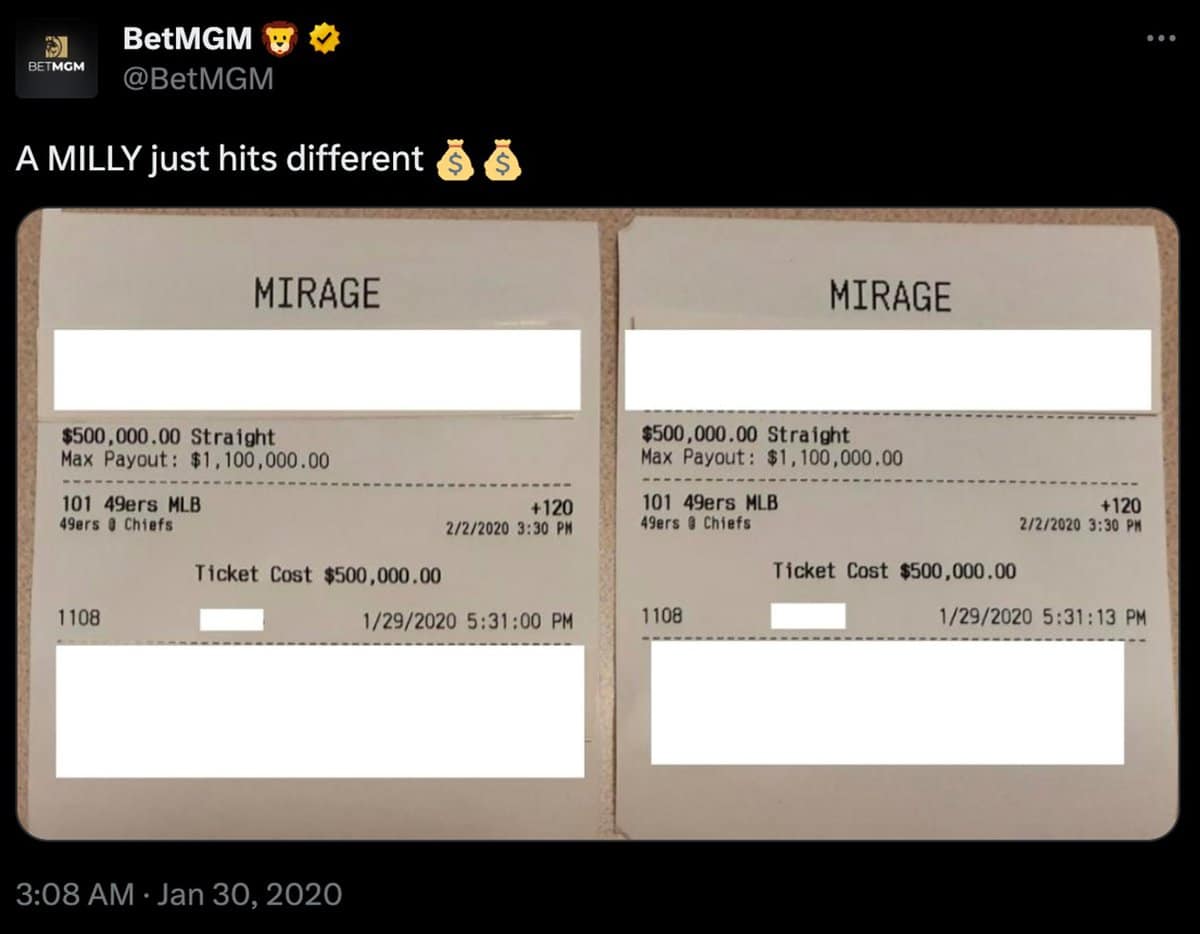 Bet on Mattress Mack Betting
In the world of sports betting, there are intriguing opportunities that go beyond traditional wagers. And one such possibility is betting on how much Mattress Mack will wager on upcoming events. Following his monumental $75 million win in 2022, some sportsbooks have explored the concept of allowing players to speculate on the size of Mattress Mack's future bets.
At present, sportsbooks like FanDuel, DraftKings, and BetMGM do not offer this specific type of bet on Mattress Mack's betting activities. However, it is worth noting that in the future, they might introduce special offers that allow bettors to predict the amount Mattress Mack will wager on selected events, adding more excitement to the betting experience.
In 2022, Bovada provided odds related to Mattress Mack's potential bets. For instance, they set the odds at +155 on whether he would bet over $10.1 million on the 2023 Super Bowl and -210 on whether he would bet below that amount. Similarly, Bovada offered odds of -210 for Mattress Mack to wager over $9.1 million on the Houston Astros winning the 2023 World Series, and +155 for him to wager under $9.1 million. Ultimately, Mattress Mack chose not to place bets on either of these events.
What's Next for Mattress Mack?
As Mattress Mack continues to make headlines with his bold bets and promotions, the question arises: what's next for this renowned sports bettor? With his track record of high-stakes wagers and marketing genius, it's safe to say that Mattress Mack will continue to push the boundaries of sports betting and captivate the industry's attention.
Whether it's placing multimillion-dollar bets on major sporting events or devising unique Gallery Furniture promotions to engage customers, Mattress Mack's next move is bound to be exciting and unpredictable, and you can trust us at Gamble-USA to keep you updated.