Gamble USA strives to improve your online gambling experience. We aim to help you play safely, make informed decisions when gambling, and increase your betting knowledge through our guides.
We adhere to strict editorial integrity; our content may contain links to products from our licensed & legal US partners.
Anyone looking to wager on baseball should look at an MLB parlay to get big returns on small bets.
As gambling continues to expand across the US, bettors have more options than ever at their fingertips. New sportsbook apps continue to launch, offering customers numerous incentives such as free bet offers, matched betting, and Vegas odds as punters to look to win some money wagering on their favorite sports. One of the most prominent sports in the US is baseball, and fans love to put their money where their mouth is by making MLB predictions and seeing if they are right.
We are going to focus on one specific type of wager, which is synonymous with sports betting, and that is a Parlay bet. Parlay betting on the MLB can bring in some nice profits, but it can also be slightly frustrating. This is because a parlay wager involves betting on multiple games, and you must win every one for the bet to be successful. For example, if you make a 6-game parlay bet and five of the games are winners, but one does not win, that is classed as a losing bet.
So, while parlay bets can be an excellent way to make money betting online, it carries a frustrating element. Ultimately, the more games you bet in a parlay, the higher the payout is. However, the risk with this is the more games you include in the bet, the harder it becomes to win.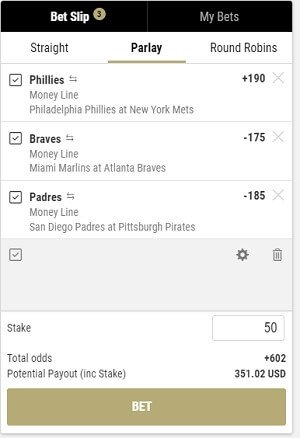 In this baseball parlay betting guide, we will look at several elements that go into placing a parlay bet on America's Past Time. We cover baseball betting strategies, how to bet on the MLB, a team parlay, super parlay, how to read baseball odds, and more.
Is It Smart To Bet Parlays?
When it comes to deciding if a standard money line bet or baseball parlays are more suitable for you, you must consider certain things before you make your decision. Regarding MLB parlay bets, you can bet on teams to win straight up or bet on the run line MLB and the O/U. Numerous betting options can go into a parlay.
One must also take into account that scoring in baseball is volatile; one team could put up a large number of runs in one game and get shut out in the next. Doing research is vital as there are many statistics to look at in baseball. So before you make your picks and parlays or look for the best sportsbooks for MLB, take a look at the stats.
The sport is primarily based on stats, whether it is a pitcher's ERA or a batting average. It is worth reiterating that parlays are attractive if you want to bet, as you can earn a major payout from a small bet. While it may not be as exciting as being in the glamour of Las Vegas, customers can win over 2.5x your original wager in an MLB parlay bet. However, always remember when you are selecting your picks and parlay MLB, the more teams you include, the harder the wager is to win.
There may be more smart bets out there where you are more likely to see some returns, whether that be a standard moneyline bet on other sport such as football and basketball. However, if you do your research, see the benefit of run vs. moneyline and check out some good baseball bets today, you could see some big payouts with a baseball parlay.
Best Sportsbooks for MLB Parlay betting
The best MLB parlay options can be found in the US. Nearly all licensed US sportsbooks offer a parlay betting option, but like most things in life, some are better than other. The top 3 sportsbooks for betting on the MLB with bonuses for parlay bets are:
Why these 3 sportsbooks? Well we feel they consistently offer the best odds on MLB, have a really easy to use app and site, trusted industry names, and if you have any problems, they have awesome helpful support too. Other options such as the FanDuel sportsbook offer several ways you can make multiple bets, but don't have as many markets for an MLB game as the three listed above.
How Does A Parlay Bet Work?
If you want to bet on baseball and are wondering how to make a parley bet, the best thing would be to look at an example. All baseball betting sportsbooks will offer several MLB betting options. In this example, we will presume you want to make a 3-pick parlay. We will choose three teams to win straight up or on the moneyline as they would look in sportsbooks.
Red Sox -160
Yankees -130
Mets +120
In the above example, a $5 bet would profit $26.63. Additionally, if you bet $100, you would win $532.50 with odds of +532.5. Even if you choose to try and play safe and wager on a big favorite on -250 or more, you can still potentially win a large amount. For example, if you want to take three big favorites as your parlay picks, selecting the Dodgers -210, Mets -200, and Cubs -200,  you would win $232.14 from a $100 bet. That is a nice amount for a three-team wager.
As with any type of bet, wagering on the underdog in a parlay means the payout will be higher. Just always remember the golden rule in parlay betting, the more teams there are, the harder it becomes to win.
How Much Will My Parlay Pay?
This depends on the number of teams you select and the odds. In our example above, you can see how the moneyline odds are calculated and thus how much you would win from a three-team parlay. For example, you may decide to take three underdogs in a parlay bet, which would considerably raise the amount you could win.
If you want to find out exactly how much you could win, you can use a parlay calculator. Below, you will find a very easy-to-use MLB Parlay Calculator to work out your returns. Just add in the odds for each leg, enter your bet amount (stake), and then press calculate. You can see your potential return and payout including your initial wager amount. You can add up to 15 on the Parlay calculator.
To use this calculator, enter a bet amount and the odds on every leg of the parlay, up to 15 legs. For even money, put in 100 or -100. Do not enter anything other than numbers, including the dollar sign.
How Is Parlay Calculated In Baseball?
When calculating the returns on baseball parlays, you must separate betting on the favorites and the underdogs. When wagering on the favorites, you should take 100 and divide it by the money line value. Let's presume the money line was -150; you would then take 100/150 and get .666667. This .666667 is the money you would get in return for every $1 you bet.
Regarding underdogs, it is the opposite of the first step. This time you divide the money line value by 100. So, for an underdog priced at +150, you would take 150/100 to get 1.50. As a result, the 1.50 is what you would get on each $1 you bet.
MLB Betting Lines
There are three significant lines that you can wager on for MLB parlay betting. These are:
Moneyline (Straight Up)
Run-Line
Total (Over/Under)
When you place a parlay on Major League Baseball games, you can use any of the above lines. This means you can choose one team to win straight up, one to win a run-line, three teams to win straight up, and then select a total. Alternatively, you could make some baseball picks against spread parlay.
It is entirely down to the bettor which way they want to go. They can mix and match the lines for a parlay bet and include as many games as they wish.
Baseball Betting Strategy
There are no guarantees when you bet on sports. By their nature, sporting contests are unpredictable, which is why many are so exciting. However, there are certain smart things you can do regarding parlay bets. You could select only a couple of teams in a random parlay and hope you get lucky. You would certainly have to have lady luck on your side as the odds are stacked against you.
The best way to increase your odds of winning an MLB parlay bet is to have a parlay with fewer games in it. Although the payout won't be as much, the odds of winning will be higher. We would recommend making two or three-game parlay bets for baseball because, as we mentioned above, you never know what is going to happen in any sport until it's all over. Read our complete guide on baseball betting strategies for more info.
Don't Dismiss MLB Underdogs
There are always upsets in sports, and baseball is no different. In fact, in the past five years, the underdog has a success rate of 42% in the MLB. Although this means you have more chance to win betting on the favorable fixed odds of the favorites, if you do this all the time, the chances of you winning a three-game parlay are still low. This contrasts with other major leagues such as the NFL and NBA, where the underdog success rate is much lower. There is no logic in MLB parlay betting to just bet on the favorite, which means you should know which games to pick.

What makes the MLB unique is that there are so many games, which is good for bettors as this means there are more chances to win. There will usually be 12-15 games on the schedule on any given day. If there is a full slate of games, you should select two or three that you like. Narrow down your selections and only choose a couple of teams for your baseball parlay to give you a higher chance of success.
Other guides you may be want to read: Arbitrage Betting Guide & Matched Betting Guide
Winning MLB Parlay Bets
When making your MLB picks for the World Series you should bear in mind that parlays are notoriously difficult to land. This is because teams frequently split MLB Series' and with the unpredictability anybody can defeat anyone on a given day. The New York Yankees might be a sure thing but lose to the Blue Jays. Whether you are betting on the Texas Rangers, Houston Astros, Washington Nationals, Philadelphia Phillies, San Francisco Giants, St Louis Cardinals or the White Sox, it is really challenging to eliminate mistakes in parlays.
Straight bets on massive favorites in a single MLB pick don't provide a lot of value to bettors. If you bet $100 on the Boston Red Sox as a -200 favorite you will get back just $150, not a lot for the risk. Combining the two favorites at the same odds of -200 would give you a $225 return on your $100 bet, which is far more appealing. The higher potential returns and more excitement are just some of the reasons why MLB parlays are so attractive to gamblers.
MLB Same Game Parlay
When making your MLB parlay picks, one of the things sportsbooks now allow you to do is combine your favorite wagers for one game. During the MLB season, it is a great way to add some thrill and excitement to any game regardless of the score or stakes. If you can master these you will be among the best MLB handicappers in no time.
FAQs
What pays more moneyline or spread?
This all depends on the odds of the contest. Many people prefer betting on the winner of a game over the end score. Both types have their benefits, and ultimately it is down to the bettor to decide which is the most suitable for them.
Can you parlay spread and moneyline?
There are numerous bets that can be included as part of a parley wager, including moneyline. However, you cannot parlay a bet against the spread and a moneyline bet from the same game.
MLB parlay, what do numbers mean?
Our article above covers in detail what all of the numbers mean in an MLB parlay, including how to calculate your winnings and the best strategies.