Gamble USA strives to improve your online gambling experience. We aim to help you play safely, make informed decisions when gambling, and increase your betting knowledge through our guides.
We adhere to strict editorial integrity; our content may contain links to products from our licensed & legal US partners.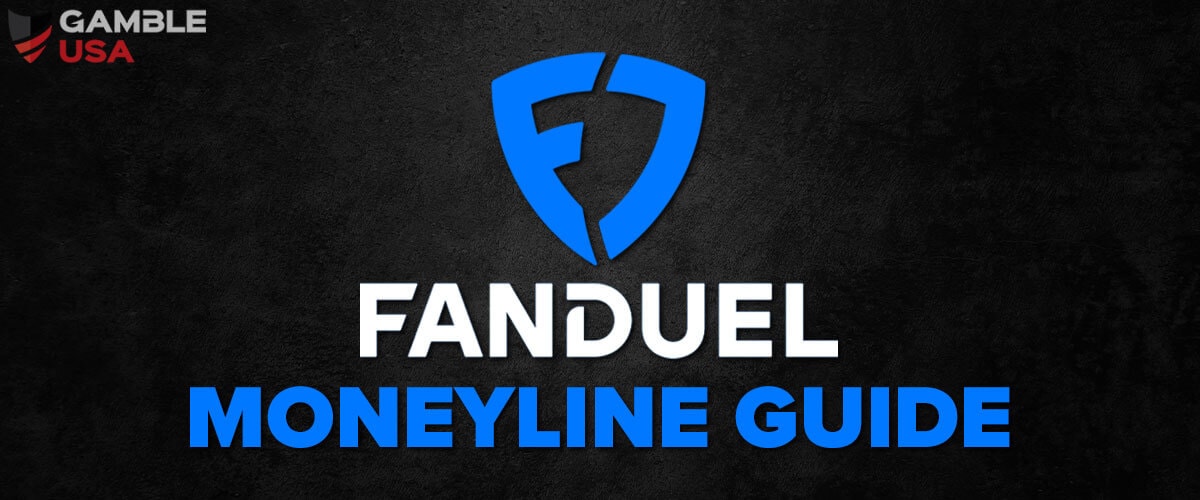 The world of sports betting is forever evolving and bettors are now spoilt for choice when it comes to placing a bet.
Despite the fact that there are often hundreds of betting markets to choose from, there is one bet that has stood the test of time, and that is the moneyline.
One of the most straightforward betting lines, the moneyline gives bettors the option to predict which team or player will win a particular game or tournament. It's a simple choice between backing Team A or Team B.
The moneyline is king, and applies to almost every single sport within an online sportsbook.
FanDuel is recognized as one of the most popular online betting sites in America. Offering a hassle free betting experience across both its web and mobile app, FanDuel bettors can bet the moneyline across some of America's most popular sports including the NFL, NBA, MLB, soccer and tennis.
With FanDuel ranked as one of the best sites to bet with, this article will break down everything you need to know about the moneyline and how you can place a moneyline bet with FanDuel.
No Sweat First Bet Up To $1,000
21+. T&C Apply
21+. T&C Apply
Convenient banking
Massive choice of sports
What is the moneyline on FanDuel Sportsbook?
Simply speaking, the moneyline is backing a team / player to win a particular game or tournament outright.
The moneyline can take many different forms but only covers one outcome.
By virtue of being the oldest and most common type of bet, the moneyline is often the very first betting option you will see on the FanDuel betting pages.
FanDuel – / + moneyline explained
There are many different ways in which betting odds are displayed. Whereas some of the major online sportsbooks across Europe use fractional or decimal odds, FanDuel displays American style odds.
American odds have either a + or – symbol situated alongside a number. These + and – numbers represent the different betting odds that FanDuel is providing for that particular game .
When trying to work out which teams are favored over others, any team allocated with a + number has been positioned as the underdog, and any team allocated with a – number are the favorites.
Let's take an example from the NFL and assume that the Dallas Cowboys are facing off against the New York Giants. The Cowboys can be backed at odds of -180 whereas the Giants can be backed at odds of +120. In this instance it is the Cowboys who would be considered the narrow favorites with the Giants the very slim underdog.
When seeing these odds the bettor has two choices to make, do you bet on the Cowboys or do you back the Giants. By placing $10 on the Cowboys you could expect to win $5.56 which would result in overall returns of $15.56. If you placed your $10 on the New York Giants, you would win $12, resulting in an overall win of $22.00.
Steps to Place a Moneyline on FanDuel
No Sweat First Bet Up To $1,000
21+. T&C Apply
21+. T&C Apply
Convenient banking
Massive choice of sports
Placing a moneyline bet on FanDuel is incredibly straightforward.
The following example showcases the current odds of the NFL season opener between the Kansas City Chiefs and Detroit Lions – however these steps can be replicated across any other moneyline market that FanDuel chooses to run.
1) Existing FanDuel members need to log into their FanDuel account. If you don't have a FanDuel account you can easily register by visiting sportsbook.fanduel.com. In order to place a bet you will need to ensure that there are funds in your account. Creating your FanDuel sportsbook account only takes a few minutes.
2) Once logged in or registered, you will be presented with the FanDuels sportsbook page. On this page you will be able to see every sport that can be bet on. To place an NFL bet on FanDuel you will need to find the NFL shield which is usually located in the primary navigation in the left hand side of the page.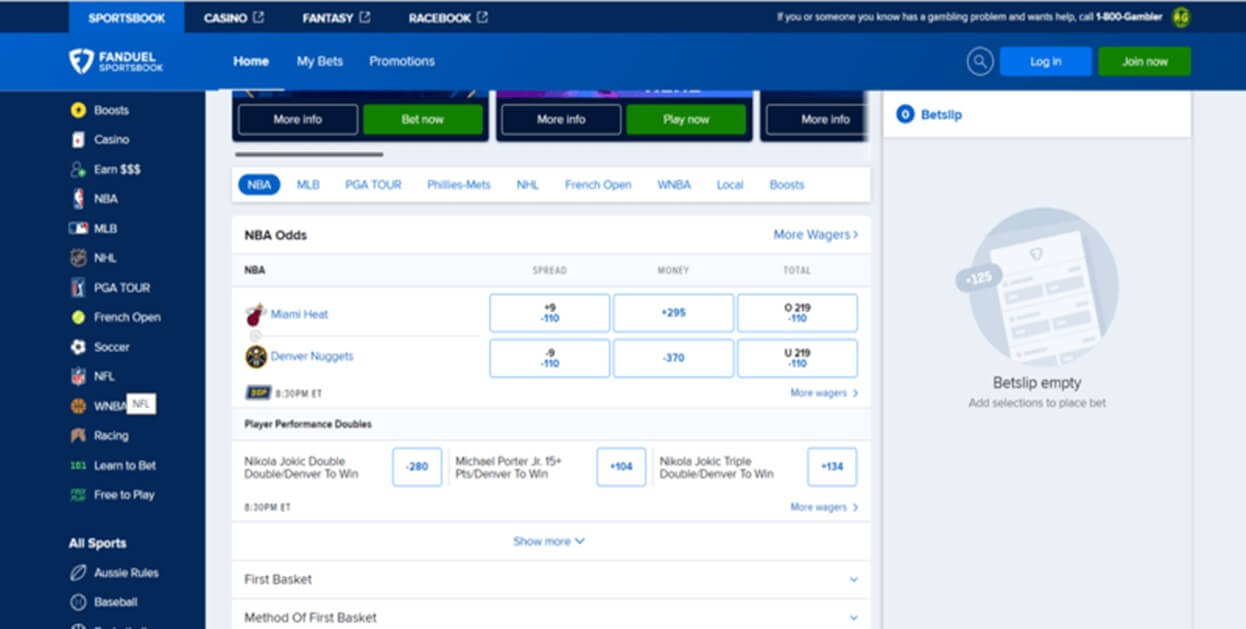 3) When you have clicked on the NFL shield you will see all of the NFL betting lines. These are usually separated by the time and day that the games will occur.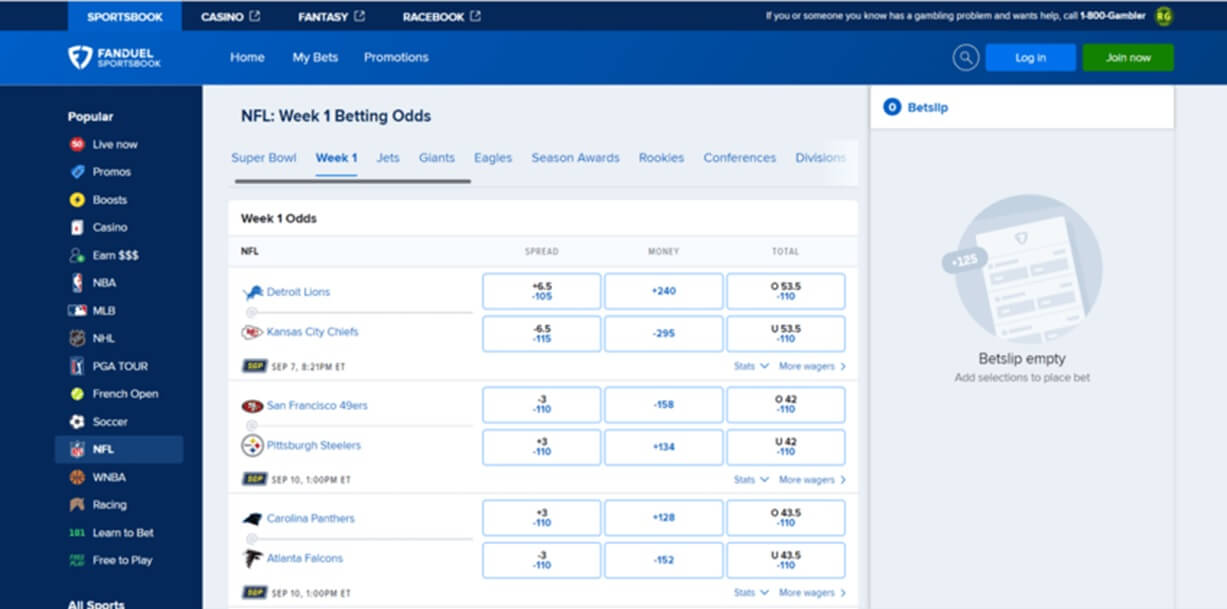 4) Let's assume you want to bet on the first game of the NFL season between the Kansas City Chiefs and Detroit Lions – on the betting page there are three options that have been allocated to the game – 'Spread', 'Money', and 'Total'. Because we want to bet on the moneyline it is the middle column that we are interested in.

5) As the reigning Super Bowl champions it is the Chiefs who are the heavy favorites whereas the Lions are the underdogs. If we are backing the Chiefs to win we would need to select the -295 option.
6) Once we have chosen Kansas City and selected the -295 odds – the bet will become loaded into the bet slip on the top right hand side of the page.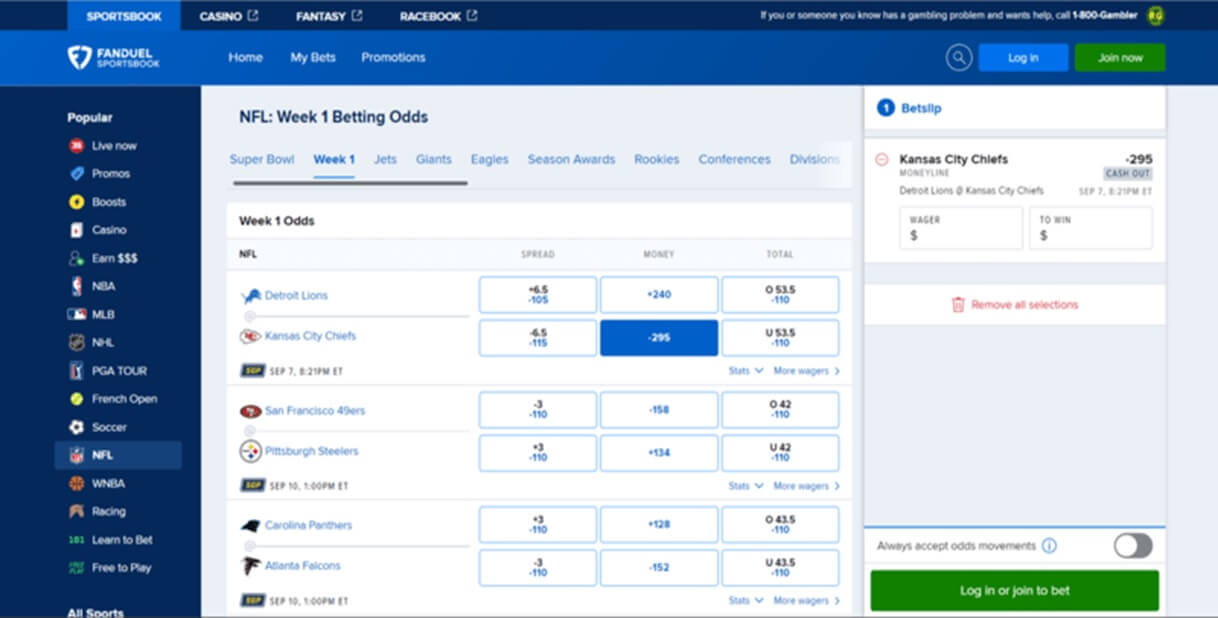 7) From here you will be able to enter the amount you wish to bet. Once you have allocated your stake you will see how much your bet will return.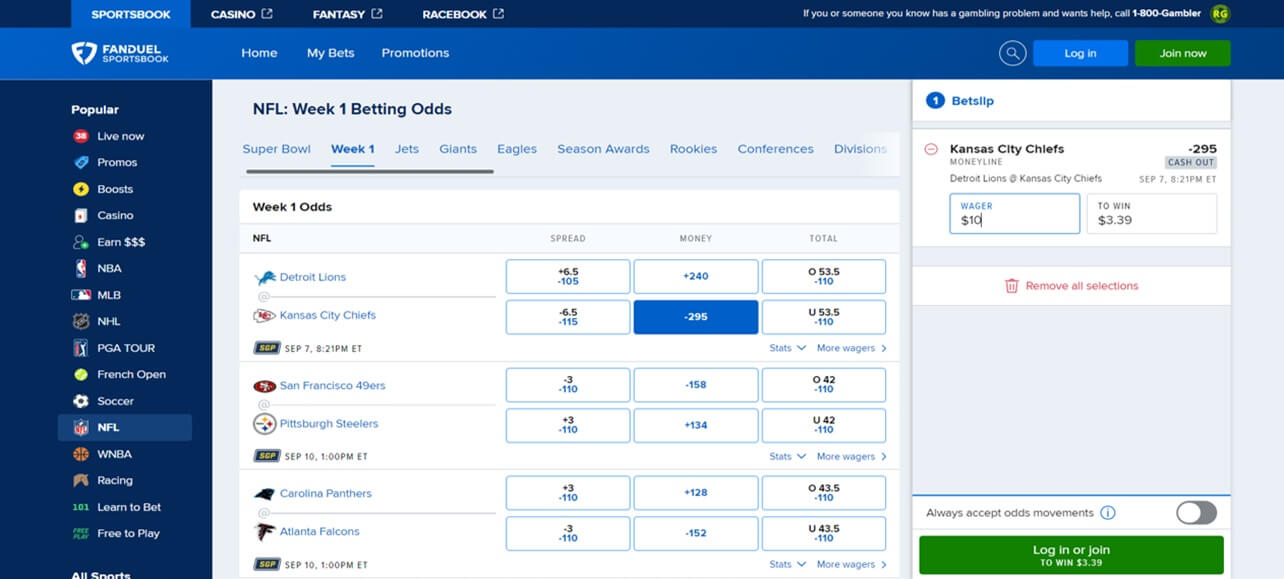 8) If you are happy with the returns and bet, press the green button and your bet will be placed.
Combining Moneylines into a Parlay Bet
Once you are comfortable you know how to bet moneyline on FanDuel, you may want to try more advanced wagers. Some FanDuel sportsbook bettors prefer to increase the value of their bets by combining multiple bets into a parlay bet. For the purpose of this article we will use another NFL example.
1) To place a parlay bet on FanDuel you need to select different moneyline options from multiple matches. Using the week 1 NFL moneyline options, let's assume that the Chiefs, Eagles, Ravens, Vikings and Saints will all win. What we need to do is select each of the moneylines from all of these games.
2) As we select the different moneylines, you will see that each of these options will become pre-loaded into the betting slip and a '5 leg parlay ' option will be presented at the bottom of our bet slip.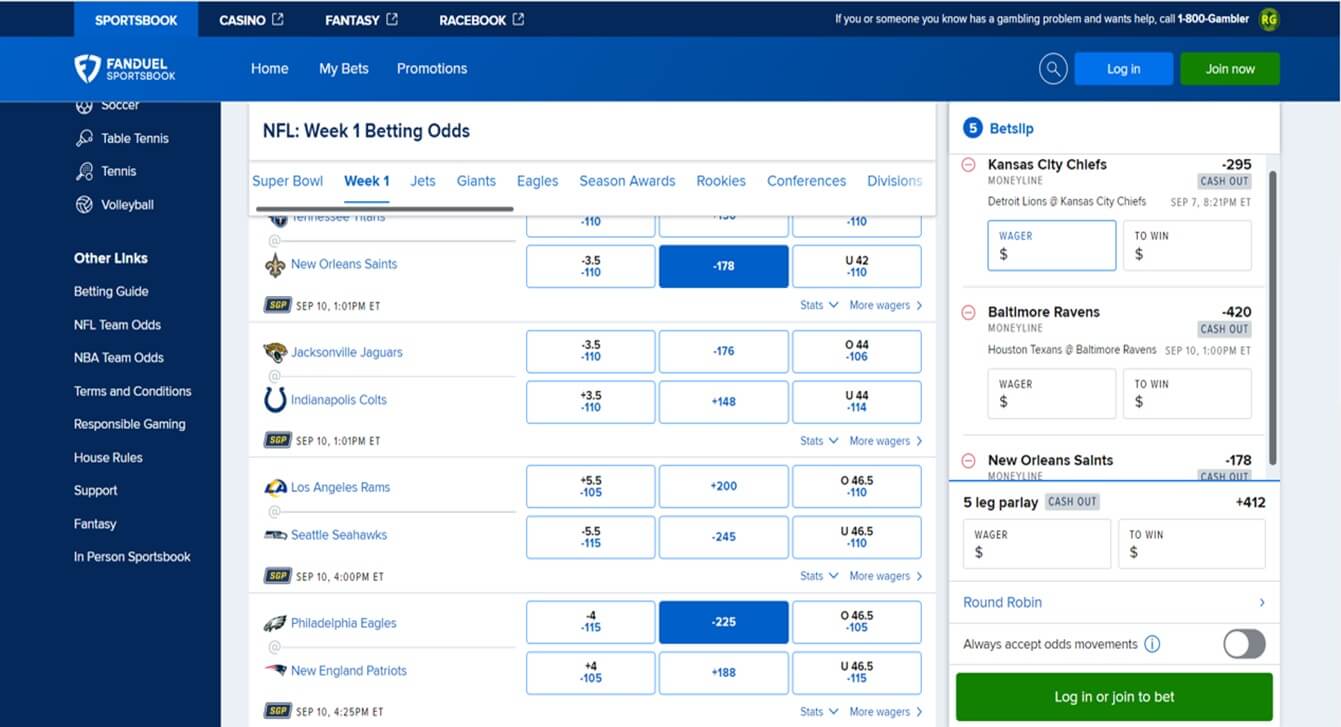 3) Similarly to when we were wanting to place a bet on the outcome of just one game, we will need to load our stake – which in turn will show us the odds and what the potential returns will be.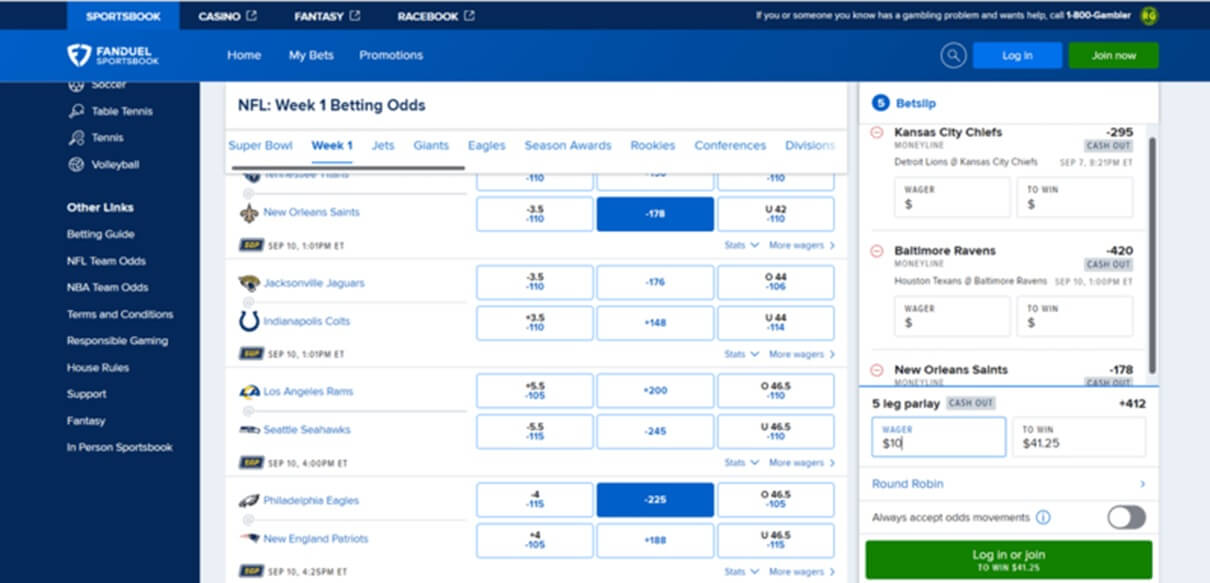 4) If you are happy with these odds, press the green button to accept the bet and your bet will be placed.
Remember to win a parlay bet on FanDuel, each one of your selections has to win for the bet to win. If one line loses but the rest win, your bet will still be classed as a loser.
How do I pick a moneyline on FanDuel?
As stated earlier in the article, when wanting to place a moneyline bet the odds will often be the very first option that you see on the betting page, so it's almost impossible to miss!
When choosing who to back in a moneyline bet, there are many different reasons behind what could impact your selections.
The most obvious factor is the odds. Odds indicate who the bookmakers think will win, and whilst there is no guarantee that the favorites will always come out on top, the bookmakers' odds often give the best indication as to who they believe will win. With betting apps looking to make minimal losses, the odds should often be heeded if you want to come out on top.
Factors such as home field advantage can also be huge when it comes to winning a moneyline bet.
In almost all professional sports playing at home often gives teams an edge. In sports such as the NFL and the NBA the odds will often be skewed towards the home team. If you fancy a traveling team, it should be worth considering how far they have had to travel, their overall away record and what the home record of the team they are playing against is. Take the Kansas City Chiefs as an example. When they play at Arrowhead Stadium the fans are notoriously loud and often make it impossible for the away team to operate fluently in. It is very rare the Chiefs lose at home and that should be considered if looking to back against them.
In sports such as tennis where most of the action unfolds in neutral venues, the use of statistics and data can certainly help.
Important betting factors such as head to head records, current form or even research into different surfaces can all help inform decisions. Take horse racing for example, the distance, surface, weather and venue can all play a huge part as to whether a horse will run well or not. A little research into some of these factors will likely improve the chances of your moneyline being successful or not on FanDuel.
What is a 3 way moneyline bet in the NFL?
NFL markets are amongst the most popular on FanDuel. If you are looking to bet the moneyline on NFL games there are usually only two options available. This is called a 2 way moneyline and is solely focused on either the home team or the visiting team winning.
However, there are some sports in FanDuel's sportsbook that will operate a 3 way moneyline which also include the option of a tie.
Whereas in most American based sports, a tie is quite rare (there have only been seven in the NFL since 2017!). In sports such as soccer, ties are quite common and will play a central part in the moneyline.
A legitimate betting option, ties can often carry valuable odds and are commonly bet. Only in sports where ties can frequently occur will a 3 way moneyline ever be displayed.
Moneyline betting rules at FanDuel
Like any bet type, there are certain rules and determining factors that can impact whether your moneyline bet will be paid out.
What happens if a moneyline bet ties on FanDuel?
The outcome of this question depends on whether the sport you want to bet has a tie option as a part of the moneyline. If betting on a sport with a 3 way moneyline and you back the tie and the game finishes all square, your bet will be paid out as a winner.
In sports such as the NFL where only a 2 way moneyline can be backed, if the game finishes in a tie, your bet will be voided and your stake will be returned. In horse racing if there is a tied finish, your bet will be paid as a winner but only half of the profit from the bet will be returned.
How do moneyline bets pay out on FanDuel?
Moneyline bets on FanDuel are paid incredibly easily. Once you place your moneyline bet, your bet stake and returns will be logged to your betslip. If your bet is a winner the returns of the bet will be immediately credited to your account upon the conclusion of the game.
Are totals and moneylines the same on FanDuel?
No, these bets are completely different. A totals bet is a variation of what is called spread betting. In a totals bet, FanDuel and other US based sportsbooks will set an exact points number where bettors have to predict if the total points scored in the game will come over or under the total that has been set by the bookmaker.
When looking at the Kansas City Chiefs vs Detroit Lions totals for their week 1 game, the total has been set at 53.5 points.

If you want to back the total, it doesn't matter who wins the game, all that matters is whether you think the total number of points will exceed the 53.5 set. If you bet over the 53.5 and the game sees a higher combined total, your bet will be a winner. If betting under the 53.5, any combined scoring total that is lower than this number will see your bet classed as a winner.
What does no juice mean on Moneyline FanDuel bets?
Depending on where you are playing, the juice at a sports betting site will also be referred to as the vig. The juice is the amount the sportsbook takes on every wager they see some action for. It could also be called the house edge and if you have been involved in betting before it is likely you have come across these phrases.
When you see no juice on moneyline odds on FanDuel, the operator has decided that both teams have the same chance of winning or losing the game. They are stating they can't see anything that separates them and the outcome is too close to call. It is also worth checking out the FanDuel promotions tab to see if there is a no-juice moneyline offer available.
You may come across a no-juice monleyline market for an NFL game that looks like this:
Kansas City Chiefs (+100) vs Buffalo Bills (+100)
If you choose the right team to win, you will receive even money for your stake. In this scenario, a $100 wager will earn you a $200 payout. These types of games are often extremely tough to predict as they are so closely matched, so make sure you do your research before betting. You may also want to place a prop bet on the same game which will earn you even more money if it ends up being a winning bet.
FanDuel spread betting vs Moneylines
Spread betting has become incredibly popular and there are many FanDuel sportsbook bettors that like to bet the spread when betting on sports such as the NBA or NFL.
Take the NFL as an example, each match within a NFL schedule will have a spread applied to it. This is where teams are given either a + or – point handicap. In a contest where one team is heavily fancied to beat another, the points spread for the favorite could be set at -14, with the underdog set at +14. At the kickoff the favorites are essentially starting at -14, whereas the underdogs are starting at +14.
With spread betting you can only bet on one of the outcomes, so if you bet with the team carrying the over (+14) your team will have a 14 point headfirst start. Any victory or loss for your chosen team within the set 14 points will result in a victory. So even if they lose 30-20, because they only lost by ten points, your bet will still win as it falls under the +14 value provided at the start of the game.
If betting the under, your team has to win by a bigger margin of 14 for your bet to be a winner. So if the team you have backed wins 40-31, your bet won't be a winner as the margin of victory wasn't bigger than 14 points specified at the start of the contest.
Spread betting provides better odds between two unevenly matched teams, as although the favorites might still win, they need to often win well for the bet to be successful.
No Sweat First Bet Up To $1,000
21+. T&C Apply
21+. T&C Apply
Convenient banking
Massive choice of sports
FanDuel Moneyline betting tips
Whether you count yourself as a betting veteran or you are completely new to this world, having a strategy in place when placing a moneyline bet is important.  Follow some of our tips below to ensure you are on the road to profits:
Do some shopping: Have a shop around for the best prices and lines. You are looking for the best lines, you are looking at the same markets on different online sportsbooks to see which one is offering the best price. If you put some time into this, it will increase your chances of being profitable long term. To your price and line shopping properly, you will need to have several ports betting accounts ready with funds in them so you can act instantly before the odds move.
Don't always bet on underdogs: We understand the appealing potential of a large payout betting on the underdog. Betting $5 for huge returns is enticing. However, if you are unsuccessful, this is a sure-fire way quickly drain your funds if you keep getting it wrong. When betting on the underdog, make sure you find some value. For example, if they are playing at home, they may have more chance of winning.
Big Favorites aren't a sure thing: There is a thought process that some bettors have that always betting on the big favorite will guarantee you returns over a long period of time. You must bet a lot to win a little doing this, and in sport, there are no guarantees. The history of sports is littered with upsets, and doing this is a big risk, small reward strategy. You would be wiser to include some favorites in a parlay.
FAQ's
What is an NFL moneyline bet on FanDuel?
An NFL moneyline bet is a two way bet where you as the bettor need to predict whether the home team or visiting team will come out on top in an NFL game.
What does it mean to bet the total on FanDuel?
A totals bet is a prop bet available in sports such as basketball or American Football where games can yield a high volume of points. Totals don't look at who wins or loses, instead it is concerned if the total points in the game finish over or under the pre-set total that the bookmaker has set at the start of the game.
What does FanDuel mean with line/total parlay?
In order to return bigger odds, many FanDuel sportsbook bettors will look to place parlay bets. As we have explained earlier in the article, a parlay bet is where you bet on more than one team to win and will combine multiple bets into one.

The number of teams you want to back can vary wildly - you can bet on just a couple of teams or bet on every game over the course of an NFL Sunday. The amount of teams you back represents the amount of lines your parlay bet will consist of. A five line parlay would mean you have backed five teams, a three line parlay, three teams etc.