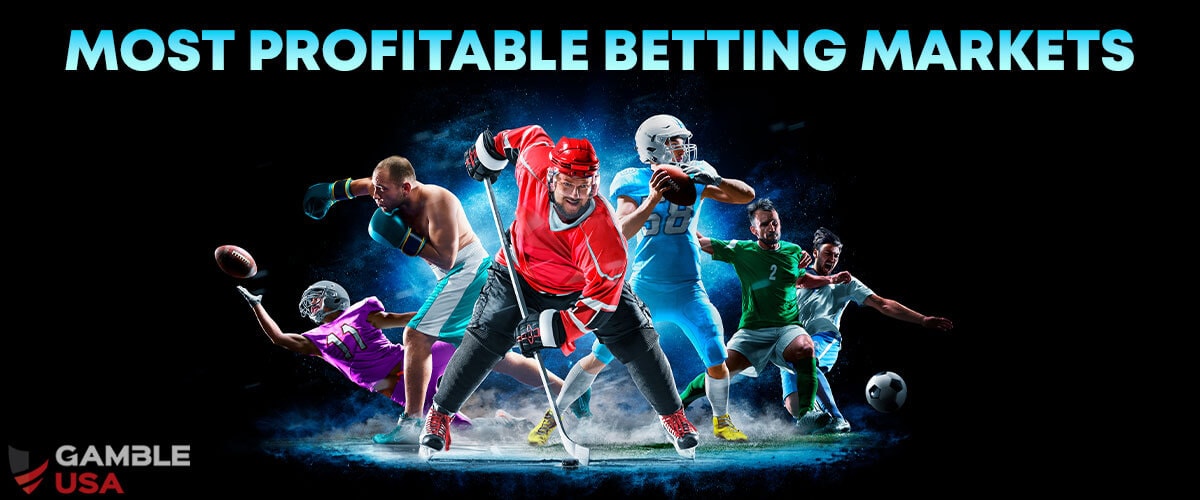 Been sports betting but not really making any profits? Some sporting markets are just more profitable than others and bettors need to have an insight into where their money is best spent. To do this, we'll be running through the most profitable sports and the best type of bet to place for each of them.
The good news is online sportsbooks offer a wide range of sports betting markets. Whether you are a fan of the NFL, horse racing, tennis betting or prefer more niche options, there is plenty to go at. If you have a decent knowledge of a particular sport, you can develop betting strategies to ensure you make some decent profits over a long term period.
You'll have similar betting options with most team sports, usually moneylines, spreads, totals, props, and parlays. There will be sportsbooks that offer advanced options from these sports bets, such as same game parlays, if you want to take things up a notch. Each of them offers benefits in different sporting markets and we'll be discussing these in detail to help you overcome the odds.
Best Football Betting Markets: Totals and Spreads
It's the most popular betting market in the US and also one of the most profitable in the betting world. If you're looking to bet on a football match, you will have a wide variety of options available, from moneylines to futures and everything in between. To actually be profitable, you'll have to become familiar with total and spread bets.
The football betting world is one of the most competitive and you'll have your hands full trying to bet on options like moneylines and futures. With football, Superbowl specifically, being one of the most-watched sporting events in the world, you'll find no shortage of bookmakers offering football betiing. What makes spreads one of the most popular betting markets for football is that it narrows the margin between the competition. Let's say you're interested in the Colts vs the Cowboys. As you can see from the image below, a moneyline bet on the Cowboys would only have odds of -190.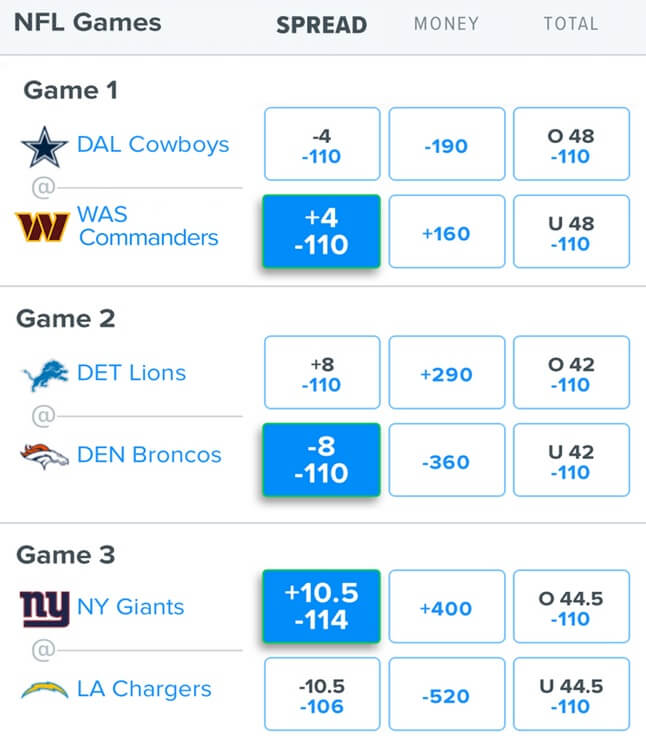 A $100 bet would only payout $152.63, but if you spent that $100 on Cowboys -4, you'd be paid out $190.91 and the only difference would be that the Cowboys would have to win by more than 4 points.
If you'd rather not risk the extra points, you can instead bet on the total points in the match. This is advertised in the third column of the above image. Let's say you think it'll be a low-scoring match, betting on both teams' total to be under 48 would have odds of -110. Again, you'd be winning $190.91 instead of the standard $152.63 you'd make by betting on the favorite.
Best Basketball Betting Markets: Totals and Spreads
Another fan favorite is basketball betting. There are hundreds of scheduled matches throughout the season in leagues all over the world. The idea of betting on basketball is quite similar to a football match as you'll have two teams each hopefully scoring quite a few points. Unfortunately, this does make moneylines, parlays, and props difficult for bettors who haven't actively been following the sport. For this reason, we recommend totals and spreads to get started.
By betting on the totals, you can bet on any scheduled line. Simply check some previous results and head-to-head matchups to get an idea of the score range. You should have an insight into the number of points that will be scored by the teams at the end of the match. This cuts out the need to research individual players and their potential performance against the opposition. Take a look at an example of the betting options below.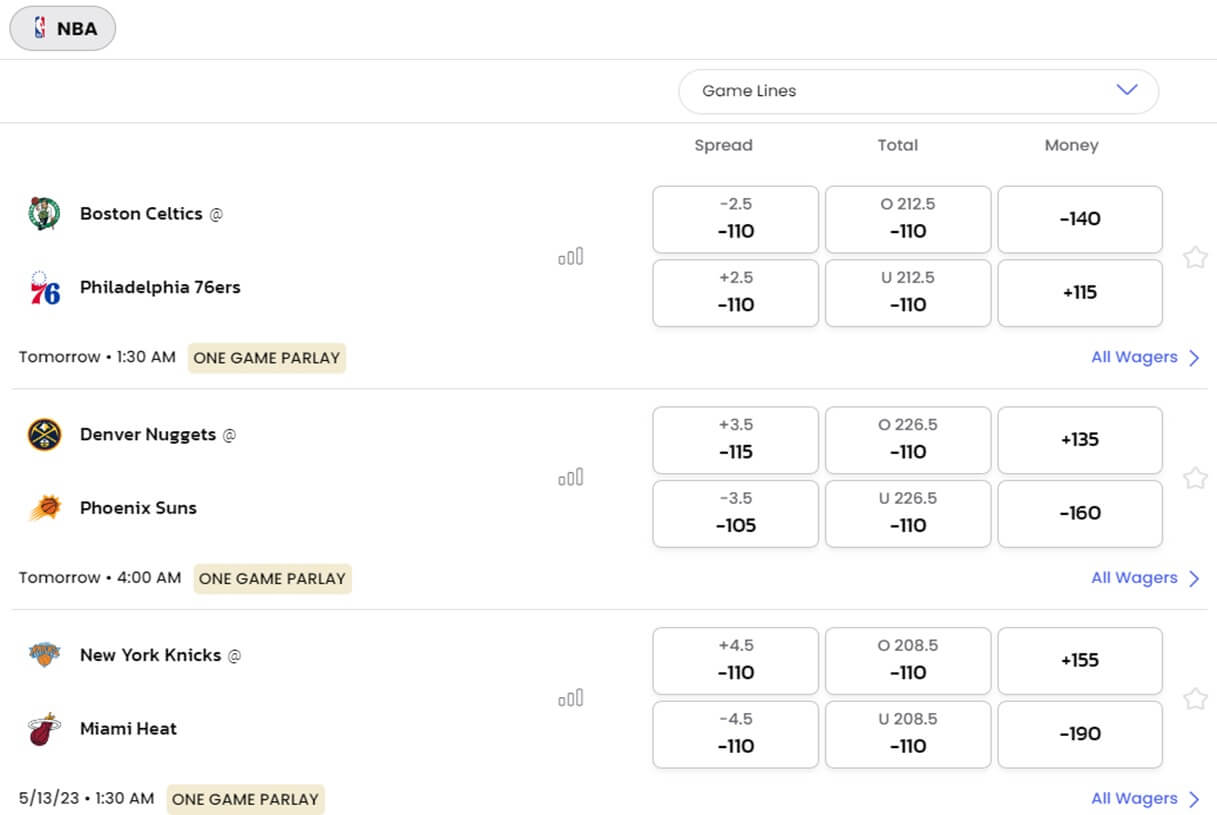 As you can see, the odds on the total bets are more balanced than the straight moneyline option.
If you've had some time to watch a few games, you can then move on to spreads. This will either add or remove some points from a team to even the odds. Let's say you take the Celtics with -2.5 against the 76ers at -110. If they score a total of 118 against the 76ers 112, you'd have to minus the 2.5, which is 115.5. They'd still outscore the opposition and you'd have won the bet.
The more familiar you are with the sport, the more you can begin to switch up your bets and look to new NBA betting strategies and other markets.
Best Motorsport Betting Markets: Futures and Props
Motorsports have become one of the largest markets on the scene today. It includes the likes of NASCAR, IndyCar, Moto GP, Formula 1, and worldwide rallies. There are options to bet on a team with some of these options but it mostly comes down to the specific driver. To make it a profitable market, we recommend playing future and prop bets.
Since motorsport results are mainly determined by the driver and specific manufacturer car, we don't recommend this market for bettors who have only just begun to follow.
If you are familiar with the drivers, manufacturers, and courses then you can look to get started with a prop bet. This will only require you to predict a specific outcome, such as a Group Winner bet shown below with DraftKings. This gives you a very specific choice instead of betting on the entire race winner.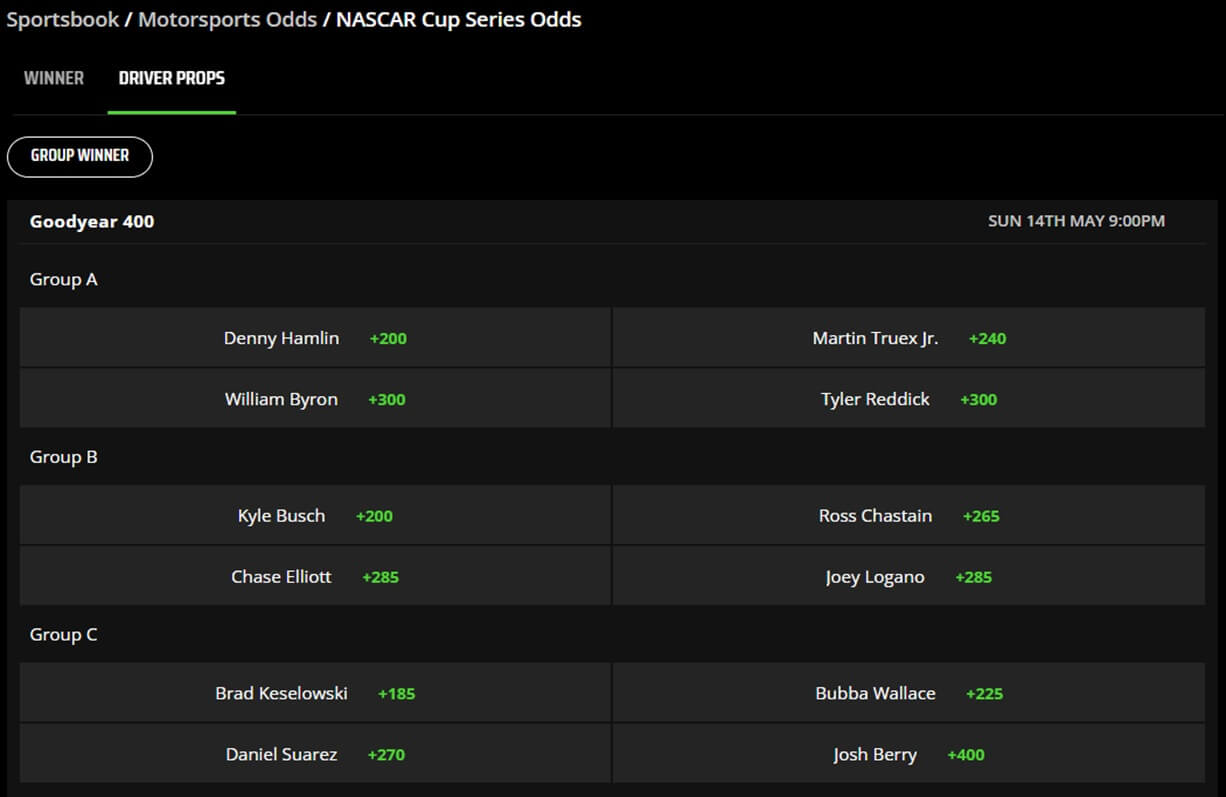 If you've won a few props and are looking to move up to more rewarding betting odds, you might want to consider placing a futures bet. It's the most common betting option within the motorsports market as you'll be putting your money down on one driver against all the rest. There is also an option of placing a series/championship futures bet which would award the highest payout of any single bet placed.
Best MLB Betting Markets: Moneylines and Totals
Next up we have Major League Baseball betting. If you're a sports fanatic like we are, you've hopefully seen Moneyball and realized just how much of an influence statistics has on the game. This data is not only useful to coaches, but sports bettors can also complete their own analysis to make it one of the most profitable betting markets.
To do this, you'll need to either keep track of the results and plays, or you can use the online FanGraphs service. Either way, the statistical analysis will give you the best opportunity to place both moneyline and total bets.
The reason we're excluding spreads here is that baseball is a low-scoring sport, 2.5 points in a basketball match may not be much but when you bet on a baseball spread or a run line, you'll have to bet upwards of half a run either way.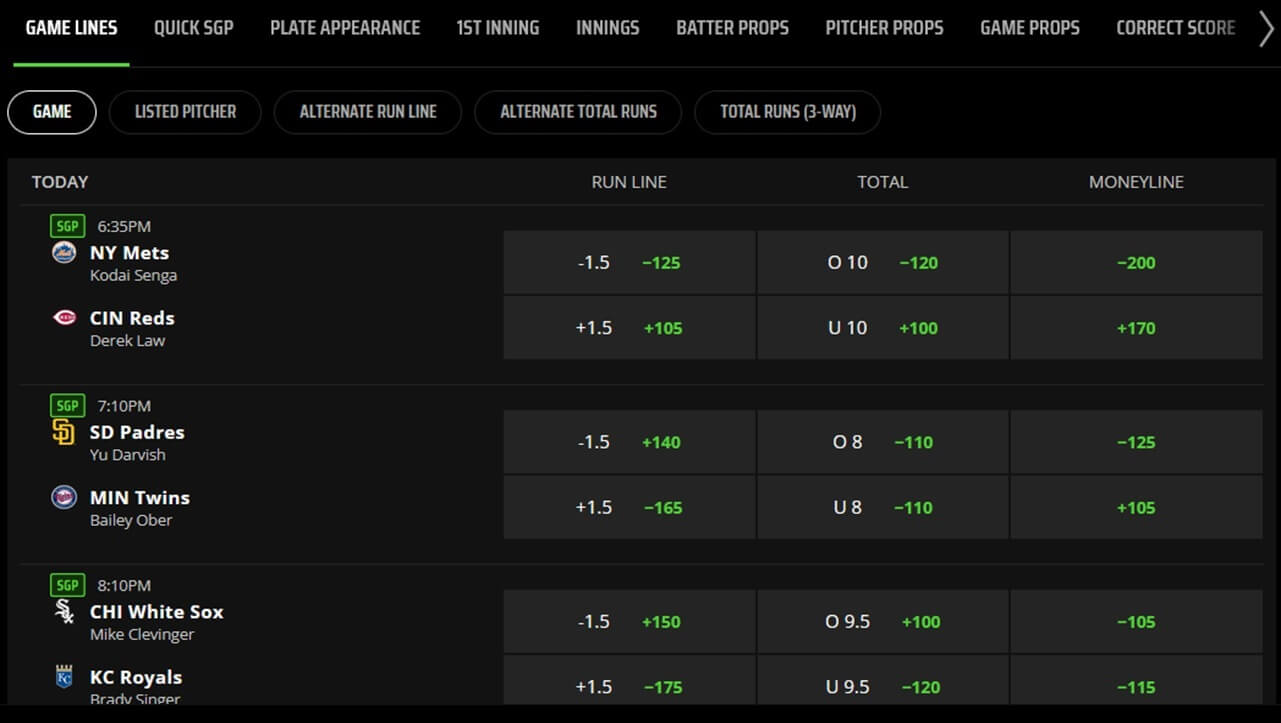 Instead of risking a -1.5, we'd suggest first trying your luck with a straightforward moneyline bet. The MLB does have some dominant teams so you'll find that some odds are quite far apart, like the Mets vs Reds game shown above. A large gap in the odds indicates a clear favorite with a smaller payout if you bet on them. Try your luck with something along the line of the Padres vs the Twins. It has the same odds as the Mets and Reds run line without the risk of the 1.5 runs.
After you've made a few successful bets, you can start analyzing matchups to place some total bets. By researching teams and their performance, scorelines become a little more predictable. The low-scoring nature of the game also makes it quite likely for total bets to be profitable. You won't have to rely on a few touchdowns in the last quarter, it's more likely that you'll be one or two runs over or under.
Betting on the MLB is a numbers game. There are 30 teams that play 162 games, which means lots of opportunities for bettors. Additionally, summer is a slow time for betting sites, so there is more chance of you catching a sportsbook asleep at the wheel because they aren't as sharp with their odds and pricing as they otherwise would be. Aside from that, the sheer number of stats and analysis on the NBA makes it more simple to find certain wagers that suit you.
Best NHL Betting Markets: Pucklines and Props
Finally, we have the NHL, another one of the profitable betting markets which also offers customers some unique betting options. The league is incredibly competitive so you will struggle to consistently predict totals and moneylines. We recommend becoming familiar with the hockey equivalent of spreads; puck lines.
With match outcomes being so unpredictable, we like to narrow down the odds of our bet with the puck line option available at most of the leading sportsbooks. You'll have a similar range to baseball with each time likely receiving/losing 1.5 pucks. The reason we suggest this is because of just how competitive the league is. Let's say you want to bet on the Hurricanes to beat the Devils, a standard moneyline only has odds of -130. If you bet on the Hurricanes with -1.5, those odds skyrocket to +200. Not too bad considering the latest results.
Another exciting betting option that the NHL has is props. It's basically a bet on a very specific event during the game. One that's always available is a team to win with a shutout. You guessed it, that means that the opposition can't score. It might seem crazy to bet on this but if you follow the teams and the news, you might find that some key players haven't been included and this could be an indicator of a goalless game. These props have ridiculous payouts so always keep the idea in mind while you're following the season.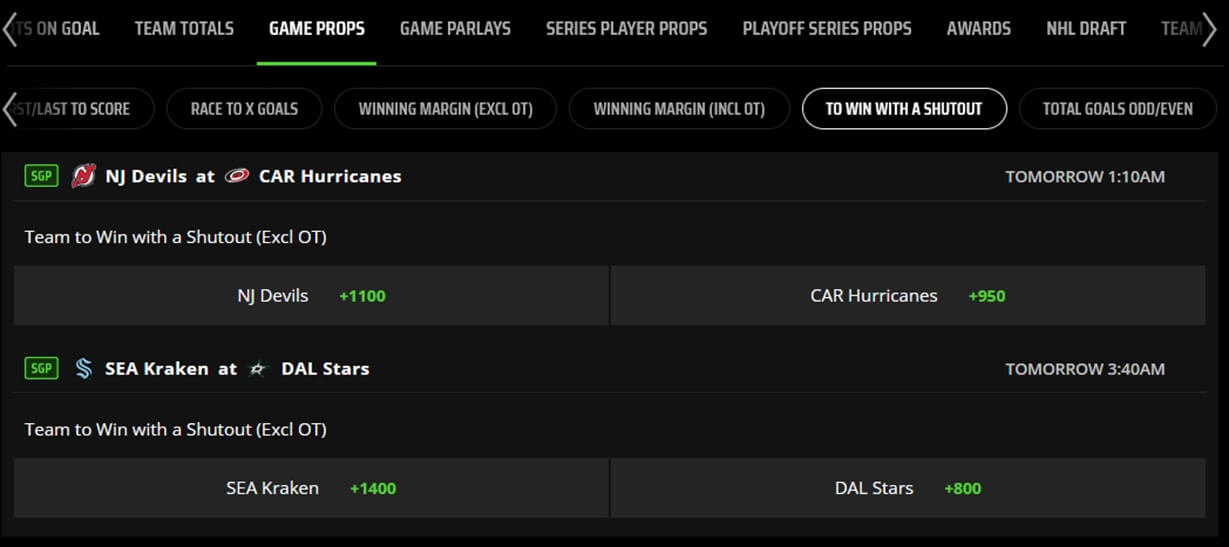 Prop bets are always changing so always check your preferred betting platform to see if there's anything specific you're willing to bet on.
Sports & Markets at Legal Betting Sites in the US
To bet on the most profitable markets you're going to need to sign up with one of the best sportsbooks in the US. Browse through some of our top-rated platforms to find which covers the best betting options for each market. This will ensure that you are able to make the bet when the perfect opportunity arises.
Moneylines, Futures, Props, Spreads, Totals, Parlays, Same Game Parlays, Over/Under, and a number of other markets are usually supported. These can also vary within each sport, since NFL, NBA, NHL, MLB, and F1 betting are just five of the 20+ sports offered to bet on. Browse any of the listed sportsbooks and you'll find any of the following sports with numerous leagues for each to bet on:
Football
Basketball
Volleyball
Hockey
Baseball
Motorsport
No matter the sport, you need to make sure that you are signing up with a sportsbook that legally offers its platform in the state you're in and that they have the necessary licensing.
What is the easiest market to bet on and win?
As you can see from the above, there are plenty of profitable sports and betting options to choose from. Which of them is the easiest depends a lot on what you know and how you bet. If you're simply looking to place winning bets, you will need to do your research and look into options like the MLB or UFC betting landscape. By analyzing matchups in these leagues, it's slightly easier to predict than others but then of course the payout will be lower.
If you're looking for an easy way to make money betting on sports, you're going to have to find your successful betting strategy and this differs for all bettors. We always recommend thoroughly researching any of the betting markets you're interested in placing bets on, maybe even look for some betting exchanges. Eventually, you'll find that it becomes easier to predict outcomes more often.
FAQ's
What is the safest market in betting?
Every sports market will have its own odds but some of them are 'safer' than others. For example, a popular European soccer league, the Bundesliga, is considered one of the most predictable leagues in the sporting world. You should be able to safely bet on the outcomes of matchups but the rewards won't be great considering the predictable odds. That being said, there is always a possibility of an upset and no market is completely safe.
What is the easiest bet on football?
A moneyline is the easiest football bet to win since you'll only be betting on the match winner. There is so much information available on football matchups that you'll have a decent opportunity to make the right bet but anything can happen on the day!
What is the easiest market to win in betting?
This comes down to your personal preference. Most bettors find the UFC to be an easy market as some fighters are far stronger than their scheduled opponents. Baseball is also a classic option for bettors who have the time to take an in-depth look at the matchups and statistics.
What is the most successful betting market?
The most successful market in the US would have to be football. It attracts the most customers and has the highest revenue. It does take a lot of knowledge of the players and the teams to be able to correctly predict outcomes. In terms of customer success, sporting markets are quite similar as the bookmaker sets odds based on the predictability of matches.