Gamble USA strives to improve your online gambling experience. We aim to help you play safely, make informed decisions when gambling, and increase your betting knowledge through our guides.
We adhere to strict editorial integrity; our content may contain links to products from our licensed & legal US partners.
For many adults in the US, the definition of fun may be as simple as going to the movies, reading a good book, or engaging in a fun DIY activity. For others, there is nothing better than an entertaining gambling session. Calling your sports knowledge to the test, you get bragging rights over your friends on a winning prediction, and hey, you won some money too.
There are loads of places you can go to find those sports bets you crave, including both retail sportsbook venues and online betting sites. But you simply go to any site, as there are plenty of dodgy platforms out there. Here, we analyze only the most reliable sportsbooks, and take you through everything you should expect from a betting site – and all the perks that they can offer.
---


How We Review Online Sportsbooks
In recent years, the online gambling environment has seen massive growth, with sports bettors able to wager on their favorite sport anytime they desire. Although the best online sportsbooks offer an online casino environment, sports bettors are out to find the best sports betting markets.
With limitless capabilities and unrestricted access to the internet, it is open to misuse. This applies to its use in sports betting. With the reliable betting sites rising as the Yin, rogue sites also spring up as the Yang – creating a form of balance that we all see as unnecessary.
This raises the question – how do you find the best and most reliable sportsbooks? You can get the answers through our online sportsbook reviews. This guide provides all the information you need to pick reliable sports betting sites to visit.
Besides separating the square betting and sharp betting sites, there are other essential factors you need to consider for the best online sports betting site. We use these factors to assess the best betting sites to ensure you're confident in our selections and you get a safe and trustworthy environment to play in.
Our goal is to make you an expert in selecting sports betting sites based on reliability, so here are the factors we use so you can incorporate them in your research:
👑Access to a Variety of Sports Betting Markets
This is a crucial factor we consider. Top online sportsbooks offer opportunities for players to wager on the major sports leagues in various sporting events, such as:
College football is another popular betting market on the top online betting sites you should look out for. Most schools in the US have a college football team since it is considered just a step below the professional football competition.
An online sportsbook may focus on niche sports, so it is usually a great idea to have accounts on multiple sportsbooks. In addition to the major sports events, the best sportsbooks may feature some lesser-known betting markets.
⚡Payment Options and Transaction Speed
When testing for the best sportsbooks, we pay close attention to available payment options. Having multiple payment channels gives players other options if there is an issue with their preferred payment channel. The payout speed is another area that we consider when assessing the payment options.
An online sports betting site that seems to be moving at light speed when accepting deposits but decides to move like a freighter when processing payouts isn't an ideal platform in our books. For players in the US, the best online sportsbooks accept PayPal.
🔥Sportsbook Bonuses
Beyond offering competitive odds, reliable online sportsbooks must provide excellent bonuses to attract players like no deposit bonuses, bonus bets, specials and running promotions, etc. The first bonus you must assess is the welcome bonus on the betting site. Some sites offer no deposit betting on games bonuses, while others have unique codes that trigger high-quality bonuses for new players.
Don't overlook the other bonuses on the online sportsbook. Look out for the existing player bonuses, such as the refer a friend bonuses. Although new players can confuse bonuses for free money, learning about the terms and conditions of reliable online sports betting sites will cause you to see things differently.
💰Betting Odds
An excellent sportsbook will always have the sports bettor at the center of its activities. This includes offering fair odds to provide reasonable profits on winning bets. To ensure it is competitive, you can compare the betting odds on an online betting site to what is available in other sportsbooks. These vary across sports betting types, so before choosing the best sports betting app for you, you might want to consider:
🏛️Safety and Security
Online betting sites accept money and send money out to players. For this reason, they need to be safe and secure. The most reliable online sportsbooks have features that ensure maximum player funds protection.
The various sites we feature in this review have licenses from regulatory bodies in the states they operate. These regulators serve as a contact if you need a higher power to intervene when there are issues or misunderstandings with the online betting site. In most instances, regulators only issue licenses to reliable betting sites since they perform comprehensive assessments.
If a betting site chosen for its reliability begins to deviate from set standards, we'll let you know by adding them to our list of rogue betting sites.
☎️Responsible Gaming Features
A reliable sports betting site isn't all about the profits. This is why they can offer competitive odds to their players. An additional feature of the best sportsbook based on reliability is its responsible gaming features. Although players need to work on their responsible gambling habits actively, reliable sports betting platforms can help.
Bet limits, deposit limits, self-exclusion, and time limits are some of the features of these sites. By making the most of these features, you can enjoy a high-quality gambling experience without detriment to your daily life.
---
Top 5 Most Reliable Betting Sites in the US
The US is home to many excellent online sports betting sites. Popular online sportsbooks include DraftKings, Caesars, Golden Nugget, Wynn, and BetMGM. These online betting sites feature excellent bonuses, several betting markets, and competitive odds.
We're not going to state the the most reliable online sportsbook outright since these will vary based on your requirements. Nonetheless, our recommendation from our best sportsbook reviews features reliable sports betting sites with a reputation for excellent service delivery and top customer care.
---
🥇 #1 – DraftKings Sportsbook – Bet with Your Friends on the Social Hub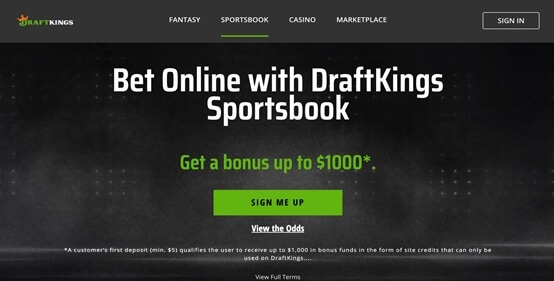 This is a top sportsbook that provides several promotional offers to its players. Its operations are licensed and legal in various US states, including Arizona, Colorado, Connecticut, Illinois, Indiana, Iowa, Louisiana, Maryland, Michigan, etc. It has a dedicated, responsible gaming page that provides information to help you enjoy a safe and secure gaming experience, with tips on identifying a gambling addiction and where to get help.
You can quickly access the Draftkings Sportsbook services using your desktop and mobile device. The platform gives you a chance to bet on Baseball, MMA, Rugby, Football, Golf, Hockey, and several other sports. The Draftkings website features an SSL certificate for security and encryption to protect your data from leaks. So you have nothing to worry about here, and can spend more time thinking what you will bet your welcome bundle of up to $1,000 on.
Expert Comments:
"
The DraftKings social hub is an excellent feature, I have already added my betting buddies and can check to see what other fellow bettors are picking. It has a really inclusive feel that I think both beginners and seasoned pros can enjoy.
"
– Oliver Dickinson (Sports Editor)

---
🥈 #2 – Caesars Sportsbook – Bet Big with Parlays and Super Parlays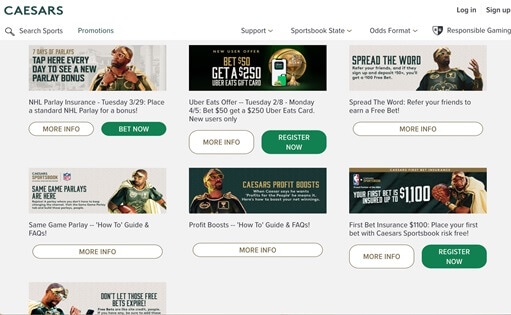 Caesars is one of the most popular online sportsbooks in the US sports betting world. In addition to its Sportsbook services, Caesars also has an online casino environment and is widely known for its excellent bonuses.
If you prefer live betting and there are no matches available, you can spend some time playing casino games on the Caesar online casino. Currently offering $1,250 to new players, the Caesars Sportsbook app is among the best in the US.
Expert Comments:
"Caesars has really gone the extra mile into making an excellent betting app. I think it has an unrivalled live betting experience, with a ton of great picks for amazing odds. Combined with the parlay and Super parlay features, I can highly recommend this betting app."
– Paul Ricci (Chief Sports Editor)

---
🥉 #3 – FanDuel Sportsbook – Bet Live and Watch All the Action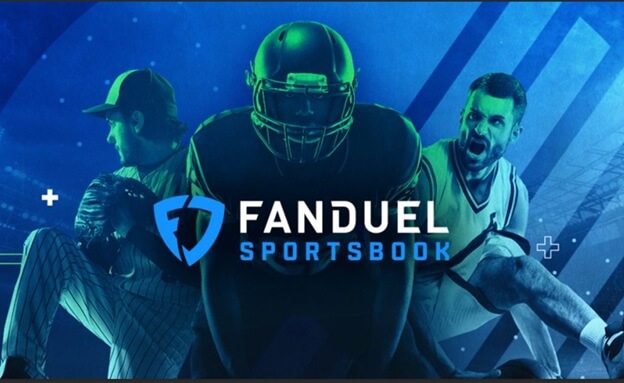 FanDuel sportsbook is a fun platform that offers access to the major betting markets, including the MLB, NBA, NHL, Soccer, and more. New players can claim a welcome bonus of up to $1000, and there are other excellent promotions for existing players. It is available in most states where online betting sites are legal, including Wyoming, Virginia, Tennessee, and New York.
You can access several payment options, including e-wallets, bank transfers, bank cards, wire transfers, and other safe and secure options. It has 24/7 customer support, and the site is SSL secured. FanDuel is a legal and legit company, one of the best in the industry.
Expert Comments:
"
FanDuel satisfies all bettors with its deep collection of betting markets. For NFL especially, I keep finding new betting markets and offers at fantastic prices. The app also has a remarkable coverage of live streaming, so I never miss out on any of the action.
"
– Oliver Dickinson (Sports Editor)

---
🎖️ #4 – BetMGM Sportsbook – Bet Big with High Payouts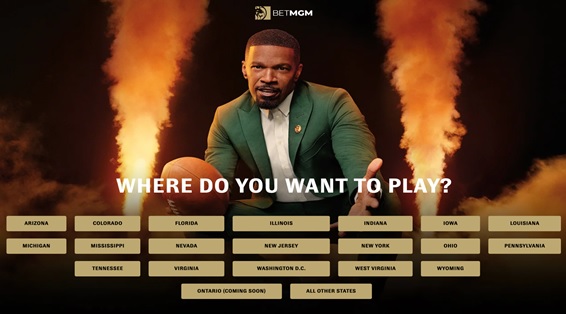 BetMGM Sports app is accessible in more than 15 US states, and the online betting site has an aesthetically pleasing design with excellent navigation features. There is a unique site for each state, and you get to pick your location the first time you visit the platform.
To provide a welcome fit for a king, BetMGM has a welcome bonus of up to $1,000 and follows this up with several other bonuses that you can claim as a member of this US sports betting site. The betting site is fully licensed in several states, and it offers various payment options. Another thing to point out is that BetMGM has a whopping $25,000 payout limit.
Expert Comments:
"
I like a big parlay, and at BetMGM there are lots of features to help me build my big longshot bet. The Easy Parlay tool can be used for games in all the major sports leagues, and it has useful stats and other information that I always review before making my bet. I am also a big fan of the live betting experience BetMGM has to offer.
"
– Damjan Spajić (Sports Editor)

---
🏅 #5 – PointsBet Sportsbook – Bet with Your "5 Lives" Welcome Package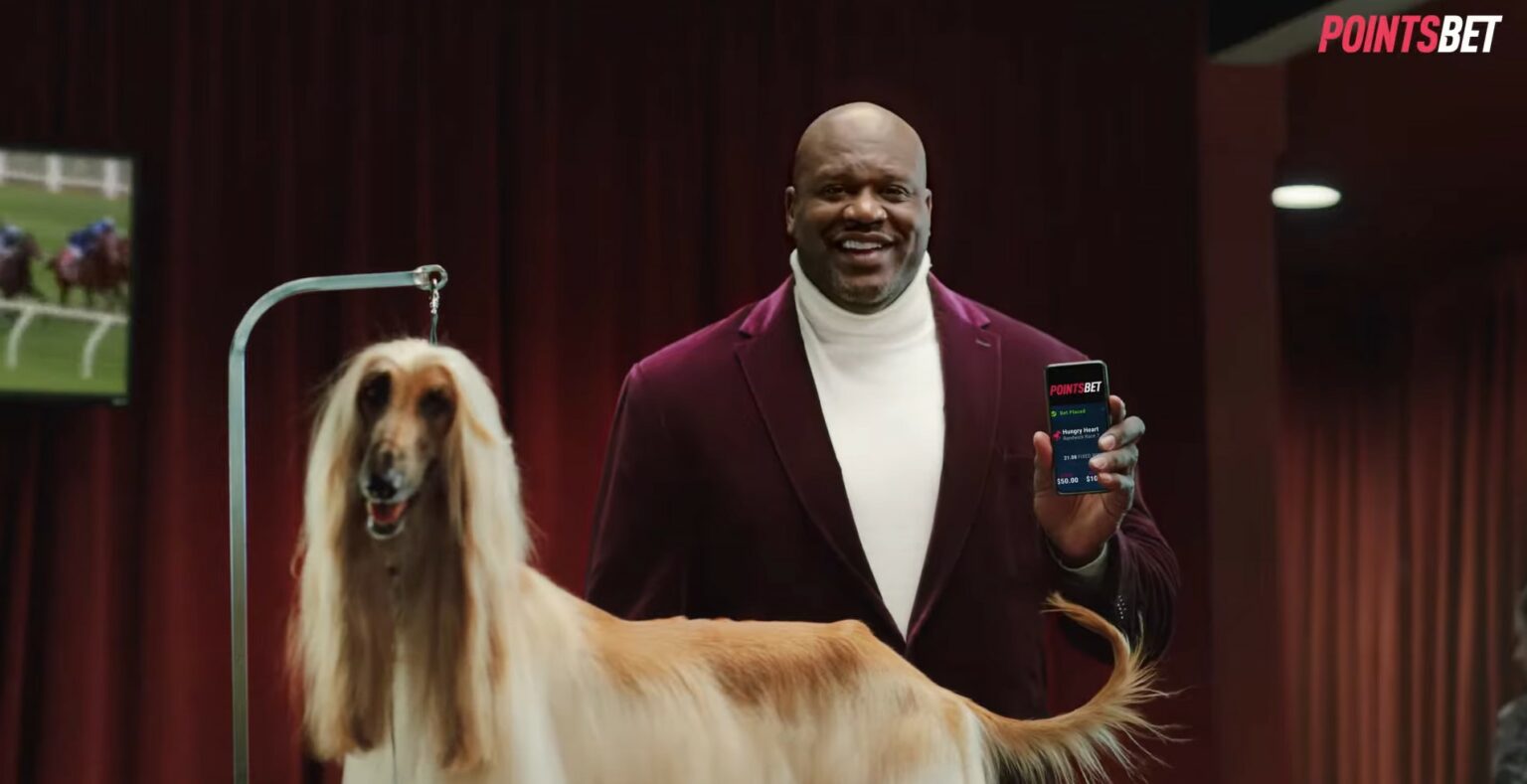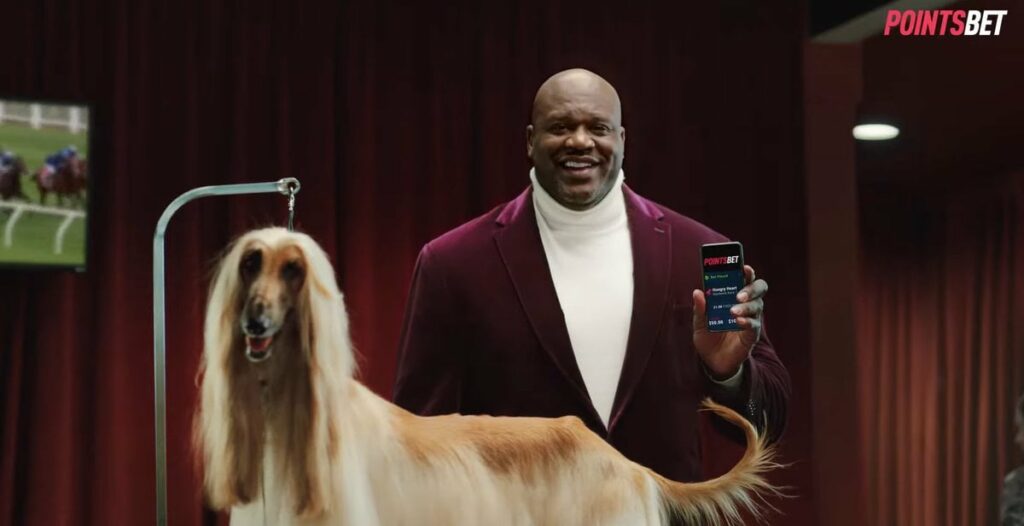 PointsBet sportsbook has found a massive audience in the US, specifically among baseball and football fans. It has lots of features and delivers regular promotions on big games. Licensed in numerous states, PointsBet has great customer support and easy banking, making betting here extremely convenient.
Customers here can really go to town on their bets, as the sportsbook provides detailed statistics and tables to keep bettors in the knowhow. Its welcome bonus, of 5 x $100 second chance bets, is very flexible and gives bettors 5 chances to boost their funds.
Expert Comments:
"
The PointsBet app does a remarkable job of compiling all the promotions, sports stats and extensive betting markets into one place. Payments are noticeably fast here – I can literally top up my account during a game, just in time to snap up the live betting odds while they are still good and long. The partial cash out tool is a big plus, helping me to lock in my winnings when it reaches a good amount.
"
– Oliver Dickinson (Sports Editor)

---
History of Sportsbooks in the US – Are they legal?
The US is a country with an efficient legal system, and one of the areas this system focuses on is consumer protection for the safety of its citizens. The Professional and Amateur Sports Protection Act of 1992 was put in place to protect individuals who visit online sportsbooks. It restricted legal sports betting in states other than Delaware, Oregon, Nevada, and Montana.
Like all laws that appear to be unfair to a specific demographic, there have been reactions to this Act, and in 2018, there was a ruling by the Supreme Court that gave states the right to legalize gambling within their jurisdiction. Although it is still illegal to visit sports betting sites in some states, this action is not legal in a majority of the states in the US.
For bettors living in areas where online sports betting sites are illegal, you may find recommendations to visit an offshore sportsbook. This can be a risky action, and if you have no other option, you could visit legal states and place your bets. In contrast, when you bet on the best offshore online sports betting sites, you can enjoy excellent features, but you do so at significant risk. Sites like Bovada do not payout players, nor are licensed by the states' regulatory gambling bodies.
Later in this guide, you'll learn about the various states where sportsbooks are legal and some of the top online sportsbooks to visit in the US.
---
US States with Legal and Safe Sportsbooks
Not all states in the US consider sports betting legal. To save you time, here are the states that have legal and safe sportsbooks for $500 bonus bets or over:
Arizona Sportsbooks – Players in Arizona can access sports betting services through mobile and desktop devices on more than ten platforms, including FanDuel, Caesars, Unibet, DraftKings, and more.
Colorado Sportsbooks – This state has recorded massive cash flow within the betting industry, making it one of the biggest online sports betting locations in the US. Tipico, BetAmerica, Fox Bet, MaximBet, and Betsafe are some of the brands exclusive to this market.
Connecticut Sportsbooks – Connecticut is home to some of the most reliable sportsbooks, including BetRivers, DraftKings, and PlaySugarHouse. A lot of the online gambling progress in this state was thanks to a deal involving the Mohegan tribe, Mashantucket Pequot Tribe, and Gov. Ned Lamont.
Illinois Sportsbooks – Starting in 2020, players in Illinois began enjoying online sports betting services in the state. With the lift on the restriction caused by in-person registration, several betting platforms like Borgata, FanDuel, and DraftKings opened shop in the state.
Indiana Sportsbooks – DraftKings and FanDuel are favorites among the various platforms operating in the state, and there is a lot of potential considering the state's performance during the football season in 2020.
Iowa Sportsbooks – licensing cost makes Iowa an attractive state for operators like Betway Sportsbook, Caesars, PointsBet, Draftkings, etc.
Louisiana Sportsbooks – Barstool, BetRivers, FanDuel, Caesars, BetMGM, and Golden Nugget Sportsbook are some of the platforms available. In addition to online betting, In-person sports betting is also available in the state.
Michigan Sportsbooks – Online sports betting in the state has been available since early 2021 – with laws giving multiple operators access to the market to promote competition.
Nevada Sportsbooks – Nevada is a hotspot for gambling in America and will remain a significant market thanks to the approval of online sports betting. However, the state still requires in-person registration, which is a minor issue.
New Hampshire Sportsbooks – Draftkings sportsbook retains its position as king in this state since it is the only platform licensed to operate.
New Jersey Sportsbooks – With total revenue of over $800 million in 2021, the sports betting market in NJ is massive. Popular platforms like PointsBet NJ, SugarHouse NJ, BetMGM NJ, Caesars NJ Sportsbook, and more are available with exclusive NJ sportsbook promos.
New York Sportsbooks – The online sports betting market in New York is operational, with platforms like Draftkings NY, FanDuel NY, BetMGM, PointsBet, and BetRivers offering excellent services. The current NY sportsbook bonuses are outstanding.
Pennsylvania Sportsbooks – One of the biggest markets in the country, being among the first to legalize online sports betting, has paid off for Pennsylvania. A minor issue in this state is the 14-operator licenses limit, with PA promo codes competing for players' attention.
Tennessee Sportsbooks – This is an online-only sports betting state, so the quality of services is much higher than in most other states. Despite its online-only operation, restrictions and higher hold percentage could have an adverse impact on bettors in the state.
West Virginia Sportsbooks – Top names like Draftkings, FanDuel, Caesars, PointsBet, And Golden Nugget are available in this state, but betting operations aren't on par with other states with larger populations.
Wyoming Sportsbooks – Wyoming offers full mobile betting operations, making it an exciting state for on-the-go gamblers.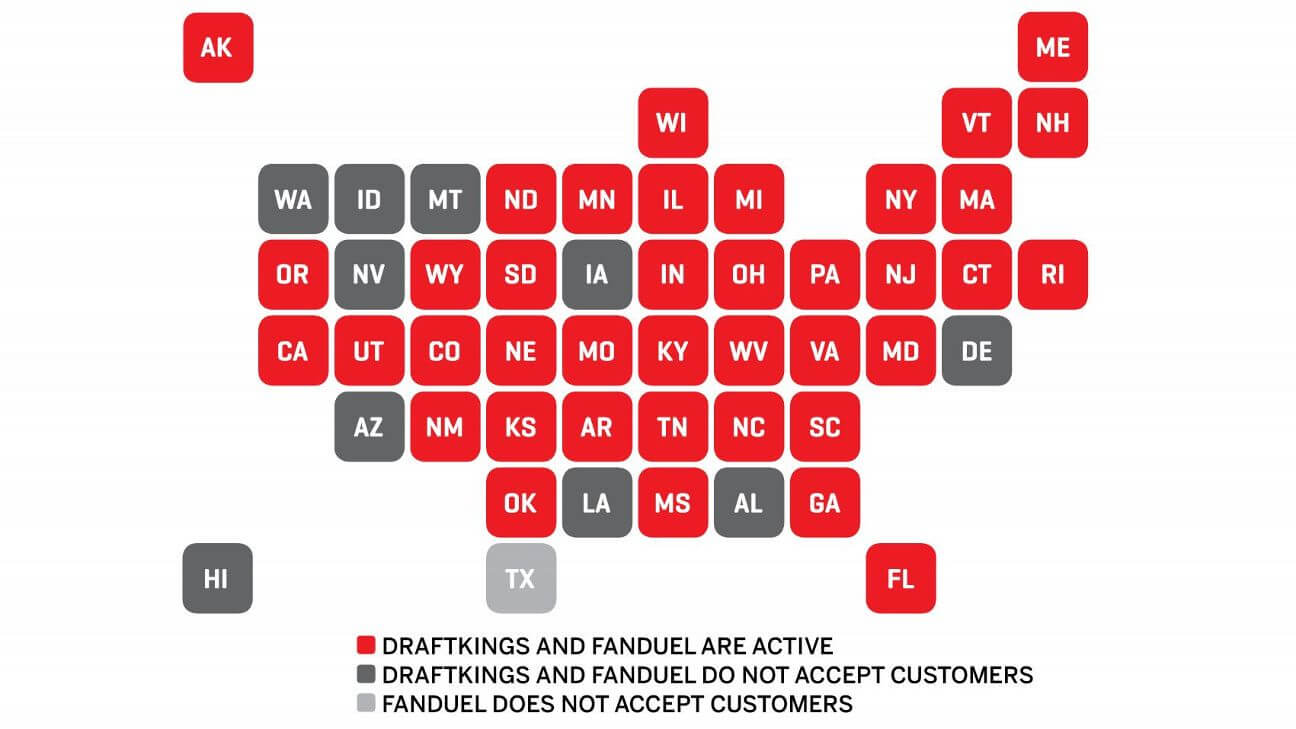 ---
Other Top Online Sportsbooks that you can Rely on
From our description of services offered in various states, there are some other reliable sports betting sites that didn't make our top five list. If you need somewhere else to spend your money, then don't hesitate to visit platforms like:
More are soon to appear in the US, with Leo Vegas and Ballys currently under the licensing process for several states.
---
The Most Reliable US Sportsbook
The accessibility and needs of a player will significantly influence the choice of the most reliable US sportsbook. Nonetheless, we do have a winner – FanDuel Sportsbook. This platform is open to players in West Virginia, Connecticut, Illinois, Arizona, New York, New Jersey, Indiana, Iowa, Tennessee, Pennsylvania, Wyoming, and Michigan.
Some of the markets on this sportsbook include NFL, MLB, NBA, NHL, NCAAF, and soccer. Several promotional offers are open to both new and existing players, with excellent betting odds.
Mobile gaming is possible on both Android and iOS devices. If you also enjoy horse racing, there is a dedicated horse racing page. FanDuel is SSL-encrypted, licensed by a dozen of gambling bodies, and has also acquired a reputation as the best DFS site in the US. Check BetMGM vs DraftKings and FanDuel vs DraftKings to see the close seconds.
---
Main Sportsbook Aspects Concerning Security and Safety
When picking the best sportsbook, the factors we listed earlier have significant benefits. However, when it comes to the safety and security of the best sportsbook, there are additional steps you can take.
Beyond assessing the customer service, betting options, and other features, you can take these additional steps to identify the top sportsbooks:
Learn from Players Reviews on Reddit
Reddit is a great place to get opinions from other players within the sports betting community. Most of these players offer unbiased reviews of the online sportsbook they use. This is a great way to learn about an online betting site since you get first-hand information and word-of-mouth sports betting reviews. Redditors share sportsbook bonus codes regularly too.
Stay away from Offshore Sportsbooks
An offshore sportsbook is an online betting site based outside the US. Therefore, they don't have to operate according to the regulations set by the state in which you reside. To attract players, many of these offshore betting sites provide mouth-watering bonuses.
However, the issues with these sites, even the best offshore sportsbooks, become apparent when you need to withdraw funds. Since most of these offshore betting sites don't need to answer to US authorities, you're exposing yourself to risk by playing on their platform.
To enjoy bonus bets, always visit the best online betting sites licensed in the US. Gamble USA only offers legitimate operators with links automatically qualifying you for the best sportsbook promotions and bonuses without any concerns about your security betting there.
---
FAQs
Is gambling legal in the US?
Since the repeal of PASPA in 2018, all states are free to regulate gambling within their borders as they see fit. Under Federal Law, gambling is legal, but some states prohibit the practise. If you are within one of those states, you have to travel across to the nearest state where gambling is legal, and place your bets there. You must be of legal age (which in most cases is 21) and it does not matter if you do not reside in the state you want to bet in as long as you are within state borders at the time you place your bet.
Which betting sites are safe to play at?
We strongly advise you to stick to licensed sportsbooks. They are regulated in the US, so if you play there the sportsbook is legally obliged to pay out your winnings and must keep your information safe. Don't risk betting at an offshore sportsbook, as there is no authority that you can take your issues to if you have any dispute with those books. It is really not worth the stress and aggravation, and besides, at our sites you can find much juicier deals and longer odds anyway.
What is an offshore sportsbook?
Basically, these are sportsbooks that operate outside of the US, and are not regulated. A lot of states are closing down on these operators as they do not pay any taxes and they are not actually operating legally within the US. We only correspond with legal sportsbooks and betting sites, so you will always be safe if you stick with our sites.
What are the most popular sportsbooks?
DraftKings and FanDuel are two heavyweights in the field of sports betting. These sites have been around for ages offering Daily Fantasy Sports, and have established huge followings in the US. However, more traditional sportsbooks such as Caesars, PointsBet and BetMGM are definitely not far behind, as they have tons of experience in serving sports bettors.
What is the minimum deposit in a reliable sportsbook?
The minimum deposit in a sportsbook should be around the $10 to $20 mark. Naturally, the amount depends on which sportsbook you are playing at and the payment method you choose. The minimum withdrawal amount should be the same, if not a little higher than the minimum deposit. But that is one key difference between reliable sportsbooks and sketchy ones. At a dodgy sportsbook, the minimum withdrawal tends to be far higher than the minimum deposit, thereby only allowing you to withdraw when you have bigger amounts.
How do I redeem my welcome bonus?
You can redeem your welcome bonus instantly when you make your first deposit. When you click on any of our links, you will be taken to the sportsbook and can charge straight in. Do not worry about copying and pasting the promo code, as it is applied automatically through our link.