Gamble USA strives to improve your online gambling experience. We aim to help you play safely, make informed decisions when gambling, and increase your betting knowledge through our guides.
We adhere to strict editorial integrity; our content may contain links to products from our licensed & legal US partners.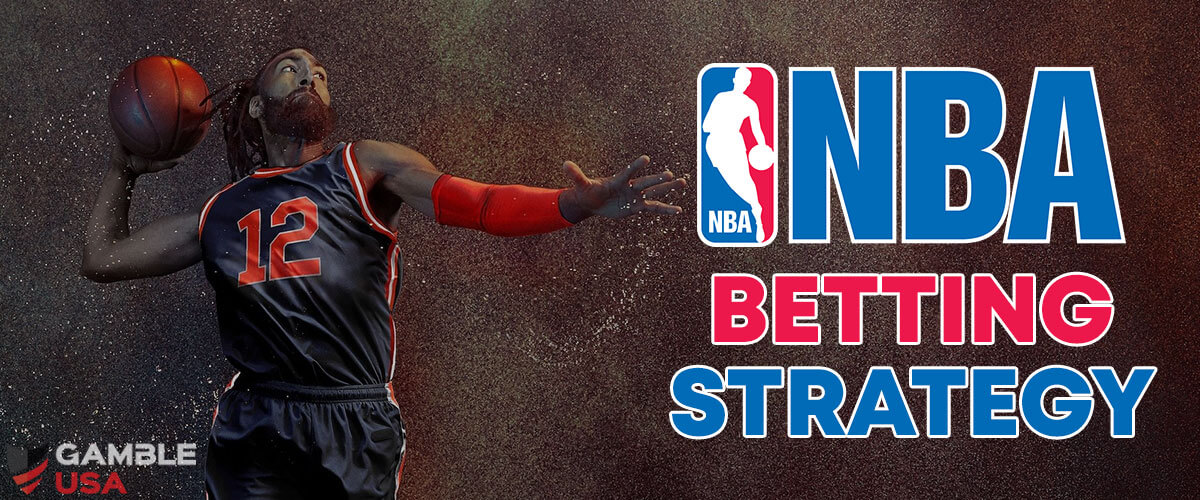 Over half of Americans claim to be fans of the National Basketball Association (NBA), so it's no surprise that betting on basketball and the NBA has become increasingly popular. Plus, the NBA attracts millions of bettors as the most renowned basketball league in the world.
Another reason why betting on NBA games is so popular is because there are so many different markets to choose from. You could place money line bets, point spread bets, live betting, or prop bets. Also, the increase in online NBA betting sites has made it much simpler to place a bet and, perhaps, win a significant amount of money.
So, if you want to enhance your betting strategies and skills and improve your chances of winning, we'll discuss the 5 best NBA betting strategies for NBA games.
Best NBA Betting Strategies that Work for NBA Games
Not all tips discussed below will apply to you, but you should be able to find a strategy that matches your skillset and goals. You can also switch your betting patterns by mixing the following NBA betting strategies:
NBA Over/Under Betting Strategy
The over/under wager in the NBA is often placed on the total number of points scored by one team. In an NBA game, these bets can also be placed on the number of points scored in either the first or second half of the game (either by one or both teams). It is a unique and entertaining approach to follow the activity in the NBA without having to decide who will win a particular game.
Here's how an example of normal over/under lines for the NBA would look when presented by a sportsbook: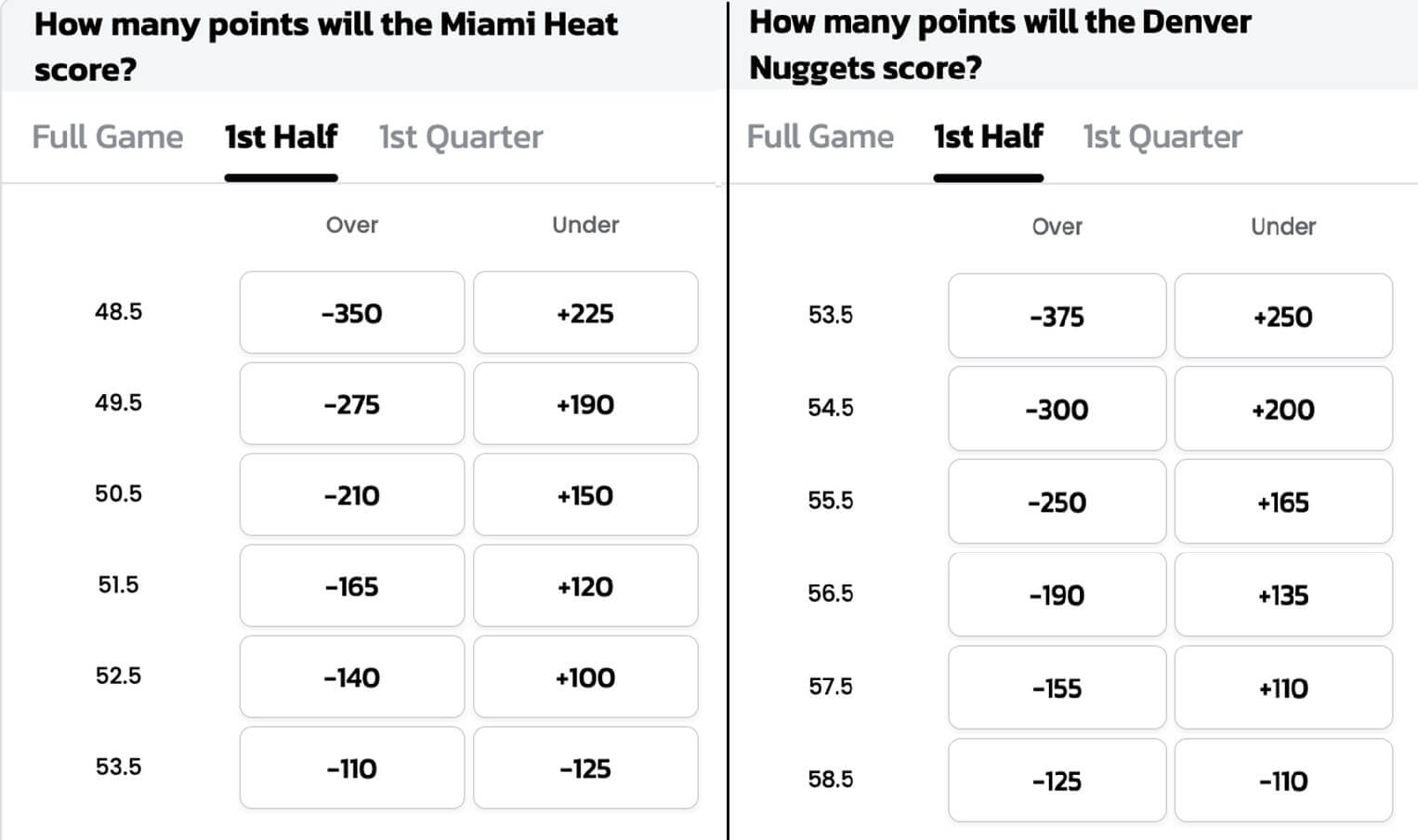 In this NBA face-off, if you bet on the over, the total number of points scored in the game by one team must be 101 or higher for you to win. If you bet on under, the points scored by one team must be 99 or less for your wager to be considered a winner.
The over/under betting odds provided by the sportsbook will fluctuate from game to game depending on team characteristics such as how strong or weak an offense or defense is for the NBA teams that are participating in the game, the availability of key players, whether the game is being played during the regular season or the postseason, and/or more factors.
To make a winning NBA bet, we advise examining prior matches between the competing teams and the points scored in each team's 5 most recent games. Once you have that, get an average and use that as a reference point.
NBA Totals Betting Strategy
Many bettors consider the over/under and totals betting strategies to be the same. And in many cases, they are. Yet, for the sake of this guide, we'll focus on the totals bet to be a bet placed on the total number of points scored by both teams in a game.
So, the principle is the same – you can place a bet on the total number of points scored by both teams in either the first half, second half, or the whole game. The last one is typically the most common bet, as well.
Here's an example:

The tips we gave for the over/under betting strategy work here as well since the premise is pretty much the same – you still have to take into account the same things in terms of factors. So, make sure you're confident in your bet and place it before the game starts.
NBA Live Betting Strategy
On the other hand, we have live or in-game betting, where bettors bet on an ongoing NBA game. The odds on a live bet will alter throughout the game, with adjustments made to the money line, point spread, and total after each shot is taken. Although NBA bettors in live betting markets may not have as many alternatives to choose from as they do in pre-game betting markets, the following sorts of bets are available at the majority of sportsbooks, if not all of them:
Moneyline Bet: A money line bet predicts the winner of a certain sporting event.
Point Spread Betting: This is a bet on the difference in the total number of points scored by the two teams when the game ends.
Over/Under Bet: A wager placed on the amount of points scored.
Now, live betting is not an exact science; however, knowing certain concepts can give you as a bettor an advantage and increase the likelihood of winning your bets. Here are some tried and trusted live betting methods to ensure you win more.
Make the closing line your marker – The closing line is the last before the betting market closes before the opening tip. According to some research, the closing line predicts a game's final score most accurately.
Note any in-game injuries in the NBA teams – Keep an eye out for players who sustain injuries throughout the game as it presents possibilities to profit from changes in the live odds.
Follow team rotations – It is important to understand how teams rotate their players because NBA games last for a total of 48 minutes. That means the team's best players and starters aren't on the court for some time. With the closing line as a marker, the fact that the leading team has a double-digit deficit, for example, early on in the second quarter of an NBA game, is not always indicative of the outcome.
NBA Quarter Betting Strategy
How many times have you been on the winning side of an NBA game bet, only to watch in horror as the opposing team begins to win? Betting in quarters is one way to sidestep that problem. Although it sounds simple, having a well-thought-out strategy can increase your chances of making successful bets. Here are some ways to enjoy NBA quarter-betting.
NBA quarter bets can be placed in different ways. You could bet on a team in the first quarter of a game if you think they will go on to win the game, and you could keep betting on individual quarters through the game. If you lost the first quarter bet, you should consider doubling up your bet for the next quarter. However, if you won the bet, you could simply pocket the winnings and call it a day. When it comes to placing bets on NBA quarters, there are unquestionably a wide variety of different alternatives from which to choose.

Another approach is to watch the first quarter, then bet on the team that lost the first quarter, then double up if they lose the second quarter, and then double up once more if they lose the third quarter.
You can do the same thing with the total by simply betting against what occurred in the first quarter and then betting in the opposite direction. This is called going against the spread.
Taking advantage of the way the game is going and betting accordingly is another option available to bettors in NBA quarters betting. If you notice that the star player of a team is getting into foul trouble, you might consider betting against that other team in the upcoming quarter. You might even observe that a star player is not playing that game and decide to wager against that team as a result of this observation.
Other NBA Betting Systems
There are several other popular NBA betting systems that any NBA bettor can use. While no system guarantees success, these strategies provide a structured approach that some find helpful.
The Injury Betting System
The basketball injury betting strategy focuses on monitoring reports of injuries and taking advantage of line movements caused by significant player absences.
When key players are sidelined or playing with injuries, odds may shift, providing value on the opposing team or altering the expected point totals. This system requires staying up to date with injury reports and acting quickly when opportunities arise.
The Contrarian System
The NBA contrarian betting system involves going against popular public opinion and betting on teams that are receiving less attention or have lower public support.
The idea is that the general public tends to favor a popular NBA team, leading to inflated odds on the opposing team. By betting against the public, you can find value in the lines offered for underdogs or less popular teams.
The Underdog Moneyline System
The premise of the underdog betting strategy for the NBA focuses on betting on underdogs to win outright rather than covering the spread.
Underdogs often have higher odds on the money line, meaning a smaller wager can lead to a larger payout if they win. This system requires careful analysis of matchups, injuries, and other factors that can lead to unexpected upsets.
Bet Early (Futures) System

Lastly, the futures betting Basketball system involves placing bets well in advance, such as at the beginning of the season or before significant events, using futures bets.
By betting early, you can often find more favorable odds before they adjust based on team performance or changes in circumstances. This system requires researching teams, player acquisitions, coaching changes, and other factors that can impact future outcomes.
Tested-Tips for NBA Betting Online
NBA betting comes with its challenges and pitfalls, so you need to be smart and informed before placing your bets. Here are some tips that can help you improve your chances of winning and having fun when betting on the NBA online.
Lineups
One of the most important factors that affect the outcome of an NBA game is the lineups of both teams. The lineups are the players who start and play the most minutes in a game, and they determine the strengths and weaknesses of each team.
Keep an eye on the lineup – it changes due to injuries, suspensions, trades, rest, or simply the coach's decisions. This change can positively or negatively impact the outcome of the game. Always check the official lineups before the game starts and adjust your bets accordingly.
Injury
Another factor to consider is injuries. Injuries are quite common in NBA players and can range from minor to major. Some injuries can heal quickly, while others can take weeks or months to recover. Some can also aggravate or recur during a game or a season.
Therefore, you need to be aware of the injury status of the players before you bet on a game. You can find injury reports on various websites or social media platforms that cover the NBA. You should also monitor how the players perform after returning from an injury, as they might need some time to regain their lost mojo.
Schedule
The team's schedule can also contribute to their performance. The NBA schedule is very demanding and grueling, as the teams have to play 82 games in a regular NBA season, plus playoffs if they qualify. The teams also have to travel across different time zones and cities, which can cause fatigue and jet lag.
Some teams might have more favorable schedules than others, depending on their opponents, home-court advantage, rest days, back-to-back games, or road trips. For example, a home team that plays after a rest day might have an easier time than a team that plays on the road after a back-to-back game. So, check the schedule before you bet on a game and consider how it might affect the energy level of each team.
News
News reports also contribute to your betting strategy – it can refer to any information or events relevant to the NBA and its players. News can include rumors, trades, signings, contracts, awards, fines, suspensions, scandals, controversies, personal issues, or anything else that might influence the mood of the teams.
The media can also create hype or expectations for certain players or teams that might affect their performance positively or negatively. Therefore, you should keep up with the news before you bet on a game and consider how it might affect the attitude and focus of each team.
Free Picks
One of the easiest ways to get started with NBA betting online is to use free picks. Free picks are predictions or advice that various websites or experts who watch the games and share their thoughts on who will win or cover the spread offered. Free picks can be helpful for beginners who want to learn more about NBA betting and get some guidance on how to bet online.
However, free picks are not always accurate, as they are based on subjective opinions and assumptions. Therefore, you should not blindly follow NBA and basketball free picks without doing your research. It's also advisable to compare different sources of free picks. Also, be wary of free picks that claim to be guaranteed winners or have unrealistic odds, as they might be scams.
Avoid Teasers
One of the most tempting but risky types of bets in NBA betting online is the teaser. Teasers are bets that allow you to adjust the point spread or total points of two or more games in your favor, in exchange for lower payouts.
For example, if you bet on a teaser that moves the point spread by 4 points in your favor for two games, you will need both teams to cover their new spreads to win your bet. So, teasers are easy money, right? No! Teasers are tricky and deceptive, as they often involve high fees and low returns. They increase your risk of losing your bet if one of the teams fails to cover their new spread.
Track Bets
One of the most important but often overlooked tip for NBA betting online is to track your bets. Tracking your bets means keeping a record of all your bets, including your stake, odds, outcome, profit or loss, and any other relevant details.
Tracking your bets can help you improve your strategies in NBA betting. It allows you to analyze your performance and identify your strengths and weaknesses. Tracking also helps manage your budget better since you see how much you are spending and earning.
General Sports Betting Principles that Apply to NBA Betting
Here are some general sports betting principles that apply to NBA betting:
Understand the different types of bets: There are many ways to bet on NBA games. Each type has its advantages and disadvantages. As an NBA bettor, it's your job to know how they work and what they mean before placing your wager.
Choose legal sites: Don't get fooled by better odds that you might see on illegal sites – it's all pretty much a scam. Even if your ticket is a winning one, the possibility of you not getting paid is huge. So, stick with

legal sportsbooks available in the US

.
Use all the advantages offered: NBA betting can be very exciting and profitable, especially if you use all of the bonuses and promotions available to you. Seasoned NBA bettors swear by promos and bonuses offered by sportsbooks as they not only help manage your bankroll but open new possibilities for future bets. And why wouldn't you claim a bonus or two to help you out?
Shop for the best odds: Different sportsbooks offer different betting odds for the same NBA game, so you should always compare them and look for the best value. Also, take advantage of bonuses and promotions offered by multiple sportsbooks and try

matched betting

.
Be selective and disciplined: You should only bet when you have a clear edge and a strong reason to do so. You should also stick to your plan and rules, and not chase your losses or get cocky with your wins.
Best NBA Betting Sites to Apply These Strategies
Here are some of the best NBA betting sites to use the strategies we just discussed.
Hit our links, get a bonus, and put these strategies and tips to the test while betting on basketball online.