Gamble USA strives to improve your online gambling experience. We aim to help you play safely, make informed decisions when gambling, and increase your betting knowledge through our guides.
We adhere to strict editorial integrity; our content may contain links to products from our licensed & legal US partners.
The sports betting industry in the United States is one of the fastest-growing industries globally. Since the Supreme Court lifted the federal ban on sports wagering in 2018, over 15 states have legalized and introduced online betting, with more on the way.
This means numerous online sportsbooks have launched, giving bettors more options than ever before. Additionally, players can place a bet on the move at a licensed US sportsbook thanks to the development of mobile technology and sports betting apps.
With the rapid rise of online gambling in general in the US, which includes legal US online casino sites, there has never been more information out there for people who want to enter the betting world for the first time. Indeed, a quick search for sports betting sites will give you numerous options complete with betting guides, tips, and strategies promising you ways to make some money.
However, the lifting of PAPSA 2018 doesn't mean that sports betting suddenly just started in the US that year. It may come as no surprise due to its gambling reputation, but Nevada was renowned for sports betting and attracted vast amounts of business every month. Additionally, before 2018, bettors in the United States were using offshore betting sites to place their wagers, although it was technically illegal.
Two of the most used and well-known offshore sportsbooks are Bovada and MyBookie. They have maintained their popularity even though sports betting is legal in over 25 states, and there are numerous licensed online sportsbook sites available, with lots of licensed and safe betting sites like MyBookie and alternatives to Stake.com. Offshore gambling sites act in the same way as any licensed gambling site in that they provide odds for sports markets. However, an offshore betting site becomes dangerous as if you try to claim money or information, you are not protected.

This article covers information about these offshore sportsbook sites. You may be wondering; Is it safe to use an offshore operator? Can I legally play at overseas betting sites? Can I use sites similar to Bovada? We will answer those questions and more.
Before we get into the background of both Bovada and MyBookie, we must stress that the United States government does not regulate these offshore sports betting sites. Therefore, we do not recommend sports bettors using them. Instead, we highly recommend players sign up for a legal and regulated us betting site. These gambling sites provide you with additional layers of safety and security in addition to fantastic welcome bonus offers such as free bets and multiple betting options. Additionally, for example, if you encounter Bovada payout problems, their customer service is non-existent, and you may lose all of your money without protection.
Bovada & MyBookie Background
This isn't a Bovada sportsbook review, and we are not going to enter into a MyBookie Vs. Bovada debate weighing up which sports betting site would be better. Rather, we wanted to provide some info on their legal status and how offshore betting works.
Both Bovada USA and MyBookie have customers in the country, even though technically they are not permitted to offer sports betting. Bovada is located in Costa Rica and has been in existence for around 20 years. Because of its location, it does not have to follow US rules and regulations.
MyBookie is located and licensed in Curaçao, which is another area that isn't required to follow US regulations. This offshore sportsbook didn't launch until 2014 but has gained a big following and is counted as one of the best offshore sites. Although MyBookie is not a US betting site, players will still discover sports and leagues from the United States features on the platform.
These two sites could be considered the 'best offshore sportsbook' if you were to discuss such a thing. However, the best offshore betting site is still a much worse choice than the any legal bookmaker. Any bettor wanting a guarantee that their personal information and financial details are secure while betting should always stay away from illegal gambling. This is true whether you are betting on horse racing or the NFL.
Legality of Bovada
Is Bovada legal in the US? It's a question many sport bettors will search for online. As we mentioned above, bovada is not located in the US and as such, doesn't follow US laws. Bovada, BetOnSports, MyBookie, and other offshore sports betting sites operate in a very grey, precarious area. Whilst it is not necessarily illegal to bet with bovada, transferring money outside of the US to wager, then if you win, transferring money back into the US is illegal.
Will you go to jail for betting or using an offshore site like bovada? No probably not, but you could lose your money and winnings as they are not governed under US law. If they without your winnings and refuse to pay, you are pretty powerless. It is far better and safer to wager with one of the many regulated US sports betting operators.
Legal Online Betting Sites In The US
Betting legal is definitely the way to go, and there are plenty of excellent sports betting legal options available. It didn't take a long time for sports betting operators to notice the potential of online betting, and these operators were quick to launch a mobile app where that was allowed. Brands such as Caesars Sportsbook, BetMGM, and DraftKings are some of the biggest names in the US, and they have a prominent presence with online sportsbooks available in several states.
These online sports betting sites are similar to offshore sportsbooks, but the one big difference is that all of the wagering done through those sportsbooks is entirely safe and legal. Players are not risking being caught out doing something illegal, and they are protected by the state and local governing body.
We have provided a list below of some of the best legal online betting sites in the United States.
All of the sites above provide fantastic choices if you want to bet on sports in a legal, safe and secure environment. Additionally, new customers can typically access deposit bonus offers, several betting markets, numerous betting lines, reduced juice betting lines, and plenty of bet types such as prop bets and live betting options.
Once you make your first deposit, you are free to access all of the features.
How Do I Know If A Website Is Legal?
The first step to determine if you are using a legal sports betting site is to ensure you are located in a state that has a legal sports betting industry. All licensed operators in the US are required by law to use geolocation technology to confirm customers are located within a state that legally allows online betting. Then, you need to check whether mobile and online sports betting is allowed. If you are not in one of those states, there will not be any US betting sites accepting customers or offering wagering options.
Additionally, you must check the list of approved operators. You can check at each online sportsbook as well, as it will be clearly stated if they are a legal and regulated option. Any operator you find listed on our website is licensed and regulated right here in the US. Operators are licensed in each state by the relevant governing bodies. In NJ for example, the NJ DGE is responsible for overseeing gambling in the state.
You can check the DGE website to find a list of licensed and approved operators. In PA, you can check with the PGCB. Each state will have its own gaming commission which makes sure operators treat players safely and securely. This is why it's important to only play at a licensed, legal US-operated site.
We would also recommend frequently checking for an updated list, as there is a constant stream of new online sportsbooks launching. If you do your research and find a US sports betting site that is legal and regulated, then you can place your sports bets with peace of mind. Most US operators are run by what have now become household names like DraftKings, FanDuel, BetMGM (the online arm of gambling giants MGM), Fox BET (FOX News), and WynnBET (online betting brand of Wynn Resorts).
Legal Online Betting Locations In 2022
It doesn't matter if you are using top offshore betting sites, they are always risky. Online betting is now firmly the most popular form of sports betting in the United States. Retail betting is the more classic, traditional method, but the new generation of sports bettors prefer to do their wagering online or via a mobile device.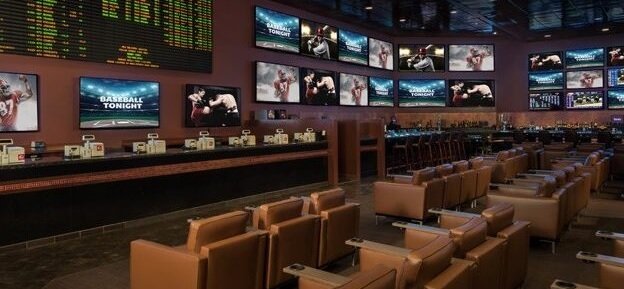 There are currently more than 25 states that allow legal sports betting; however, not all of them allow online gambling at the moment. This list will undoubtedly grow over the next months and years as states look to take advantage of online sports betting's potential revenues.
Below is a list of states that offer some form of online betting:
Arizona
Colorado
Connecticut
Illinois
Indiana
Iowa
Kansas
Louisiana
Michigan
Mississippi
Nevada
New Hampshire
New Jersey
New York
Ohio
Oregon
Pennsylvania
Rhode Island
Tennessee
Virginia
West Virginia
Wyoming
As mobile betting continues to prove a popular option, we may see more states follow Tennessee, which has an online-only sports betting industry. More and more states continue to offer a legal and licensed gambling industry. This encourages people to stay away from illegal offshore gambling and sign up for sites who adhere to the rules of the American Gaming Association.