Gamble USA strives to improve your online gambling experience. We aim to help you play safely, make informed decisions when gambling, and increase your betting knowledge through our guides.
We adhere to strict editorial integrity; our content may contain links to products from our licensed & legal US partners.
You have probably heard of the phrase "there is no such thing as free money." While it is true in most scenarios in life, online games that pay real money are a reality, and anyone can join for free.
People use their phones for hours daily, so why not convert that time into making more money? You can enjoy playing simple word games or epic arcade games and get paid in PayPal cash prizes, big brand gift cards, merchandise, or other generous prizes.
Even though you can earn money playing games online, it is not nearly enough to quit your job, but if you put in big daily shifts, you can earn around $1-$5 per hour.
Plenty of online games pay real money, and your choice depends on your preferences. This article will look at the 10 best cash game apps that pay real money to play games online, complete tasks and surveys, and more.
Our Top 10 Game Apps Picks to Win Real Money
Our 10 best cash games will cover different types of games and ways to earn cash and rewards. They are all legit and licensed games that pay real money.
A couple of legit cash games are restricted in the following states: AZ, AR, CT, DE, IL, IN, LA, ME, MT, SC, SD, and TN. We will add "restricted" to the game app description if it applies. You can still play these online games for free if you live in a cash-price restricted area.
Blackout Bingo
If you are interested in playing free bingo games to win cash prizes and real rewards, Blackout Bingo is the cream of the crop. It is available for both Android and iOS systems, so players can enjoy earning free cash while on the go. Here, players can win tokens to redeem for real rewards, cash prizes, and even sweepstake entries. Play bingo against other users in quick 2-minute rounds or weekly cash tournaments while you play in mesmerizing locations. Every player sees the same cards and balls, so the person with the most speed and concentration will come out on top.
Here is how players earn points to win:
Single/double bingos
Daub when your number is called on the board
Note: The quicker you daub or lock in your bingo, the more points you earn. Keep in mind that you will be penalized if you daub a number that has not been called or click bingo when you do not have it.
Players can also earn boosts, allowing them to complete numbers before they have been called.
Casino app: Google Play Store (4.3/5) & App Store (4.5/5)
What we like:
PayPal cash rewards
Great gaming app
Free-to-play
Prizes available: PayPal cash prizes & merchandise
It is restricted in the mentioned states.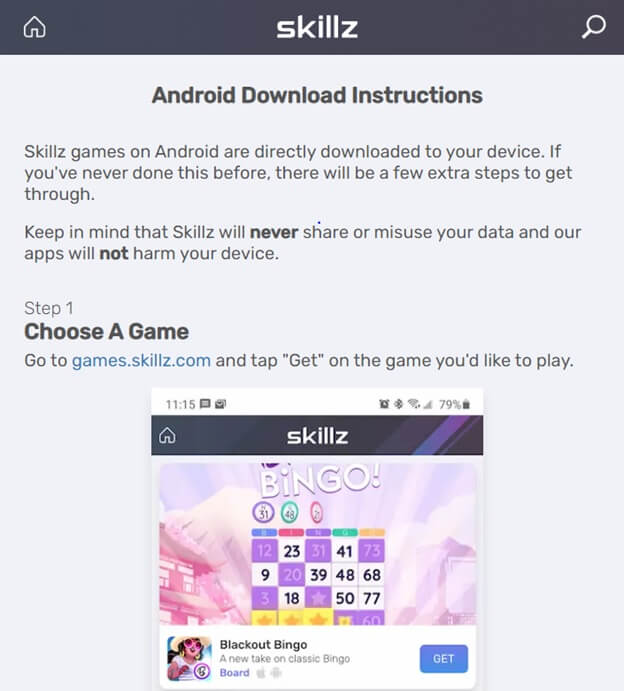 Solitaire Cube
Ever heard of an online solitaire that can pay real money? Like Blackout Bingo, at Solitaire Cube customers can earn money playing games against other players in head-to-head challenges or weekly tournaments.
Once you deposit at least $1 via your PayPal account, you will be eligible to enter cash tournaments and face other players with the same skill level as yours. Solitaire is a simple game to play, and it is available on both Android and iOS devices through the browser or designated app downloadable on both Google Play Store and the App Store.
Casino app: Google Play Store (2.9/5) & App Store (4.6/5)
What we like:
Quick contests
Great app design
Free practice rounds
Prizes available: PayPal cash & merchandise
It is restricted in the mentioned states
Blitz 21
Do you want to earn money by playing games such as 21 or solitaire? Blitz 21 offers a mixture of the two, and players can earn up to $82 in a single win.
Players can practice their 21 skills while competing head-to-head against opponents. Or deposit a certain amount and compete in tournaments for bigger cash prizes. These games will always consist of five opponents of the same skill level. The point of the game is to reach 21 points or draw 5 cards without exceeding 21.
Payouts are made through PayPal.
Casino app Google Play Store (4/5) & App Store (4.6/5)
What we like:
Excellent opponent interaction and gameplay
Competition based on skill level
Great graphics.
Prizes available: PayPal cash and paper checks for exceeding amounts
It is restricted in the mentioned states
Swagbucks
Swagbucks is known as the king of cash prizes and rewards. Swagbucks offers players the chance to earn money playing games and doing tasks such as playing free online games, watching videos, completing tasks, taking part in polls, filling out paid surveys, shopping online, and saving money by accumulating coupons.
Players are paid in "Swagbucks," which can be redeemed for an Amazon gift card after reaching $1 and only $5 for PayPal cash or other gift cards.
Players can earn about $50-$100 extra money a month by playing Swagbucks.
Casino app: Google Play Store (4.3/5) & App Store (4.4/5)
What we like:
Multiple ways to earn cash
Low redemption amounts
Fast earning games and tasks
Prizes available: PayPal cash & gift cards
No restricted areas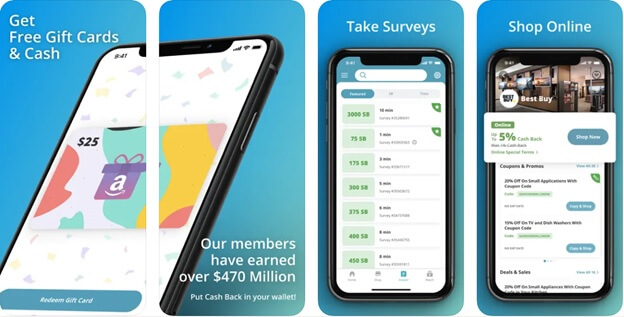 Pool Payday
If you love playing online pool games, then you should try Pool Payday. It is one of the most realistic and accurate pool games you will find and pays real money.
You can earn money online while competing against your friends on a free top-quality 3D graphic pool setup. Or pay a small fee to enter tournaments where you will be able to win big prizes, which can be paid into your Apple Pay or PayPal account.
Players can also earn money completing tasks such as bank and trick shots. As soon as you start playing games, you will earn points that add to your loyalty program, which offers better prizes and rewards.
Casino app Galaxy Store Store & App Store (4.6/5)
What we like:
Epic 3D graphics
Play with your friends for free
A great loyalty program
Prizes available: PayPal & Apple Pay cash
It is restricted in the mentioned states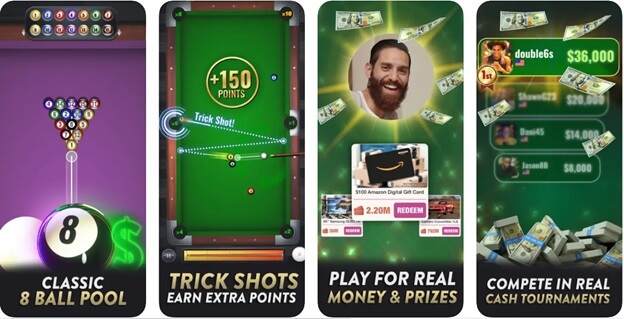 InboxDollars
InboxDollars act as a platform to find and play real money earning games. Players can enjoy access to a host of free online games that pay real money, such as Candy Jam, Mahjong Solitaire, and PetHop. However, that is not the only way for players to earn cash. InboxDollars offer players the chance to win prizes and rewards by doing everyday things such as:
Watching Videos
Shopping online
Fill out surveys
Read email content
InboxDollars compensate players in scratch cards with a minimum and maximum redemption of $20-$100.
Casino app: Google Play Store (4/5) & App Store (4.5/5)
What we like:
Multiple money making games
Easy-to-earn money and rewards
Prizes available: PayPal cash, cheque, direct deposit, or gift cards
No restricted areas.
Mistplay
Mistplay is by far one of the best online games that pay real money. Here, players can earn money by downloading and playing free online games such as Pokemon Go, Fruit Ninja, Super Mario Run, and more. Once a game is downloaded, players are rewarded for completing in-game tasks.
Mistplay is only available to download on the Google Play Store and offers one of the best loyalty programs you will find.
Mistplay focuses strictly on gaming, and if you play well, players can earn decent money by playing games without having to deposit a cent. There is no PayPal option. Instead, players can use a Visa Prepaid Card, and the minimum real cash prize redemption is $5.
Casino app: Google Play Store only (4.2/5)
What we like:
Earn real cash playing different mobile games
Nr 1 loyalty program for mobile gamers
Gift card redemption as low as $0.5
Prizes available: Visa prepaid card cash rewards & gift cards
No restricted areas
Dominoes Gold
Dominoes Gold must be one of our favorite instant win games that pay real money. Players can earn rewards by competing in free 1 vs 1 domino games or tournaments, where you can chat and compete against other players. The graphics and gameplay are seamless, backed up by its impressive 4.7 out of 5 rating on the App Store.
If you like to earn money by playing games online, Dominoes Gold has a very exciting and entertaining setup waiting for you.
Casino app: Google Play Store (4.4/5) & App Store (4.7/5)
What we like:
Crisp 3D graphics
Smooth gameplay
Daily tournaments
Prizes available: PayPal cash, gift cards, merchandise, and sweepstake prizes
It is restricted in the mentioned states
Drop
Drop offers you the chance to earn money while playing online games. It gives players a list of arcade games with tasks attached. The more online game tasks you complete, the more gift cards you will receive. These gift cards are redeemable at big brands such as Netflix, Amazon, and Starbucks.
The available free games are plenty and continuously updated. Players can enjoy online video games, casino games, cards, and more. Besides playing games, players can also earn rewards by doing cashback offers, completing surveys, and other paid cash rewards.
Drop has an earning limit of $5/week.
Casino app: Google Play Store (4.3/5) & App Store (4.6/5)
What we like:
Big brand gift cards
Multiple games that pay real money
Plenty of ways to earn cash and rewards
Prizes available: Gift cards only
No restricted areas
Skillz Games
If you have that competitive drive, you should try Skillz Games, a multi-player gaming platform. Here, players can download and play money making games while competing head-to-head against other players worldwide, +30 million monthly players to be exact.
Not only do you get paid to compete, but also by downloading the real money earning games, some of which we even mentioned above, like Solitaire Cube, Blitz 21, Pool Payday, Blackout Bingo, and Dominoes Gold. You can download these free online games and many others directly from the Skillz Games site or game app stores. You only need to create an account.
Skillz Games is completely free to play games against opponents, but if you wish to compete in tournaments, buy-ins start at $0.6. Deposits are made via PayPal or credit card.
Casino app: APK download from Skillz Site & App Store (3.8/5)
What we like:
Epic player vs. player competitions
Get paid to play online video games
Plenty of money making games available
Prizes available: PayPal and Credit card cash
It is restricted in the mentioned states.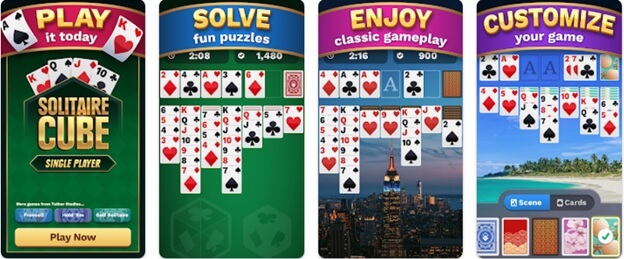 A Better Real Money Gaming Alternative
The goal stays the same whether you make money online with paid surveys or while playing free online games. The only thing we can help with is to make it as enjoyable as possible for our readers, and there are a few alternative options to consider.
Sweepstake casinos are one of the best alternatives to these real money earning games. The first thing that comes to most people's minds is that they do not want to gamble their hard earned money, but what if we told you you could win real money online without spending a cent?
Yes, that is essentially what sweepstake casinos offer. Rather than playing with real cash, these social casinos provide customers with a virtual currency to gamble and play their casino games. Once enough is accumulated, these sweeps coins can be redeemed for real money prizes and other rewards.
They are also called social casinos, as the casinos promote a lot of social interactions between players. You can compete against players in major tournaments and climb the leaderboards to gain the ultimate bragging rights. Tournaments also offer bigger prizes if you reach a rank high enough. But be careful, since some game apps claiming to be sweepstakes casinos like the Slot Rush app are not legit.
Legit sweepstake casinos do not operate like real money casinos, which means they are legal across almost all of the US. To be eligible to register, you will need your ID to prove you are older than 18 and a proof of address to show you are within the borders of the US. Sweepstakes no deposit bonuses are the best way to get started for free. The following are available as online gaming sites, mobile sites, or iOS and Android casino apps.
Our Favorite Free Casino Game Apps that Pay Real Money
Like real money casinos, sweepstakes offer lucrative welcome bonuses to get players started on the right track. This is usually a $10 free no deposit bonus, which means the bonus will be received once the registration is complete, either in the form of free sweeps coins worth up a few bucks or free spins.
While most sweepstake casinos allow you to play free online games, some require you to make a real cash deposit to join their premium mode, which allows real cash prizes. Unsurprisingly, sweepstake casinos offer first deposit bonuses as well, which can see players receive a 100% match of their first deposit in bonus funds (only until a certain amount).
It does not stop there. While playing games, they offer plenty of promotions and additional rewards such as loyalty programs, free spins, daily log-in bonuses, wheel of fortune spins, bonus rounds, etc.
Here are some of the best sweepstake casinos that offer online games that pay real money:
Sweepstake casino
Details

Fortune Coins

- Play slots, fish, table games
-Cash prize redemptions


Funzpoints

- Play free online games
- Need to make a deposit in order to redeem cash prizes (premium mode)

Chumba Casino

-Play free slots, poker, blackjack
- Real cash prizes on offer

Pulsz Casino

- Play free casino games
- Real cash prizes on offer


LuckyLand Slots

- Play free online slots
- Cash prizes
How Money Paying Games Work
Cash gaming apps pay customers to play free online games, take surveys or watch videos, but why? Because they sell customer engagement to these ads and gaming companies you play. These cash gaming sites use you like a hamster on an electrical wheel. The more you engage in these activities, the more it powers their operation. It is a win-win situation. However, it is still difficult for players to win large amounts of money as they will need to reach very high required points to make their cash redemptions.
Either way, it is still an entertaining way of online gaming, and the chances are there to earn a few bucks. Let us have a look at a few details before you jump in:
Minimum Age
Most online games that pay real money require customers to be at least 18 years of age. However, some sites like Swagbucks allow customers as young as 13 to join and make money online.
Account Registration
The registration is very simple. They will ask you to fill in your name, surname, email address, home address, number, password, and a few other personal details.
Once that is completed, accept the terms and conditions, and off you go. Some cash games even offer a welcome bonus once your registration is completed.
Banking Methods
Most cash game apps and sites only offer PayPal as a banking method. There are other methods, but they are far and few in between. These include an online banking service such as a Visa Prepaid Card, Apple Pay, direct deposit, and paper cheques.
Cashing out Money
Before choosing a gaming app to make money online, checking if they offer real cash prizes is essential. Most of the cash apps mentioned above offer real money cashouts, while others only have gift cards or other small rewards.
If cash prizes are available, the next important check is the minimum cash out and redemption amounts. The average PayPal cash outs to you sit at around $20, but they can stretch anywhere from $5 to $25.
The minimum redemption amounts for gift cards are much more forgiving and range from as low as $0.5 to $10.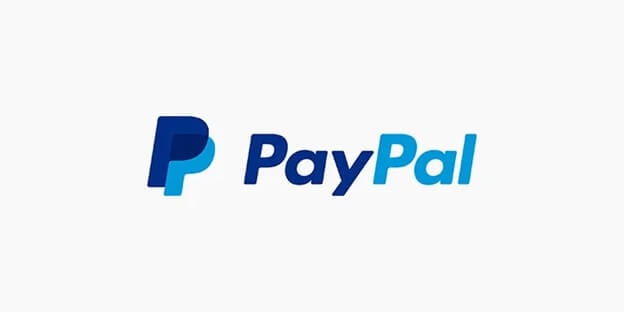 Legality & Safety
Anyone who wants to earn real money by playing games must be aware of the threats it holds. There are a lot of fake accounts that promise to offer real money earning games but are not licensed to do so. If they are not downloadable from the Google Play Store or App Store, it might be best to avoid them.
If they are downloadable from these stores, it helps to check what the reviews and ratings say. As of yet, some cash game apps or sites are still restricted in many US states. States such as Arizona, Arkansas, Connecticut, Delaware, Louisiana, Montana, South Carolina, South Dakota, and Tennessee are yet to legalize some of these real money earning games.
All the cash game apps we recommended are legit and licensed entities, and their mobile apps are safe to download and available to play in most US territories.
Summary
As you can see, the options are endless when looking for free online games that pay real money. Our 10 recommendations merely touched on the topic, and there are still plenty of other real money earning games, but we regard these to be the best.
Whether you are looking for word games, real money games, or fun games to compete against other players, there is an option for all.