Gamble USA strives to improve your online gambling experience. We aim to help you play safely, make informed decisions when gambling, and increase your betting knowledge through our guides.
We adhere to strict editorial integrity; our content may contain links to products from our licensed & legal US partners.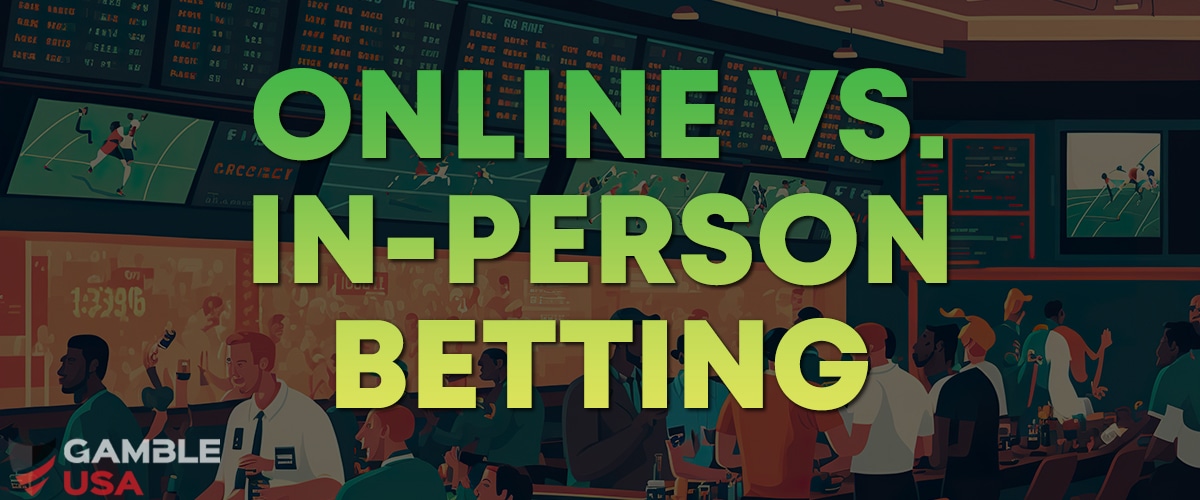 If you are new to sports betting or have been betting exclusively at retail sportsbooks but are considering transitioning to online or mobile sports betting, this article on online vs. in-person betting is a must read.
We will describe the advantages and disadvantages of each approach, so you can make an informed decision about which method suits your betting needs and style of play best.
Best Online Sports Betting Sites
Main Differences Between Online and In-Person Betting at Sportsbooks
People in the United States were placing sports wagers with their bookies even before the First World War, long before the repeal of PASPA in 2018 paved the way for the legalization of sports betting in many states. However, once it became possible to bet on sports legally in many places throughout the country that were state-licensed and regulated, the popularity of this activity grew by leaps and bounds. In addition, advanced online technology in recent years has led to the proliferation of online and mobile sports betting sites.
The main difference between online or mobile sports gambling vs. betting at a brick and mortar establishment is that the latter must be done in person. In other words, you have to travel to and from the sports betting site, which could involve considerable time and money. When you place bets online, however, you can complete all your transactions from your home or anywhere in the state where you have your account that you happen to be. BetMGM even has an app that can travel with you, allowing you to place bets in any state where BetMGM legally operates.
Another important difference between online and in-person betting is that online betting is completely cashless. If you wish to place a bet at a retail facility, you must bring the required cash with you, and if you win, your winnings are also paid in cash.
However, when you bet online, it is with money that you deposit beforehand via ACH, credit or debit card, PayPal, or another accepted method. Likewise, any winnings that you choose to withdraw later can be transferred back to the designated card or bank account.
How Betting Online Works
If you are 21 years of age or older and live in or can easily travel to a state where legal online sports betting is available, you can take advantage of this option 24/7. But first, you will need to open an account and make a deposit at an authorized betting site.
Each sportsbook has its own rules regarding the minimum deposit you can make and which deposit methods are accepted. But at most gambling sites, the minimum is only $10, and all of the most popular options for funding your account such as e-Checks (ACH), credit and debit cards, PayPal, Play+, and Online Banking are available. In addition, the best online sportsbooks extend a special welcome offer to first-time users such as bonus bets or bet credits posted to your account if your first bet loses.
One thing you cannot do online is deposit and bet anonymously. This is different from betting in person at a retail sportsbook. Any adult from anywhere in the world can walk up to the betting window and bet, and unless it is for an extremely large amount, do so anonymously if he or she chooses.
Collecting your winnings is also done differently online than at retail betting establishments. You have to request the withdrawal and the manner of payment and then, depending on the method, it could take a couple of days or longer for processing and transfer before the funds are available. The extra waiting time instead of being able to cash out as soon as the game is over can be annoying, but it is for your own protection and safety.
Why Bet Online
If you are new to sports betting or currently placing all of your bets in person, you might want to think about giving online betting a try. Online betting offers several important advantages and benefits that are not available to you when you bet in person which can save you a lot of time and money.
Saving on costs
If you are betting in person, you will be spending extra time and money getting to and from the betting facility, which might be far from your home. If you are traveling by car, you will have the added costs of gas and parking. Or if you are using some other means of transportation, you will have to pay for that. Another expense you might incur could be the cost of a babysitter or someone to walk the dog while you are away. You will also probably want to eat before returning home, so you will have to shell out more money for food and beverages.
You need to deduct these expenses when determining your net profit, if any, from sports betting. Therefore, if you are a small bettor (i.e., less than $50 per game), after you factor in all of these costs, the profits from your wins will be largely negated.
In contrast, there are no extra expenses associated with betting online. You already have internet service and a phone, so your entire sports betting bankroll can go toward your wagers.
Convenience
Placing bets online or with the sportsbook's dedicated mobile app is much more convenient. You do not have to leave your house or wherever you happen to be and contend with traffic, tolls, or parking to reach the betting facility. Then, rather than wait in line to make your wagers or cash your winning tickets, you can complete these transactions instantly whenever you want, including times when the retail sportsbook is closed, with no waiting and no hassle.
Also, on busy days, casino sportsbooks tend to be crowded. So, unless you are willing to spend big bucks for a reserved seat, you may not get a comfortable seat or any seat to stay and watch the games you have wagered on. In any case, a high tolerance for loud, obstreperous fans who have had too much to drink is a must. But by betting online instead, you can avoid all of these annoyances.
Get on top of any match up changes
Traveling to a brick and mortar sports facility could take longer than you thought it would, and the lines at the betting windows might be long as well. Meanwhile, the moneyline or point spread on the game you want to bet might move and not in the direction you want.
Or maybe, before you could get to the sportsbook, there was late-breaking news such as a key player being scratched from the lineup that you either did not know about or could not capitalize on before it became widely available public knowledge.
If the game has already started, live betting is still an option, but you will almost certainly have to bet into a less favorable line than you would have received earlier.
Comparing betting lines
Sometimes shopping around at different sportsbooks will show you differences in the betting lines on a particular game. However, if you spot a more favorable line elsewhere, you have to act fast to take advantage of it before it disappears, which is difficult if you have to spend time traveling from one sportsbook to another.
It is a lot easier and quicker online. Simply open a few tabs on your phone or computer and compare the odds on two or more games instantly.
Better and more attainable promotions and rewards
Rewards, if any, for sports bets placed in person are usually limited to free beverages and, sometimes, if you wager enough, you can earn food comps, too. However, online bettors can receive much more.
A few common examples include deposit and reload bonuses, match bets, prize drawing entries, and bonus bets such as bet credits posted to your account for the full amount of a losing qualifying bet. Retail betting establishments never offer refunds on losing bets.

Safety
If you are going to make sizable bets in person, you must carry large amounts of cash. You therefore run the risk of dropping, losing, or being robbed of your money. You are also more tempted to spend your winnings on casino gambling.
However, online betting is cashless, so you do not have to handle paper money at all. When you make a deposit, it gets transferred immediately to your online betting account from your bank account, credit or debit card, or e-wallet, and you can have your winnings transferred back the same way.
How Betting in Person Works
As mentioned, betting in person entails traveling to the facility where you plan to place your wagers and presenting sufficient cash at a betting window or kiosk to cover your bets.
Your ticket will reflect the betting line that was posted at the time of your visit, which may be different from what you saw earlier online. If you win, you can cash your ticket as soon as the final results are official, or you may return to cash it at a later time.
Why Bet in Person
Betting online is not to every gambler's liking. Betting in person offers certain advantages, too, such as the following, which are important to many sports bettors.
The opportunity to socialize with other sports fans
Spending an afternoon or evening at a sportsbook is fun and exciting and a great way to enjoy the company of friends as well as meet new people.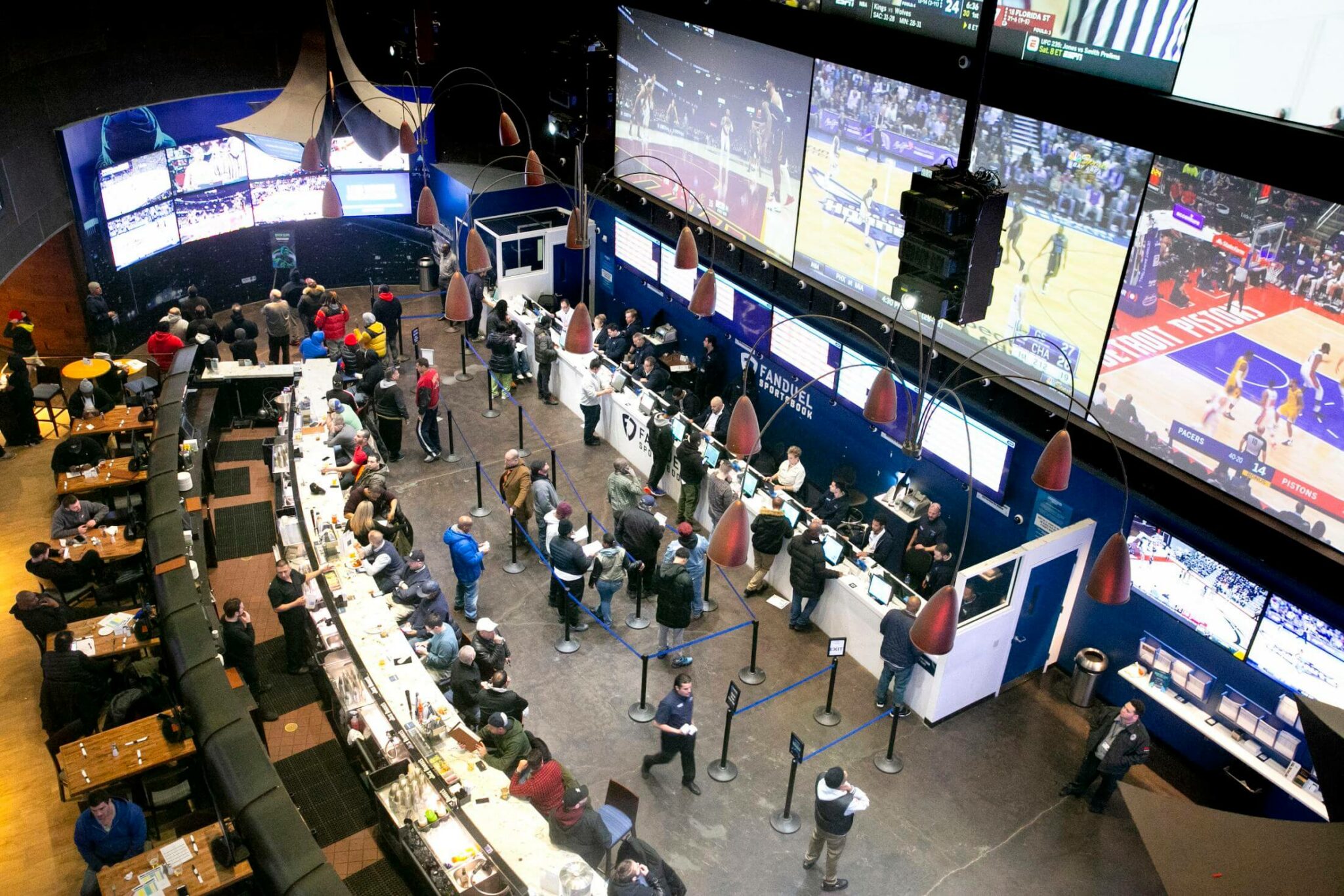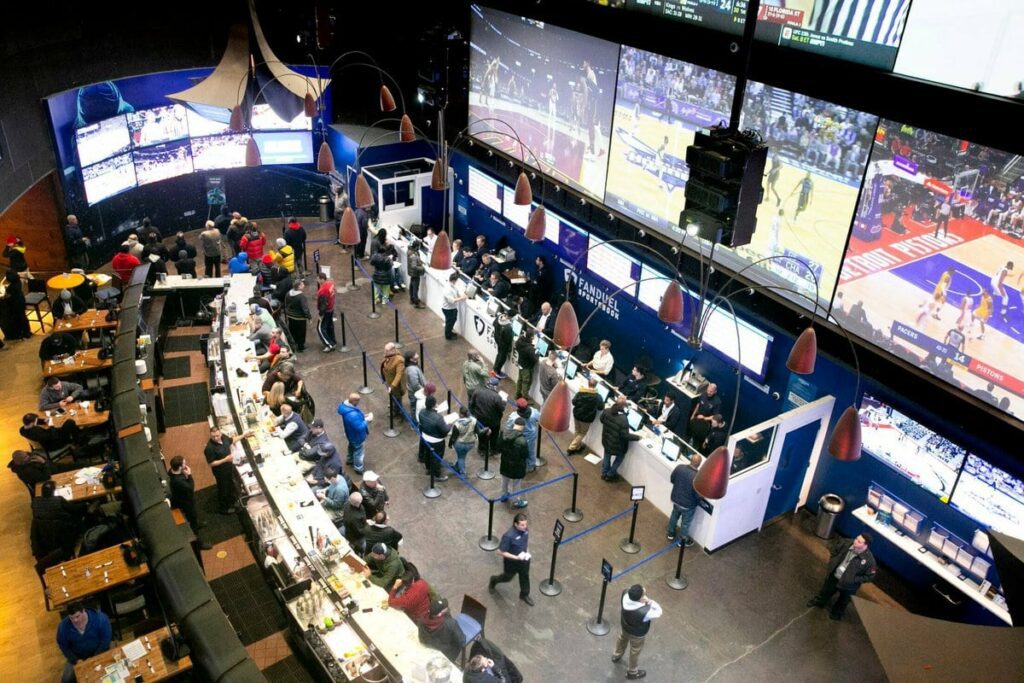 Watching multiple games close-up simultaneously on giant screens
When you bet online or on your mobile device, you can usually watch only one game at a time, which can be nerve wracking if you have action on multiple games taking place simultaneously.
A much more enjoyable option is to plop down on a comfortable armchair or sofa at your favorite retail sportsbook and take in the action on a half dozen games or more on large separate screens filling the sportsbook's video wall. You can even order food and beverages delivered directly to your seat.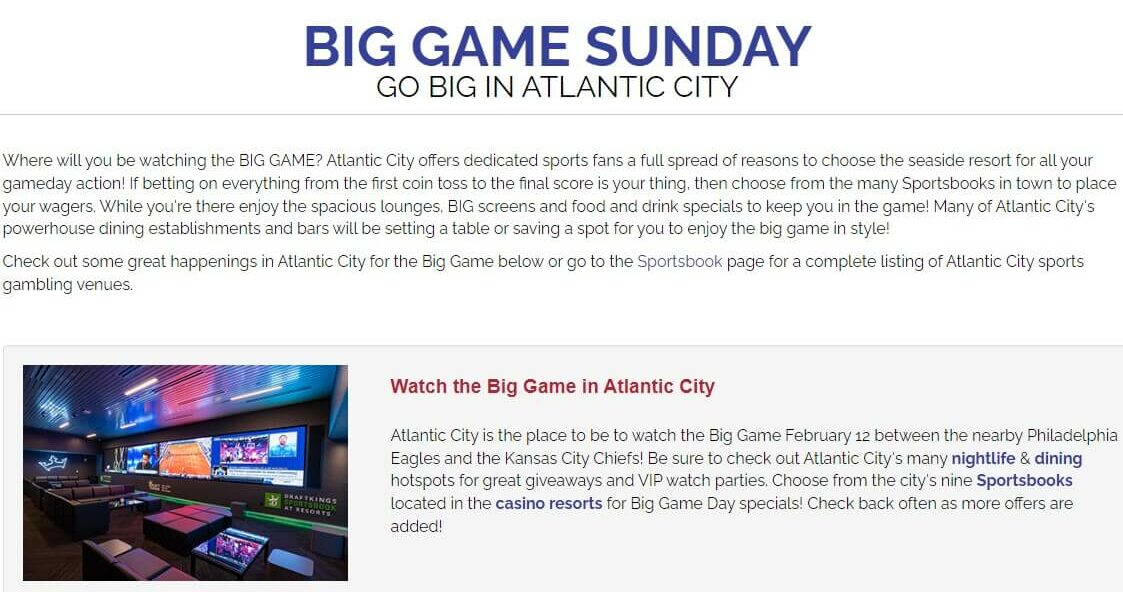 Customer service at hand
If you are betting in person and need staff assistance with a question or problem, you can receive it immediately, including issues that need to be handled by a manager. That is frequently not the case online since live chat can be hit or miss and very few betting sites offer phone support.
Immediate access to your winnings
When you bet in person, you can cash your winning tickets as soon as the final results are official. This feature is especially appreciated by small bettors because it allows them to use their early game winnings to bankroll their bets on later games (very handy during football season).
In contrast, even with the fastest withdrawal methods online, you have to request the withdrawal and have it approved, which is never instantaneous.
Wider availability
Retail sports betting is still the most widely available feature with nearly 30 states supporting it through betting kiosks and retail bookmakers.
On the other hand, online sports betting is roughly available in 20 states although more are opening up.
Doesn't require technical knowledge
Although these betting sites make placing a wager a breeze, some users might not be IT literate. For those, betting in person might still be the only feasible way, since they just have to bring some cash at the counter.
How Online and In-Person Sports Betting Merge
Despite the many differences between in-person betting and online betting, many gamblers use a combination of both. This approach gives you a lot of flexibility in when, where, and how you place your bets.
In addition, here in the US, all state-run online sportsbooks are required by law to partner with a currently operating land-based casino. If you feel like betting online, you can do so on the BetMGM sportsbook. If you feel lonely and would like to engage with others, you can visit the retail casino where BetMGM hosts a live bookmaker and have just that.
Promo Code: GAMBLEUSA
Up To $1,500 In Bonus Bets
21+. T&C Apply
21+. T&C Apply
Promo Code: GAMBLEUSA
Super fast payouts
Live streaming
Promo Code: GAMBLEUSA
Up To $1,500 In Bonus Bets
21+. T&C Apply
21+. T&C Apply
Benefits of This Feature
This feature is dually beneficial to sportsbook operators and users. Sportsbook operators can track their customers' betting habits more accurately and adapt their policies and promotions accordingly to improve their bottom line.
The best online sportsbooks also offer a comprehensive player's loyalty program that links the reward points and tier points earned online with those earned at participating retail sportsbooks and casinos. Customers love this feature because it allows for faster earning of comp dollars and other rewards.
Another advantage is being able to use the casino cage cashier for immediate sportsbook cash deposits and withdrawals.
And if technology is not your strongest suit, you could pop up to the local sportsbook and ask them to sign you up and help you learn how to place online bets.
Betting Online vs. Betting in Person Overview
Here at a glance is a table you can refer to comparing online betting with in-person betting on various criteria. Make your decision based on which criteria matter to you the most.
| 📜Criterion | 🖥️Online Betting | 👨In-Person Betting |
| --- | --- | --- |
| Available 24/7 | ✅ | |
| No extra travel costs | ✅ | |
| Saves time | ✅ | |
| Better odds | ✅ | |
| Ease in comparing odds at different sportsbooks | ✅ | |
| Special offers and promotions | ✅ | |
| No need to carry large amounts of cash | ✅ | |
| Socializing with other sports bettors | | ✅ |
| Big screen viewing of multiple games at once | | ✅ |
| Less intimidating for beginners | | ✅ |
| Immediate help with questions or problems | | ✅ |
| Immediate access to winnings | | ✅ |
Mobile Betting: The Ultimate Approach?
Mobile betting has become increasingly popular in recent years, and it is easy to understand why. Given today's busy lifestyle, it is the most practical way to bet for people who are frequently on the go.
Also, because of advanced technology, everything sports bettors can do online – place bets, research relevant information, check betting lines, make deposits and withdrawals, and access promotions – is doable quickly, easily, and safely on your mobile device.
And thankfully, all local bookies feature an online sportsbook and mobile apps for Android and iOS. The latter can be your only option in some states.
FAQs
Is it better to bet online or in person?
The answer depends on individual needs and priorities. Betting online is cheaper, faster, more convenient, and safer. It also entitles you to special offers and promotions that are not available when you bet in person. On the other hand, in-person betting is more exciting and entertaining. You also have immediate access to your winnings. Beginners may also find in-person betting less intimidating.
What are the benefits of live betting?
Live betting allows you to place bets on games that are already in progress. Besides not being shut out of a game you wanted to bet on but did not get a chance, if an existing bet is not going your way, you can cut your losses by betting the opposite way.
What are the best betting sites?
The best betting sites offer all of the popular sports and a wide range of betting markets and betting options. They also offer a wide range of fast and safe banking options, lots of accessible promotions, a good loyalty rewards program, and 24/7 customer support. BetMGM, Caesars, DraftKings, and FanDuel fit all those and more criteria.
Are betting odds better online or in person?
At any given point in time, the betting odds displayed online and at the affiliated retail sportsbook are the same. However, these odds can change quickly. Therefore, you will frequently find better odds online than if you wait until you can get to the physical sportsbook to bet in person.