Gamble USA strives to improve your online gambling experience. We aim to help you play safely, make informed decisions when gambling, and increase your betting knowledge through our guides.
We adhere to strict editorial integrity; our content may contain links to products from our licensed & legal US partners.
Now that several major sports seasons are underway, there is no more convenient way to take advantage of the best betting options than to use a legal online sportsbook. However, before you can start betting, you will need to open an online sportsbook account.
If you never bet online before, you probably have questions about the registration process. The process differs across countries, and even different sportsbooks within the US vary slightly in the specific information required. But you needn't worry. This article will tell you everything you need to know about how to open a new sportsbook betting account and guide you through the step-by-step process. You are just a few clicks away from opening an online sports betting account at your preferred sportsbook.
More good news is that online sports betting is now legal in many states, so finding a reputable sportsbook to take your action should be no problem at all. And to sweeten the pot, most sportsbooks offer first-time depositors a generous welcome bonus, and some sports betting sites offer a sign-up bonus as well.
Are you ready to get started?
Things you will need to sign up
As a prerequisite to opening a new online sports betting account, all legal US sportsbooks require you to complete a registration form. Most of the information requested is the same basic sort you would be asked to provide on any application or registration form (name, date of birth, gender, mailing address, email address, etc.). But there are also a few items that are specific to the sportsbook where you wish to create an account. These include username, password, and for some sites, answers to certain security questions. Since it is not a good idea to use the same username and password for different sportsbooks, before you initiate the sign-up process, we recommend selecting a new username and password that you would like to use at that sportsbook only.
Once you complete the registration process, you will not be required to deposit funds immediately, but this is something you will want to do soon afterward. So, to save time later, it is not too early, before you complete the registration form, to decide what your initial deposit will be and which of the available methods for funding your sports betting account you are going to use.
Sportsbook Registration Requirements
Before a US sportsbook can legally start taking players' bets, it needs to be licensed in a state where sports betting is already legal. In addition, it must agree to abide by all of the rules and regulations for online gambling in that state. Some of these rules concern who is allowed to wager real money online or on their mobile device and who is not.
One very important rule is that you must be age 21 or older to be allowed to gamble legally at any US sportsbook. There are no exceptions.
You should be glad that this enforceable law is in place because compulsive gambling is already a widespread problem in this country. Sportsbook operators want anyone who gambles online to play responsibly. Enabling and encouraging underage online sports betting will increase the number of young people with a gambling problem.
Another regulation that all US sportsbooks must adhere to is player geolocation. Each online sportsbook is licensed to operate within the confines of a specific state, and therefore all money going in and out must also be within that state. Also, while many online sportsbooks operate in multiple states, that does not negate the fact that each state has its own laws concerning what types of wagers are permitted.
The effect on you as a player is the following. You cannot be denied an account if you live in a different state from the one where you wish to play. However, at the time of your play, you must be physically situated inside the state where your account was opened.
All licensed US sportsbooks take these requirements very seriously. Any flagrant violations could result not only in heavy fines but in losing their license.
Pick One of these Licensed Sportsbooks to Sign Up
Online sports bettors have a choice of many sportsbooks, so your own personal needs and preferences will weigh heavily in your decision. For example, if you enjoy different kinds of online betting, you might prefer a site that offers an online casino as well as a sportsbook. If you're a high roller, you should select a sports betting site with a good loyalty rewards program.
But the most important consideration before you sign up with any sports betting site is to make sure that it is state-licensed and regulated and that you can legally play there. The following are some of the top betting sites for US players, all of which we can recommend with confidence. You won't go wrong signing up with any of them.
How to Create a Sportsbook Account in 3 Steps
#1 Visit the online sportsbook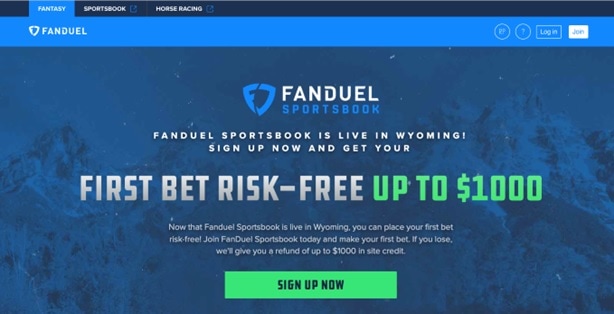 You can access the sportsbook either online or through the sportsbook mobile app. For your convenience, we recommend using one of the links we provide. This will not only take you directly to the sportsbook of your choice but allow you to access a special promo code whereby you can receive a bonus just for signing up, even before you make your first deposit.
#2 Click to register your new account information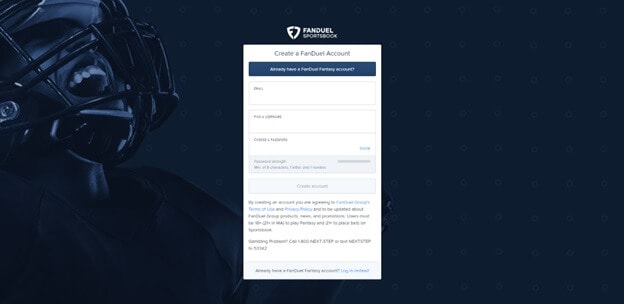 Complete the information requested in the first part of the form. This can vary for different sportsbooks. For example, DraftKings, FanDuel, and BetRivers Sportsbooks only ask for your email address, username, and password. After entering the username and password that you wish to use on the site, you will be asked to confirm them.
Caesars Sportsbook, on the other hand, asks for your name, email address, gender, date of birth, and cell phone number but does not request your username and password until later.
#3 Provide your personal details to the sportsbook

After completing the information on the first part of the registration form, you will be taken to the next section where you need to complete the rest of the information.
Sign Up Process Required Details Explained
Online sportsbooks give you a choice of two ways to complete the registration process – online or via the sportsbook mobile app. Either way, the procedure is identical. Then, after you are assigned an account, whether you make your initial deposit online or via the mobile app is again entirely up to you, depending on what you find most convenient.
The registration form you will need to complete is always found in the upper right-hand corner of the sportsbook's home page. Click on the tab marked "Sign up" or "Register," and fill in all of the information requested, which will typically include the following:
It is very important to use your real legal name that you will be able to verify. Otherwise, you could run into problems.
As mentioned, the minimum age to be permitted to gamble at any legal sportsbook in the US is 21. The sportsbook may ask for proof of your identity and age such as a government-issued photo ID to make sure you are who you say you are and that you are old enough to play.
Last four digits of your Social Security Number
A sportsbook will ask for your SSN for proper identification purposes.
Your place of residence does not necessarily have to be in the same state where the sportsbook is licensed. However, you do need to be physically situated within state borders at the time you are wagering real money. Built-in geolocation software will be able to verify instantly whether or not you are within the state at the time of play, and if you are not, deny you access.
Also, it is important to be honest about the mailing address you enter on the registration form. The sportsbook will ask for proof when you are ready to process your first withdrawal.
You must also provide a valid email address.
As an added layer of security, most online sportsbooks now require all customers to provide a mobile phone number. They may send a text with a verification code you have to enter before you can access the site, as well as use the phone number to send other messages.
When you sign up with a sportsbook, you will also be asked to create a username for your account. It's entirely up to you whether you want to use a nickname or another word or name or a combination of letters and numbers that is meaningful to you. However, the total number of characters cannot be less than the specified minimum or more than the specified maximum.
Your username should not be so complicated that you won't be able to remember it but not so simple that another person could quickly figure it out. If signing up with more than one sportsbook, consider using a different username for each one.
The password that you create for your account is different from the username, but the same basic guidelines apply. Don't make it so complicated that you can't remember it, but don't make it so easy to guess that you are putting the security of your account at risk. The recommended combination includes one or more of each of the following: lower case letters, upper case letters, numbers, and special characters. The total number of characters must also be a certain minimum and maximum.
As with the username, it is best to create a unique password for each sportsbook rather than use the same one. That way, in case of a breach, only one account will be affected instead of all of them.
It is each user's own responsibility to remember their password and keep it secure. Do not share your password with anyone. If you receive the option to have it saved in your browser, so you don't have to remember it and type it each time you log in, decline the offer.  No one should have access to your password but you, so it should not be displayed anywhere. If you forget it, you can create a new password.
You will be permitted to choose from several options. Since the sole purpose of including such questions is to provide your account with an extra layer of security, choose a question that you know the answer to but no one other than your immediate family or closest friends does. A few examples might be: What is your mother's maiden name? What was the name of your first grade teacher? What was the name of your first pet?
Verifying your new sportsbook account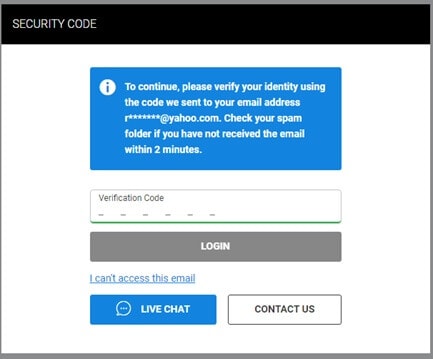 As soon as you have completed the preliminary steps outlined above to the sportsbook's satisfaction, including two-factor authentication if required (discussed below), you will be invited to make your first deposit, claim your welcome bonus, and start using your new sports betting account. If the sportsbook needs any additional information, it will let you know. For example, if you will be using a credit card or ACH as your deposit method, you might be asked to furnish proof that the account being used for depositing funds is in your name.
Typically, you won't be required to furnish copies of other documents until later. That will be when you are ready to make your first withdrawal and why you need to allow extra time for the first withdrawal request to be approved and processed.
Before your initial withdrawal can be approved, you will need to submit a copy of a valid government-issued photo ID such as a driver's license, passport, or military ID. A company ID or library card will not be accepted. In addition, you will need to provide proof of your address such as a utility bill or a bank statement issued within the last three months.
You can save time by checking beforehand what documents the sportsbook will require when you request your first withdrawal and having them ready.
Two-Factor Authentication
Since July 13, 2022, in addition to answering all of the standard questions on the registration form, all NJ online sportsbook and casino players must submit to more extensive two-factor authentication (also referred to as multi-factor authentication). The reason for the added requirement is that the agency which regulates New Jersey online gambling, the Division of Gambling Enforcement, deemed it necessary to prevent hacking and to ensure the security of players' accounts.
While the specific way each sportsbook goes about satisfying the requirement might vary somewhat, the process typically entails answering a couple of extra security questions and copying a security code that the sportsbook texts you on your mobile phone or generates through an authenticator app.
Some sportsbooks, such as Caesars and BetRivers, send the code via email, but usually, you can only access the code on your mobile device. For example, at FanDuel Sportsbook, after logging in with your email and password, rather than receiving the 6-digit code by email, you can either have the code generated by the authenticator app on your mobile device or sent to you via SMS.
As soon as you receive the code, you must duplicate it immediately. If you make a mistake or take too long, the process fails, and you have to copy a new code. Furthermore, the code is valid for one-time use only. Each time you log into your account, or every two weeks (whichever is sooner), you must duplicate a new code before you can place any wagers.
Two-factor authentication is now also required at Connecticut sportsbooks and is likely to be implemented in other states as well.
Problems creating a sportsbook account
Protecting your sportsbook account from fraud is the dual responsibility of the sportsbook and the user. Asking for physical proof of your identity and address might be annoying, especially when it prolongs the waiting time for withdrawals, but it is for your own protection. Another important additional precaution your sportsbook might be taking is two-factor authentication, which is not only annoying and time-consuming but something many customers find difficult.
For example, the FanDuel two-factor authentication six-digit code is only valid for a few seconds, which I found not enough time to copy it accurately. Unless you are extremely fast with your fingers, the code will disappear, and you have to start again from scratch with a new code. The fact that many sportsbooks do not offer customer support by phone compounds the problem, as relying on live chat to resolve these kinds of issues can be hit or miss. There have been many customer complaints since two-factor authentication was mandated for all New Jersey online betting sites.

Other problems can arise from the unauthorized use of a sports betting account. Most reputable sports betting sites only allow one user per household. Not obeying the sportsbook's terms can lead to account suspension and forfeiture of funds.
Otherwise, taking personal responsibility for keeping your account safe and secure is imperative. Do not share your username or password with anyone.
Lastly, only play at sportsbooks where you can do so legally. Using a VPN to try to circumvent geolocation requirements is not recommended and is not worth the risk of possibly having your account closed and your money confiscated.
Sportsbook Account Registration Guides
We highlighted previously on this guide that some sportsbooks might require slightly different things or in varying order. The above guide should equip you with everything you need to open a sportsbook account and start betting. However, we have created additional guides explaining the process required by each legal US sportsbook:
Tap on the above links to learn more.
What Comes Next?
As soon as you complete the sign-up process and the sportsbook assigns you a betting account, be sure to claim your free sign-up bonus, if offered. The bonus offer might include a small amount of money to use as free bets. However, only the winnings are cashable, not the free bet itself.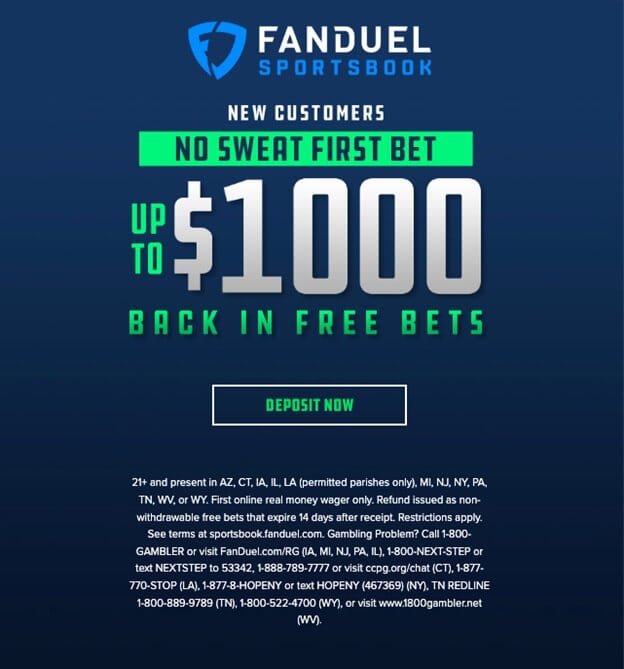 Most sportsbooks offer a more generous welcome bonus, but you won't get that until you make your first deposit. It is up to you whether you want to deposit your own funds into your account immediately or do it later. But read all of the terms and conditions carefully beforehand. Each sportsbook has its own rules regarding the minimum deposit, how soon after opening an account you need to make it, what deposit options are available, the nature of the bonus, and how to qualify for it.
The best type of deposit bonus is a free bet in the form of a deposit match. However, many sportsbooks offer a risk-free bet instead. The risk-free bet offer allows you to make your first bet up to the amount of your deposit with the guarantee that if the bet loses, you get your money back. The sportsbook will refund the cost of the bet in the form of a site credit to make another bet. However, if you win the first bet, you don't get anything extra from the sportsbook.
As you continue to bet online, more offers for free bets, risk-free bets, and other rewards will be forthcoming, especially at sportsbooks that have good loyalty programs.
The first step to bet online is creating your sportsbook account, and this guide should help you do that without any issues. Some sports bettors might be tempted to sell off their new accounts to pro sports bettors to make some easy money. This is ill-advised however, as it may easily lead to your account getting banned.