Gamble USA strives to improve your online gambling experience. We aim to help you play safely, make informed decisions when gambling, and increase your betting knowledge through our guides.
We adhere to strict editorial integrity; our content may contain links to products from our licensed & legal US partners.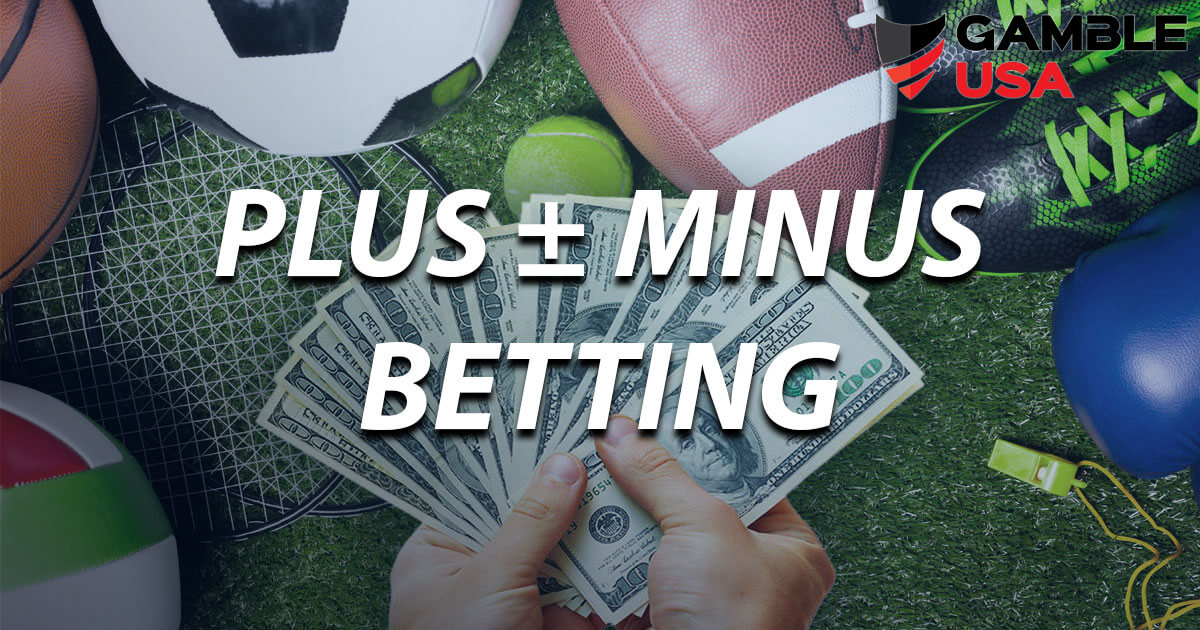 As sports betting makes more and more headlines across the US, new customers are confused by the terminology used by some sportsbooks. Those looking to get into online gambling may be wondering what does betting mean and what does + and – mean in betting?
Those who are familiar with how to bet on sports will know the best sports to bet on, what makes a good bet and how to claim bonuses such as free bets. However, if you are completely new to the betting game, you may not know how to read betting odds, what a money line bet is, or what type of wager you should place on a specific sporting event.
One of the most common things you will encounter when betting on sporting events is the (+) and (-) sign. However, you may not know what the betting + – meaning is. It is vital to be aware of all of the betting terms and meaning behind the odds before you start spending your gambling money.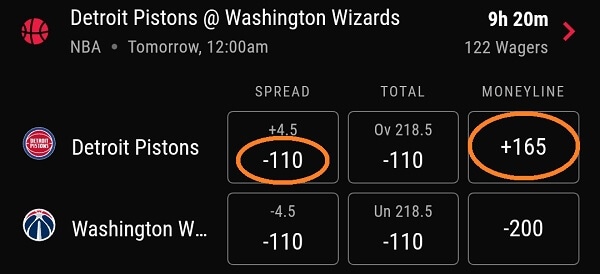 Here, we will explain the sports betting – + meaning, the best bet for your needs, how to place a single bet, and more. If you have ever wondered what does + – mean in sports betting, read on.
What Does + and – mean in betting?
It is something many rookie gamblers ask before placing a bet. What does the + and – mean in sports betting? The plus (+) and minus (-) in sports betting can point to either the point spread or betting odds. In regards to the spread, the " – " is always next to the favorite and the " + " is always next to the underdog. For example, you can bet on the Seattle Seahawks as a -7 point favorite to beat the Dallas Cowboys or the Cowboys as a +7 point underdog. If you wager on the Seahwaks -7 and they win by more than seven points, you win your bet. Likewise, if you wager on the Cowboys +7, as long as they lose by less than seven points or win outright, the wager is successful.
It is a similar story or the betting odds, though favorites don't always have a " – ," particularly in sports such as hockey, baseball, or soccer where final results are often decided by one run or one goal. This is especially highlighted in soccer because matches can end in a tie, whereas an outright winner is established in almost every other sport because of overtime rules. However, in most cases, whether it is for horse races or any other unpredictable event, the favorite will have a " – " next to its moneyline odds while the underdog will always have a "+ ."
For example, in moneyline betting odds, you can bet on the Green Bay Packers as a -150 favorite to win or the Detroit Lions as a +180 underdog to win. If you wager $100 on the Packers to win at -150, you would get a payout of $166.70. If you bet on the Lions to win at +180, the payout would be $280 because they are the underdog. So, if you are wondering what does -110 mean in betting, it refers to the point spread or betting odds.
In regards to a sport like soccer, Chelsea could be a +150 favorite against Tottenham as a +190 underdog, while the draw is listed as +220. In this instance, the payout would be good for every situation mainly because the teams are quite even and there are three possible outcomes compared to just two for a sport like football (unless they go scoreless in overtime).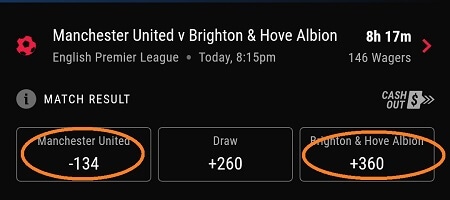 In the case where both teams have a " + " in front of their odds, the team that has the lower number is the favorite. Always bear in mind that the lower number will mean a lower payout, which is the always the case when wagering on the favorite on the moneyline. A $100 bet on Chelsea +150 would get $250, while a $100 bet on Tottenham +190 would get $290. If you wanted to gamble on the draw, a $100 bet on the draw at +220 would payout $320.
For more a detailed odds explanation, you can read our best sportsbooks for beginners article here.
DraftKings Symbols Meaning
When it comes to American odds, decimal odds or fractional odds, they all mean the same thing no matter which sportsbook you choose to use. For example, if you sign up for DraftKings and are interested in money line bets and want to place a straight wager on the Super Bowl, the odds will be similar to that of any other major betting site.
Whether you are betting on team A or Team B in NFL betting or wagering on the Los Angeles Lakers in the NBA, the betting line and money line odds will appear the same on DraftKings as on FanDuel.
These sports betting odds are represented by 'symbols' as we have mentioned above. These are most commonly shown by a + and – next to each team. This is the same for any bettor looking to wager on the point spreads on college football or placing a prop bet on the NFL. Just make sure you remember the + represents the underdog which is negative odds, while the – is positive odds.
We have outlined above how what the symbols mean in terms of how much money you would need to bet to win a certain amount. Sports odds are generally the same across the board, but there can be value found if you are willing to do some research.
Plus (+) & Minus (-) Betting Examples
Let's take a look at some real money betting examples using the plus and minus signs. When placing a moneyline bet, always remember that the golden number is $100. To show this in action, we will look at an NFL game between the Dallas Cowboys and the New England Patriots. Let's say you want to bet on this match, with the odds as follows:
Dallas Cowboys -250
New England Patriots +210
In this example, the Cowboys are the favorite, with the Patriots the underdog. If you bet $100 on the Patriots, you will win $210 in pure profit above the $100 stake. If you bet $100 on the Cowboys, you make $40 profit above the $100 stake.
Let's now look at a point spread example for an NBA game between the Miami Heat and La Lakers.
Miami Heat +1.5
La Lakers – 1.5
In the above example, the negative number is the favorite, the positive is the underdog. In this scenario we will say you want to wager on the Heat to cover the spread. For this to win, you need the Lakers to win by at least 2 points. The plus and minus signs showing which team is more likely to win.
So, if you want to bet less than $100, maybe $10, on the below odds:
Seattle Seahawks +100
San Francisco 49ers -210
If you bet $10 on the Seahawks you will get $20 above the stake, a $20 bet will bet you $40 and so on.
You could also parlay bet using American odds. This type of parlay bet could look something like the below:
Match 1: Green Bay Packers -109
Match 2: Chicago Bulls +104
The two team parlay odds for this would be +292. So with a $100 bet, you would win $392 based on the odds of each separate wager.
Best Plus (+) Minus (-) Sports Betting Apps
Plus (+) Minus (-) Betting FAQs
When betting is + or - better?
This depends on if you think there is more value in the favorite or underdog. It is up to you to decide which team has more value. For example, you will win twice as much betting the monleyline on the underdog, but you may think they have on chance so it isn't worth it.
Is - the favorite in betting?
Yes, the minus sign refers to the team that are the favorites to win the match. This is the case for both the point spread and the moneyline.
What does -1.5 mean betting?
This refers to the favorite in point spread betting. The 1.5 is counted in American odds so if you were to wager $100 to cover the spread at 1.5 and were successful, you would win $50 profit on top of your stake.
What does -3.5 mean in football?
If you see a team with -3 next to it, it refers to a negative spread on a point spread bet. A - sign means the team are the favorite. With a $10 bet on odds of 3.5 you would make $25 on top of your stake.
What does +2.5 mean in betting?
Patriots +2.5 would win if Patriots win or lose by 2 or less. Bills -2.5 would win if Bills win by 3 or more. All point spreads, including +2.5, are designed to "level" the playing field in sports betting. Oddsmakers predict the Bills will win by 2.5 points.
What does +200 mean for odds?
When odds are expressed with a plus (+) or minus (–) symbol followed by a number. There are US rates on the money line. For example, +200 means the amount a bettor could win if they bet $100. If the bet works, the player will receive a total payout of $300 ($200 net profit + $100 initial stake).
What does -100 mean in betting?
Whenever odds are listed with a plus (+) or minus (–) symbol followed by a number this reflects the moneyline. So, with odds of -100 on the moneyline, if you bet $100 you will win $100 profit plus the stake making a total of $200.