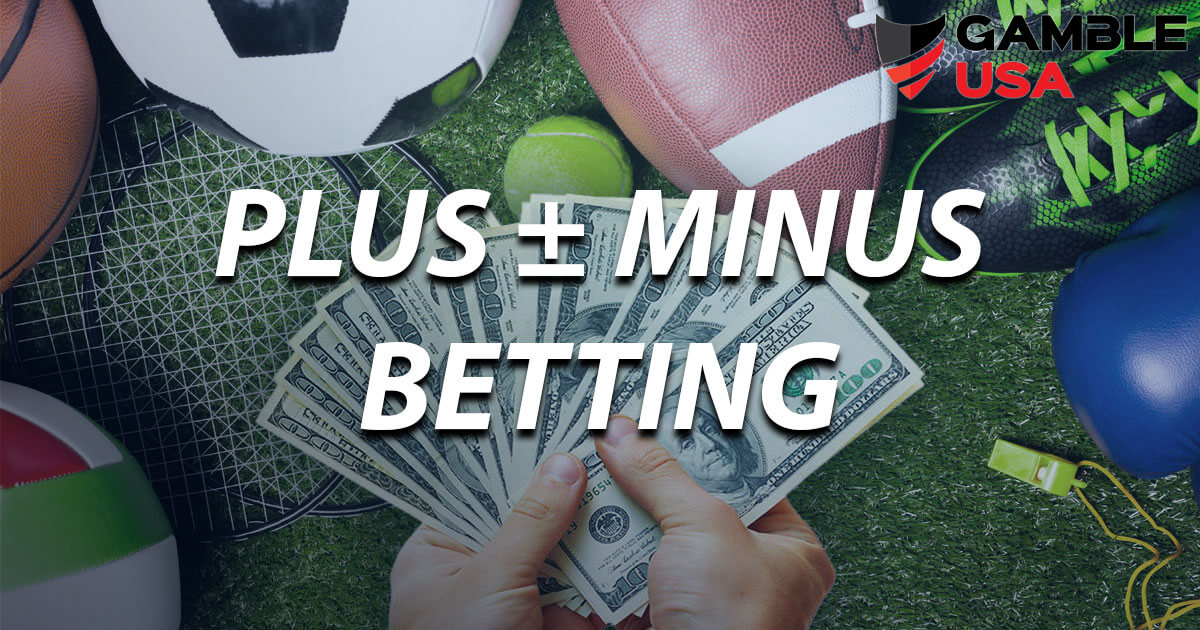 As sports betting makes more and more headlines across the US, new customers are confused by the terminology used by some sportsbooks. Those looking to get into online gambling may be wondering what does betting mean and what does + and – mean in betting? You may also know it as the American odds format.
Bettors who are familiar on how to bet on sports will know the best sports to bet on, what makes a good bet and how to claim bonuses such as bonus bets. However, if you are completely new to the betting game, you may not know how to read betting odds, what a money line bet is, or what type of wager you should place on a specific sporting event.
One of the most common things you will encounter when betting on sporting events is the (+) and (-) sign. It is vital to be aware of all of the betting terms and meaning behind the odds before you start spending your gambling money. This starts with knowing the requirements of each bet and how much you stand to win with them.
Here, we will explain the meaning behind the + and – in sports betting, find the best bet for your needs, and learn how to place a single bet. In no time at all, you should be ready to sign up for a betting site and start scouring the betting markets for awesome deals.
---
What Does + and – Mean in Betting?
Before jumping straight to the odds, it is important to recognise that plus and minus signs can be used for both odds and point spreads. The plus and minus odds are used to calculate how much money you can win on one bet. The plus and minus points in a point spread bet are the points that are either added or subtracted from a team's score.
Moneyline
In regards to a moneyline bet, where you have to pick a winner between two teams in a game, the " – " is always the favorite and the " + " is the underdog. It is really as simple as that. Looking at the example below, you can see that the LA Lakers are the underdogs in the game LA Lakers @ Denver Nuggets. This may be because they are playing away or they are not in form, or for any other related reason.

If you bet on the Lakers to win, you would win more money than if you bet on the Nuggets to win. However, the odds indicate that you would be in safer hands by betting on the Nuggets to win at home.
Point Spread
In point spreads there are no underdogs or favorites. Instead, the sportsbook adjusts the points with a betting line, giving the two teams the same chance of winning. The favorites are given a deduction of points while the underdogs are given a helping hand with a points boost. Therefore, the odds on either team are usually level, or as close as possible to being level.

In this example, the San Francisco 49ers are the -7 point favorites to win the game. The odds on either team are almost level, and both have the minus sign in front of them. With the points adjustment, you can now bet on either team to win and, on paper, have a 50-50 shot at winning your bet.
Betting on the 49ers, you would need them to win the game by 8 or more points.  If they only win the game with a margin of 6 points, then you lose your bet. Should the game end with the 49ers winning by exactly 7 points, then your bet is pushed and you will receive your stake back.
Alternately, betting on the Minnesota Vikings means that you can only lose your bet if the 49ers win by 8 or more points. Look at how the odds on the moneyline, +250, have suddenly jumped to -118 when the Vikings have that sweet extra +7 points. They are no longer the underdogs to win in the point spread bet, as the paper form difference between the two teams is reduced to a minimum.
For a more detailed odds explanation, you can read our best sportsbooks for beginners article here.
---
How to Calculate American Odds Winnings
Okay, now that you know the theory, let's put that knowledge into practice and get to the bottom line. How much can you win betting on – and + bets?
The easiest way to calculate how much you can win with your American odds bets is by thinking in terms of how much can I win with $100, or how much should I spend to win $100?
American Odds Underdogs
Betting on the underdog (plus sign), the odds show you how much money you can win with a stake of $100. This does not include the $100 you staked, which will be returned.
Odds of +110 = Returns $210 ($110+$100 stake)
Odds of +205 = Returns $320 ($220+$100 stake)
Odds of +310 = Returns $410 ($310+$100 stake)
Odds of +900 = Returns $1,000 ($900+$100 stake)
American Odds Favorites
Betting on the favorites (minus sign) is a bit trickier to calculate. The odds show how much you can win with a stake of $100.
Odds of -350 = Needs a Stake of $350 to Win $100 (+$350 Stake)
Odds of -260 = Needs a Stake of $260 to Win $100 (+$260 Stake)
Odds of -180 = Needs a Stake of $180 to Win $100 (+$180 Stake)
Odds of -125 = Needs a Stake of $125 to Win $100 (+$125 Stake)
Let's take a look at some more examples with NFL teams and how your stake can affect your potential winnings.
| 🏈 Moneyline Winner Bet | 🔥 Odds | 💵 Total Winnings (with $10 stake) | 💵 Total Winnings (with $20 stake) | 💵 Total Winnings (with $50 stake) | 💵 Total Winnings (with $100 stake) |
| --- | --- | --- | --- | --- | --- |
| Denver Broncos to Win | +310 | $41 | $82 | $205 | $410 |
| Chicago Bears to Win | +150 | $25 | $50 | $125 | $250 |
| Kansas City Chiefs to Win | -125 | $18 | $36 | $90 | $180 |
| Cleveland Browns to Win | -200 | $15 | $30 | $75 | $150 |
Maths Behind American Odds
The Decimal Odds format is the easiest way to calculate your winnings. Think of it like a multiplier, and all you need to do is multiply your stake by the number. So let's find out how to convert the minus and plus American odds format into multipliers (or Decimal odds format).
Plus Sign Odds into Decimal Odds Format
(American Odds +100) / 100
To put it into practise with two examples: +120 and +340, you simply do the following:
(120+100)/100 = 2.2
(340+100)/100 = 4.4
Now you can simply multiply your stake by the decimal odds and figure out how much your total winnings will be for each bet. For example, $5 stake on the first bet wins $11 and on the second wins $22.
Minus Sign Odds into Decimal Odds Format
This is a bit trickier, as you need to invert the minus sign odds, but the formula is almost the same.
(100 / American Odds) + 1
So now, let's look apply the following odds into the formula: -220 and -135
(100 / 220) + 1 = 1.45
(100 / 135) + 1 = 1.74
The same logic applies thereafter, where you can simply multiply your stake by the decimal odds to figure out how much you stand to win. A $5 bet on the -220 odds would bring a return of $7.25, while the same stake would bring $8.70 with the -135 odds.
It is important to note that the sportsbook automatically shows you how much you stand to win in your bet slip. You do not need to calculate your winnings for each bet, as when you enter your stake on your bet slip, the potential winnings will automatically pop up.
---
DraftKings Symbols Meaning
When it comes to American odds, decimal odds or fractional odds, they all mean the same thing no matter which sportsbook you choose to use. For example, if you sign up for DraftKings and are interested in money line bets and want to place a straight wager on the Super Bowl, the odds will be similar to that of any other major betting site.
Whether you are betting on team A or Team B in NFL betting or wagering on the Los Angeles Lakers in the NBA, the betting line and money line odds will appear the same on DraftKings as on FanDuel.
These sports betting odds are represented by 'symbols' as we have mentioned above. These are most commonly shown by a + and – next to each team. This is the same for any bettor looking to wager on the point spreads on college football or placing a prop bet on the NFL. Just make sure you remember the + represents the underdog which is negative odds, while the – is positive odds.
We have outlined above how what the symbols mean in terms of how much money you would need to bet to win a certain amount. Sports odds are generally the same across the board, but there can be value found if you are willing to do some research.
---
More Plus (+) & Minus (-) Betting Examples
Let's take a look at some real money betting examples using the plus and minus signs. You have the basics, but we can mix it up a little bit by looking for more specific bets.
Two-Way Moneylines
Starting with the basics, with two way moneylines you only have two possible outcomes to bet on. In a game between the Detroit Lions and Chicago Bears, you can either bet on the Lions to win or the Bears. One of the teams is the favorite while the other is the underdog.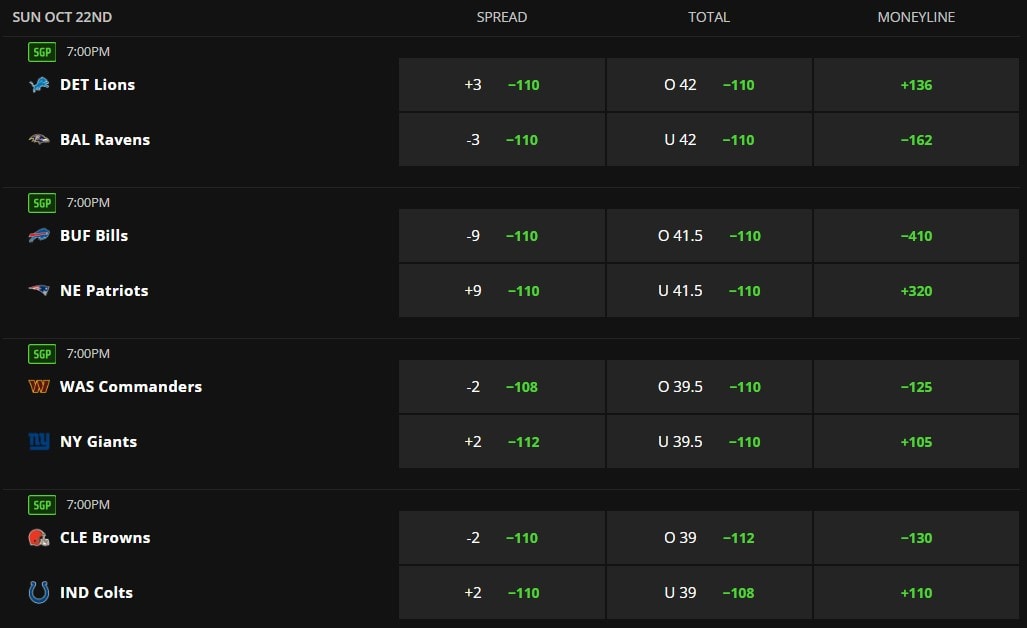 You can see in the example above that the Baltimore Ravens, Buffalo Bills, Washington Commanders, and Cleveland Browns are all favorites. Bigger gaps suggest there is a larger gulf of difference between the two teams.
In the game between the Washington Commanders and New York Giants, the odds are -125 and +105, respectively. The gap is not so large, and this is represented in the point spread too, which is only + and – 2 points. The odds on the game between the Cleveland Browns and Indianapolis Colts is similarly close. On the end of the scale, the Buffalo Bills are heavily favored over the New England Patriots.
Three-Way Moneylines
In soccer, there are three possible outcomes for a game. The home team can win, the away team can win, or the game can end in a draw. This extra outcome changes the odds, and in some cases you will find that neither team has minus odds to win. Soccer is not the only sport with three-way moneylines, but due to the fact that games can end in ties often, you will find that the odds are spread out more evenly across all three possible outcomes.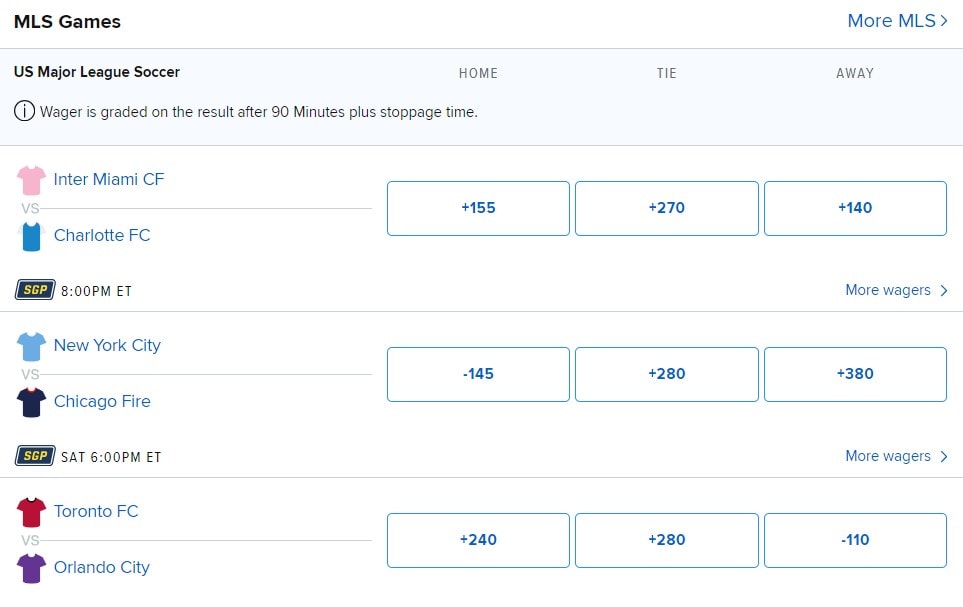 Just look at the first example, in which Inter Miami FC faces Charlotte FC. The teams have +155 and +140 odds to win, respectively. Neither team is the "favorite", but the sportsbook gives Charlotte FC the edge with slightly shorter odds.
The game between New York City and Chicago Fire is not so evenly matched. New York City is the favorite to win, and the next most likely outcome is a tie.
Multiple Outcome Bets
Adding one extra outcome to the bet changes the odds considerably, as you see fewer minus sign odds. Or at least, the minus sign odds are much smaller (and therefore more favorable) then what you get in 2-way bets. But now let us mix it up even further by finding a bet with even more possible outcomes.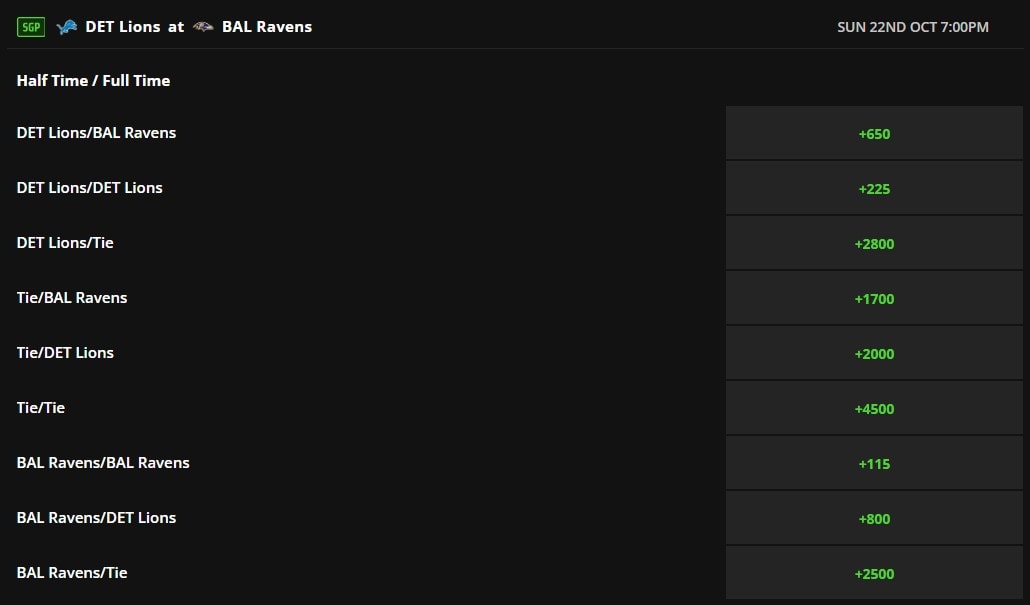 In this game between the Baltimore Ravens and Detroit Lions, you can pick a three way moneyline bet on the first and second halves of the game. You end up with 9 possible outcomes, and there is a large difference between the most likely and least likely outcomes.
Baltimore Ravens are the favorites to win here, but the odds on them winning in both the first and second halves of the game are +115, which we would usually think of as underdog betting odds. Compare that with the possibility that the Detroit Lions win both halves, at +225. Now, when you throw in a tie, or the possibility that one team comes back from losing the first half, you have some truly gigantic odds.
---
Best Plus (+) Minus (-) Sports Betting Apps
How to Place Your First Bet
When you have found a bet that you want to place, you can simply select the odds and they should be added to your bet slip. Under your bet, you should have an option to enter a stake, or wager. The number you enter is the amount you would place on that bet, and the slip will automatically display the money you can win with that wager.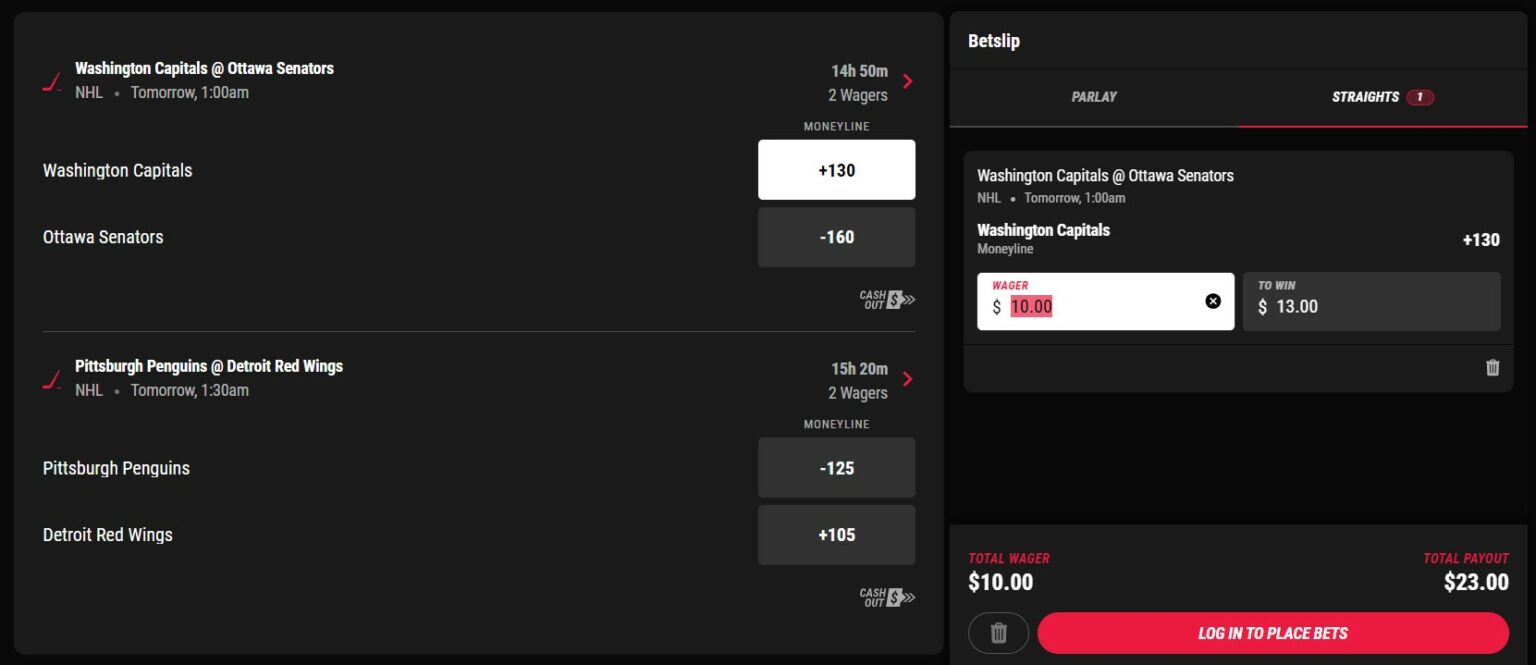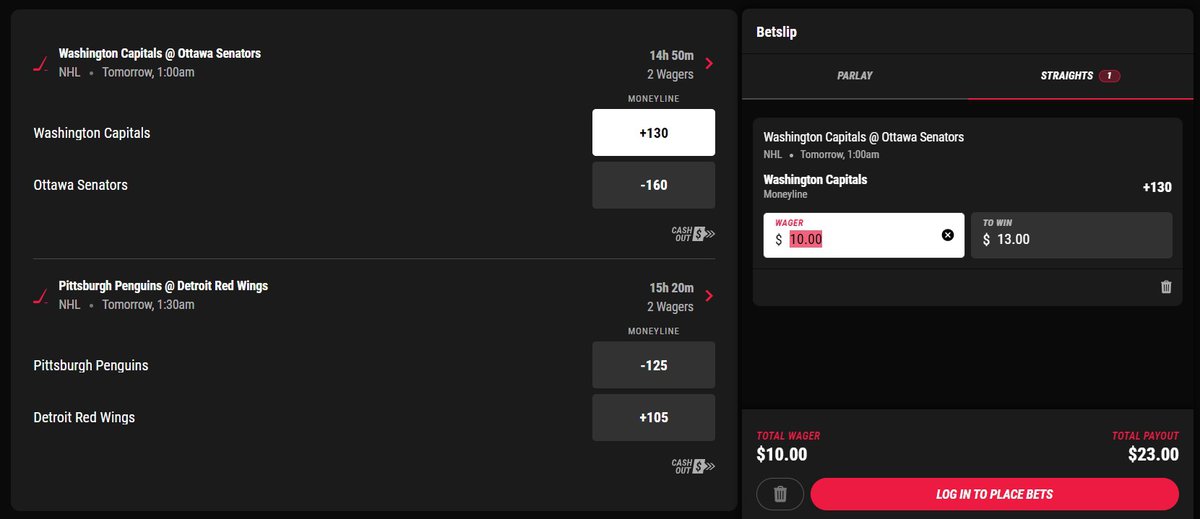 If you pick multiple bets, you can choose to place each one as a single bet, or combine them into one parlay. Again, your total winnings are automatically calculated after you set a stake. If you want to, you can test the slip by adding or removing certain bets, and seeing what that does to your total profit.
Or, if you want to calculate the parlay odds yourself, you can use our parlay odds calculator. Use it to calculate how much you can win from your bets; or inversely, what odds and how many bets you need to hit your target winnings.
---
Plus (+) Minus (-) Betting FAQs
When betting is + or - better?
This depends on if you think there is more value in the favorite or underdog. It is up to you to decide which team has more value. For example, you will win twice as much betting the monleyline on the underdog, but you may think they have on chance so it isn't worth it.
Is - the favorite in betting?
Yes, the minus sign refers to the team that are the favorites to win the match. This is the case for both the point spread and the moneyline.
What does -1.5 mean betting?
This refers to the favorite in point spread betting. The 1.5 is counted in American odds so if you were to wager $100 to cover the spread at 1.5 and were successful, you would win $50 profit on top of your stake.
What does -3.5 mean in football?
If you see a team with -3 next to it, it refers to a negative spread on a point spread bet. A - sign means the team are the favorite. With a $10 bet on odds of 3.5 you would make $25 on top of your stake.
What does +2.5 mean in betting?
Patriots +2.5 would win if Patriots win or lose by 2 or less. Bills -2.5 would win if Bills win by 3 or more. All point spreads, including +2.5, are designed to "level" the playing field in sports betting. Oddsmakers predict the Bills will win by 2.5 points.
What does +200 mean for odds?
When odds are expressed with a plus (+) or minus (–) symbol followed by a number. There are US rates on the money line. For example, +200 means the amount a bettor could win if they bet $100. If the bet works, the player will receive a total payout of $300 ($200 net profit + $100 initial stake).
What does -100 mean in betting?
Whenever odds are listed with a plus (+) or minus (–) symbol followed by a number this reflects the moneyline. So, with odds of -100 on the moneyline, if you bet $100 you will win $100 profit plus the stake making a total of $200.