Gamble USA strives to improve your online gambling experience. We aim to help you play safely, make informed decisions when gambling, and increase your betting knowledge through our guides.
We adhere to strict editorial integrity; our content may contain links to products from our licensed & legal US partners.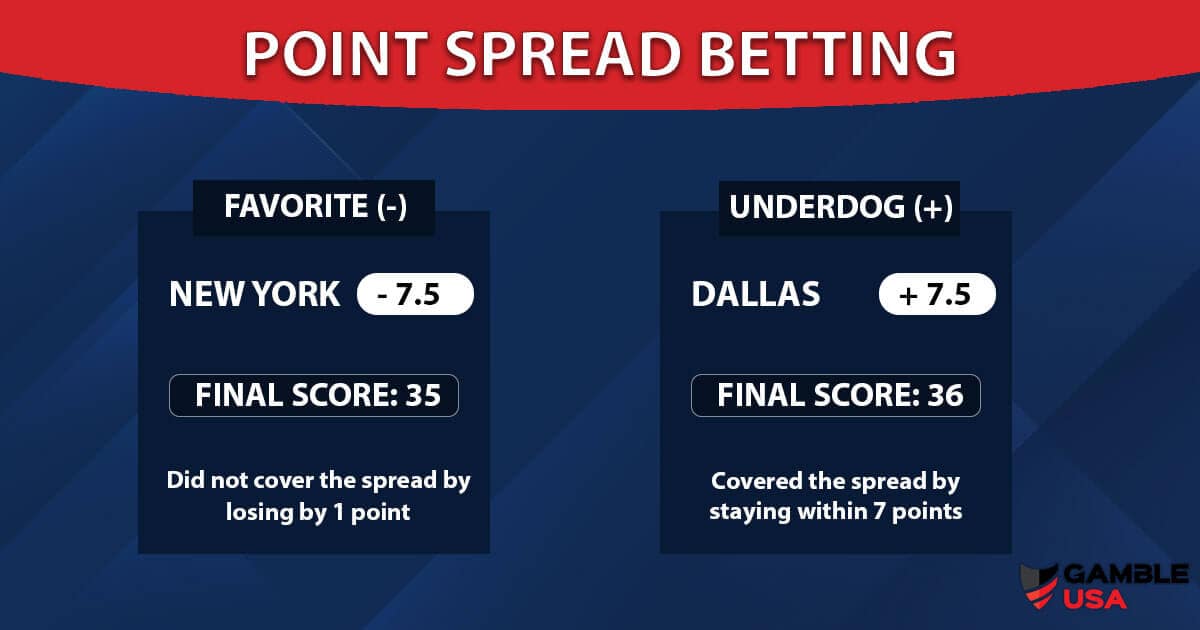 With the rise of legalized sports betting, and various online sportsbooks, point spread betting has become the most popular form of sports betting in the US. This form of sports betting gives an alternative to just outright predicting the match results.
You are betting on the margin by which a team will win or lose in point spread betting.
Spread betting, in essence, is a way for bookmakers to match two unevenly matched teams. These teams, in most cases, vary in strength or skill, and taking points away or adding points to their final score makes it possible to have competitive odds. These differences often level the playing field for sports betting, allowing supporters of both sides or teams to get in on the betting action and bet at better odds.
Points Spread Betting 101
When having spread betting explained, the jargon can become somewhat overwhelming for most people. To better understand point spread betting, we should explore some ‌terminologies.
Moneyline bets – This is when you bet a team will win straight up. That means the actual point spread is irrelevant, and only the final score is essential. Your team can win by a single point or 10 and they do not need to cover the point spread allowing your moneyline bet to win.
Spread bets – This type of bet is the most common, whereby you bet your team will win by a certain margin of victory. If Caesars sportsbook gave Kansas city chiefs (+7 spread), they already have 7 points when the game begins.
The Vig – The Vig is what is essentially a tax that most sportsbooks take for facilitating the bet.
Parlay – No parlay is not just a pirate term. When you place parlay bets, you basically make custom bets which comprise multiple bets. These point spread bets all have various point spreads that ultimately pay out much more if you win the bet.
Definition of Points Spread Betting
We define the point spread as the handicap that is set between two teams by the sportsbook to more evenly match two teams.
The point spread removes the perceived gap in betting odds so that supporters of both sides have an equal chance of winning when placing a bet.
Point Spread: Favorites and Underdogs
In spread betting, there are usually two teams or sides that go up against each other. Most sportsbooks will usually favor one team to win (Favorite) over the other (Underdog), which is more likely to lose.
Other factors that determine a team's favorite and underdog status, such as if they have a home-field advantage, often play a role in which team is likely to win.
Las Vegas Raiders vs. Jacksonville Jaguars Example
Las Vegas Raiders vs. Jacksonville Jaguars Betting Odds
Team
Money Line
Match Spread
Total Points
Las Vegas Raiders
-138
(-1.5) -110
O (33.5) -110
Jacksonville Jaguars
+100
(+1.5) -110
U (33.5) -110
The Las Vegas Raiders are the favorites in this NFL game, and Jacksonville Jaguars are the underdog.
To identify the favorite, we look for the (-1.5) preceding the odds of -110 to win the match.
The (+1.5) identifies the underdog, Jacksonville Jaguars, before the -110 (given in American odds).
The minus sign (-) always identifies the favorite in point spread betting, and the plus sign (+) is the underdog.
In the above NFL point spread example; if you bet on Las Vegas Raiders on Caesars sportsbook to win, then Las Vegas Raiders must have a margin of victory of over 2 points for your point spread wager to win. However, if the Jacksonville Raiders have a final score difference of equal or fewer points than 1 or win outright, you will lose your spread bet.
Every team has a point spread, except for unique cases where two teams are so evenly matched that neither is the favorite or the underdog.
Evens
If Caesars sportsbook offered (-2.5) -110 on the Colts to win, you would receive $100 for every $110 wagered on the point spread. If you had betting odds of (-2.5) evens, you would receive a $100 back for every $100 wagered on the point spread.
Push in Spread Betting
In point spread betting, a push is when you have a tie. However, if you have (-3.5) -110 in a sporting event, this would not be possible because of the half point.
Let's assume that Caesars sportsbook has Kansas City down for (-3) against the Colts for (+3) in the Super Bowl, and the match ends with Kansas City 24 vs. 21 Chiefs. Even though Kansas City won and the Colts were the losing team, your bet will still have ended in a push, which is a draw. In this case, you receive your money back.
Potential Outcomes when Betting on the Spread
In Spread betting, there is the potential for one of three outcomes, either a win, loss, or a push depending on the match results.
Win: For a win, you need to place a bet on a team, and you need to win by more than the number of points. Let's say you place a bet at Caesars sportsbook for the Colts to win the Super Bowl game outright at (-2.5) -110. If the Colts win by more than three points, they will cover the spread. Your winning bet would pay out $100 for every $110.
Loss: A losing bet, in the above example, would be that the Colts could have still won the match, but by less than three points. Even though they are still the winning team, your bet will not cover the spread.
Push: This occurs when your point spread bet ends in a draw. However, a push is not possible when a half-point is present in your point spread bet since it is impossible to score half points in a game.
Examples on NFL, NBA, MLB, & NHL Spreads
Betting on the spread is simple if you understand how it works. We have covered points spread basics, offering details of potential outcomes. Most US players tend to bet on theNFL, NHL, and NBA. The following examples can provide additional help.
NFL spread bets
NFL spread betting is probably the most popular form of betting and has substantially more support than moneyline and total points bets.
The favorite in NFL spreads betting has a spread with a margin that they need to win by for your bet to payout. On the other hand, the underdog has to either win outright or not lose by more than the allocated margin.
New Jersey Generals vs. Tampa Bay Bandits Betting Odds
Team
Money Line
Match Spread
Total Points
New Jersey Generals
-150
(-3.5) -115
O (42) -115
Tampa Bay Bandits
+110
(+3.5) -115
U (42) -115
In the above example, the New Jersey Generals are the favorite to win the game outright. They need to win by over 4 points, if you back them, for your bet to win. However, if you back the underdog, in this case, Tampa Bay Bandits, then they have to either win or lose by less than 3 points.
NHL spread bets
The puck line is the NHL version of the NFL point spreads. You have the moneyline, point spread, and over/under total goals, as with other sports betting. However, unlike other sports, the moneyline bets, where you bet on who will win outright, are more prevalent in hockey betting.
The puck line or point spreads work mostly the same as in other games but are always fixed at +1.5 or 1.5 as the difference in scores is so low.
Carolina Hurricanes vs. New York Rangers Betting Odds
Team
Money Line
Puck Line Handicap
Total Goals
Carolina Hurricanes
-110
(+1.5) -270
O (5.5) +110
New York Rangers
-110
(-1.5) +235
U (5.5) -130
In this example, the New York Rangers are the favorite to win on the puck line because it is harder to win by 2 goals. However, on the moneyline, the odds are even to win the game outright for both teams.
Since the New York Rangers' point spreads payout at (+1.5) +235, it means that for a $100 bet, you will receive $235.
NBA spread bets
As with other forms of betting, you have the moneyline options with NBA betting, where you bet on a team to win the game outright. Otherwise, you could also decide to cover the spread or the total points of the game.
Golden State Warriors vs. Dallas Mavericks Betting Odds
Team
Money Line
Spread
Total Points
Golden State Warriors
-105
(+1) -110
O (215.5) -110
Dallas Mavericks
-115
(-1) -110
U (215.5) -110
MLB spread bets
In baseball, spread betting is referred to as a run line instead of the puck line in hockey. However, you still have a moneyline in baseball, as you do with other sports.
Since baseball is not historically a high-scoring sport, the lines are much lower than you would find in other sports. Therefore, the run lines in baseball slightly differ by 1.0 or 1.5 runs.
Colorado Rockies vs. Pittsburgh Pirates Betting Odds
Team
Money Line
Run Line
Total Runs
Colorado Rockies
+105
(+1.5) -225
O (8) +100
Pittsburgh Pirates
-125
(-1.5) +163
U (8) -138
Meaning of (-) in the Spread
The meaning of the (-) in the points spread is to show which team is the favorite to win the game.
If the Colts have a point spread of (-3.5) -110 to win, then it means that they need to score 4 more points than their rivals for you to win your bet. Conversely, if you bet on Colt's rivals, they could score fewer points, lose the game, and still win your bet.
The second use of the (-) in point spreads is when used in front of -110. Here, for every $110 bet, the return will be $100 besides your $110 when your bet wins.
How are the Points in Spreads Calculated?
The point spread used to be calculated by humans until recently. These oddsmakers had to be experts at statistics to determine which teams had a statistical advantage over other teams.
Today, the point spread is calculated by computers and AI systems. It is infinitely easier for a computer betting algorithm to take into consideration factors such as power rankings, weather, home-field advantage, or injuries.
Another important factor is how the public will receive the point spreads that are being offered. Too high or too low will cause the point spread to be an over or under bet. This will often require a correction, as it might lead to a loss for the sportsbook due to imbalance.
The Vig in Point Spread Betting
Every sportsbook has a Vig or also known as the Juice or Vigorish, and is what players must pay to the sportsbook for facilitating the bet. Some bettors see this as a type of tax. The reality, however, is that the sportsbook must make a profit to continue to offer competitive betting odds.
When you place a point spread bet on a team at betting odds of -110 to win, it means that you receive back $100 for every $110 that you bet. However, if this bet loses, $10 will go towards the sportsbook and the $100 towards paying the bettors who won their bets. The Vig is only paid by the bettors who lost their bet. Sportsbooks will often try to balance those who bet on the underdog and those who bet on the favorite, making sure that they receive their cut of the winnings.
Often, in the lead-up to a game, there might be more bets on one side. In this case, the sportsbook may make use of a line movement. The point spread change could also lead the sportsbook to adjust the odds by lowering their Vig to attract more bettors. These changes will normally happen during live betting to balance things out and create less liability for themselves.
Best Point Spread Betting Apps
The chances are that you have a sportsbook account already or are considering getting one. Popular sportsbooks will have an app that is downloadable from either the Android Play Store or Apple Store.
One of the best apps for spread betting is the Caesars Sportsbook App, which has some of the best coverage available for point spreads.
Other notable sports betting apps are BetMGM, PointsBet, FanDuel, and DraftKings, each of which comes with its own strong points. Some of these strong points are ease of use and a clean interface or the best odds.
The list is exclusive to the best spread betting apps, providing new customers the outlined free bets to help you get started.
Placing a Spread Bet Online
If you wish to place a point spread online, it is relatively easy. Most online sportsbooks have the option to place point spreads through their usual betting platform in a few easy steps.
Search for a sign-up offer
Sign up, providing your details
Complete the verification process
Deposit funds into your account
Search for your chosen sport and match
Select to back either the favorite or underdog
Confirm your odds and wager
You have some sportsbooks that specialize in covering point spreads. These sportsbooks will often give you the best odds and could provide a more social aspect to betting by giving access to a community that shares tips and information.
When placing a bet, you need to make sure that you are using a sportsbook registered in your state and fully compliant with all laws.
Spread vs. Other Bets
When placing a point spread bet, you need to keep in mind that there are margins and handicaps that will determine the outcome of your point spread bets. If you choose to back the favorite, you need to ensure that they can cover the spread if they win the game. Conversely, backing the underdog means they should not lose by more than their margin.
When placing a moneyline bet, your team simply has to win outright. The number of points by which a team wins or loses has no bearing on your bet. The only requirement when placing a bet is that you have competitive odds to maximize how much you can win from backing the correct team.
In-play betting, round robins, peer to peer betting, same game parlays, and more types of bets are also supported by online betting apps. These can also include a range of spread bets on the same ticket.
Tip: When you are backing the favorites, certain sports are more suited to moneyline than to point spreads such as basketball, hockey, and soccer. Therefore, you need to consider whether the amount that you are risking is worth what your payout could be.
Spread Betting Strategies
Know the game you are betting on and learn how the points system works. You need to know how much an NFL touchdown and field goal is worth. If a touchdown is worth 7 points, then 6.5 points spread in sports betting odds can make a vast difference.
When betting on the NBA, watch out for substitutes in the fourth quarter of a basketball match. Teams tend to send in substitutes which could narrow the margin of victory.
Professional bettors will do their homework, and so should you. Make sure who is playing and where they are playing. Do not just bet on a gut feeling.
Live betting is exciting, but don't get swept away in the excitement of placing a short bet. Do not fall for hype and loyalty to a team.
When it comes to sports betting, one strategy stands above any other: to play responsibly. Responsible gaming stops a gambling problem from developing. If you struggle to stick to your own limits, you can use the resources provided to limit deposits or betting frequency and get the most out of spread or other forms of online betting.
Spread Betting FAQs
How does a spread work in betting?
Regarding NFL betting, the favorite is assigned a spread for the projected winning margin. They need to win by more than the spread for you to win your bet. If you take the underdog, you can win your bet if they win outright or lose by fewer points than the spread allows.
What is Moneyline vs. Spread Betting?
A Moneyline bet is one of the easiest bets you can make at a sportsbook. Simply put, betting on a specific team to win a game. While betting on a point spread is about who wins and by how much, a Moneyline bet is solely about who wins.
How are spread winnings calculated?
To calculate "+" odds, divide the odds by 100 and multiply that product by the wager amount. To calculate the payout of a $50 bet on the Buffalo Bills, divide 115/100 and multiply by $50 (1.15*$50=$57.50). A winning $50 Moneyline bet on the Bills returns $107.50 total to the bettor.
What does +350 mean in odds?
A +350 underdog means you risk only $100, but you win $350. You either lose $100, win $350, or your wager is a push.
What does 5000 to 1 odds pay?
What does 5000 to 1 odds pay? Clarke, who has season tickets to see the Foxes, had a $14 bet, thanks to the 5000-to-1 odds, resulting in a $72,480 payout.
What happens if the spread is a tie?
If the point spread is an even number and the difference in the competition's result falls directly on that number such that the teams are then evenly scored, it is a tie. In point spread betting, a tie is called a "push." In the case of a push, all bets are returned to the bettor.
What does +2.5 mean for the spread?
What does +2.5 mean for the spread? A +2.5 spread means the underdog will need to win outright or lose by 1 or 2 points to cover.
What does +1000 mean in odds?
What does +1000 mean in odds? The bigger the number after the plus sign, the bigger of an underdog that the team or person is to win. So, if a team is +1000 to win, this would mean that you would win $1000 in profit with a bet of $100 - if they won, of course.