Gamble USA strives to improve your online gambling experience. We aim to help you play safely, make informed decisions when gambling, and increase your betting knowledge through our guides.
We adhere to strict editorial integrity; our content may contain links to products from our licensed & legal US partners.
As the online sports betting market heats up in the United States, more online sportsbooks are available than ever before. This has led to new and unique betting options appearing, one of which comes from the PointsBet sportsbook called 'points betting.'
As a bit of background, the PointsBet mobile app first launched in the US in New Jersey in January 2019, thanks to a partnership with Meadowlands Racetrack. The gambling operator is based in Australia, and as well as having excellent fixed odds betting pricing, it has introduced a unique type of high-risk, high-reward sports wagering to the US.
After thorough testing, we gave the PointsBet NJ sportsbook a high ranking. Naturally, as with most things, there are areas where it could improve, but the smooth user experience on both the desktop and mobile betting app, combined with a wide range of betting markets and great pricing, make Points Bet a brilliant option.
With that said, in this article, we will cover what points betting is and how to place that particular bet. We will tell you how to place a points betting wager, how to make points betting work for you, and how it works in relation to point spread betting. Additionally, we will look at the numerous points betting options and how you can use any free bets no deposit the sportsbook offers on this unique type of wager.
10 x $100 Second Chance Bets
21+. T&C Apply
21+. T&C Apply
Awesome live betting
Multiple bet types
Huge range of sports & markets
PointsBetting 101
When you participate in points betting, your profit or loss on a match is based on how many points your wager wins or loses by. If your wager wins by two points, you win double the stake on your bet slip. If your bet wins by ten points, you win ten times your bet amount.
However, if your wager loses by two points, you lose twice your bet amount. If your wager loses by ten points, you lose ten times your bet amount.
The PointsBet sportsbook will set max win and loss numbers depending on the type of bet you place, but you can also set limits to ensure you don't lose too much (this will limit your winnings, as well). One of the drawbacks of points betting is that you need a lot of money in your accounts to make these wagers, even if they are small stakes. A $5 wager with a max loss of 40x your stake means you must cough up $200 for that game.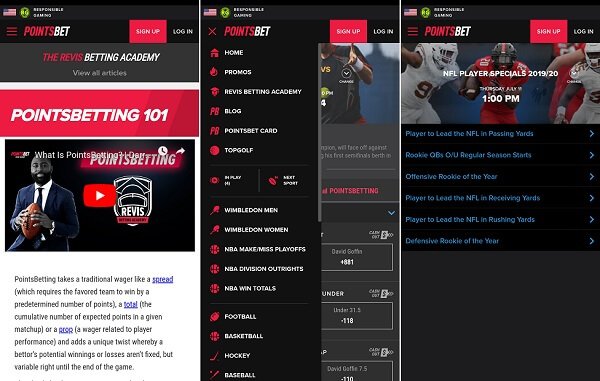 A PointsBetting Football Example
Let's take a look at some Points betting markets for examples, first looking at the operator as a football betting app.
Rams -1 vs. Bengals
Let's say you decide to points bet $10 on the Rams -1 against the Bengals in the Super Bowl. For every point the Rams cover or don't cover the spread by, you will make or lose $10. The Rams won the game by three points, meaning they covered the spread by two points since they were -1. In this scenario, you would win $20.
If you points bet $10 on the Bengals +1, you lose $20 because they lost by three (relative to the spread).
PointsBetting NBA Example
Let's look at how points betting works as an NBA betting app.
Bulls VS. Lakers Over/Under 220
In this example, you think the Bulls-Lakers game will go way over the total, and you points bet $10. However, you want to play it safe in case one team goes ice cold from the three-point range. So you set a 20-point limit on how much you can win or lose. Consequently, even if the game goes under by 40 points, you would win or lose a maximum of $200.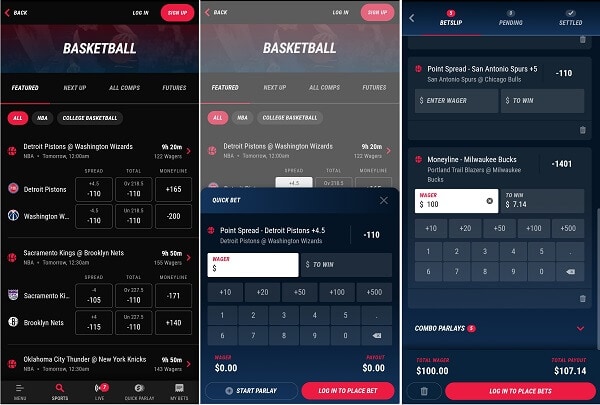 More PointsBetting Ways to Bet
You will find more wagering markets than many US sportsbooks on the PointsBet platform. Some of these include alternative game odds and player props, and there are typically more than 200 ways to wager on matches at PointsBet. There are also points betting options for player or game prop bets.
This is where you will discover points betting is a wagering opportunity that is entirely different from any other sportsbook. Below are some examples of individual Points Betting opportunities for NFL games:
Fantasy points: How many points will Cooper Kupp score versus the Jaguars?
Receiving yards: How many yards will Ja' Marr Chase have versus the Ravens?
Rushing yards: How many yards will Jonathan Taylor have against the Jets?
PointsBet will set a number, and the player making the wager will choose how much to risk above or below. The win or loss will be decided based on the final results of each player.
PointsBet has also integrated the points betting concept into other sports, such as golf betting. You can bet Patrick Cantlay over or under 34th place in the US Open; if he wins the tournament, you win 33x your bet. However, if he comes in 71st place, you lose 36x your stake.
Multipliers
Since its launch, PointsBet has developed multipliers that, on the surface, can look confusing but, with some math applied, make sense.
Player multipliers: Patrick Mahomes' passing yards & touchdowns multiplier is set at 459 and 521. If the Chiefs QB throws for 300 yards and three touchdowns, and you wagered the over, that's 900 (300 x 3), meaning you would win 379x your bet. If he throws for the same amount of yards and one touchdown, and you wagered the over, you would lose 221x your stake because the total is 300 (300 x 1).
Cross-team points: This is a wager on one team's total points multiplied by the other team's total points. For a Seahawks-49ers game, with the real over/under set at 45, the over is 549. Consequently, a 30-20 final would be 600 and result in a 51x win. The under is 483, meaning if you bet the under and it finishes 30-20, you will lose 117x your bet.
There are dozens of similar options like the above examples for each game on PointsBet. Like any online sportsbook, it has all of the most prominent domestic and international sports, and when you get a grasp on how to points bet, you can use it on your sport of choice.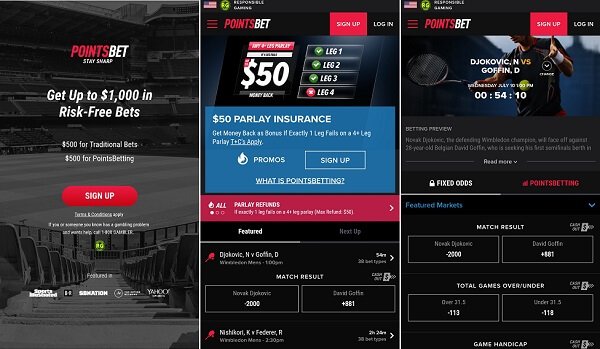 PointsBetting Strategy & Tips
It is always a good idea to have some form of strategy before you begin your betting experience. Doing this can boost your potential winnings and ensure you only spend what you can afford. Points betting is no different in this respect.
A lot of this boils down to your risk tolerance as you may never want to points bet. However, here are a couple of helpful pointers and strategies on how to bet on sports using this feature:
Never points bet an under on a game total. If a game goes to overtime, you will be left cursing the world.
Look to place points bet wagers on player props, ideally with stop-loss limits, so you don't get screwed by an injury or another abnormal circumstance. Player props are a more exploitable market.
Look for games, players, and teams with high volatility and variance.
The above are just a few little nuggets of wisdom that will help you maximize the possibilities of winning if you want to try a new way of wagering with points betting.
10 x $100 Second Chance Bets
21+. T&C Apply
21+. T&C Apply
Awesome live betting
Multiple bet types
Huge range of sports & markets
PointsBetting Features
There are a couple of features that make PointsBetting a unique form of wagering in the gambling industry. We have touched on the how and where you can points bet; now, let's take a look at some features.
PointsBet Calculator
If you want to see how much you could win, a point spread calculator is available that determines the impact of the maximum loss setting on payoffs for spread bets. This tool is specific to PointsBet (unlike our parlay calculator, gambling tax winnings calculator, and hedge betting calculator) and can be very useful for players.
Using the calculator is straightforward; use the below guide if you want to utilize the PointsBet calculator:
Bet type & selection: For any line bets, you only need to input the line (-10, +6, etc.). For positive lines, the + is not necessary. For total bets, you must also input whether you plan to take the Under or Over selection.
Balance withheld ($): This section is used to calculate the stake. The calculator will set the stake to a number that equates the closest to the amount of money withheld from your account balance until the wager is settled.
Withheld calculation: You are options are listed below:
60% (cash): Choose this option if you use a cash account. By default, all PointsBet customers use cash accounts.
20% (DSF): Choose this option f you have set up a Deferred Settlement Facility (DSF).
100%: Choose this option if you don't want to risk more than the balance withheld figure. With the 20% and 60% choices, it is possible to lose more than the amount withheld.
Max loss levels offered: Input the lowest and highest risk levels that PointsBet lets you select for this bet.
If the above looks a bit confusing, try playing around with and testing the various values to see how they impact the resulting calculations.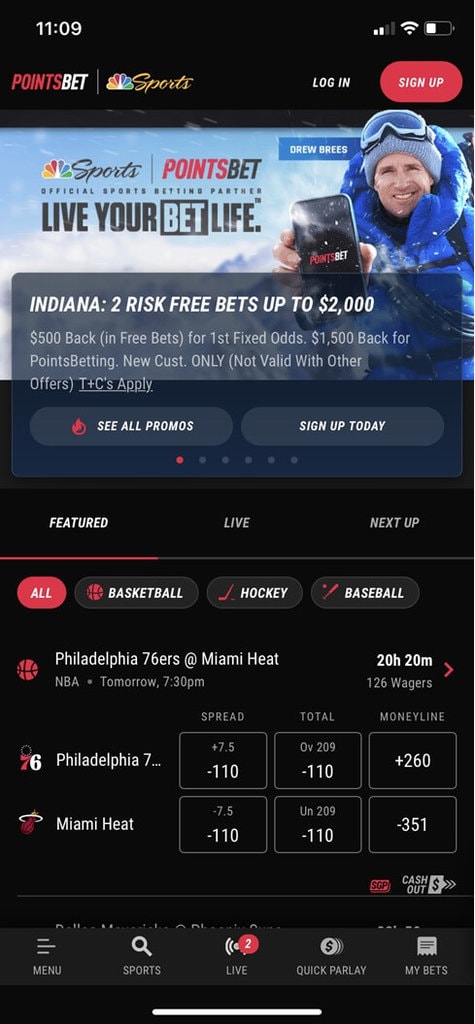 PointsBet Single Game Booster
Single-game parlays have become increasingly popular recently, and, once again, PointsBet parlays are on the edge of innovation, helping players win money betting every week. They have launched a new way you can boost your personalized single game parlays your way every day.
To access this feature, log into the PointsBet app and find a game that you want to bet. Next, select a minimum of three legs to parlay from the same game (please note not everything can be combined in a single game). Finally, apply your boost.
By using this parlay betting app feature, what may have been a good win can now be much better with added money. Additionally, there is no minimum or maximum stake, unlike with other apps.
PointsBetting Stop-Loss
Among all of the excellent features on the PointsBet sportsbook, there is a stop-loss feature available for players. This feature allows bettors to enter the maximum amount they could accept losing, which can also be combined with the sportsbook cash out feature.
Let's look at Super Bowl LIII as an example. The game saw the New England Patriots defeat the Los Angeles Rams, 13-3. Over bettors who entered stop-loss of 10x would have had their total losses capped at $100. However, using this feature also caps the maximum return potential, so under bettors on Super Bowl LIII would have had their earnings capped at $100 (had they enabled the 10x stop-loss).
PointsBetting Market Limits
Whether you are placing a point spread wager, placing a straight wager on the final score or looking at numerous point spreads, this type of wagering can quickly get out of control. When you visit the Points betting site, make sure you are aware that all of the markets have a cap on the maximum wins and losses you can make.
The maximum win or loss is different for each type of Points Betting scenario and will be clearly displayed on your bet slip. The limits allow you to see how much money you could be making if you correctly predict the game's final score. Predicting the outcomes or any sporting event isn't easy, otherwise everyone would win. Sport, by its very nature is unpredictable. You could be betting on an overwhelming favorite with lots of confidence but something like an injury could occur which would hugely change the outcome.
While winning bets gets the adrenaline going and is a nice feeling, a big loss can go deeper than just the wallet. The Points Betting market limits mean bettors can see what they could potentially be losing by submitting the wager and thus allow them to not go above their budget.
$1,500 Free PointsBetting at PointsBet
All online sportsbooks offer new customers attractive welcome bonuses to encourage them to sign up. These can range from risk-free bets to matched deposit offers and more. The most valuable current promo from PointsBet is a risk-free bet worth up to $1,500 in site credit. However, this promotion is only available through the unique PointsBetting system. You must place a bet through the high-risk, high-reward PointsBetting system, but it is still the most valuable offer on the platform.

The good news is, even if you are just getting started with how points betting works, you have got nothing to lose on the first wager through PointsBetting. Even if the wager loses, you will get a refund in site credit up to $1,500. Refer a friend sportsbook bonuses, and bet $1 win $100 offers, and free bets for existing players can also give a freeroll to test out this feature.
Let's take a look how it works:
First, create an account with the PointsBet promo code. Using one of the PointsBet sportsbook deposit methods, add some funds to it, and then:
Place your first bet through the PointsBetting system
If the bet loses, PointsBet will refund you up to a maximum of $1,500 in site credit
Use the $1,500 in site credit to place more bets on your favorite sports and markets
Although this offer can't be used in combination with the $500 risk-free bet PointsBet offers new players, both can be claimed by eligible new players. Ultimately, $2,000 in risk-free bets is ideal for getting up and running with a sportsbook like PointsBet, and much higher than $1,000 bets risk-free available at other new online sportsbooks.
10 x $100 Second Chance Bets
21+. T&C Apply
21+. T&C Apply
Awesome live betting
Multiple bet types
Huge range of sports & markets